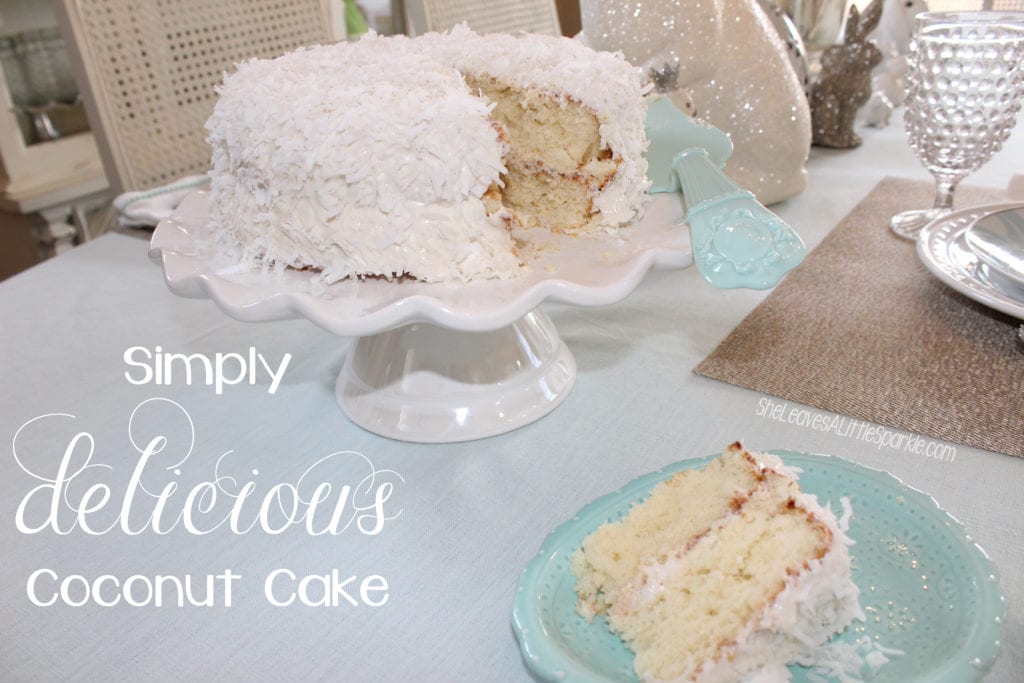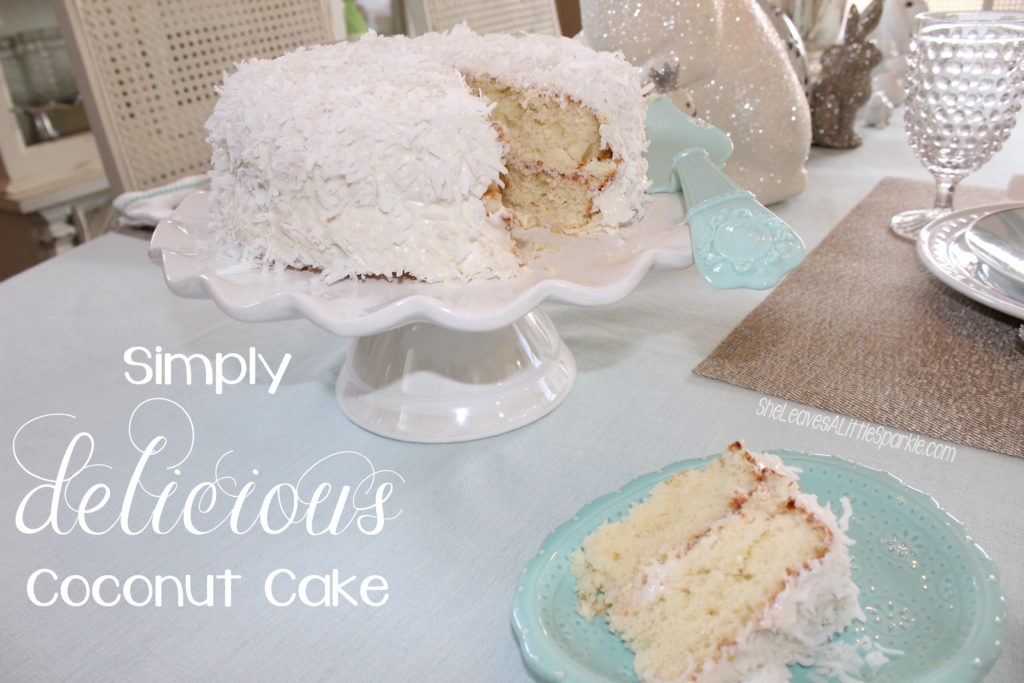 When I think of Easter desserts, I think of Coconut Cake at the top of the list.  For as long as I can remember we have usually had a coconut cake at our family Easter celebrations, amongst many other sweets!  I come from a family that LOVES to cook and bake so food is our forte!  I have made many coconut cakes and breads and desserts but this is simple, moist, fluffy, and delicious.  And even if you don't love coconut, this cake is not overwhelming and just naturally flavored.
Ingredients
Cake:
1 box White cake mix
8 oz sour cream
¼ c Vegetable oil
3 eggs
1 8.5 oz can Cream of Coconut
Frosting:
8 oz cream cheese
2 TBSP milk
16 oz. Powdered Sugar
1 tsp Vanilla
1 bag Fresh Frozen Coconut
Instructions
Cake:
Heat oven to 350°F
Use (2) 9" pans that have been greased and floured.
Bake approximately 30 minutes at 350°F.
Cool completely.  Cut off tops to make flat.  Turn them upside down and stack them on parchment or wax paper and freeze for 2 hours.  This will make it easier to spread and avoid crumbs to break off and get all into frosting.
Frosting:
Mix all ingredients in a mixer except fresh coconut.
Frost cake in between 2 layers and then all around top and sides.
Immediately press coconut into sides and top of cake.  Slide onto cake stand and pull bottom paper out from underneath and your cake will look gorgeous!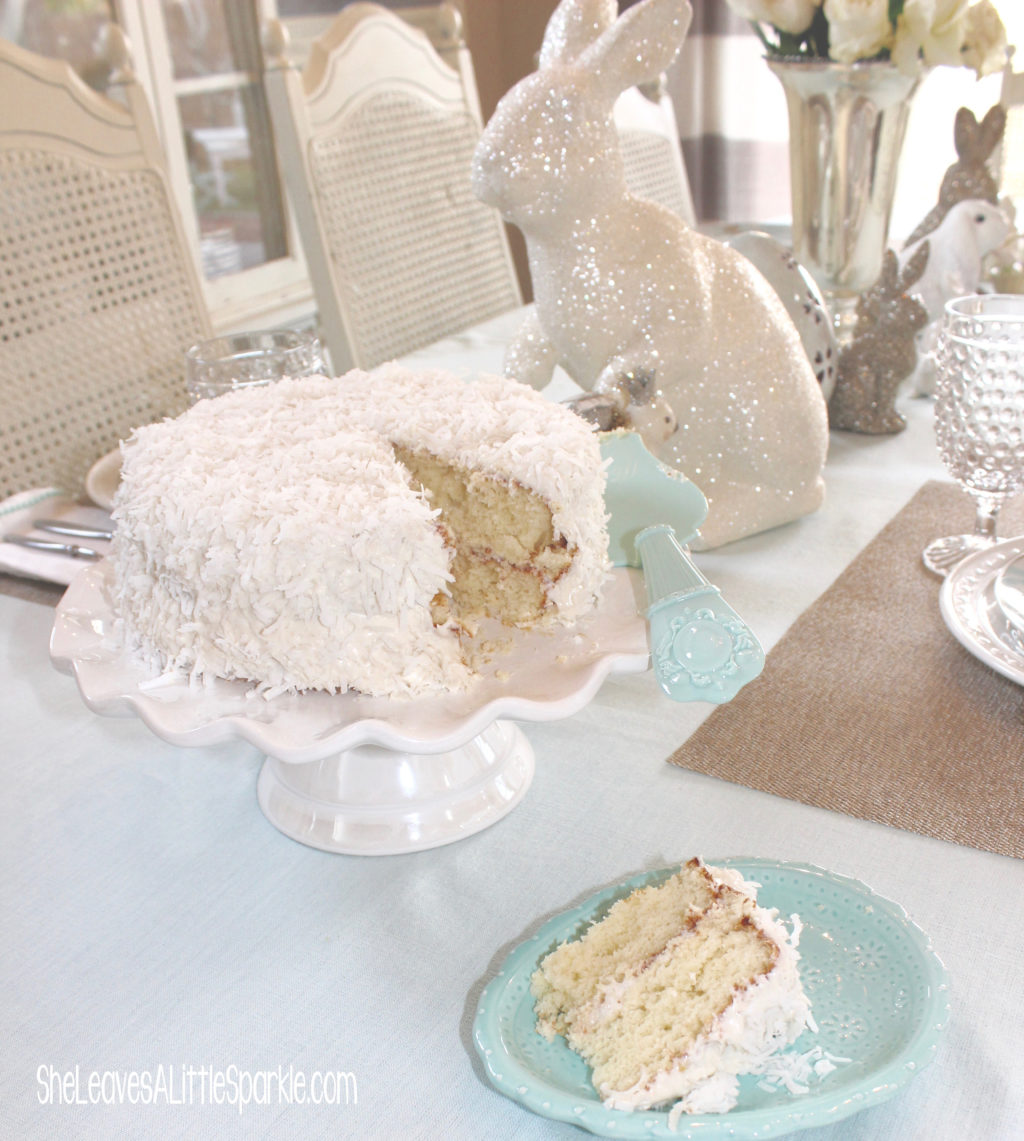 This recipe makes (2) 9″ round cakes.  If you want the look of a 3-layer cake or just need more servings, you can double the batch.  This has been a family-favorite for years!  Oh, and it's easy on the eyes…isn't it?!!!  Such a pretty dessert and I love the way it compliments my Easter tablescape!
Don't forget to share this and pin it on Pinterest!
Here are some affiliate links I'm linking below for your shopping convenience! They don't cost you anything extra (disclosure here).  They're things you've seen here in the post as well as some other fun things that you don't see here.



I would love it if you subscribed at the top of the page in order to receive my weekly emails of all my latest posts.  You can also follow me on Instagram, Pinterest, and Facebook to see what I'm up to in creating a home and lifestyle of inspiration!
xoxo,