Just a few days ago I shared my Spooky Chic Halloween Table in my dining room HERE.  Tonight I'm sharing with you my Spooky Chic Halloween Mantel!  Come with me into my Living Room!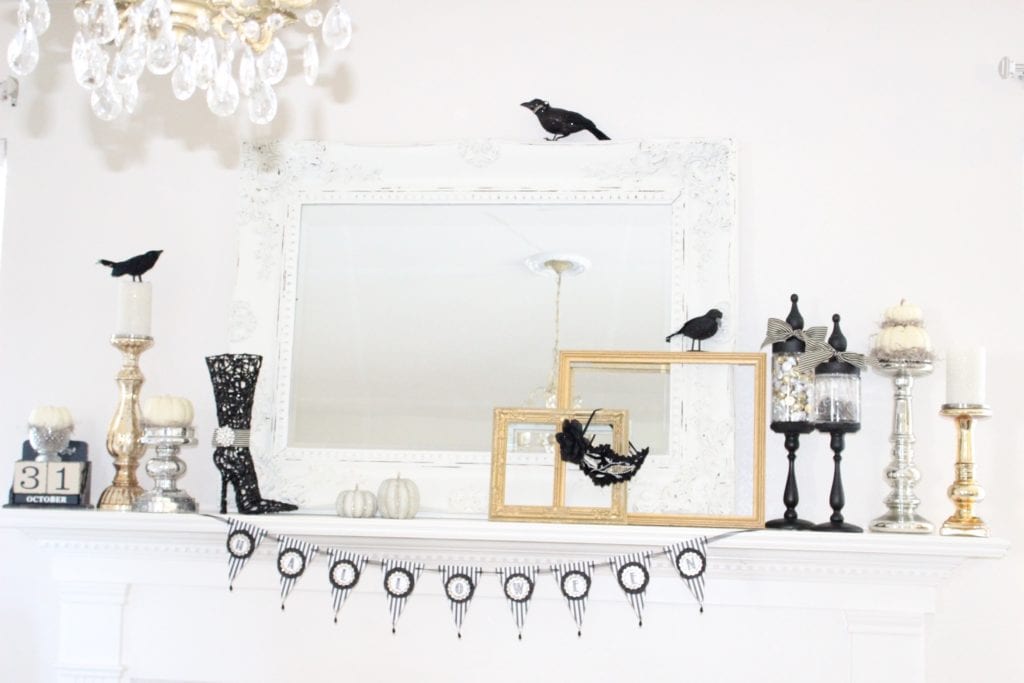 I did something craaaaazy.  I painted this rental we're in…well, just the living room.  The walls were just too dark grey as you saw HERE in my Living Room Reveal.  Maybe not to everyone, but to me it felt like a dungeon in that room because it doesn't face the direction I'd like to get more natural light.  So I painted it Maritime White by Sherwin Williams.  It's not stark white but has a little ivory in it which looked so much better with the ivories I had in that room.
I kept all my Halloween decor black and white but added gold this year.  I had plenty of gold accents and pieces so it worked especially well in this room with all of the gold metal.  And, in keeping with tradition, I had to have some candy on my mantel so I added them to these DIY Apothecary Jars I made a few years ago.  You can find a pinterest tutorial if looking to make you're own.  Just like I did on my family room Fall Coffee Table HERE, I added more of that pretty spanish moss on top of some pumpkins (stacked) and mercury candlesticks.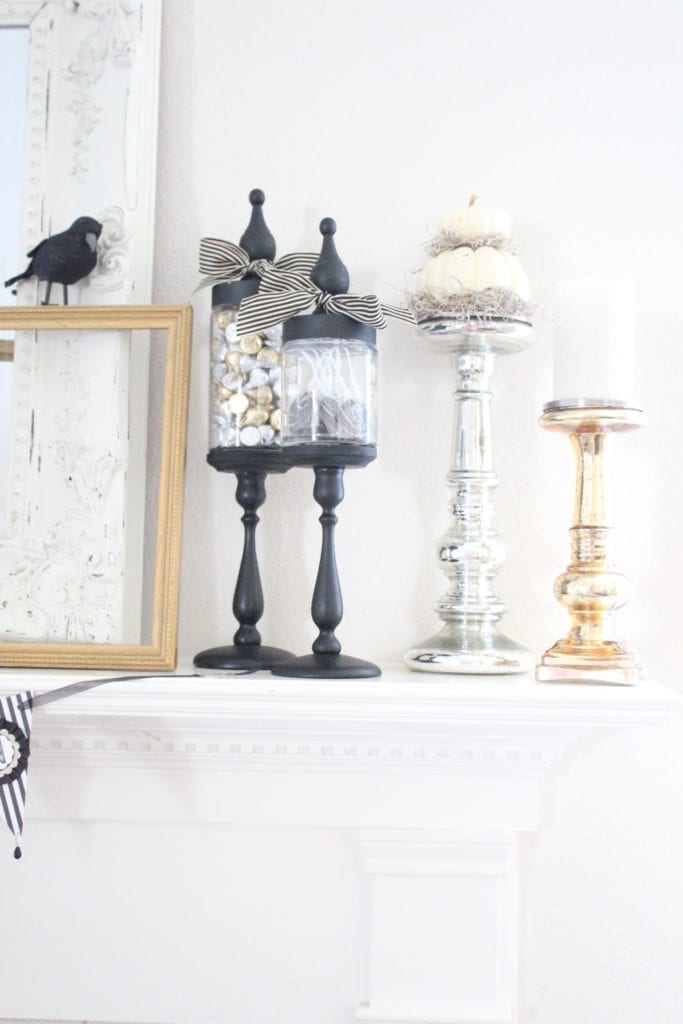 It's fun to layer vintage frames over a large mirror!  I added some black crows all over and this mysterious black masquerade mask.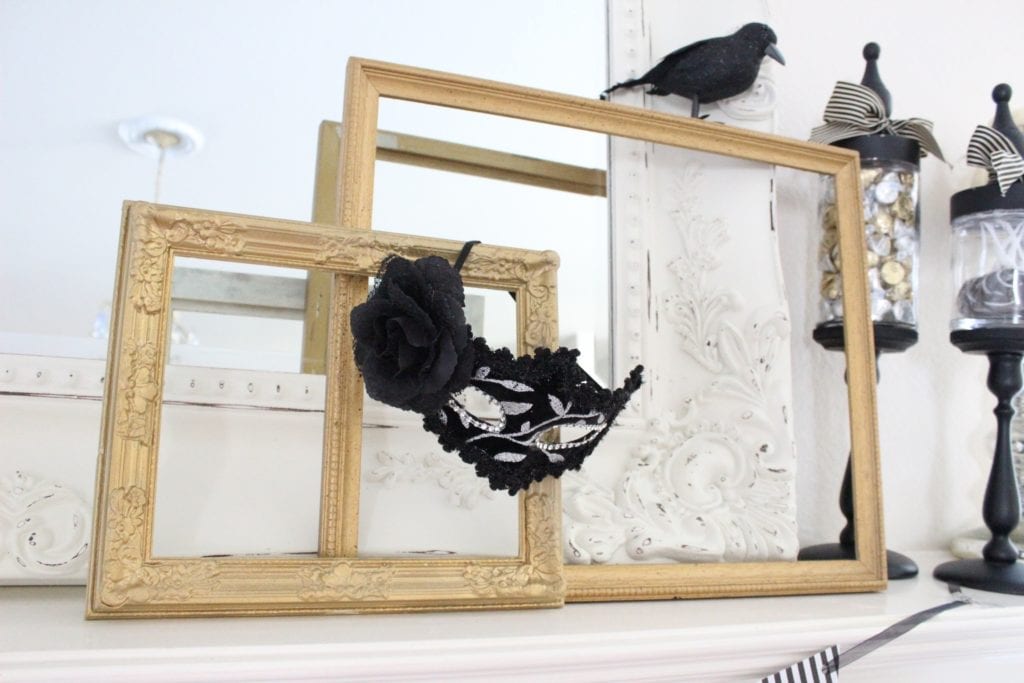 Still loving this spooky chic halloween banner I made last year and it went perfectly in here!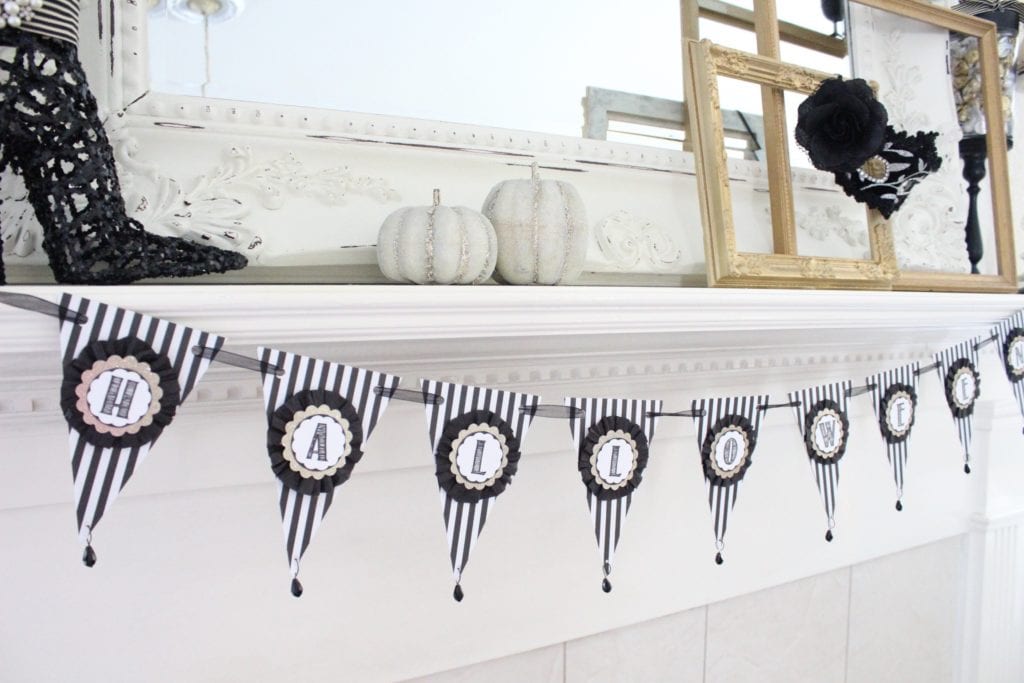 I wish I could tell you (because a million people ask every year) where to buy this adorable black glitter witches boot BUT I bought it years ago at a home decor store in Utah called Rod Works.  I added the ribbon and blingy embellishment to make it extra chic.  I love mixing metals, silver and gold, so I mixed the gold and silver mercury candlesticks I own too.  And if you have one of this wooden black date displays, keep it on October 31st and use it as decor!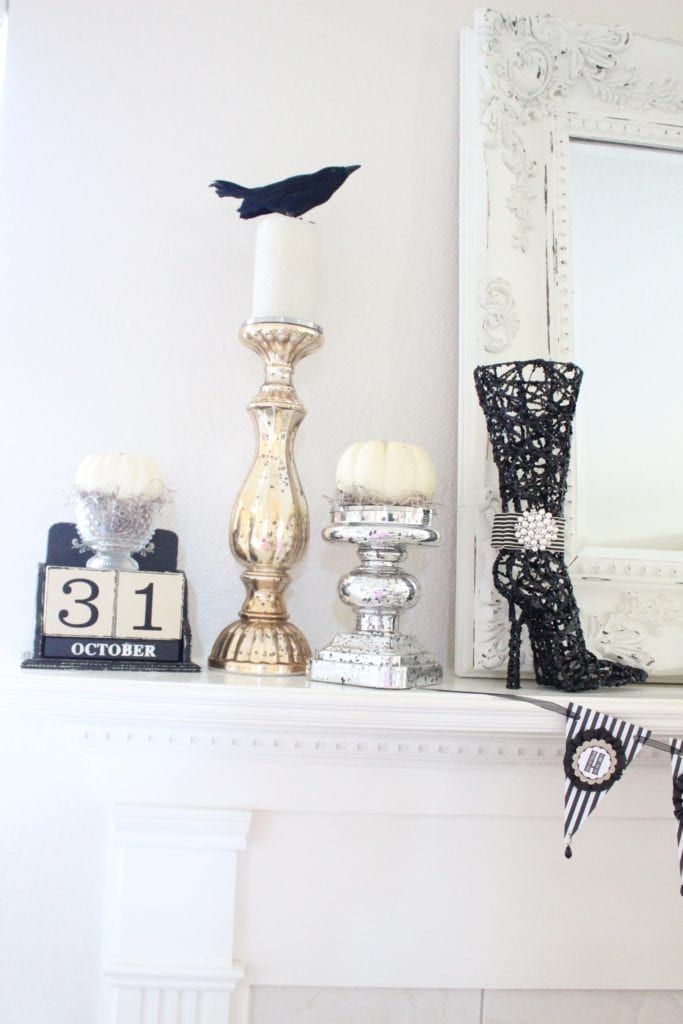 I ran all over Dallas looking for more crows. I wanted a TON of them!  But so did everyone else so….it's gonna be next year I suppose.  It's going to look like the setting of "The Birds" haha!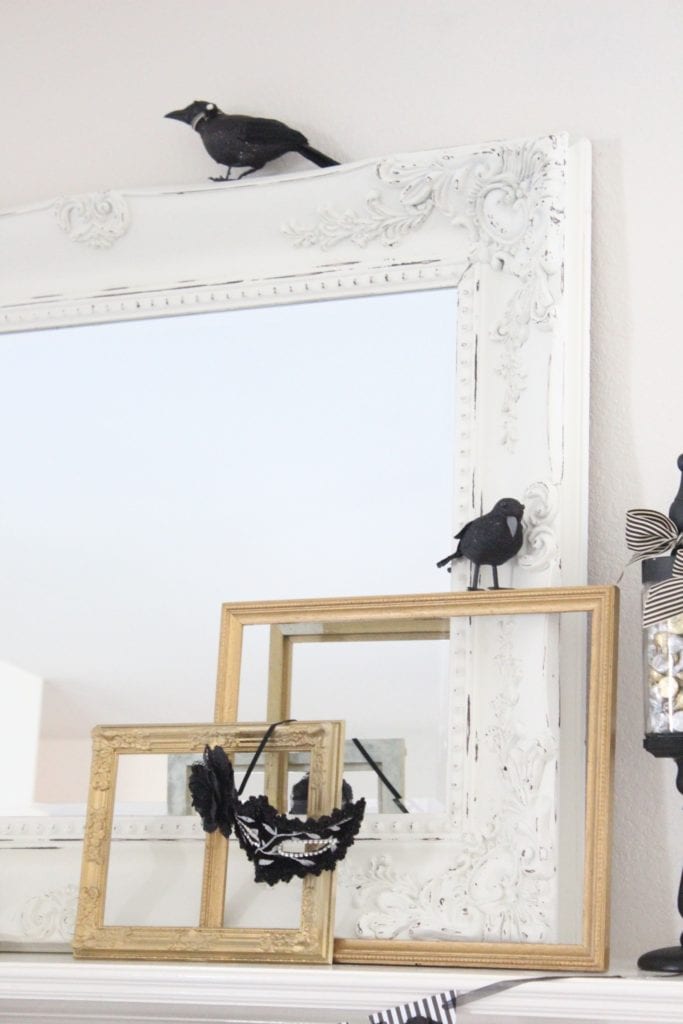 A few extra pieces of decor on the other side of the room in keeping with this spooky chic halloween mantel!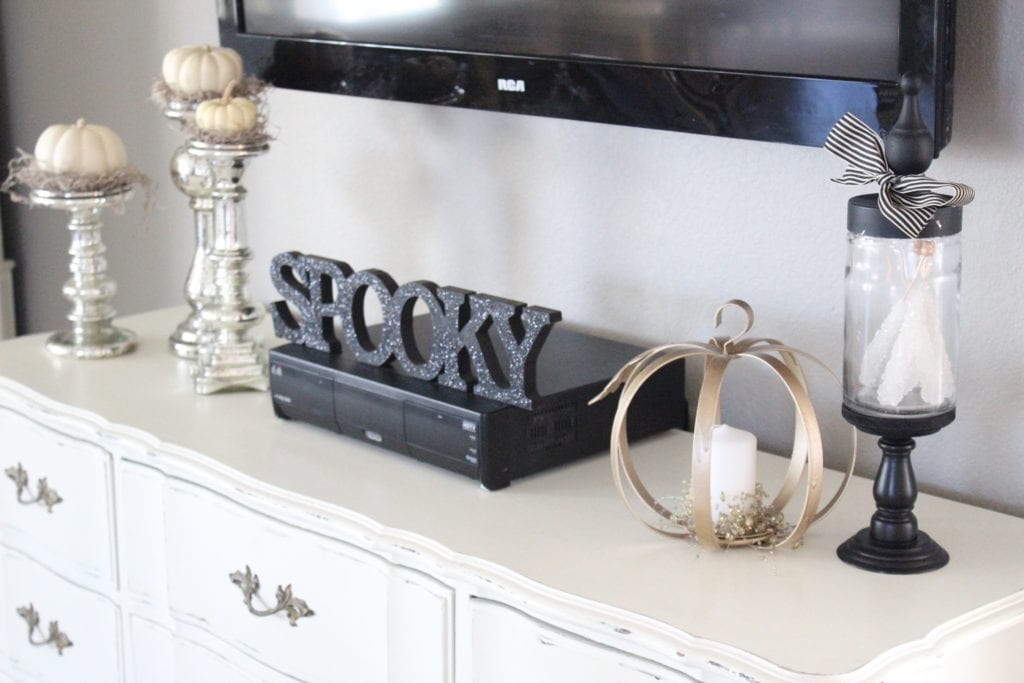 It's okay that my white roses are dying a little right?  It's Halloween and that adds extra spookiness I guess so maybe I'll pass on the fresh flowers this week??? Naaaaah!  I LOVE fresh flowers!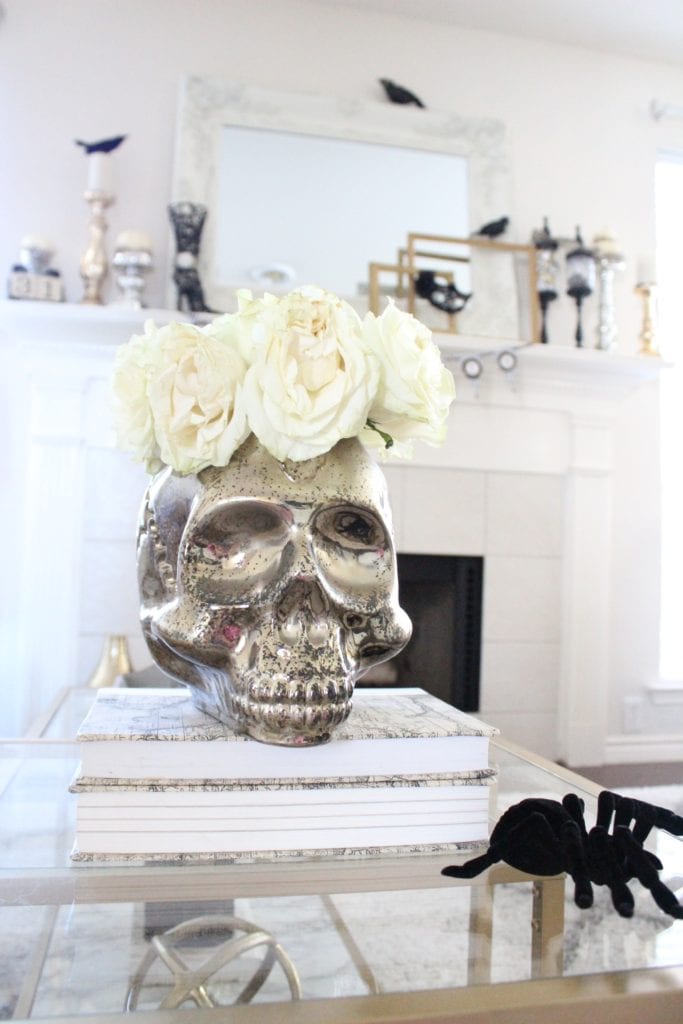 On top of the armoire, it's a little creepy mixed with the existing elegant. Spooky and chic to please the kids and I still love this room!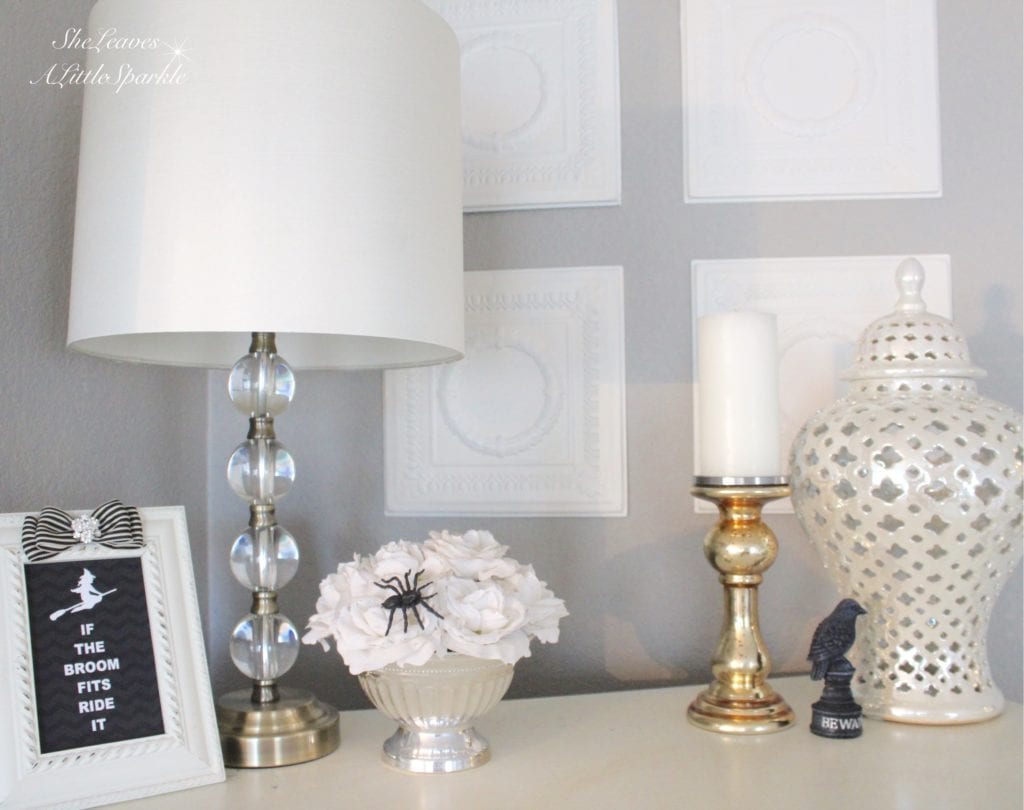 Here are some of the items I used in this room below, or similar items, to help you re-create the look!





I hope your Halloween season is just as fun and SPOOKY and CHIC!

*Post contains affiliate links.