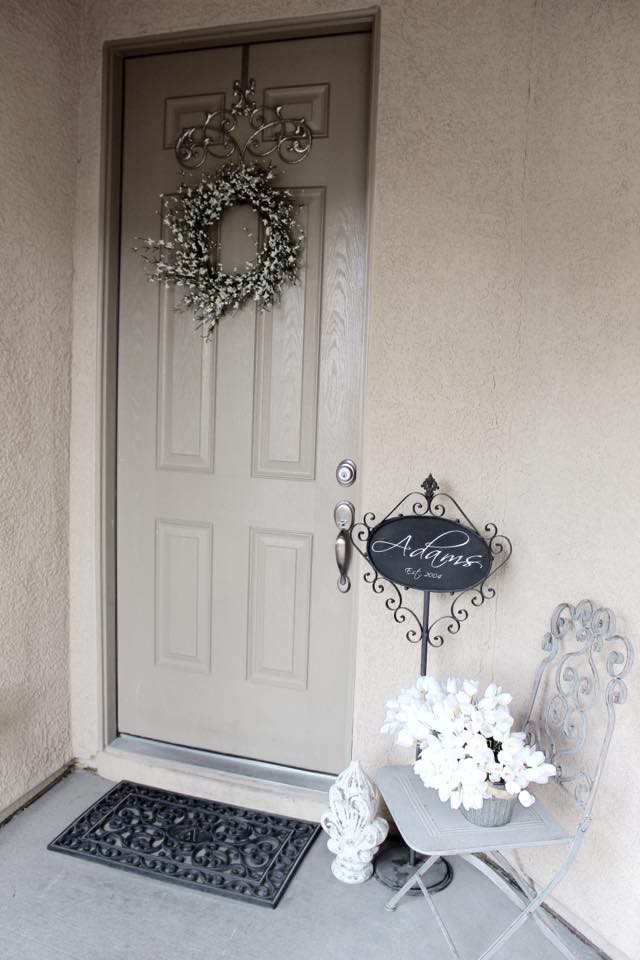 Hello friends! This week I am joining another group of bloggers for the One Room Spring Tour.  There will be all different styles to bring you an ABUNDANCE of inspiration for your home this Spring.  Our team of 25 bloggers have been broken up (into 5 groups of 5) and one group will be sharing a different area every day of the week.  Today, I am a part of the group sharing our entry ways!  So let me just say "Welcome to my home!  And thank you for coming!"
We are moving from Vegas back home to Texas in 2 weeks and I may or may not have taken care of any of my plants (gasp) and so I went for faux tulips and this lovely spring wreath from  Home Goods.  This darling sign was something I found at Ross yeeeaaars ago and flipped over the side that said "welcome" to personalize it with our family name and est. date.  It's been such a fun piece at our entrance all these years.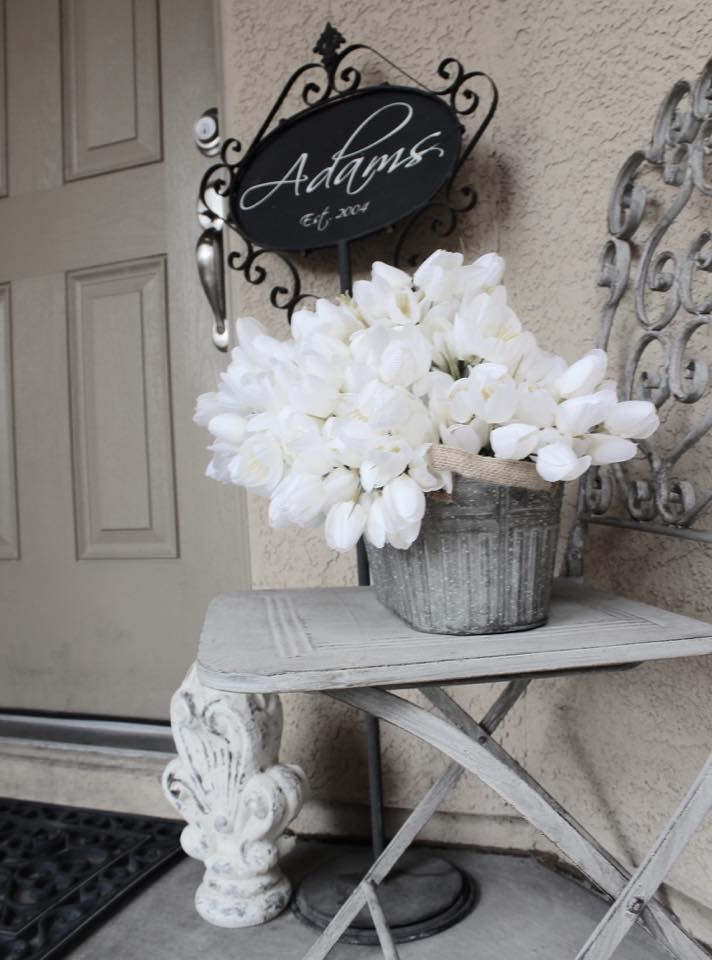 This adorable metal chair was found at TaiPan Trading and I love that I can use it outside.  Grabbing a galvanized pail and adding faux tulips is a very inexpensive and easy way to bring Spring to your front door.  I would love to add more color if I wasn't relocating soon, but the bright white tulips are welcoming and cheery and do just the trick!  I do miss topiaries and ferns though at my front door.  I can never get enough of greenery.
I found that stone fleur de lis in the gardening section of Hobby Lobby and I have moved it around and used it both in and outside.  It's been a fun and versatile/durable piece.  We've also had this rubber initial mat from Ballard Designs for years (similar one sold now here).  In The South, we loooove anything monogramed or initialed ;-p  I like making a statement at our front door.  I want it to reflect my style and tell you just a snippet about who lives here.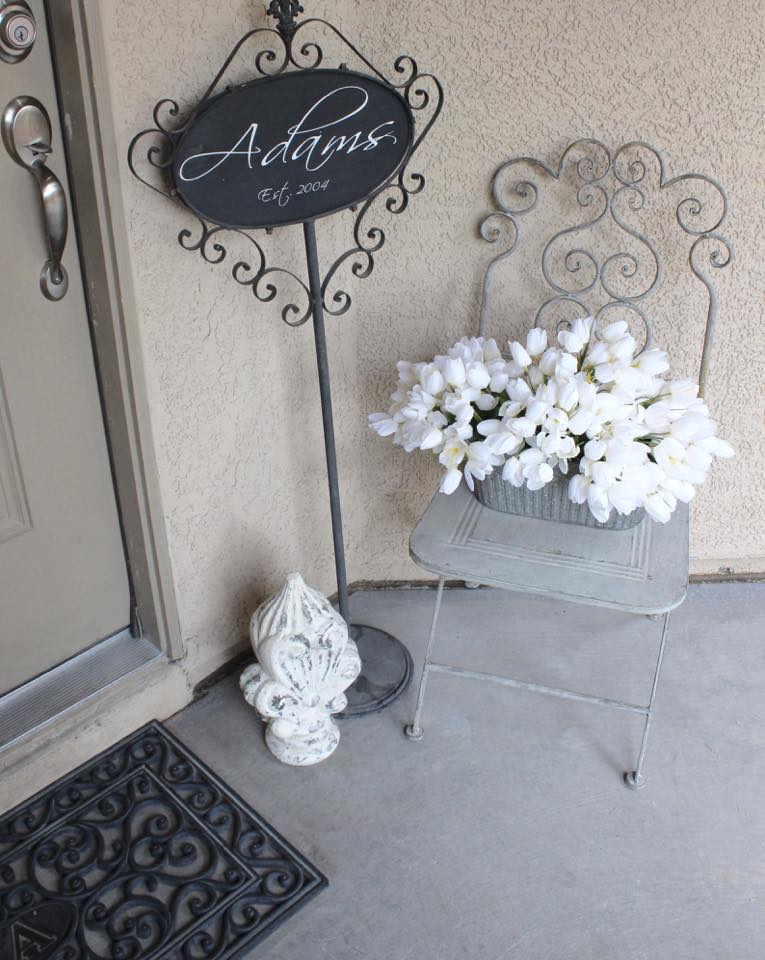 It's simple.  In the next house I'll do more but for now it's just right.  Come with me into my entry…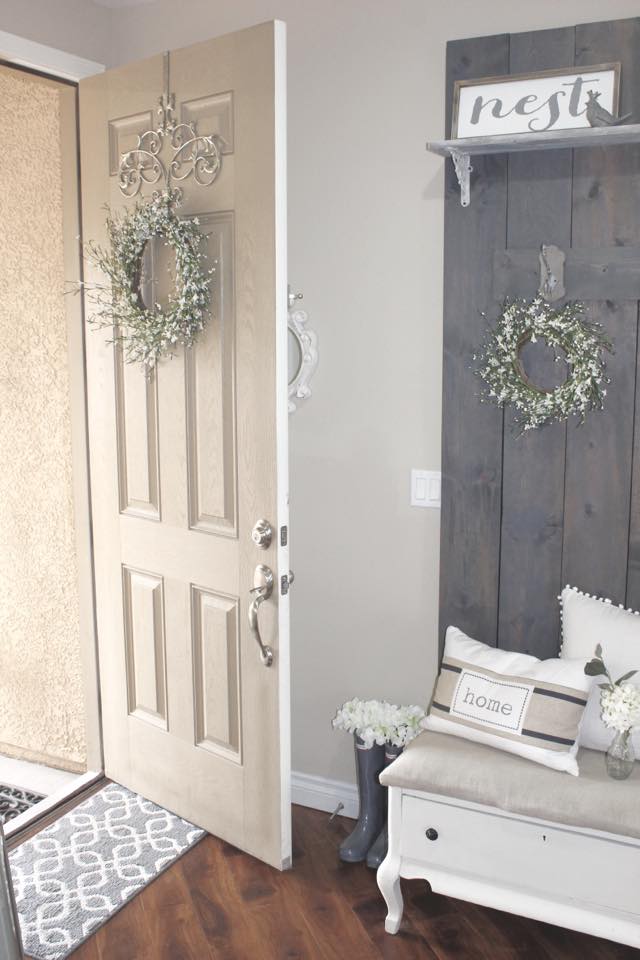 When we first moved into this home, I noticed immediately to my left that there was an arched alcove cut out in the wall.  To me, this screams "interior design nightmare".  It was not esthetically beautiful and I really wanted to wave a magic wand and make it disappear.  So I got to thinking…and thinking…and browsing Pinterest for ideas.  Then a friend that I follow on Instagram shared her hall tree that she made and I knew that was my answer!  I took measurements, drew up some plans, and went to my saw.  Read here for my detailed instructions and how my DIY Hall Tree came to be!  The alcove was very tall and so I went a bit taller than I normally would have so that I could cover it all.  But it worked! (grey entry mat from Target)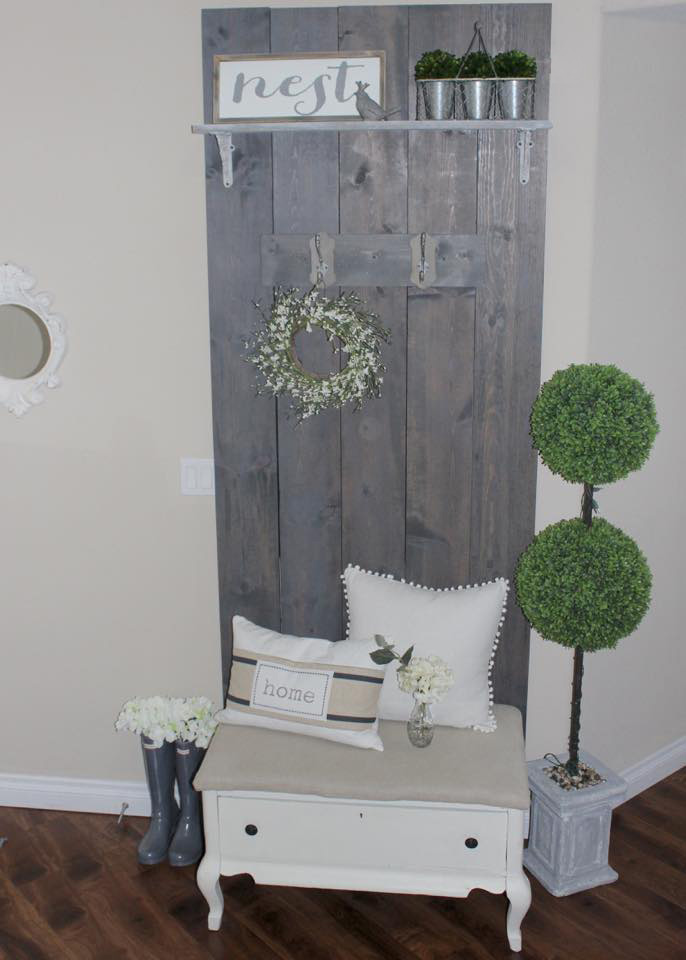 I love coming home from a crazy, busy day to a soothing and calming environment like my home.  My neutral colors that I've chosen help create that easy-going vibe that I crave.  Then, I can add pops of color when desired.  But one element I just LOVE all throughout my home is boxwood and it brings that vibrant green, especially in the spring, that I adore.  It brings life and color to any space and such a great choice even if you don't have a green thumb.  Just spray your boxwoods with a spray bottle every other week and they'll stay green for a long, long time.  This set from Home Goods also has that cute chicken wire basket to hold the 3 small boxwood plants, which goes perfectly with my rustic/farmstyle entry.  I tend to mix that style throughout my home.
Even this large faux boxwood topiary (from Home Goods) is a great accent to this space to not only add more greenery but it also plugs in and can be lit for evening guests.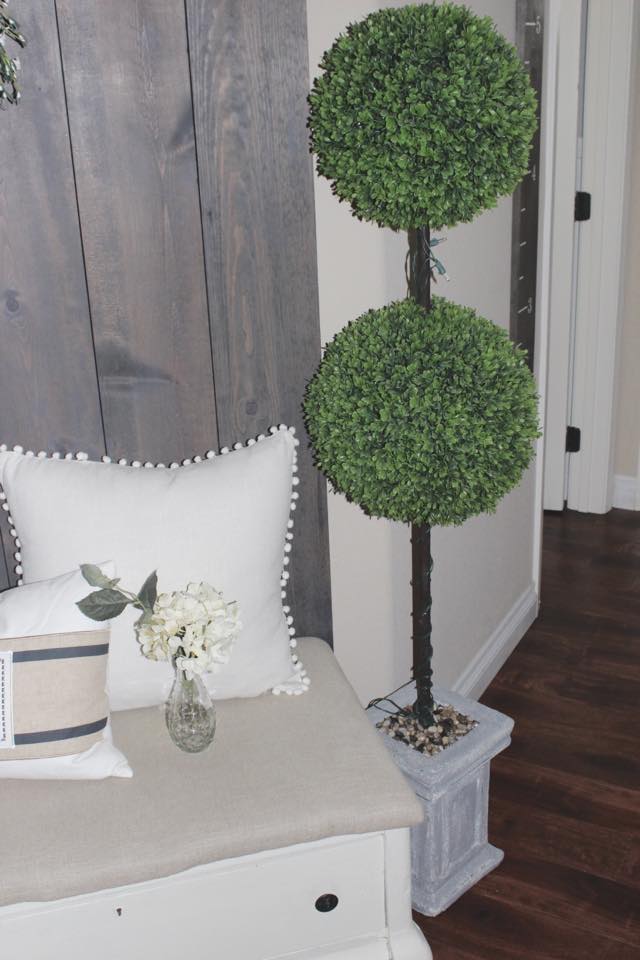 This bench was one of my MANY fun finds while living in Waco, Texas a few year ago….just out junkin' one day.  A little TLC with some paint and recovering the top with linen (on sale at Hobby Lobby) transformed this little piece into something much more beautiful and the perfect size for this hall tree.  Not to mention, it's perfect for more storage that I needed downstairs. (Home pillow from Home Goods and pom pom pillow from H&M.)  Hydrangeas are so pretty and full and easy to use, even one at a time in just a little bottle (from Hobby Lobby).  I use them to accent all over my home this time of year.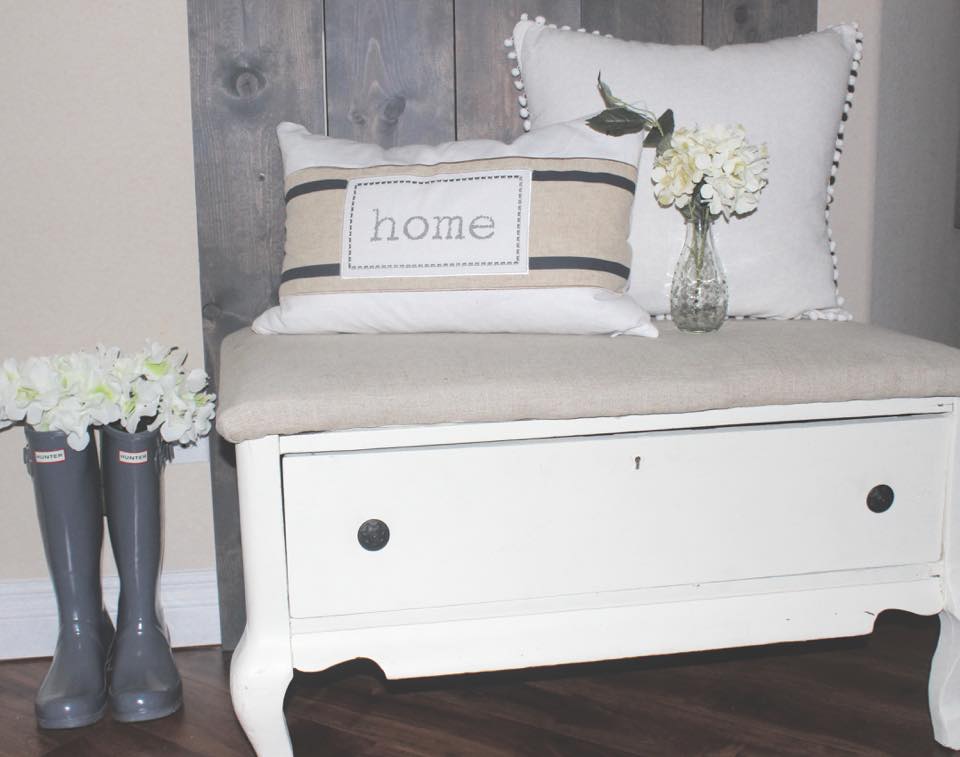 What else happens a lot during the spring?  You guessed it…"April showers bring May flowers!"  Ok, maybe not as typical here in the Vegas desert….but it certainly has been raining the last few days. I like keeping a pair of Hunter Boots (I have them in several colors and they are one of my most favorite things) right next to the door.  That way, I always have them when I need them and they double as darling decor.  Adding some more faux hydrangeas to the tops of the boots give it that fun spring look.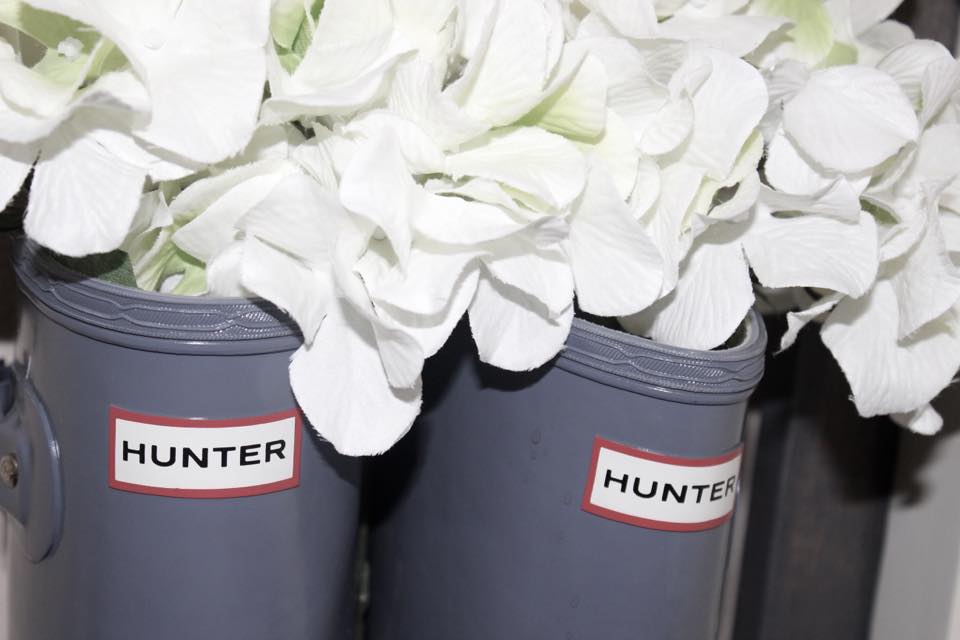 EVERY ENTRY WAY should have a mirror!  Why?  Oh…ya know….you're busy at home and the doorbell rings and you are NOT expecting anyone.  But you run to the door. That mirror?  Your saving grace!  Make sure you're not going to frighten anyone away! haha 😉  And this one from Rod Works was just so cute and had a cute rustic, vintage style that went perfectly next to my hall tree.  And if you remember my front door wreath, it's just a larger version of this small one on my hall tree hook (both from Home Goods, hooks from Hobby Lobby).  I liked that it flowed together well, being that you open my front door and it almost touches my hall tree.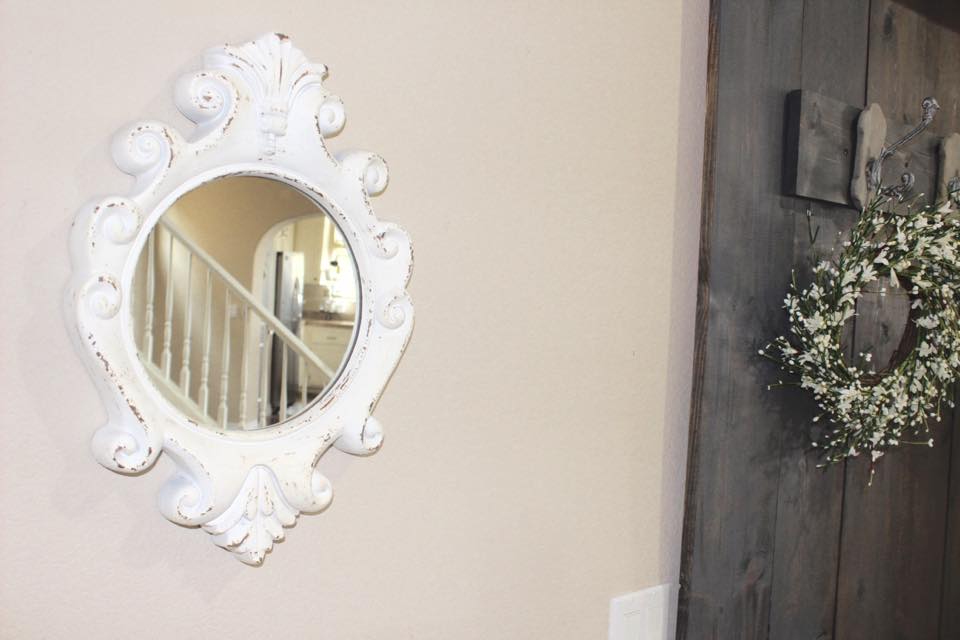 I found this adorable crowned bird at Rod Works and I made this "nest" sign from my online shoppe.  Nothing says spring like birds and nests and floral and greenery and natural elements.  They are some of my very favorite things to decorate with this time of year.  They make a home welcoming and comfortable and cheery.
Thank you so much for stopping by our little nest today!  I hope you found something inspiring while visiting!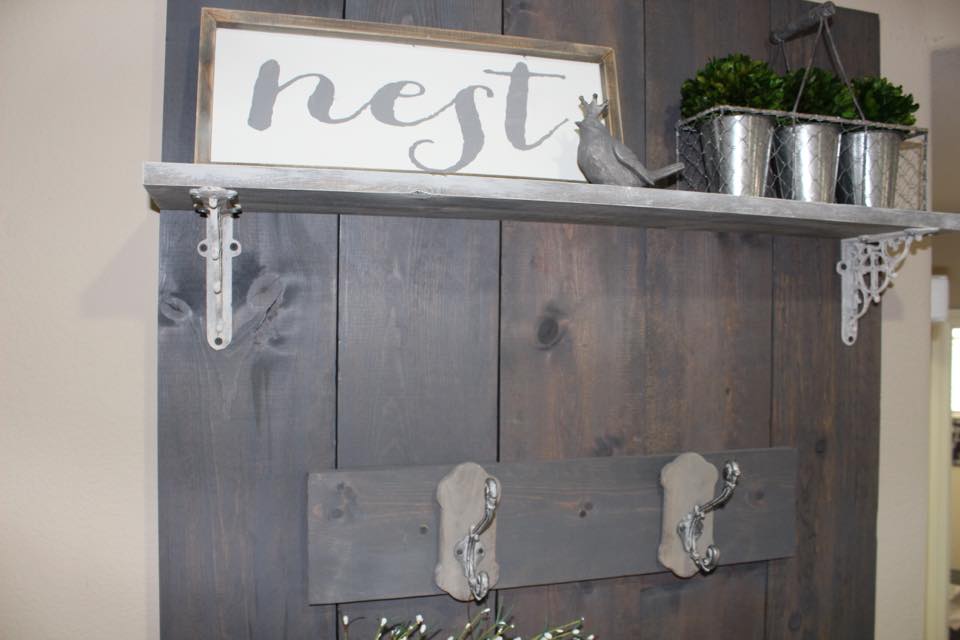 Please go next and visit my friend Kathleen at Lindsay Hill Interiors and see her fabulous entry!
Below is the list and also schedule of all the creative bloggers you can visit during the tour for more home design and styling tips this Spring!  I promise, they won't disappoint and I just know you'll leave inspired!
Monday, April 11th – Front Door/Porch
Emily – Eleven Gables
Trinity – c.1934
Courtney – The Hamby Home
Wendy – Life on the Shady Grove
Becky – This is Happiness
Tuesday, April 12th – Entryway/Foyer
Sarah – Life on Virginia Street
Summer – She Leaves A Little Sparkle
Kathleen – Lindsay Hill Interiors
Shannon – Fox Hollow Cottage
Randi – Randi Garrett Design
Wednesday, April 13th – Living Room
Erin – Sunnyside Up
Alma – Almafied
Oscar – Oscar Bravo Home
Ashley – House of Five
Megan – It's a Grandville Life
Thursday, April 14st – Kitchen
Brittany – Dutchess of York
Annie – Zevy Joy
Marg & Liz – Fancy Farm Girls
Kelley – Kelley Nan
Rachel – Maybe Matilda
Friday, April 15th – Dining Room
Kris – Driven By Décor
Allison – A House and A Dog
Tamara – Citrine Living
Kendra – Momtique
Haneen – Haneens Haven
Enjoy! xoxo, Summer