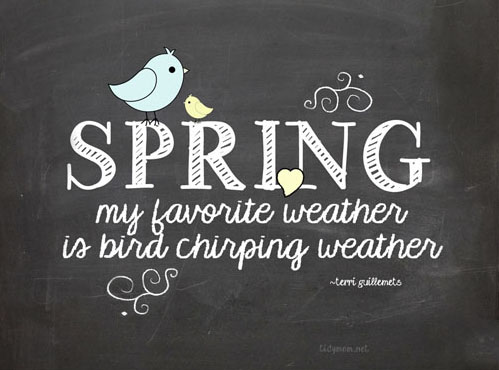 Spring!  A reason to open the windows and also a reason to change up your home decor!  The minute Valentine's Day is over and the days grow longer, I start thinking about what I'm bringing out as I pack red hearts away.  I thought I'd share a few "spring scape" ideas with you today from my home and then make sure when you're finished reading that you hop on over to my friend's blog next to see her spring decor and enter to win a FABULOUS GIVEAWAY!!
When I think of spring, I think of green and floral…bunnies and birds.  The weekly trip to the market for fresh flowers begins once again.  I love this "NEST" sign from my shoppe.  Not only does it represent our home, but it represents gathering of life.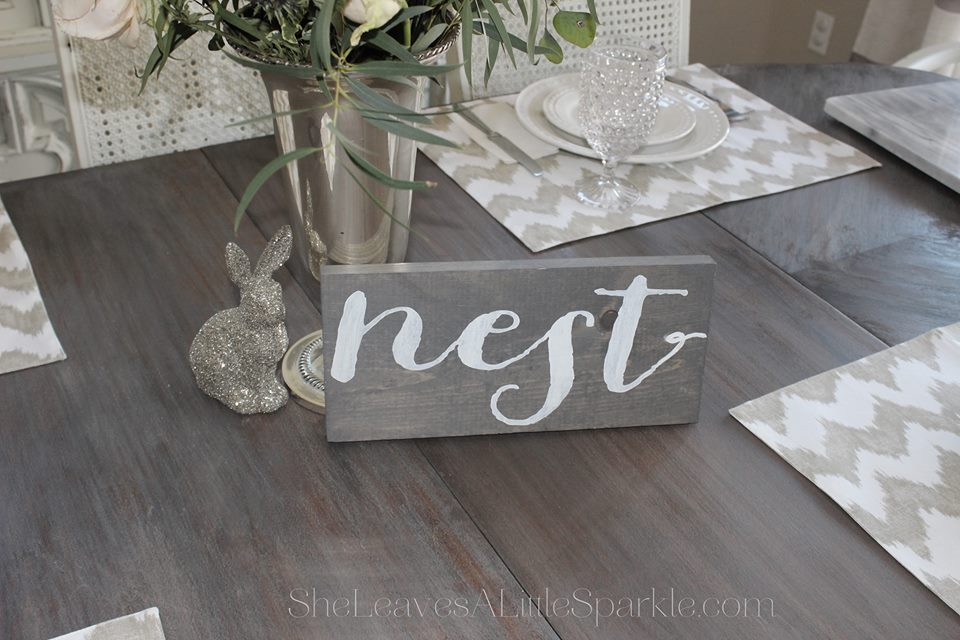 My sitting area is immediately changed up to reflect the time of year and I love sitting and reading a book or working on my laptop while sitting here on my chaise lounge and enjoying the natural elements surrounding me.  I love moss balls and green vine balls, boxwood topiaries, hydrangeas, bird nests with eggs, bunnies and neutral colors this time of year.  I know pastels are also very popular this time of year but neutrals give me a calm feeling when I walk in my home, especially after a chaotic day.  I really appreciate stores, like Pottery Barn, that design such a cute bunny pillow as it allows me to add that touch of spring or Easter festivities while also keeping the neutral theme that I love.  The lovely ivory ruffle throw blanket is also from my shoppe.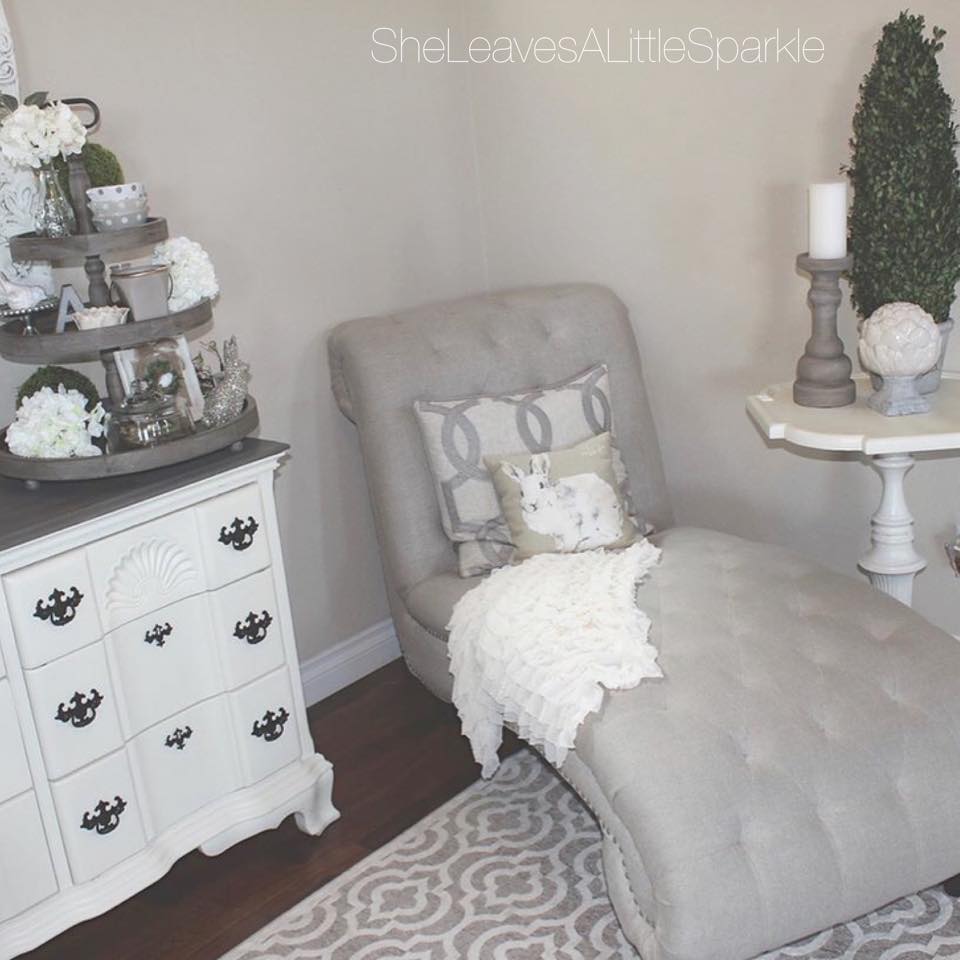 I love using this wooden 3-tiered tray to fill with spring decor!  I get to choose so many things to layer on it and make such a lovely display.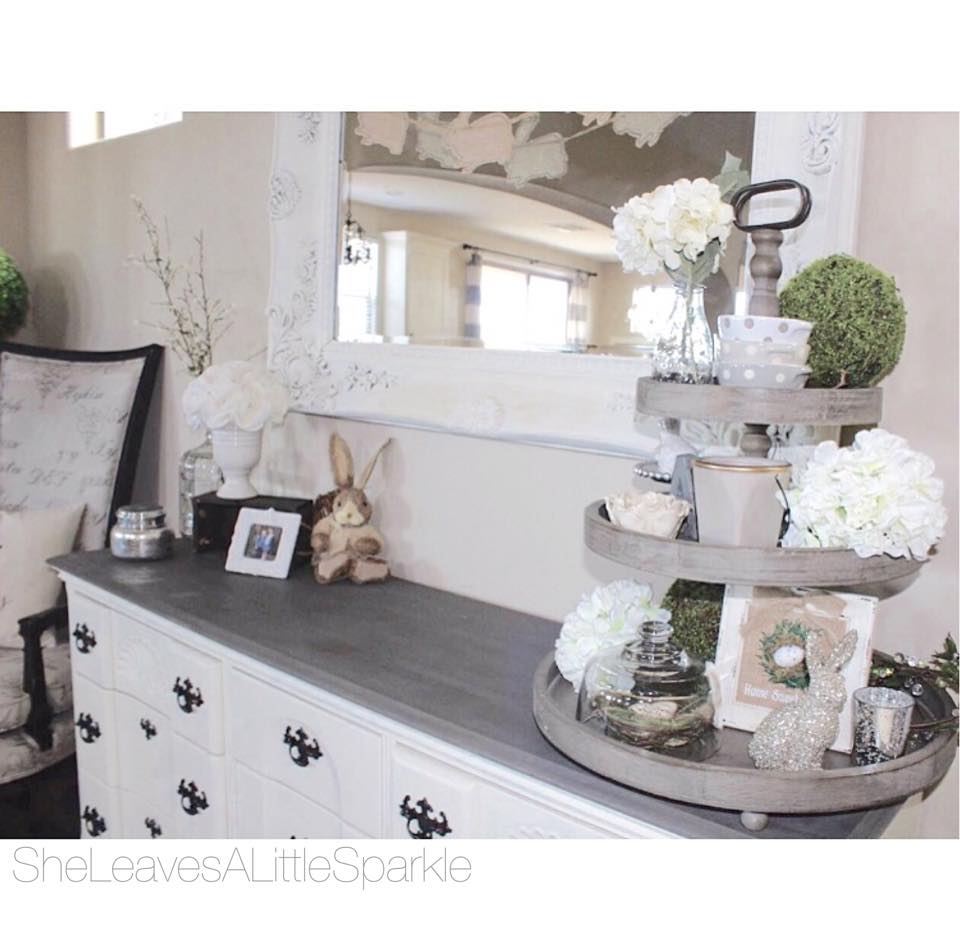 On the opposite end of this buffet I have found a fun way to use those Target Dollar Spot mini crates to create another spring vignette.  I love the look of different heights and elements used to represent spring, Easter, and my family.  And again, using boxwood topiaries (this one much larger) in the corner to bring in that greenery and "spring-y" feel.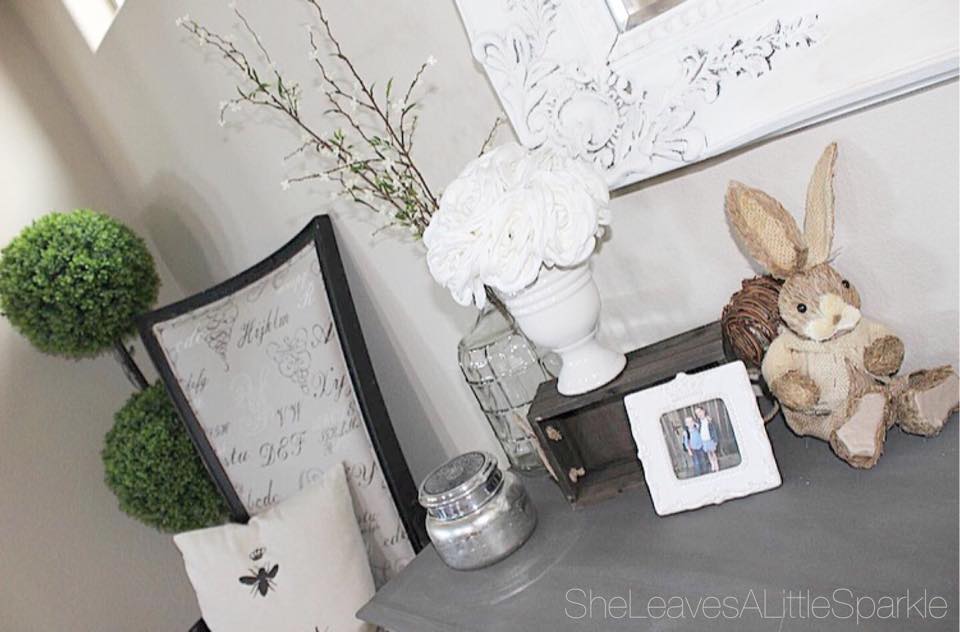 Above our fireplace mantel hangs our television.  So on each side I add a few things that reflect the season but also continue using the elements that I've chosen throughout the rest of the home (below).  Not pictured are the two boxwood topiary balls sitting on large mercury glass candlesticks.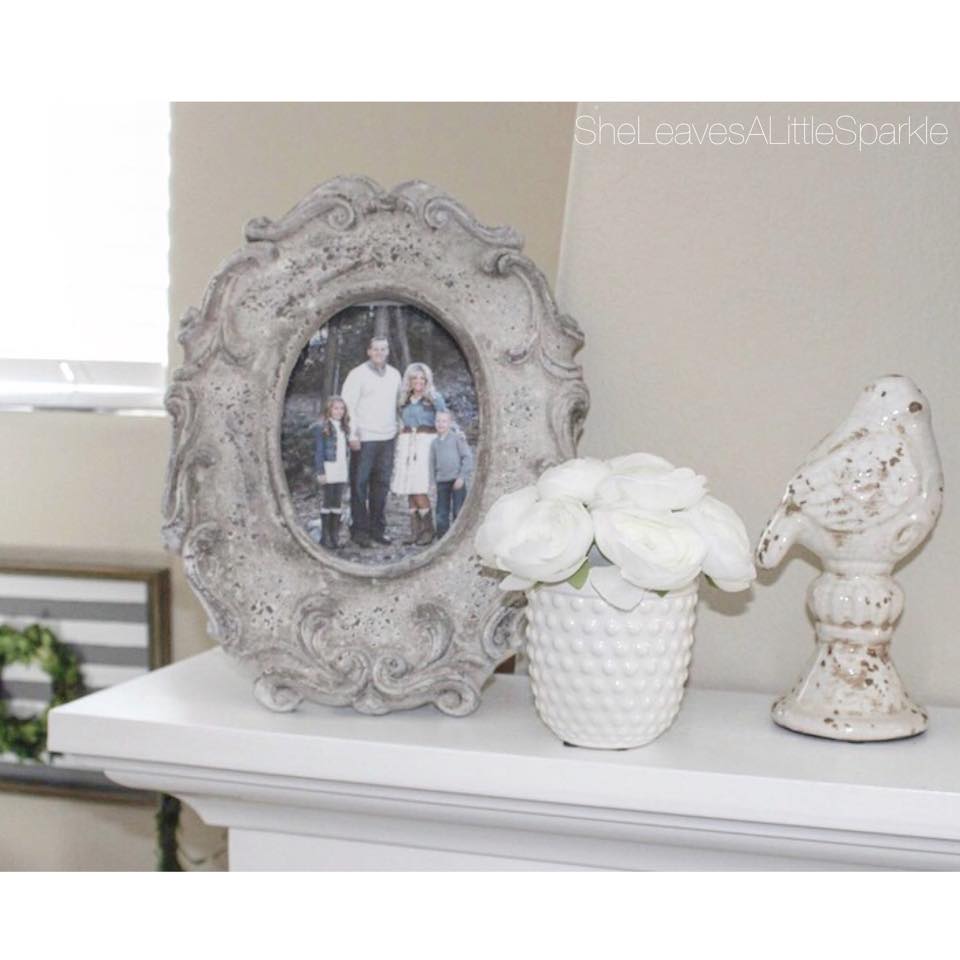 I always love a pretty spring banner!  This one is found HERE in my shoppe and can also be used to spell out so many other different things, as it comes in a large pack of letters.  I love that vintage look with glittered edges and vintage silk ribbon on the ends.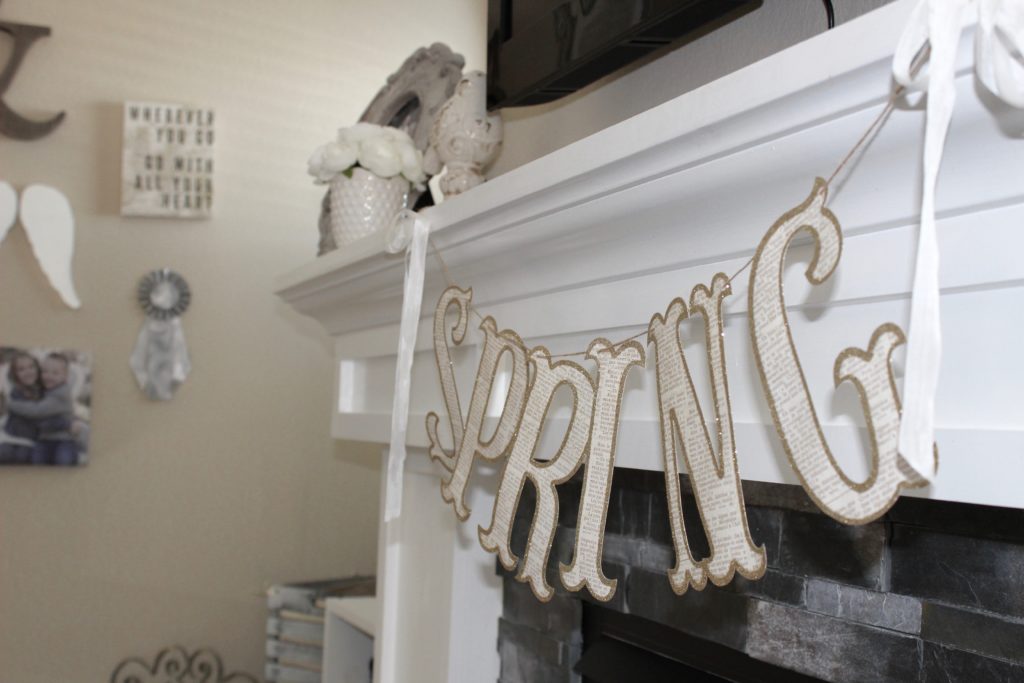 Below is just one shot of my Easter tablescape but see my previous post for more pics and details.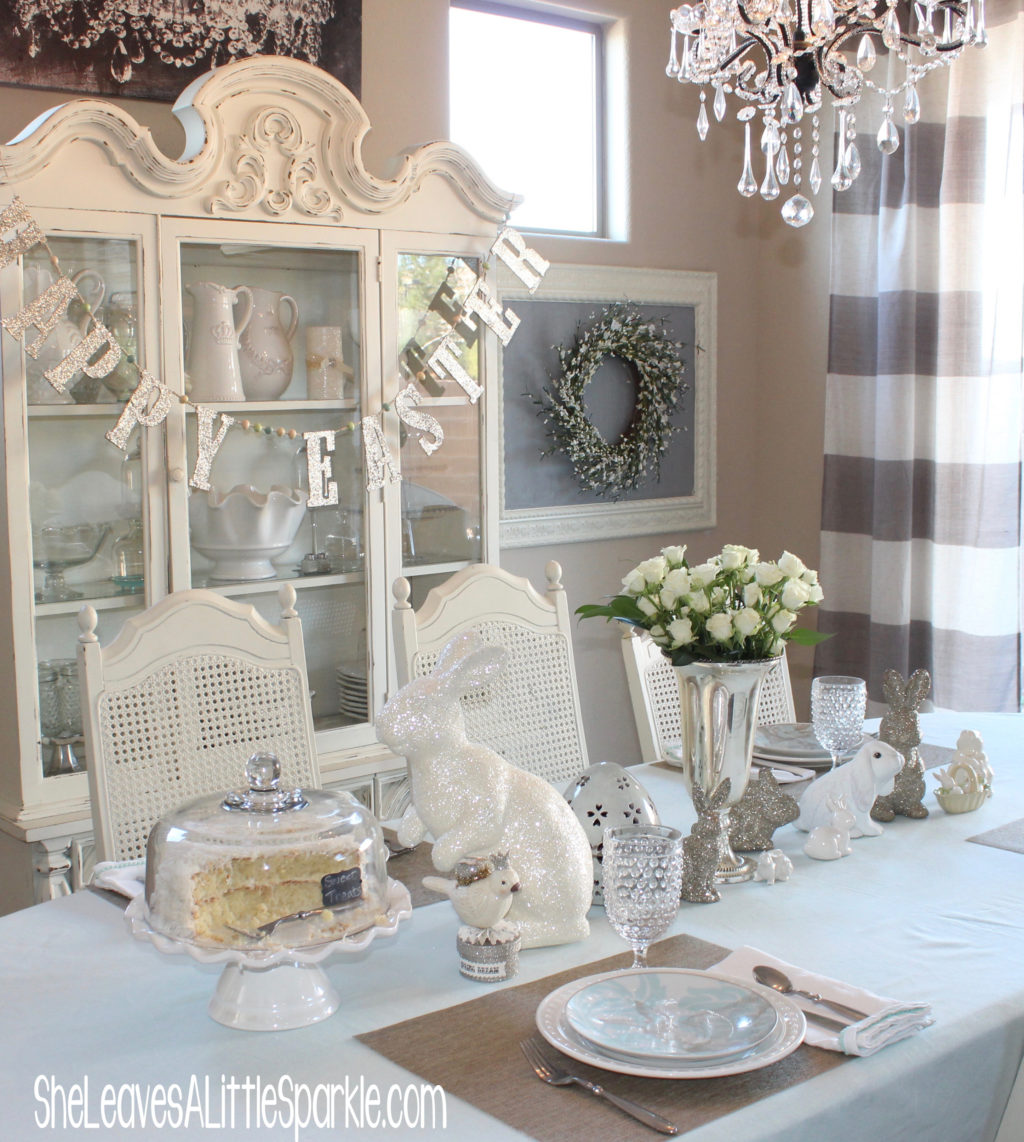 Now, while I don't bring a lot of different pastels all throughout my spring or Easter decor, I did actually add some pretty pink and blue to this one little vintage tea cart area in the corner of my kitchen.  I like to have a little dessert cart for when guests stop by for a visit.  There are always candies, snacks, or home-baked goods there to offer them and ready to be served.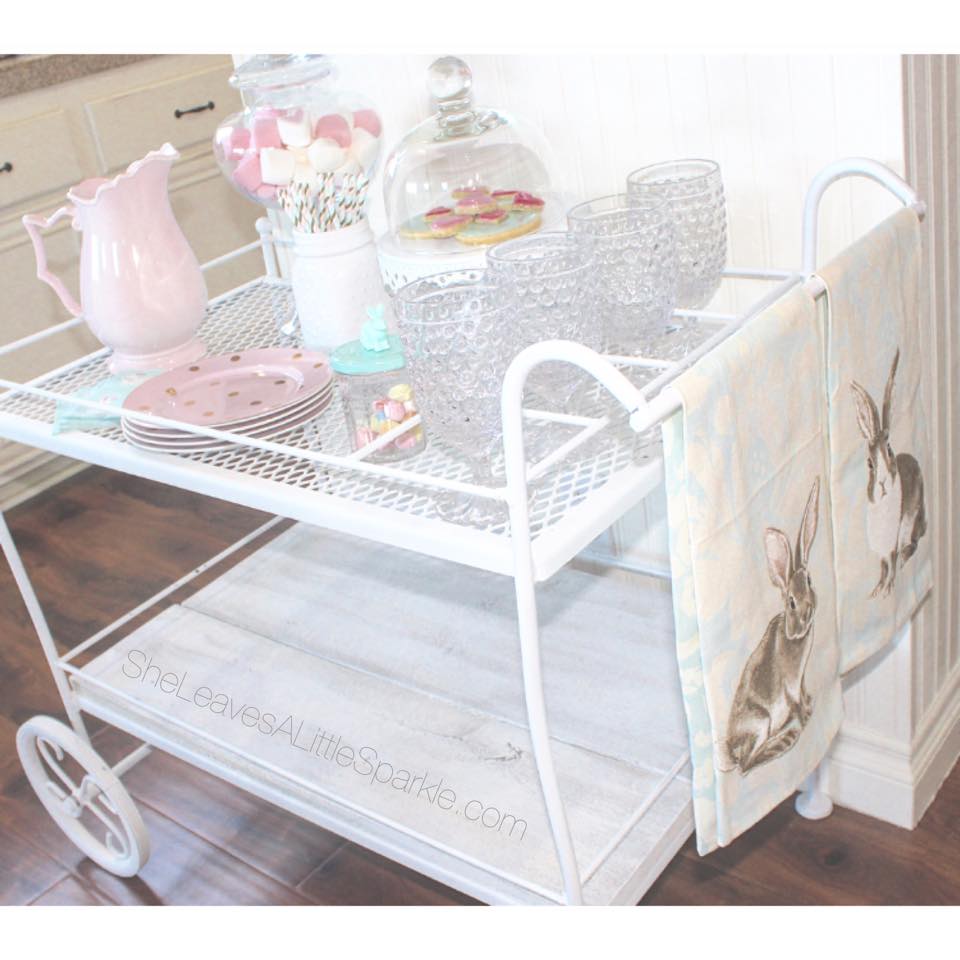 And how CUTE are those adorable bunny towels (above)?!!!!!  I fell in love with them the moment I saw them!
Wherever you can, add some greenery or floral to add touches of spring to your home!  Put away dark colors and think fresh!  One more thing….change your candles or wall plug-in fragrances to reflect the season.  Time to put those pumpkin and cinnamon scents and think floral, fresh, fruity!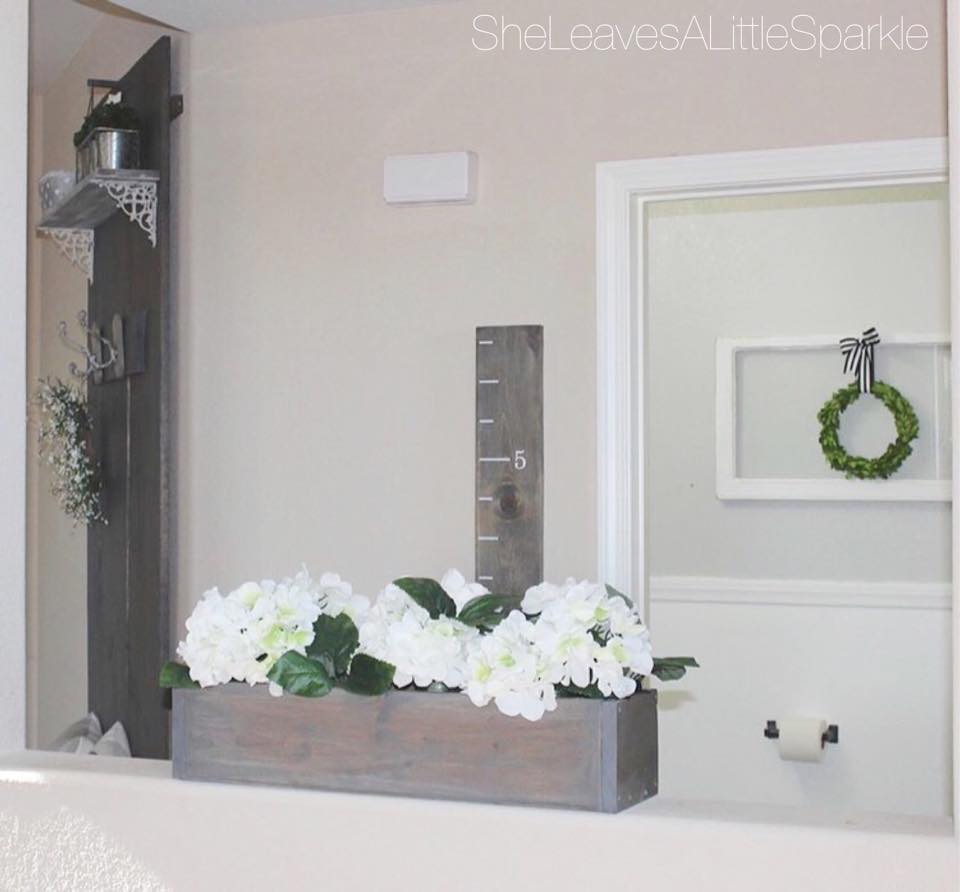 I'm working on a few other things upstairs but that will have to be shared at a later time!  I hope you've enjoyed a few ideas I've shared and feel inspired to open up your windows and change things up and welcome spring!
NOW, hop on over to Lauren Nicole Designs Blog for a FABULOUS GIVEAWAY and more spring decor inspiration!
Thanks for stopping by!  xoxo, Summer