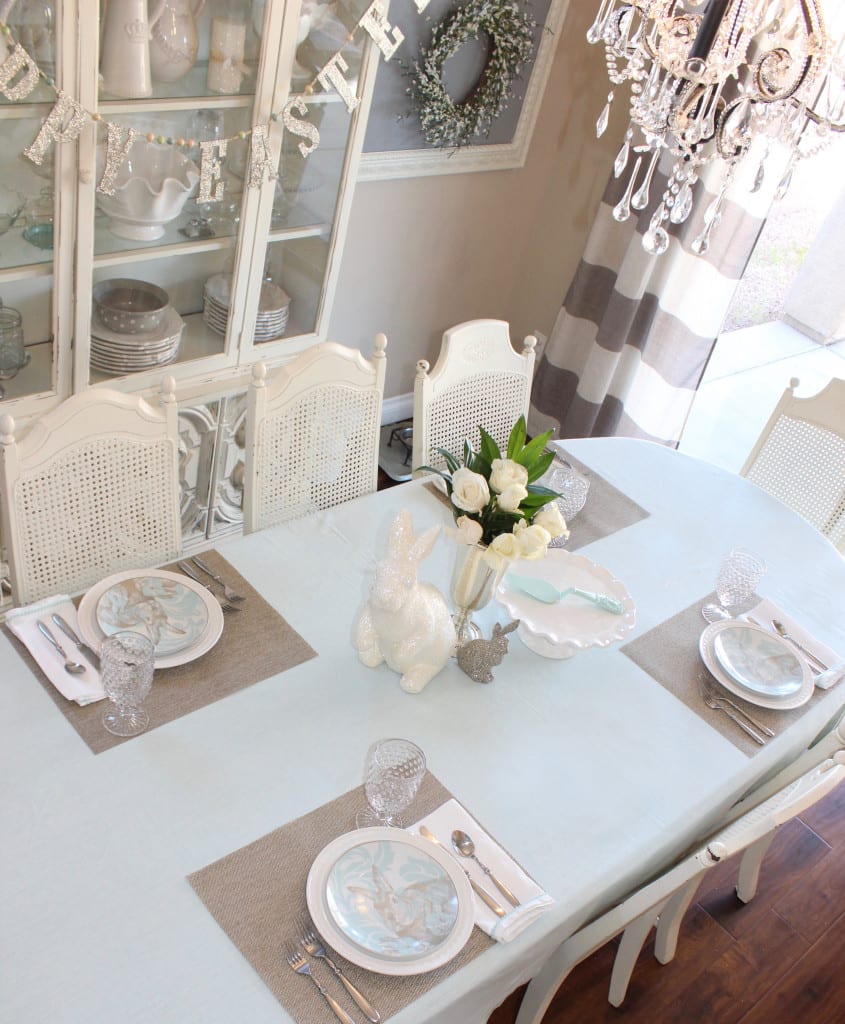 The thing I love about this time of year is that you can find such gorgeous flowers out and they can make such a huge statement on your Easter table all on their own.  I decided I wanted just a few sparkly bunnies, a beautiful bouquet of white roses and simply place settings.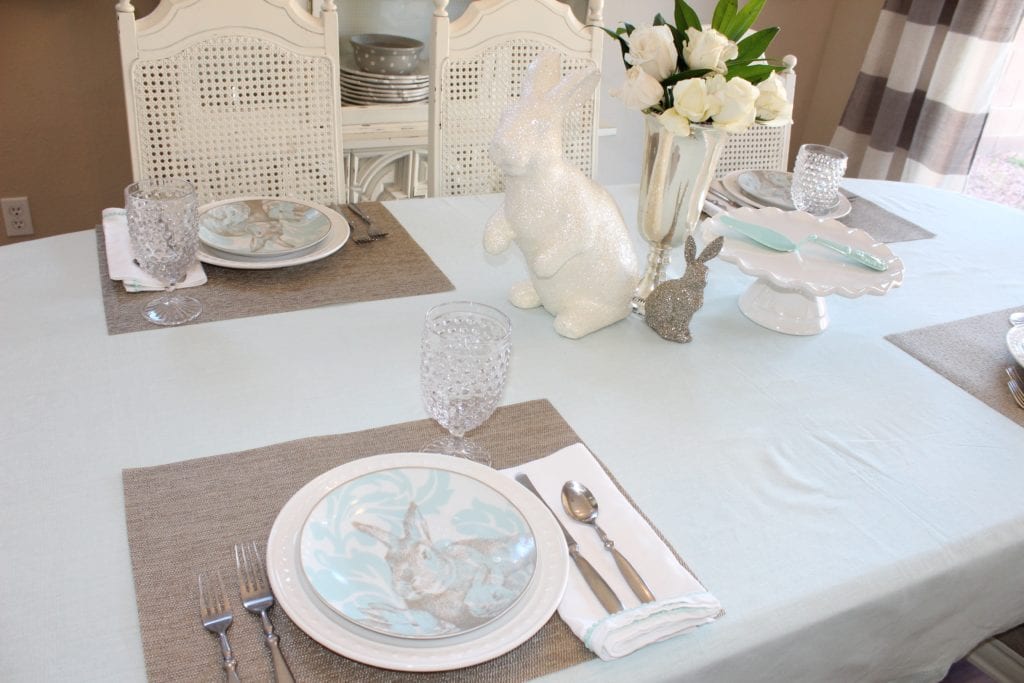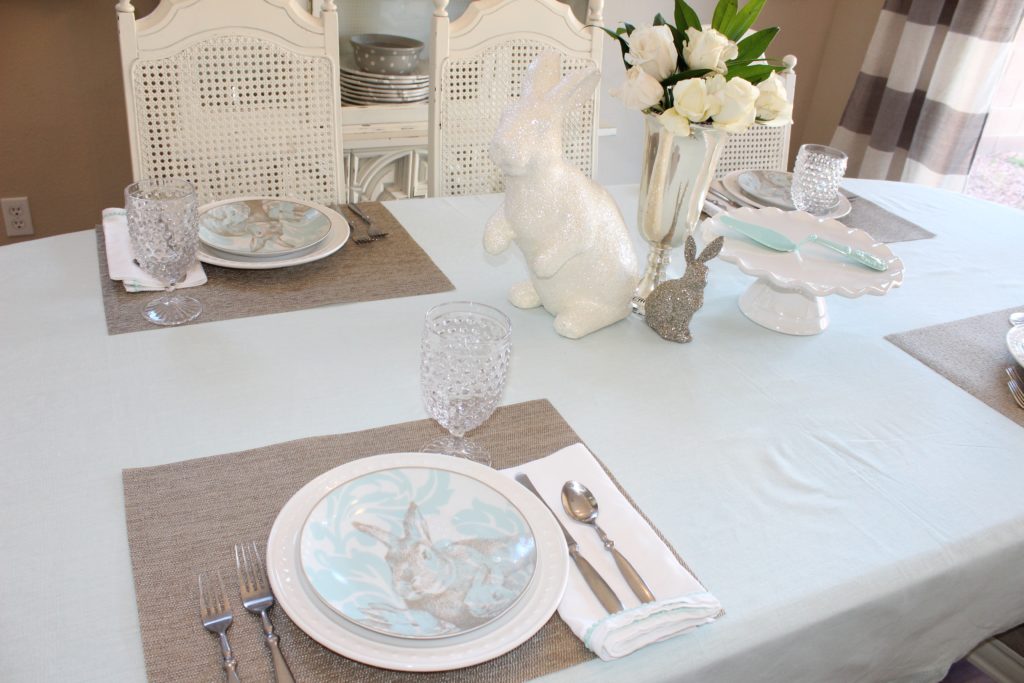 I started off by putting down a gorgeous light blue tablecloth with sparkly trim from Home Goods.  The placemats, from Target, are great because they're so neutral and I can wipe them down.  The white cloth napkins are also from Home Goods and I love the matching blue pom-pom trim.  I've had my silverware for over 12 years and were a wedding registry gift. However, we've ruined or lost a few pieces and I found them at Pier1 recently and have replaced missing pieces and added additional sets as well.  The hobnail glasses are not plastic!  They are glass and so pretty and also found at Home Goods.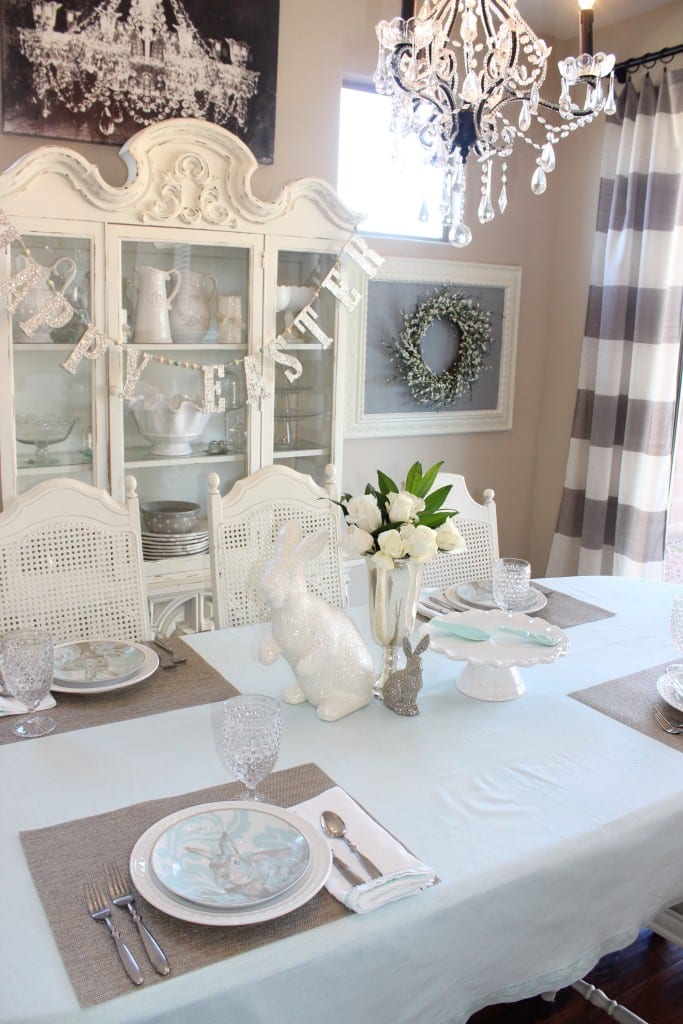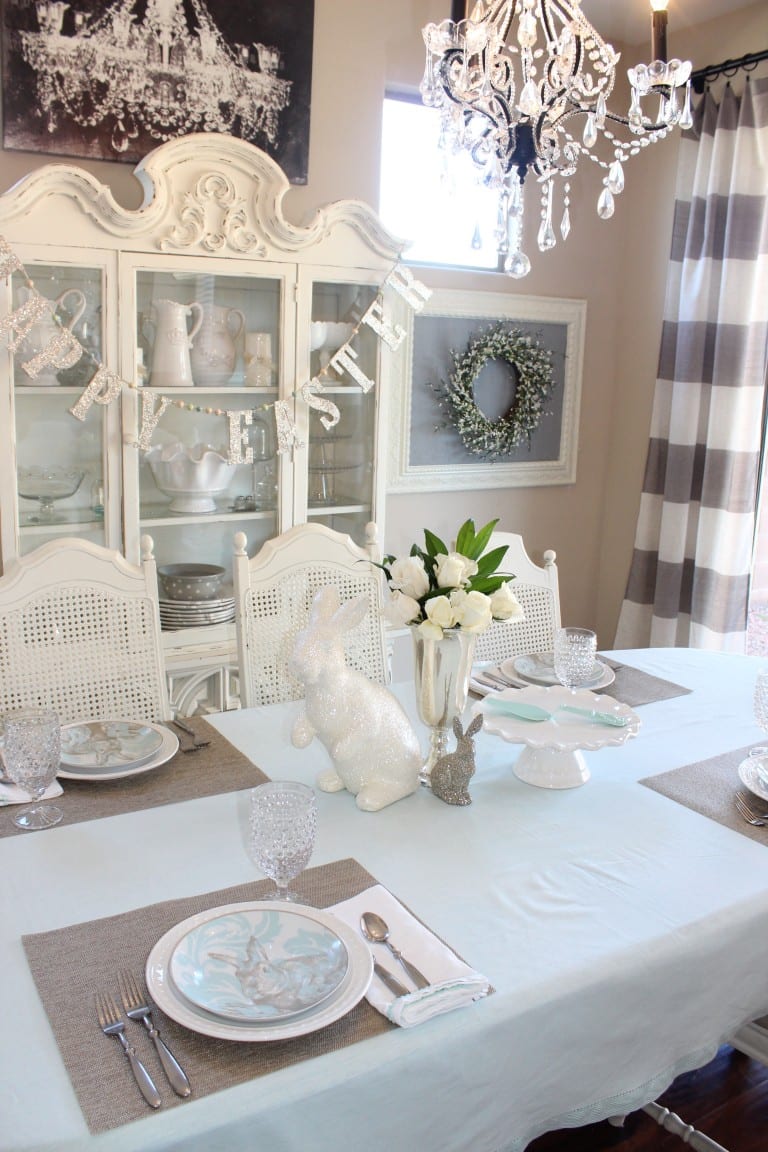 I always find such gorgeous flowers at Trader Joe's or Whole Foods Markets.  The sparkly "Happy Easter" Glitter Garland in the background is being sold again this year from Pottery Barn Kids and I'm soooo glad because so many people have asked where I bought it the last 2 years.  Those sparkly bunnies just add the perfect touch! The white one on the left is from Home Goods and the smaller one next to it is from Pottery Barn this year and covered in german glass glitter.  They are beauties!  (Might be sold out online but HERE are similar ones.)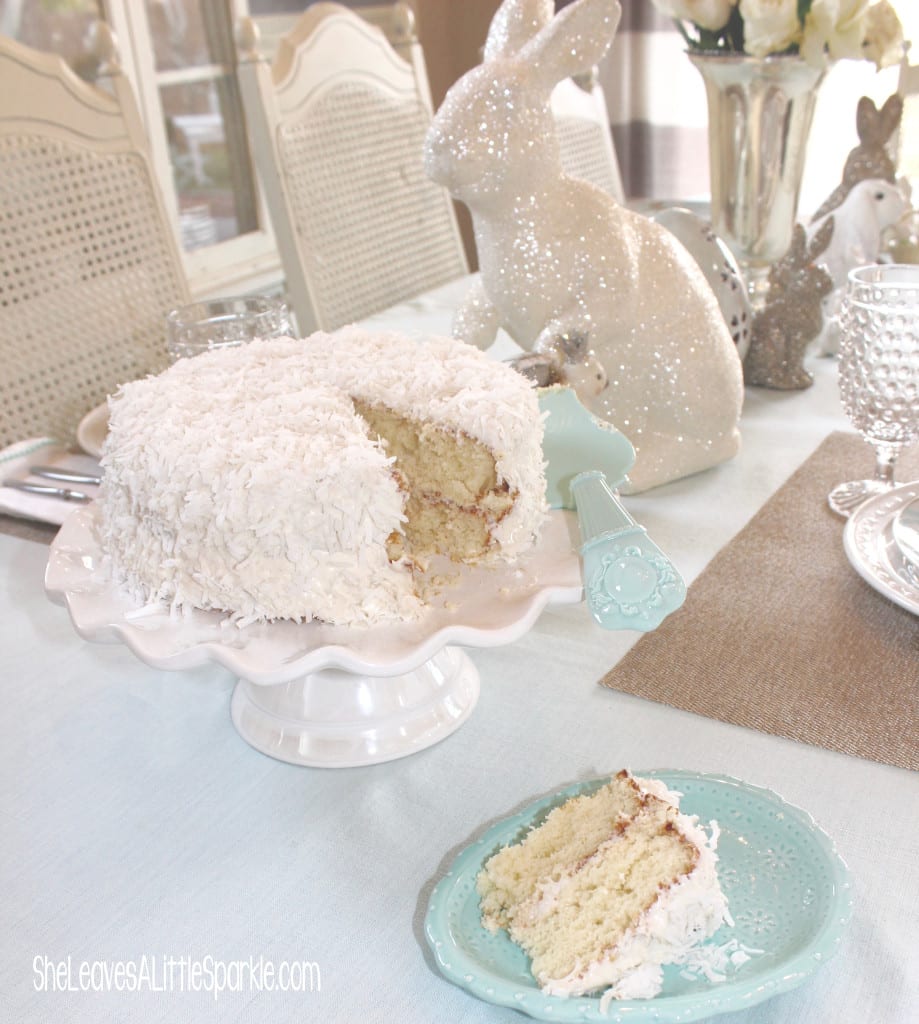 Here's a closer and more sparkly shot of the large white glitter bunny from Home Goods AND this Simply Delicious Coconut Cake is sure to be a hit this Easter!  Not only is it oh so yummy but it's also the prettiest Easter cake to compliment your tablescape.  Now, let it be known that I have a SERIOUS cake stand fetish/obsession/addiction!  They are displayed (ok, maybe some are also hidden in cupboards and closets so the hubs doesn't realize this obsession) throughout my home…ha!  But I spotted this white scalloped cake plate at Home Goods last month and so glad I brought it home because this coconut cake looks soooo pretty on it. Dontcha think?  I bought the cake server the other day on another HG trip the other day and it matched perfectly with my table.  It was only $2 (it's plastic) and came in all different colors.  You betchyer bottom dollar I bought them ;-p  This is starting to sound like a Home Goods infomercial and no…this isn't sponsored by them but yes…I think it should be since we probably pay there salary with all my HG trips there each month hahaha!
Ok….here's where I decided to go from "SIMPLE" tablescape and added a few more things…..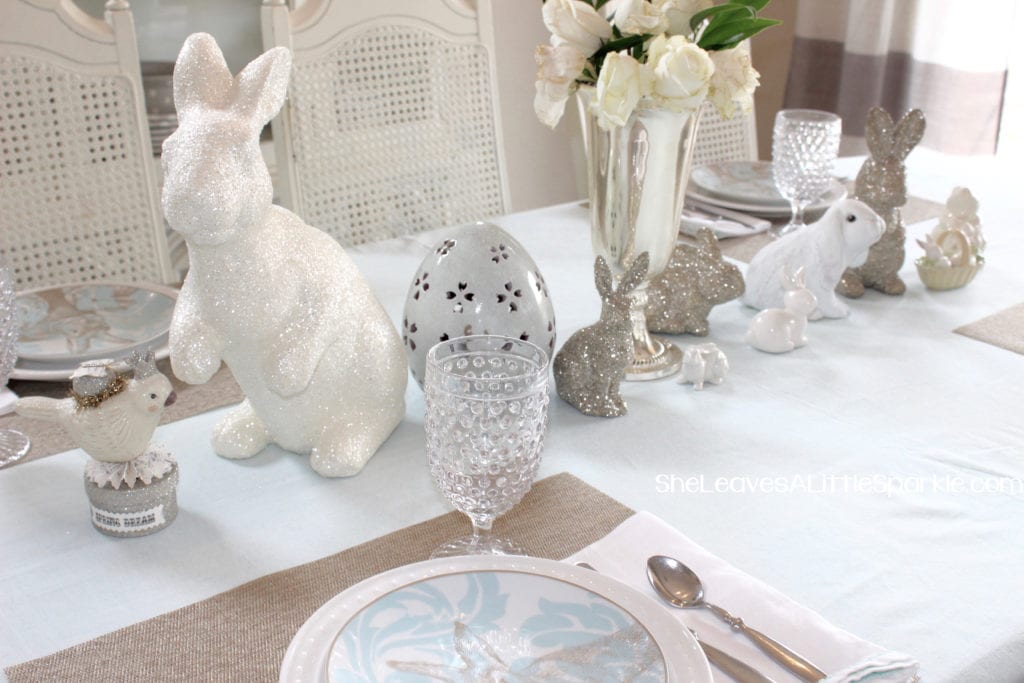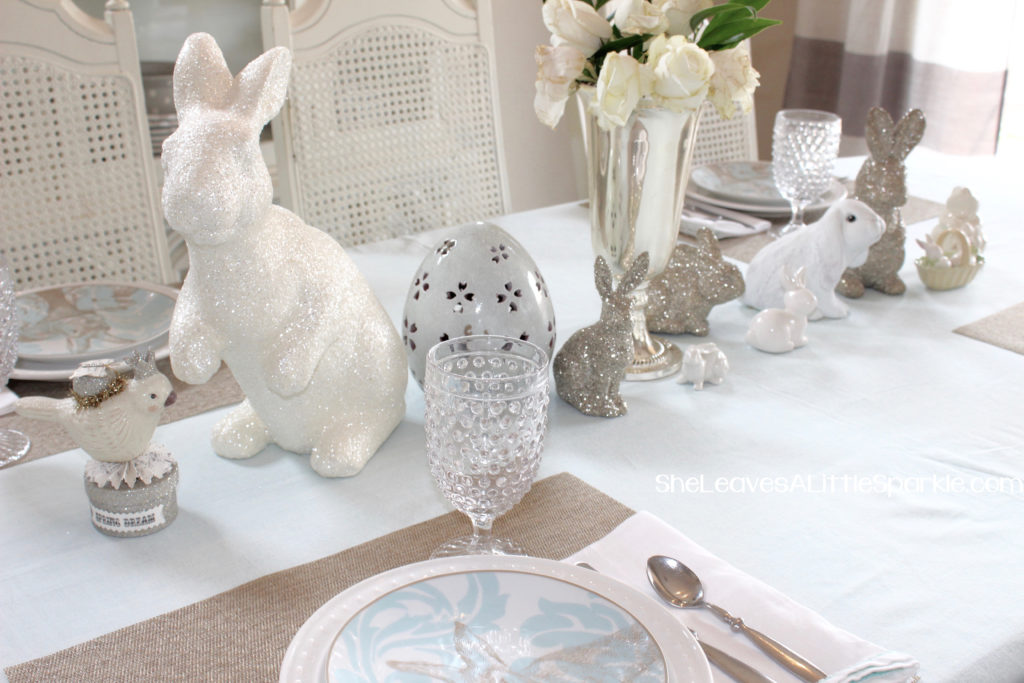 I found another Easter box in the garage I'd been looking for and it had all these cute little bunnies!!  So, I decided to make them my "table runner" and have a little fluffle of rabbits!  The darling pierced ceramic egg is found here at Pottery Barn.  It's adorable with a little battery-operated candle as well. The cute shabby chic glitter bird on a box is just something I found at a local boutique.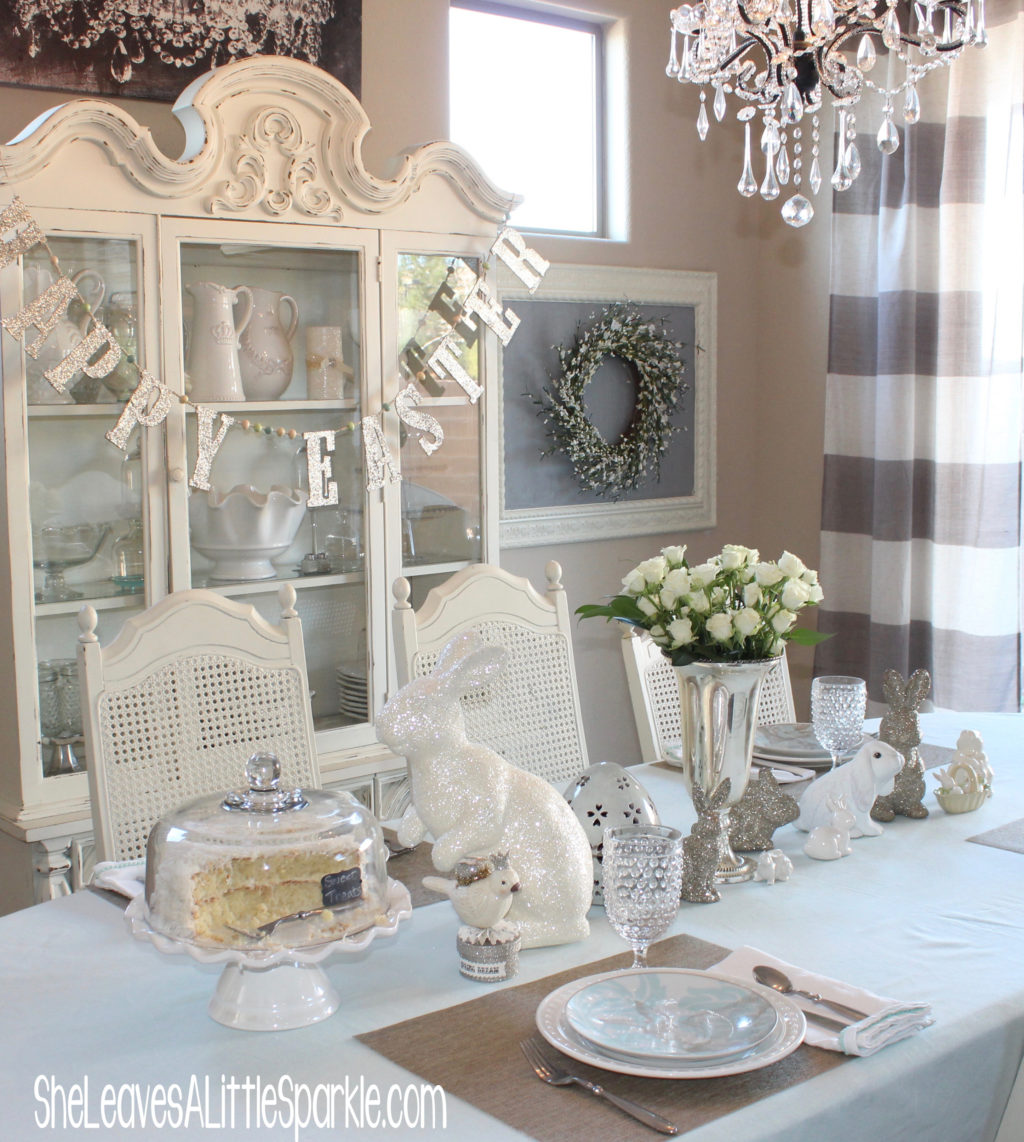 Thank you for stopping by and I hope you are feeling inspired to set your own Easter table! I'd love to see so feel free to leave a link to your blog in the comments below! Also, I'll have an alternative idea for an Easter table coming soon! 😉  So stay tuned!
xoxo, Summer