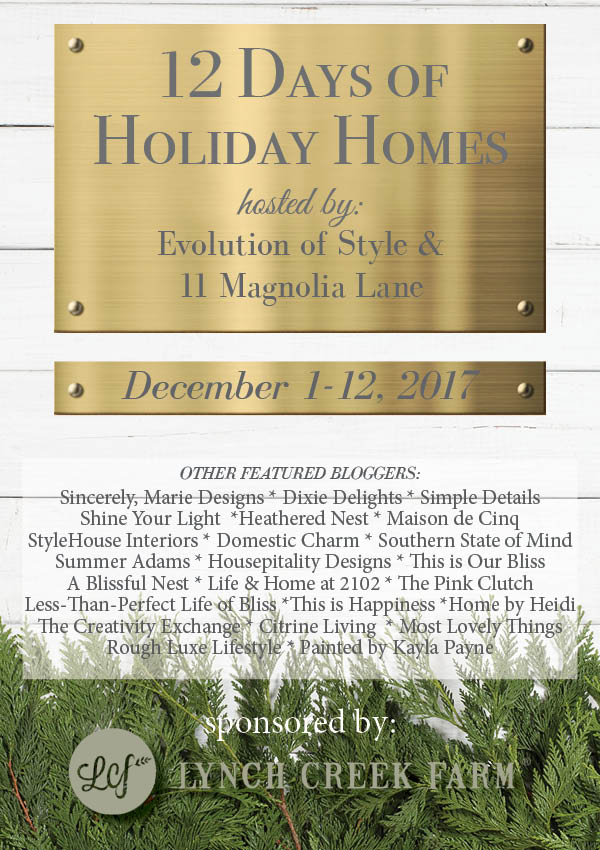 Welcome! Today I'm joining a fantastic group of talented interior & lifestyle bloggers for the "12 Days of Holiday Homes Tour". A huge thanks to my friends Christy & Amy of 11 Magnolia Lane for hosting and bringing us all together. Blogger tours are such a neat way to, not only gain a TON of inspiration, but to find new blogs and designers to follow and connect with. If you're new here, make sure to find my social media channels on my sidebar and follow along with me! One thing you'll find is that I not only love a bright white home, but I absolutely love pink! So today, Day #5, I'm sharing with you my blush pink flocked Christmas tree that's in my new home office.
Oh, and you can hover over the top left corner of any picture and a "Pin It" button will appear so that you can pin it to Pinterest!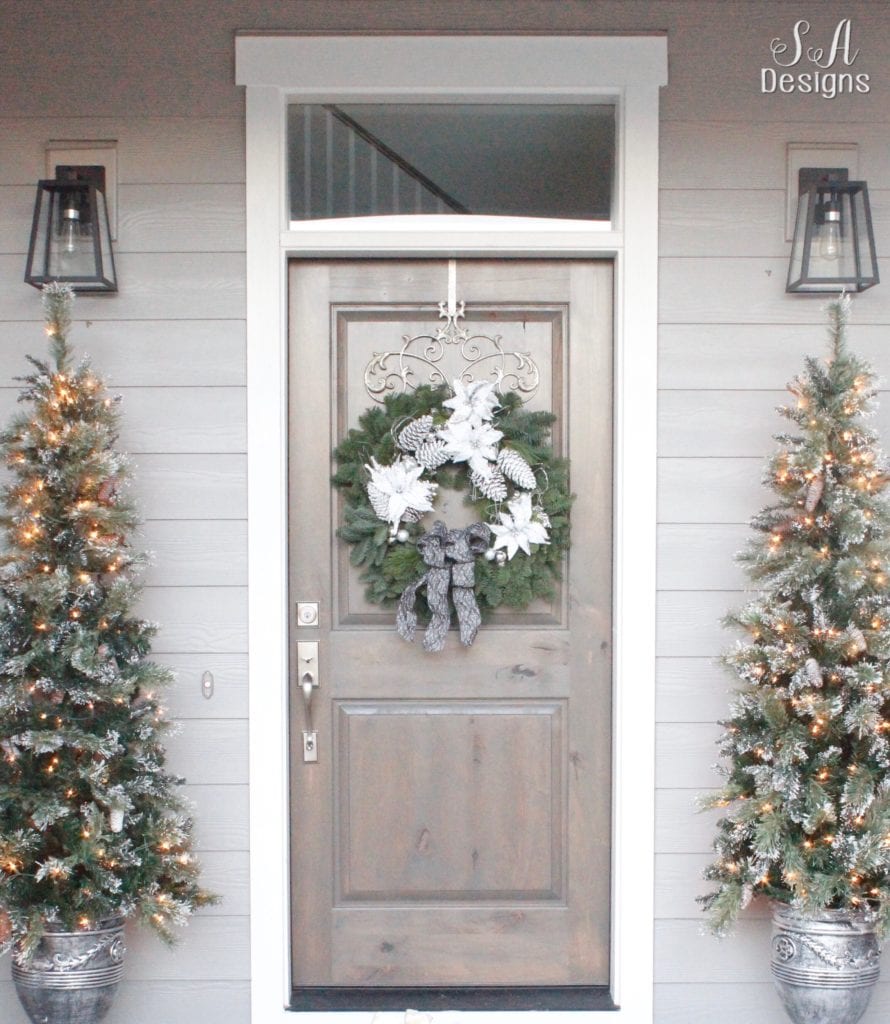 Our friends at Lynch Creek Farms are sponsoring our 12 Days of Holiday Homes Tour and they sent us each a wreath or other piece of our choice. I chose this gorgeous Winter Radiance 26″ Wreath.
They have the PRETTIEST fresh wreaths, garlands, centerpieces, and trees. They will ship it to your front door! Everyone has been posting about them so I was so excited to get to order from them finally.
This post contains affiliate links for your shopping convenience.
Click here to read my full disclosure policy. You can shop the post at the bottom.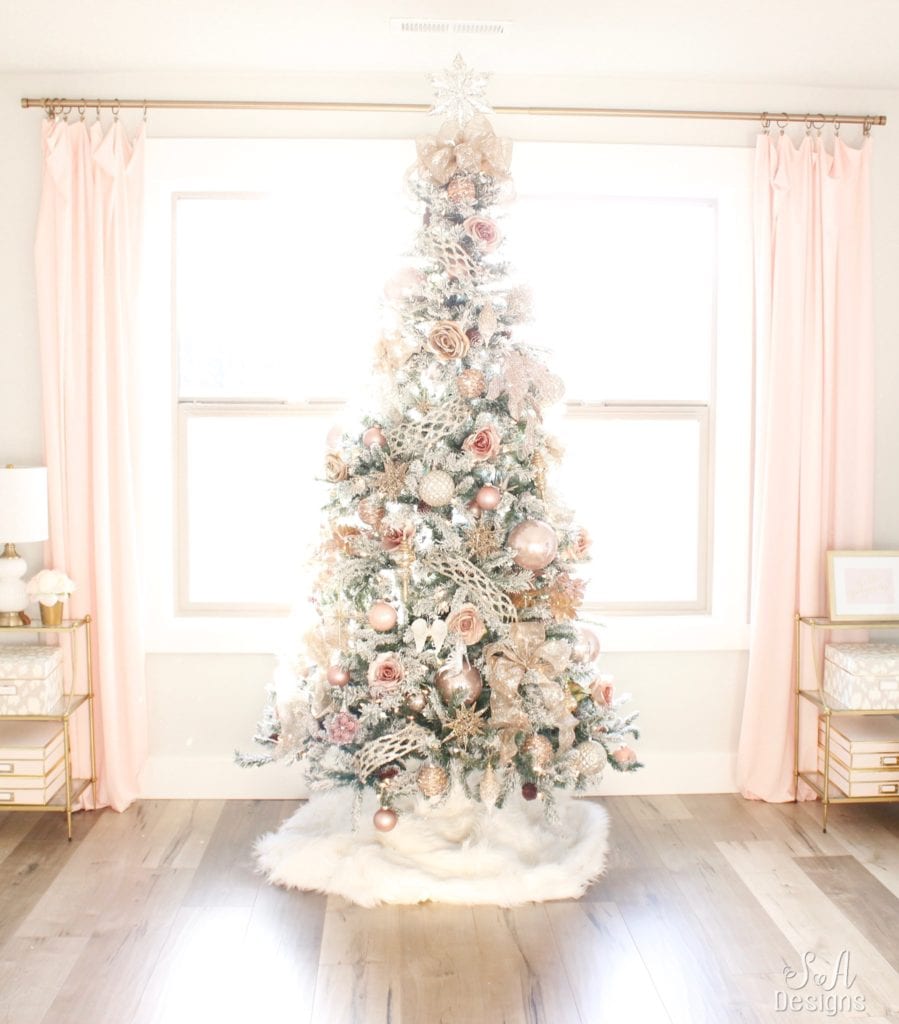 Last week I revealed my Winter Wonderland Tree, which is beautiful but much larger than this and it's all white. For my blush pink and gold office, I obviously wanted to put up a tree in the same colors, but I didn't want as large of a tree. So I grabbed one of our older, lightly flocked trees, from the garage (it's this one) and most of the blush pink and champagne and gold ornaments from last year's tree (from our previous home in back in Texas) to decorate this one. But I wanted it to be softer and have less gold.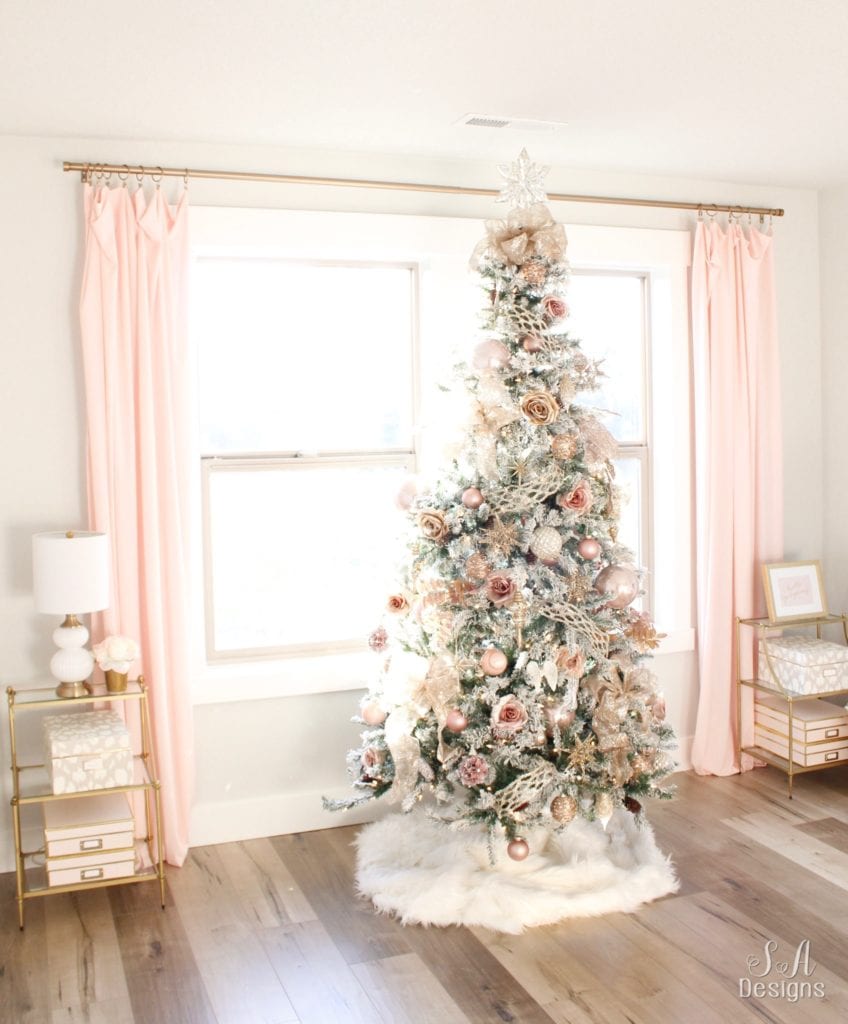 One thing I didn't have 2 of were fur tree skirts. I ran to a few local stores and they were out. So, I grabbed my faux fur rug that normally lays flat on my office floor and I scrunched it up all around the bottom of the tree to create a tree skirt. Why didn't I think of that in the first place? Easy peasy!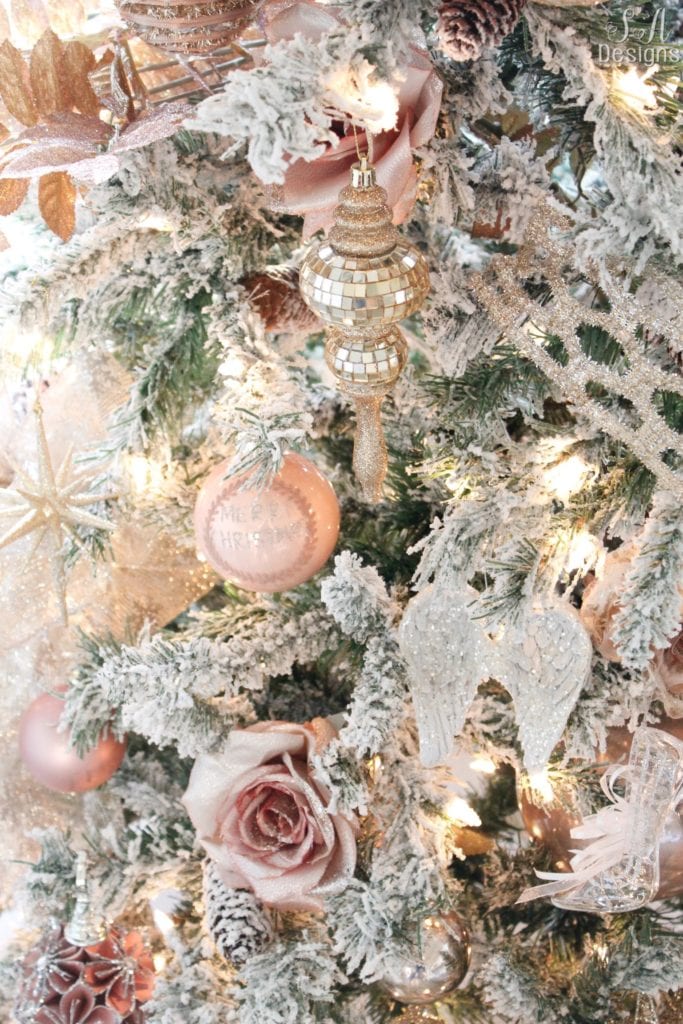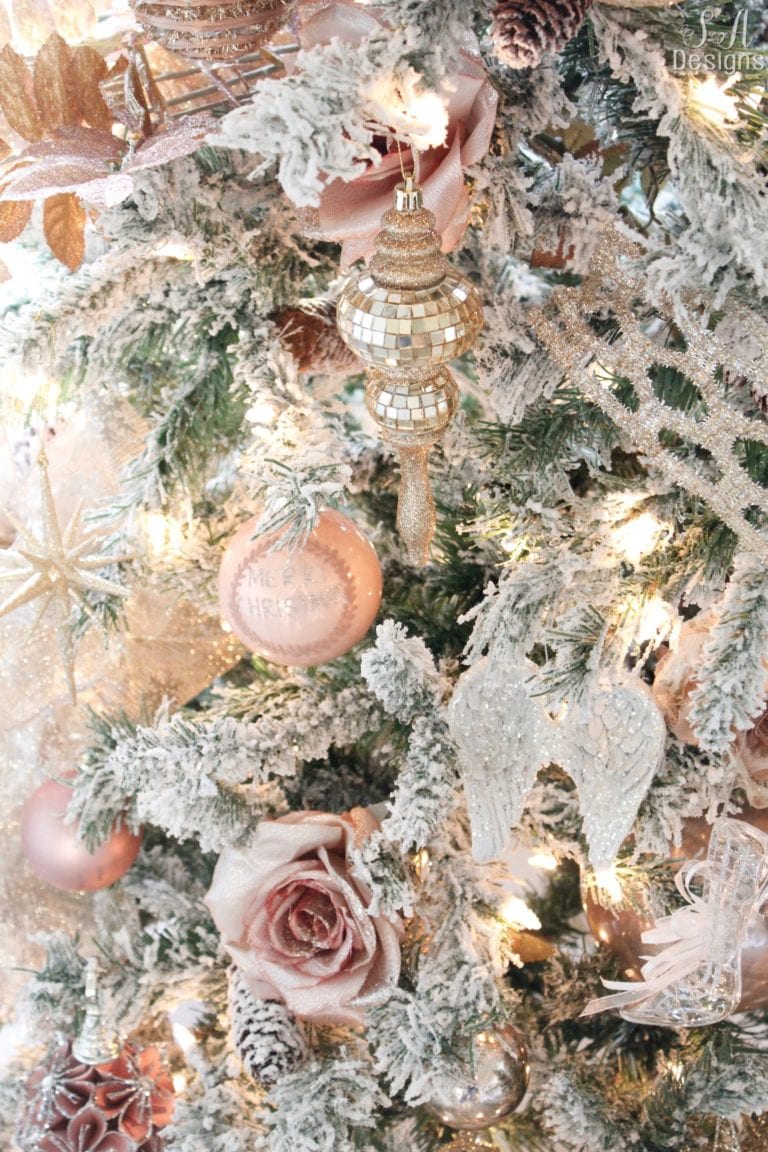 I bought these lovely blush metallic roses at Michaels. The wings were from Hobby Lobby and the glass stiletto ornaments are from my darling friend Nicky Sinclair and her online boutique called Composition Lane. The gold spindle ornament was found at World Market last year.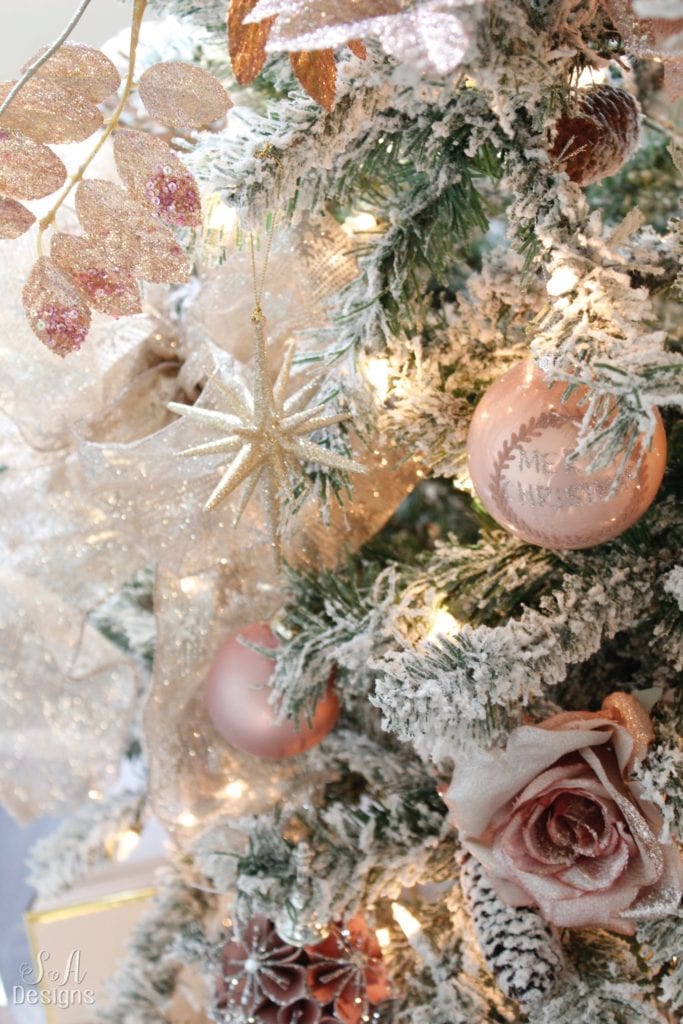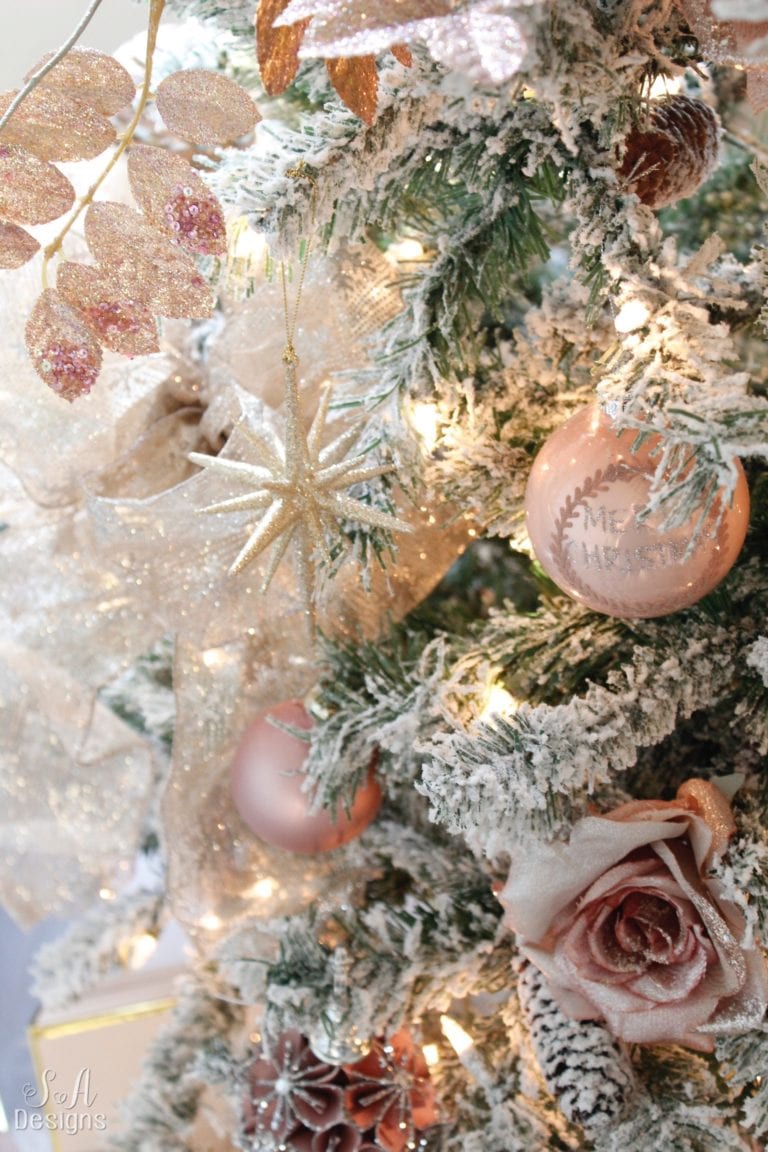 All the blush ball ornaments were from Michaels and Hobby Lobby, as well as the sparkly bow ribbon on my tree. All my sparkly blush and champagne-colored floral stems were also from Michaels. I placed them in the tree so that they were gently hanging down, lying softly on a branch.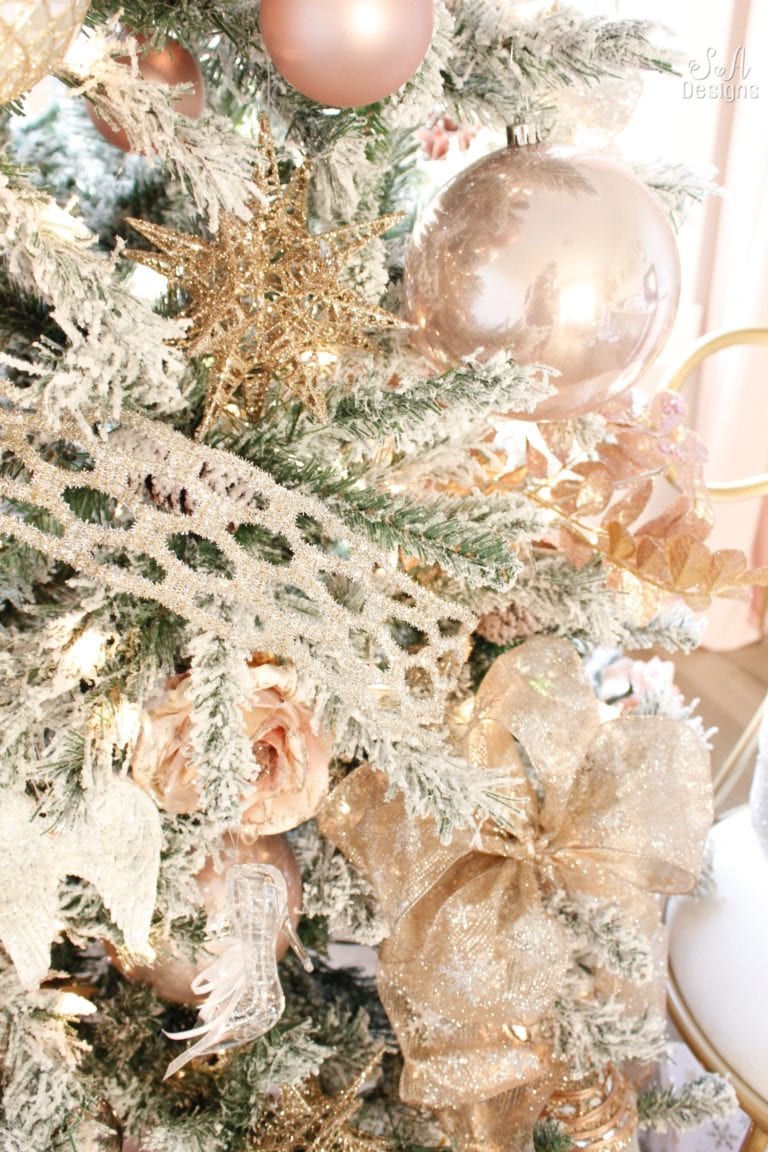 I cut strips of this extra wide mesh tinsel ribbon in approximately 18″ strips and tucked them down the center and sides of the tree, diagonally, to make it look as if it's weaving in and out. It's pretty AND it saves a lot of money.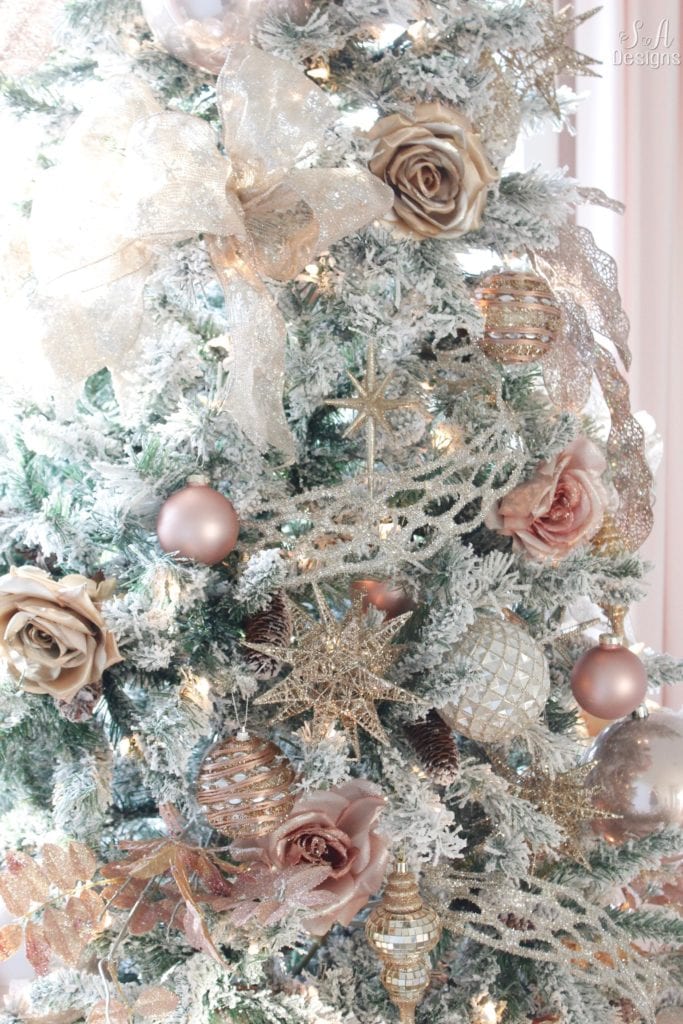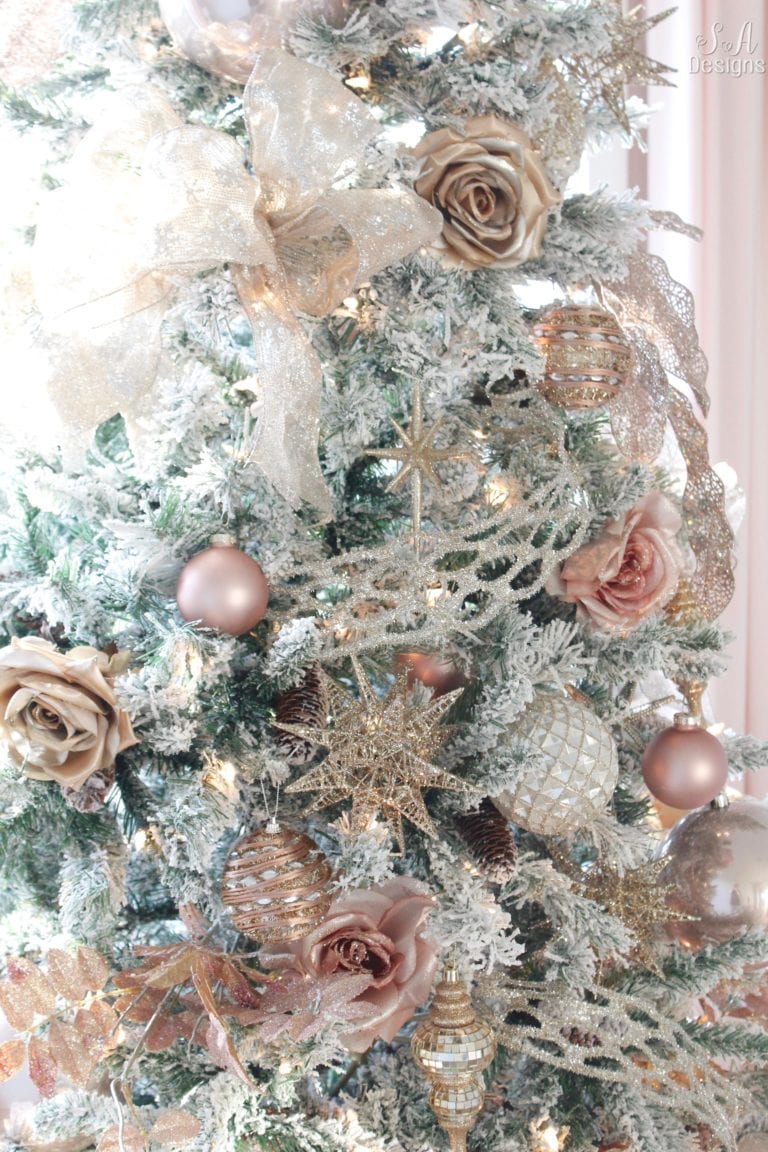 You don't have to literally wrap your tree in ribbon. It's more difficult and more expensive and, personally, I like the way this looks best. Just my personal opinion though! It's wired too so it keeps its shape nicely and stays put.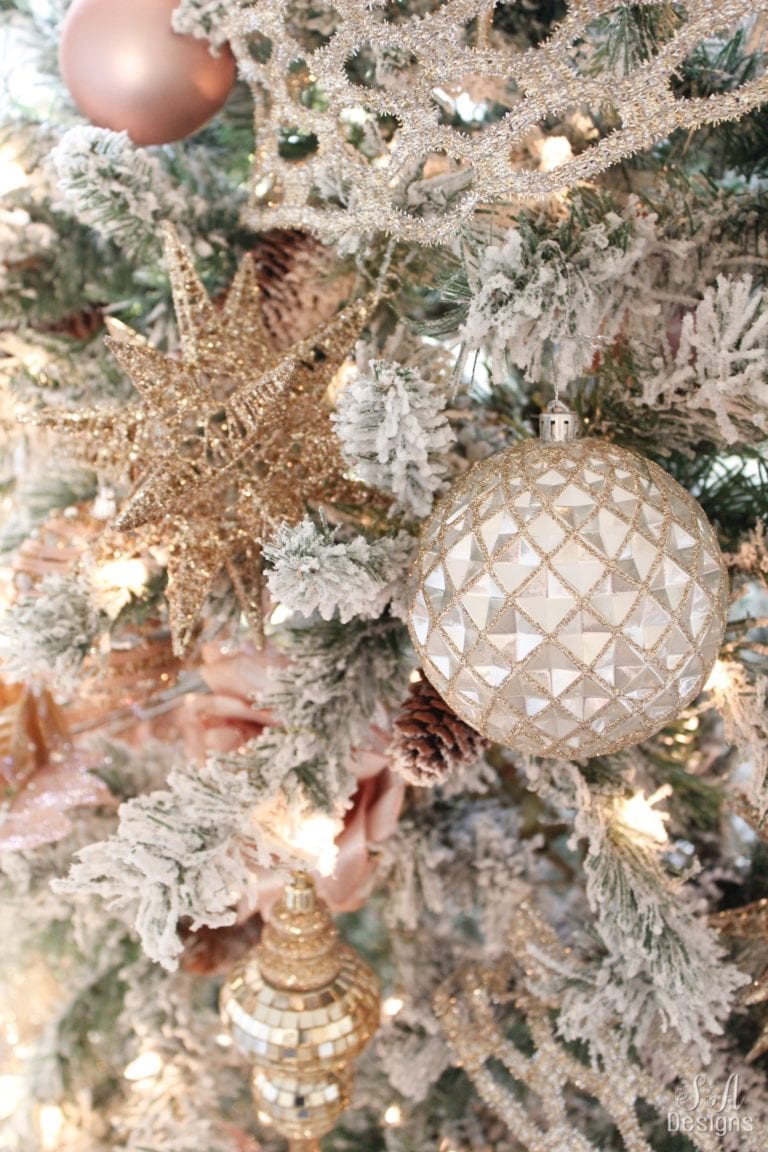 I found this sparkly champagne round ornament at Crate & Barrel a few years ago. If you can't find the exact ornaments I used, I will include similar or suggested ornaments and items from this post at the end.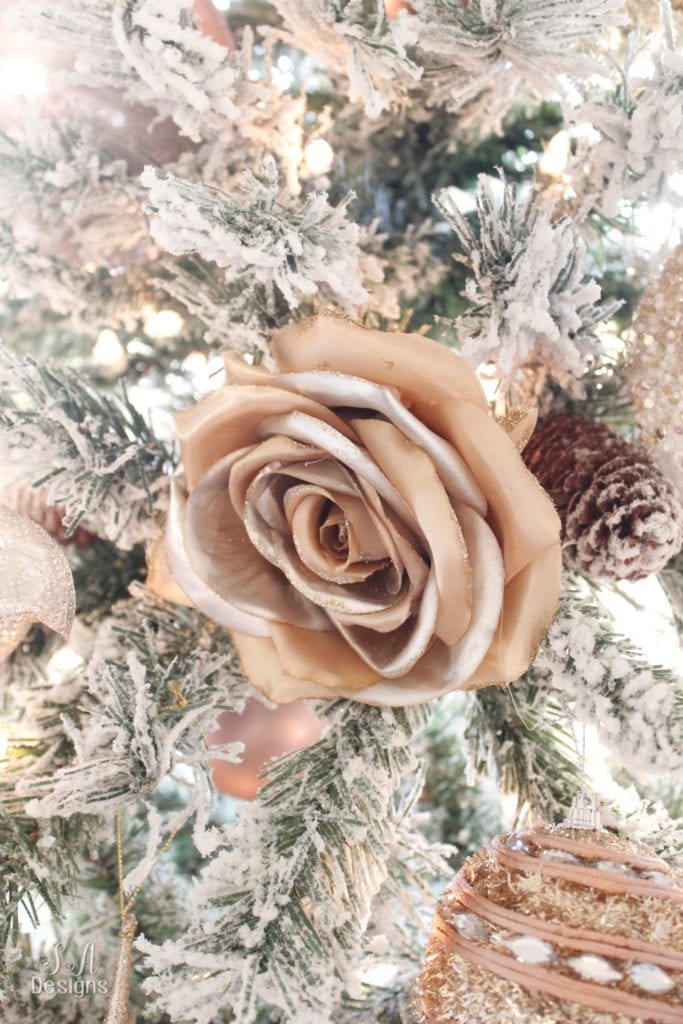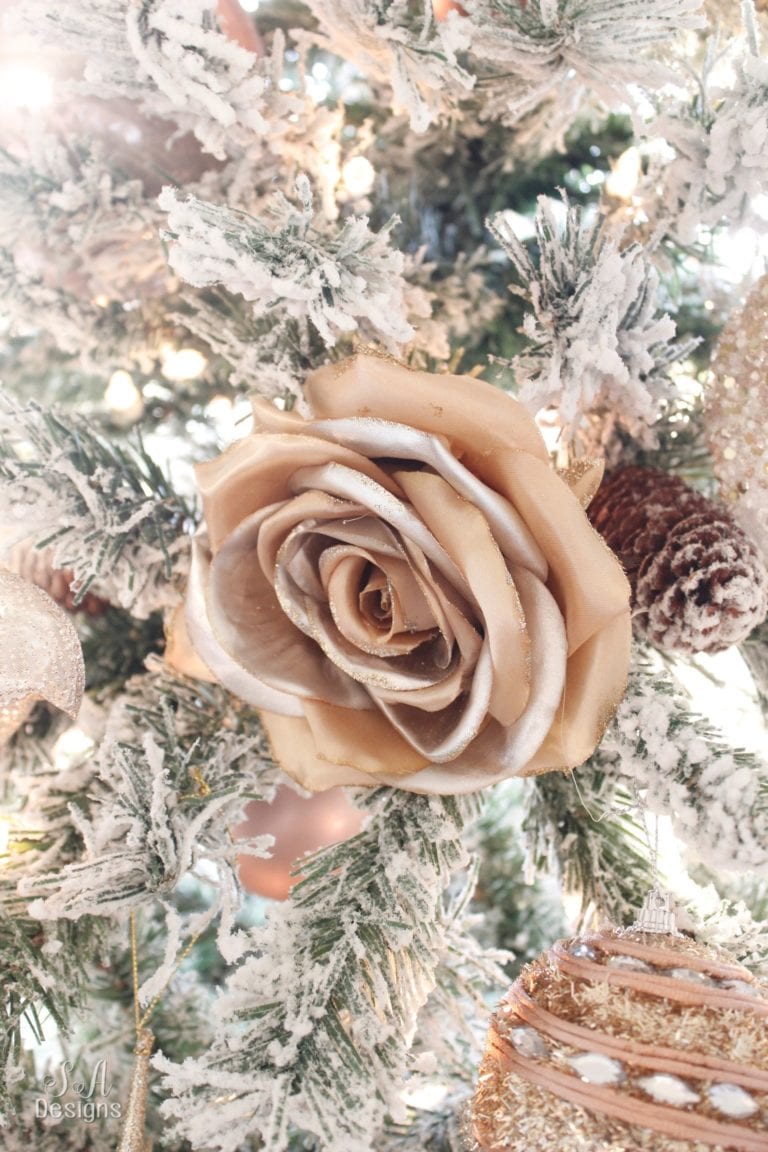 I also found these champagne-colored roses at Michaels. I love the touch of romance that these roses add this tree, don't you?! You don't have to use poinsettias just because it's Christmas. The round tinsel/jeweled ornaments were from Decorator's Warehouse in Arlington, Texas and I found them last year.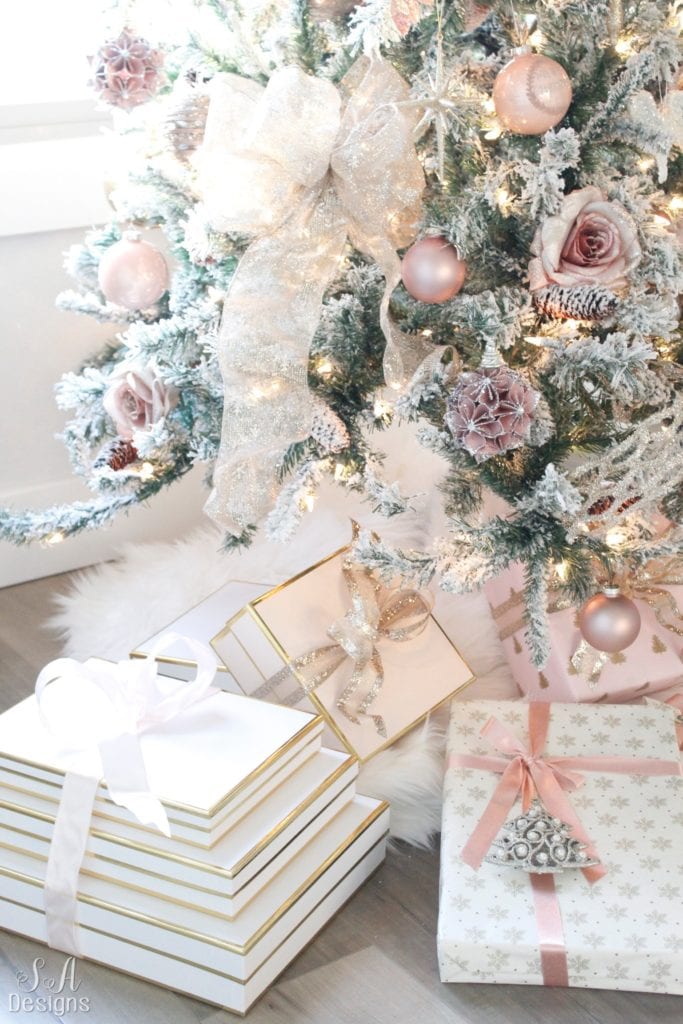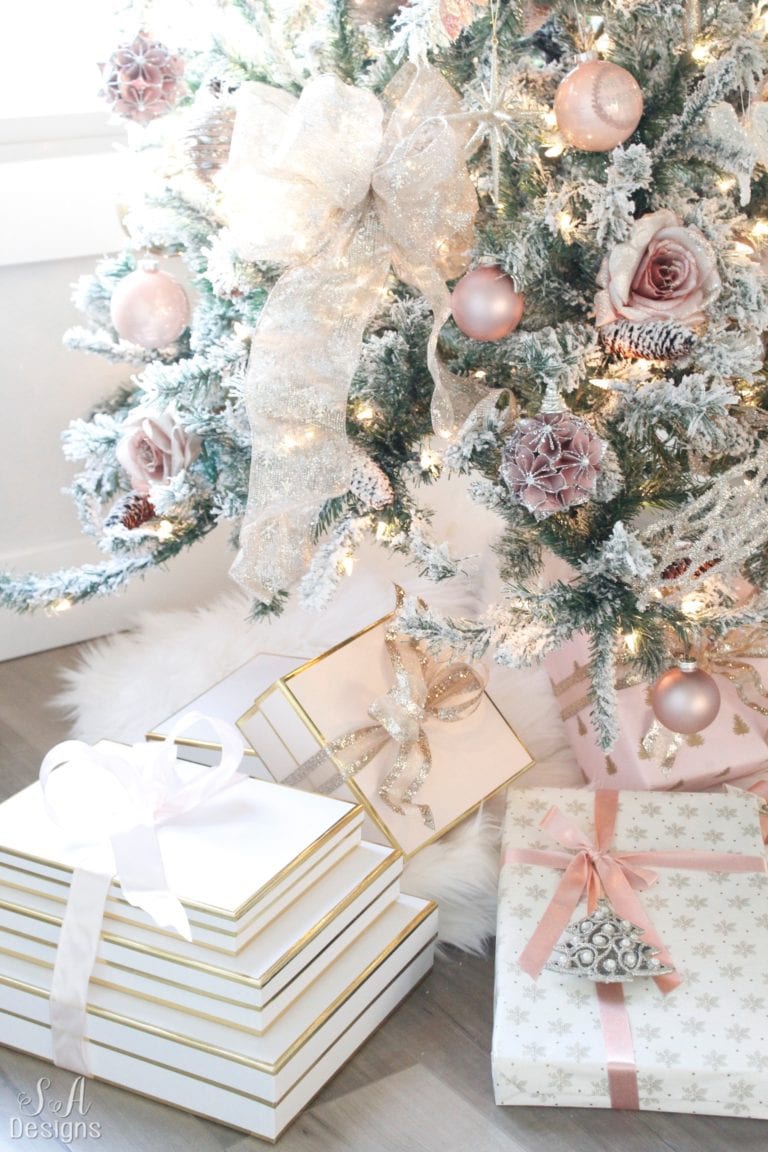 I love making big bows from sparkly ribbon and pipe cleaner and then attaching them to the tree.
Of course, I also love to coordinate all of my presents with the tree. I found a lot of beautiful wrapping paper HERE but all my cute white/gold and blush/gold gift boxes are linked below. Scroll down to end of the post for the direct shopping links.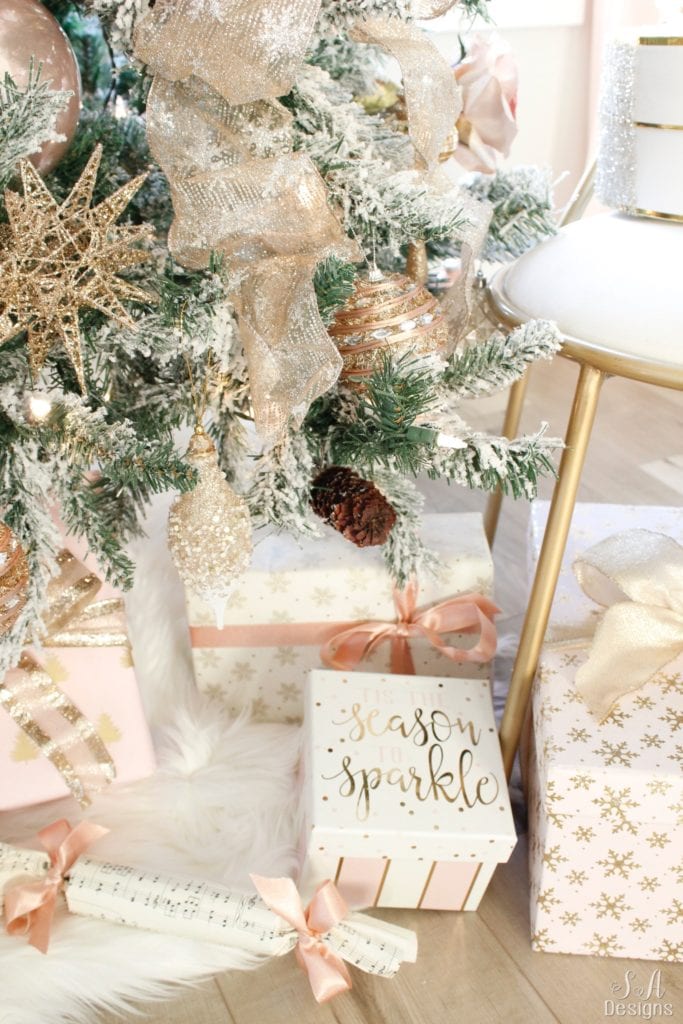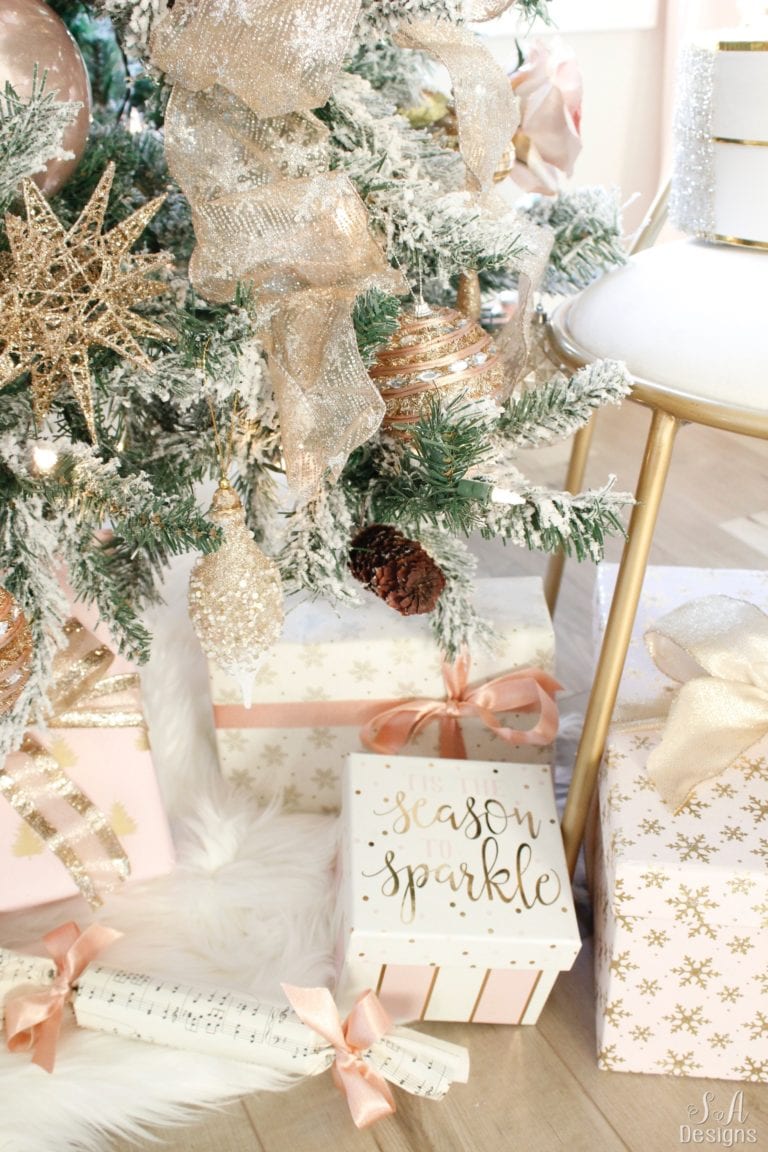 I had to have the "tis the season to sparkle" gift box when I saw it at Home Goods! I also found that cute pink box with gold snowflakes there as well. I've had good luck finding gift boxes there.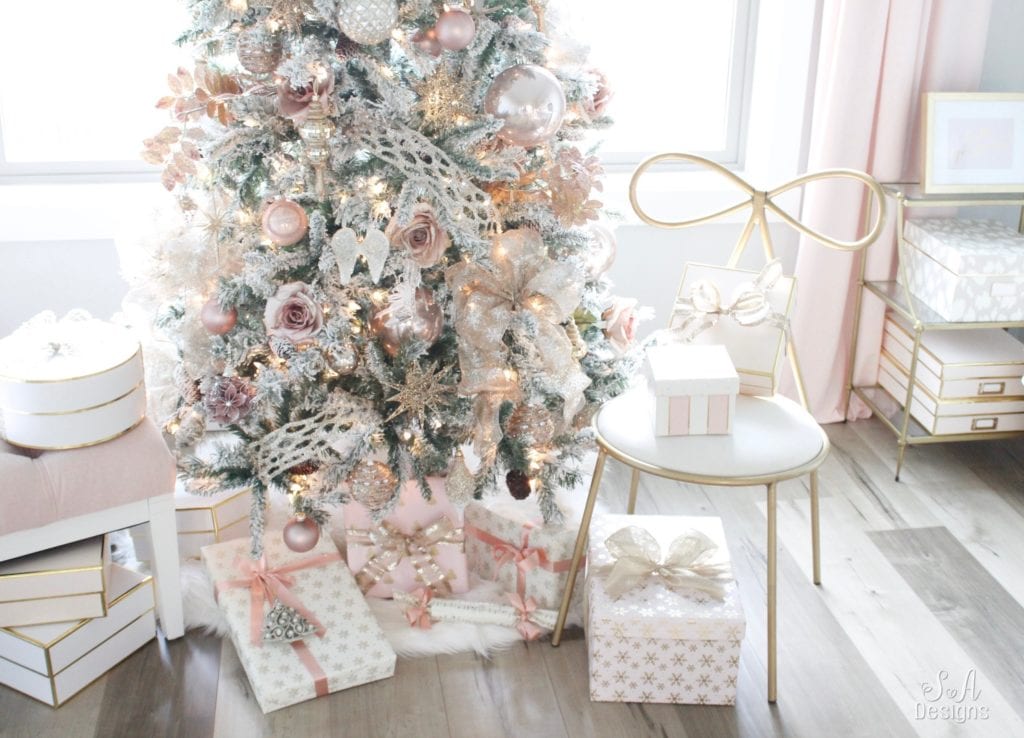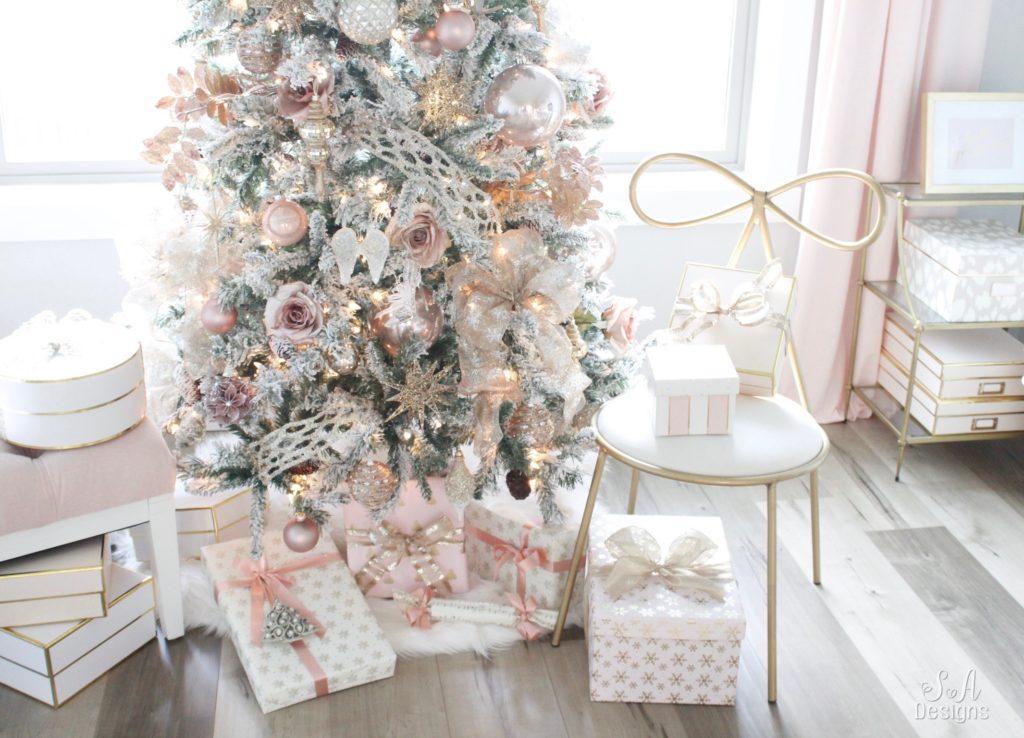 I pulled my cute bow office chair and this blush tufted bench over to the tree as I set all the presents down. They just completed the look. I wish I could share my entire office but we just finished building this home and moved in last month. My office is a mess still on the opposite end of this room. So it'll be a couple of more weeks until I do an office reveal, as I'm waiting on a piece of furniture to help me get organized. Make sure to check back for that!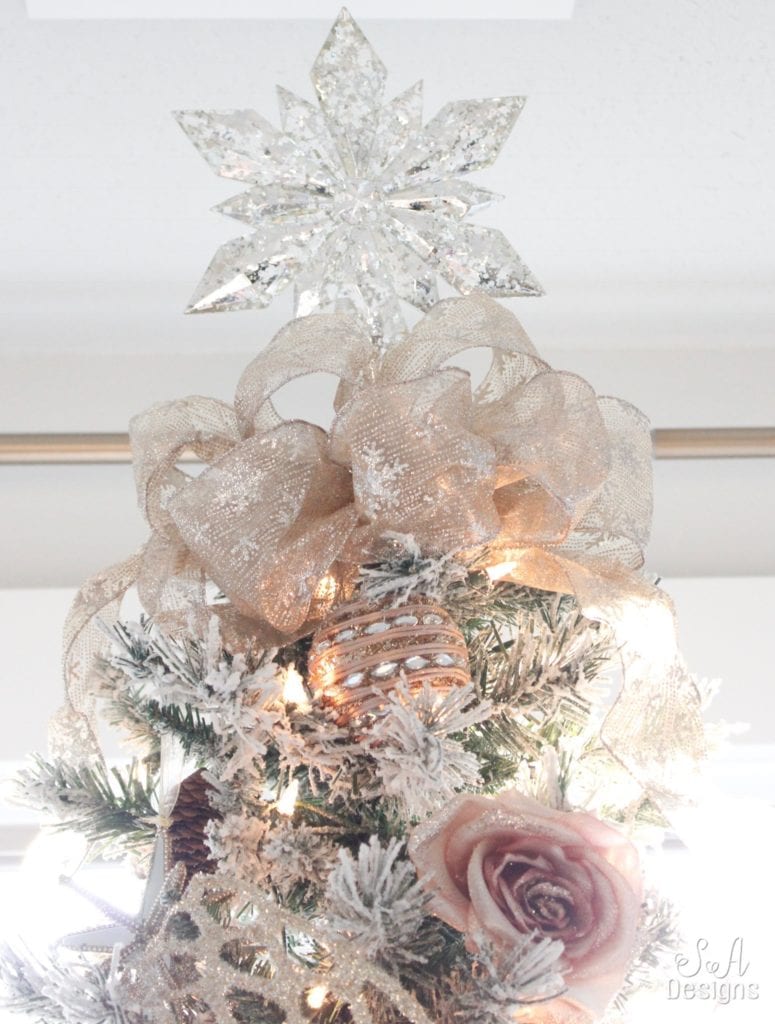 That same sparkly ribbon I mentioned above was also used for the largest bow on the top of the tree. I always like putting a large bow right below my star to add a touch of elegance and to tie it all together. This star tree topper is one of my favorites. It looks like mercury glass and light bounces off of it so beautifully.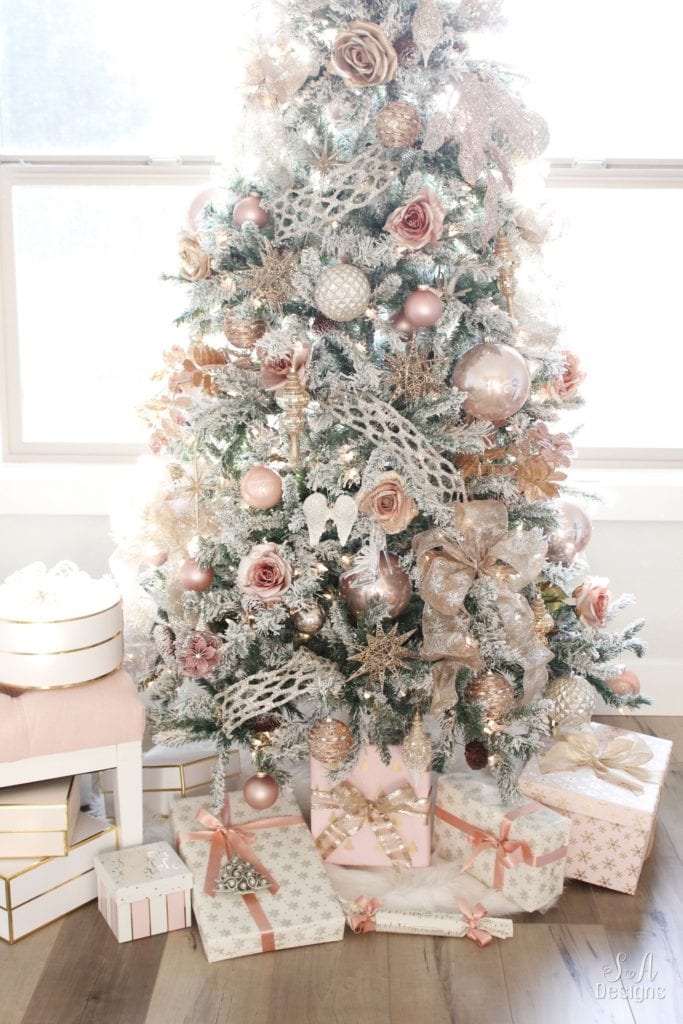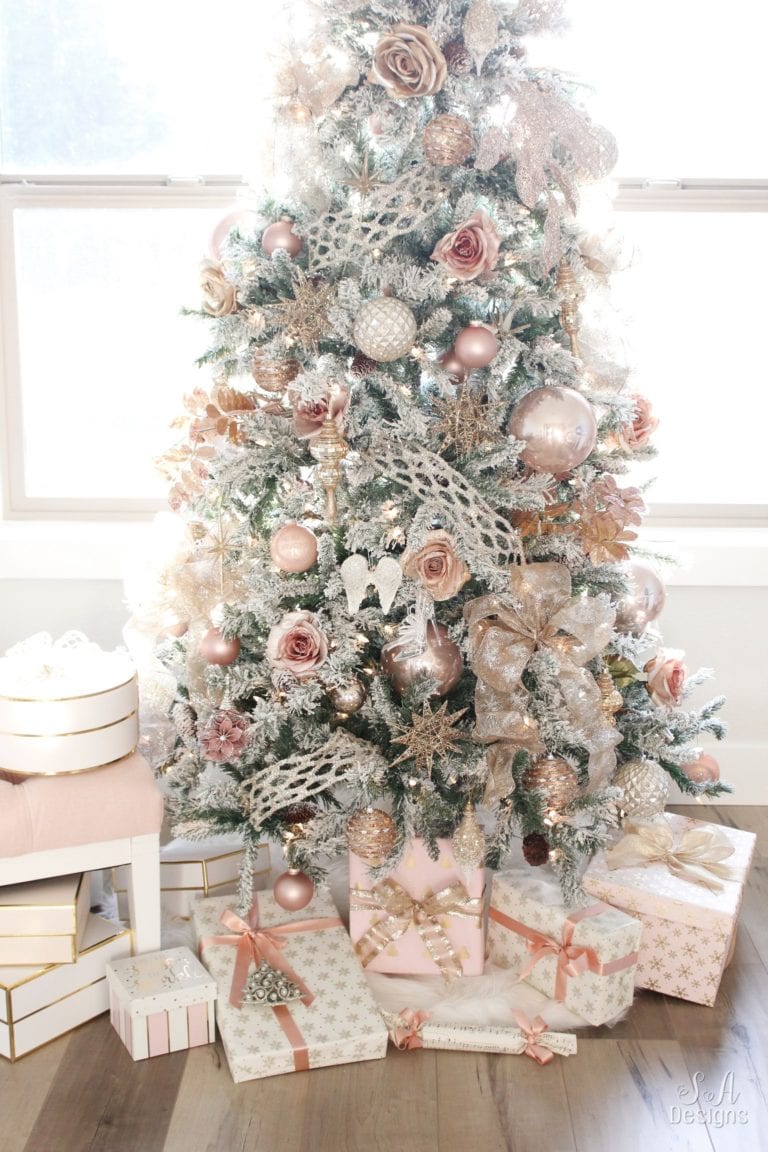 Take another look at that mesh tinsel ribbon. As I mentioned, you tuck it in the branches diagonally, going down the front and sides of the tree in opposite directions. It's simple and I love the way it looks!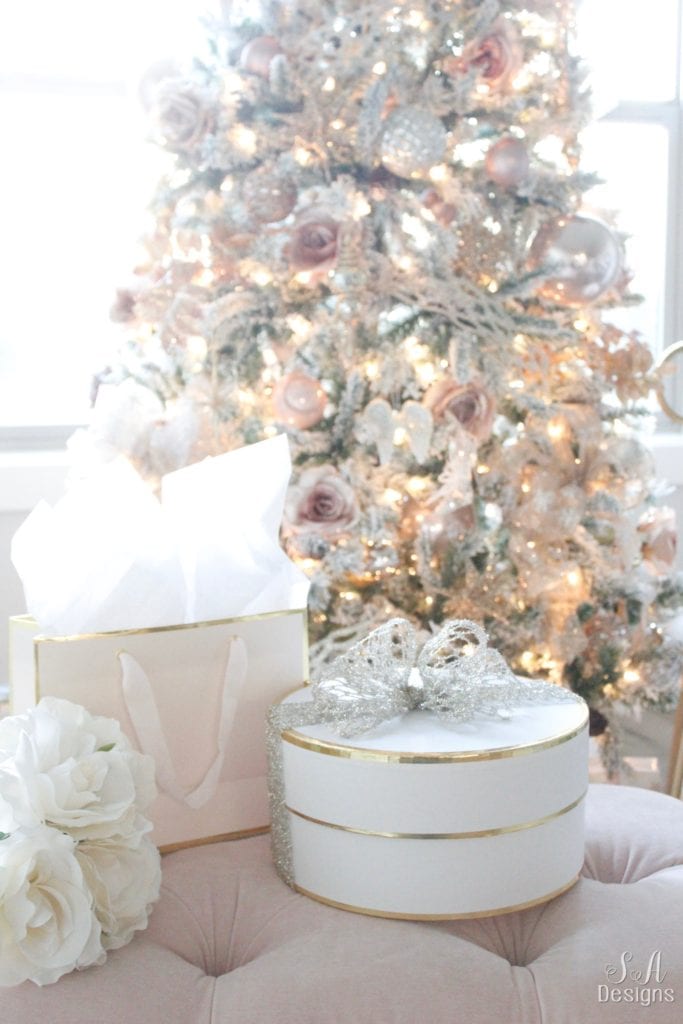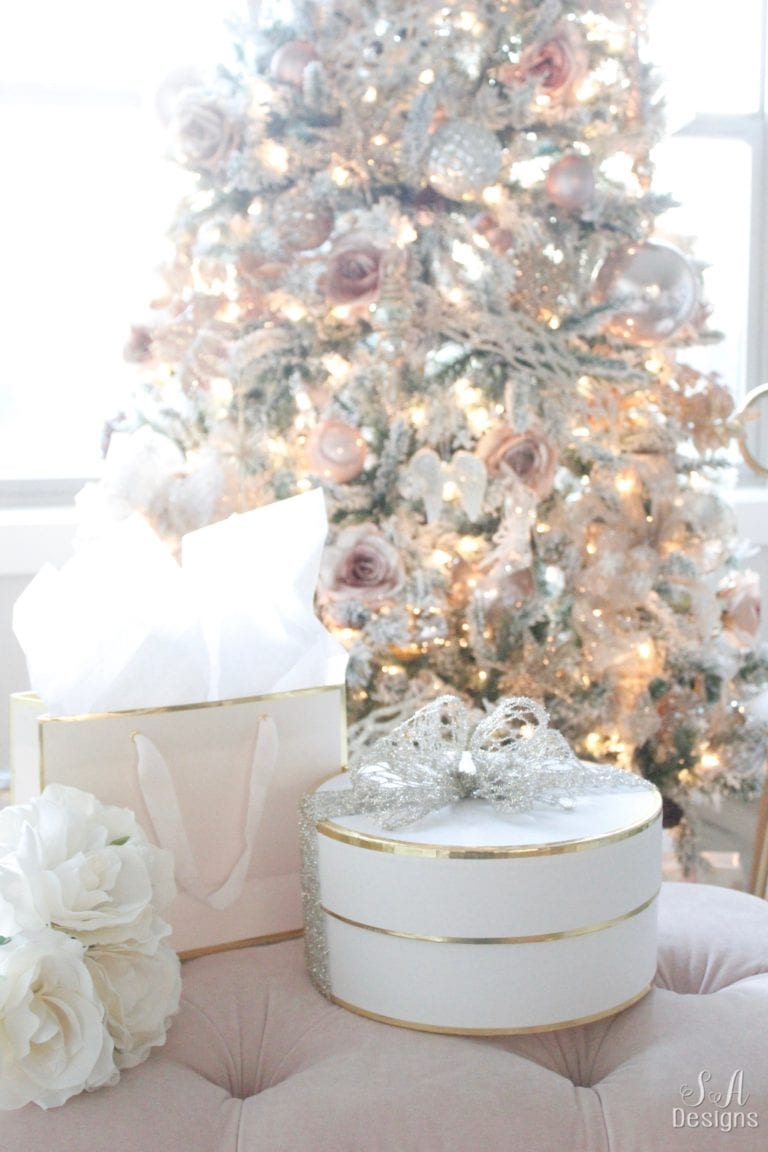 Tip: You don't just have to use holiday bags and wrapping paper and gift boxes around your tree! As I find pretty boxes and bags and paper throughout the year, I stash it and know that I can use it at Christmas time and maybe just dress my packages up with sparkly ribbon.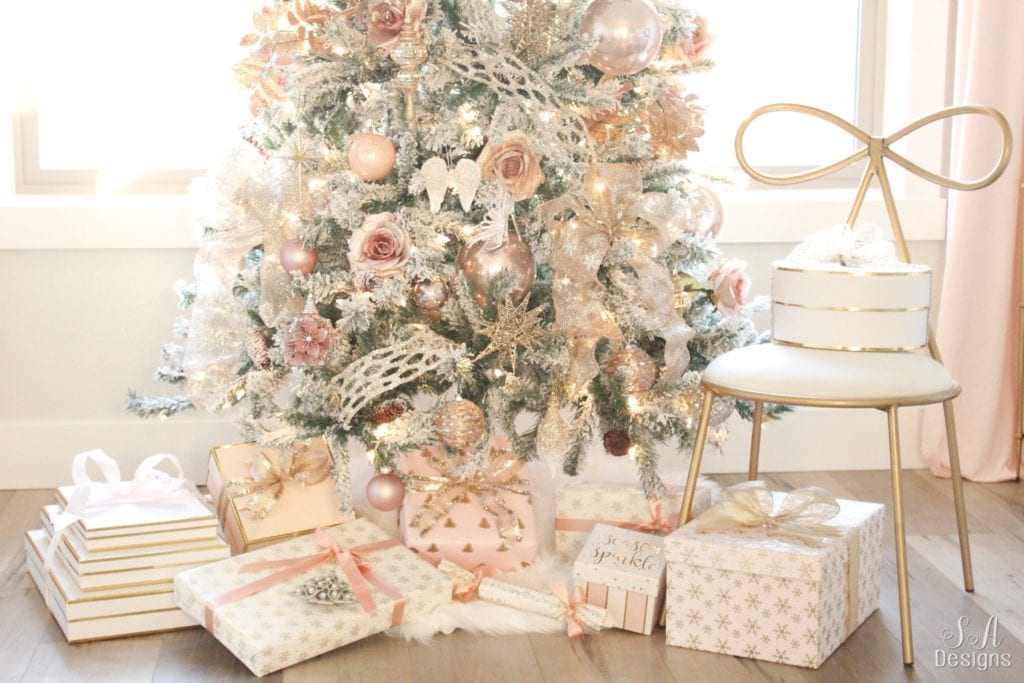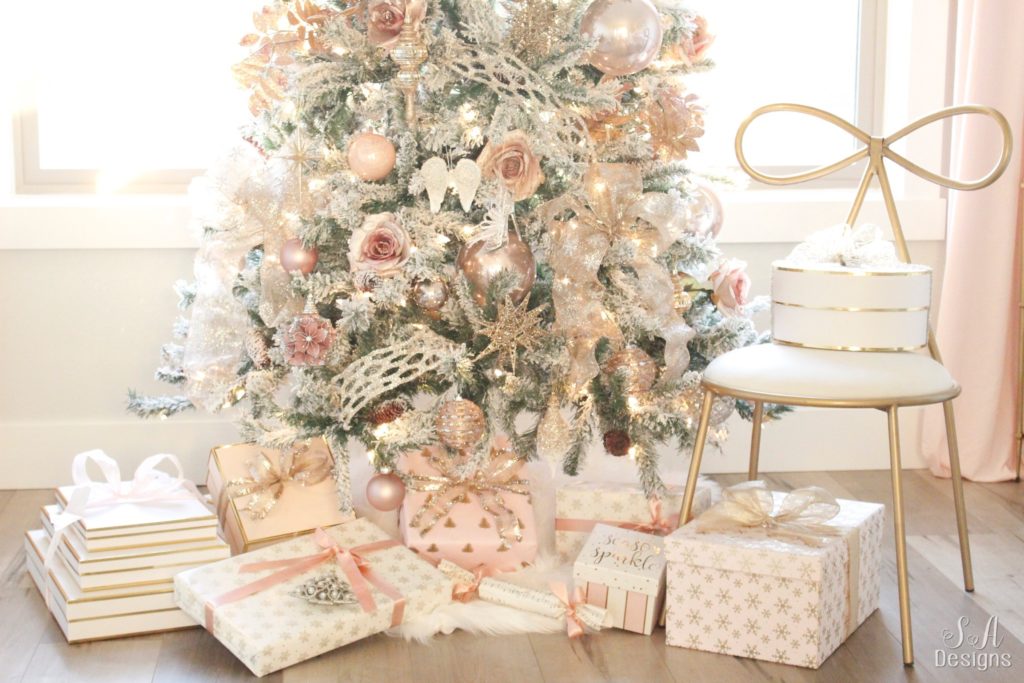 The sun was setting on this side of the house as I was wrapping up this photo shoot but I just loved the way the room was "glowing" with those warm tones. I had to snap a pic and share it with you!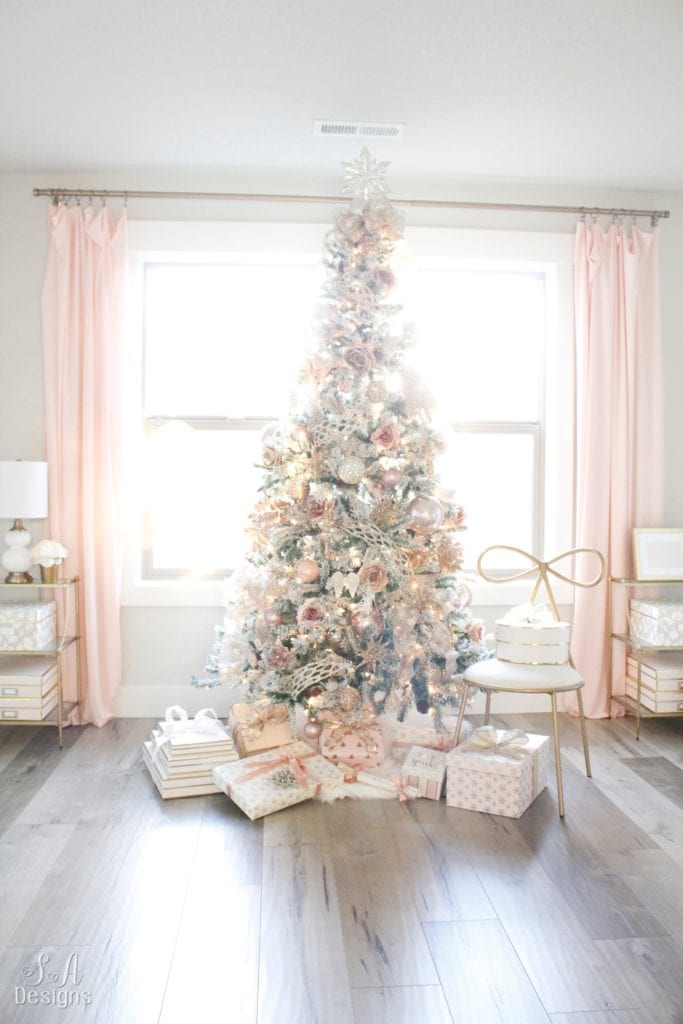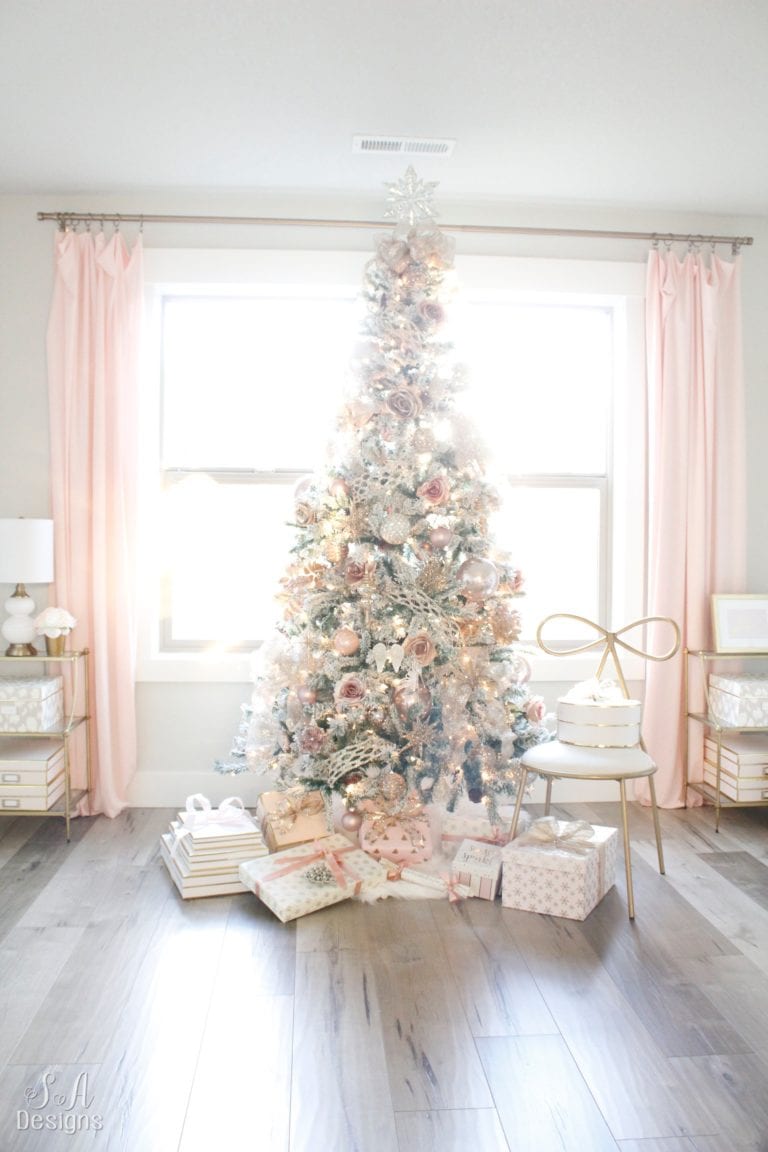 I love being in my office! I love how "me" it is. Your office should reflect your style and personality and I wanted my blush pink flocked Christmas tree to do the very same thing and incorporate all the pretty things I love.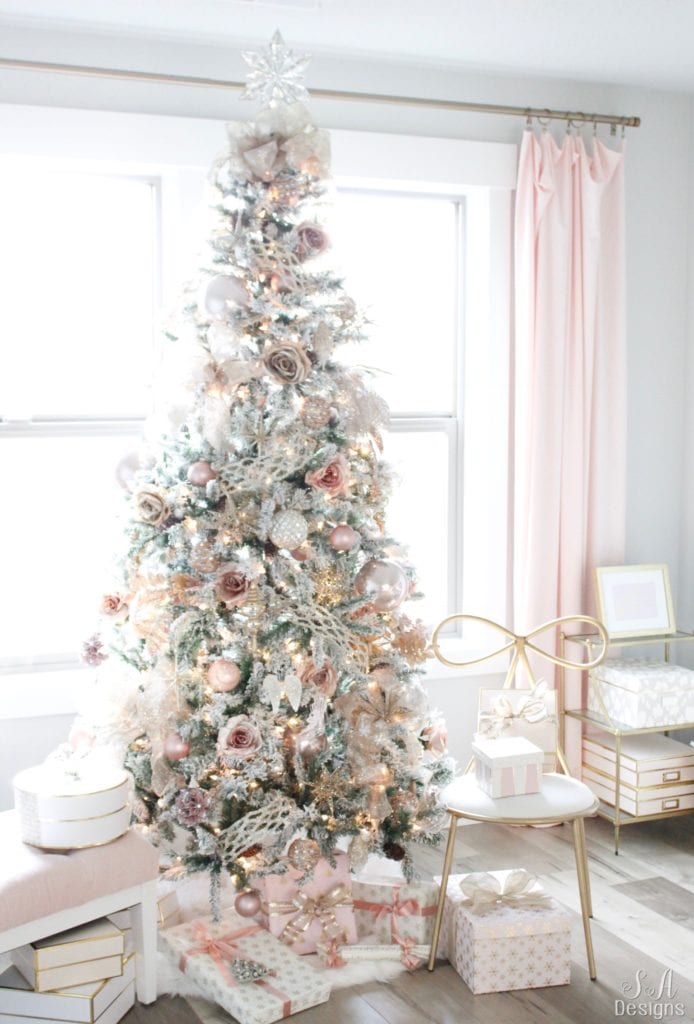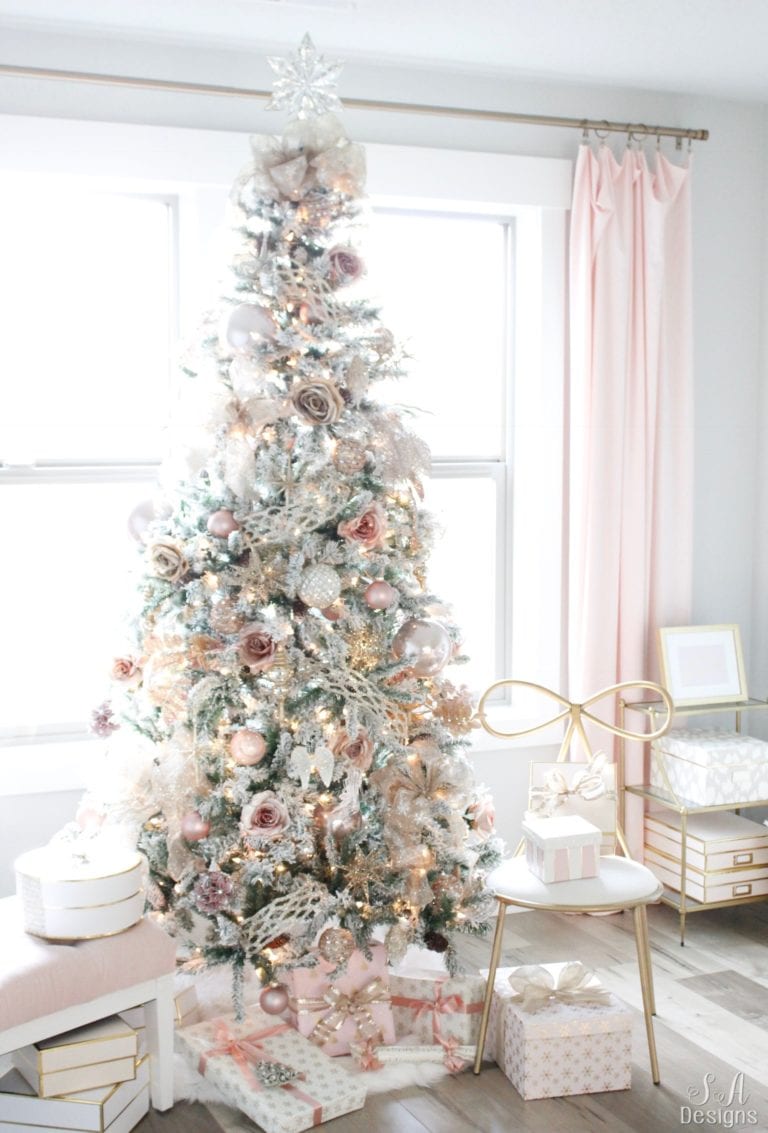 Thanks so much for joining me here today and I hope that you'll be back! Here are the shopping links below, for your convenience.

Please make sure to join the other 2 friends of mine below for Day #5 AND make sure to continue on tomorrow with our next group. Of course, you can always catch up on the days you missed because there is so much inspiration. Make sure to pin all the things you love to Pinterest for later.
A special thank you to Lynch Creek Farms for sponsoring our tour and providing all the beautiful greenery showcased throughout the homes.
Here is the entire tour schedule if you missed any homes:
The 12 Days of Holiday Homes Tour
Holiday Tour Recap
I would love it if you subscribed at the top of the page in order to receive my weekly emails of all my latest blog posts and hear about digital printables & freebies, as well as sales or new items in My Online Shoppe. You can also follow me on Instagram, Pinterest, and Facebook to see what I'm up to in creating a home and lifestyle of inspiration!
xoxo,

SaveSaveSaveSave
SaveSaveSaveSave
SaveSave
SaveSave
SaveSave
SaveSave
SaveSave
SaveSave