If you've been following my Bright White Home Series here on the blog, you are probably familiar with the fact I've been sharing some talented home owners and designers and their beautiful spaces.  I have loved featuring those who I've met from Instagram and since they do not have a blog, I love featuring them here on my blog to share with all of my readers.  It's that special time of year, the very BEST time of the year…Christmas time!  I reached out to some of those friends that I've already featured here and some that I will be featuring soon in this series and asked if I could share with all of you their gorgeous Christmas homes. I'm so pleased that they said "yes!"  So without further ado, I present to you the Bright White Home Series – Christmas Edition!
Megan Manton
This past summer I had the pleasure of sharing the bright white home of Megan Manton.  Megan's home has a beautiful mixture of natural elements and soft pastel colors.  She's beautifully mixed her vintage french-style pieces with her other pieces.  I always love how romantic and light her home is!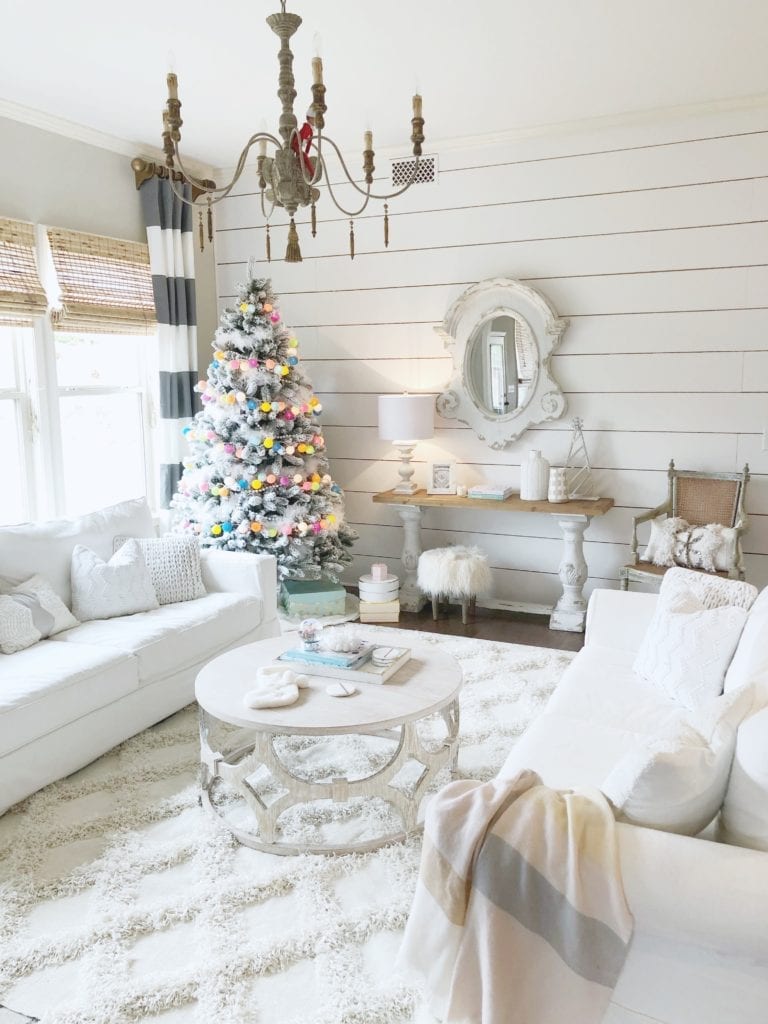 Megan's soft Christmas decor is just as beautiful!  Make sure to see her bright white home HERE and please hop on over to Instagram HERE and follow her feed.  She's always sharing such gorgeous photos of her home and is so inspiring!
Sara Hanson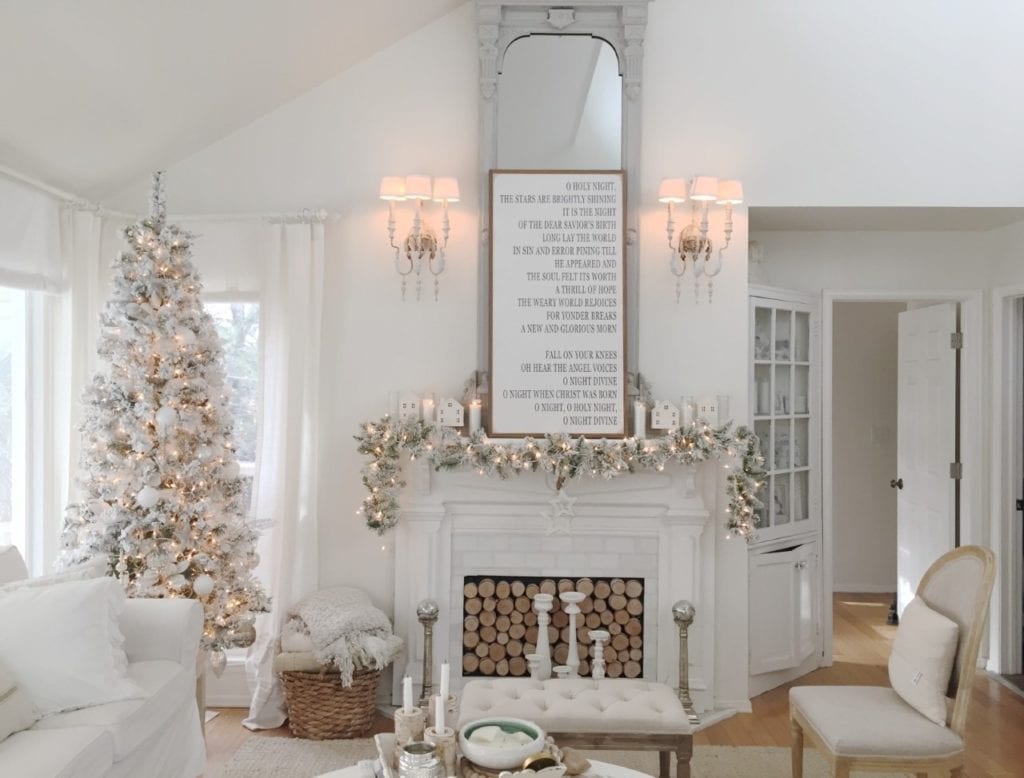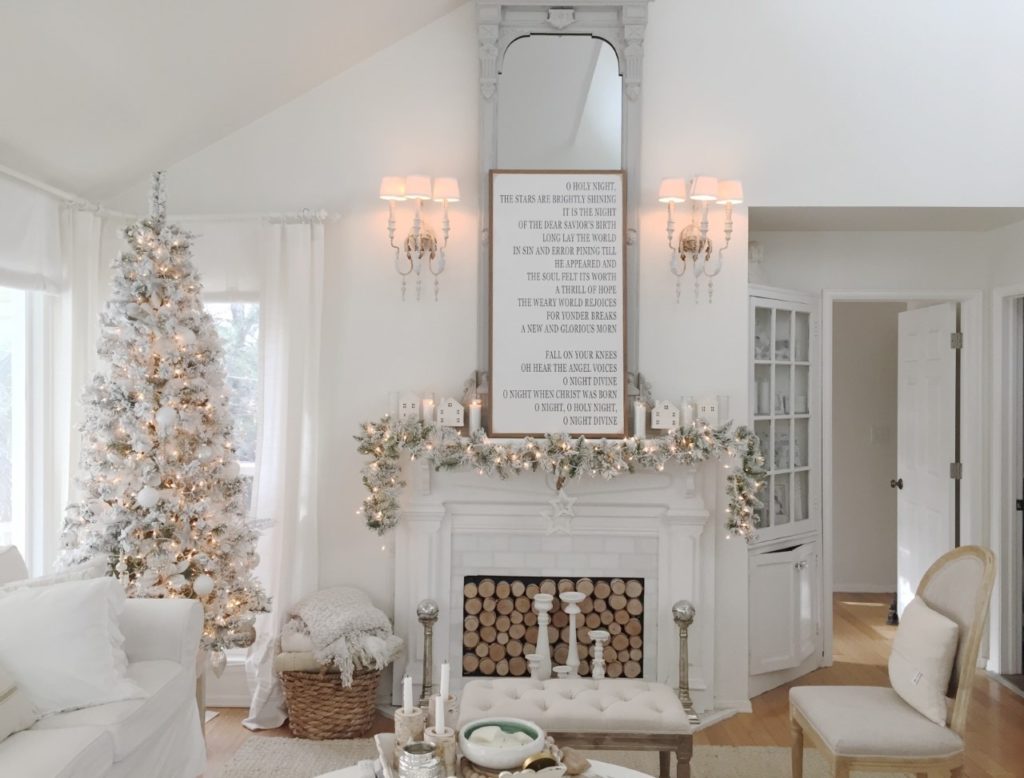 My friend Sara Hanson has such a beautiful bright white home that I look forward to sharing with all of you in our Bright White Home Series this coming year.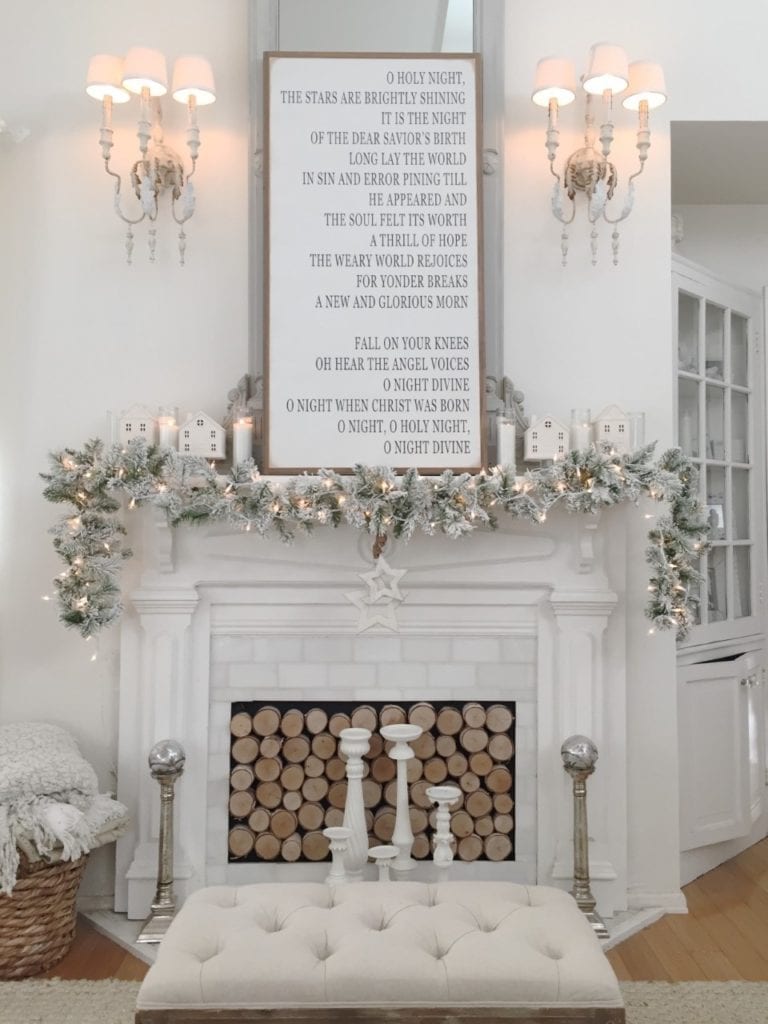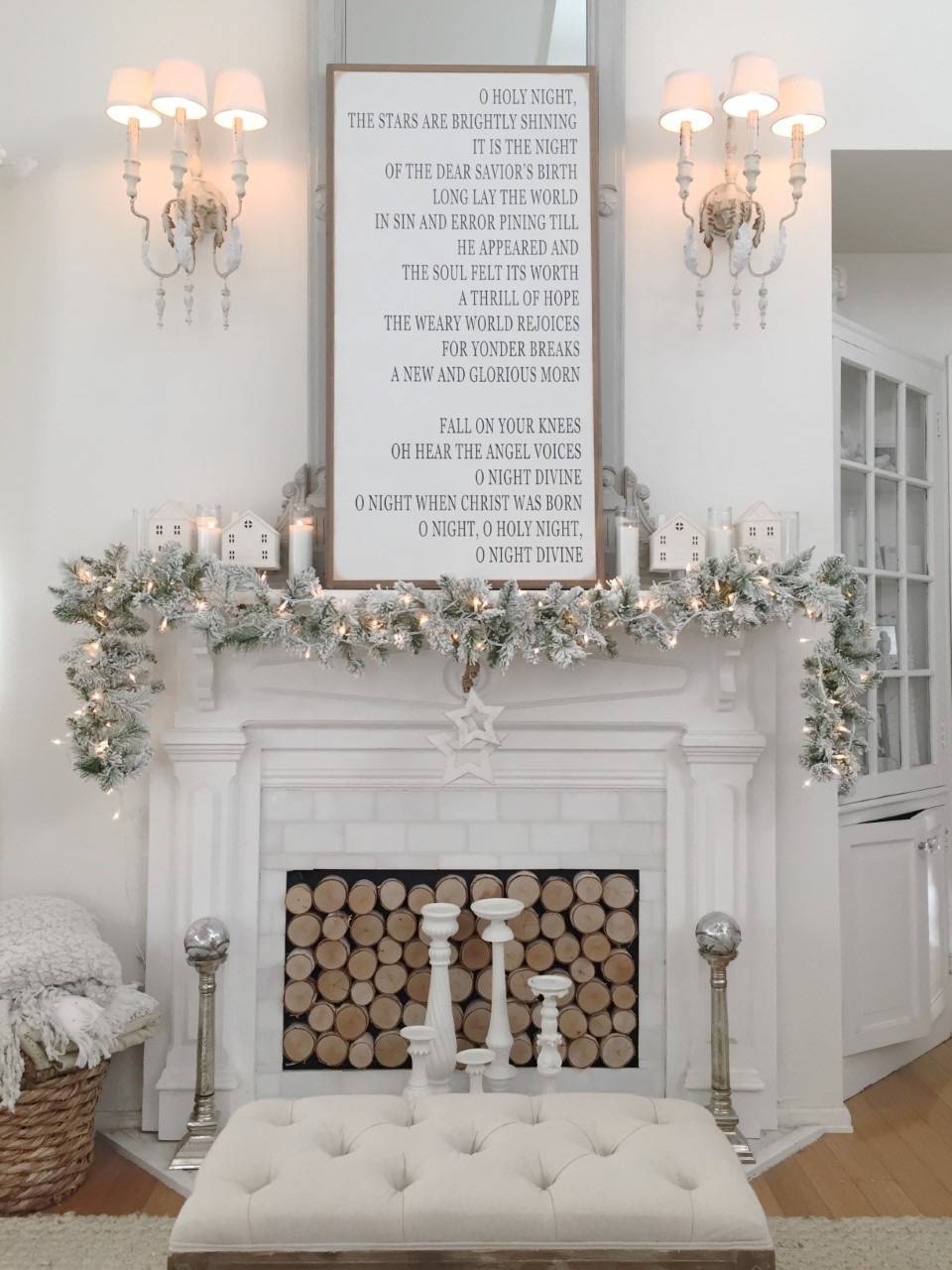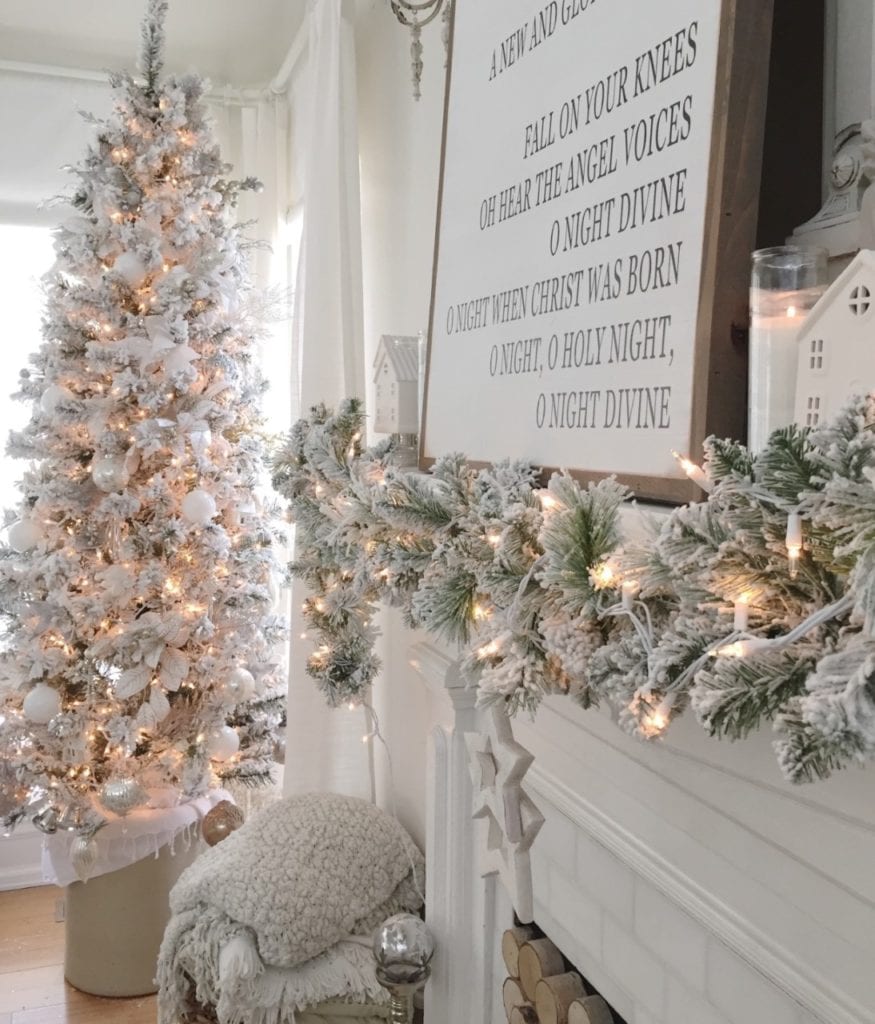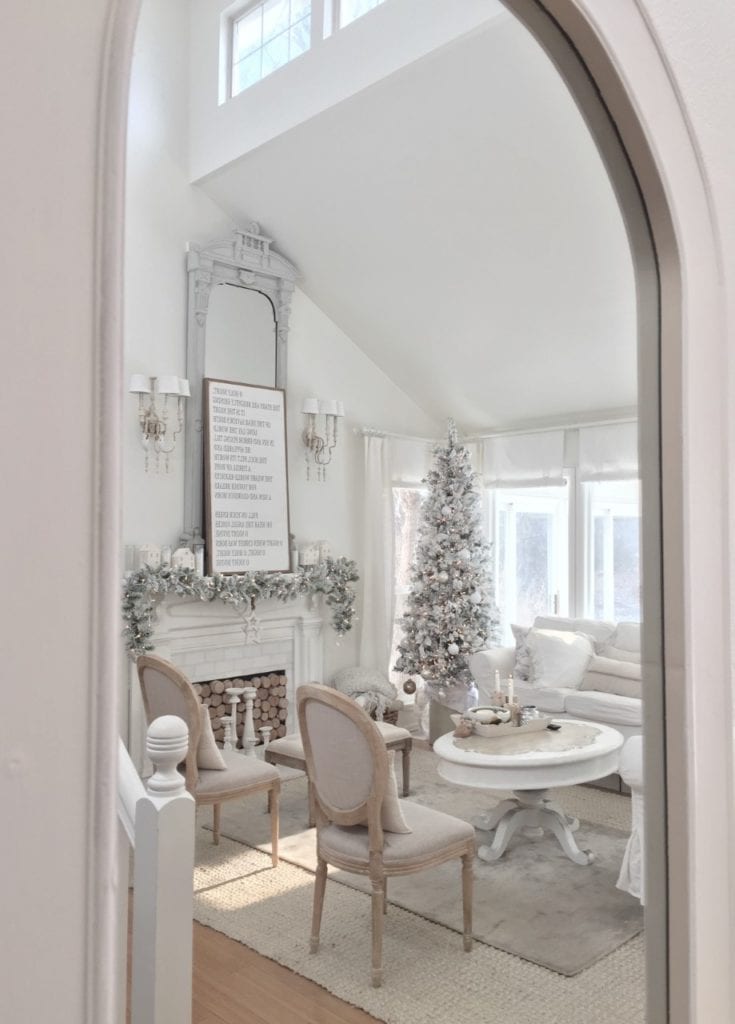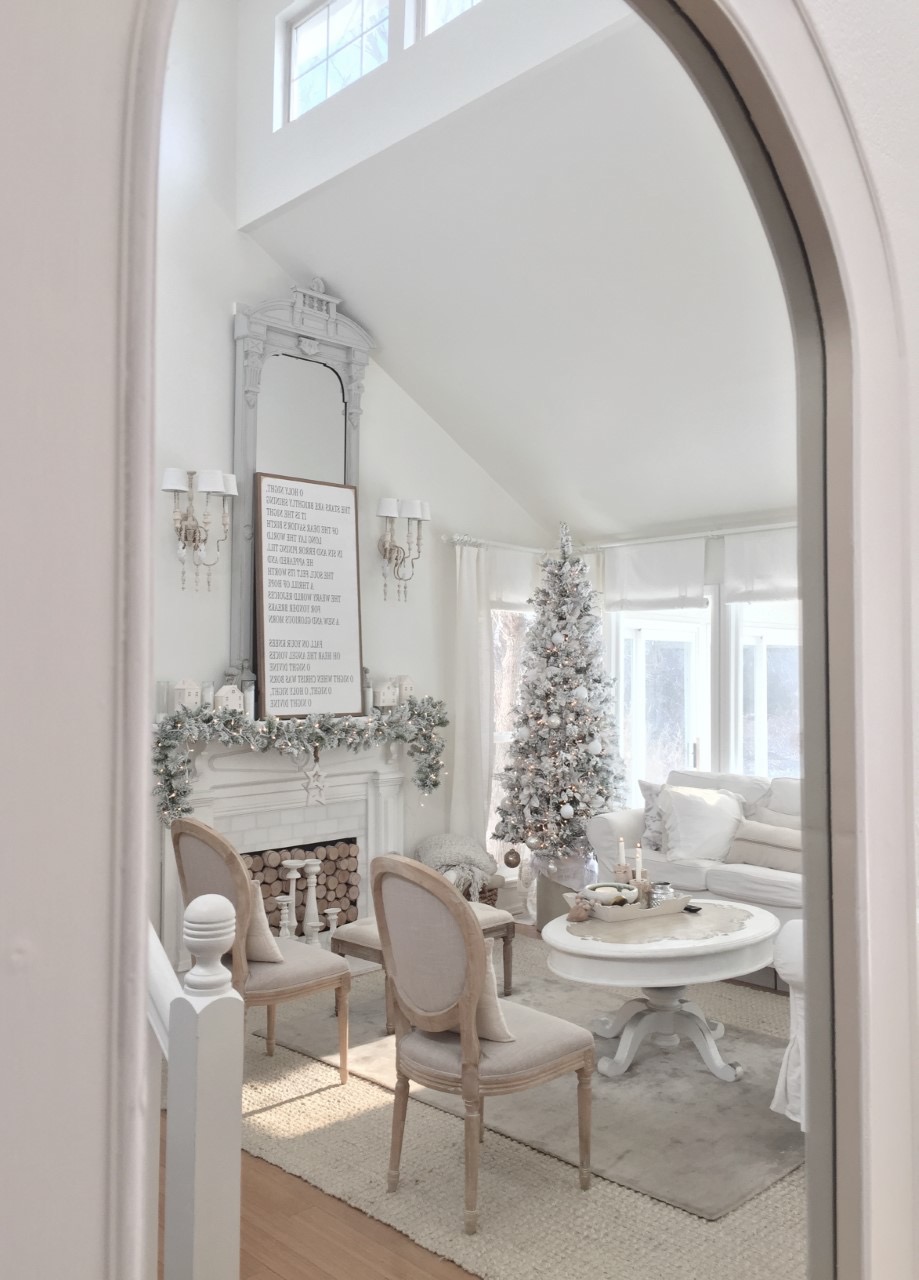 I always love looking at the beautiful reflections of Sara's home through this mirror!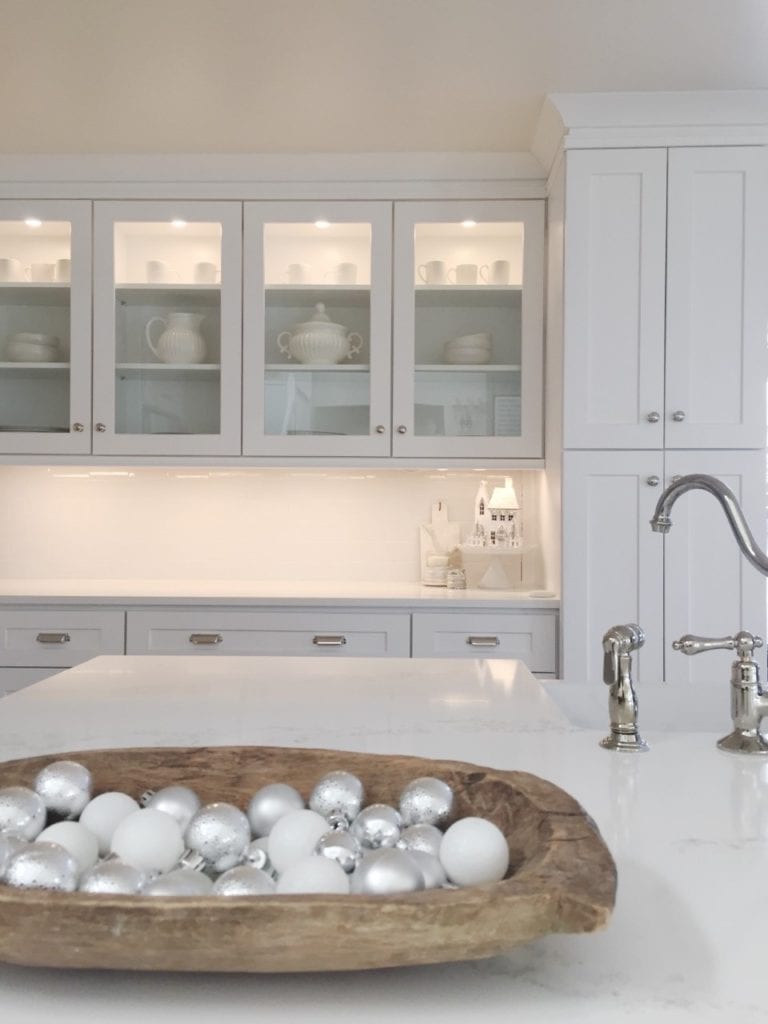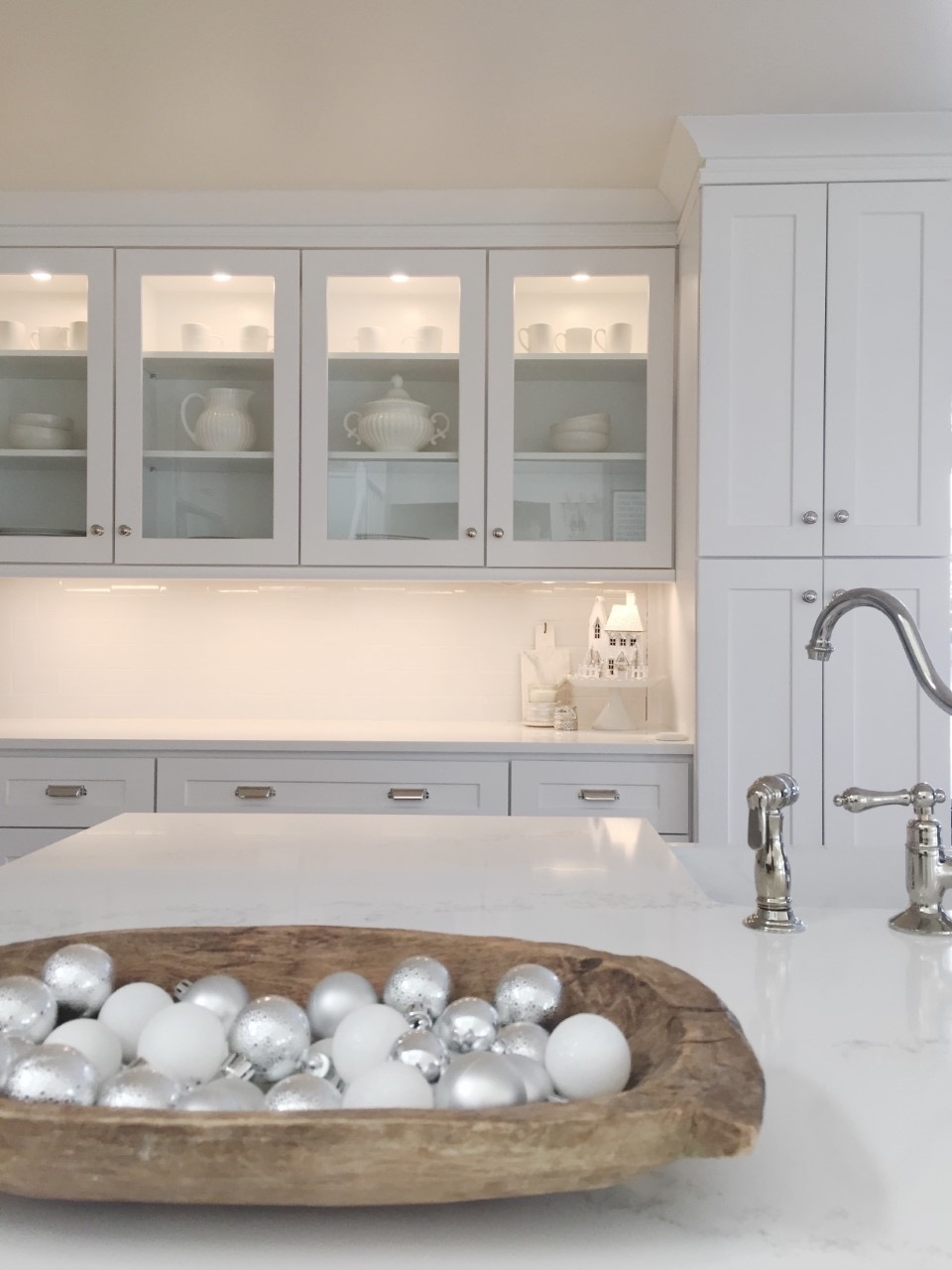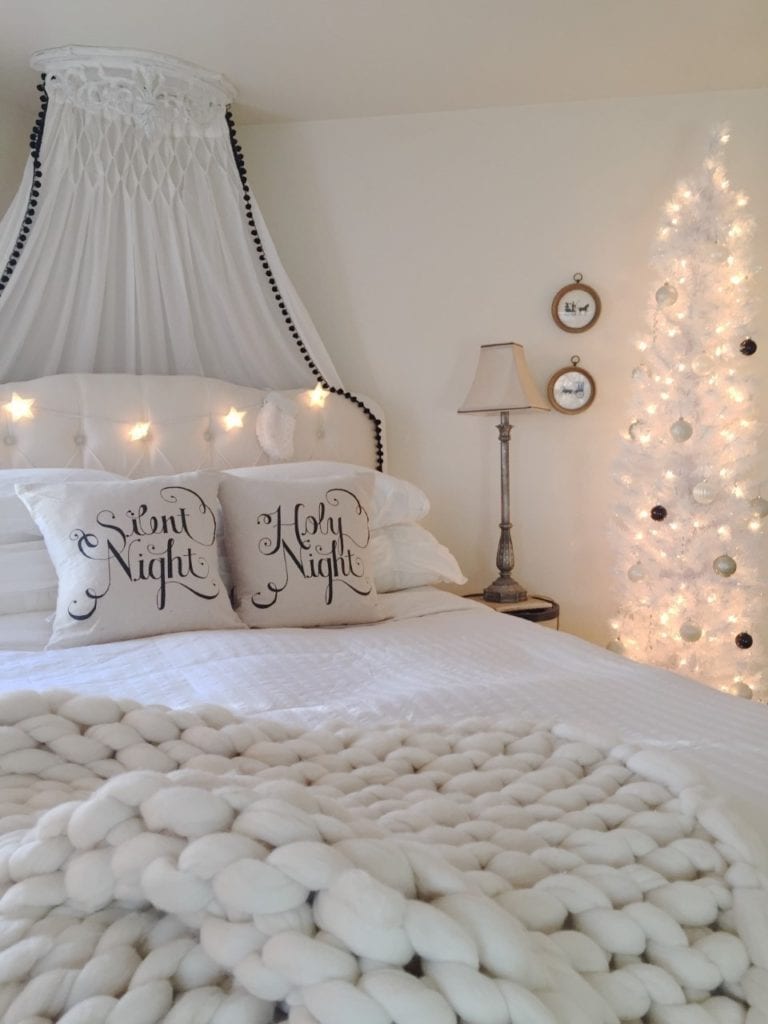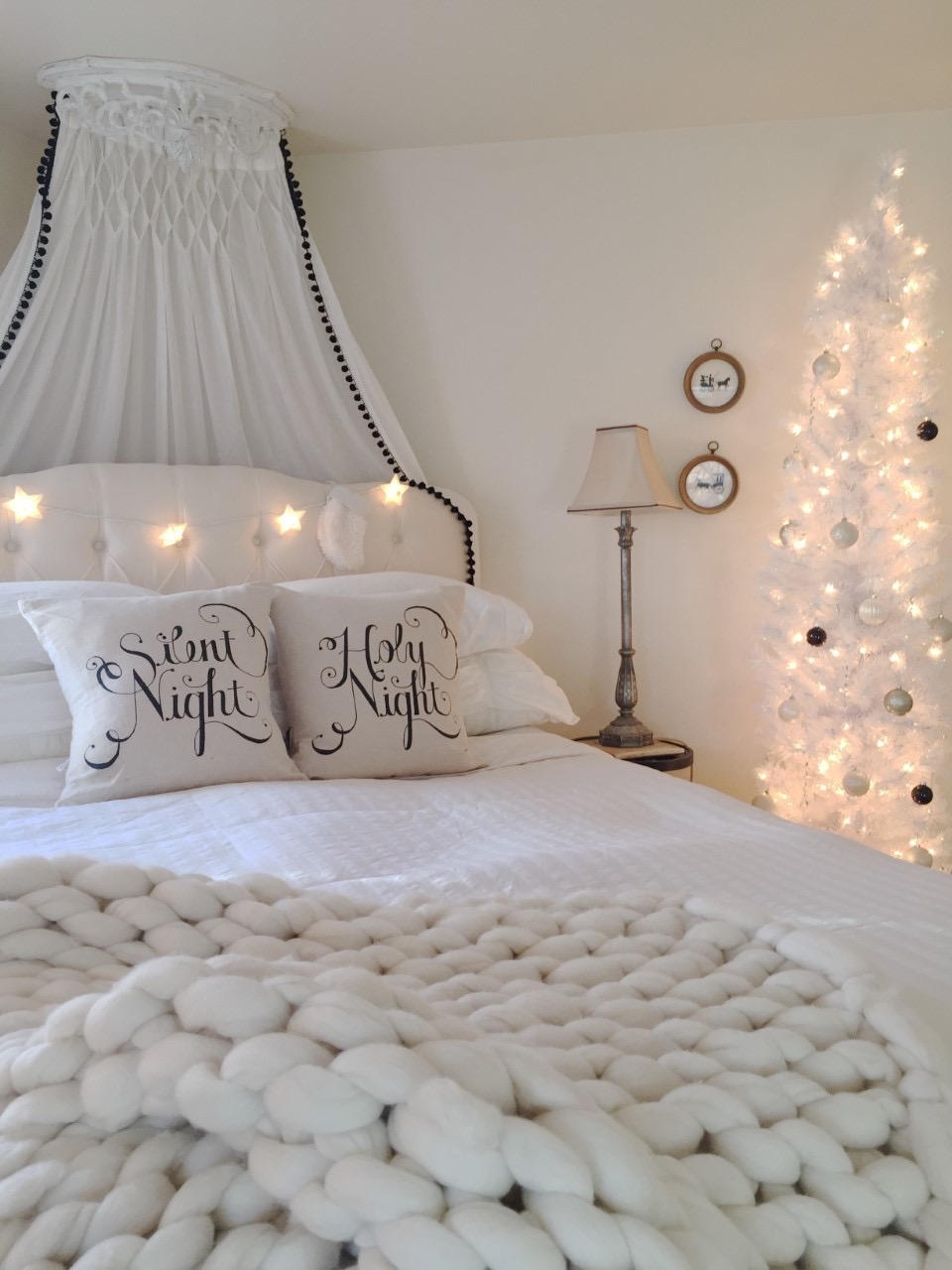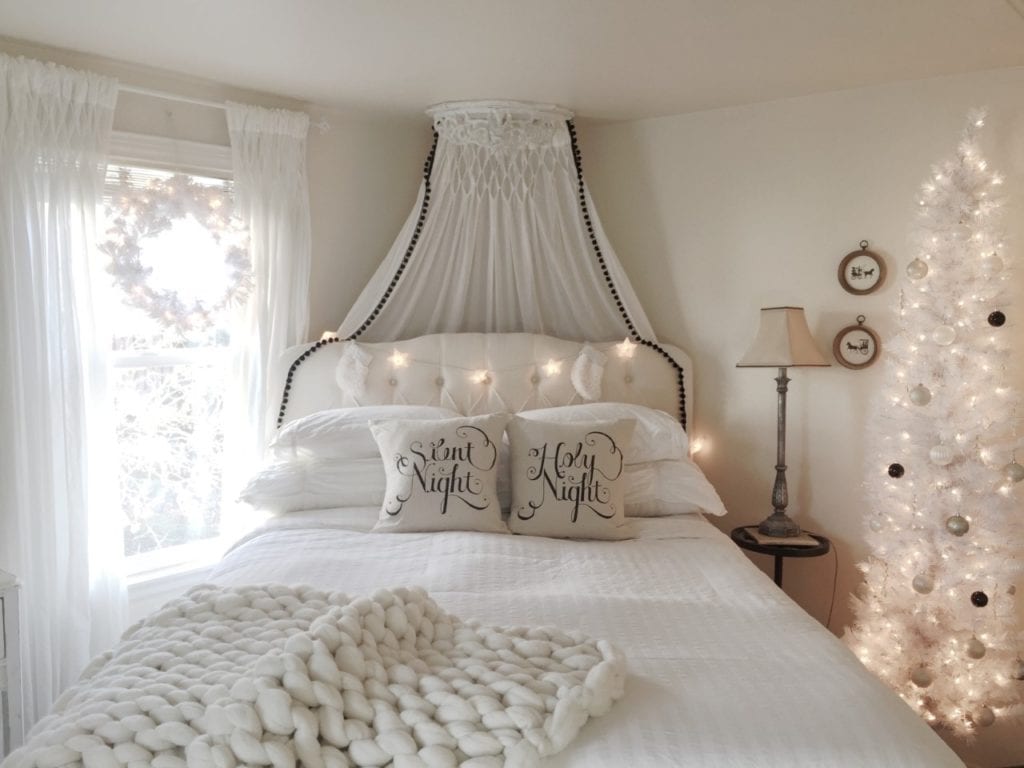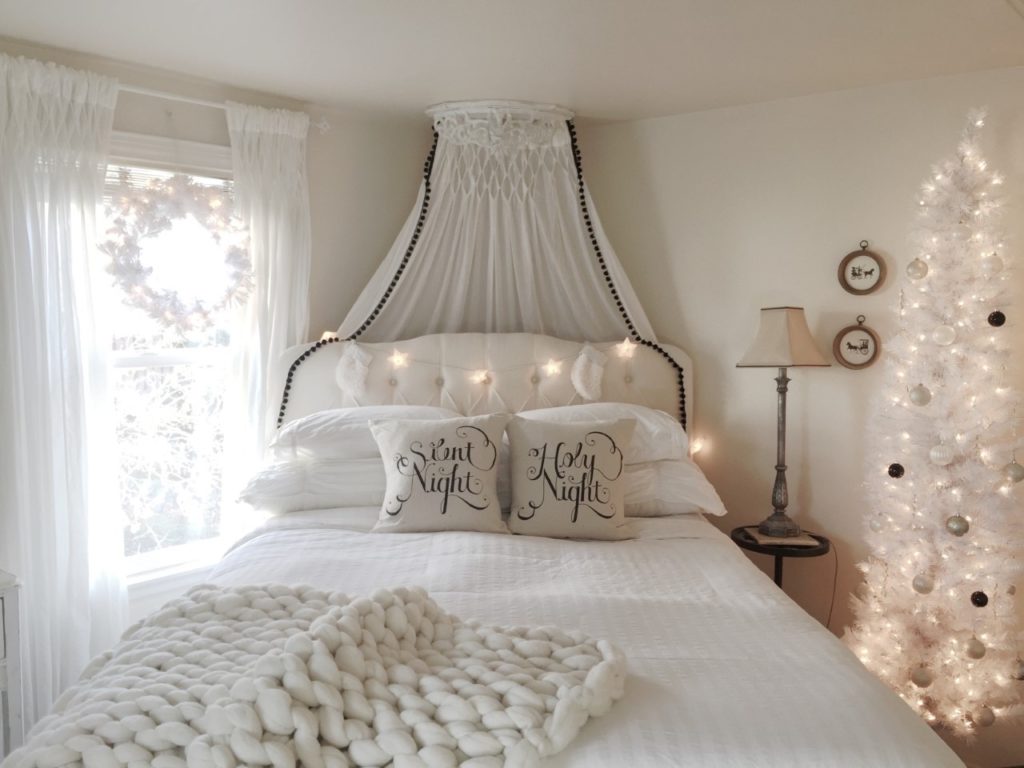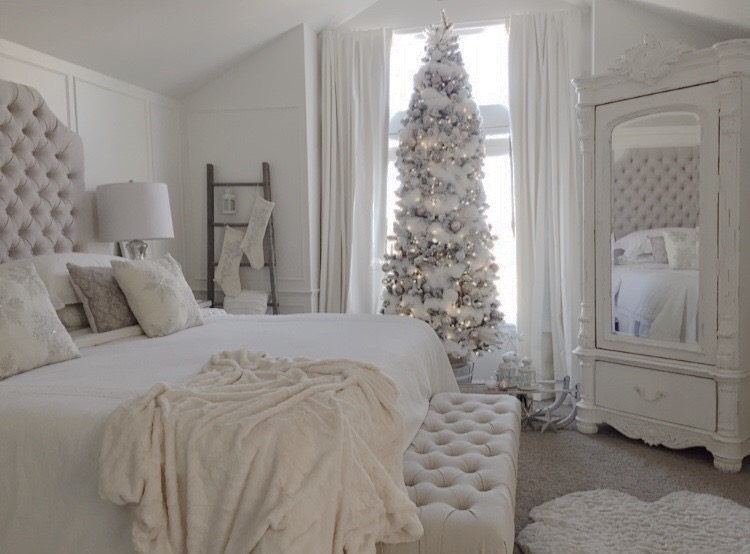 For several years I've followed her as she's posted bright, airy photos of her dreamy home.  Sara's Christmas decor is just as bright…like a romantic Winter Wonderland.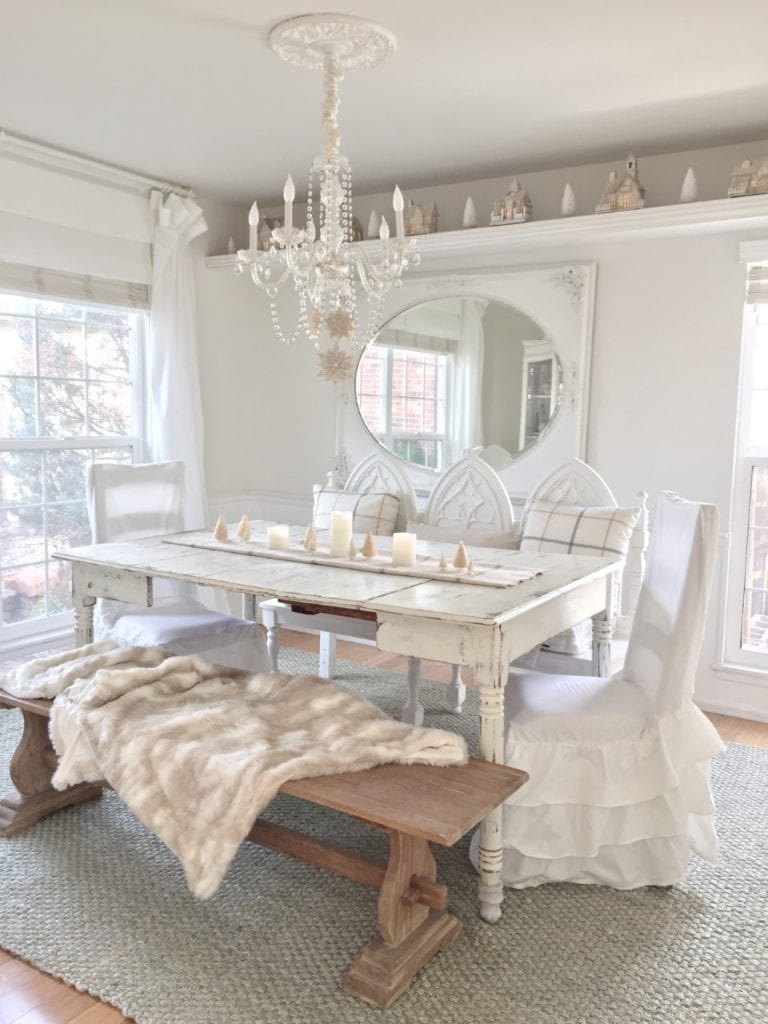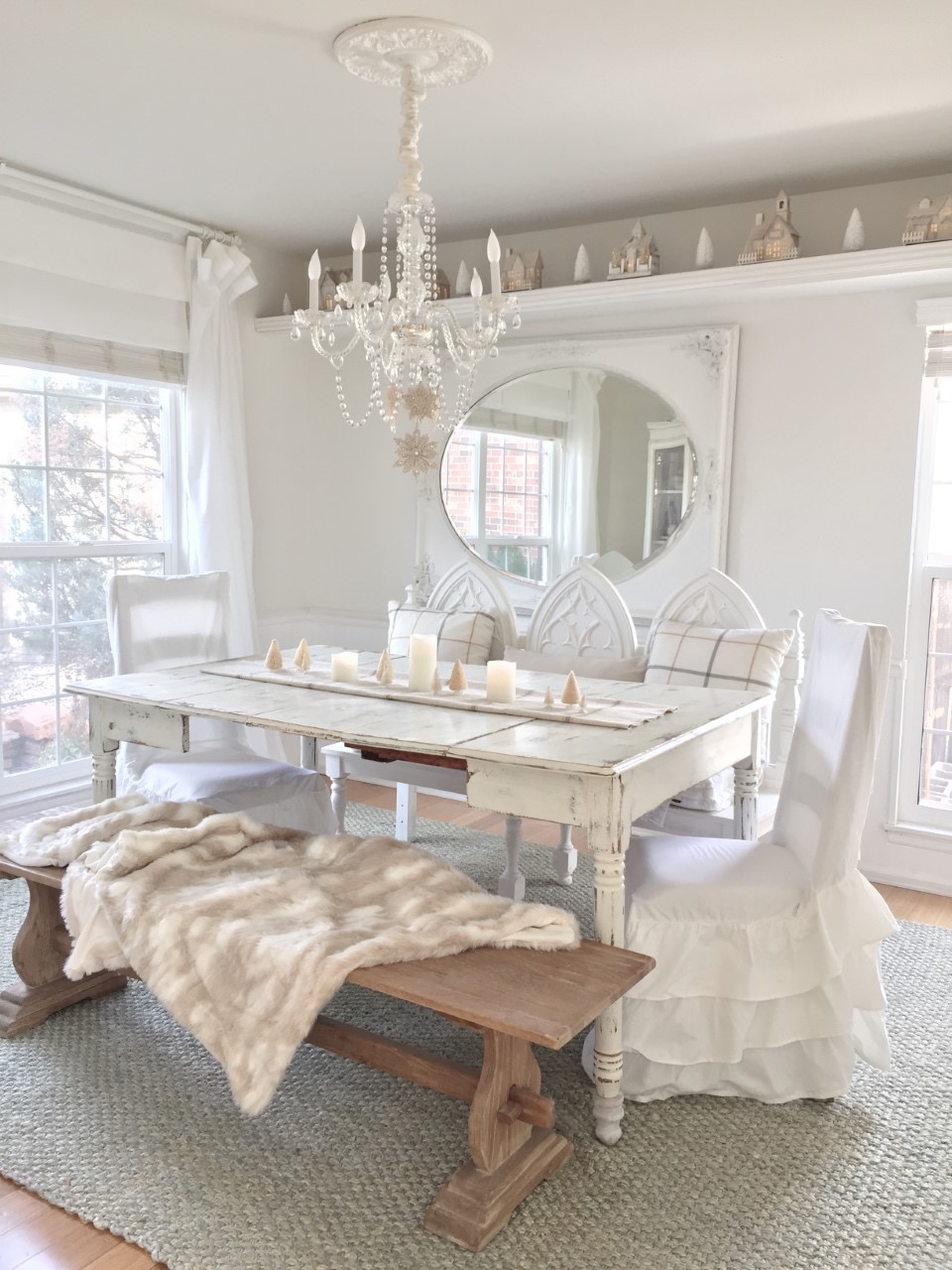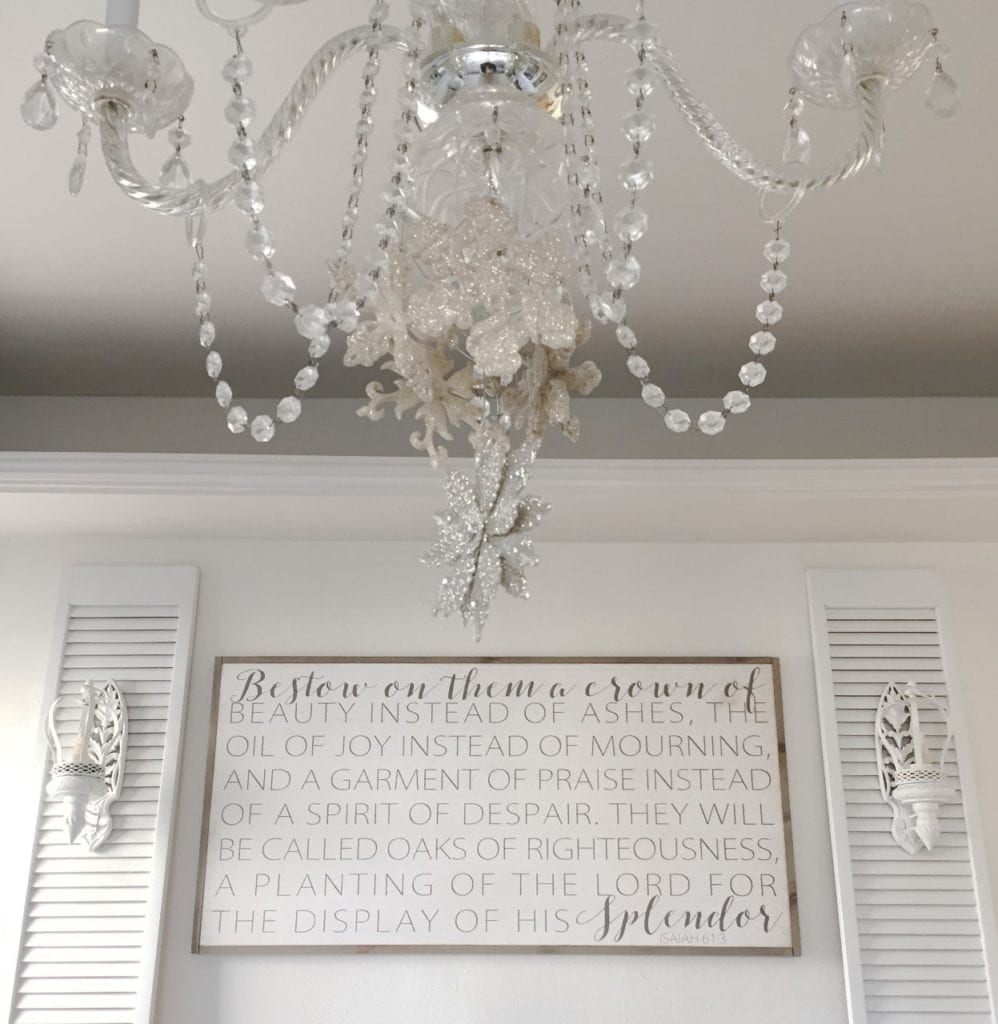 Her Instagram feed so beautifully captures her love for a bright white space.  Don't you just love her Christmas decor?
All of Sara's photos are so crisp and bright.  Make sure to follow her HERE on Instagram.
Sara Le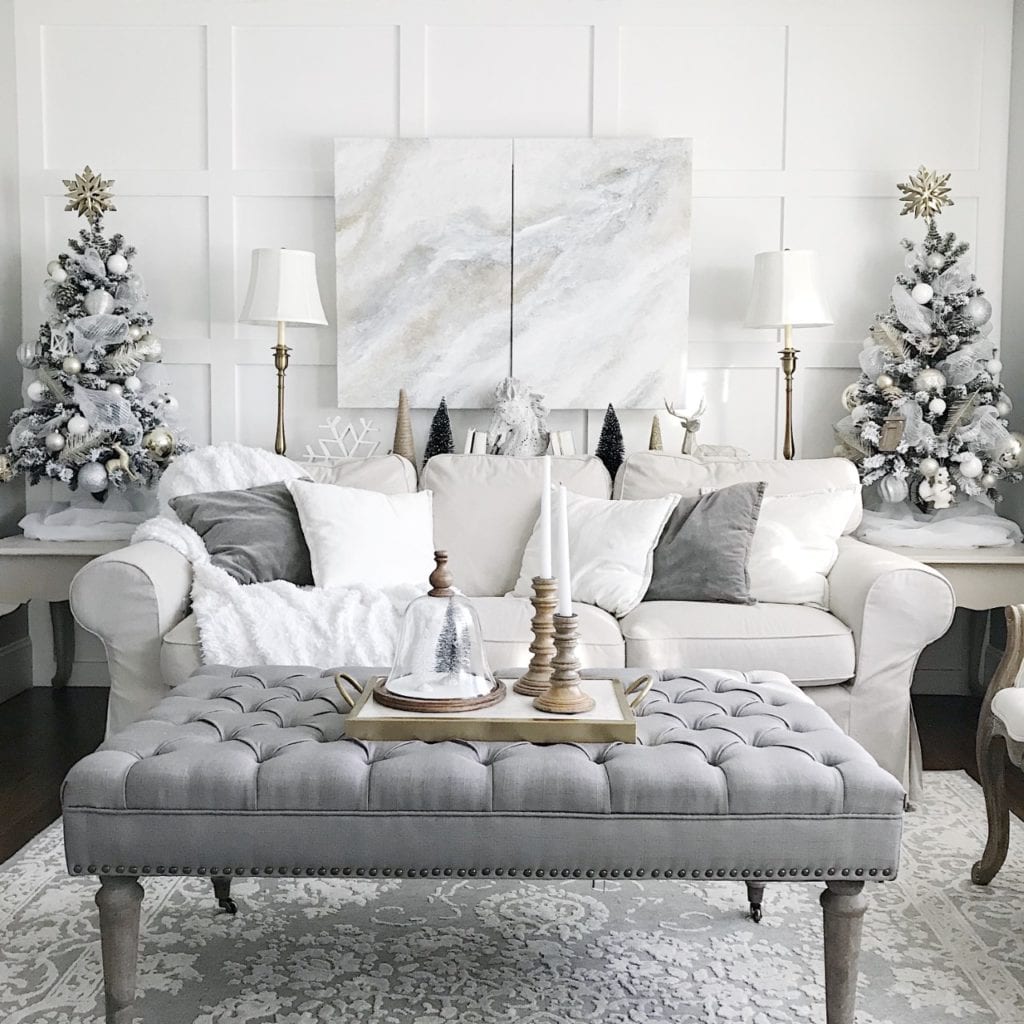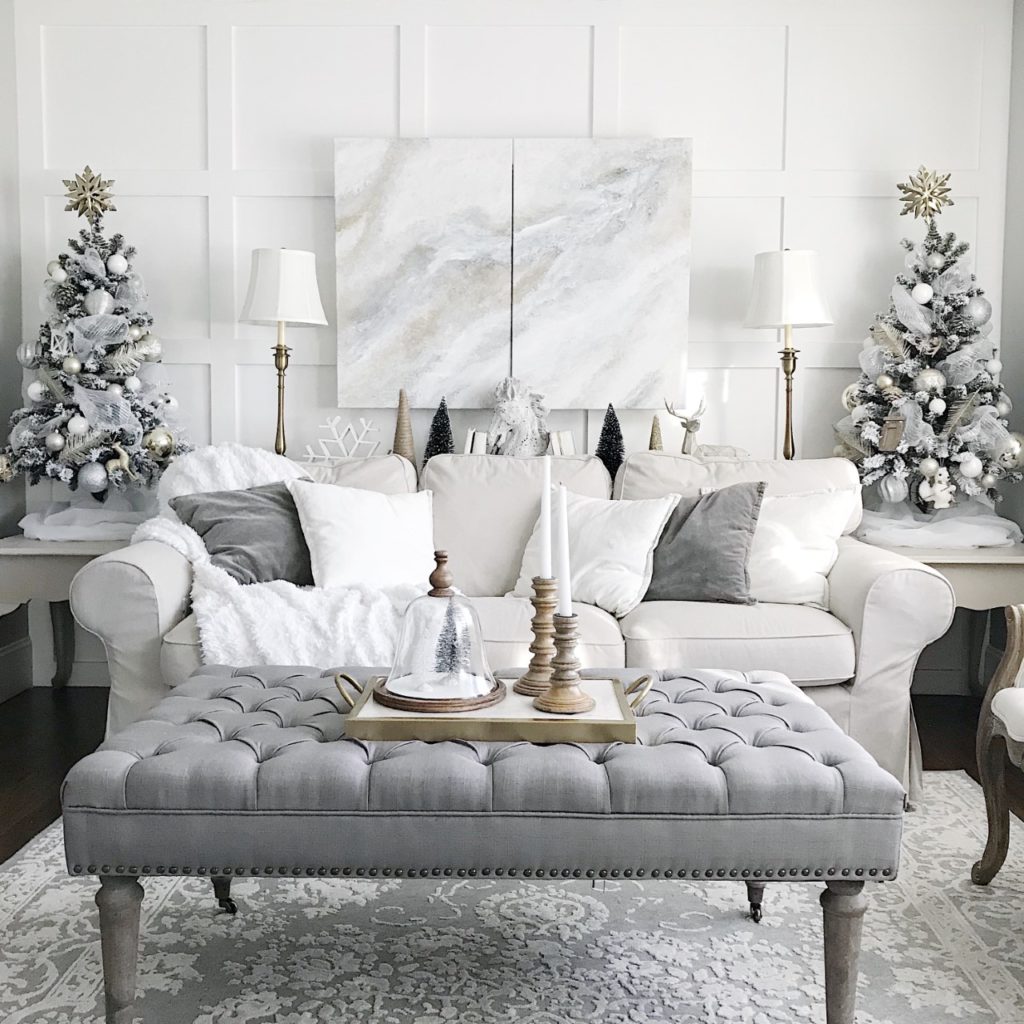 Sara, like the other ladies here, is a friend I met on Instagram.  I was immediately drawn to her home and her love for bright white neutral gorgeousness.  I'll be sharing her home also very soon in the Bright White Home Series.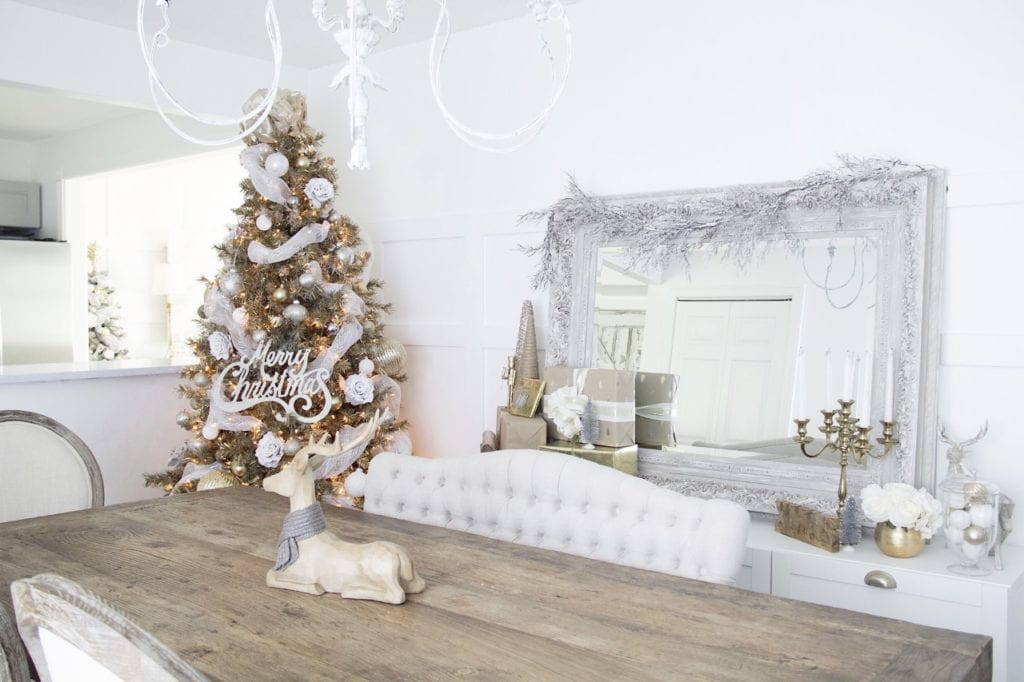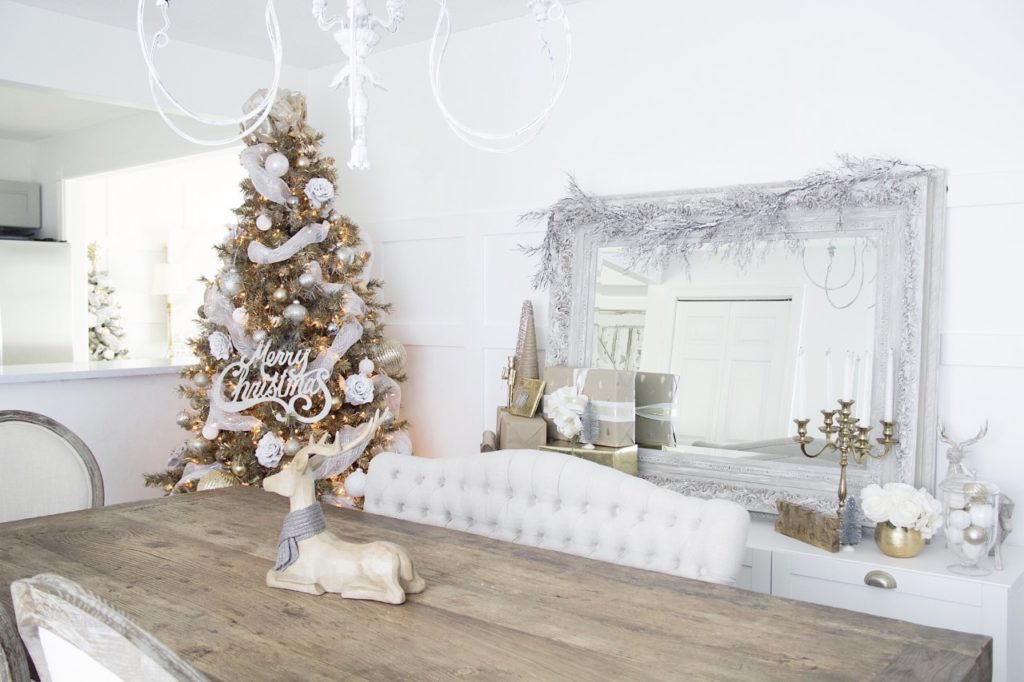 Isn't her decor so pretty?!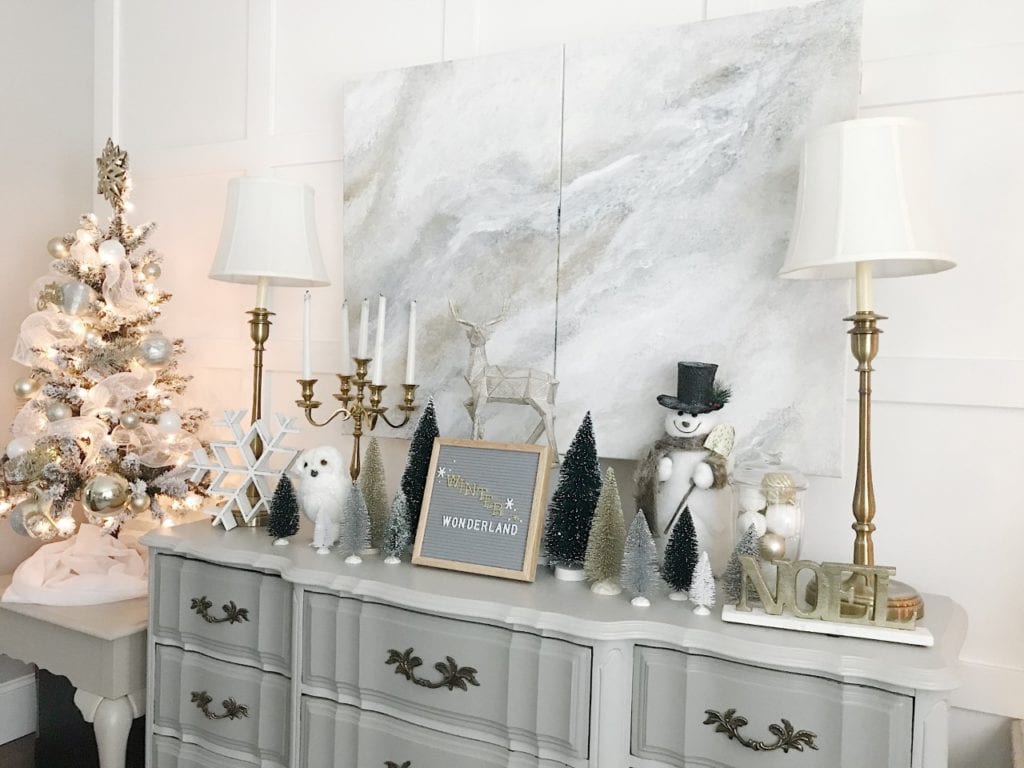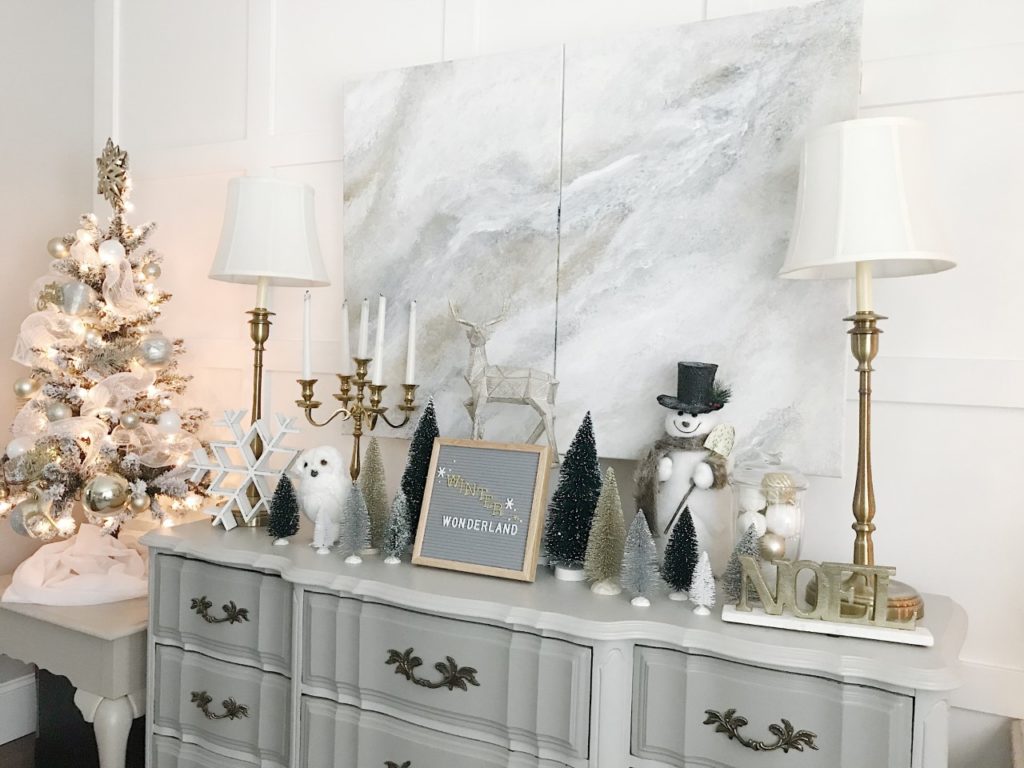 Sara just celebrated her youngest child's first Birthday, a Winter ONEderland, and it was so darling.  It went perfectly with her own gorgeous wonderland she's created.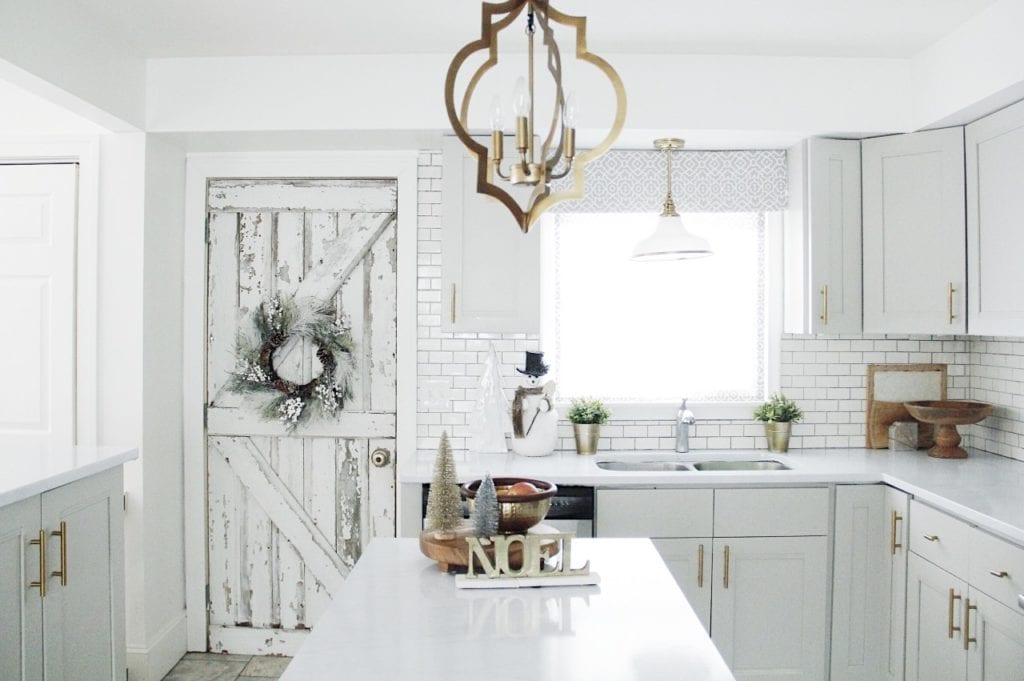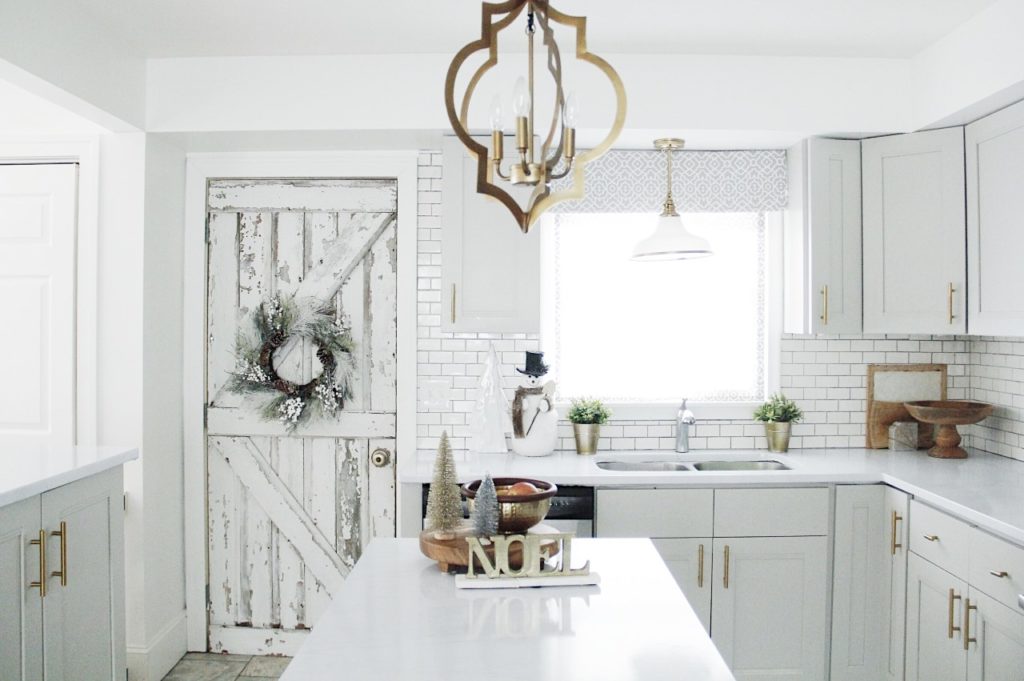 I've always loved that chippy door in Sara's kitchen.  I can't wait to share more of her home with you so stay tuned.  Until then, please follow Sara HERE on Instagram.
Julie Alpert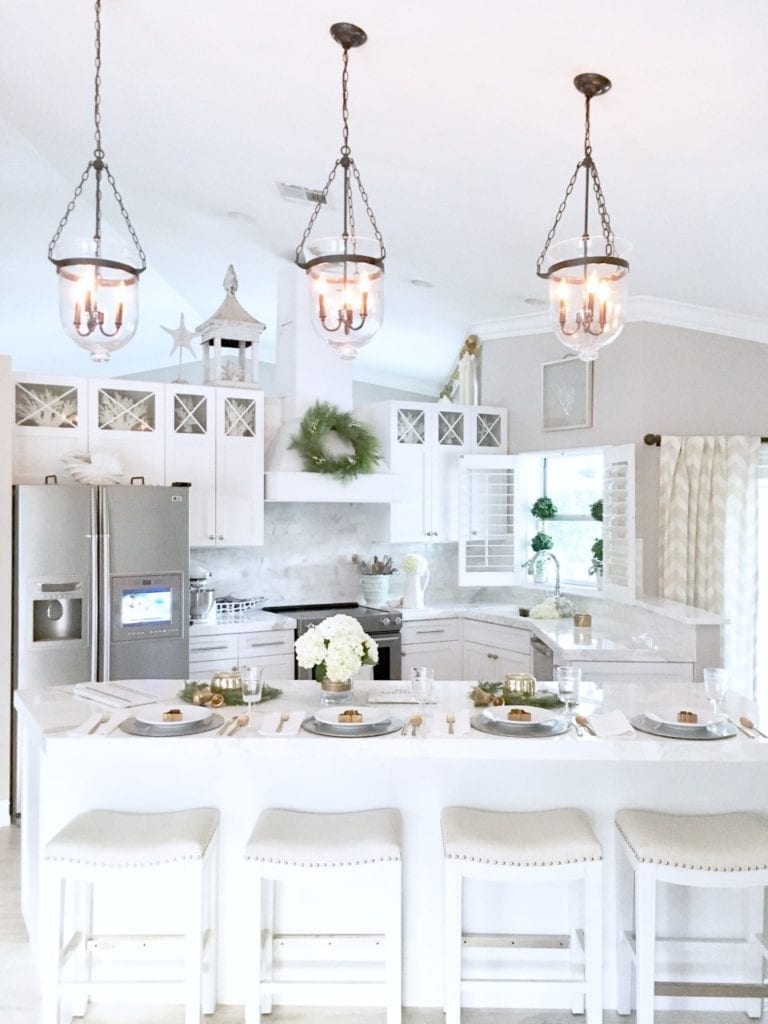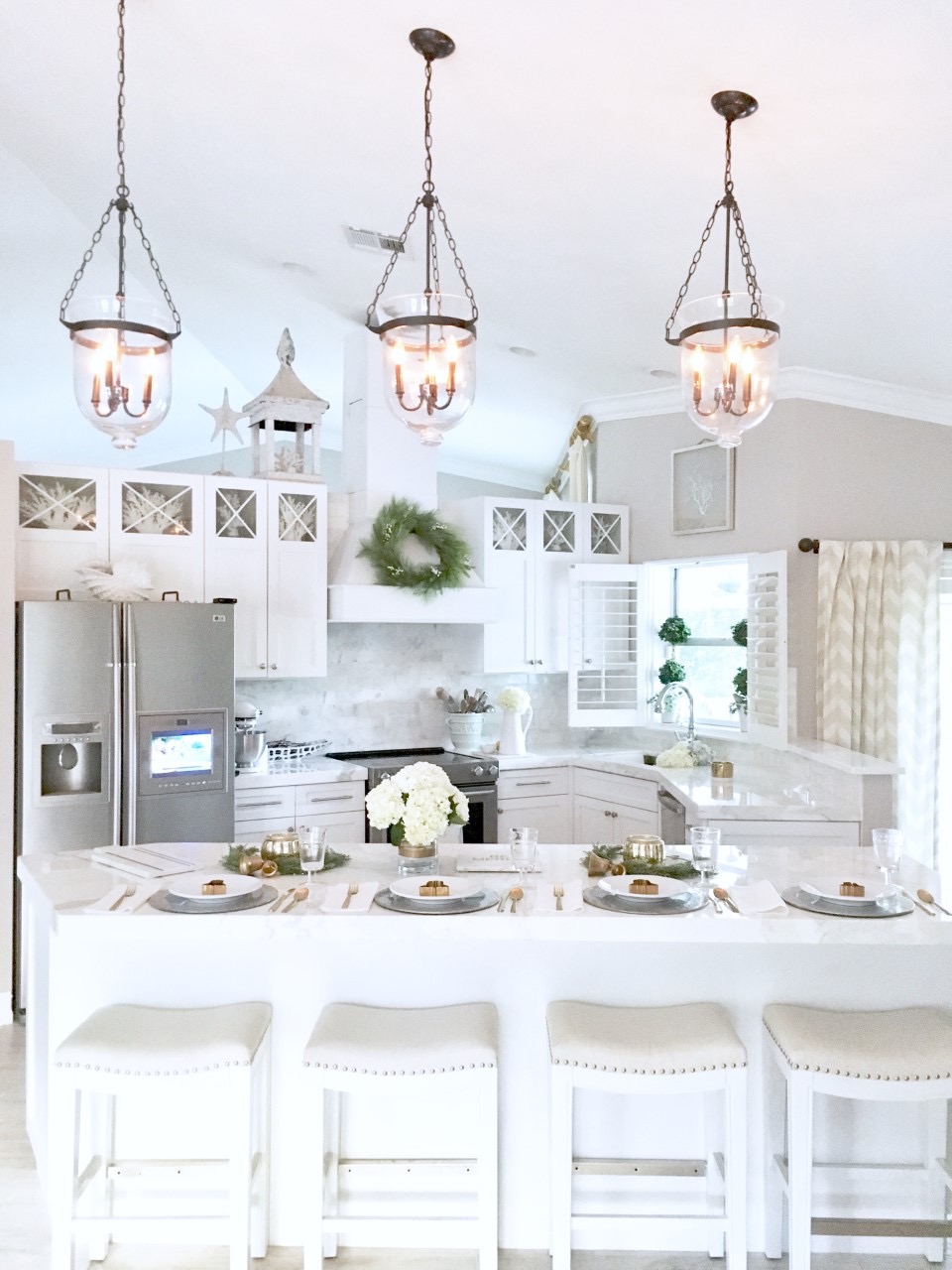 I had the pleasure of featuring the bright white home of Julie Alpert this past fall.  I also met Julie on Instagram and she's become a dear friend.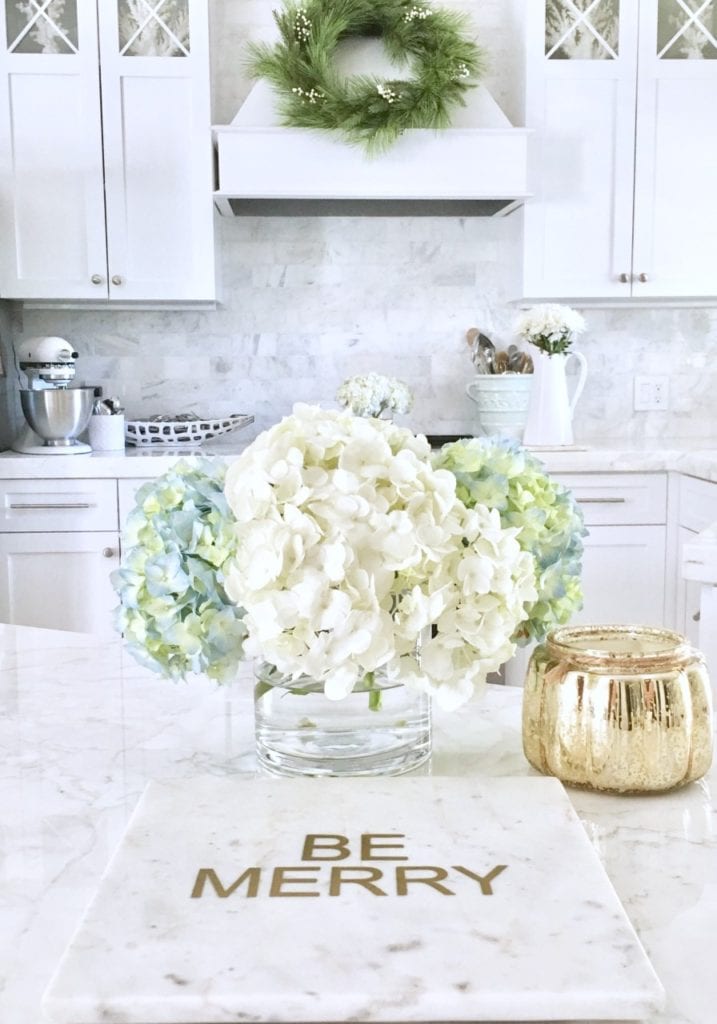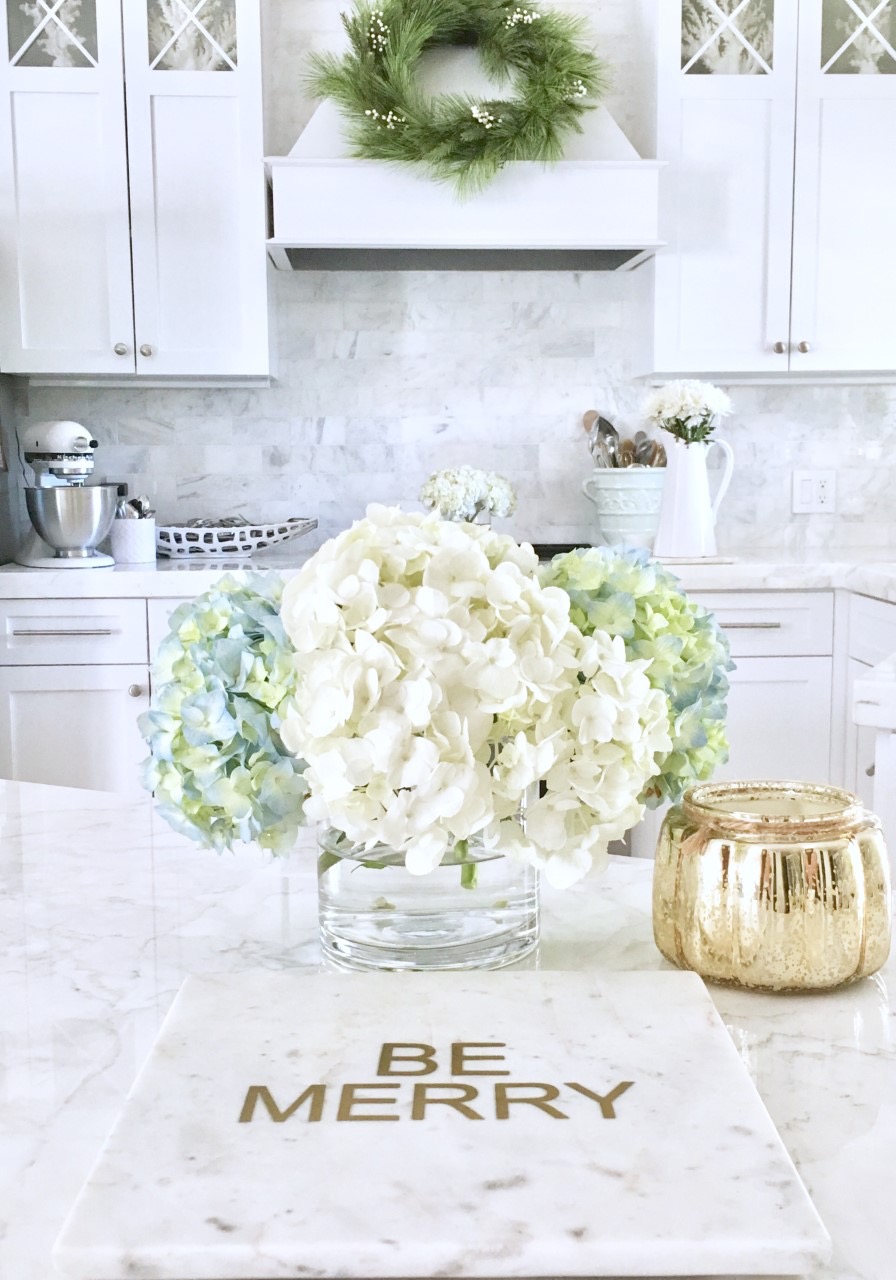 Her Instagram account is called Follow The Light Home and is so fitting.  Julie's home is so lovely and she is such a bright light to all that follow along with her journey.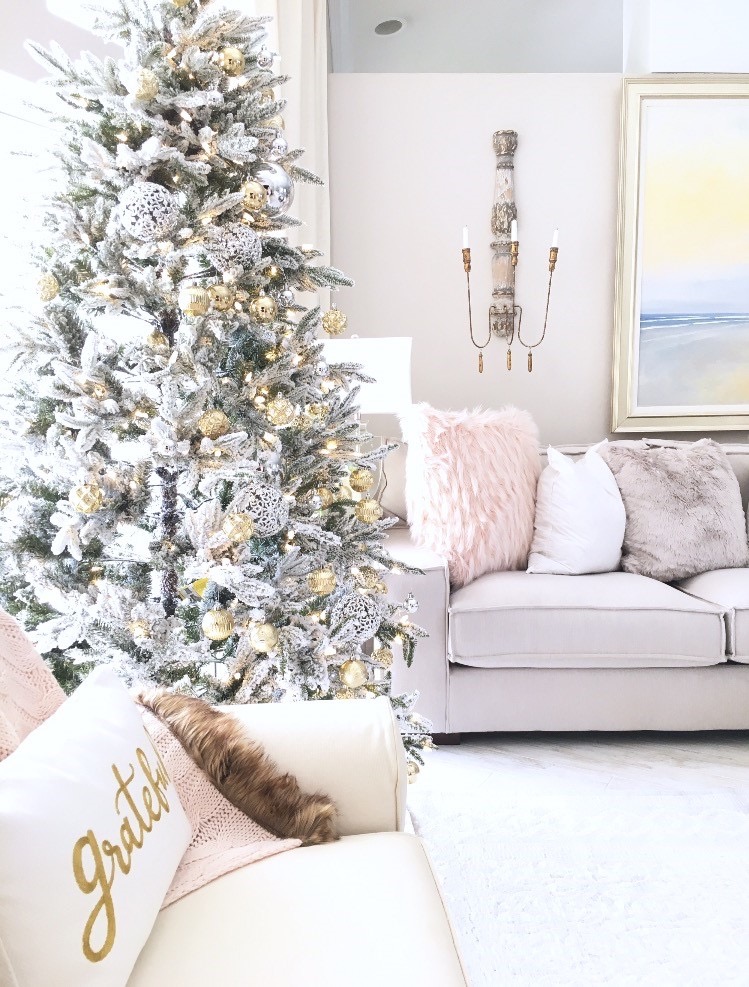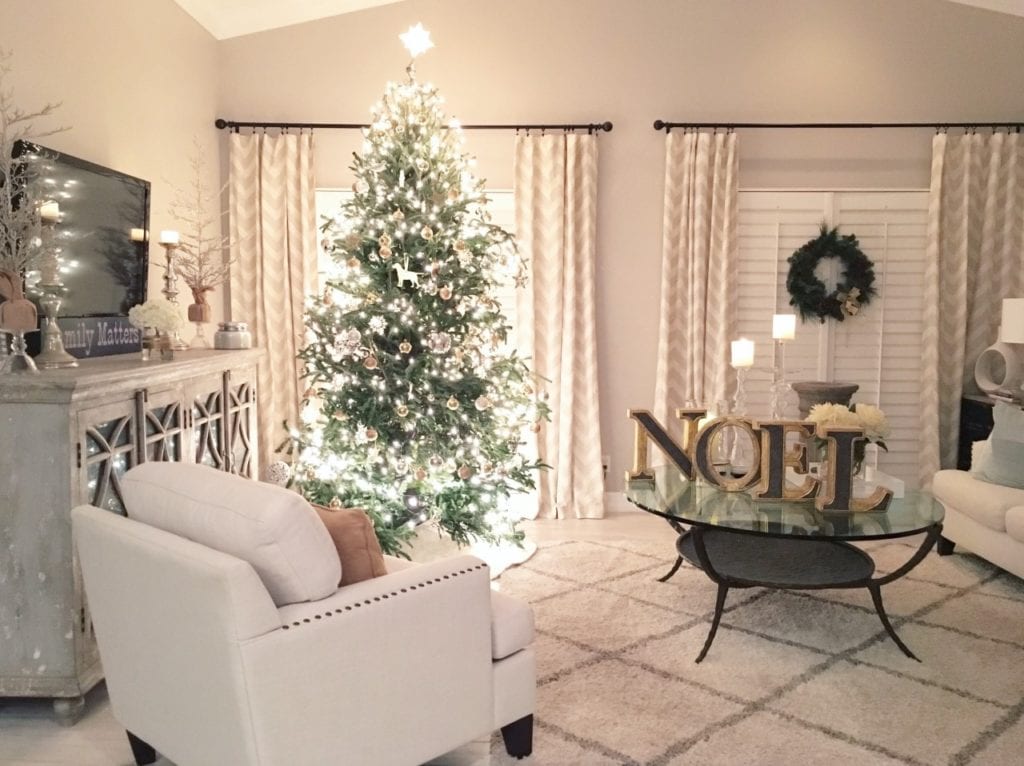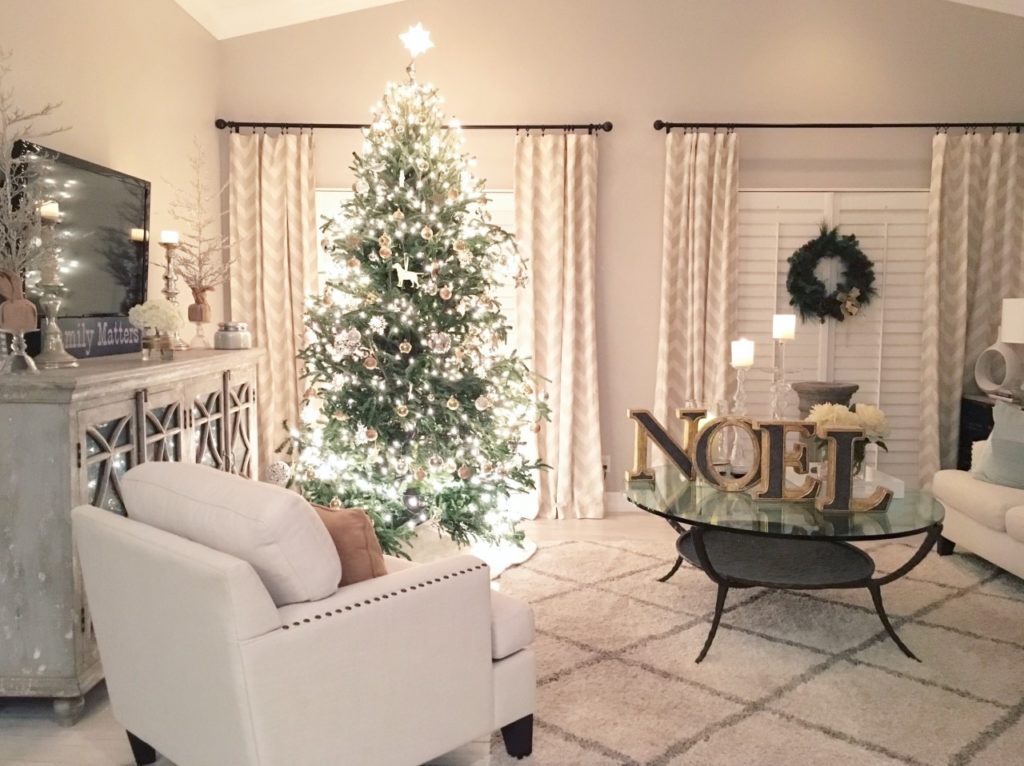 I love a pretty night shot of a Christmas Tree with its twinkling lights!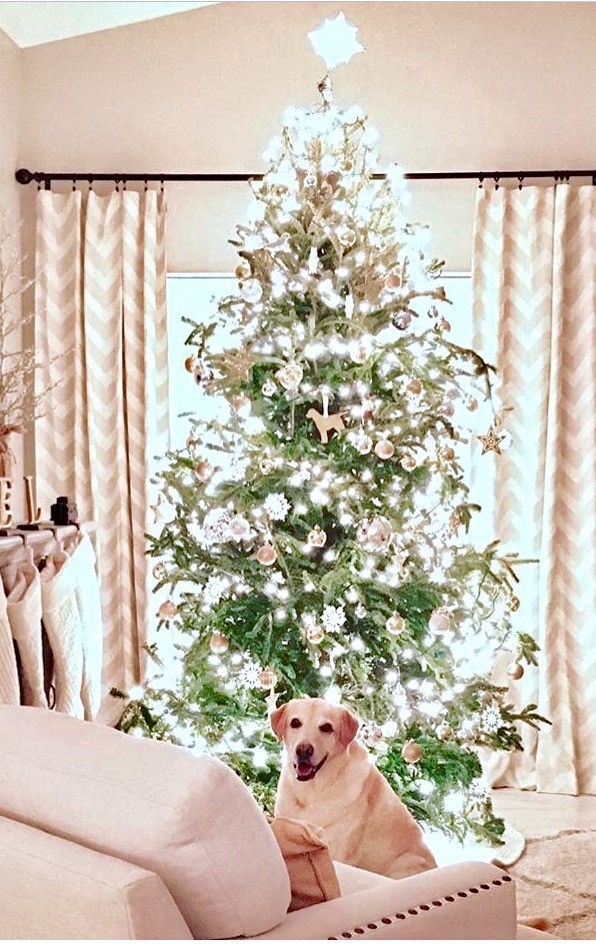 To see more of Julie's beautiful Florida home (and her sweet Chase pictured above), follow her HERE on Instagram.
Nan Lindy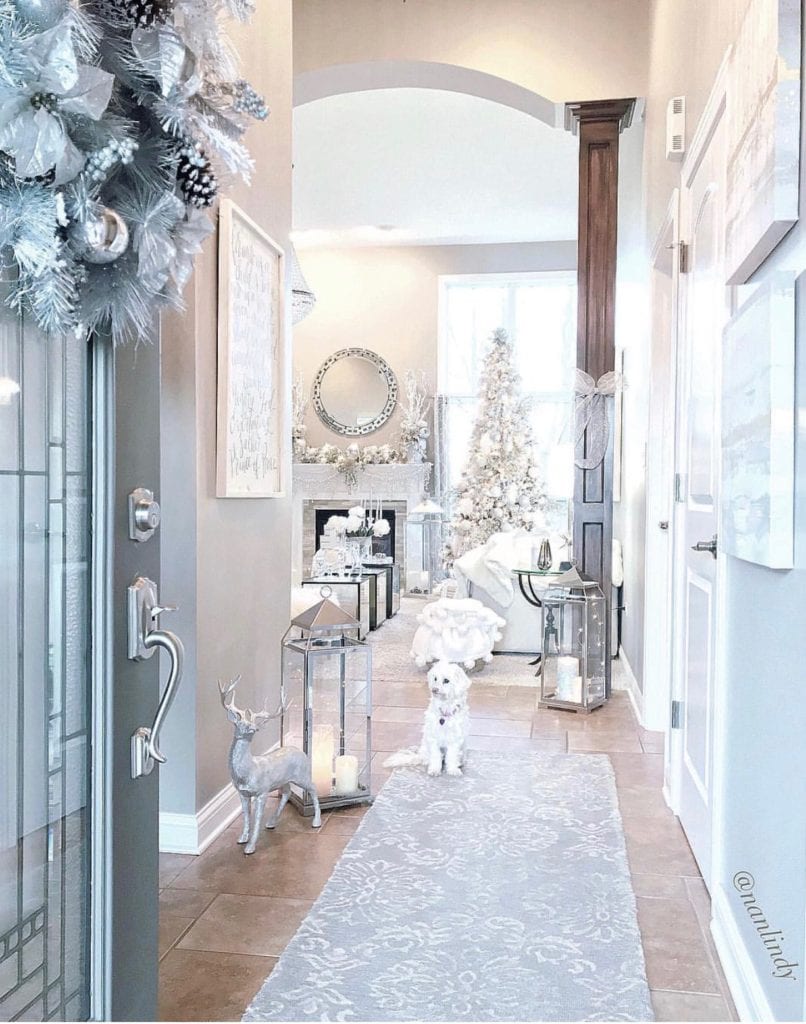 Also in this coming year, you'll be seeing more of this beautiful home belonging to Nan Lindy.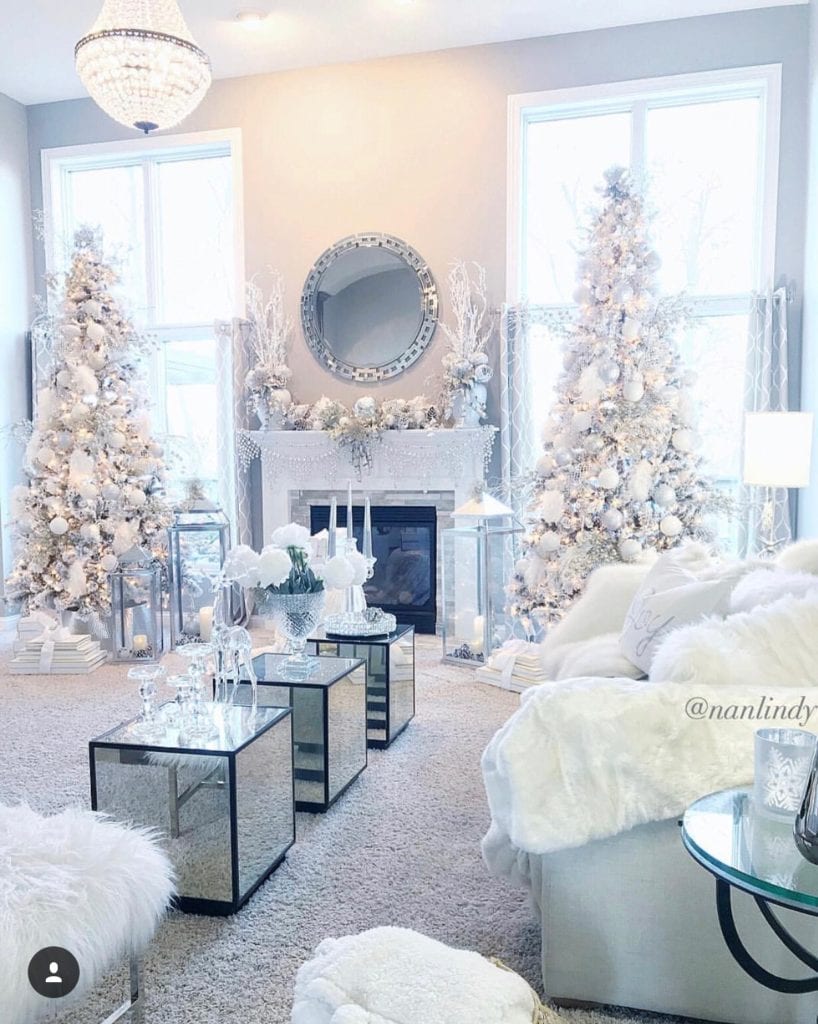 Nan's love for a bright white home and all things glam attracted me to her feed right away.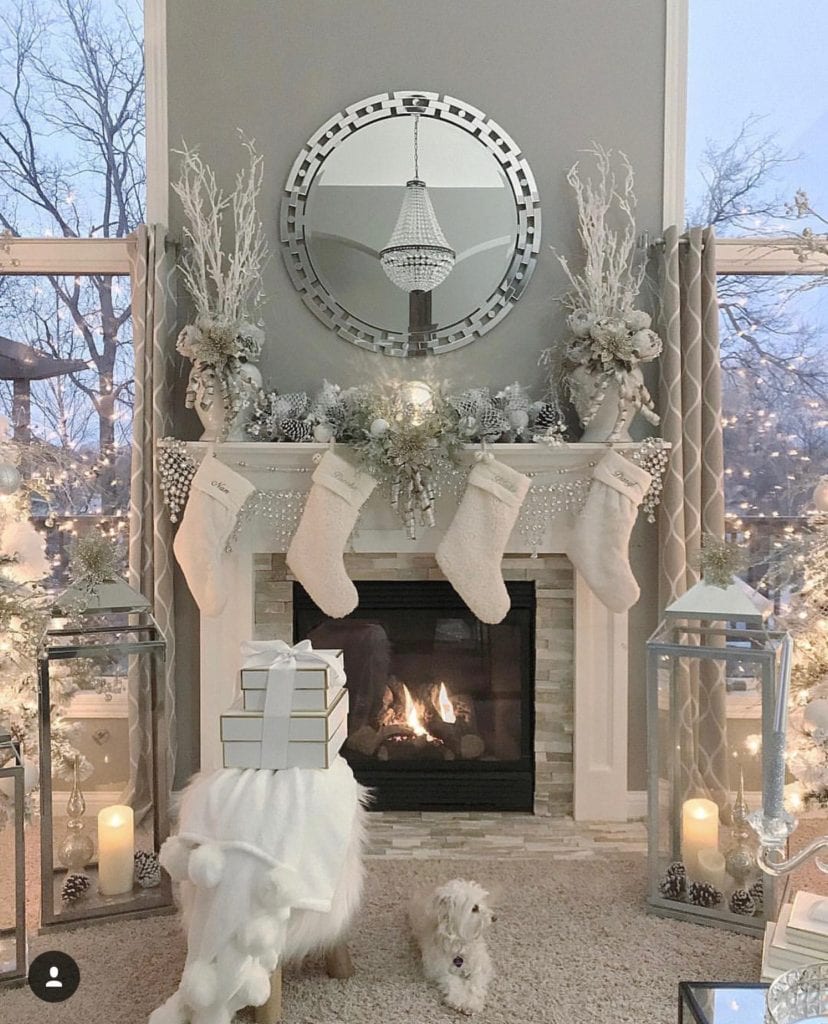 Even as the sun sets, her home feel like a beautiful Winter Wonderland.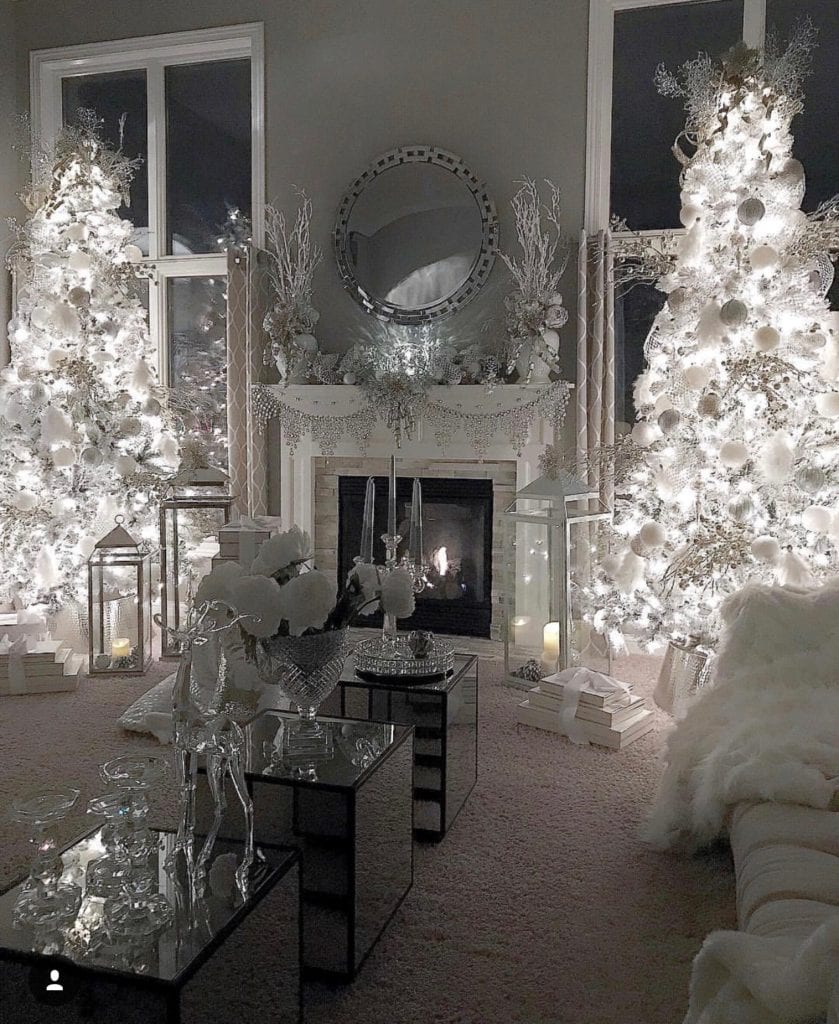 Make sure to stay tuned for her post but until then, hop on over to Instagram and follow her HERE.
Deborah Blount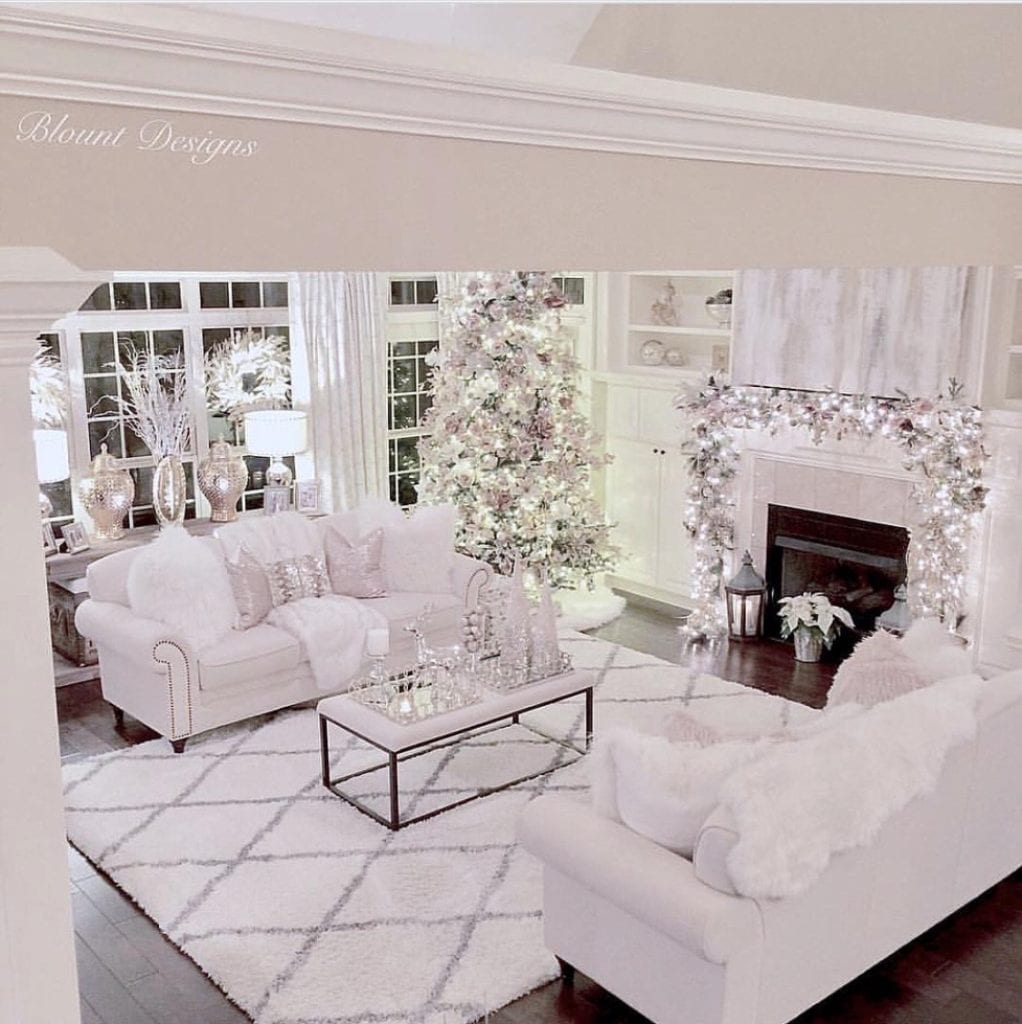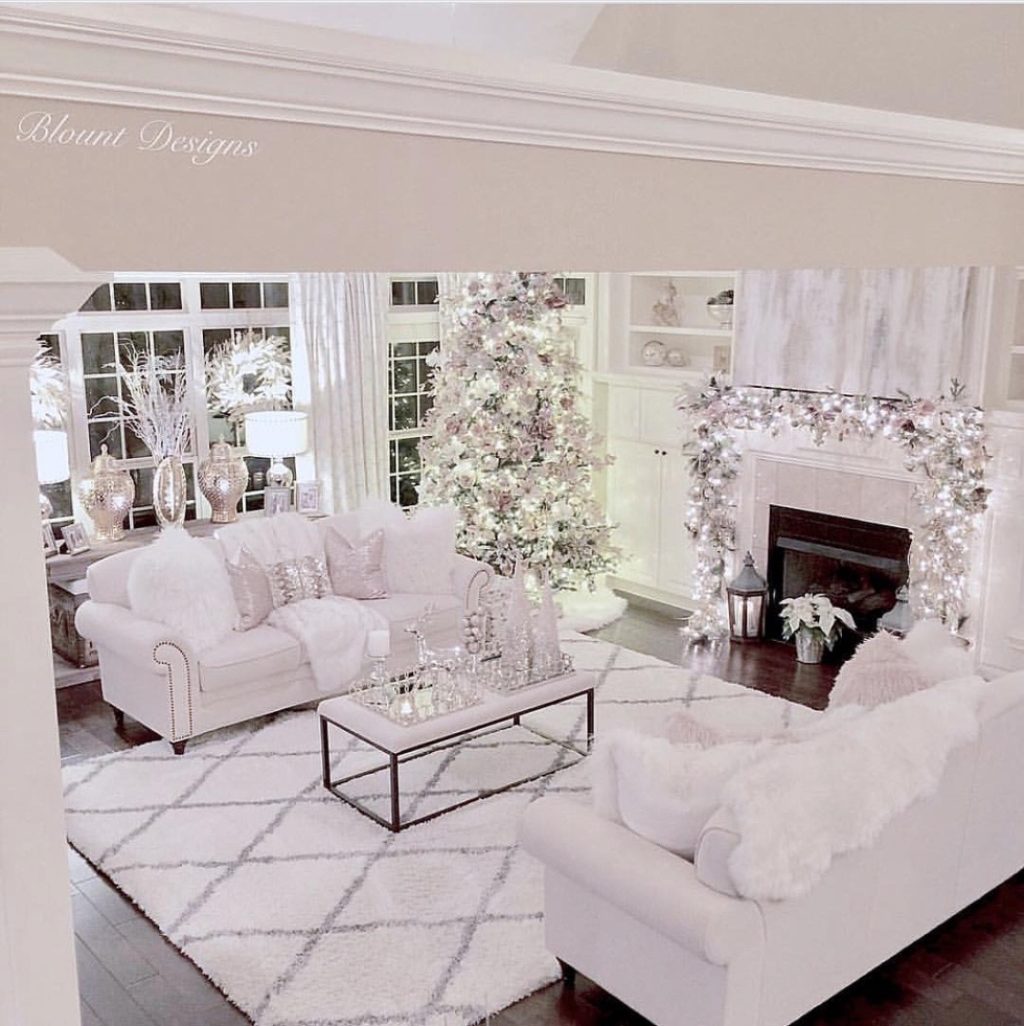 My second feature in the Bright White Home Series was the home of Deborah Blount.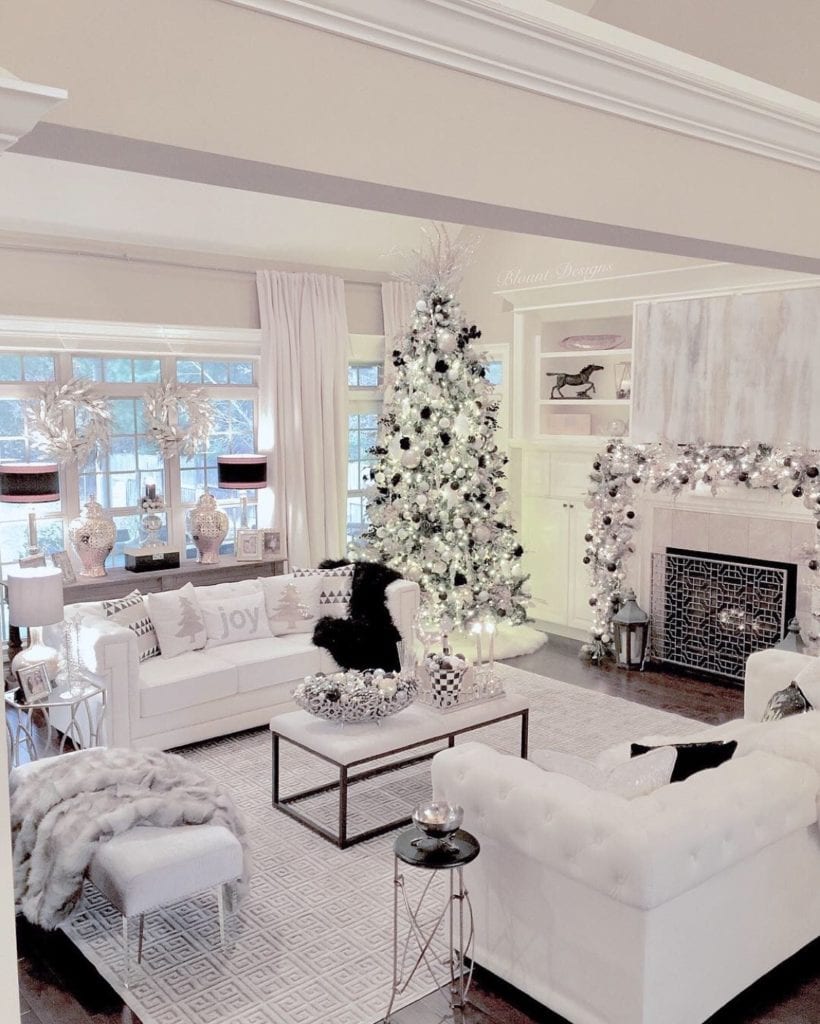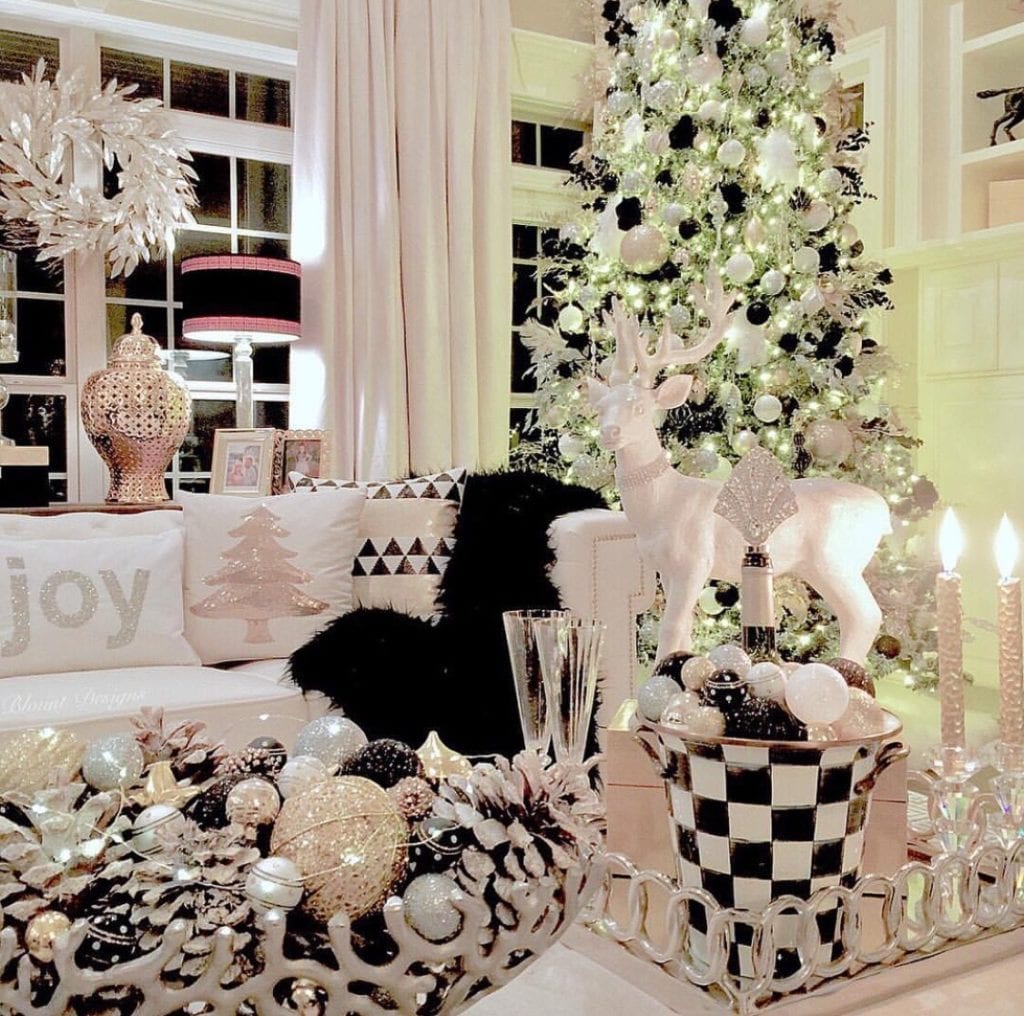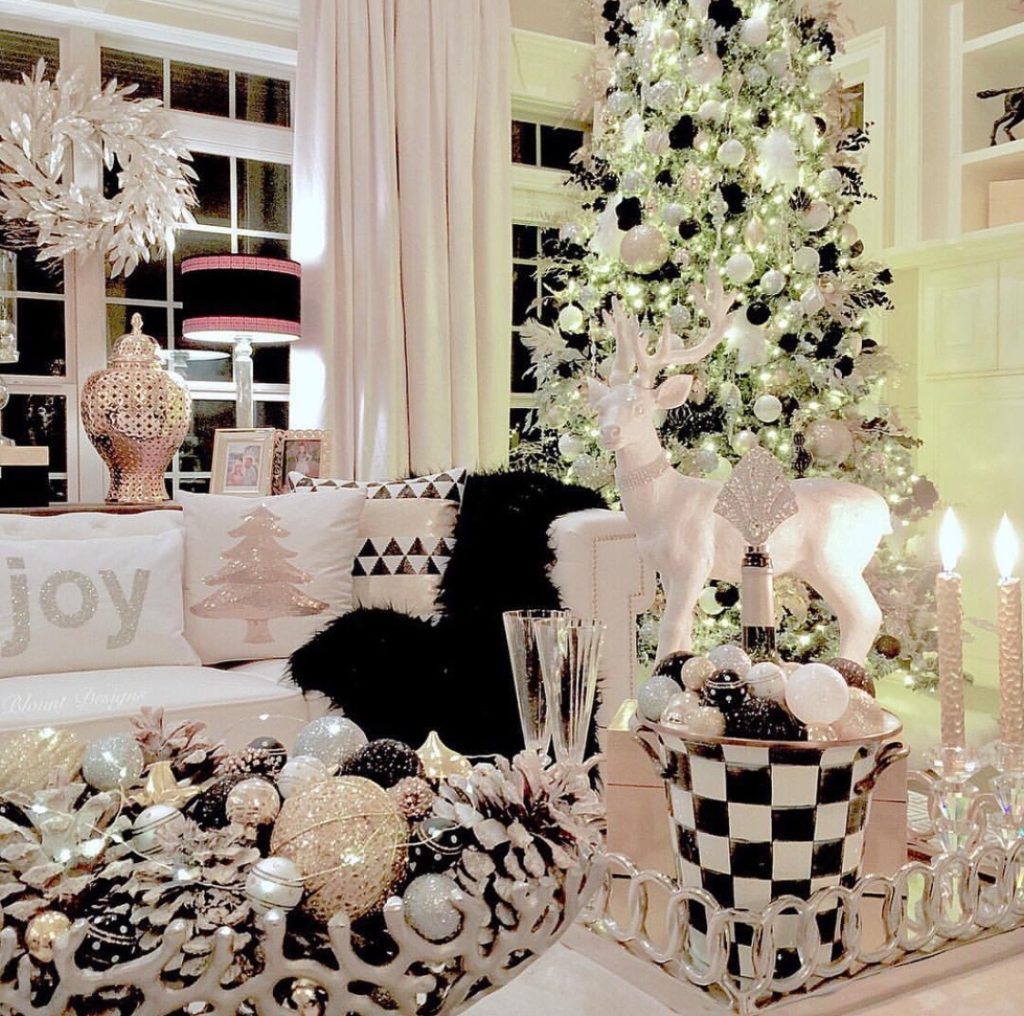 Debi and I met on Instagram several years ago and she is now a dear friend.  Not only does she share my affinity for a bright white space, but she loves all things glam.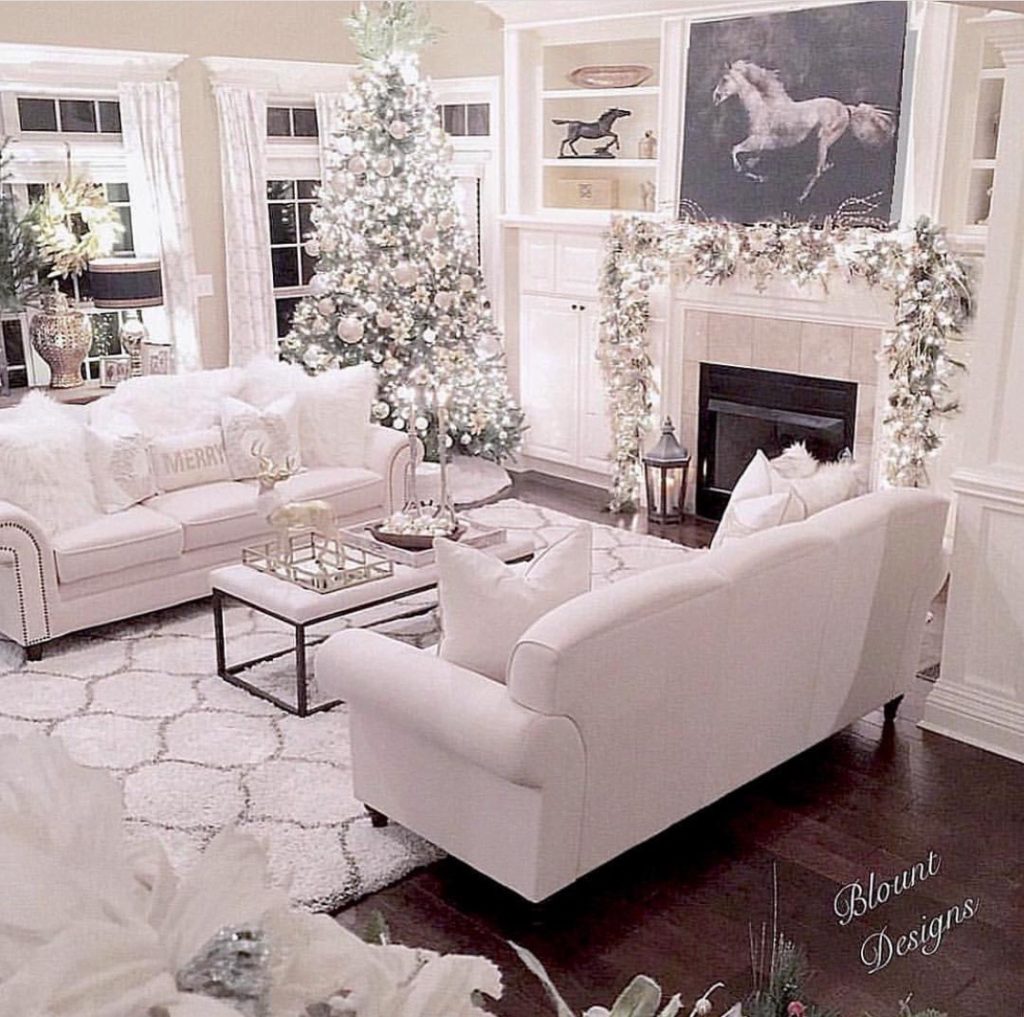 Debi has the amazing talent of switching up her bright white home with pops of color in her home accents.  Her Christmas decor is no exception and I love to see what she'll share next!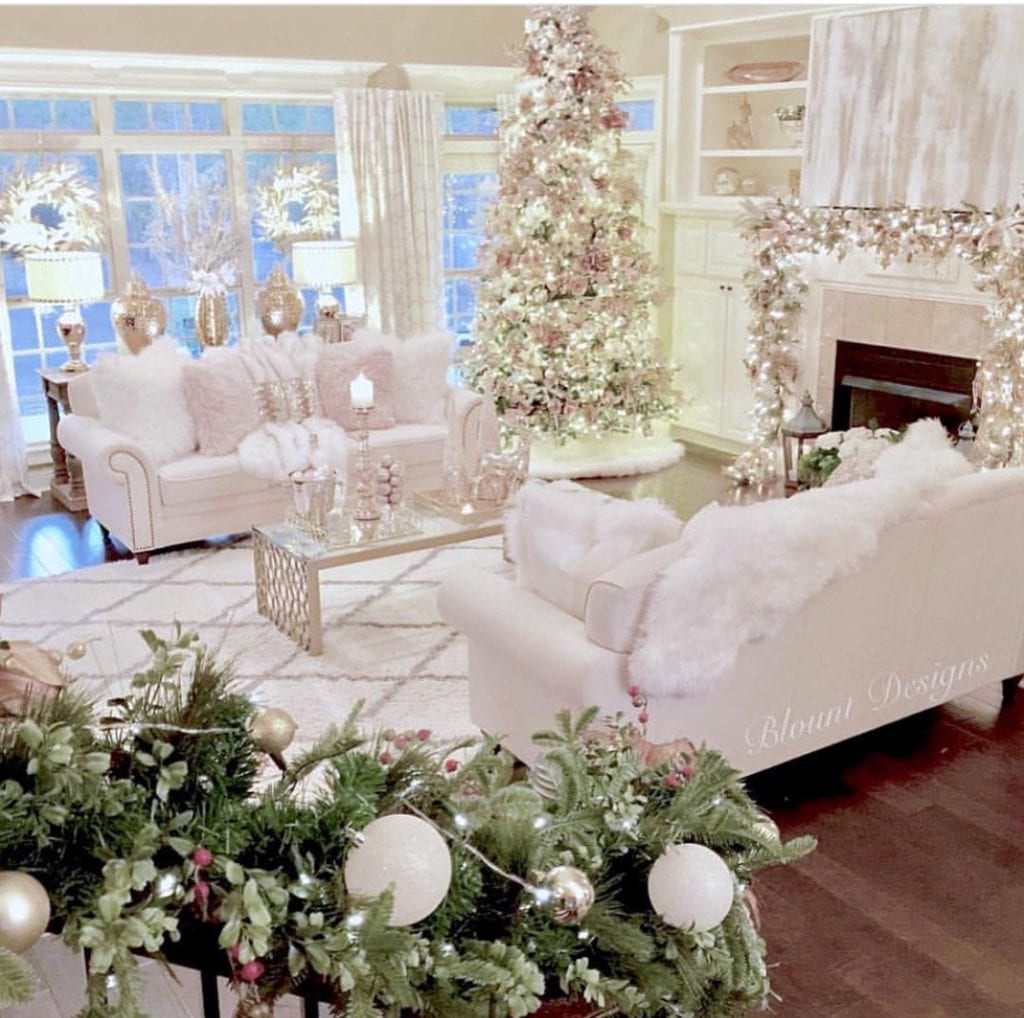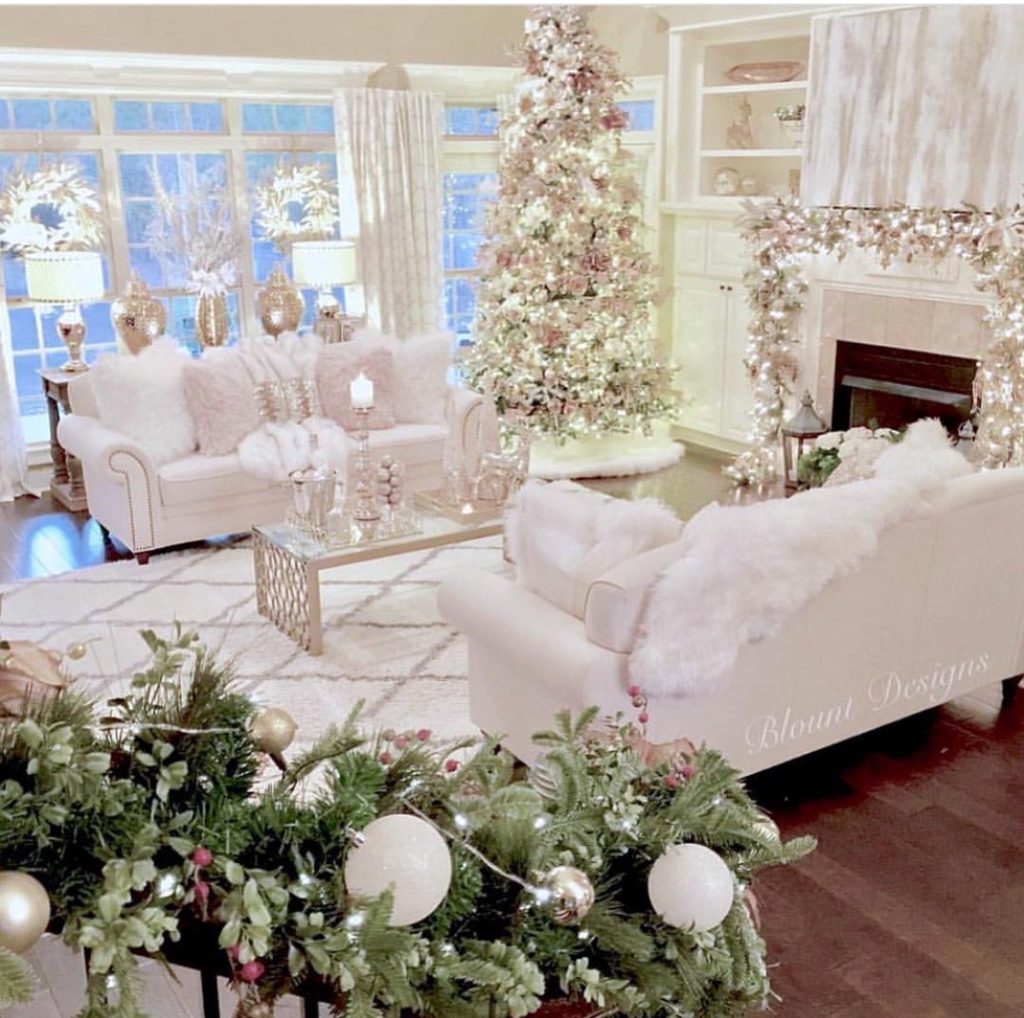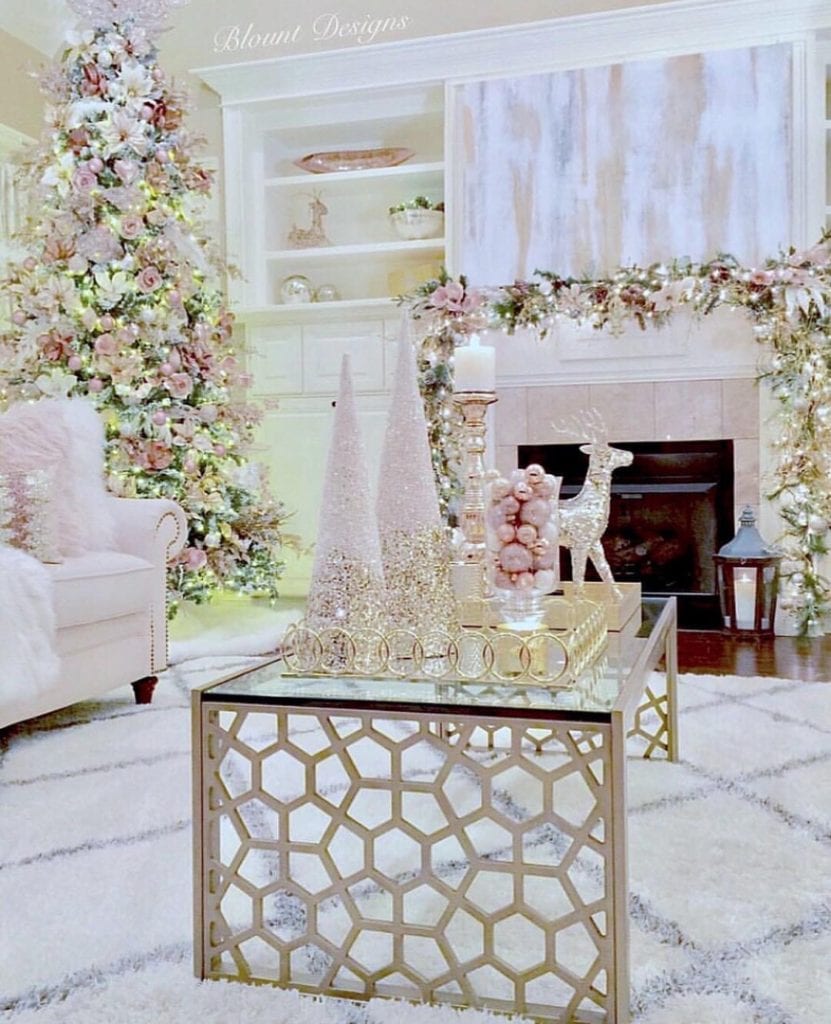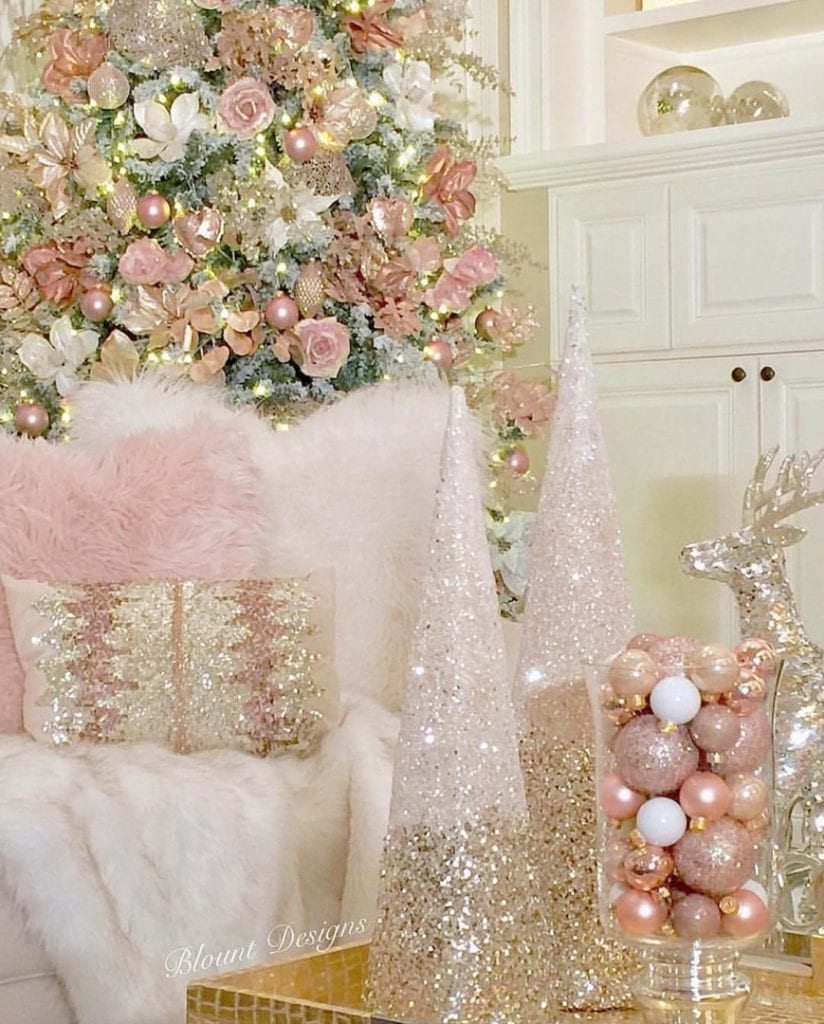 You know I'm a sucker for anything blush!  Debi's love for pink gives me heart eyes.  If you've seen my latest Blush Pink Christmas Tree, you'll understand.  Swoon!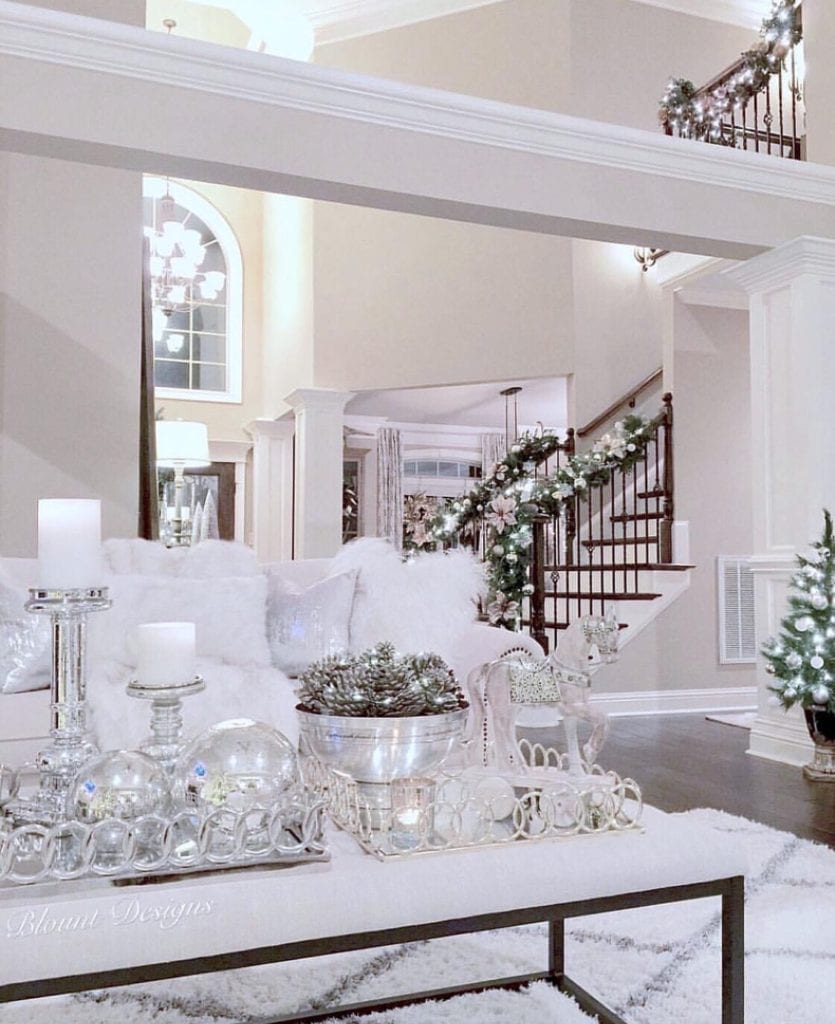 Debi's home is always so elegant and cozy and inviting at the same time.  Her Christmas decor is no exception.  Please follow her at Deborah Blount Designs on Instagram HERE.
Molly Kay Interiors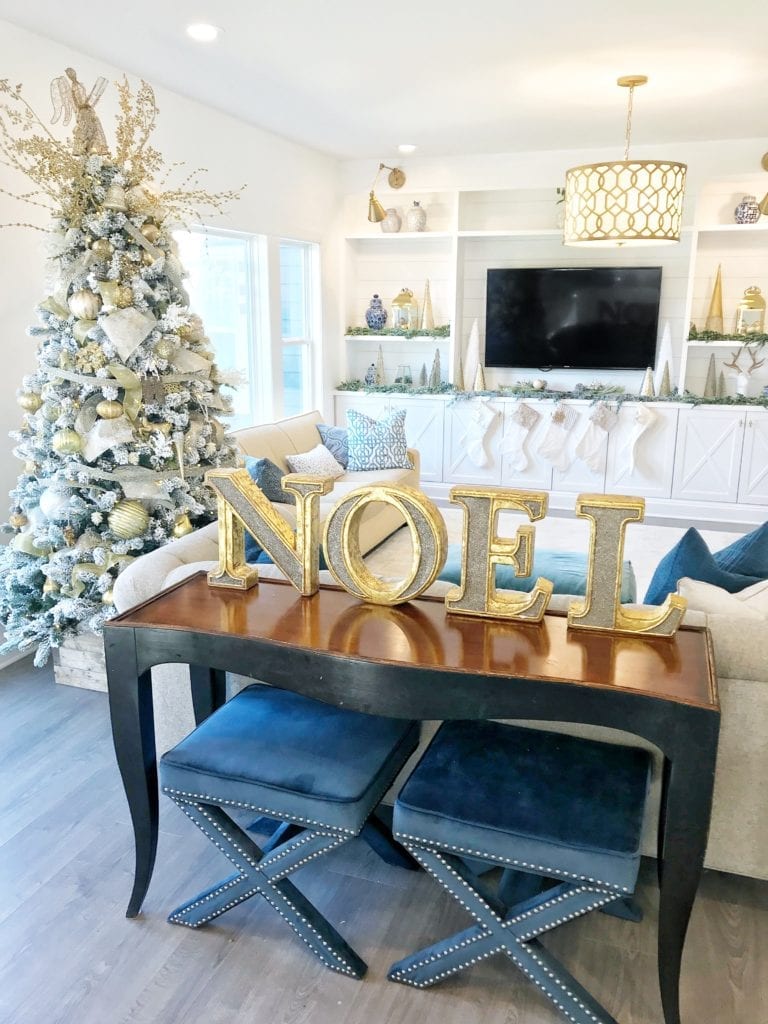 A good friend of mine, Molly Kay, just moved into her new home recently.  Molly Kay is an interior designer and her husband is a contractor. Together, they designed and built the most beautiful home and I'm so glad she would also allow me to share a sneak peek of their gorgeous home in Virginia here on the Bright White Home Series.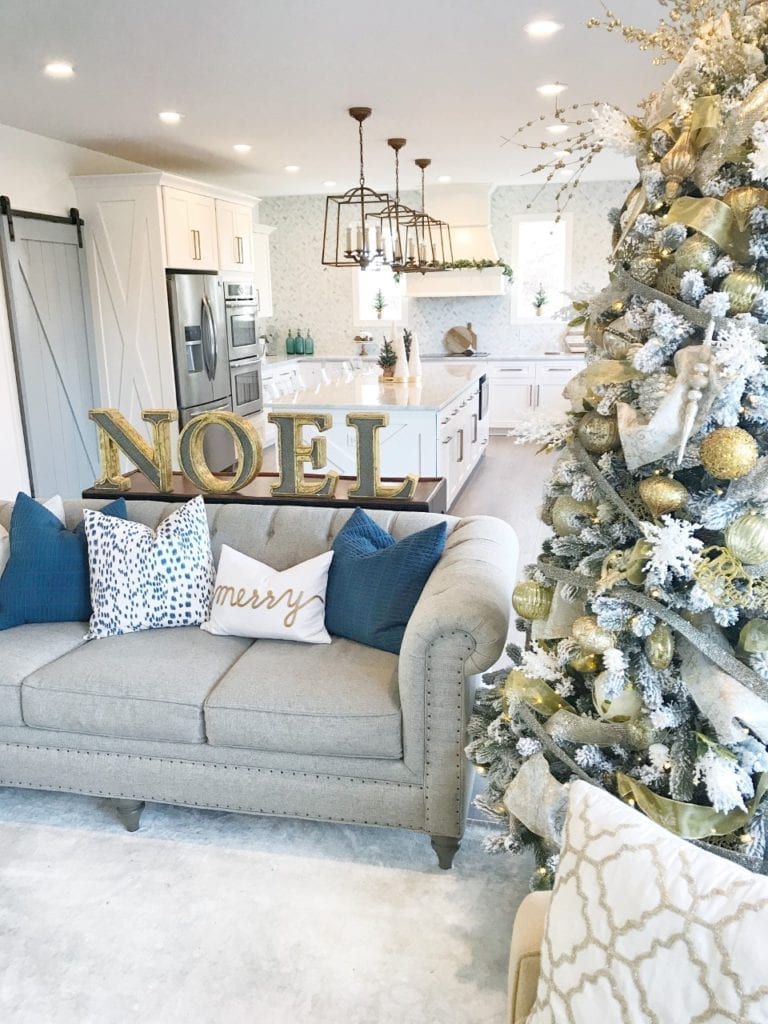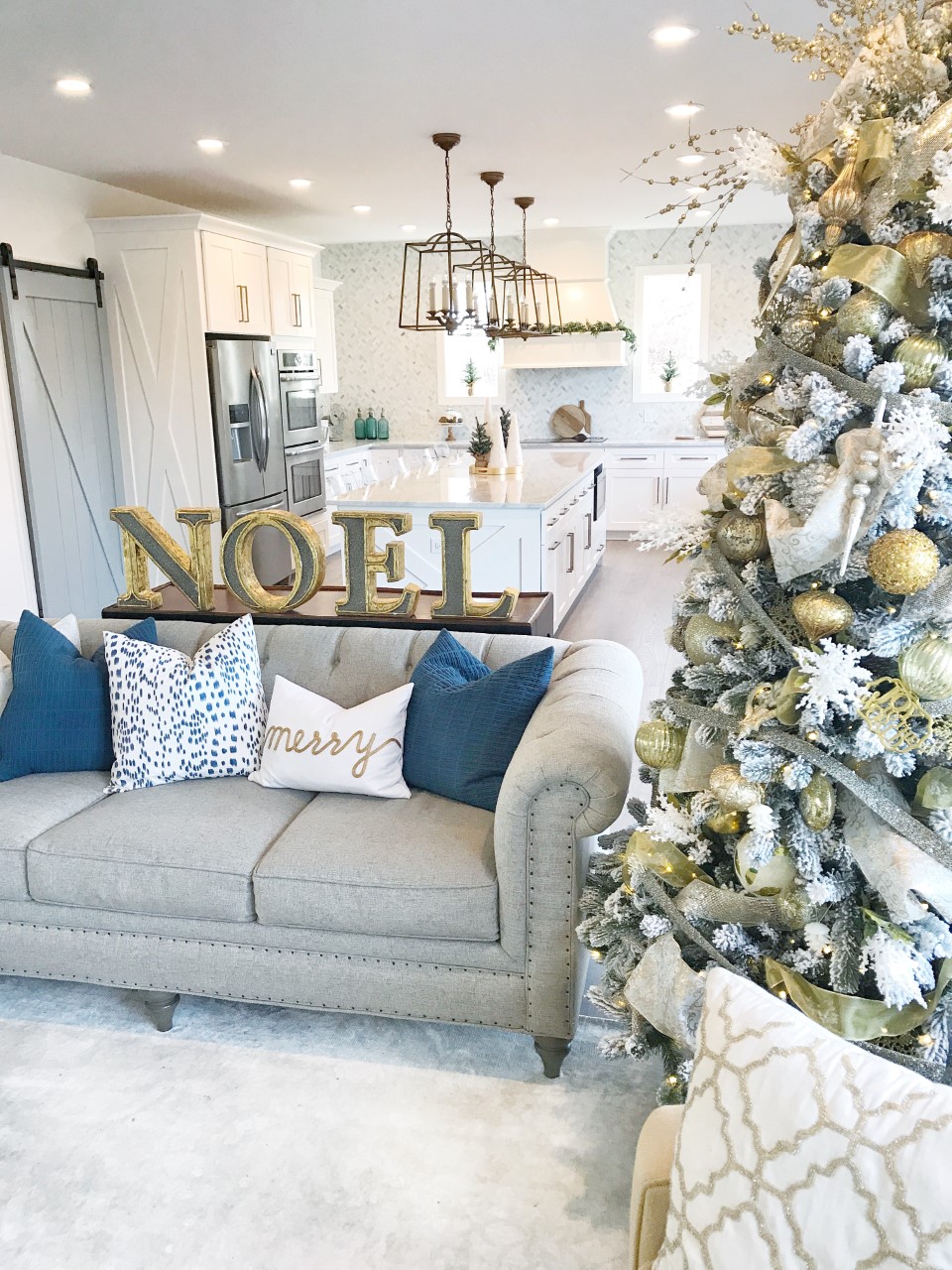 Molly Kay shows so perfectly how you can have a bright white home and color in your home too!  I love her pop of teal blue, don't you?!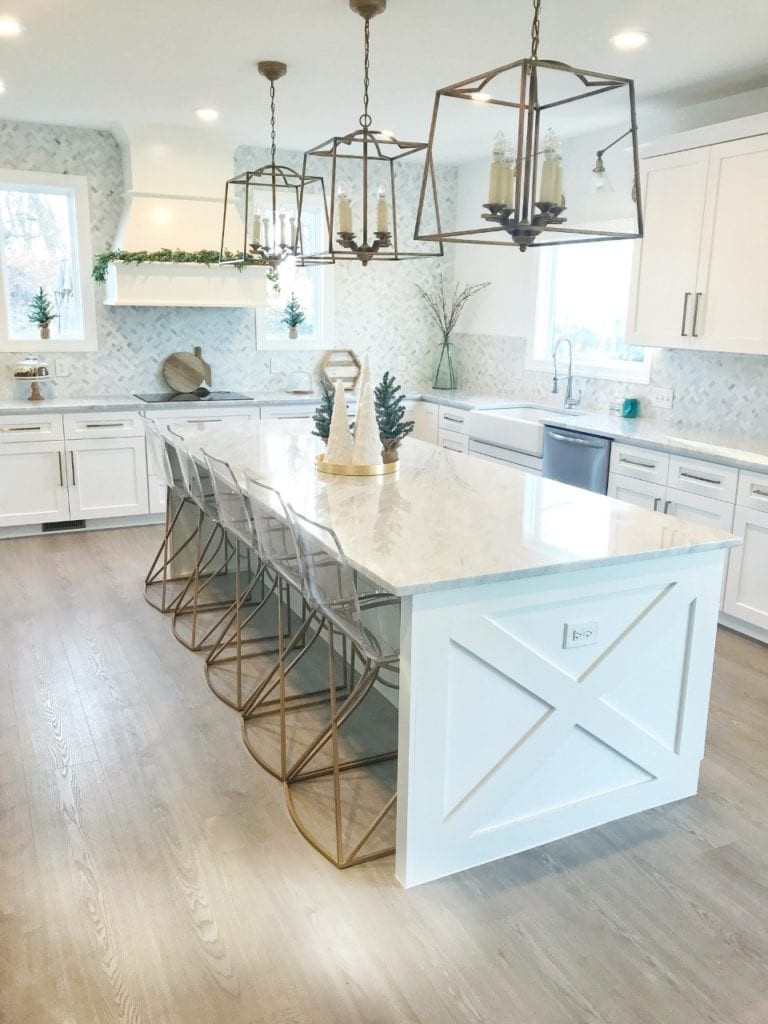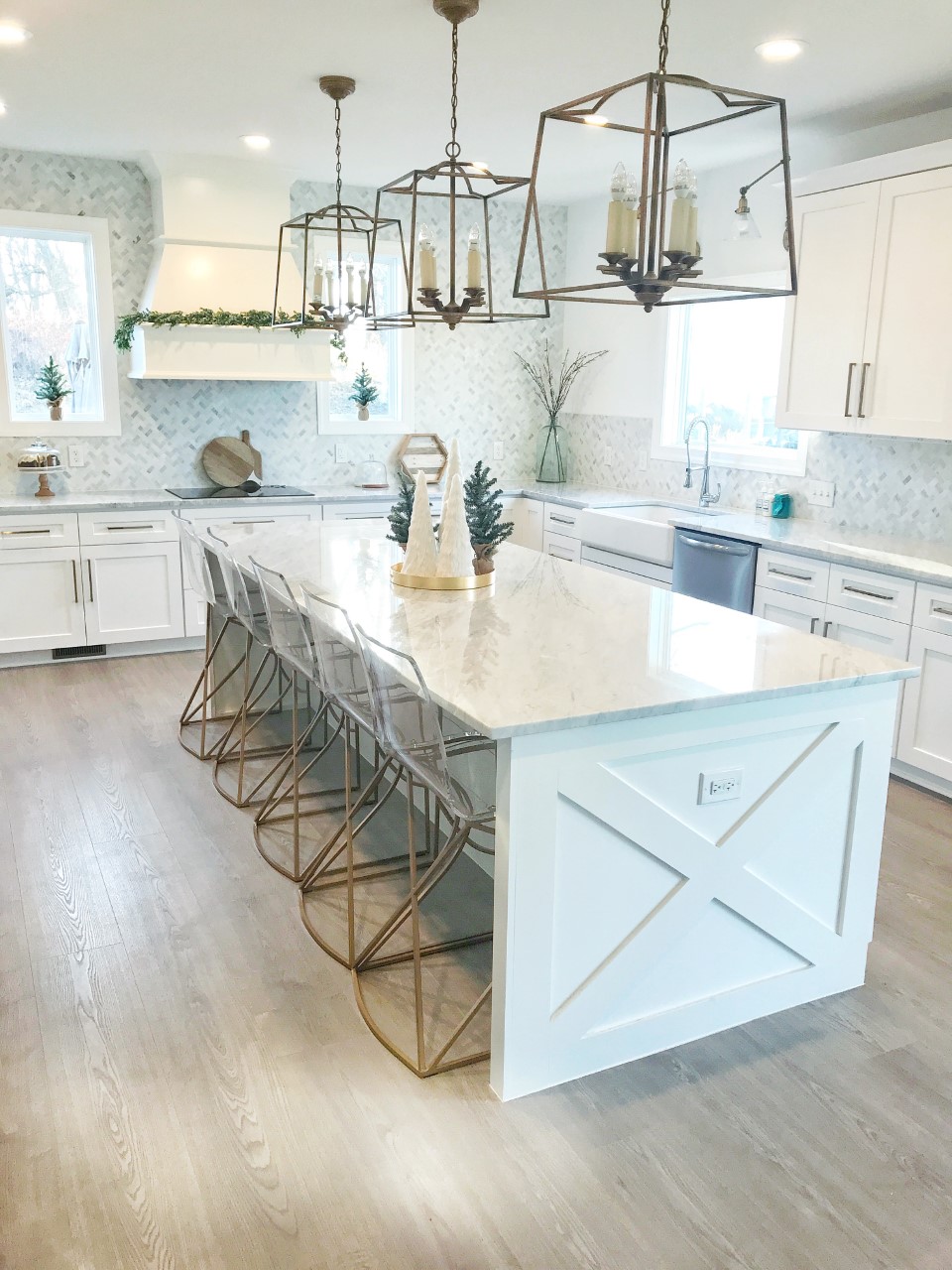 This kitchen of theirs is just gorgeous. Her Christmas touches are so elegant and just enough.  They don't detract from the beautiful design at all.  Imagine 5 children at this island.  Yes, Molly Kay and her husband have 5 children and still manage to have such a stunning bright white home. Would you love to see more of her home?  Good!  I've invited her to be a future post in my Bright White Series too so stay tuned.  Until then, follow Molly Kay HERE on her Instagram account.
Audra Williamson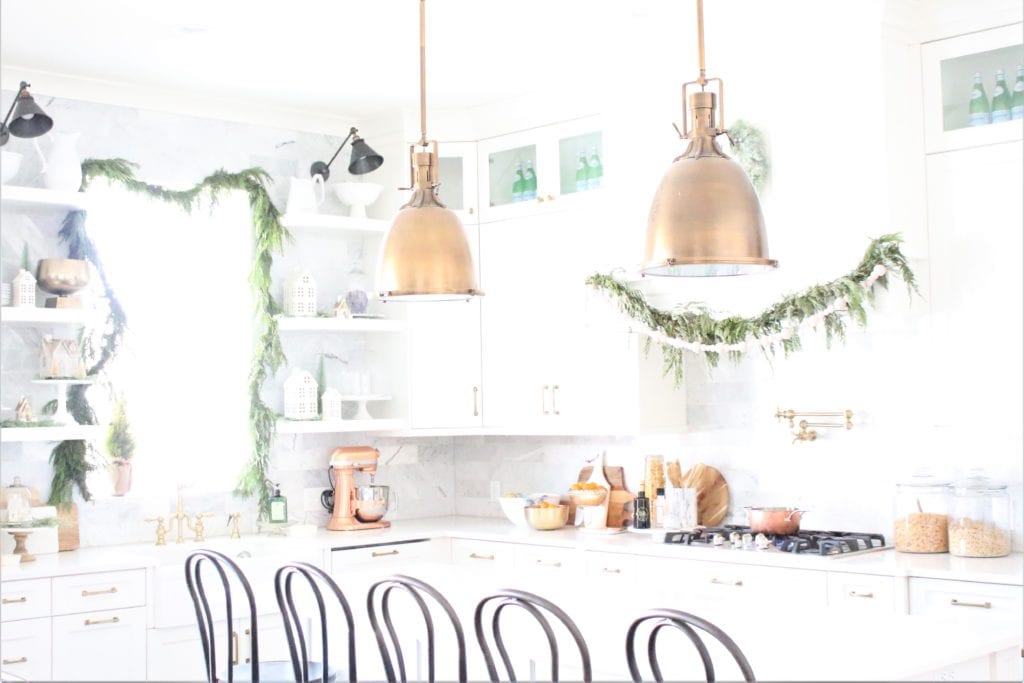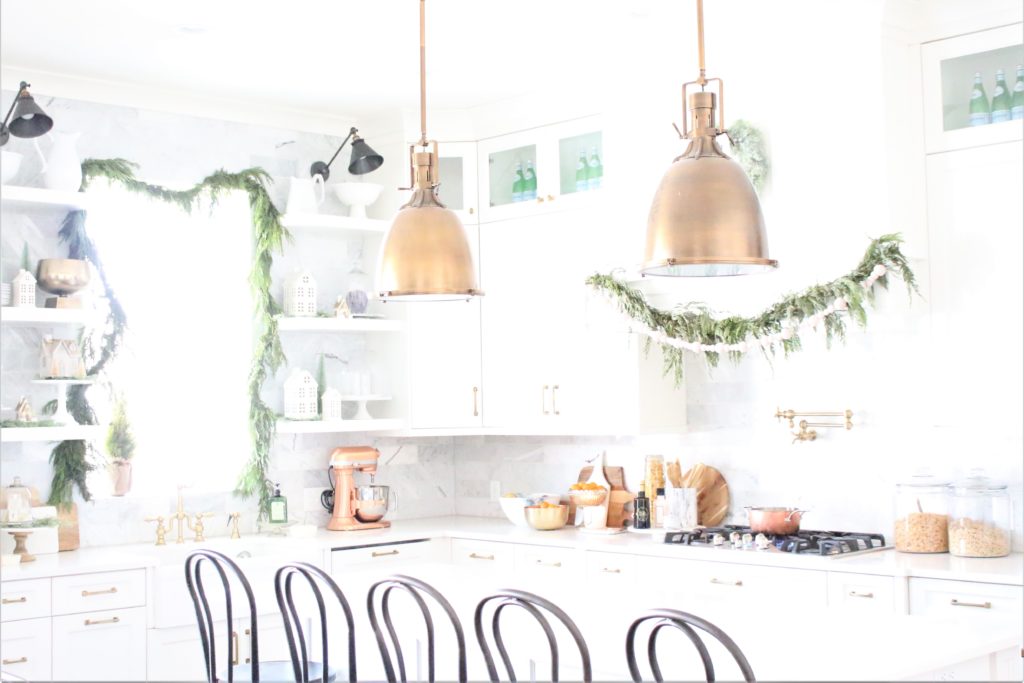 A couple of years ago, there was a darling young mom on Instagram who made the prettiest cookies.  Her name was Audra Williamson.  Audra's home was gorgeous and so was she and her darling family too.  She exuded light and I've loved following her as her family as evolved.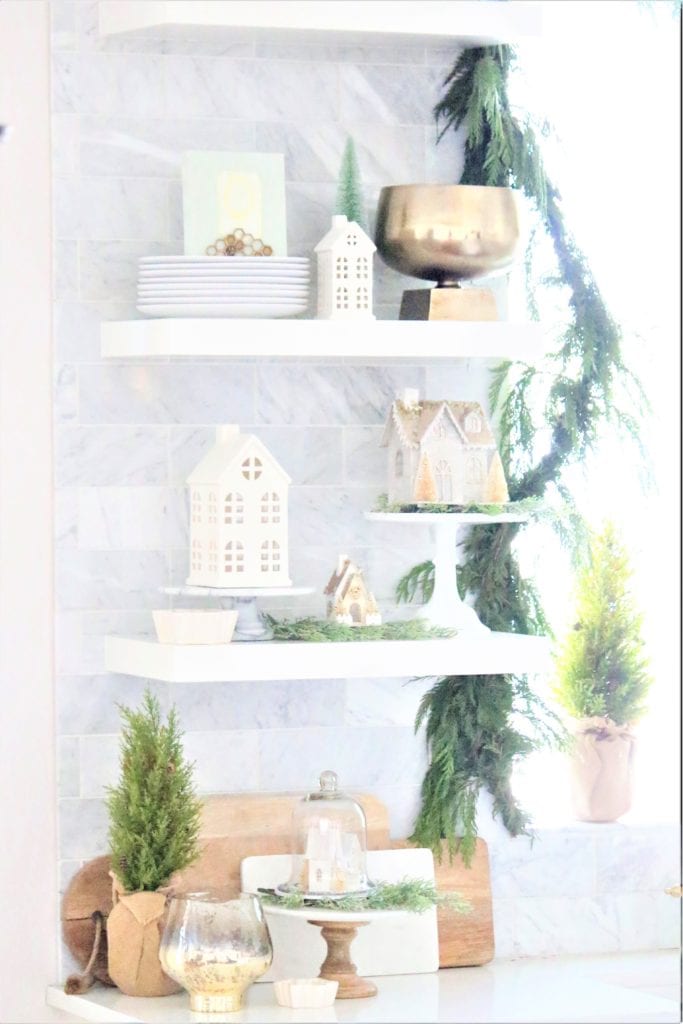 I always love seeing how she truly "lives" in her beautiful home and how she entertains and gathers the ones she loves.  Audra's home will be another feature in our Bright White Home Series this coming year.  I know you'll adore her like I do.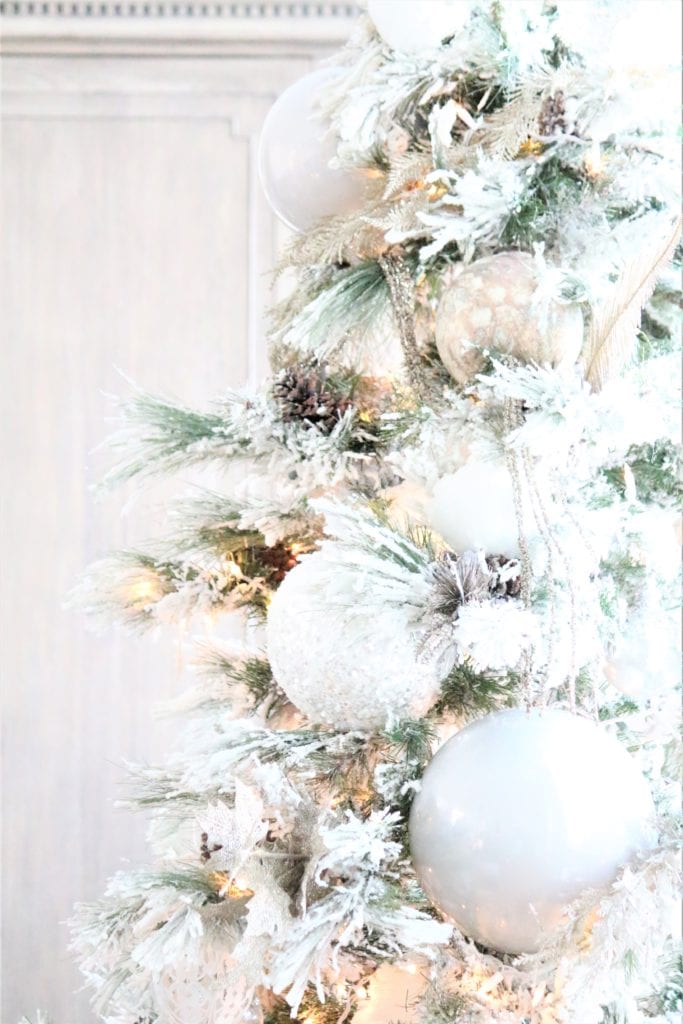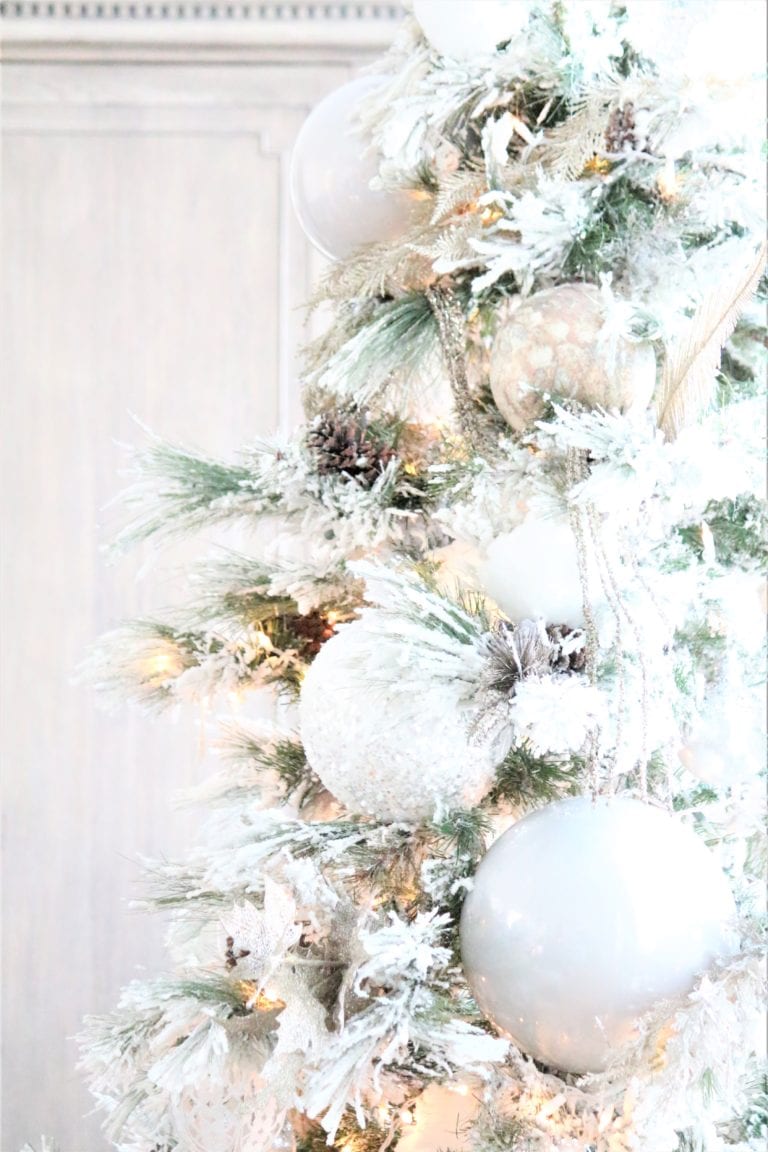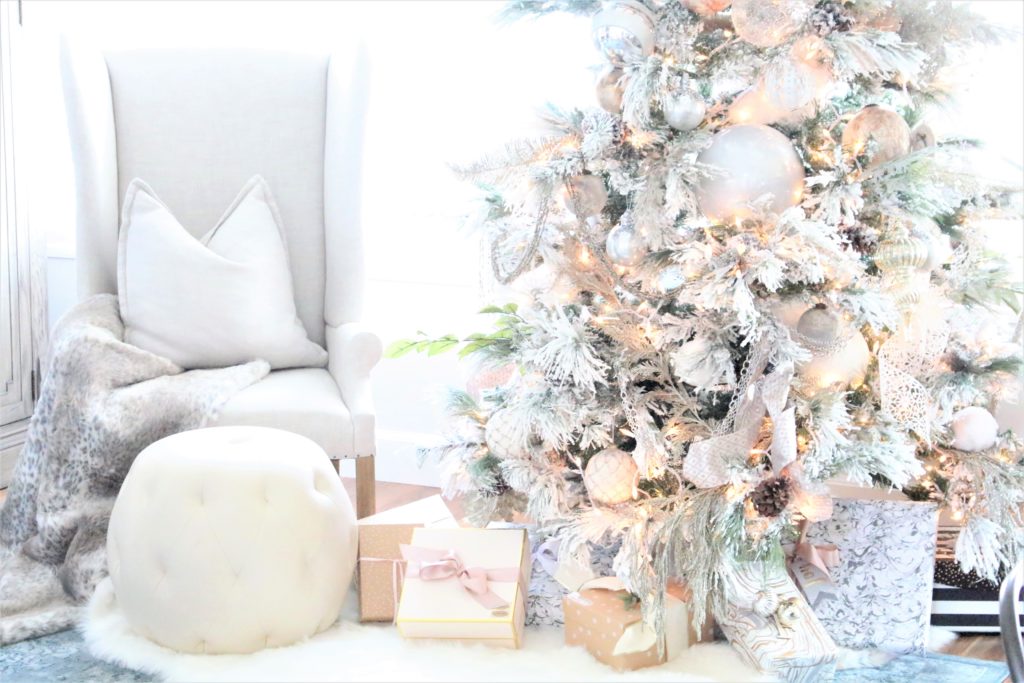 You can enjoy her lovely world by following her HERE on Instagram.
Our Modern Antebellum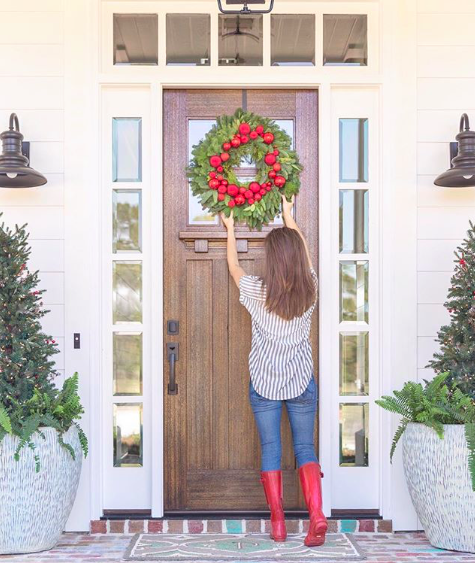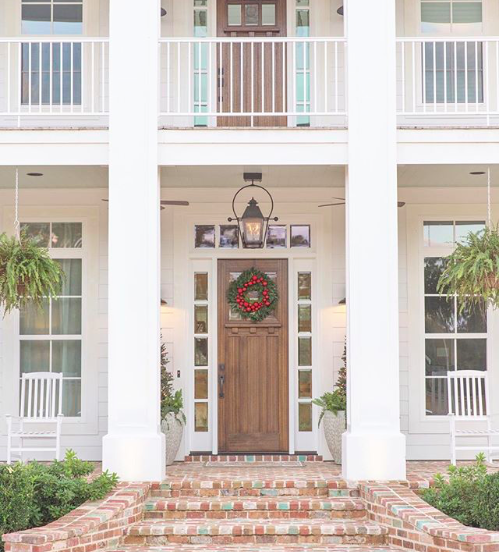 My most recent feature in the Bright White Home Series was the home of Our Modern Antebellum.  Let's switch gears and stay outside!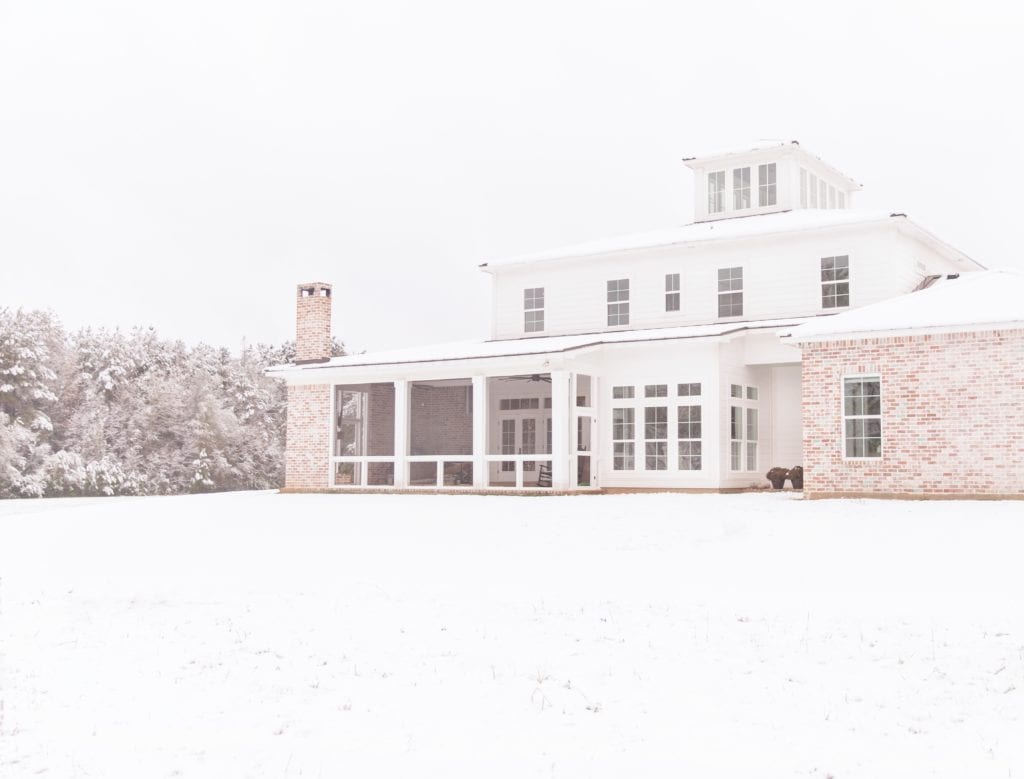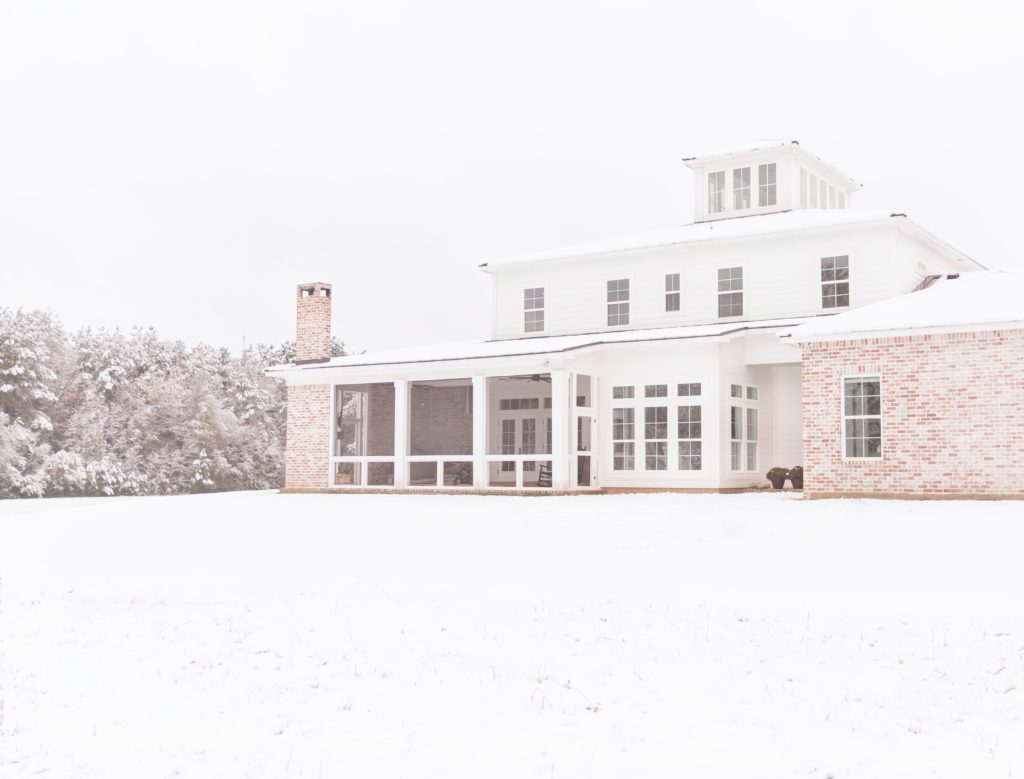 I was so excited when she agreed to share the outside of her home today.  It's a true white Christmas!  Ashely's entire property is just beautiful.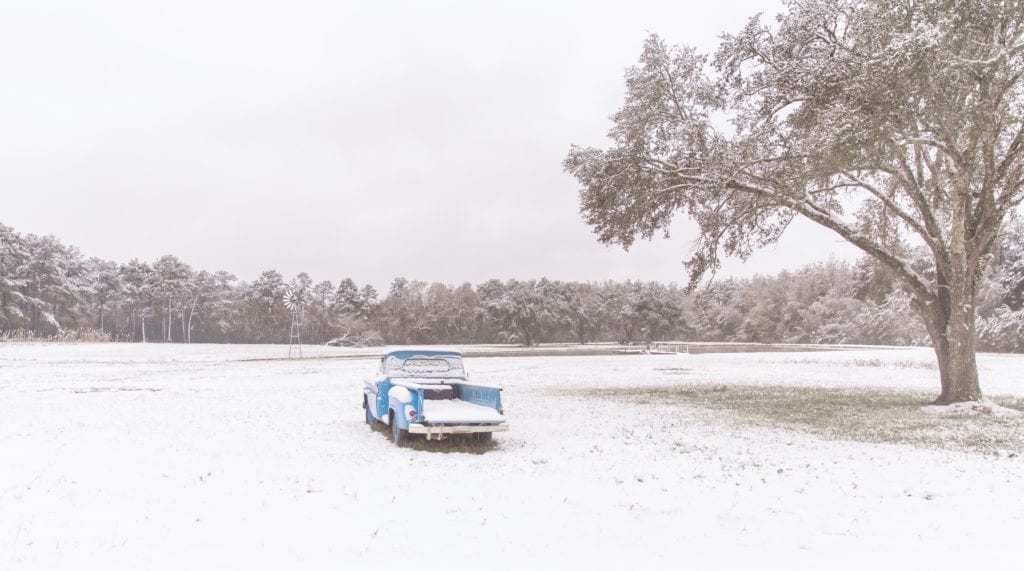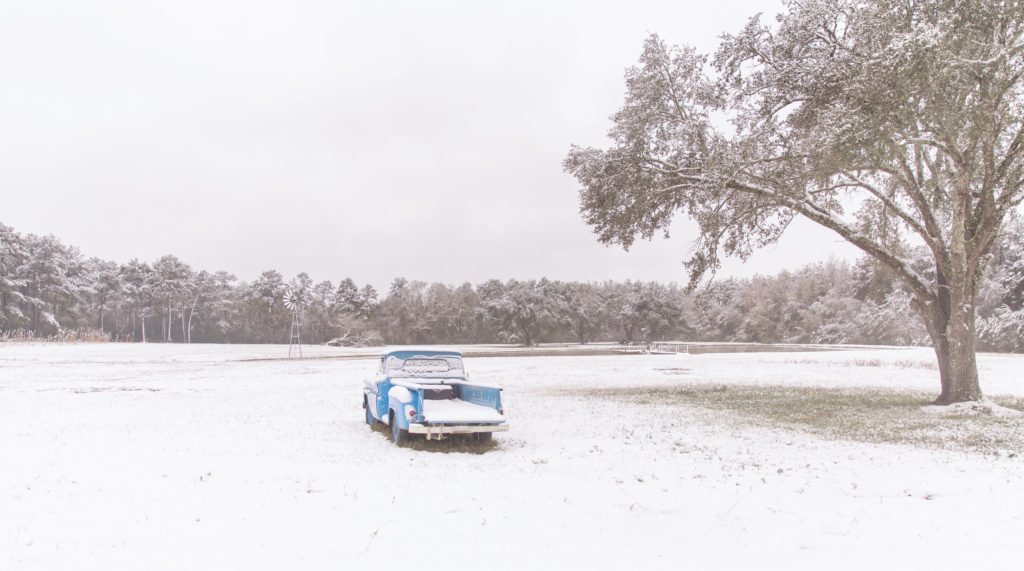 If you haven't seen Ashley's home yet, you must!  She is a former architect and designed such a lovely modern farmhouse.
After you read all about the inside of her bright white home, please follow her HERE on her Instagram account.
Jan Scarpino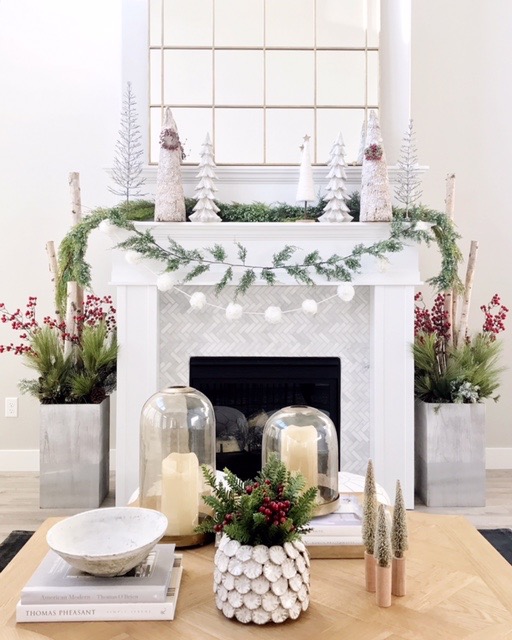 The lovely bright white home of Jan Scarpino was one of my other first features in the Bright White Home Series.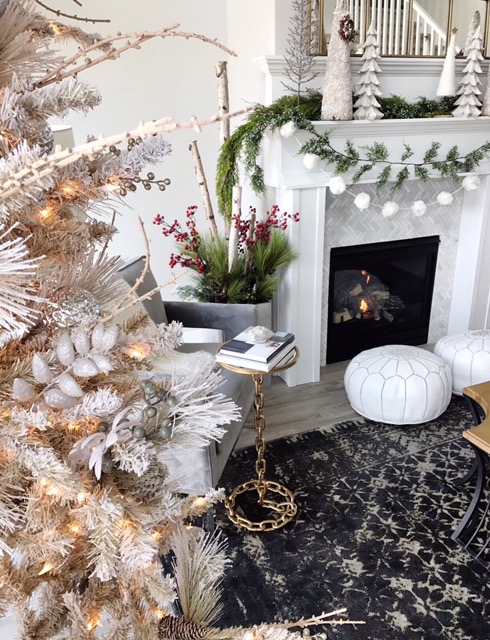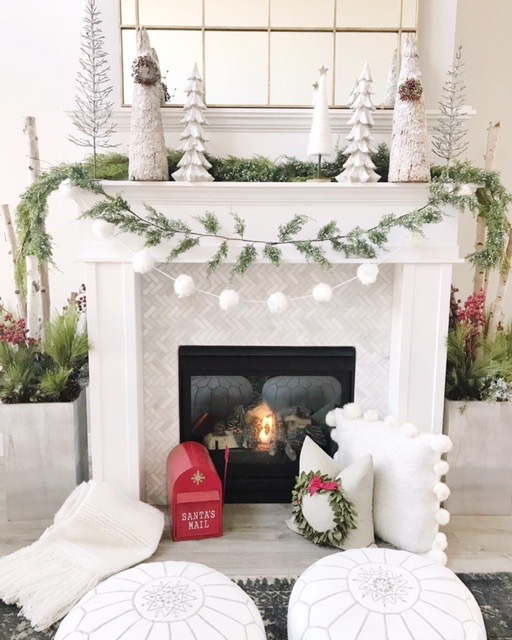 I love Jan's style and am always so inspired by her.  Her home is not only gorgeous but with 3 children, it is kid-friendly.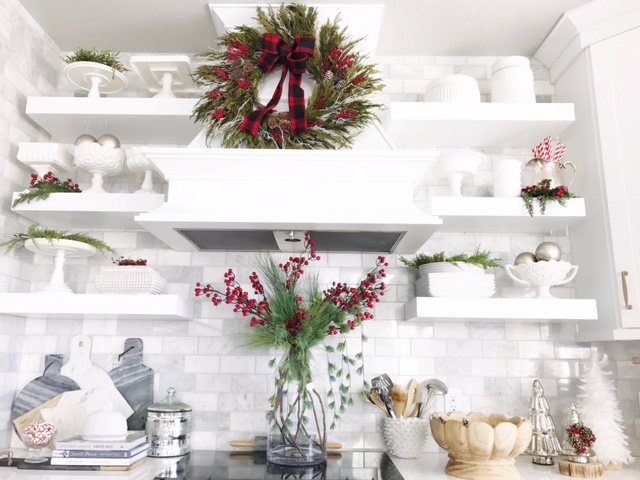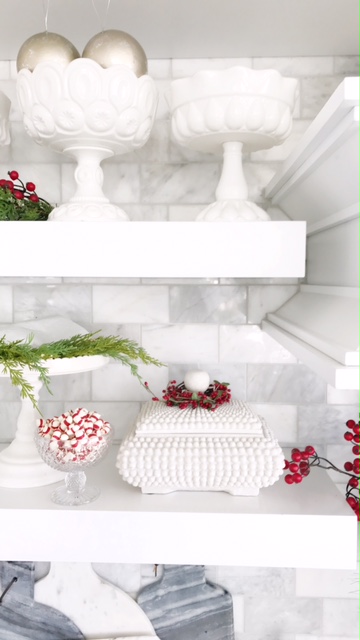 How much do you love Jan's pops of red?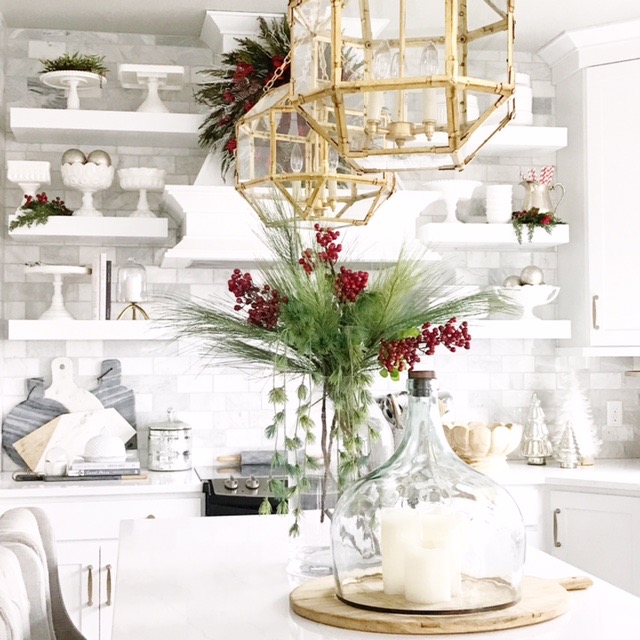 She has unique open-shelving in her kitchen that makes it so fun to style.  Once again, she used her Christmas decor to style it all so beautifully.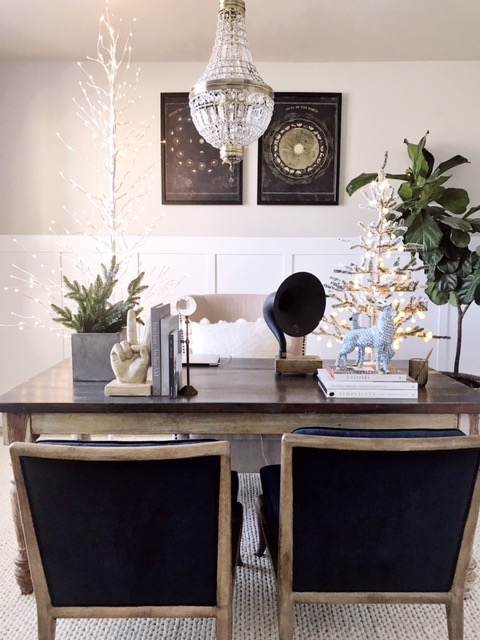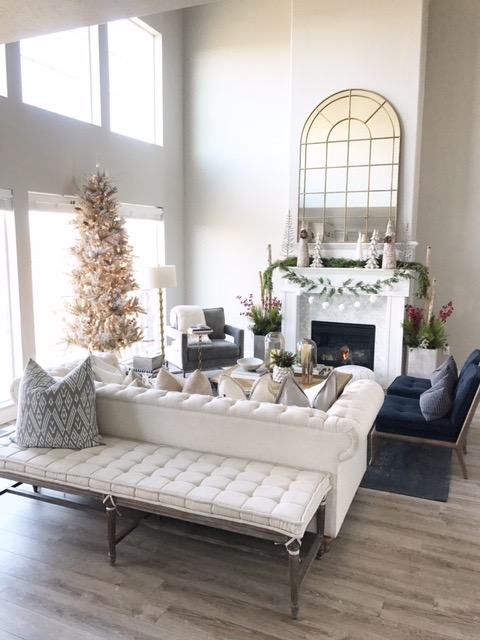 Follow Jan HERE on Instagram to see everything she is up to with her darling family and to find more home inspiration.  I know you'll just adore her as much as I do!
*****
Thank so much for joining me today in this special Christmas Edition of
my Bright White Home Series!  Now, this is just a little snippet of their gorgeous homes so PLEASE PLEASE PLEASE go and follow them on their Instagram accounts for continued inspiration.  I promise you, they will not disappoint!  Each one of them inspires me and I'm blessed to know them, call them friends, and to grab fabulous ideas from them.  I love how modern-day technology continues to used for good in this way and enrich all of our lives and allows us to share our talents.
I would love it if you subscribed at the top of the page in order to receive my weekly emails of all my latest blog posts and hear about digital printables & freebies, as well as sales or new items in My Online Shoppe.  You can also follow me on Instagram, Pinterest, and Facebook to see what I'm up to in creating a home and lifestyle of inspiration!
xoxo,

SaveSave
SaveSaveSaveSave
SaveSave
SaveSave
SaveSave
SaveSave
SaveSave
SaveSave
SaveSave
SaveSave
SaveSave
SaveSave