Are you counting down the days like I am?  Christmas is coming!!!  I still have so much to do.  We just moved into our new home that we finished building less than 6 weeks ago.  I've shared my Christmas entry, my Christmas living room, and even my blush pink Christmas tree in my office.  But today I'm so excited, as a group of my friends and I get together for our "Home For Christmas" tour this season, to share with you my pink Christmas kitchen!
You may be coming from my friend Tamara's blog at Citrine Living and I'm so glad you're here!  Everything Tam does is fabulous she's a dear friend.  Hello to all my loyal readers (I love you)!
This post contains affiliate links for your shopping convenience.
Click here to read my full disclosure policy.  You can shop the post at the bottom.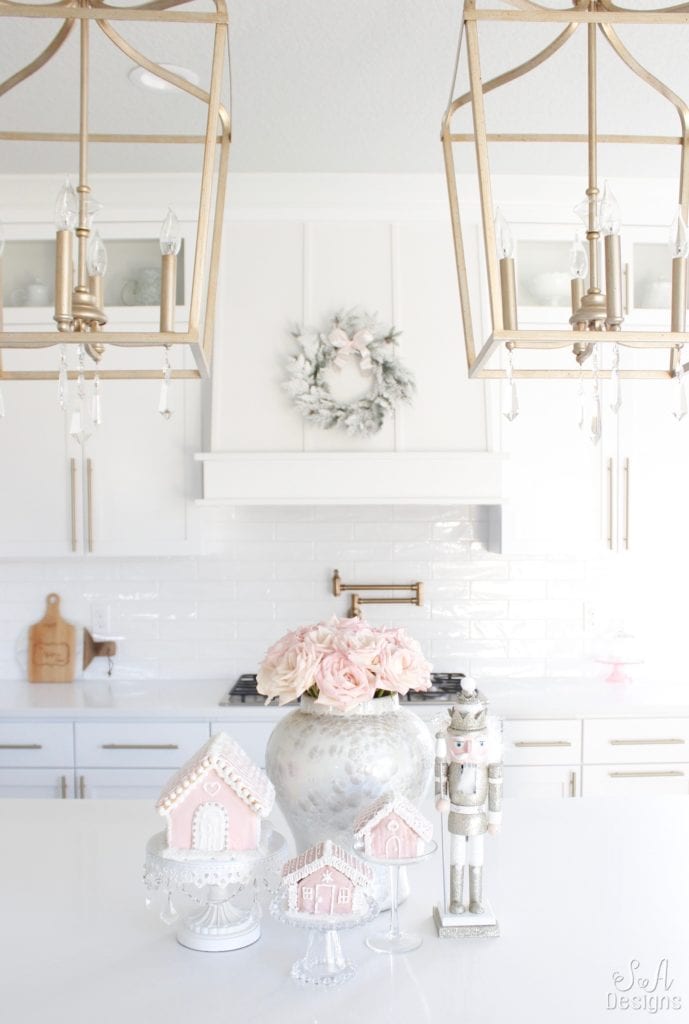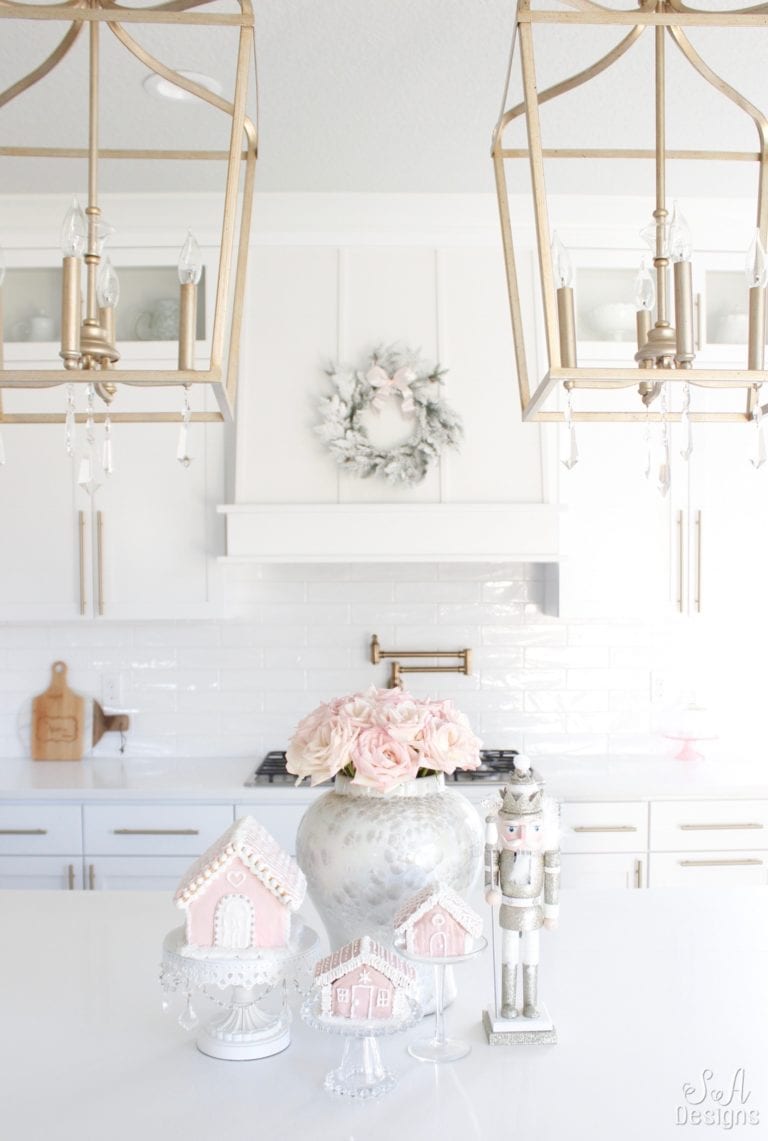 When I designed this bright white kitchen, I knew it was necessary to help combat all the cloudy days we'd get here in the Pacific Northwest.  So I chose everything to be white and it is working out beautifully!  It's the brightest space in our home and I love love love being in my kitchen. It's a happy place.  So when it came time to decorating for Christmas, I knew I needed to add my favorite color pink to it and then it would be the happiest kitchen in the world, ha!  At least, to me it's the happiest kitchen.
***funny side note: i was born on june 23rd which is national pink day. i love pink.***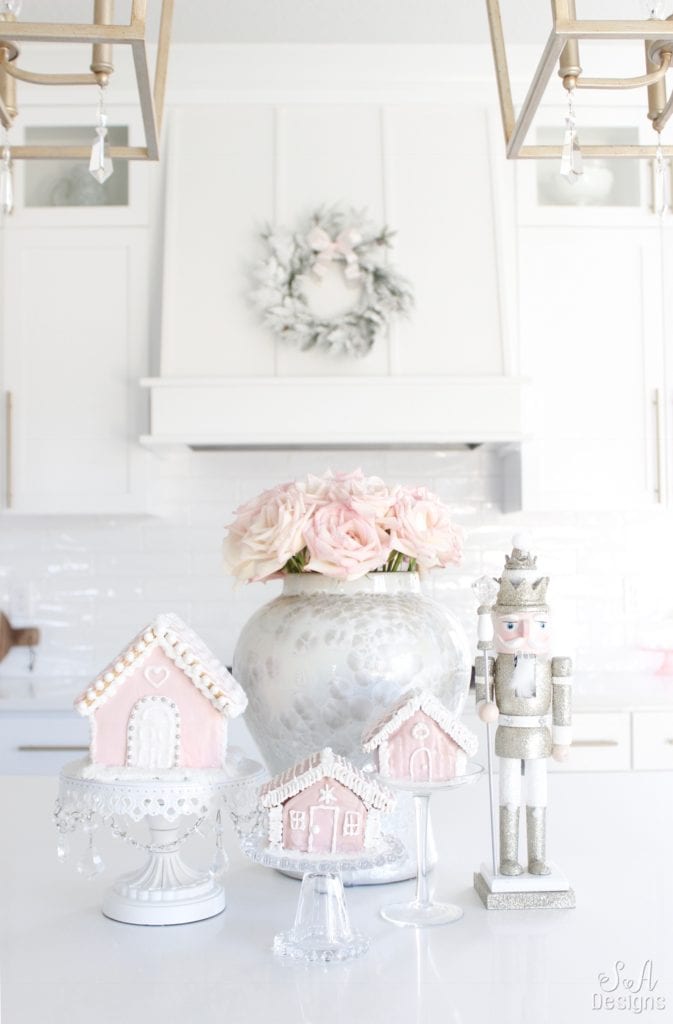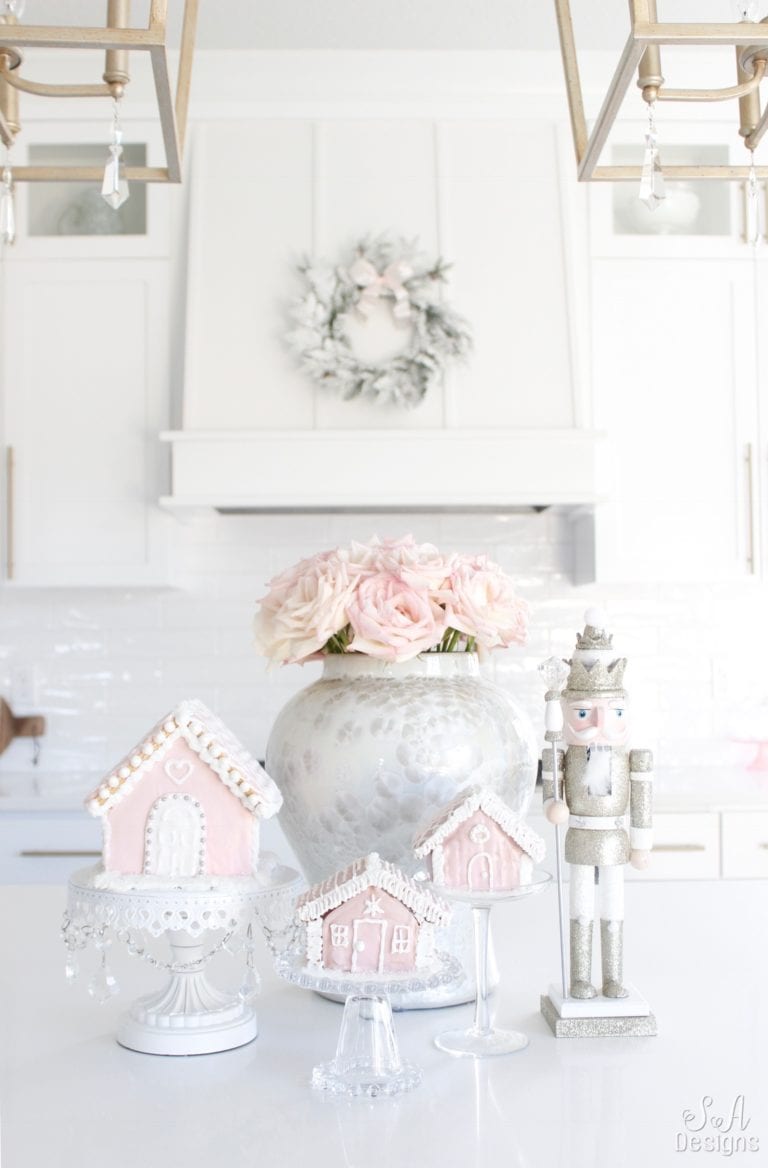 When you read "Pink Christmas Kitchen" you may have worried that you were about to encounter a kitchen where it looked as if a bottle of Pepto Bismol threw up all over it.  Ha!  Nope, not here!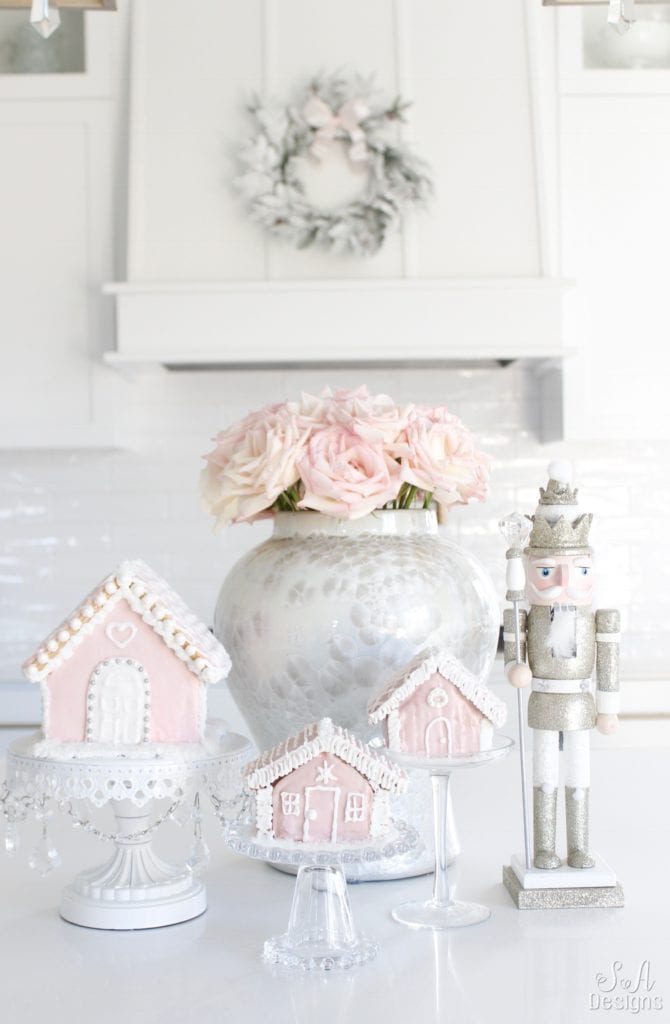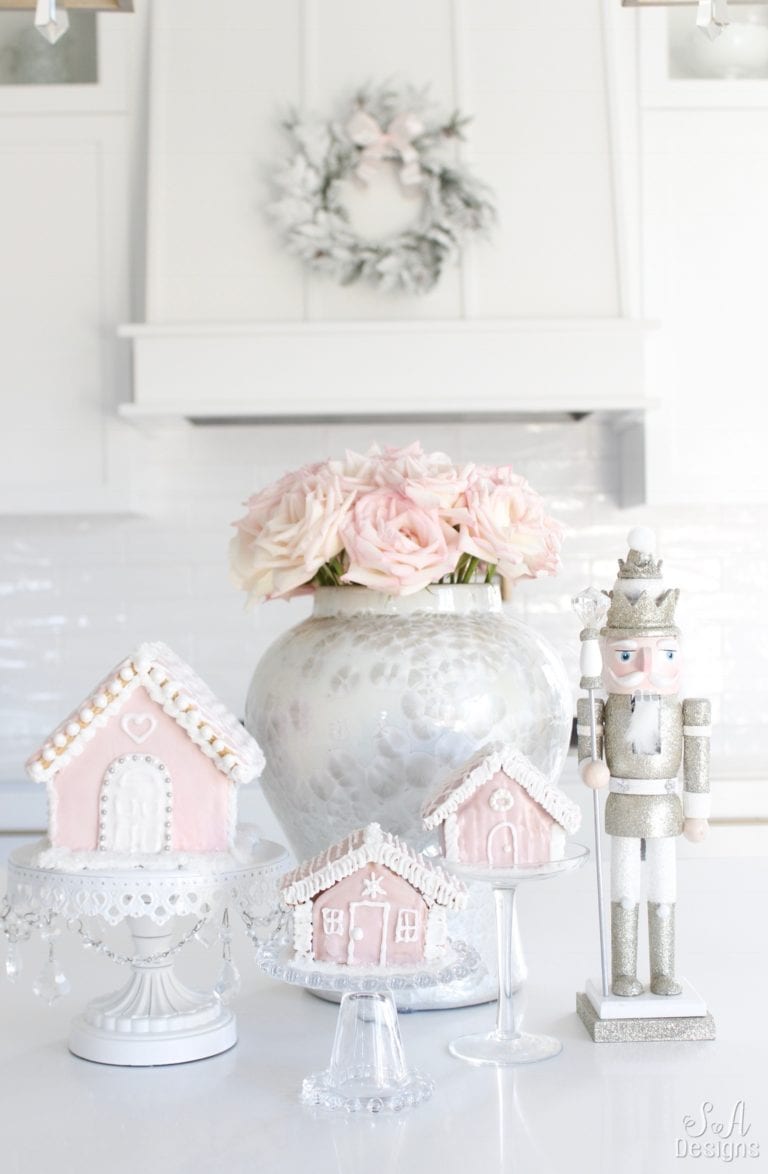 I just wanted hints of my favorite color, in a whimsical and soft way.  I've styled plenty of elegant and sophisticated spaces but I wanted something really fun and playful, as my kids are young, and yet still pretty in the kitchen.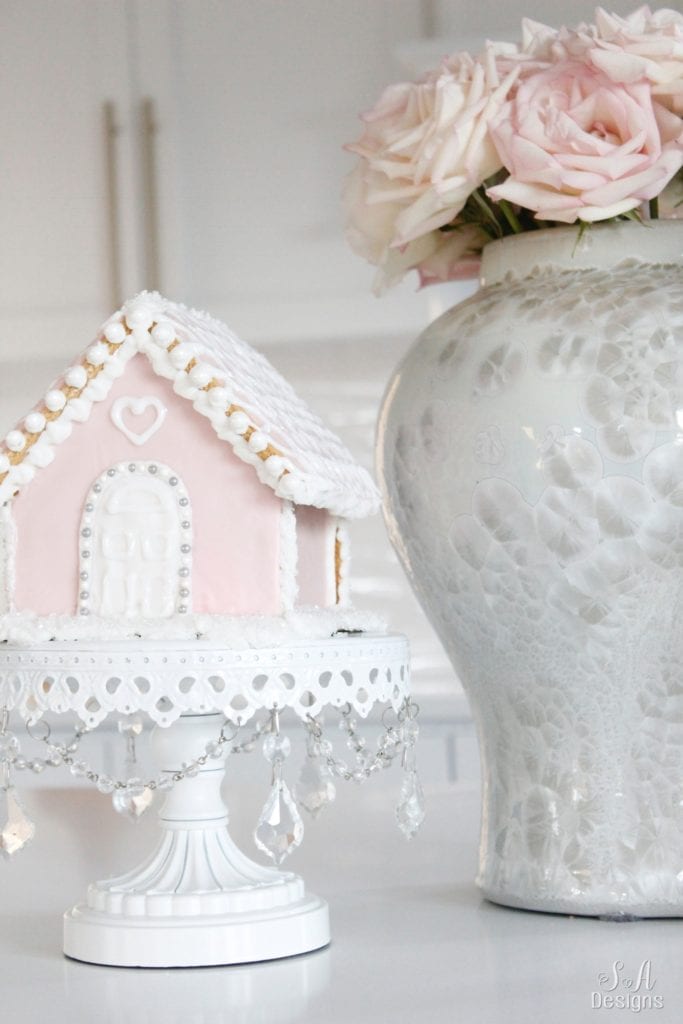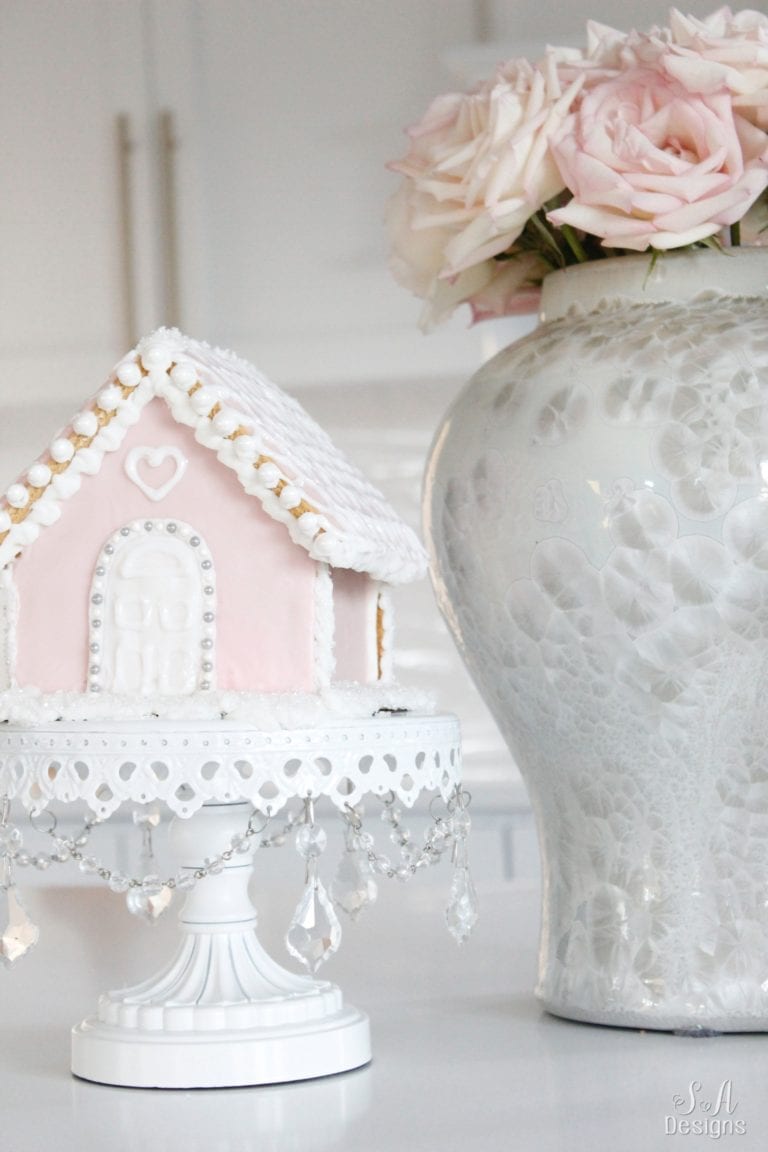 We made gingerbread houses the other night.  They weren't our usual gingerbread houses.  Those are normally multi-colored and fall apart while the kids are making them and we all get frustrated and end up eating the candy instead.  Please tell me you get it and you're laughing with me!
Instead I bought 1 large pre-assembled  gingerbread house at Walmart.  It was a dream!  No collapsing? Yes please!  And then I made some light pink royal icing with just powdered sugar, water, and a teaspoon of corn syrup.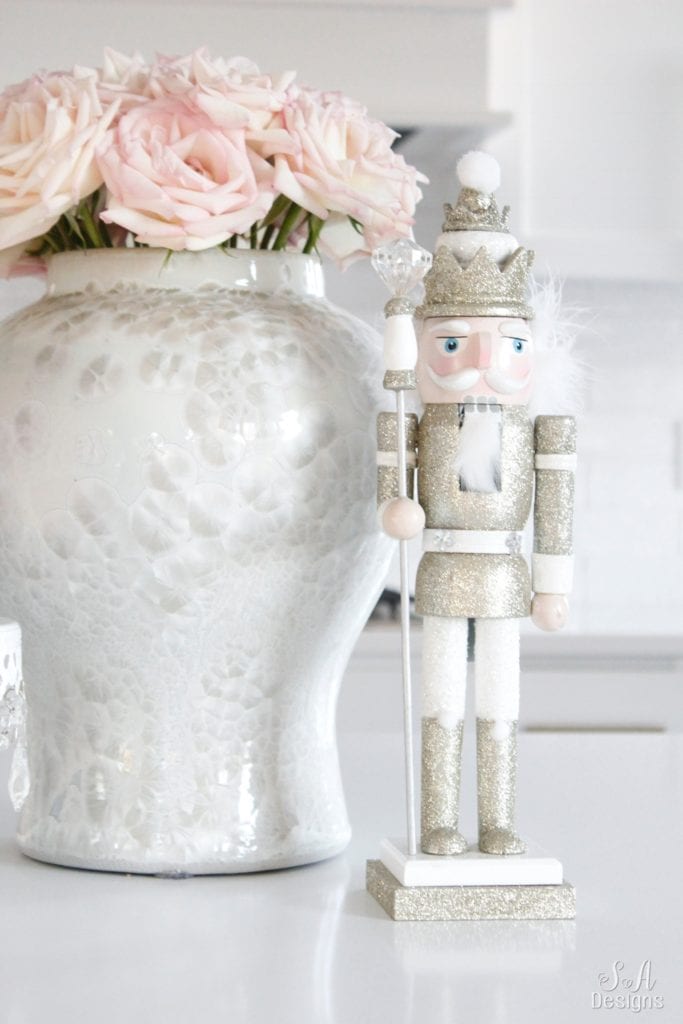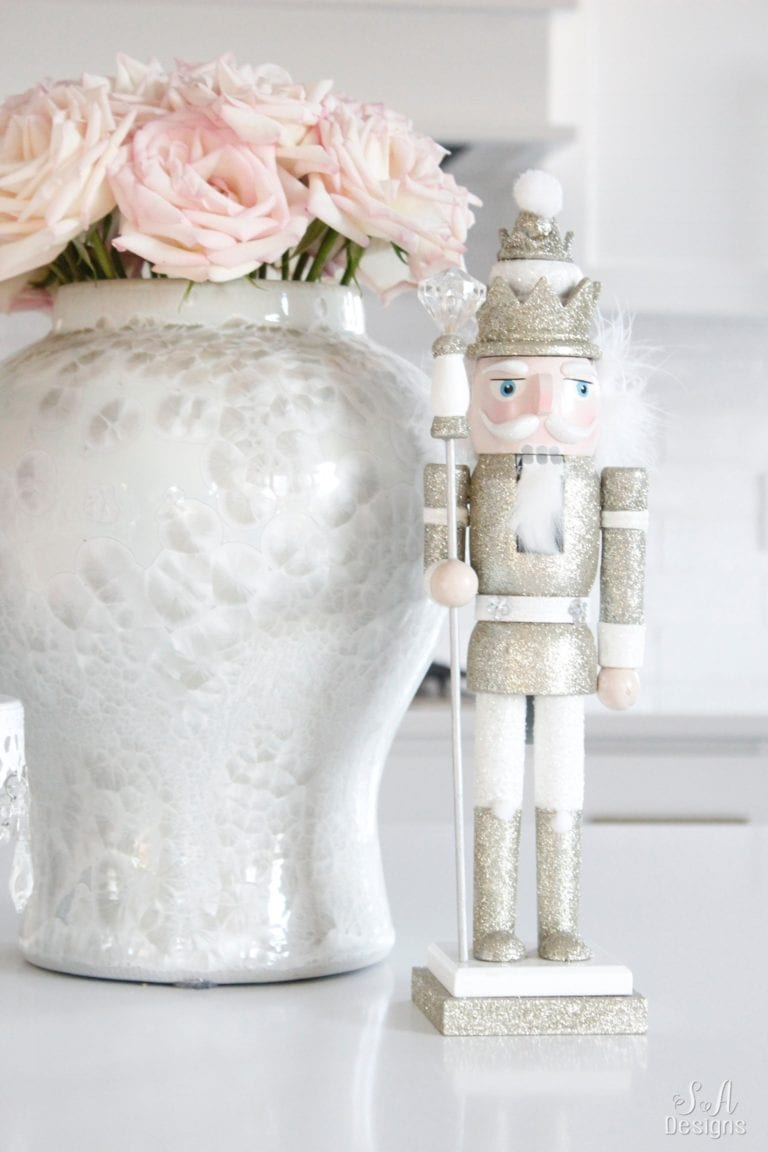 I found a cute glittered Nutcracker a few years ago and knew he'd be so cute right here next to my fresh pink roses and pink gingerbread house.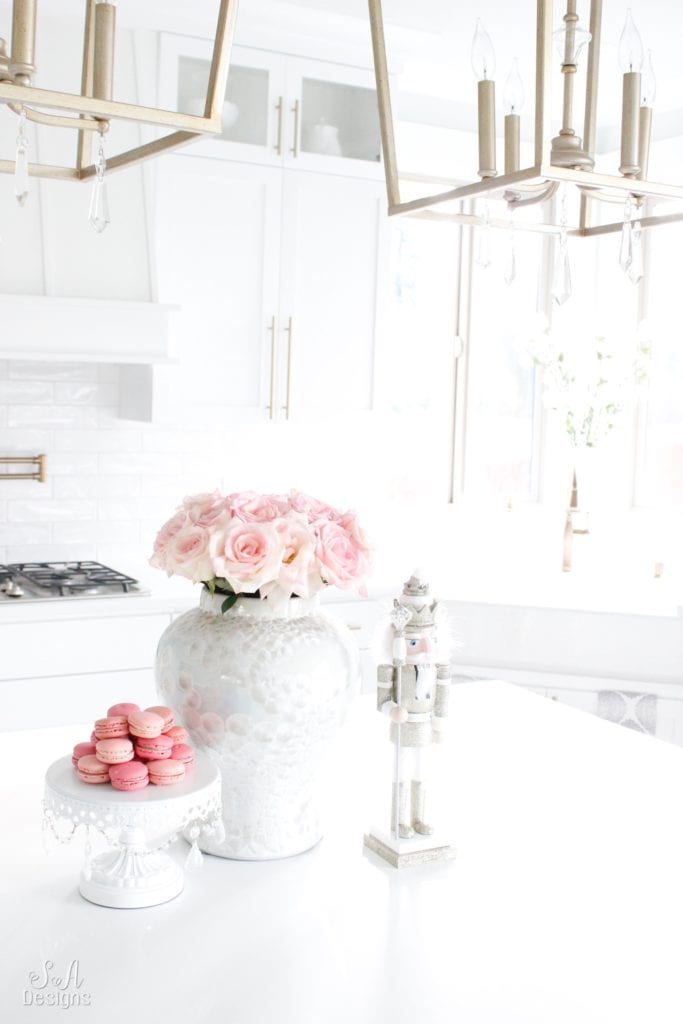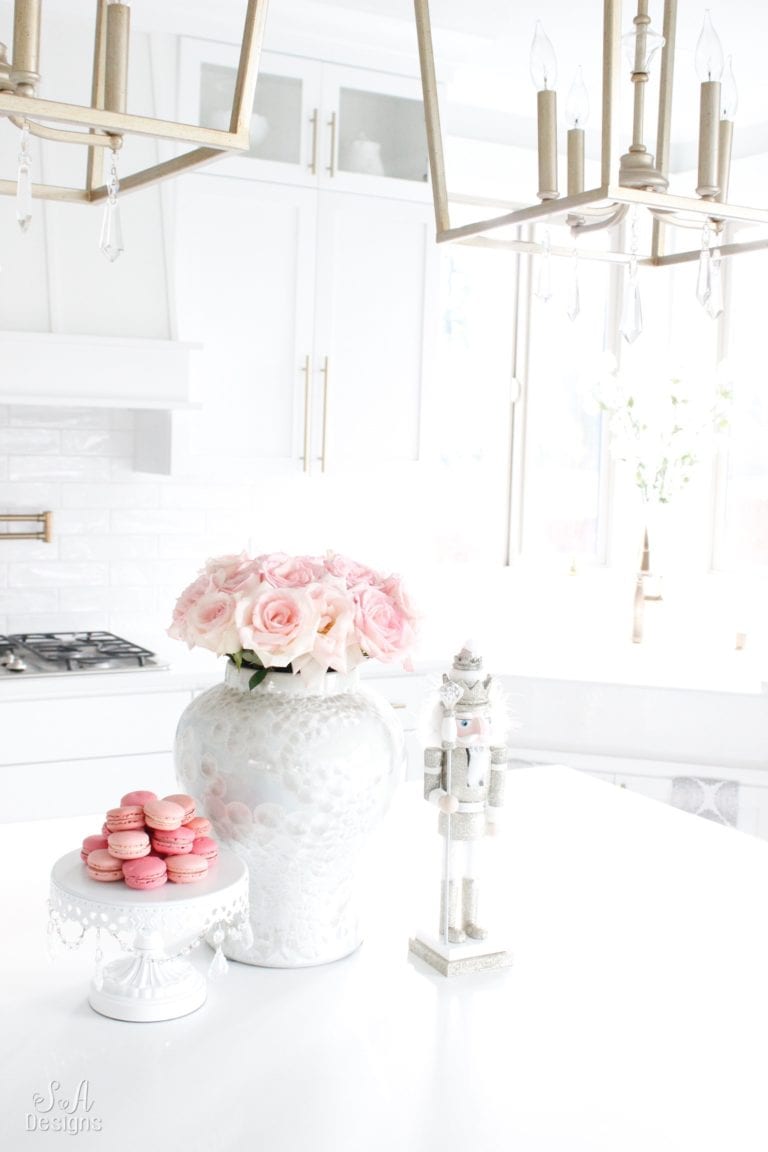 Last week I had my pink macarons on the counter but the gingerbread house was definitely more Christmas-y.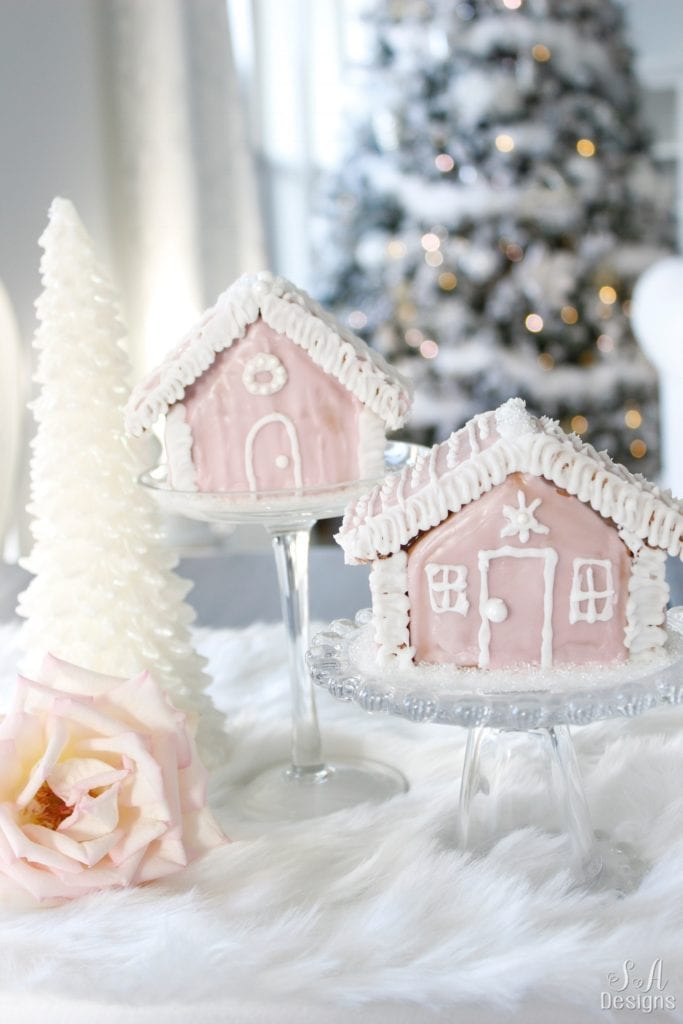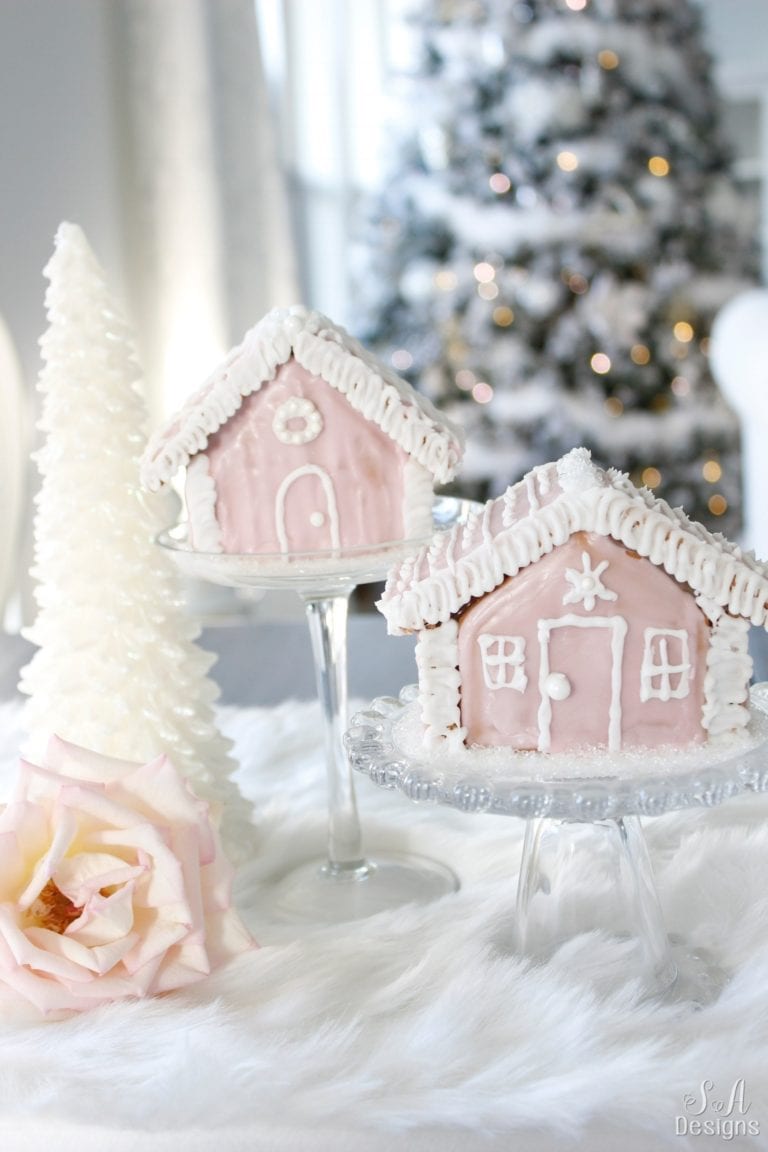 Along with the large gingerbread house, I also bought a small village.  I let the kids decorate a couple themselves and I decorated these 2 little ones to coordinate with my large one.  I'm no artist and my hand isn't that steady but nevertheless, it was a lot of fun.  I've been so busy that it felt good to just sit and create something with my kids and have Christmas music in the background.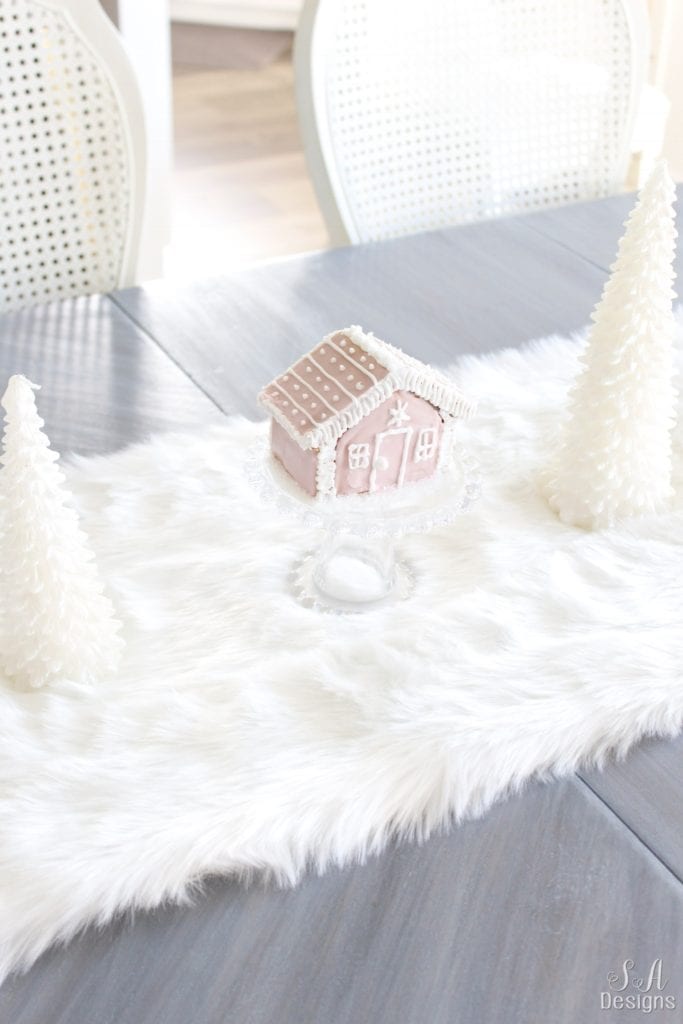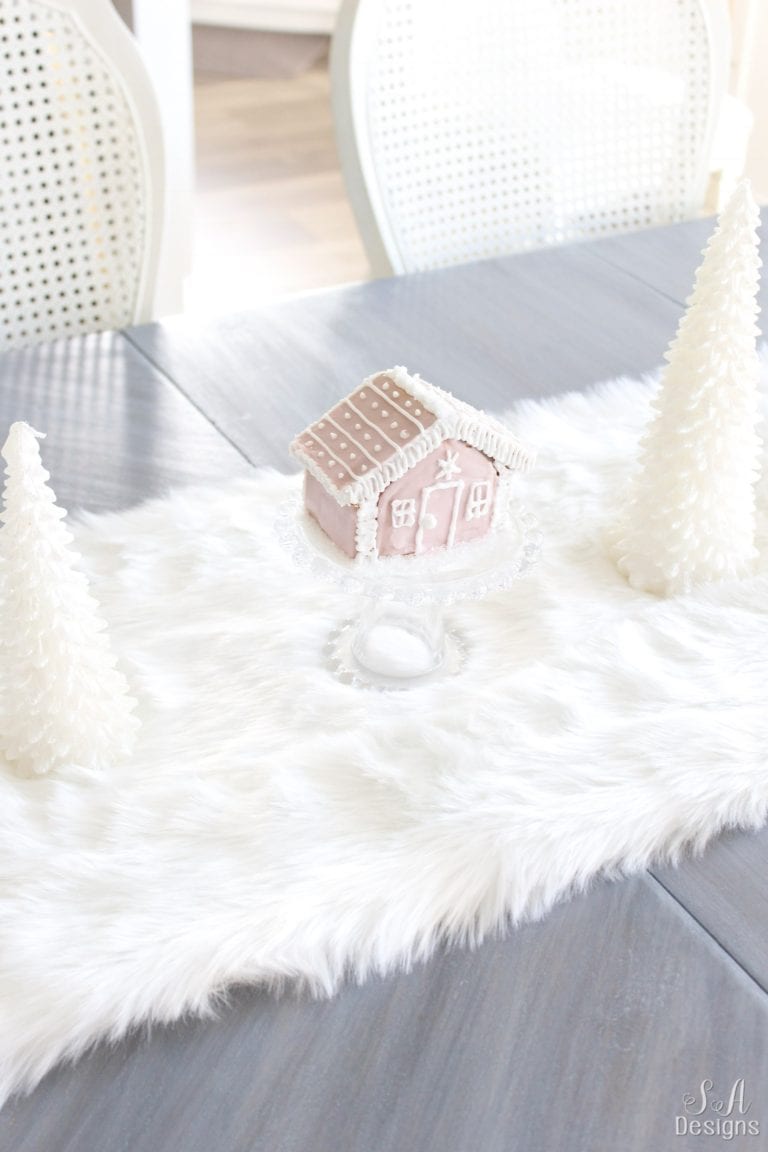 But this time we did something different.  These little ones weren't pre-assembled so…..
…we used hot glue!!!
Don't judge!  It's life-changing!!!  Just for the structure and then we iced it like normal and used icing for the candy.  It was way more fun and the kids actually loved it!  Try it and tell me what you think!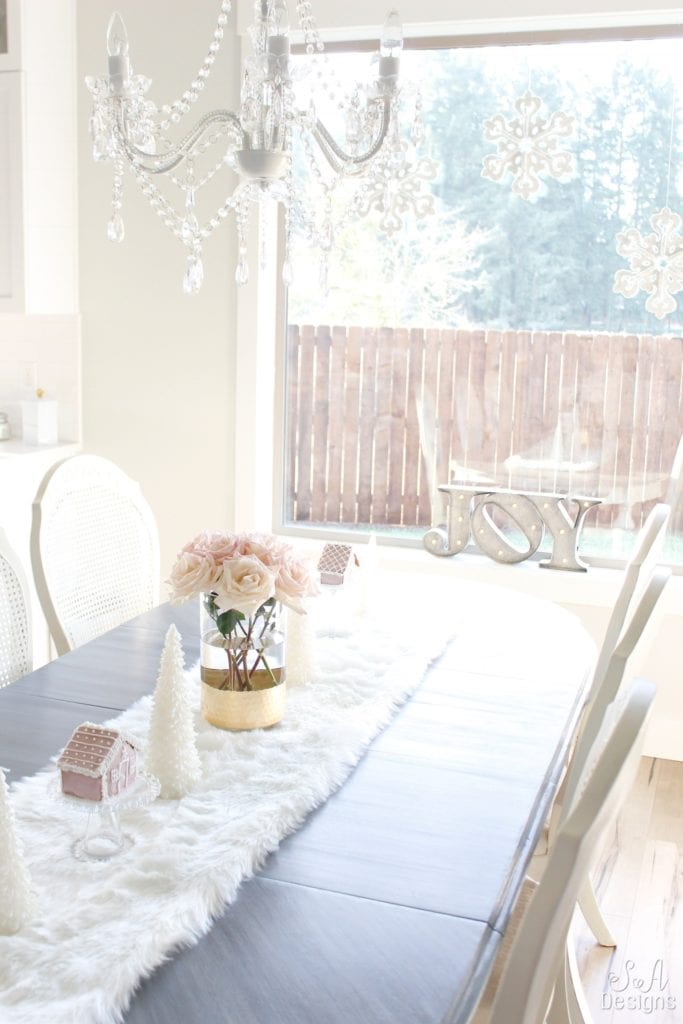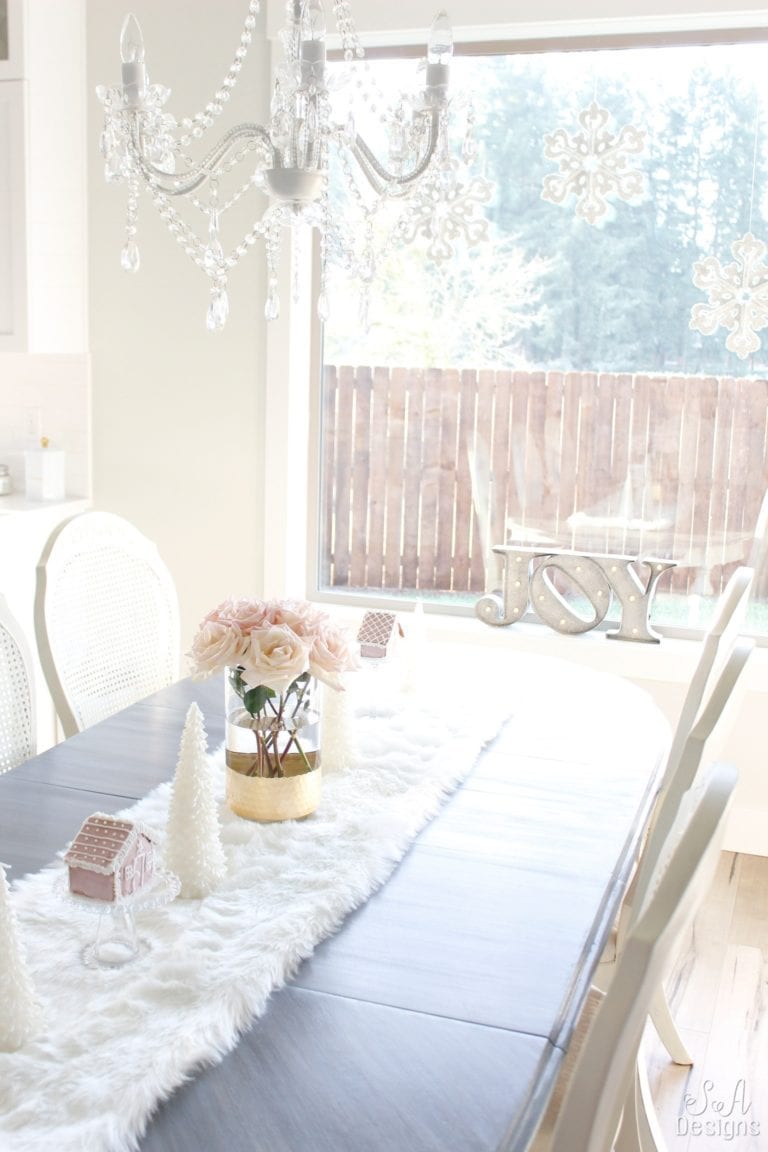 I decided to grab my sparkly tree candles, my faux fur table runner, my other vase of pink roses, and created a nice little pink winter wonderland table.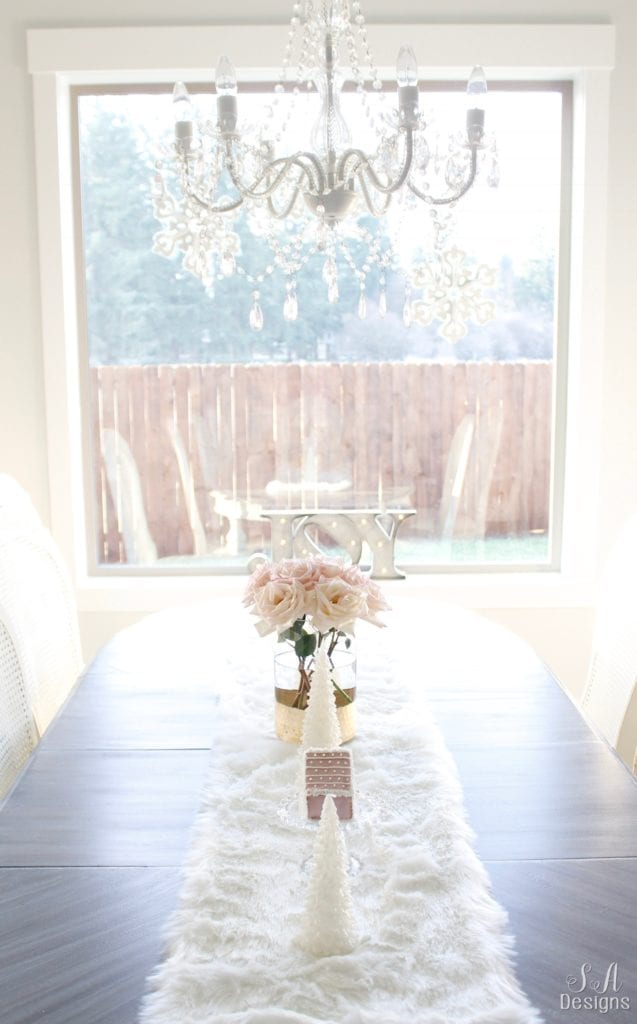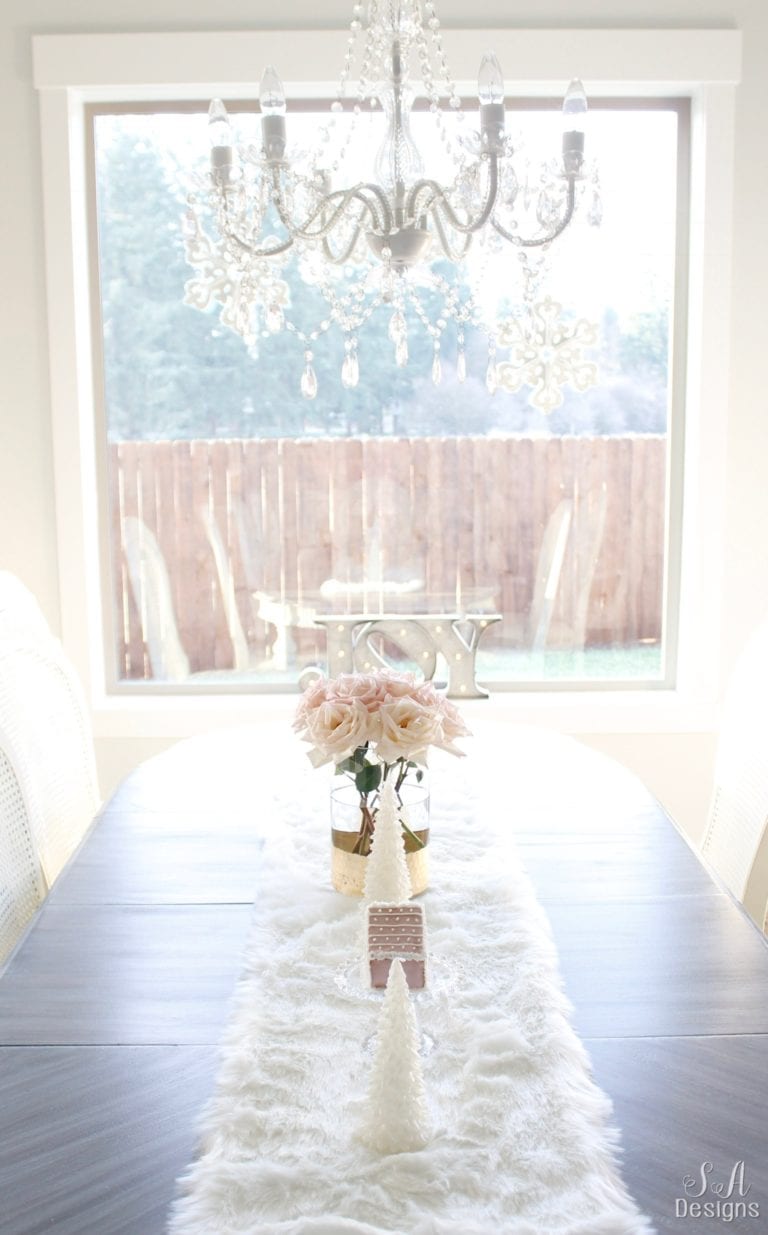 The kids love it too.  Its wintery and whimsical but still beautiful.  I have a blush pink Christmas tablescape I want to share with you so make sure to come back for that, as I'll share it in another post.
Side note: Have I mentioned how excited I am to plant roses and hydrangeas and peonies out that window this spring?  I heard you can plant pretty much anything here in the PNW and it'll grow.  Can't wait!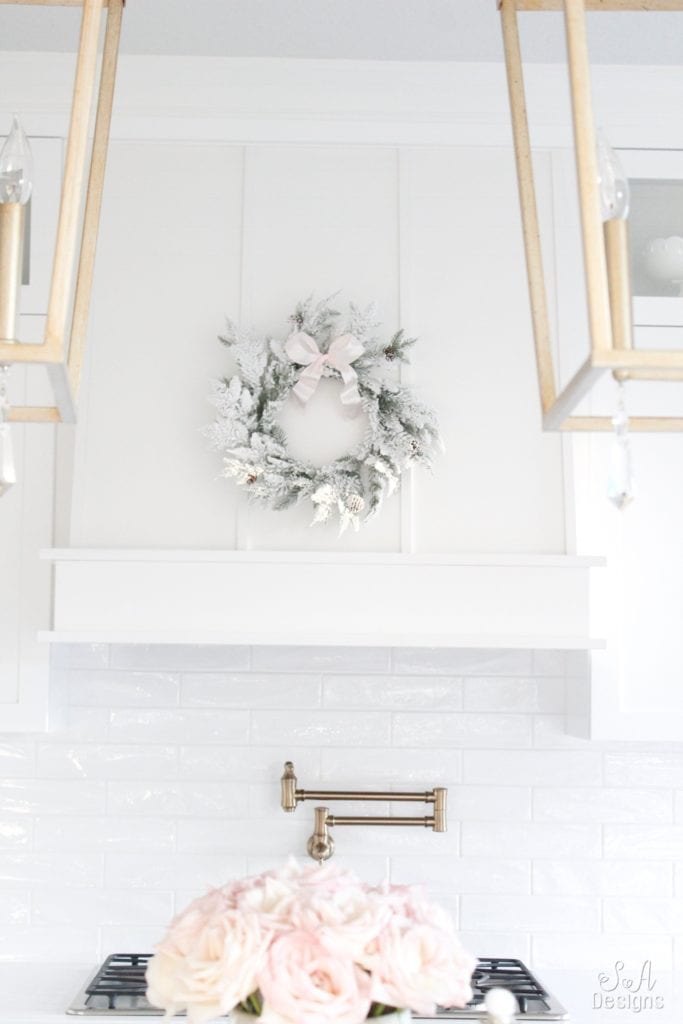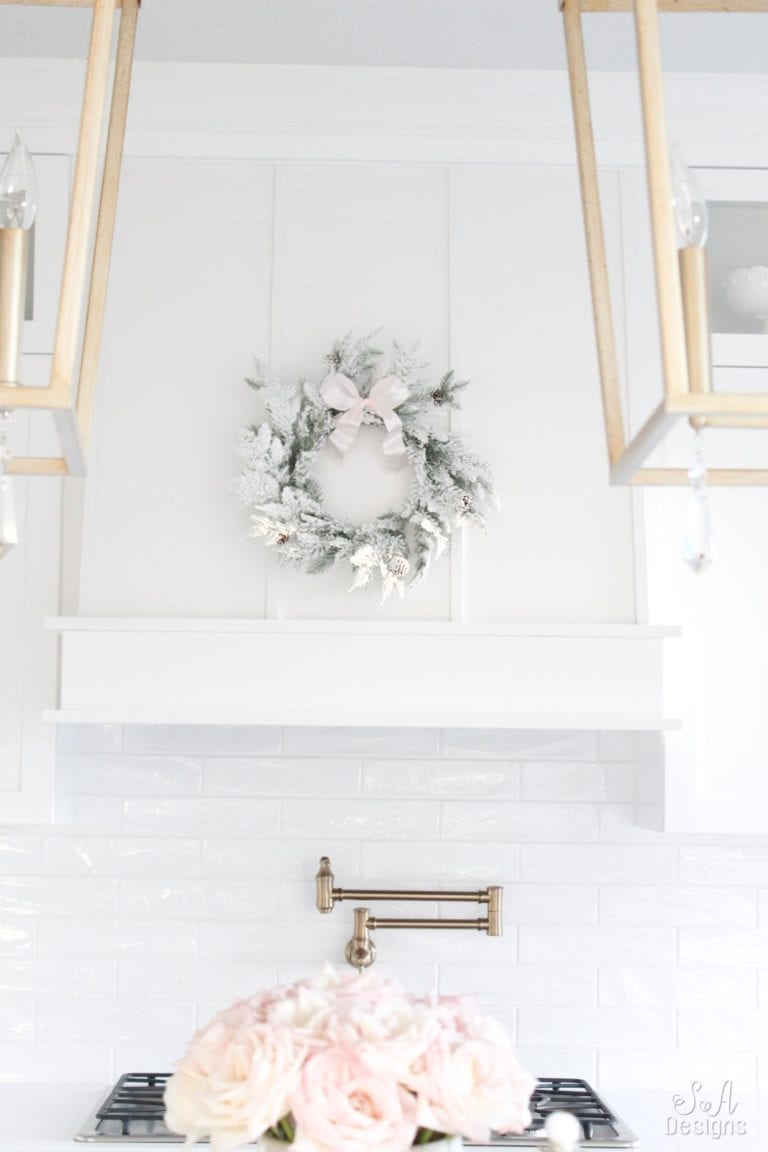 I found a simple white flocked wreath that went perfectly on my hood and then I added a light blush pink ribbon bow. I really wanted to keep it soft and simple.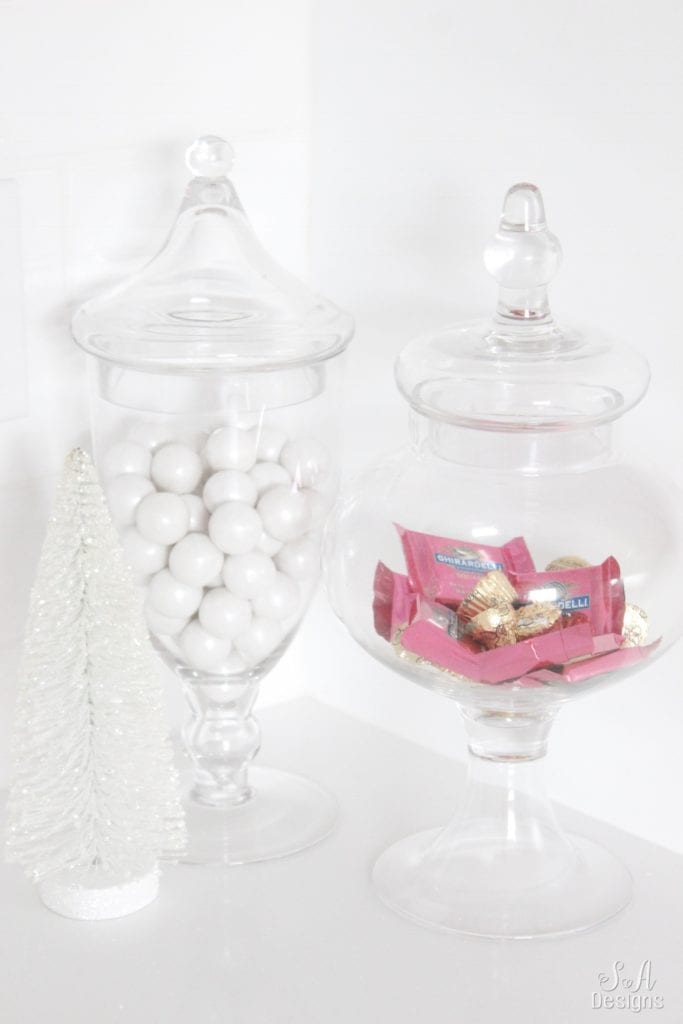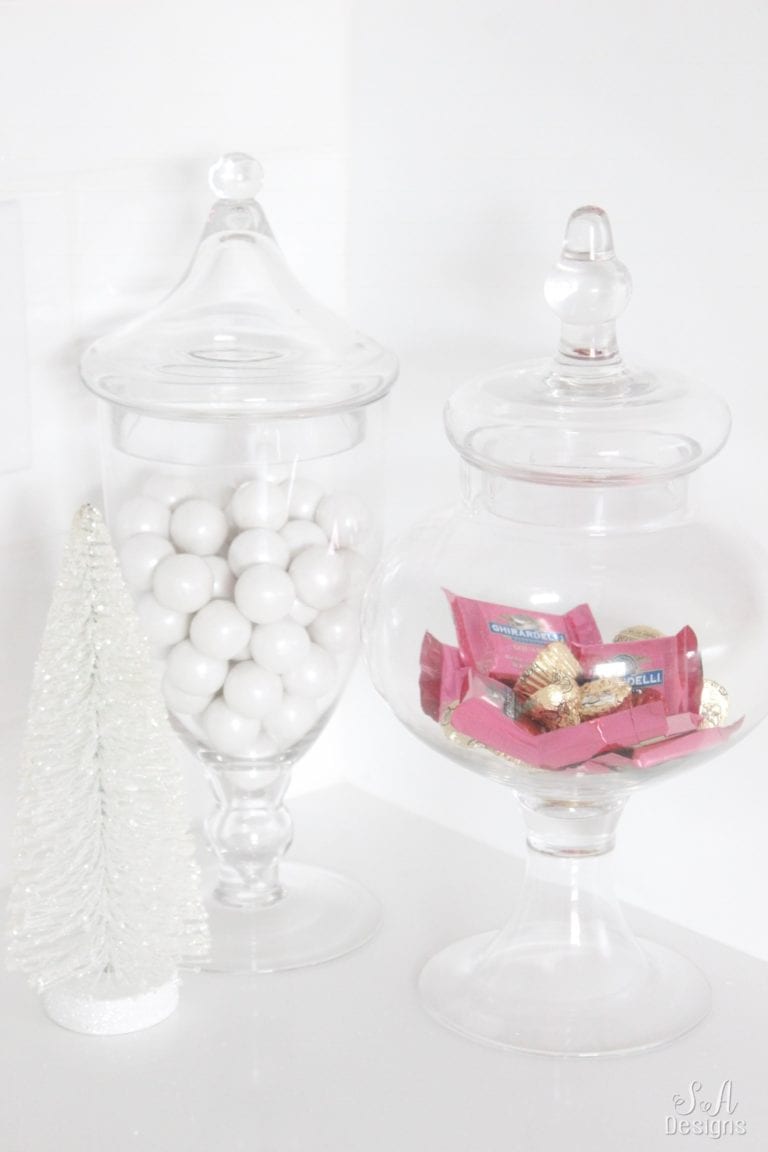 On the other side of the kitchen I have apothecary jars with sugar-free gumballs and other candy (loaded with sugar).  For some reason, when I have it out I don't want it.  When it's hidden, I want to find it and eat a piece.  Is that backwards or what?!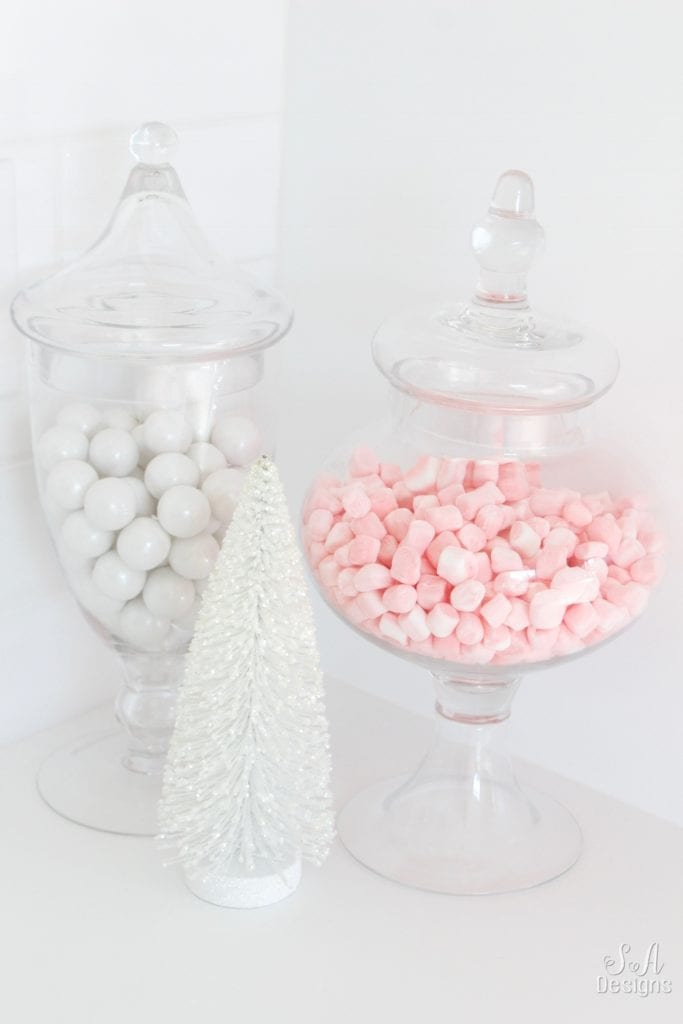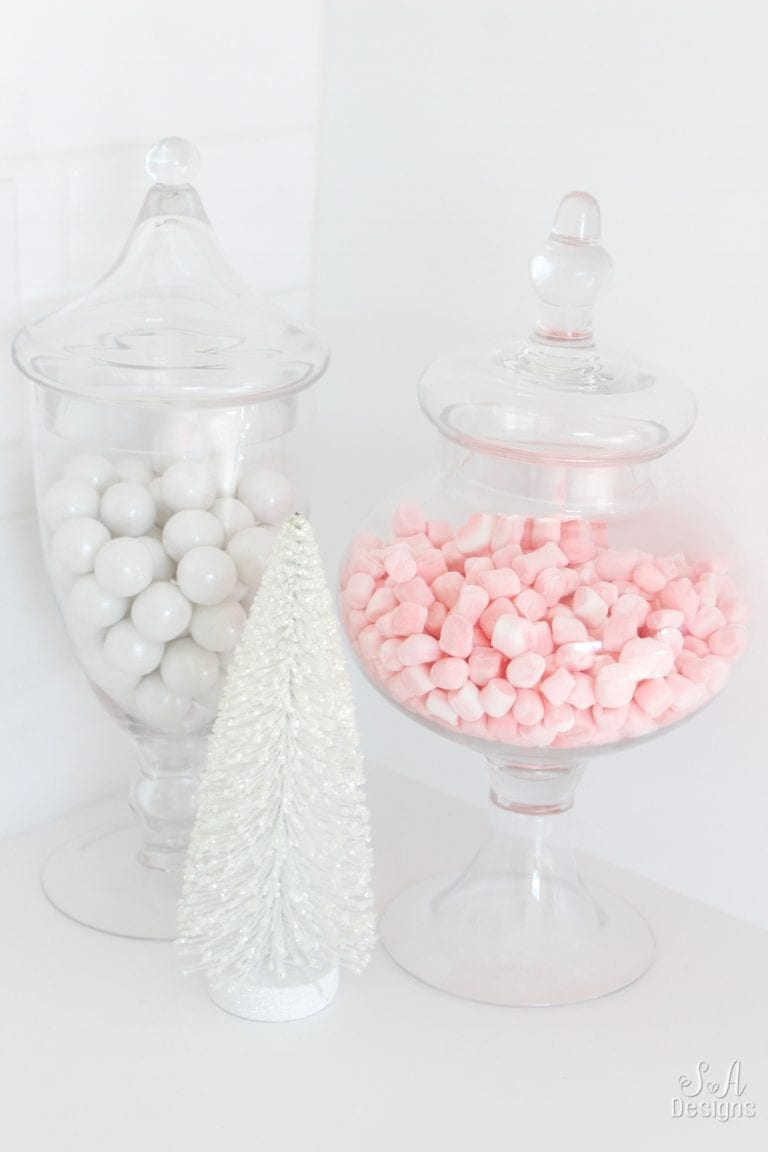 And because once a year those peppermint marshmallows are sold at the supermarket, we buy those too and put them out.  We love them in hot cocoa!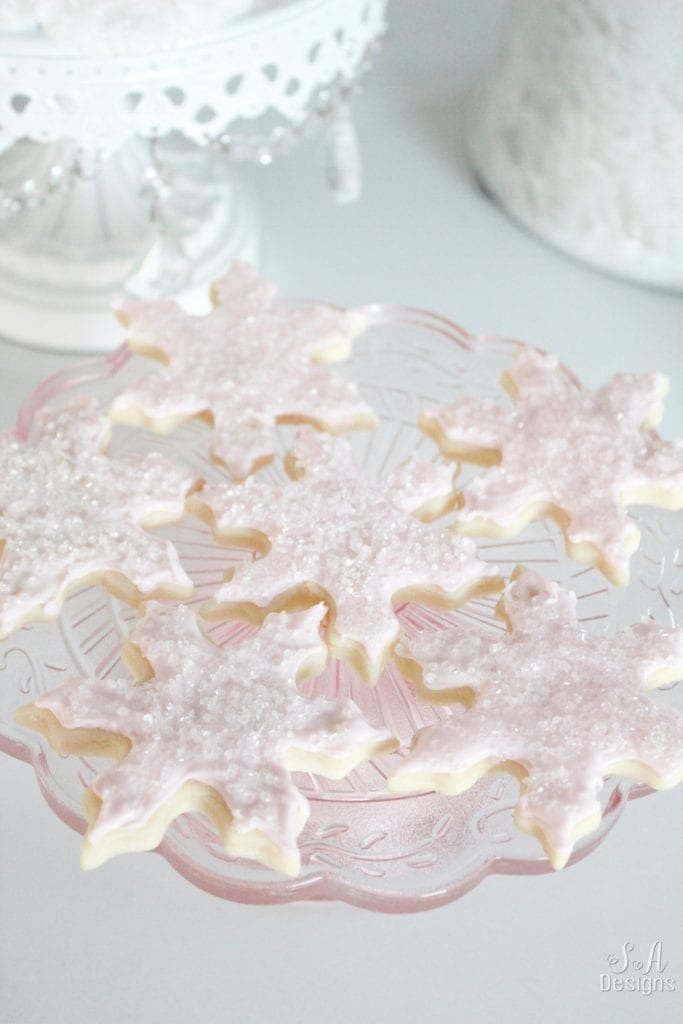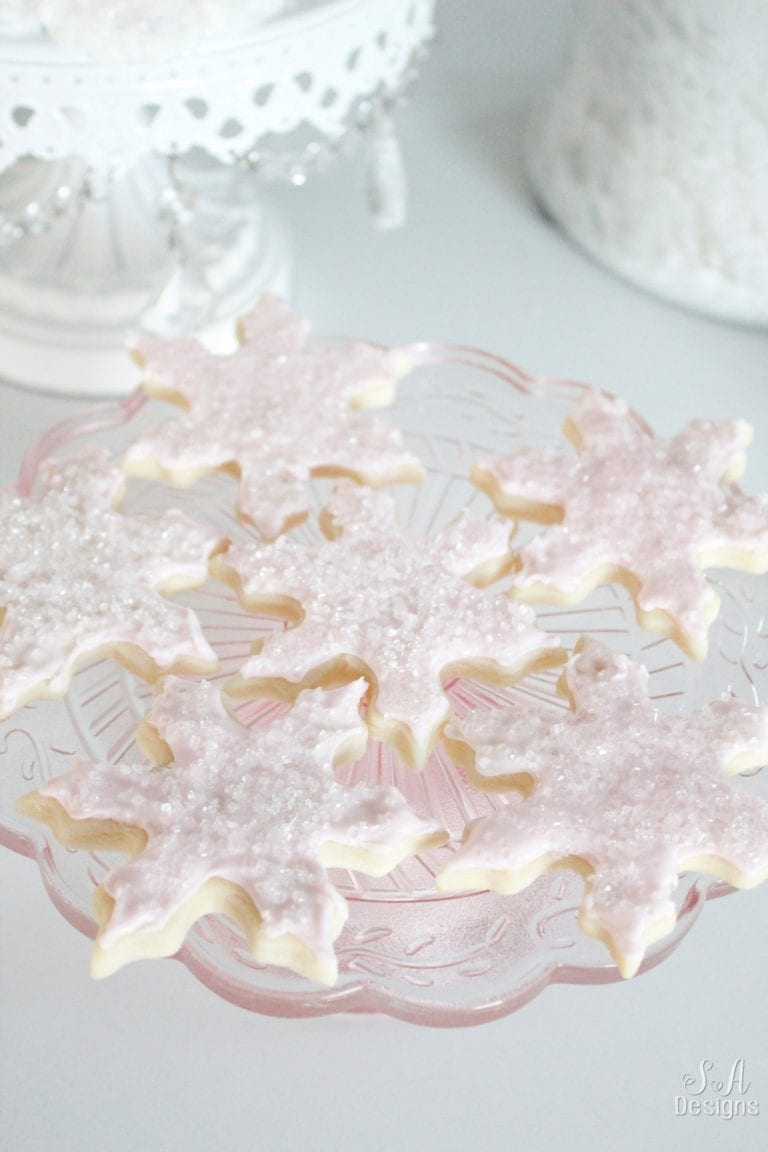 There is no shortage of treats in my pink Christmas kitchen.  Christmas time is for baking, and I mean a lot of baking in this house!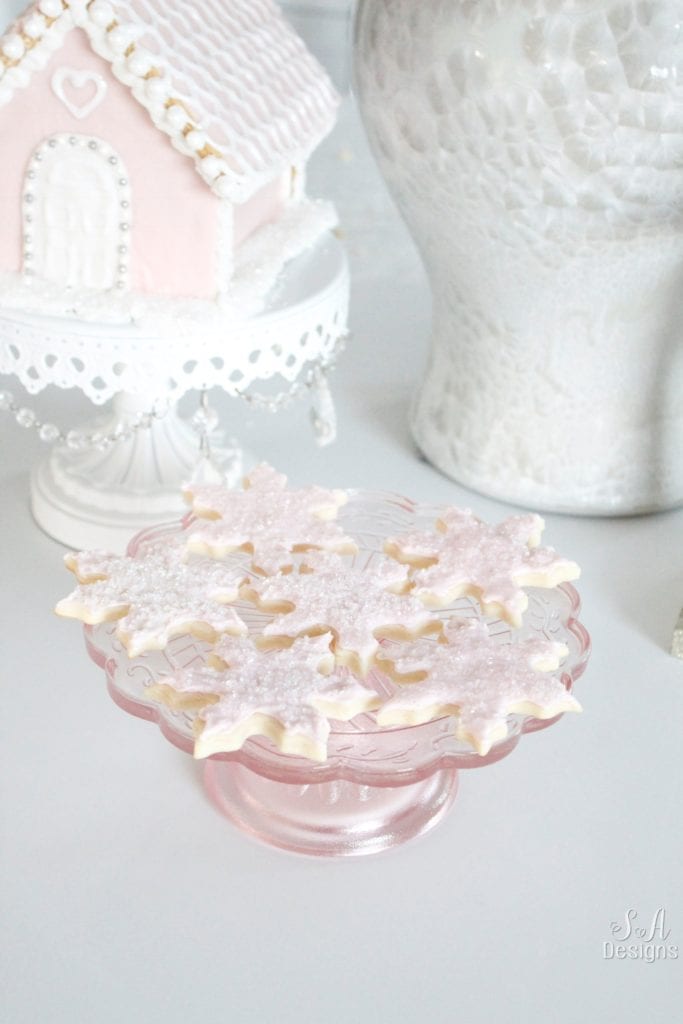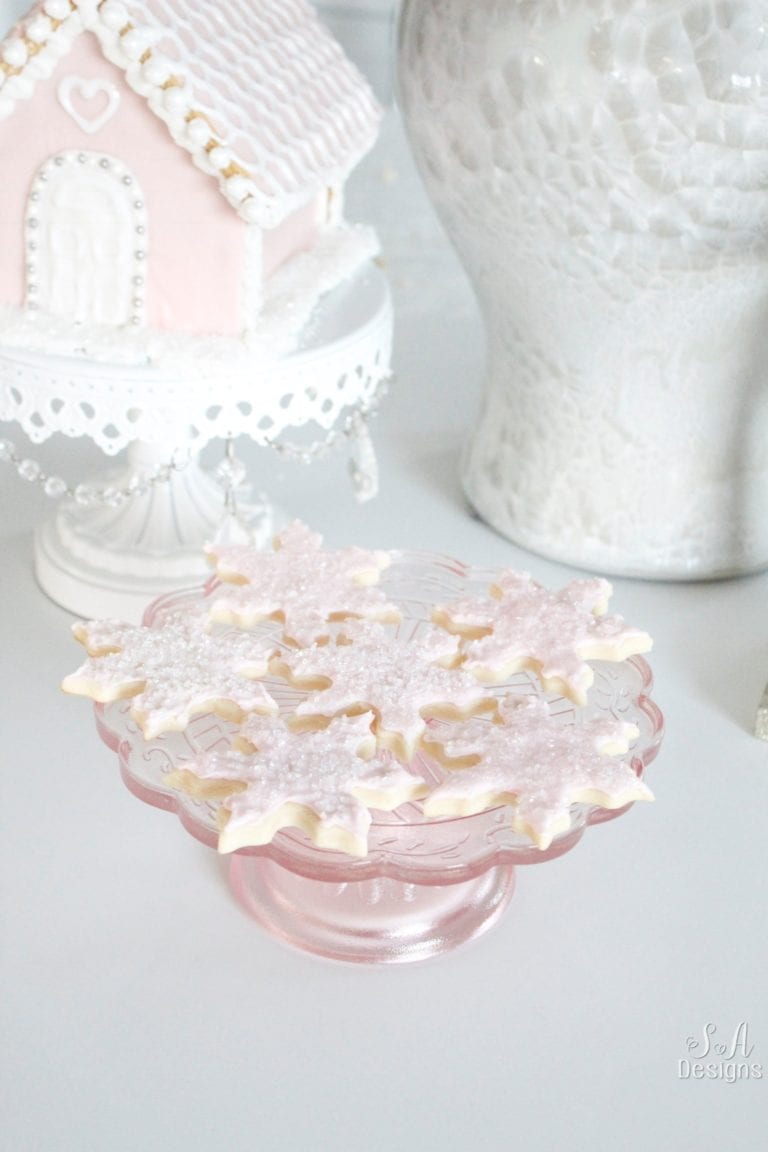 We bake for neighbors and friends, teachers and co-workers and also for ourselves.  I love being in my kitchen.  I might have baked for 6 1/2 hours the other day (non-intentional) while watching Hallmark movies and eating a few as I went.  My feet were sore and my tummy hurt by dinner but it was oh so worth it! 😉  Most of this occurred while Josh was at work and Brooklyn and Beckham were at school.  It was so fun!!  I need to do that more often, sans the eating 20 cookies part.  Ouch!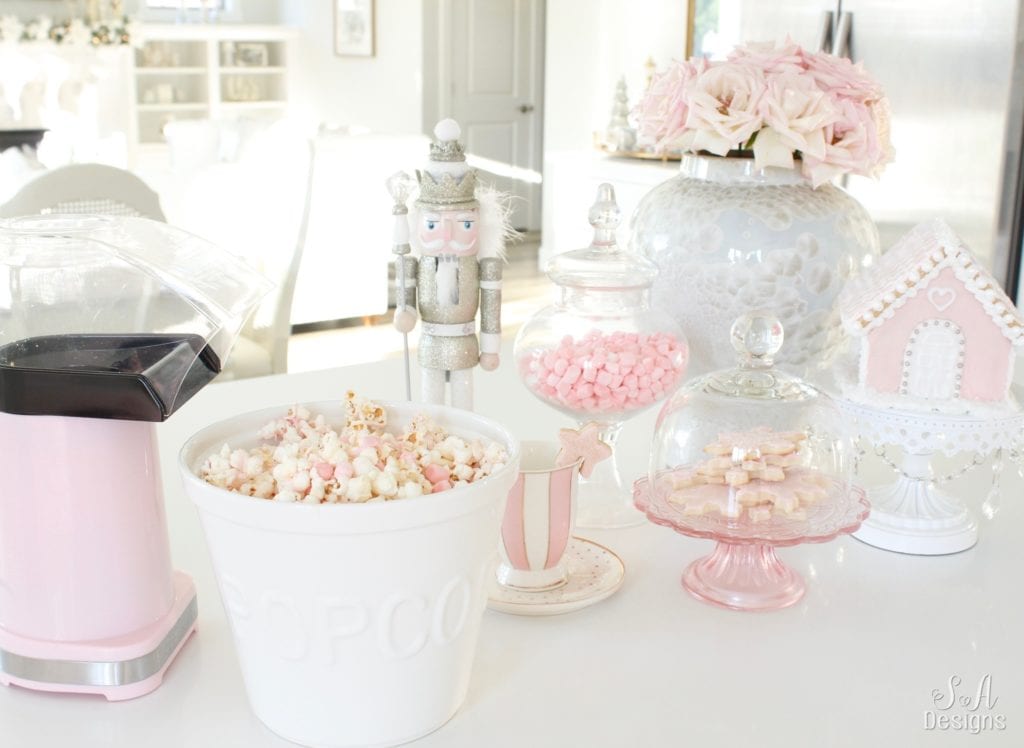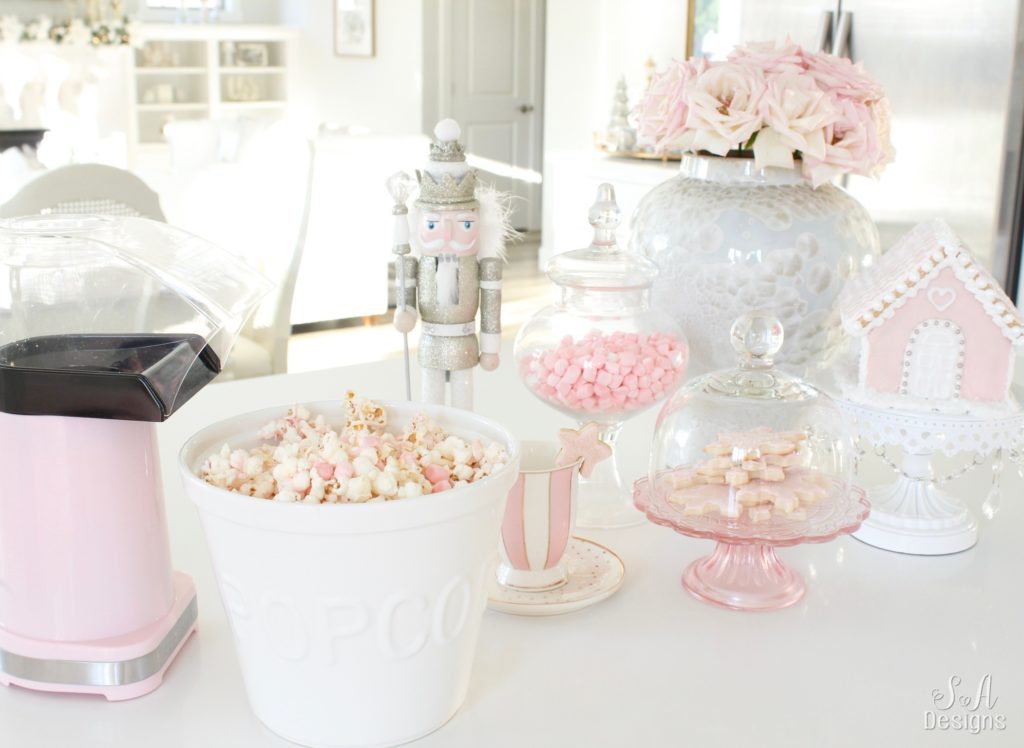 Fast-forward a few days later and we're having a family Christmas movie night.  There is no shortage of sugar or treats in this household.  I've joked that I could be happily married to Buddy the Elf because I really do love sweets (just not maple syrup on spaghetti…ew).  We had "Pink Christmas Popcorn".  I've made it for years but I just gave it a name.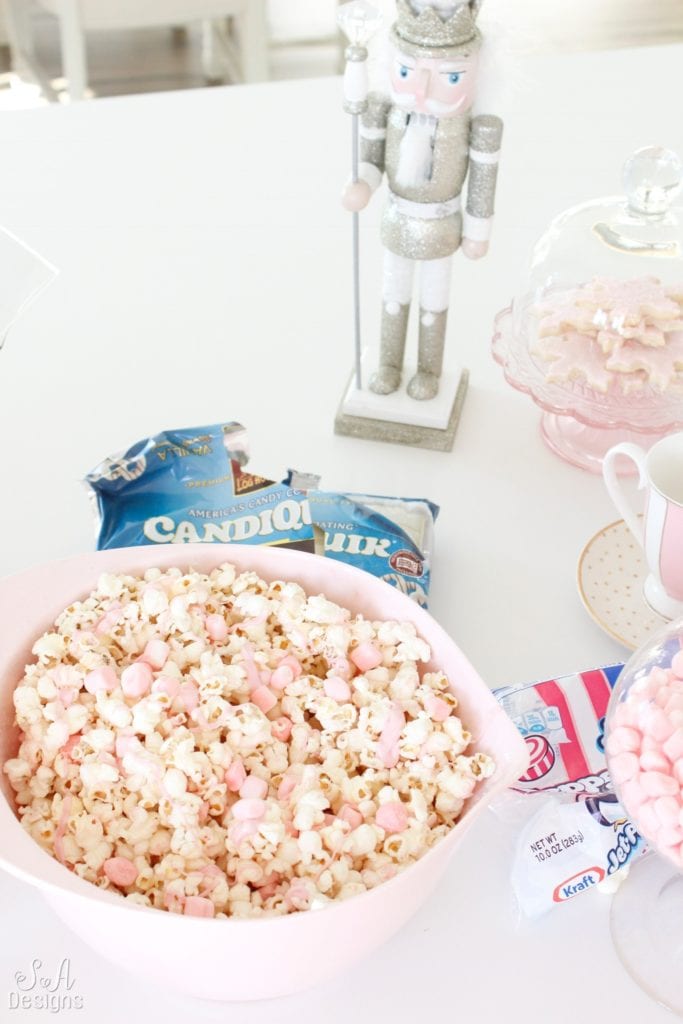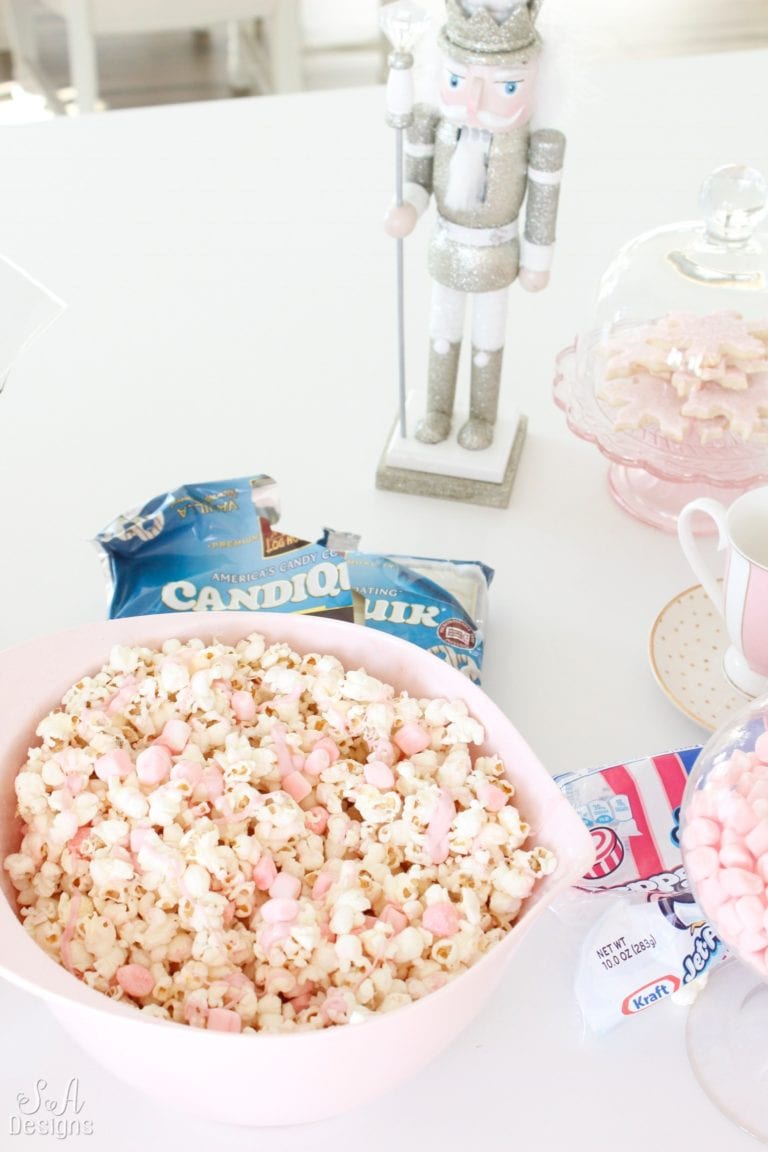 I melt some white chocolate (and add pink dust for color) or melt pink candy melts, pour it over air-popped popcorn, and then mix it around while tossing in some of the pink peppermint marshmallows.  The kids go crazy over it.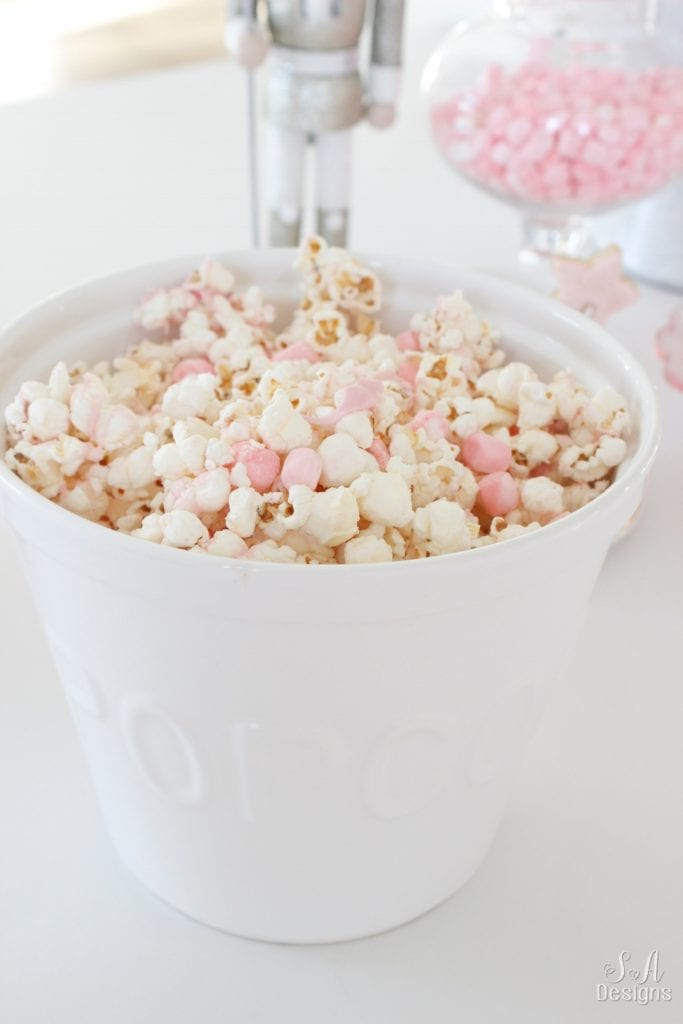 And it's so pretty too, don't you think?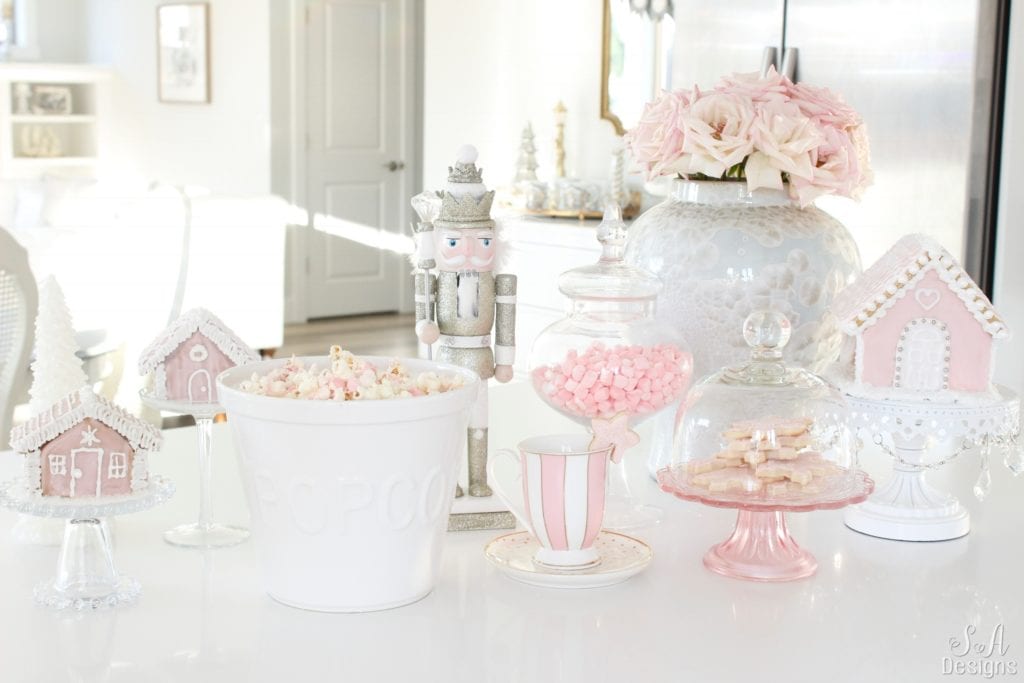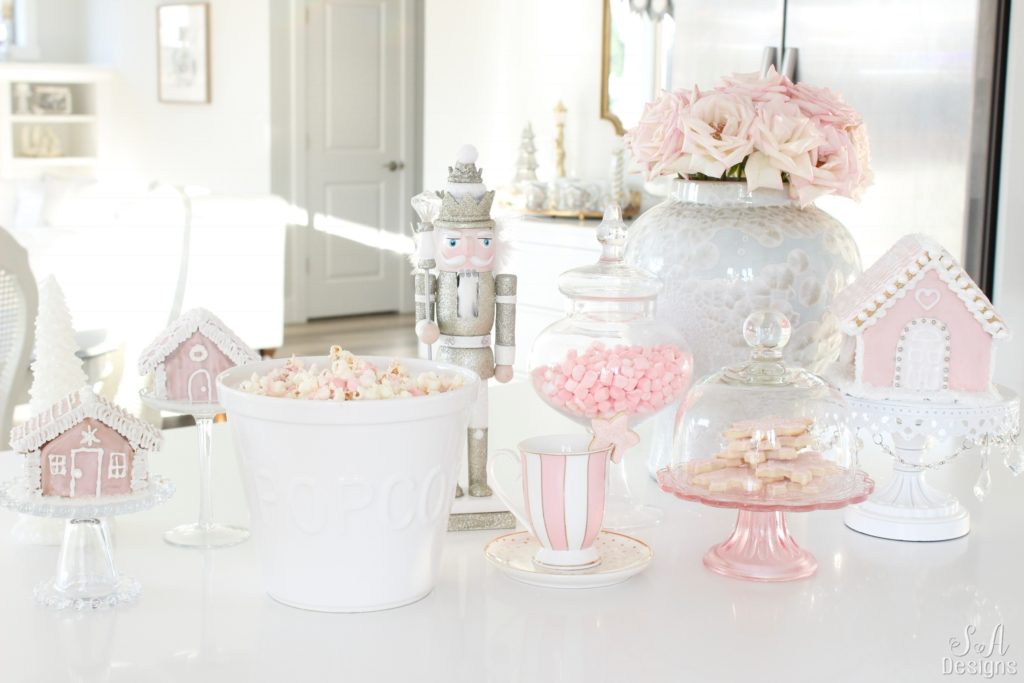 So I take it back. There might be Pepto Bismol here but it's in the cupboard for
when you're done eating all these sweets haha!
One more fun thing you'll find in my Pink Christmas Kitchen….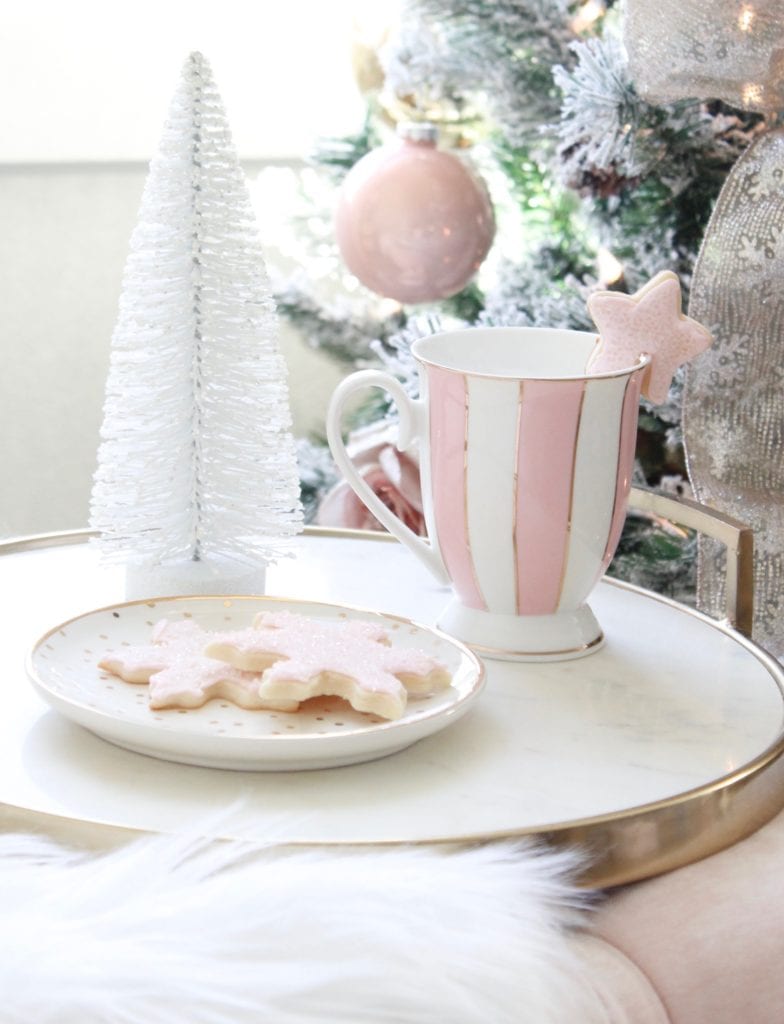 While making pink snowflake cookies the other day, I also made more of these pretty star cookie mug huggers with my special cookie cutter.  Isn't that fun?  I've done them in pink and white and they are so cute to put on the side of your mug or tea cup when enjoying a cup of hot cocoa or herbal tea, as we often do.  I took one up to my pink office the other day with a few cookies and finished a blog post on my blush pink Christmas tree and I swear it helped me work better (wink wink).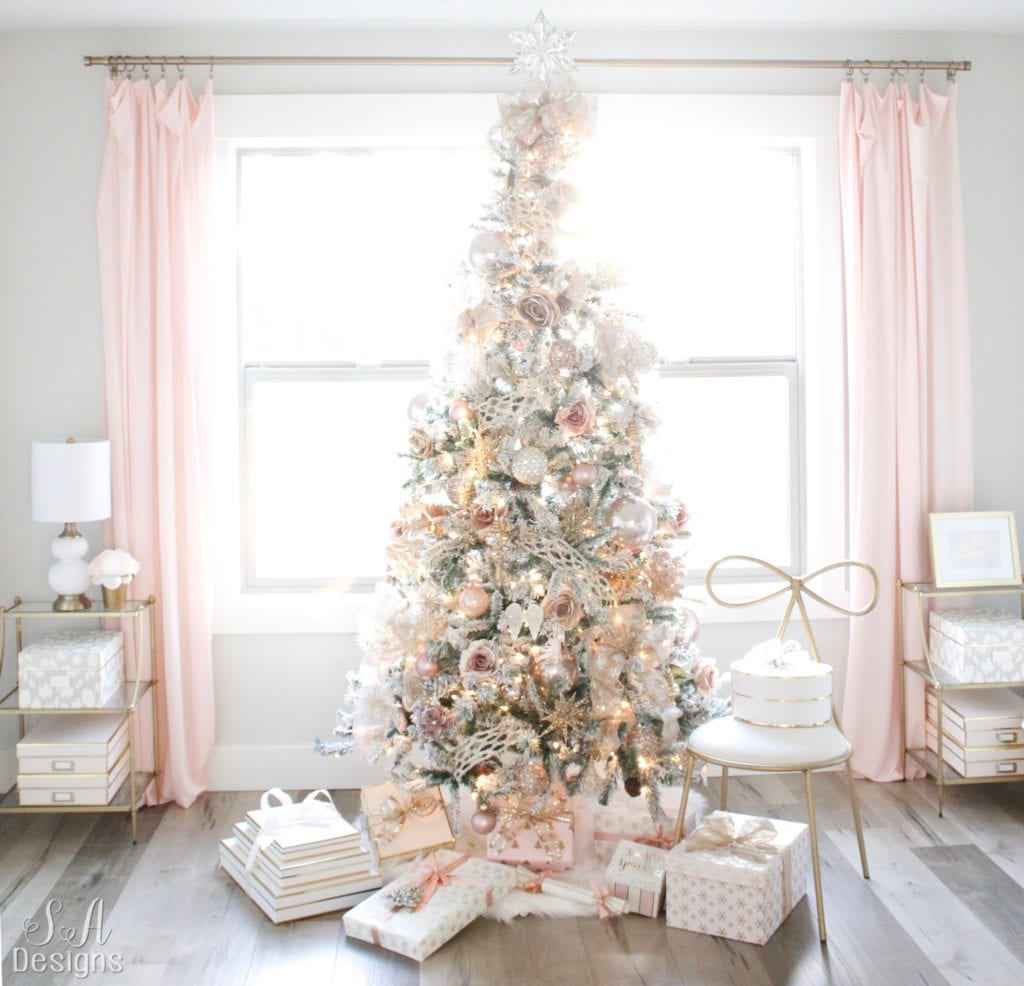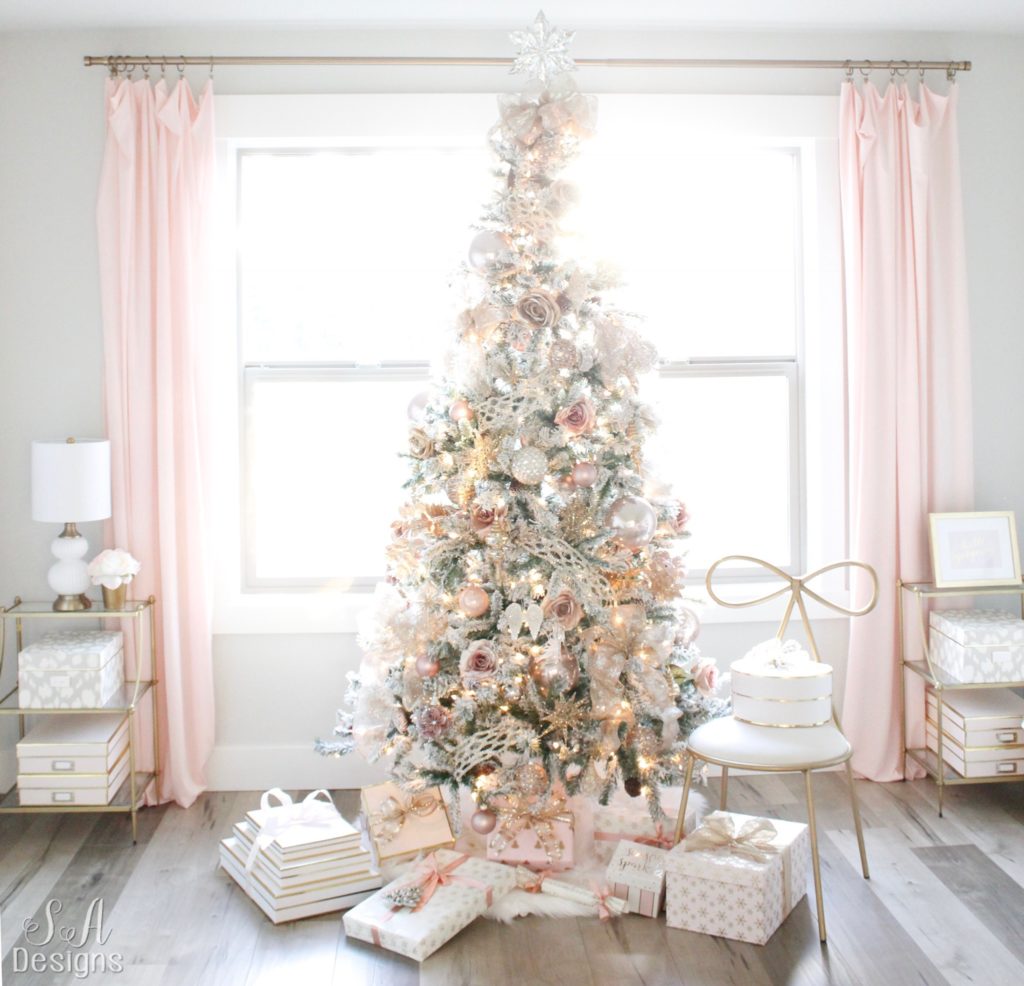 If you haven't already visited that post and you love pink as much as I do, click HERE to read more.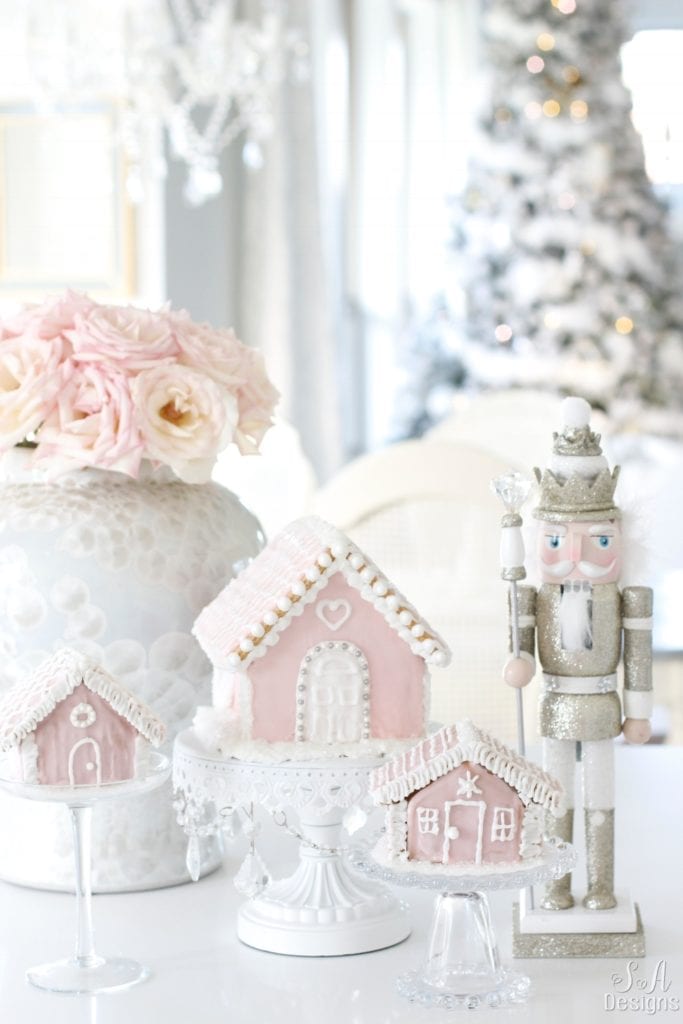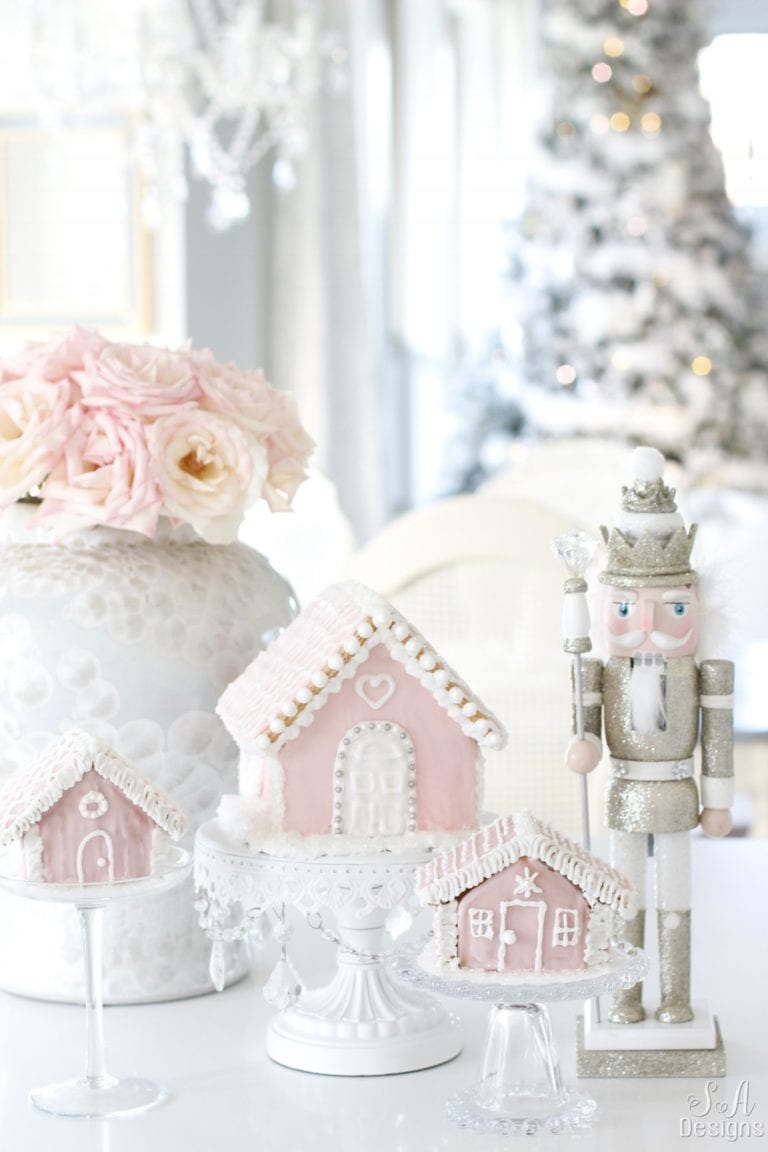 I love the magic of Christmas time!  I love making memories and slowing down for a moment to enjoy the season.  I'm so glad you were able to visit my pink Christmas kitchen today and please come back soon because I'll be sharing all my favorite things in my kitchen that I can't live without AND what my readers said they couldn't live without too.




Hop on over to my friend Ashley at her blog At Home With Ashley and see what fabulous Christmas space she's sharing with you today!  I promise she won't disappoint!
Make sure to visit all of our friends joining us today in our "Home For Christmas Tour":
I would love it if you subscribed at the top of the page in order to receive my weekly emails of all my latest blog posts and hear about digital printables & freebies, as well as sales or new items in My Online Shoppe.  You can also follow me on Instagram, Pinterest, and Facebook to see what I'm up to in creating a home and lifestyle of inspiration!
xoxo,

SaveSaveSaveSave
SaveSave
SaveSave
SaveSave
SaveSave