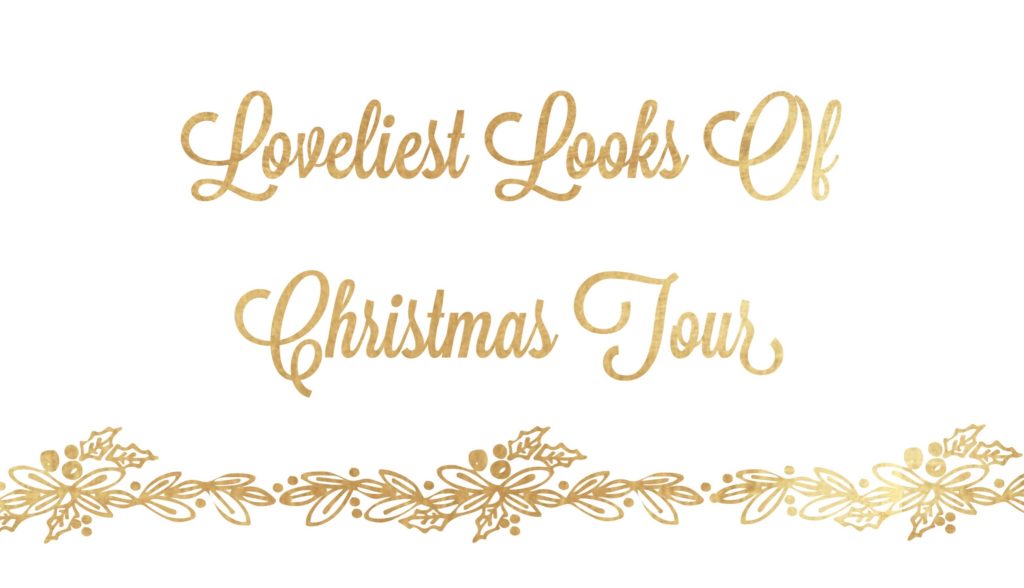 Every year I look forward to this holiday season and the home tours with my fellow bloggers. I love seeing everyone's homes and holiday attire, new Christmas pj's and favorite baked goods. It's the best time of year! Today I'm sharing more of my home and fashion with you, along with a beautiful group of friends, in our Loveliest Looks of Christmas Tour. It's an elegant Christmas home tour and I'm so glad you're here!
Affiliate links are included in this post. Click here to read my full disclosure policy and here for my privacy & cookies policy. All opinions are my own.
Glam White & Gold Living Room Christmas Tree & Mantel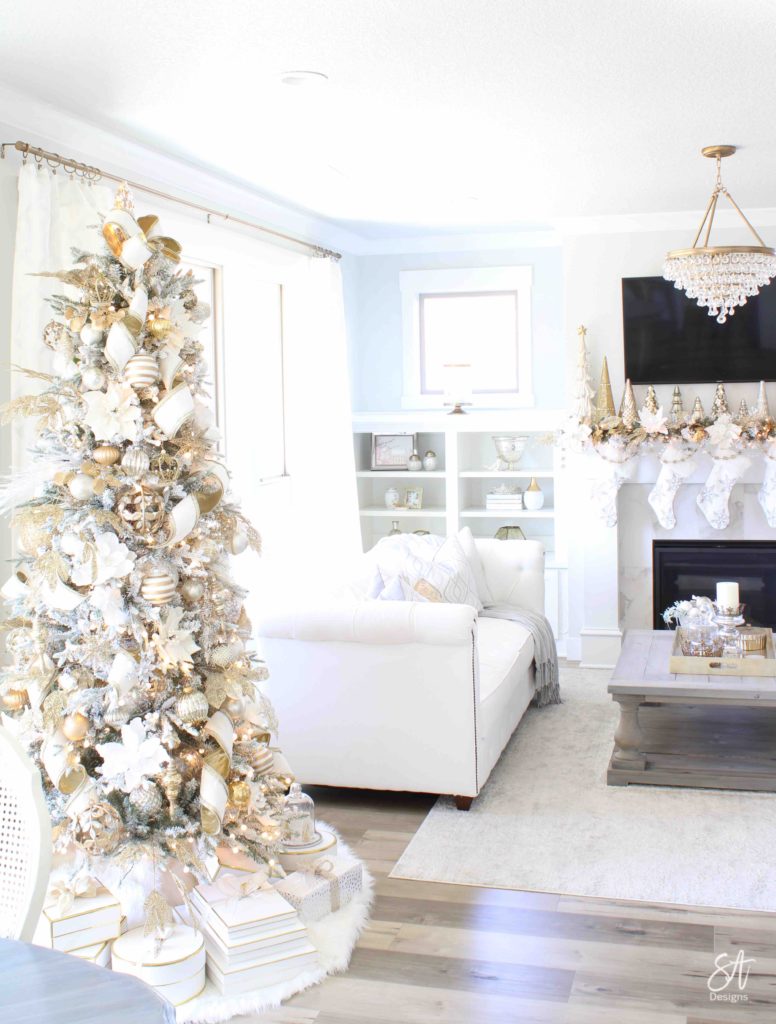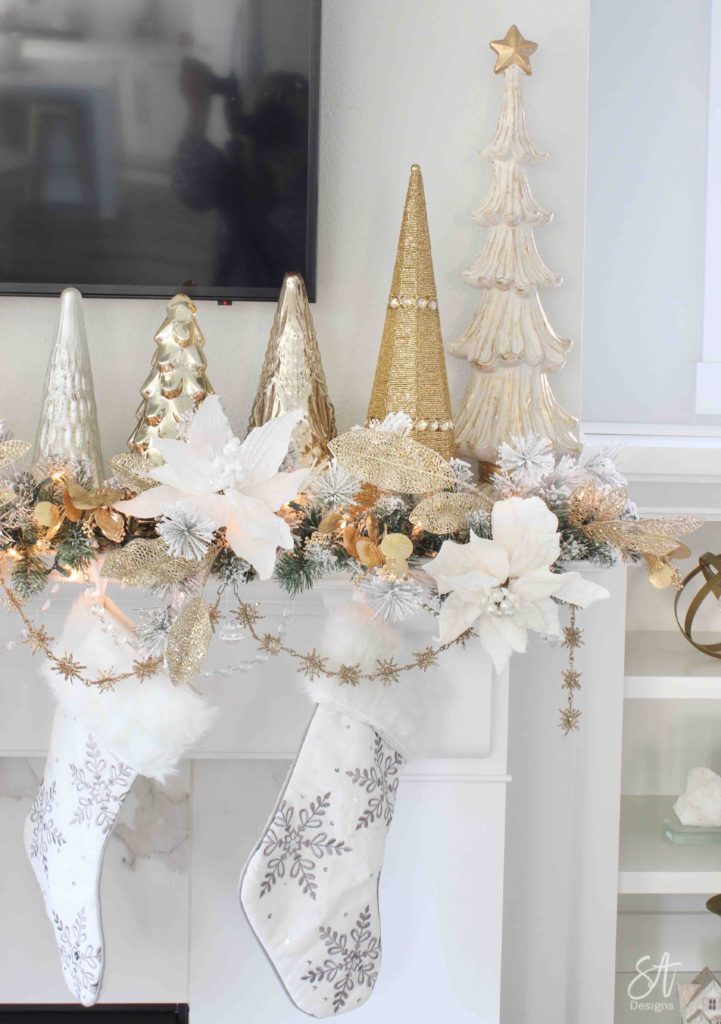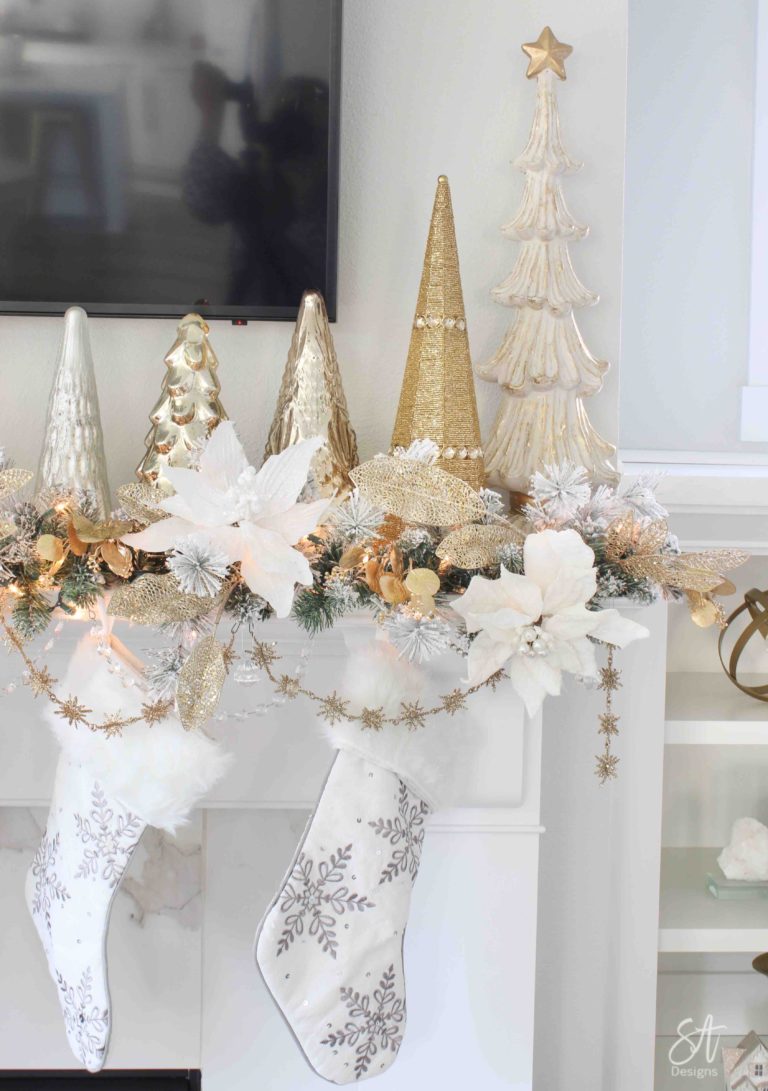 Last week I shared my Christmas living room on the blog. I kept with my white and gold color scheme from fall since I loved it so much.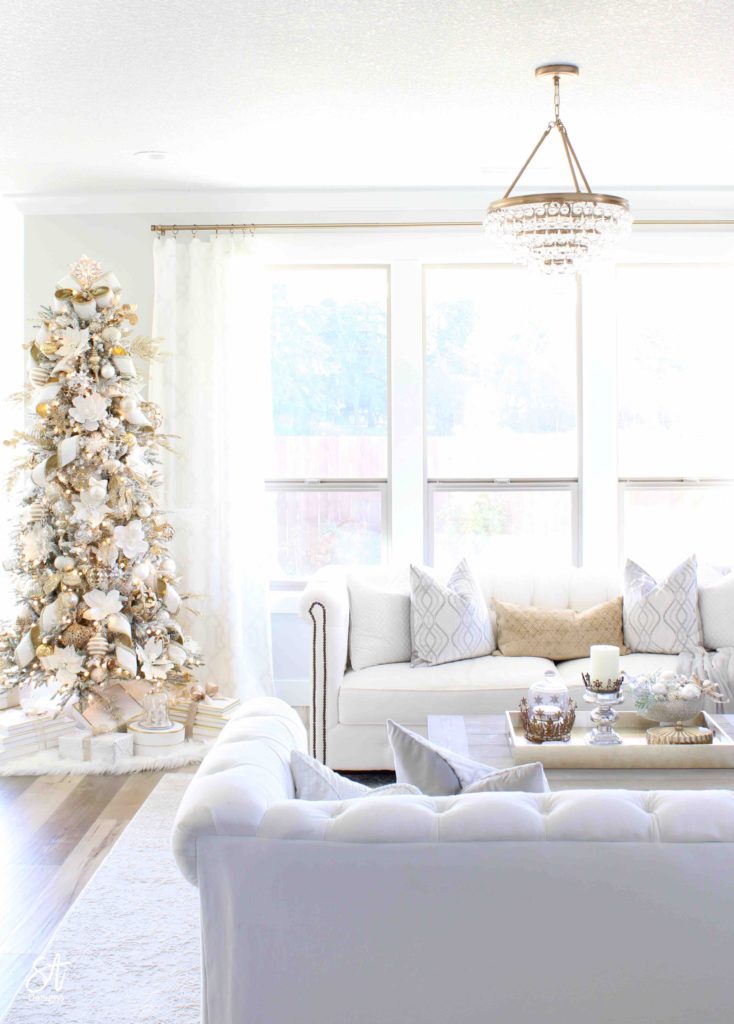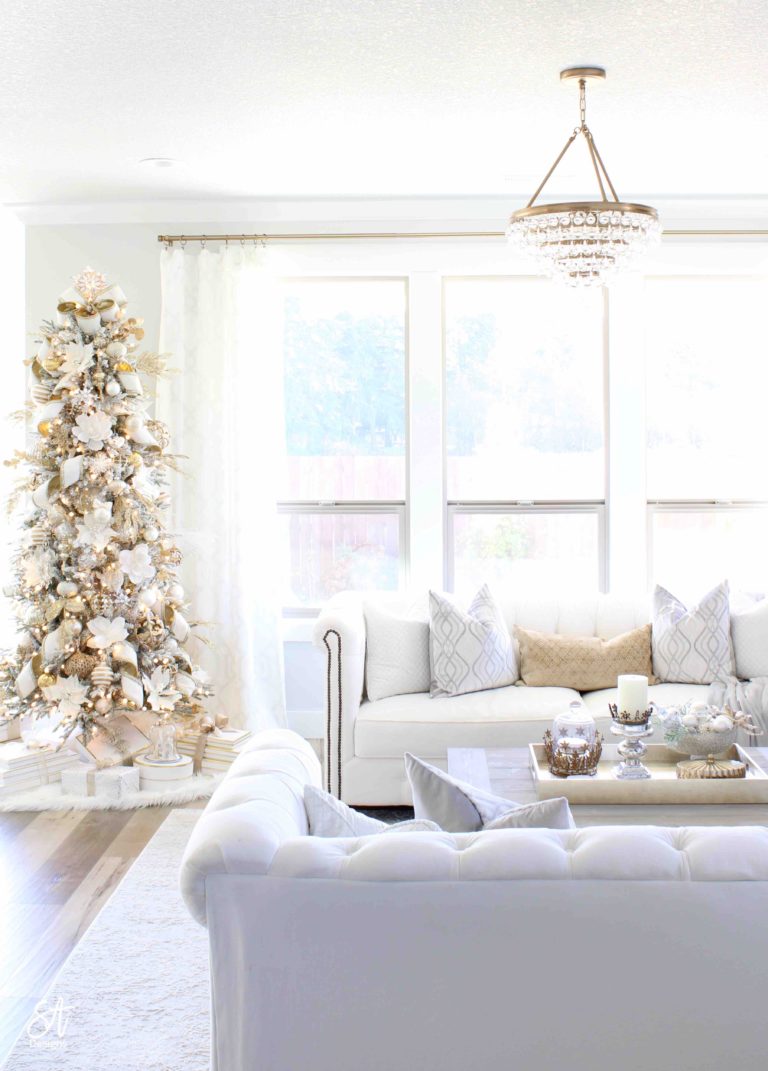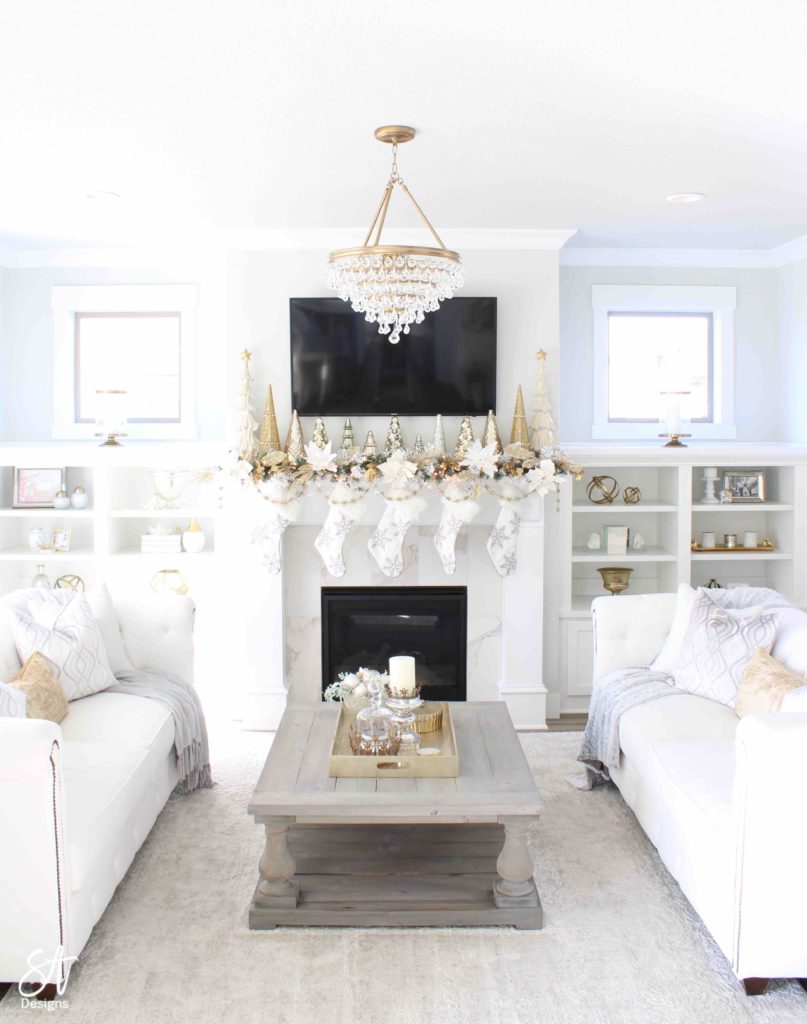 Every detail can be found HERE in that tour, including the items I used to decorate this room.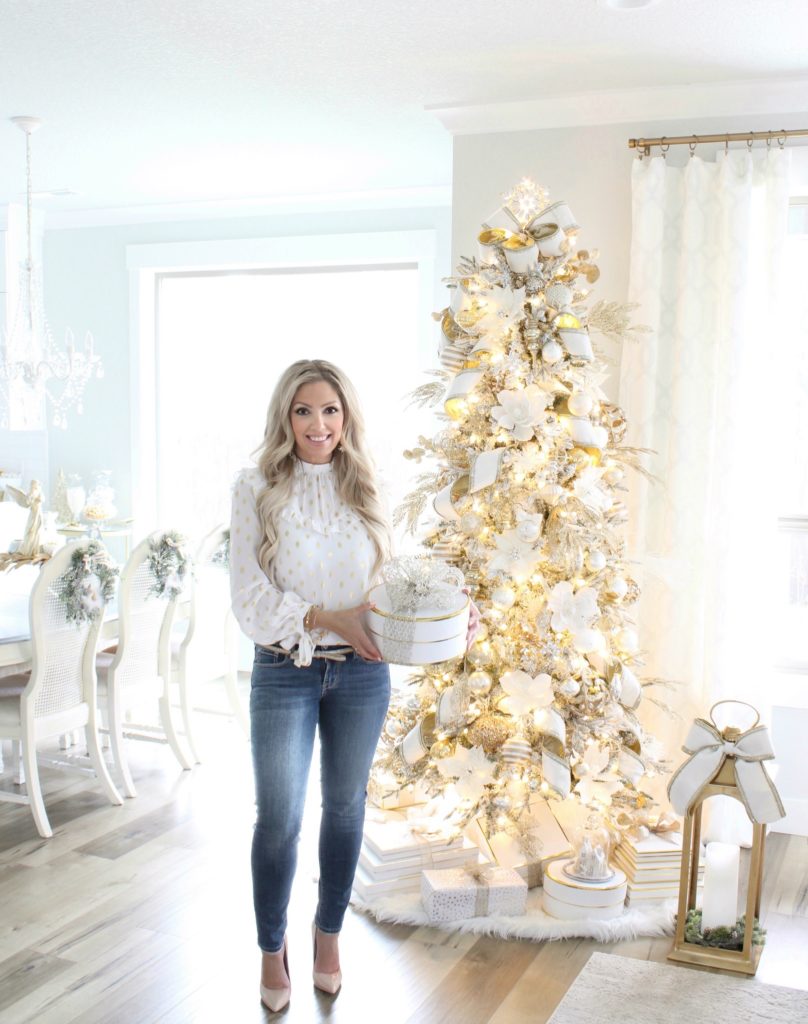 If you're looking for a great top this holiday season to wear with denim and won't break the bank, this is it! It's only $20 and I love the way it fits! It doesn't hurt either that it matches my color scheme I've got going on downstairs here. (Bow belt purchased a few years ago.)


Glam White & Gold Christmas Kitchen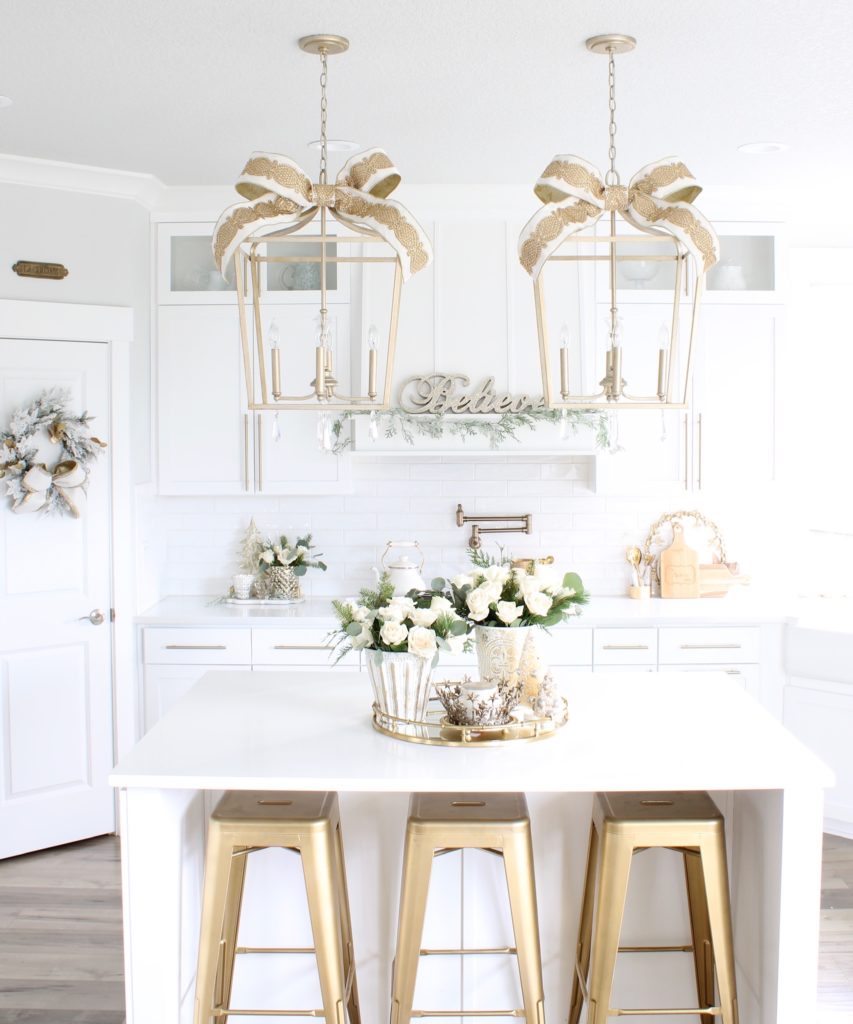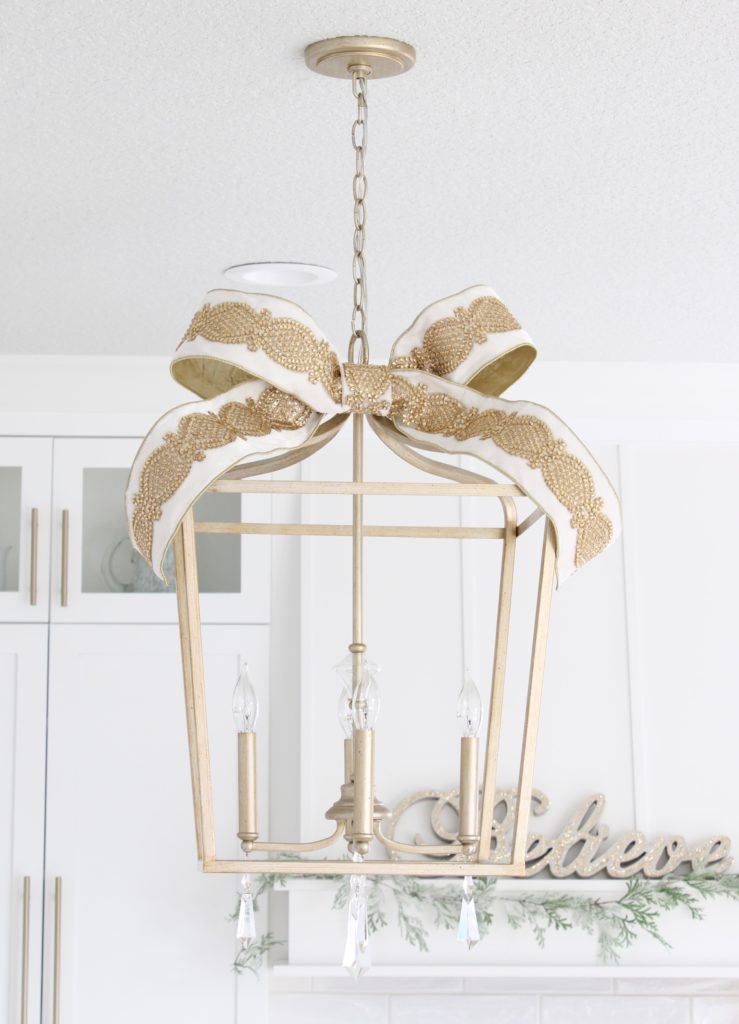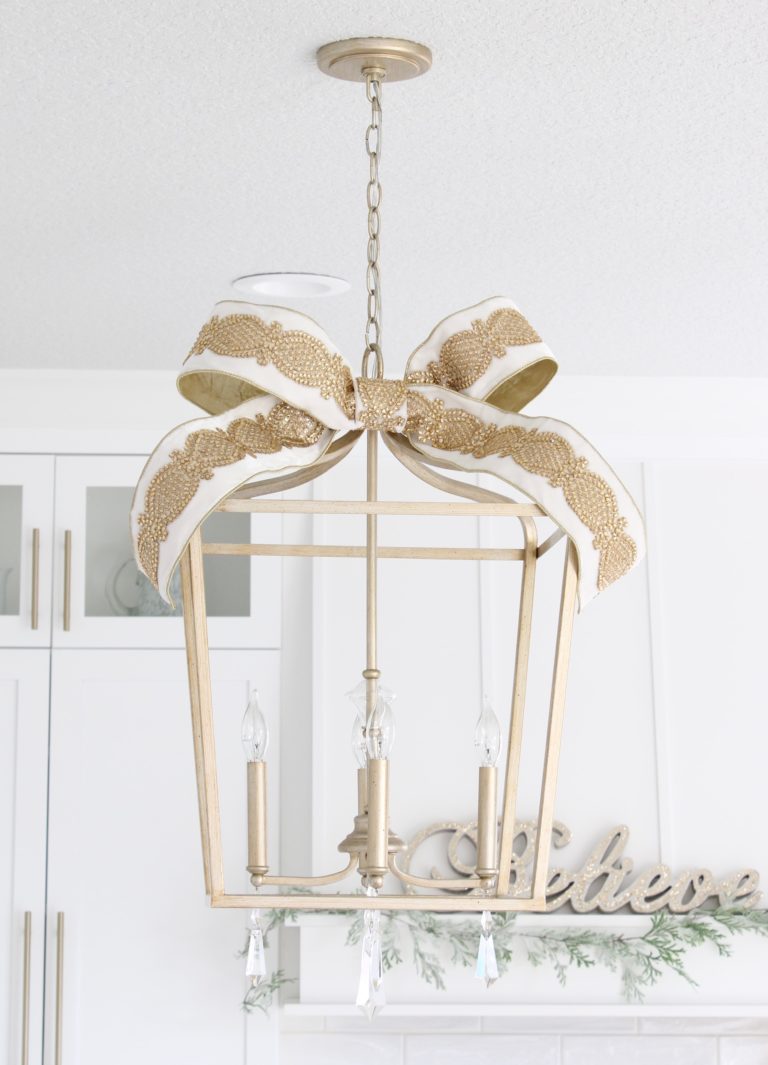 Last year I tied large pink velvet bows on my pendants in the kitchen because they looked like huge presents to me and it was so fun. So this year I went even bigger and fancier. I contacted one of my favorite wholesalers because I didn't see any retailers selling what I wanted and could envision in my head and my Google searches left me coming up empty.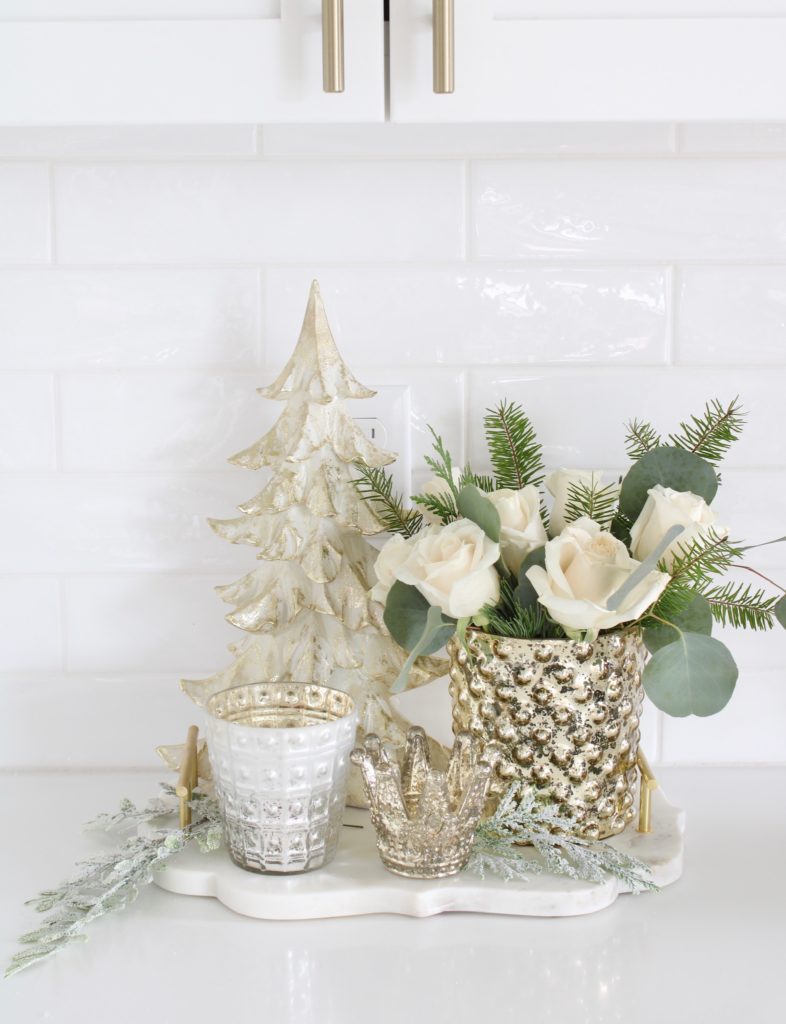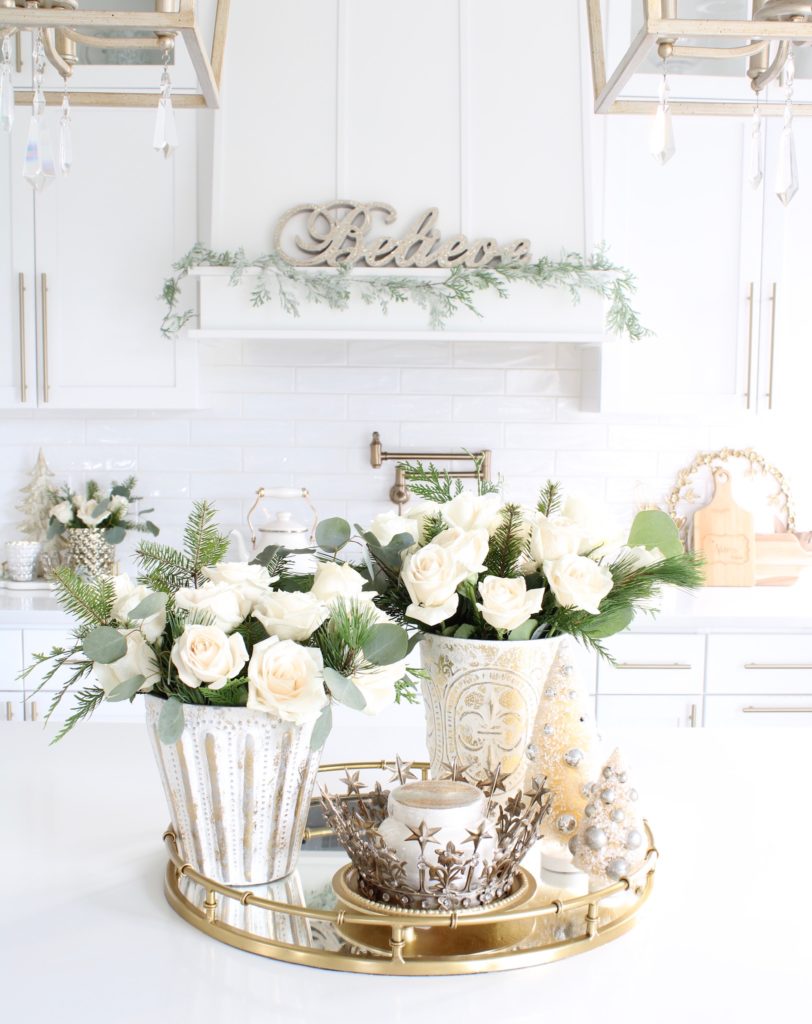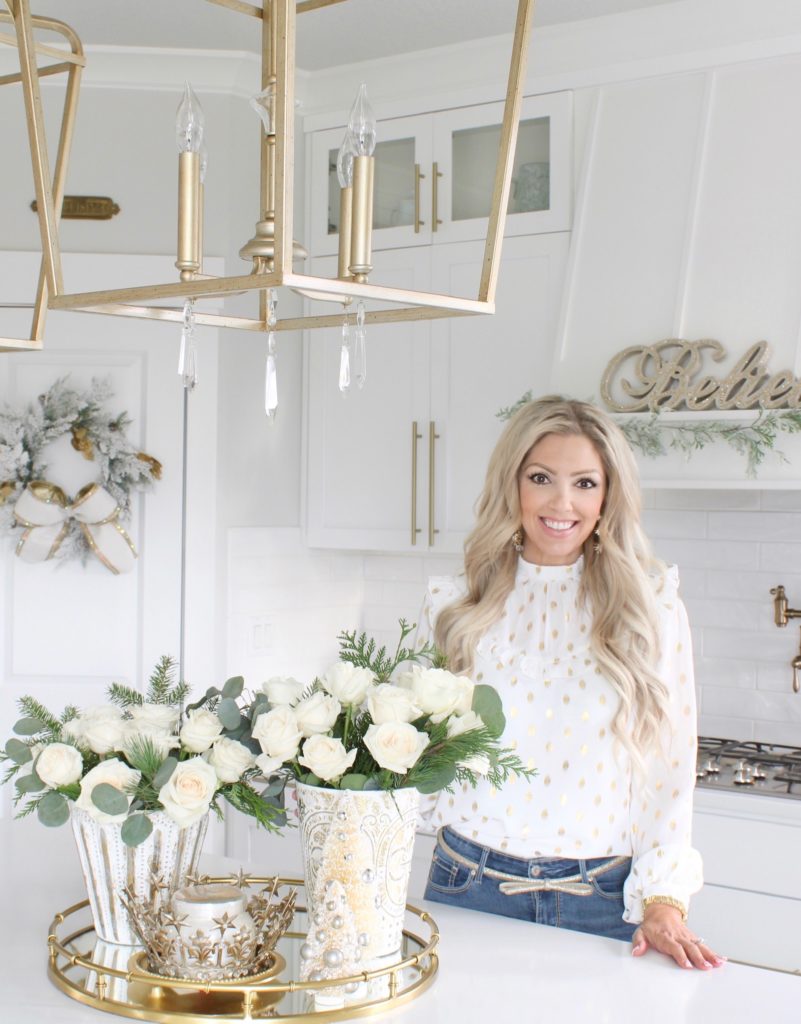 The other night I shared on my Instagram stories how I took some white roses and green clippings from Trader Joe's and made some simple, yet elegant, Christmas floral arrangements to put in my kitchen. It smells so good! I love the aroma of fresh pine!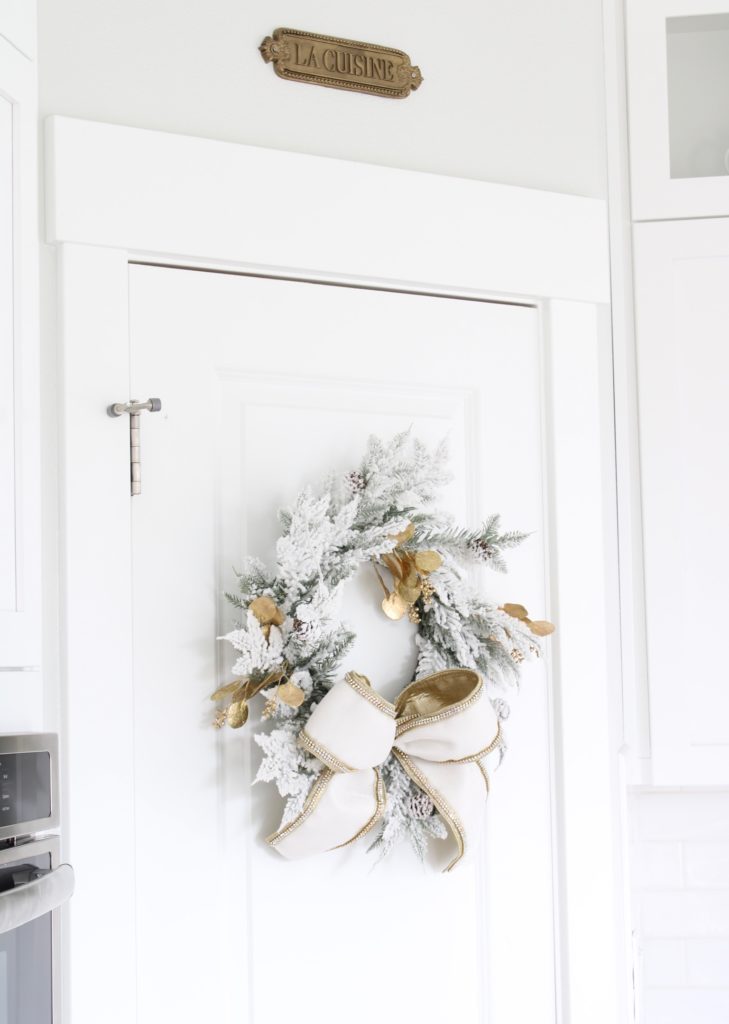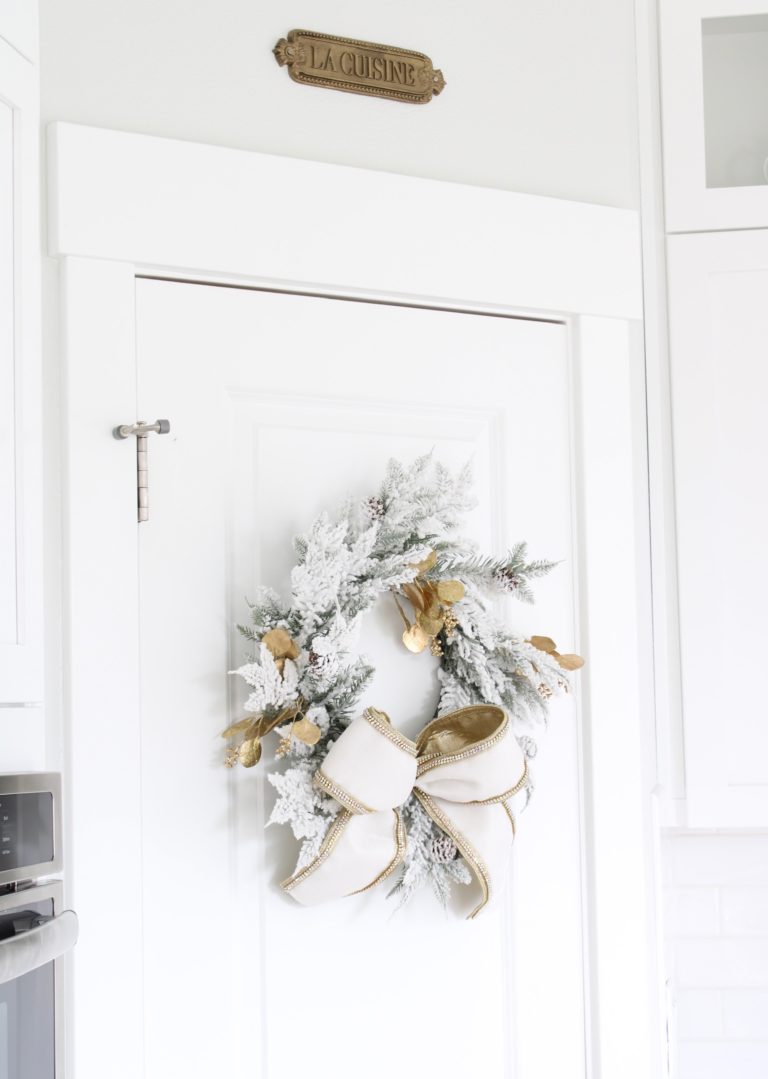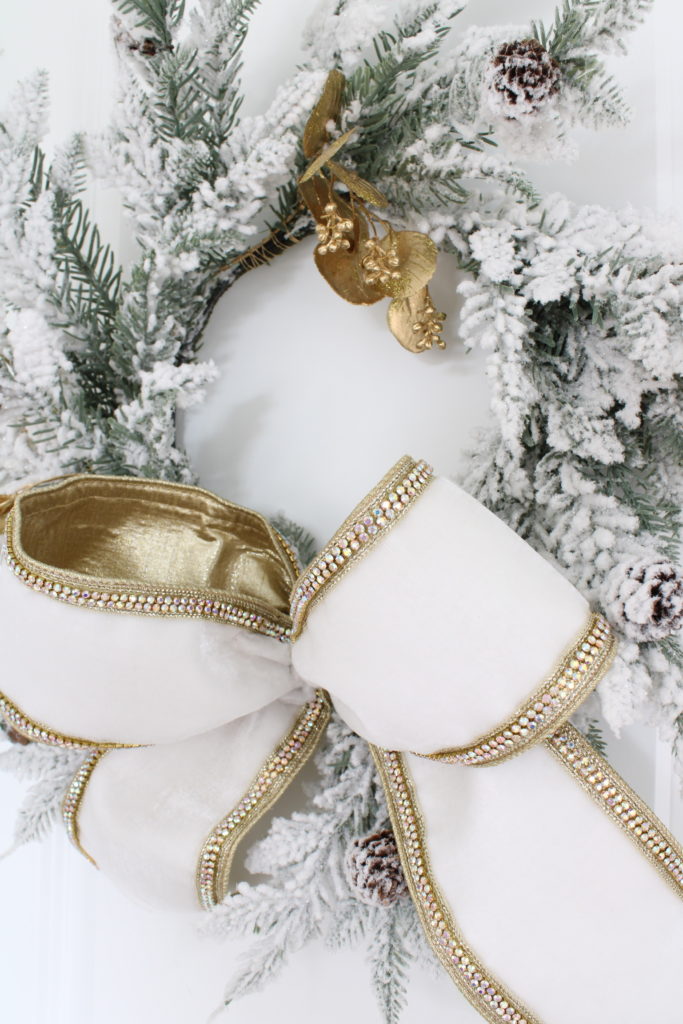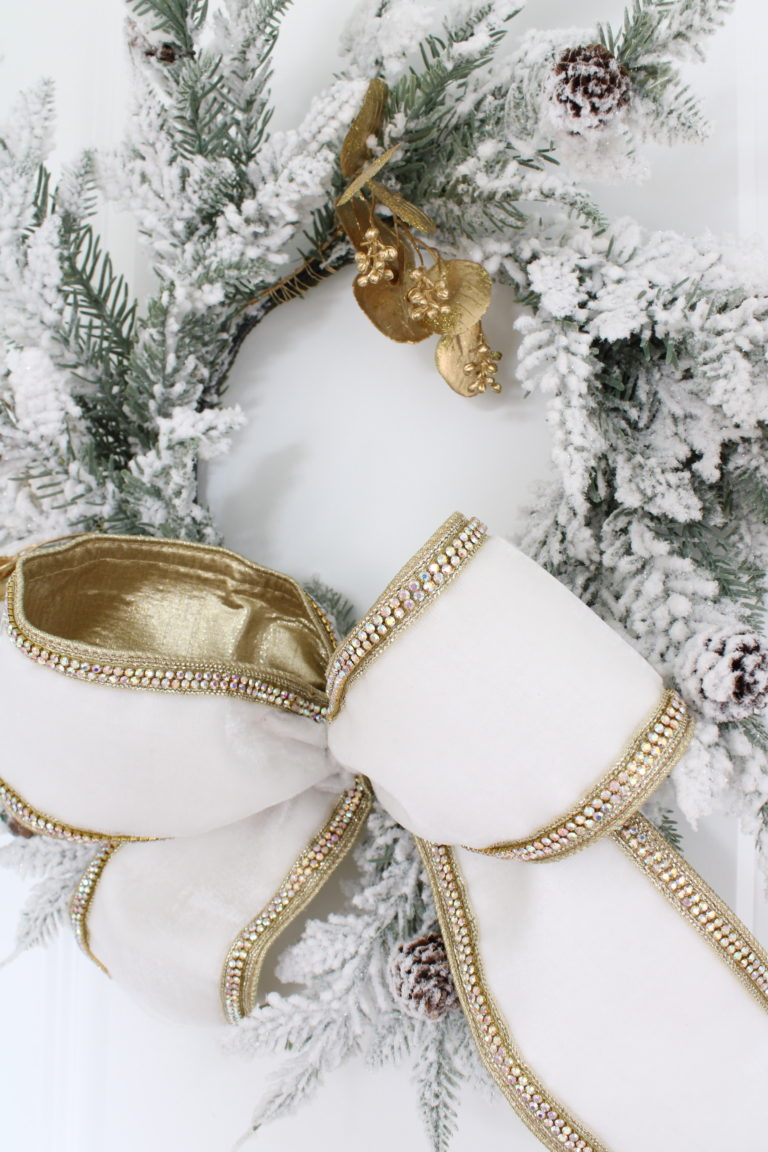 This is the same ribbon I used on my tree and it is so stunning! I had to use it to create a beautiful bow on this simple wreath and add it to my pantry.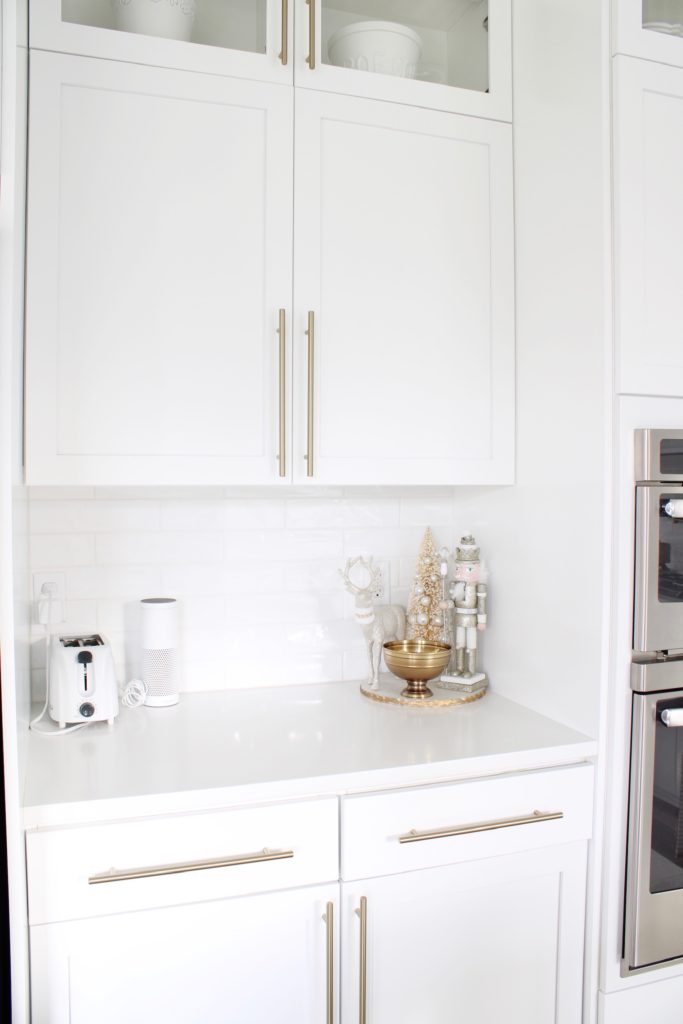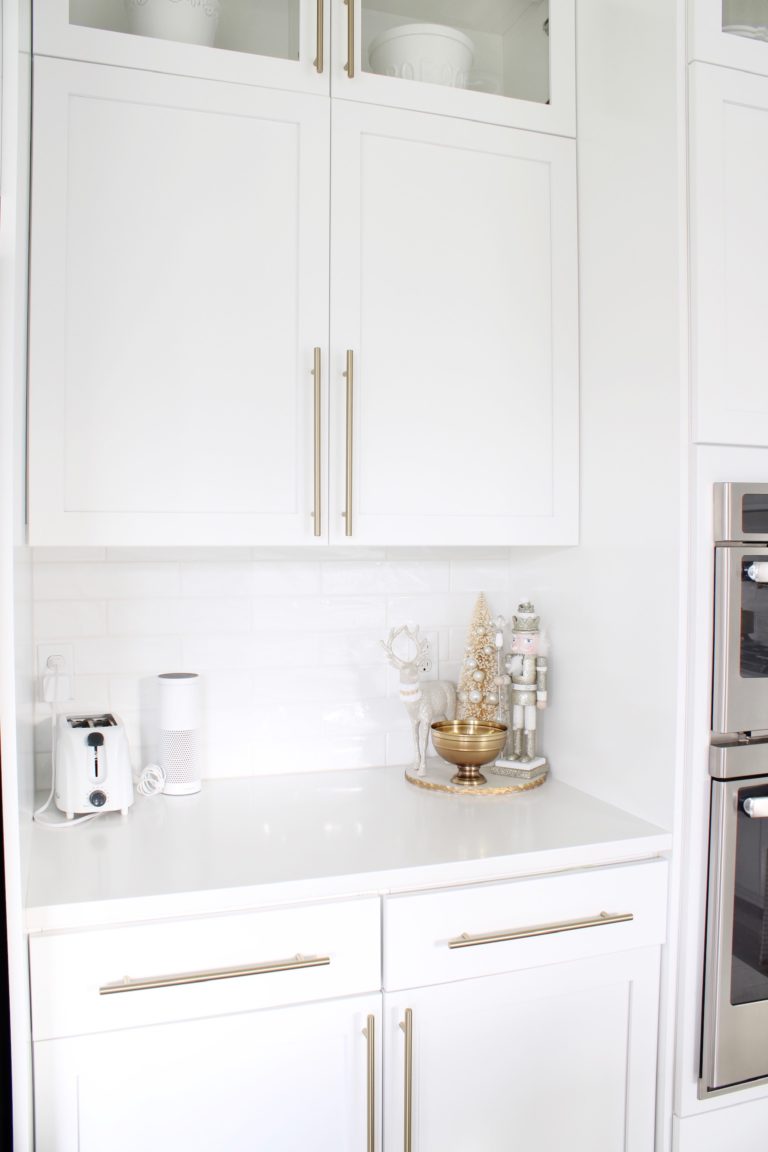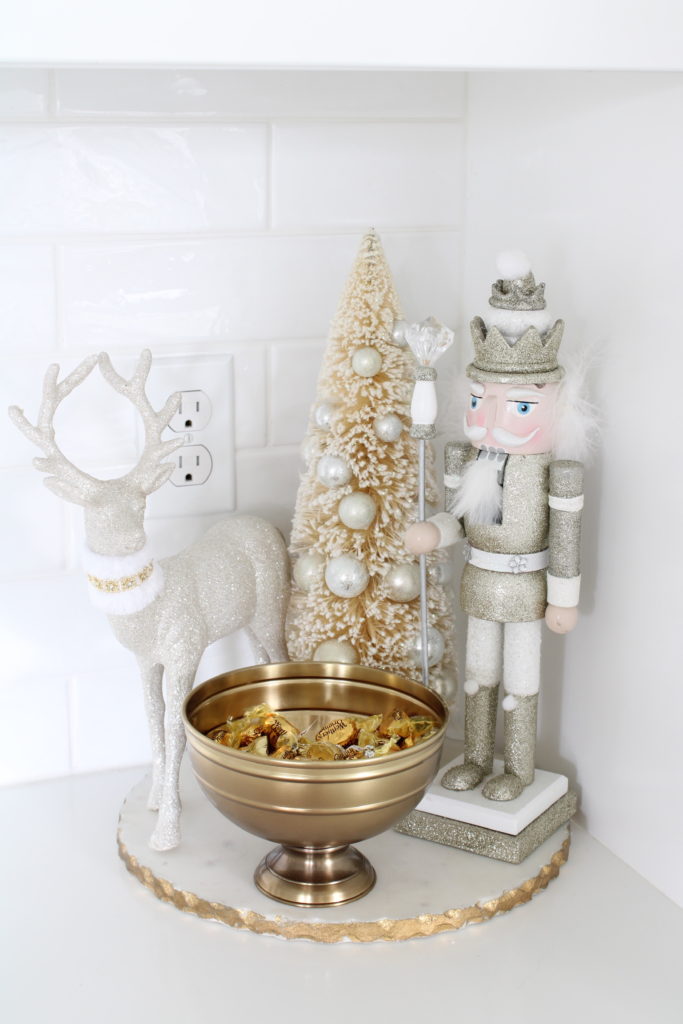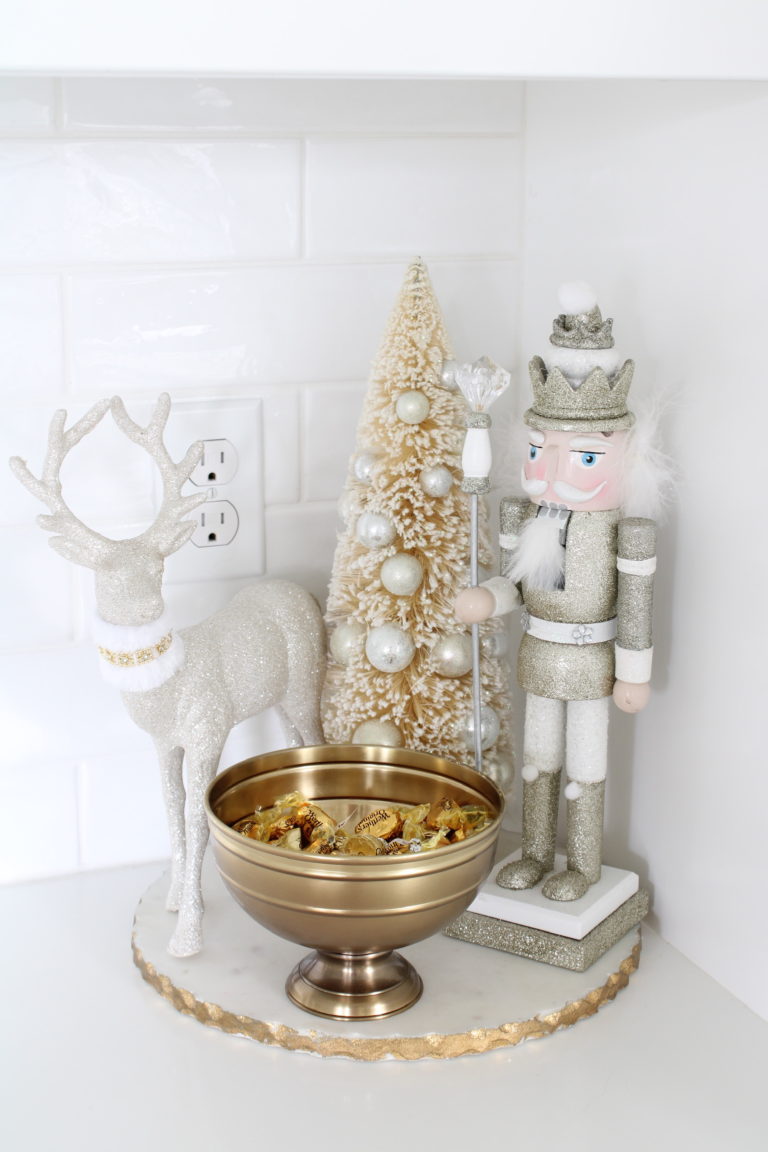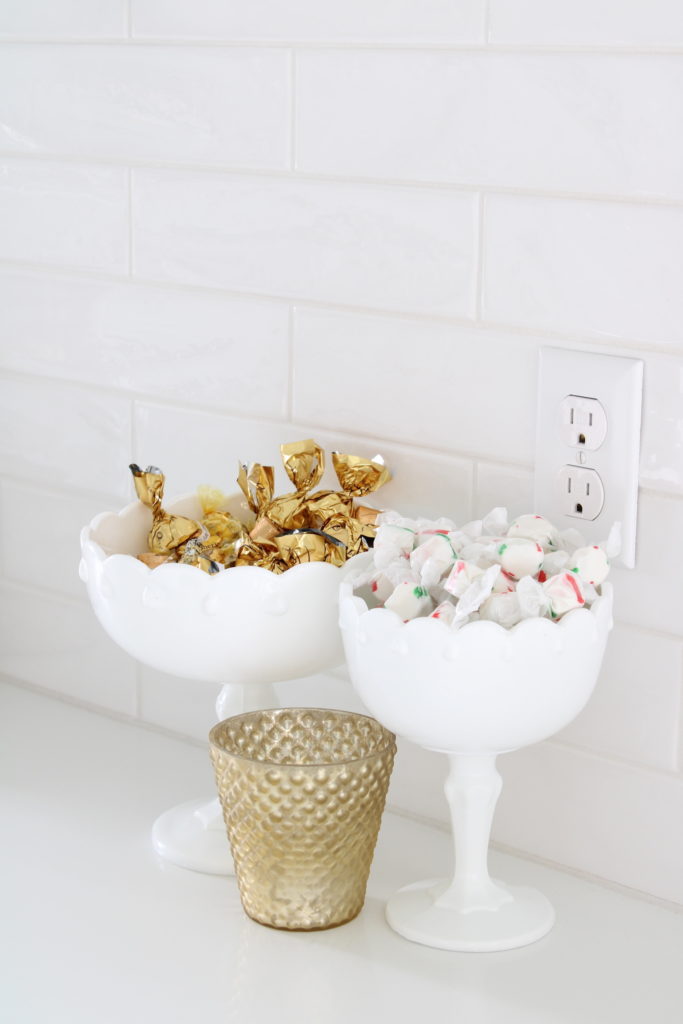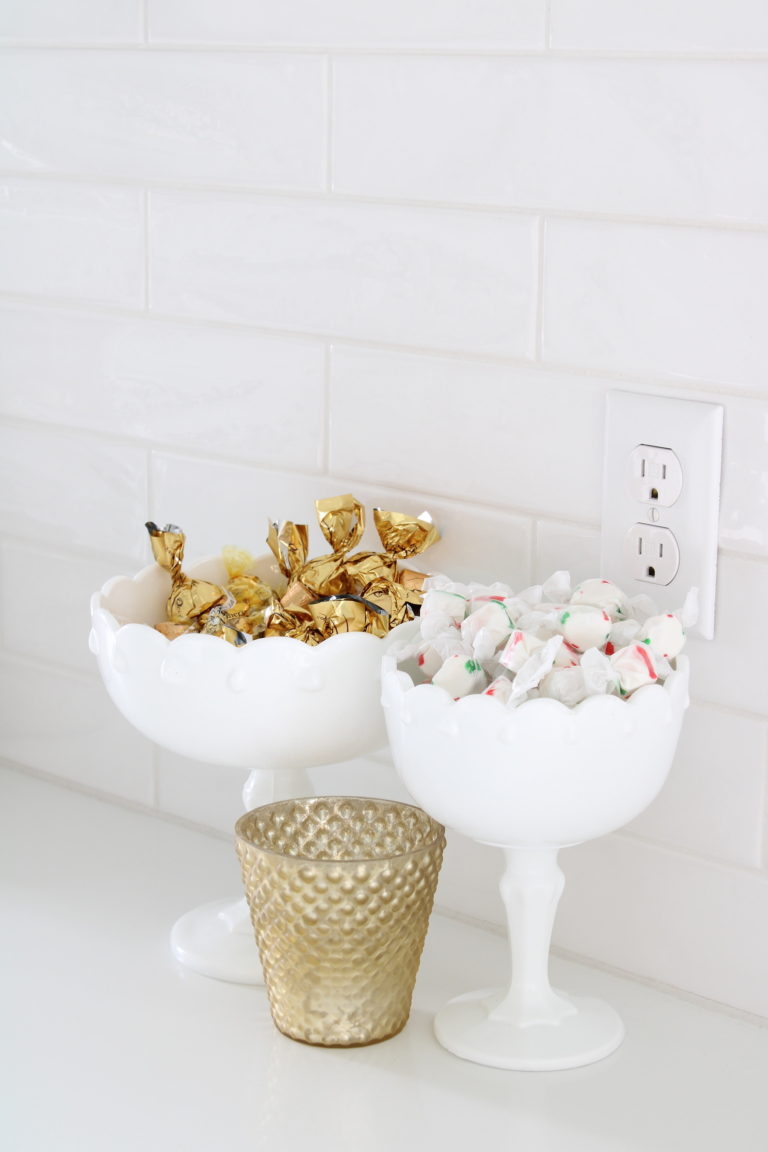 I was telling everyone on Instagram the other day that if I put out candy around the holidays where I can see it, I want nothing to do with it. But if I hide it in the pantry, then it becomes a temptation. Funny, right?! So I have it sprinkled throughout the kitchen for guests.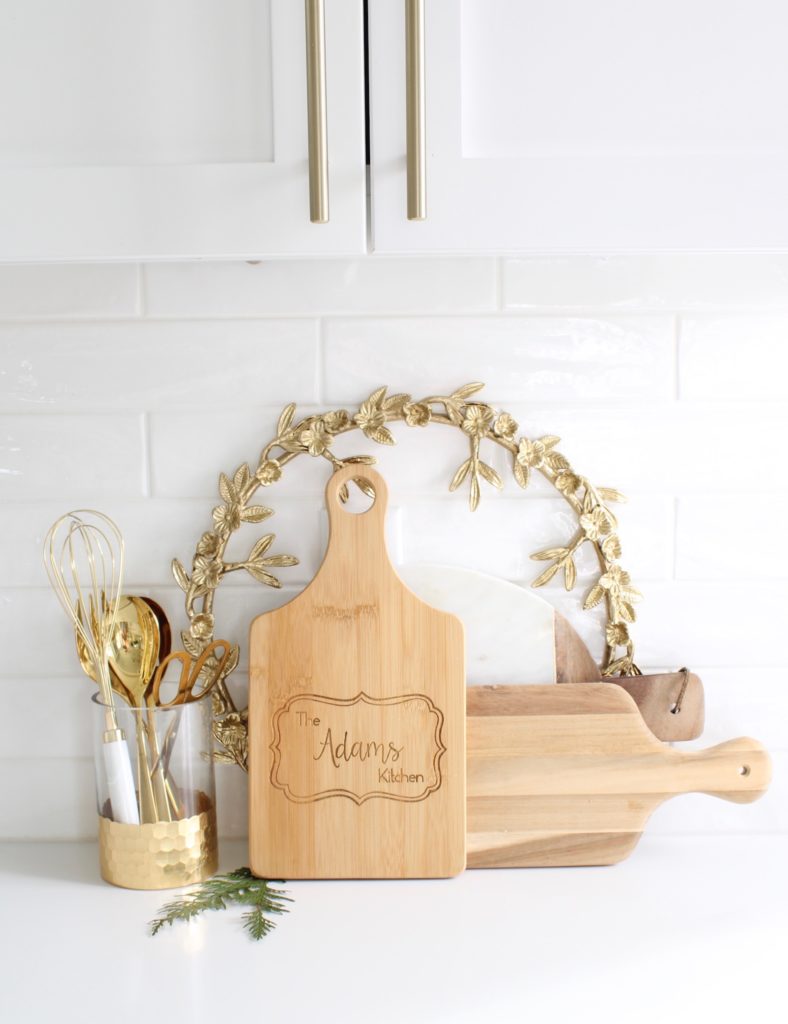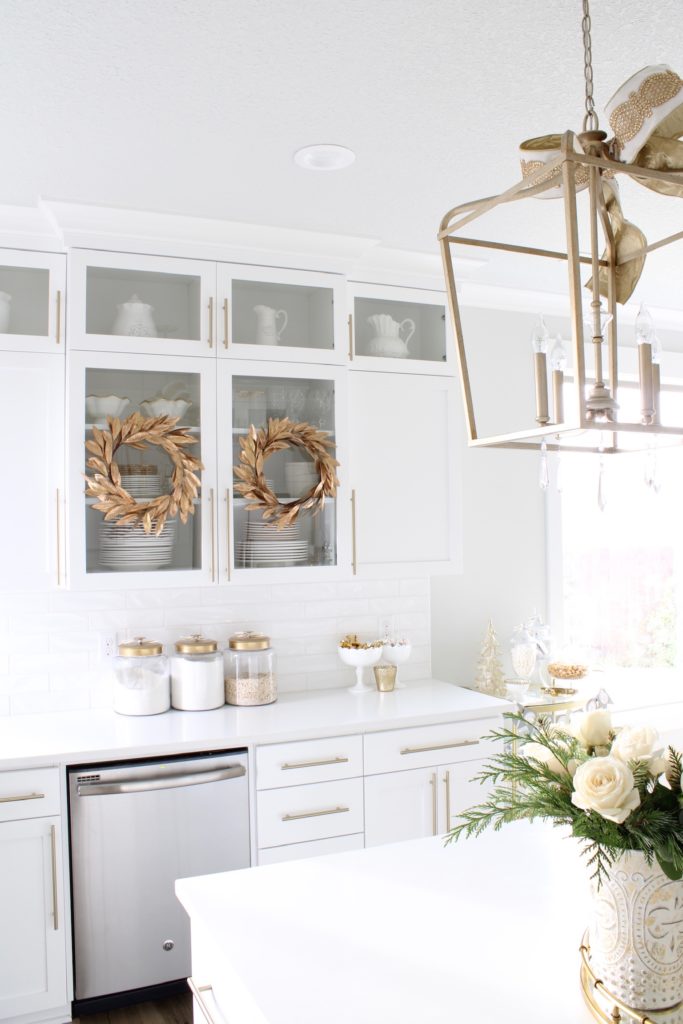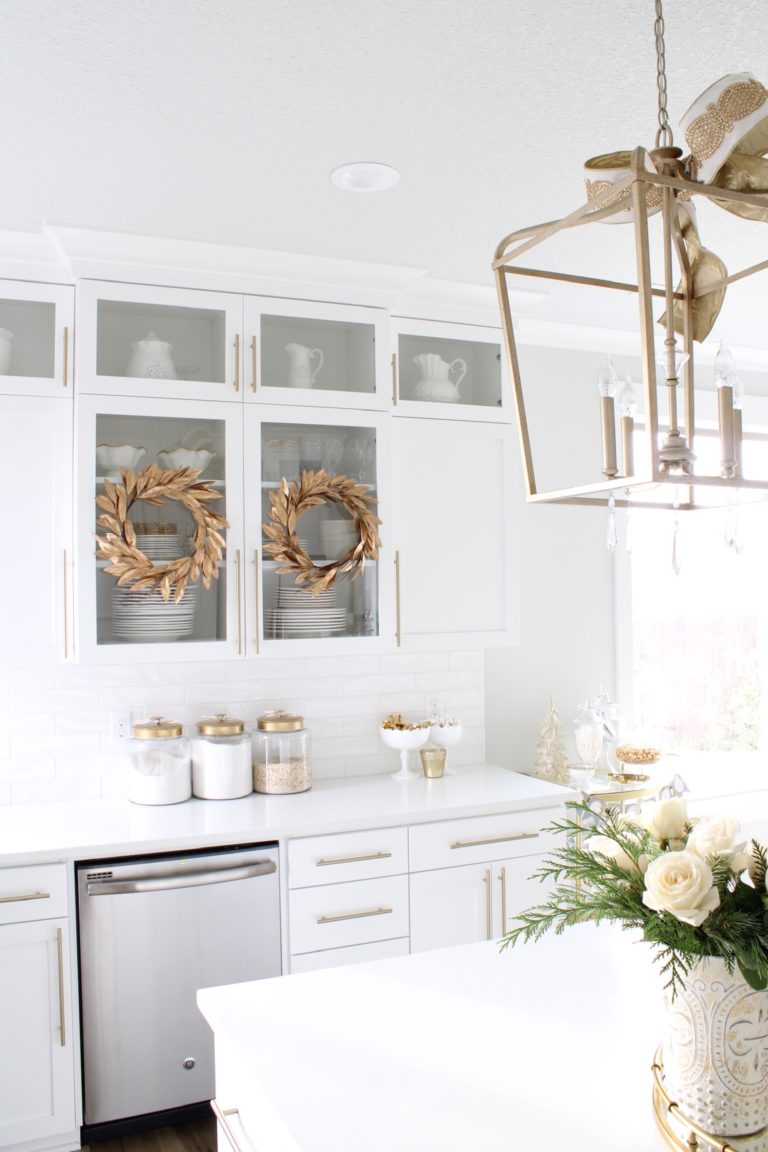 I kept these gold wreaths out from my fall decor as they were perfect for Christmas too! I used 3M hooks on my glass cabinets.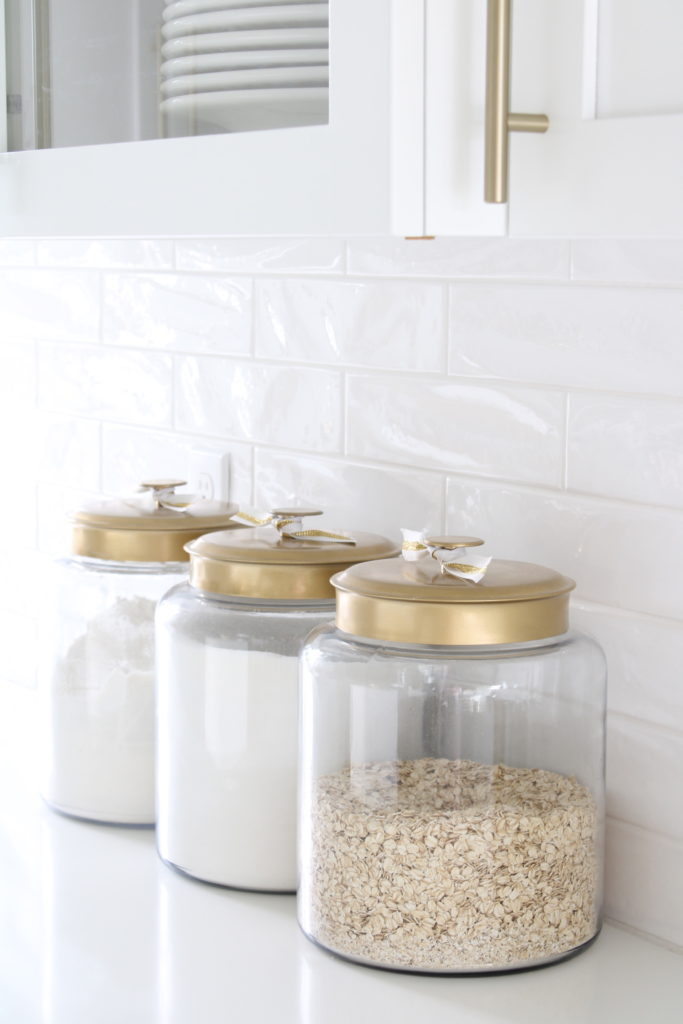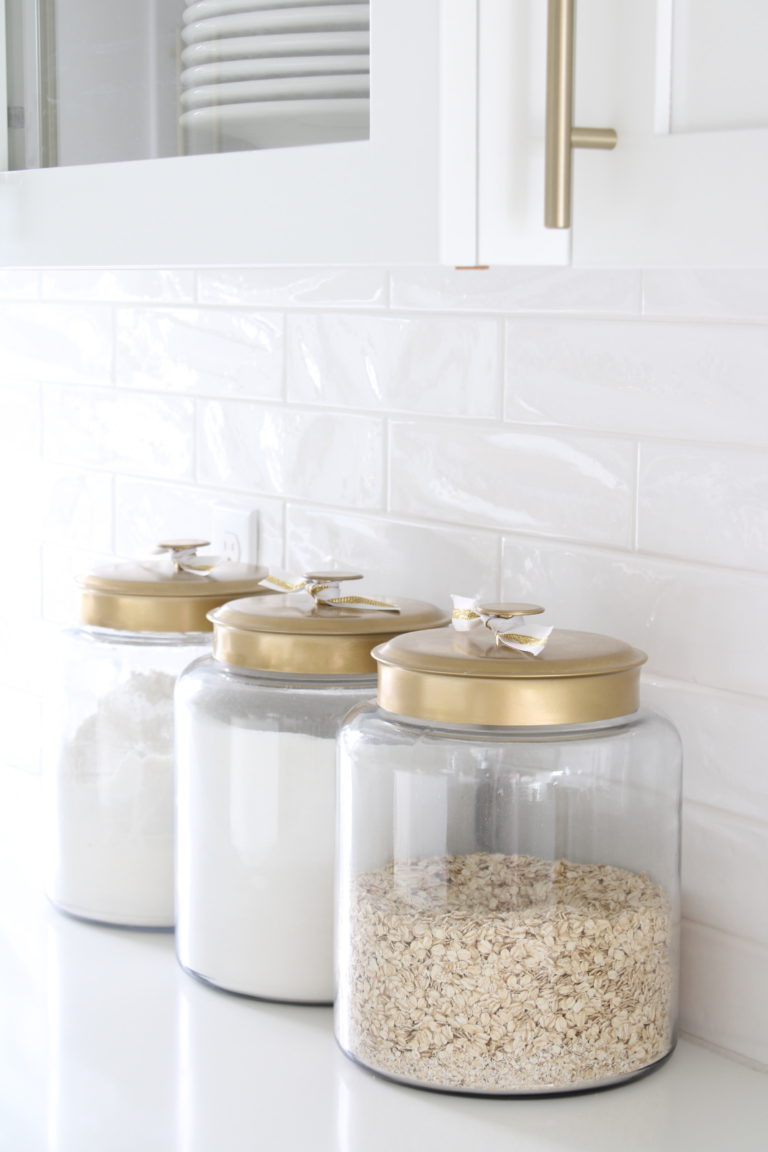 I love adding just a little ribbon to my gold canisters at Christmas time. They add a festive touch!


White & Gold Hot Cocoa Bar Cart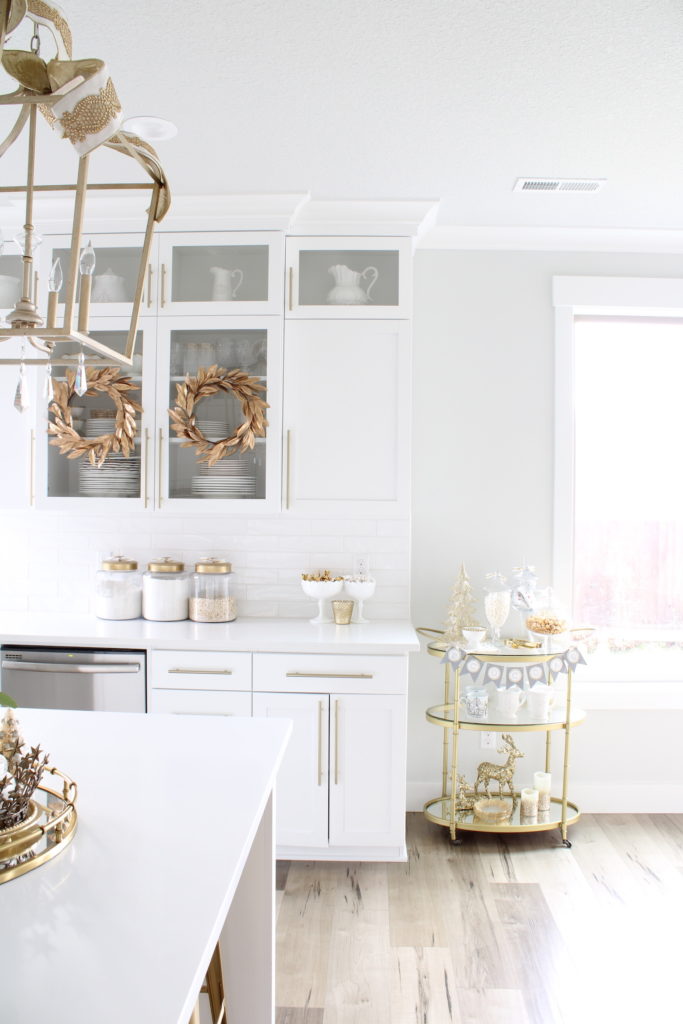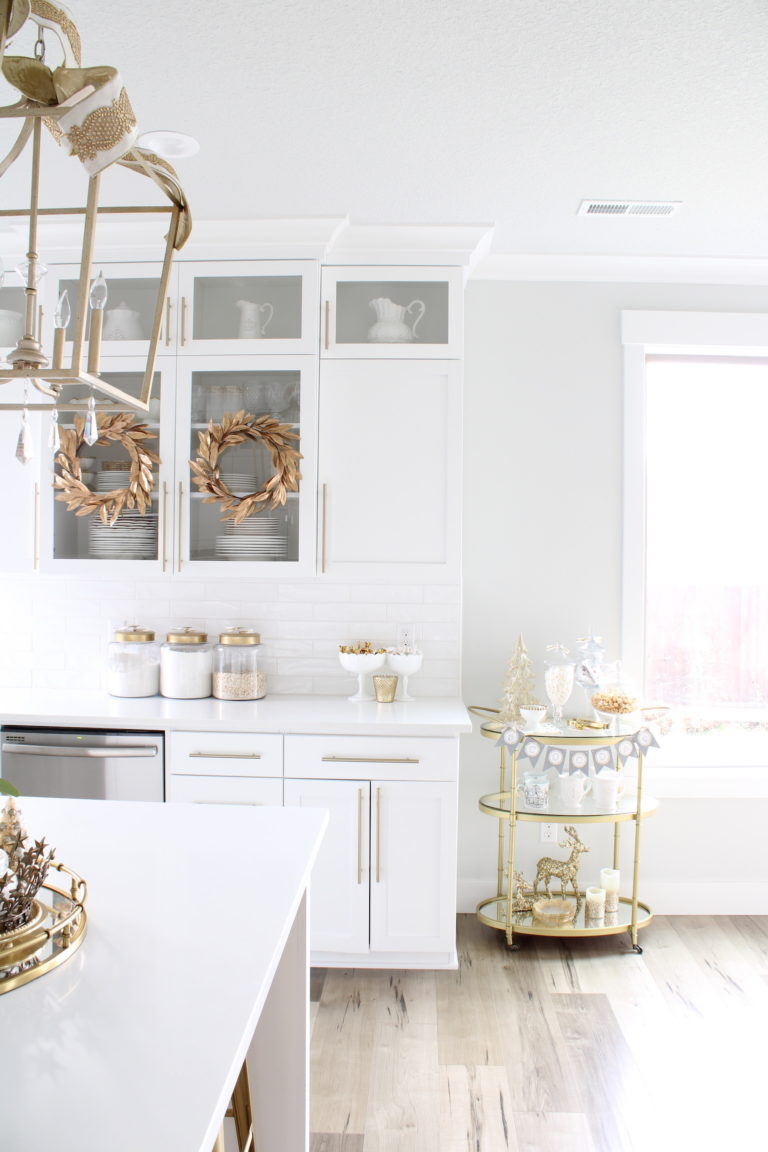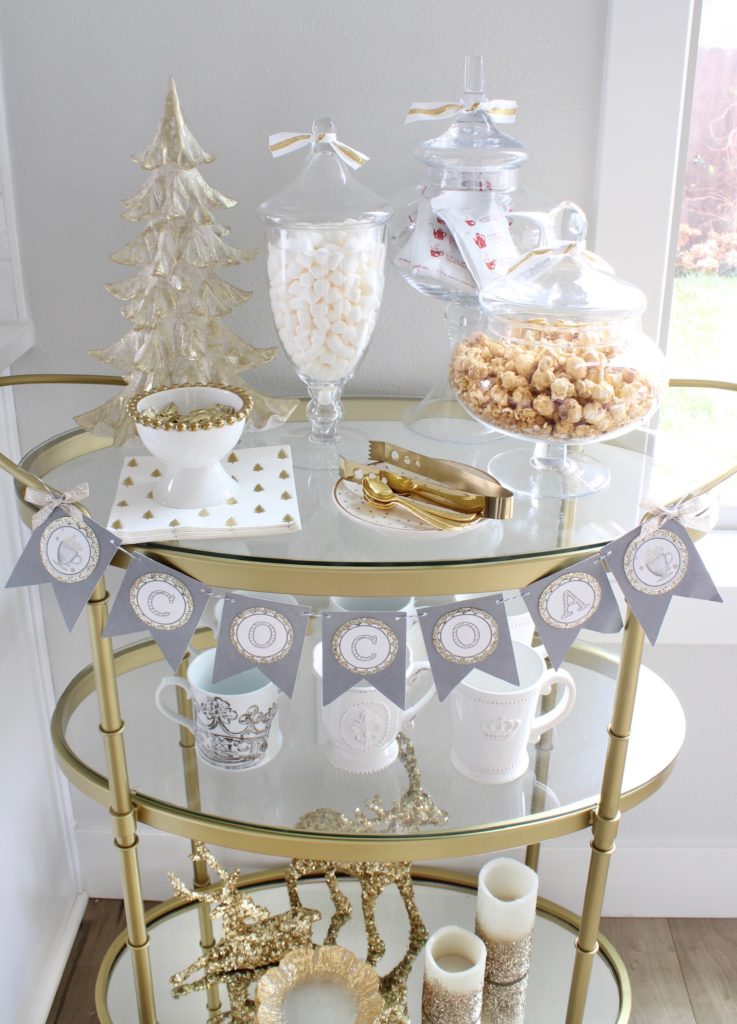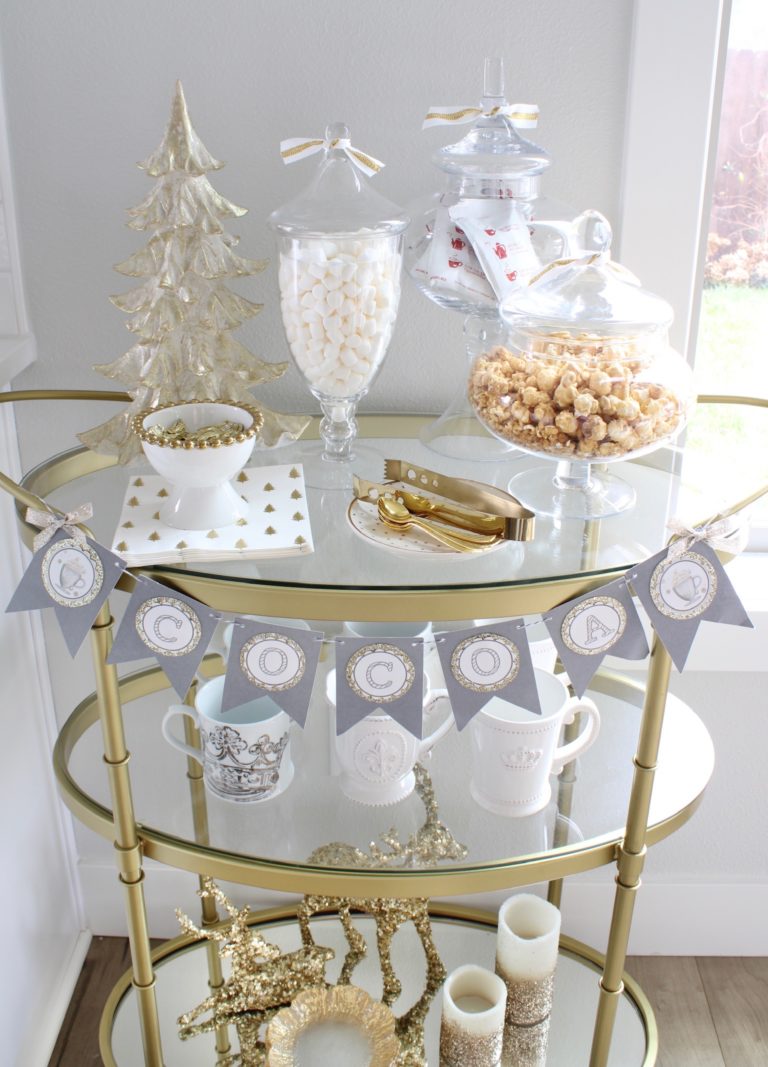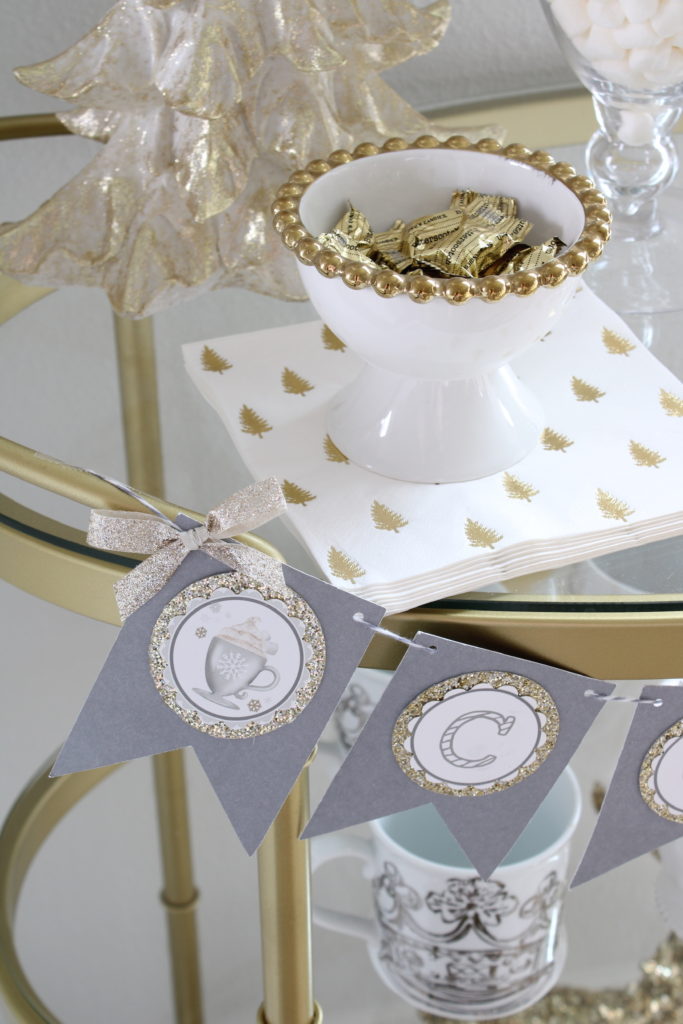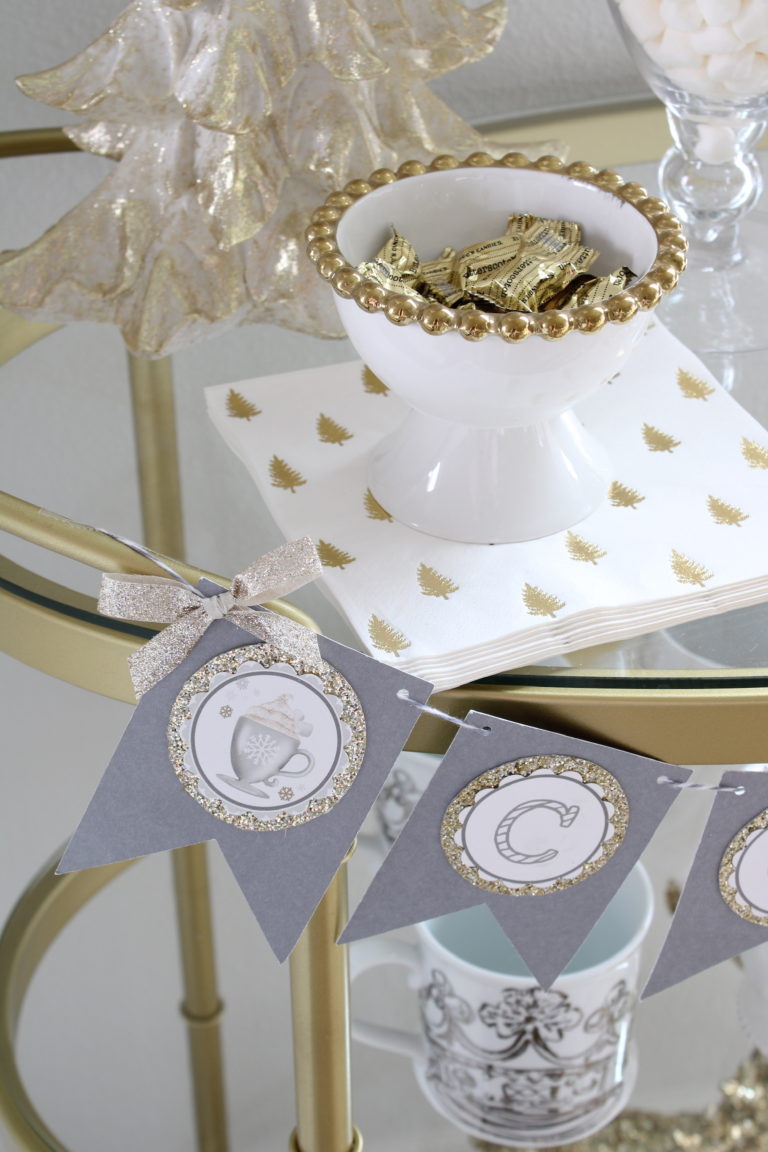 I always put out a hot cocoa bar cart as soon as it gets cold. The kids and their friends and our guests always love it. I made this cute banner years ago but have it saved on my computer. If you're interested, I'd love to share it in a blog post and offer it as a free download!


White & Gold Christmas Dining Table & Buffet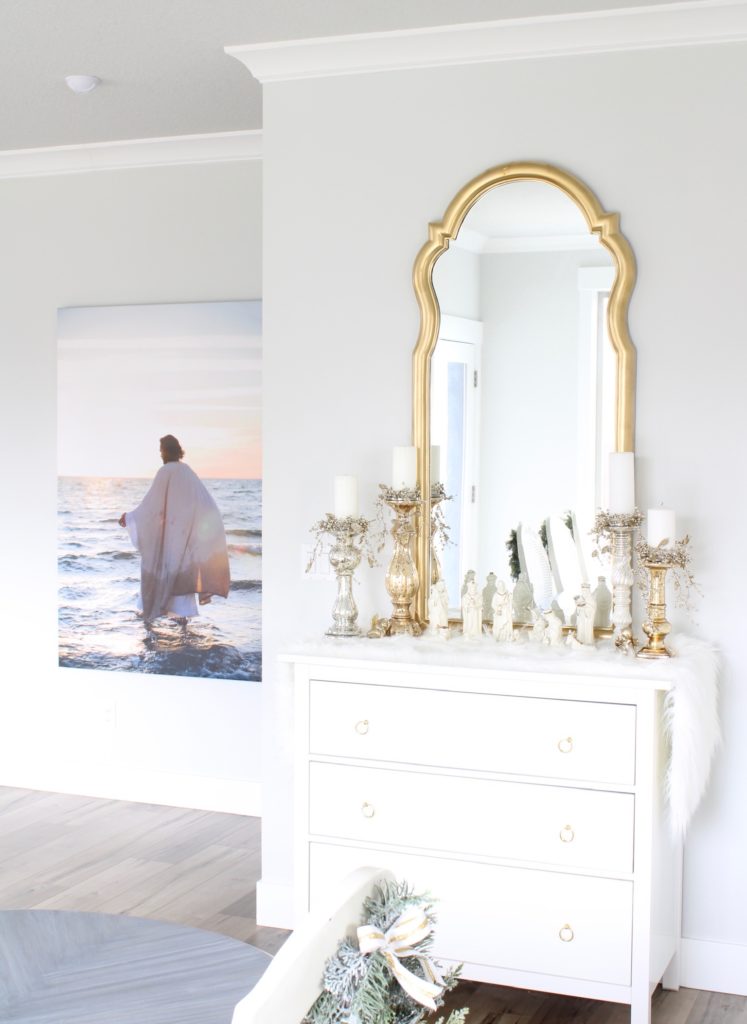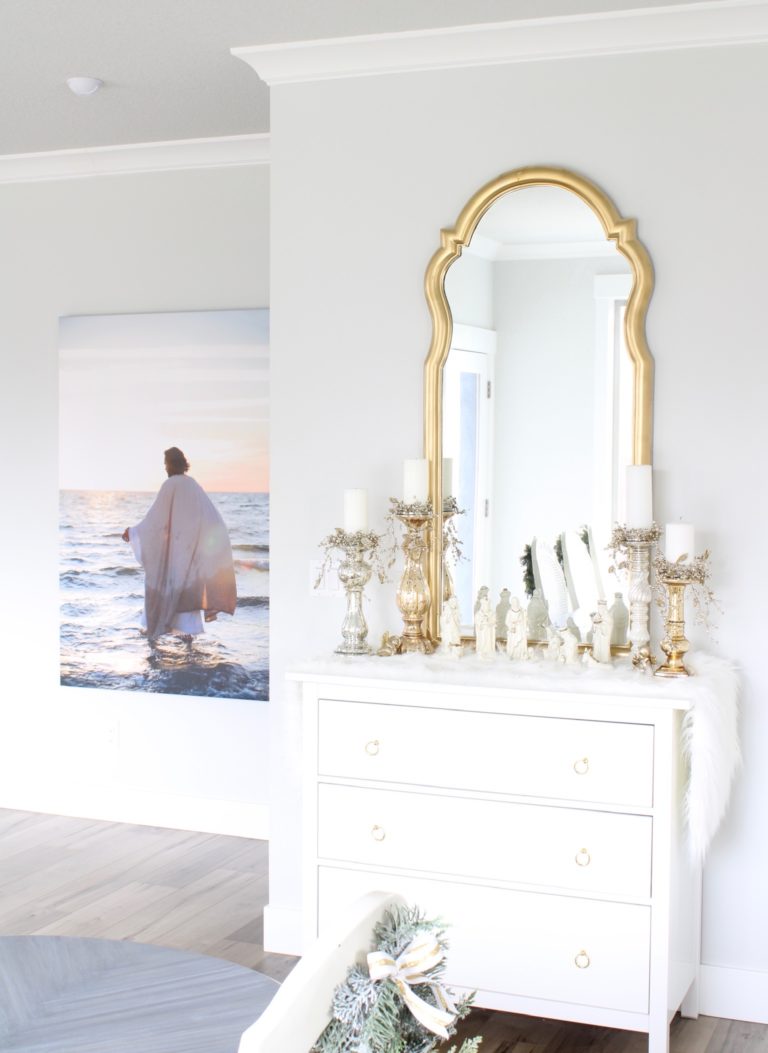 The one thing I miss having in this house is a formal dining room and I'm dying to build again for that reason alone because I'm one that loves to entertain. Putting a buffet at the end of our dining area helps it feel more like a dining space and also gives me a perfect space to put my nativity set at Christmas time. I especially love that it's just to the side of my "Walking On Water" canvas by Reflections Of Christ.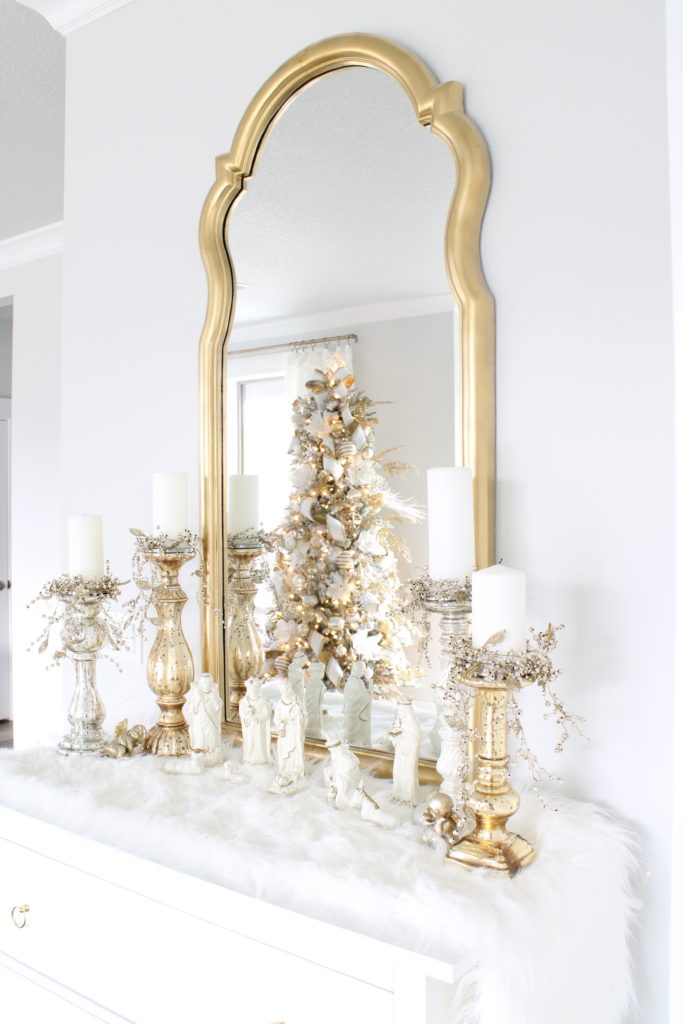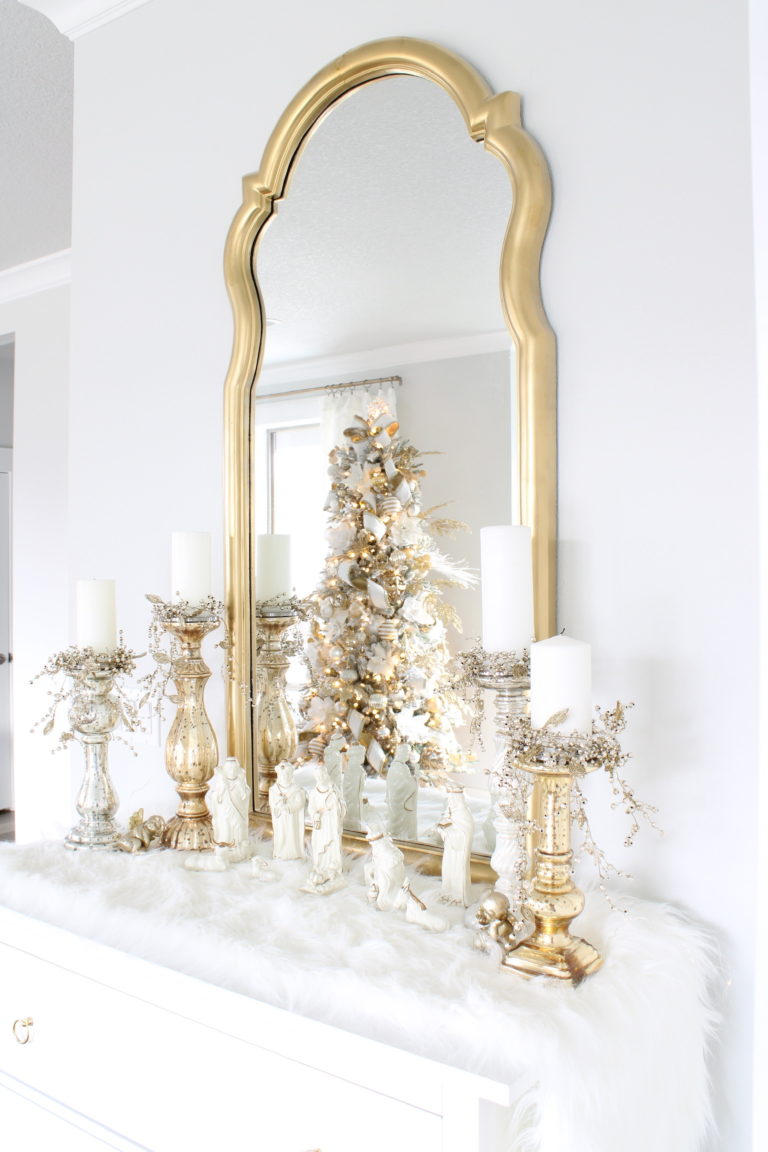 I found it years ago at a garage sale for $5 when we lived in Waco. It's in perfect condition and I just love it so much! The reflection in the mirror of my tree here is one of my favorite views from this part of my kitchen.
I wrapped these all around the candle sticks this year and I cut each one in half.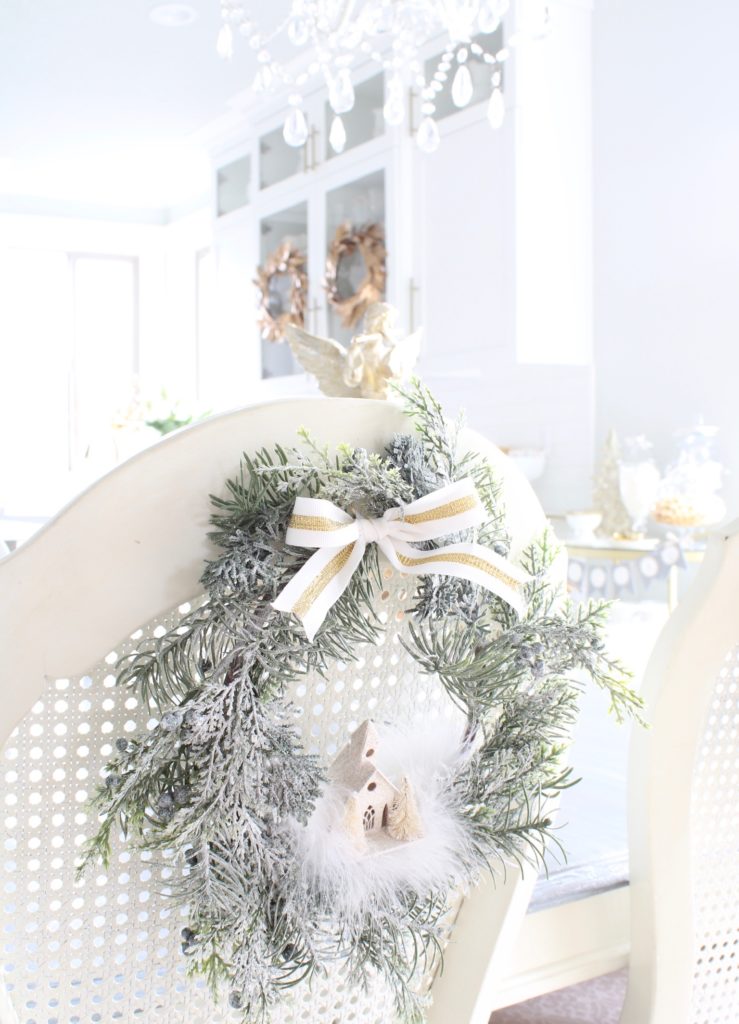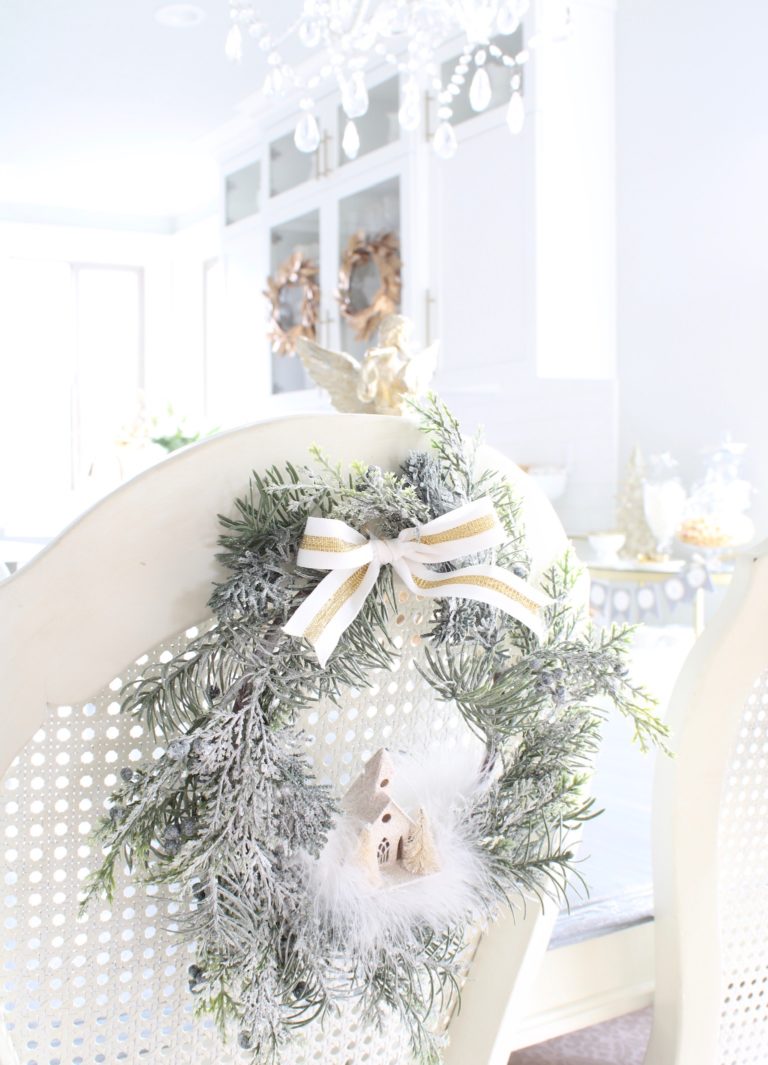 Last year I purchased these little wreaths (you can pull off the darker berries if you wish) and sprayed some faux snow spray, glued some maribou feather, and then glued some mini village ornaments. This year, I switched the ribbon on top and added some simple gold and white grosgrain ribbon and used the 3M hooks to the back of the chairs to hang them.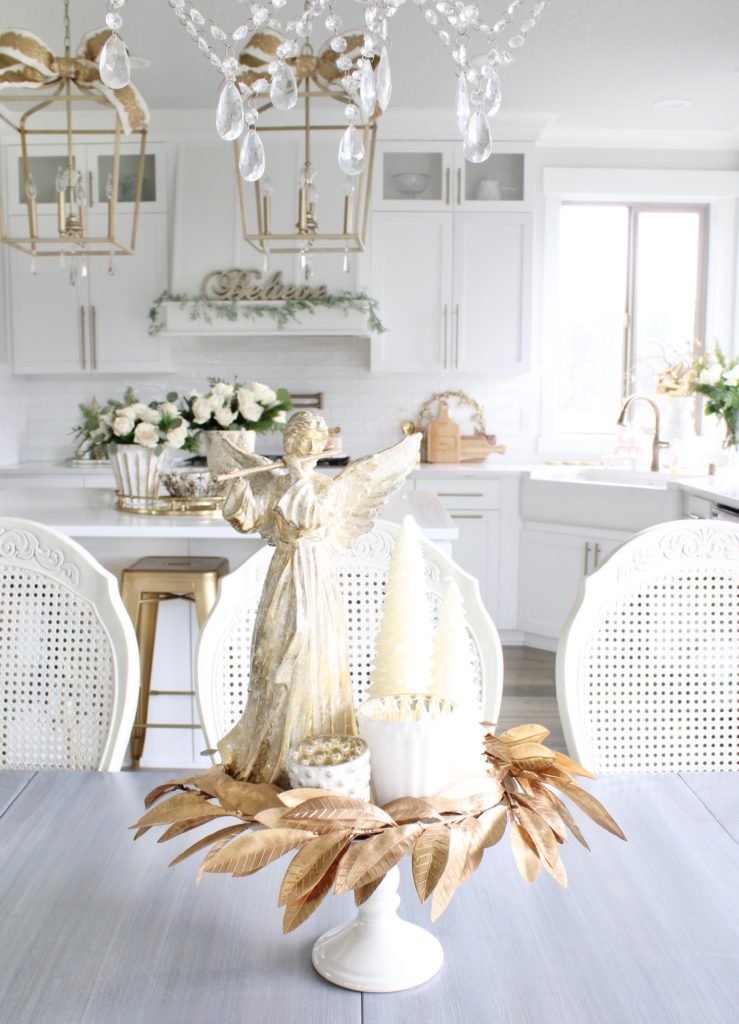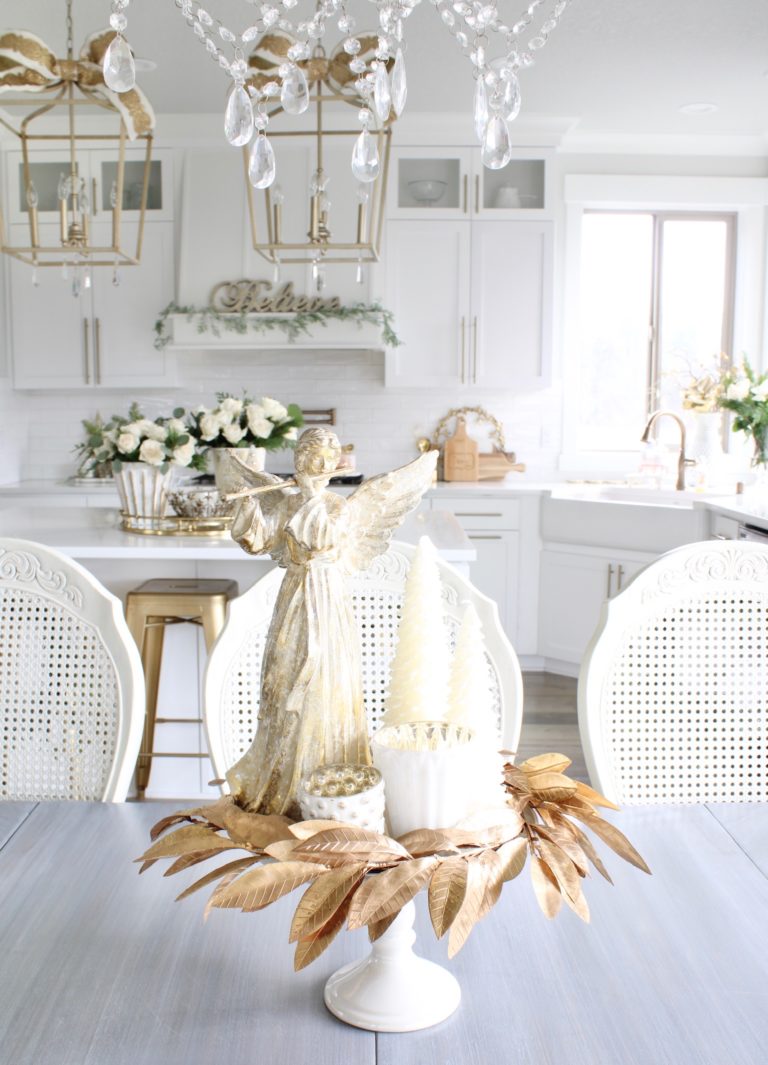 One more gold leaf wreath on a cake stand with my angel, glitter Christmas tree candles, and mercury glass votives seemed to be the perfect centerpiece. At night, the votive candle give the angel a beautiful glow.


Tomorrow I'm sharing my tall 12′ Christmas tree in my entry! Make sure to come back for that and for my bedroom tour on Friday!
Please visit my other beautiful friends below as they share their holiday fashion and decor in this tour with you! Click on their names below!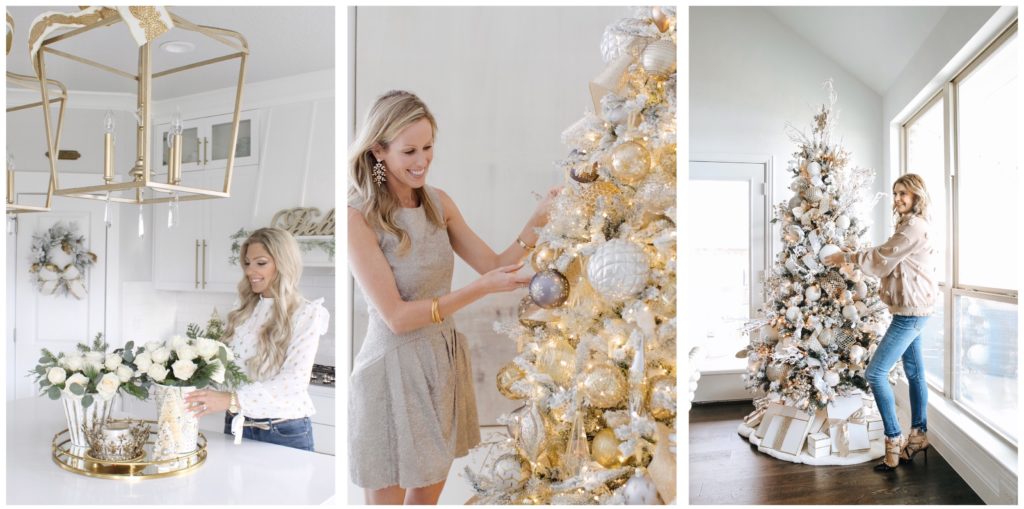 Summer Adams | Fashionable Hostess | A Blissful Nest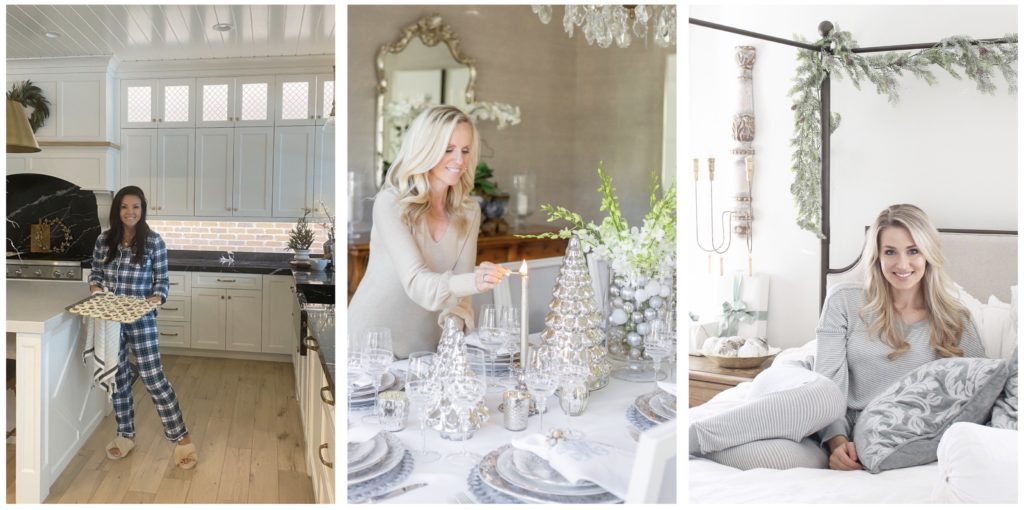 I'm so glad you could stop by today! I would love it if you could subscribe at the top of the page in order to receive my weekly emails of all my latest blog posts and see everything I'm working on! You can also follow me on Instagram, Pinterest, and Facebook to see what I'm up to in creating a home and lifestyle of inspiration!
xoxo,

---
Want to shop my Instagram posts? Click on any square below!