Ok, so we had our annual "ELF" viewing party to kick off the Christmas season last night. Our neighbor besties, The Downers, had NEVER seen the movie (gasp) so we had to invite them to watch with us.  They also went to Target and bought some pajamas and joined in the fun…ha!  Our husbands are the BEST sports ever!!!!!!!!
As promised, here is the recipe for the Ooey Gooey Sweet Chex mix below: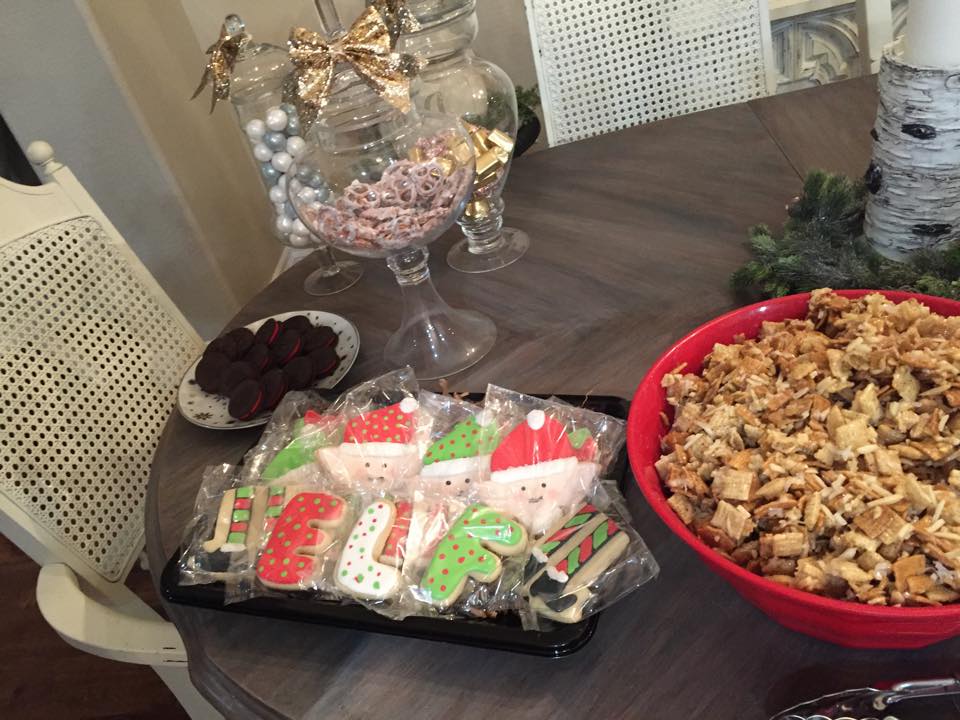 I promise you will not only LOVE it, but you will gain an immediate 5 lbs because it is HIGHLY ADDICTING!!!  Mwahahahaha….;-p
Ooey Gooey Sweet Chex Mix:
1 12oz box Rice or Corn Chex Cereal
1 12oz box Golden Grahams Cereal
2 1/2 cups slivered almonds
1 1/2 cups sweetened shredded coconut
2 cups sugar
2 cups light corn syrup
1 cup butter (2 sticks)
1 tsp Almond extract
In a large mixing bowl, toss together Rice/Corn Chex, Golden Grahams, almonds and coconut…set aside. In a medium saucepan combine sugar, light-corn syrup and butter. Bring mixture to a boil over medium-high heat, stirring occasionally. Allow mixture to boil for 2 minutes, stirring frequently. Remove from heat and stir in almond extract (optional).  Carefully pour sugar mixture over cereal mixture and toss to evenly coat. Store in an airtight container at room temperature.
I make a TON of this all throughout the holiday season since it is a favorite and most requested treats.  Also great to put into treat bags and given as neighborhood gifts.  You can thank me later!  Unless your jeans don't fit…ha!  This is my holiday culprit!  I can't stop myself!!! ;-p
xoxo, Summer