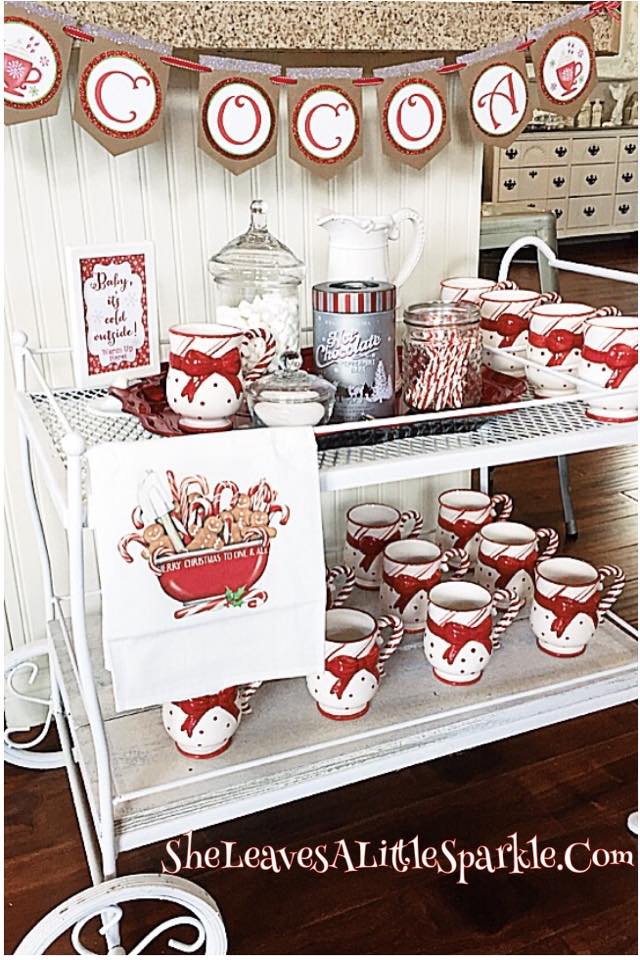 Every winter, we looooove some herbal tea and hot cocoa.  Since I already have my Tea Station set up year round, I knew I needed to at least have a Hot Cocoa Bar set up throughout the winter so that my family and friends have access to it whenever they feel like a cup of hot cocoa!
Can you believe I found ALL 17 of these adorable candy cane bow mugs at Goodwill for $6 after a few discounts?!!!  I squealed so loud that half of the store looked over to see what the big deal was and then my daughter, Brooklyn, and I loaded them all up into my cart as fast as possible.  Confession: one lady might have even said, "Oh wow!  What a fun find!  Are you really gonna buy them all up?"  Ummmmm…YES!  Sorry, nice lady.  But I'm a gal who likes to entertain and I would've bought all 50 if they had been there haha!  I promise I'm not greedy haha!
But seriously….I loooove a hot cocoa bar and here are things you MUST have to have a good one:
•Area designated for this (if you don't have room in your home, it can even be on a tray in the center of your table or on an open kitchen shelf).  I love my vintage tea cart I found back in Waco, TX when we lived there.
•A theme!  Pick a theme and decorate around it to make it more attractive.
•Cute mugs!!  While most of my Christmas decor is all whites and silvers and golds, when I found these mugs I just KNEW I needed a cute red and white Hot Cocoa Bar!
•Your favorite packets for a quick cup OR your own homemade recipe in an apothecary jar, or some jar of sorts, that can be added to boiling milk or water.  I like having an assortment.  Just makes it more fun 🙂
•Sugar!  Some people just like a little more sugar than others so have some extra on hand.
•Peppermint sticks or crushed peppermint!
•MARSHMALLOWS & WHIPPED CREAM!!!  This is the most important!  And these days you can find them in peppermint and even chocolate or pumpkin spice flavors in most grocery stores so you can really add some variety!
•Little cookies or wafers (not pictured but I bought some after the pic was taken ha!)
•Spoons to stir (or peppermints sticks can do that as well)
•Napkins!  I like cute napkins to give that fun accent and pop of color.
•Cute accents!  It could be sprays of pine, bows
•Last but not least…Sign/Banner!!  I have both. I made my cute banner across the top and guess what???  I even made the cute "Baby It's Cold Outside!  Warm up here!" sign as a FREE DOWNLOAD to share with all of you!!!! (personal use only please!  Copyright protected)  Right click and save!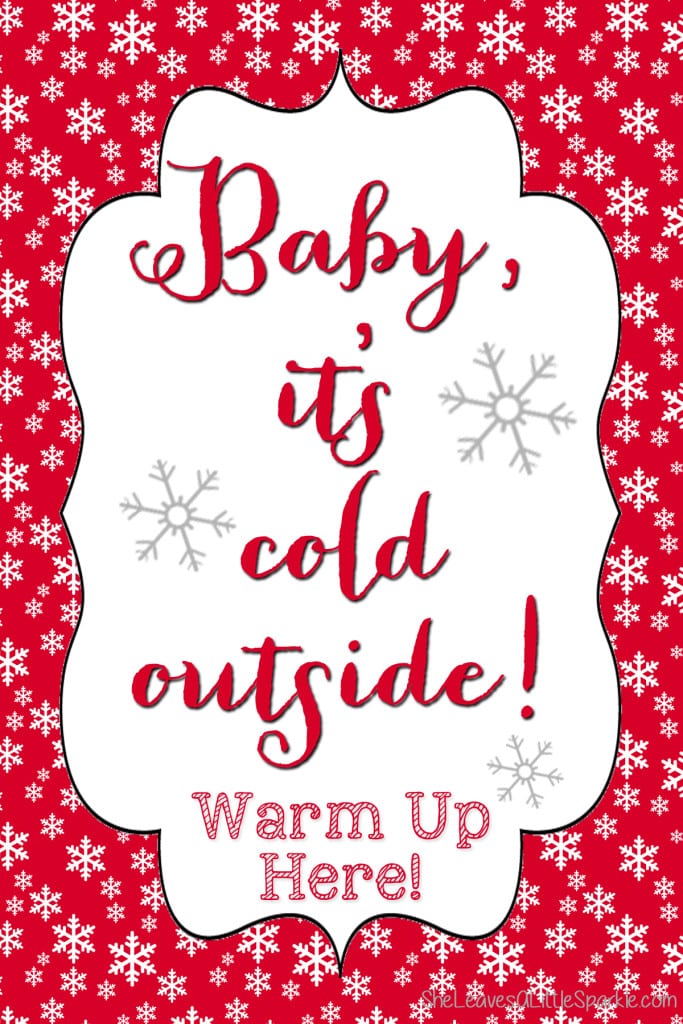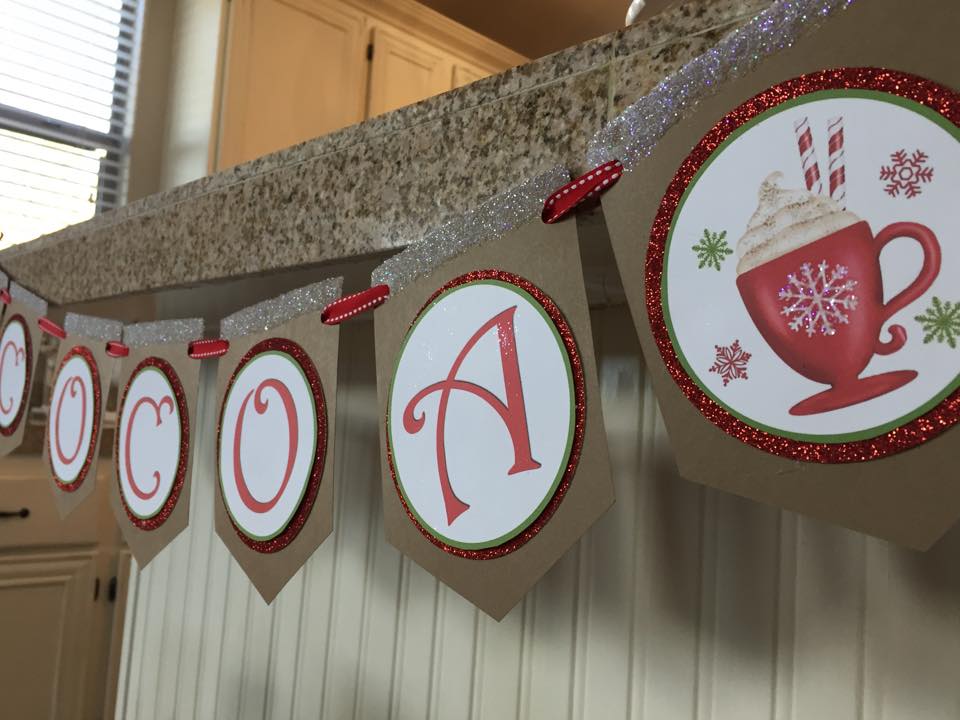 (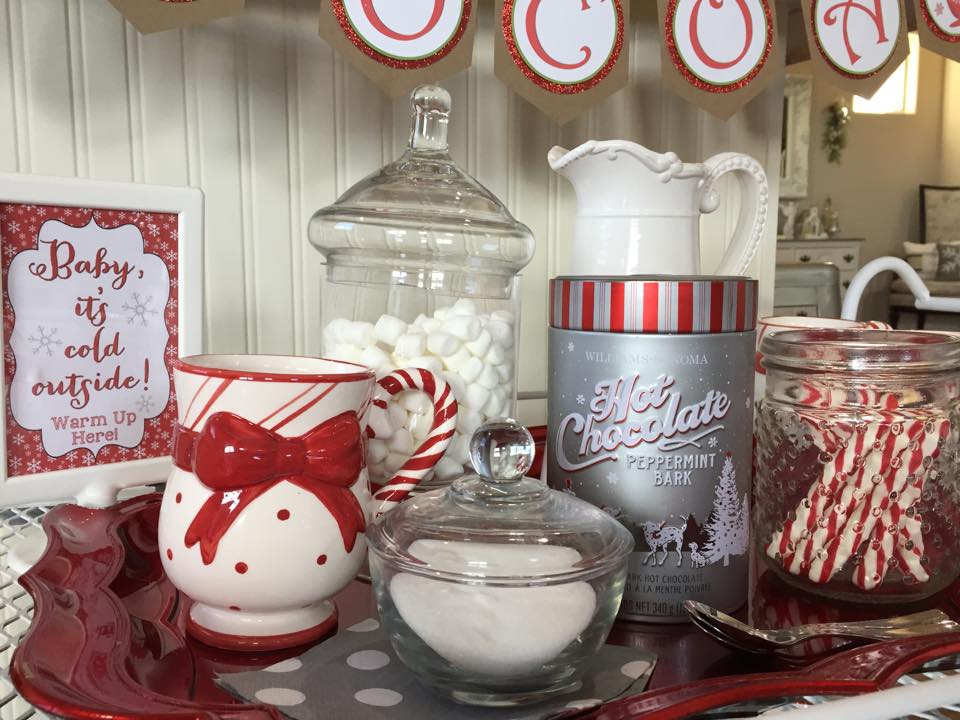 Peppermint Bark-flavored hot chocolate from Williams-Sonoma.  White frame from IKEA. Apothecary jars from Home Goods)
I'm so pleased with how it turned out!  Get out there and make one of your own!  Your kids or hubby will especially love it when they come in from the cold!  And you will too, after a day of holiday shopping! 🙂
Here are the items above (or similar) I'm linking for your shopping convenience!




Don't forget to pin and share on Pinterest if you love this idea! (Hover over any picture and click on "pin".) I'd love it if you subscribed to my email at the top of the page and even followed me on Instagram and Facebook to see all I'm doing!
Happiest Holidays! Stay warm!!!