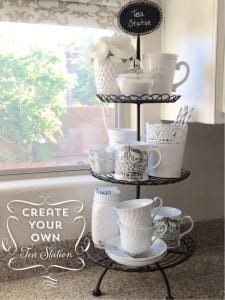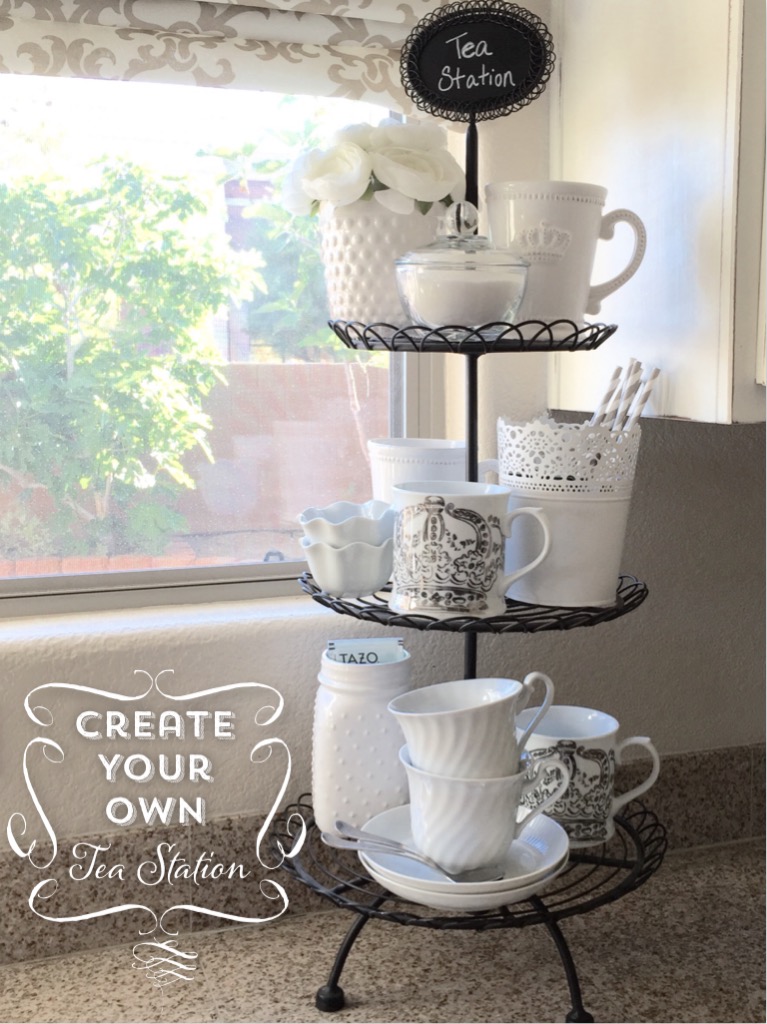 Many people sit and enjoy a cup of coffee.  Not me.  I'm a Diet Coke or Herbal Tea kind of girl. My very favorite is Mint Majesty at Starbucks.  When I'm at home, I make Tazo Refresh Mint Tea.  It's the one Starbucks used to carry before Mint Majesty :-).  Anyway, I like a lot of Tazo's herbal teas and have found it, over the years, calming and relaxing to sit and enjoy a cup of tea.  Plus, it has many health benefits.  As we moved into this new house, I had this vision of making a tea station with all the essentials all in one place. I love it!  It's convenient, functional AND it's pretty!
Any 3-tiered stand will work if you want to re-create this look in your kitchen.  I found this one at Rod Works several years ago.  I used to use it in my boutique and at shows for displays but now….it's the perfect tea station!  I've found my mugs and jars at TJMaxx, Marshall's, Laurieanna's Vintage Home, Home Goods, Michael's (hobnail jar), IKEA and at antique sales.  I added the greige-colored straws (from Michael's in the wedding section) for a cute touch, but they also make for great stirrers 🙂  I have a few teapots but none of them are solid white.  Until the other day…I found one at Ross and added it to my stand.  It's perfect.
I'd love to see where you keep your tea or coffee at your home!  Feel free to share in the comments below or email me a picture!
xoxo, Summer