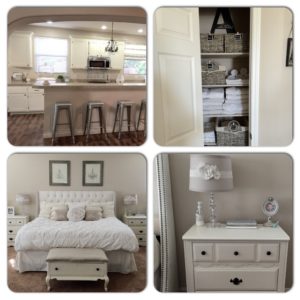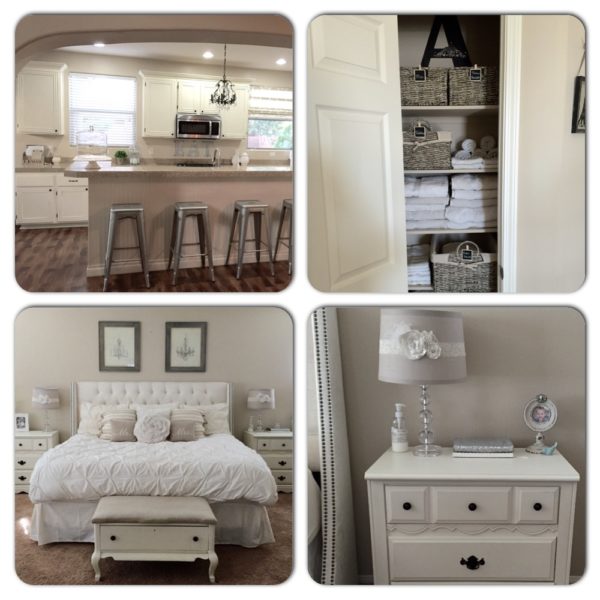 Just wanted to share a few photos of my home.  We just moved and I'm redecorating, shopping, organizing, building, creating….it's been fun!  I'll do a home tour when everything is finished!  I loooove looking at pictures of others' homes.  It inspires me and helps me decide what styles I love.  It inspires me.  It gives me ideas to build upon and make my own.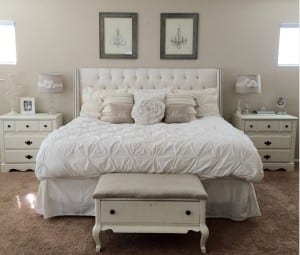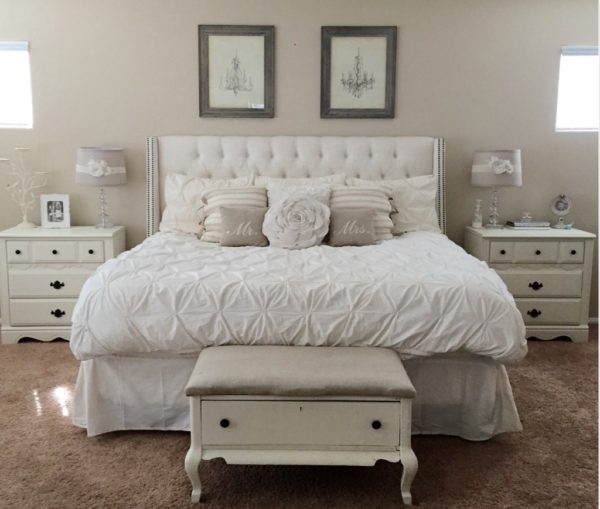 My bedroom was one of the first things on my list.  It's my sanctuary and where my husband and I love to retreat to together after a long day.  I wanted it to be neutral and relaxing.  It's very feminine and shabby chic but also has masculine, strong lines and some stripes.  All this room needs is a ginormous chandelier hanging from the ceiling BUT we live in Vegas and it is HOT.  A fan is necessary for those hot summer nights!  Bed:  Target; Frames: Allposters.com for prints but frames from Hobby Lobby; Lamps and shades: Target but headband added was handmade by moi; Frames: LaurieAnna's Vintage Home and HomeGoods; Pillows: HomeGoods, Marshalls, TJMaxx; Bench was found junkie' and recovered in linen and painted in Woodrow Wilson Presidential White by Valspar (same story for the nightstands); Duvet Cover/Shams/Bedskirt: West Elm.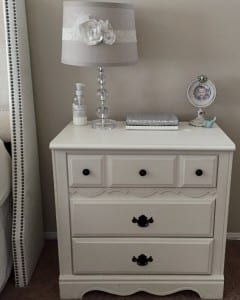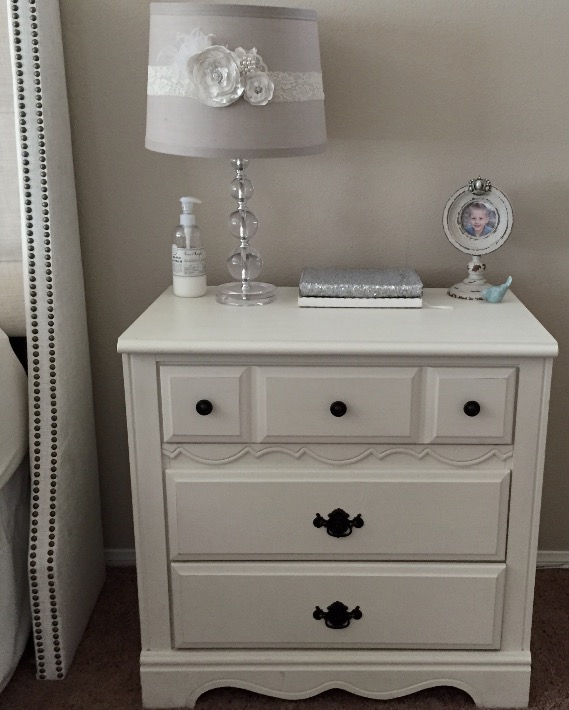 Close-up of my nightstand. It usually has a Diet Coke or Herbal Tea on it also 😉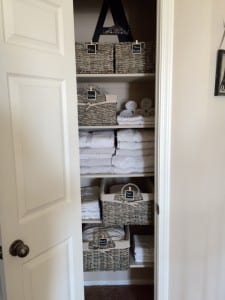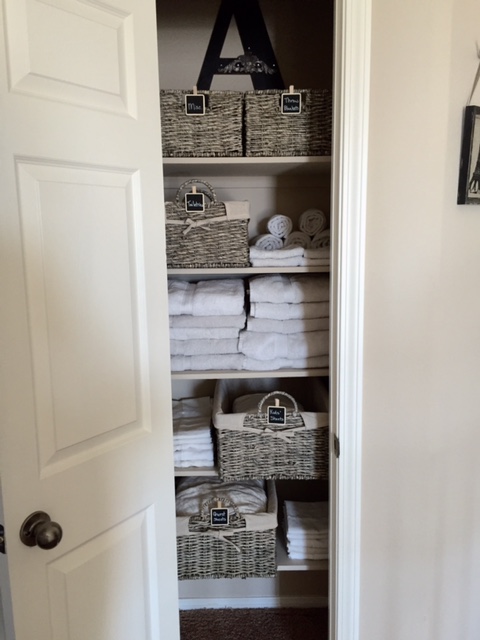 I'm so happy with the way my little linen closet turned out!  All baskets are from Marshalls and HomeGoods. Large letter "A" is from Hobby Lobby, as well as chalkboard clothespin clips.  And I'm happy to say that a week later, it looks exactly the same!  I'm in shock but props to my kids and hubby!!  Good job, guys!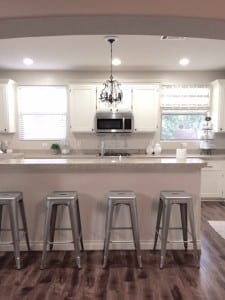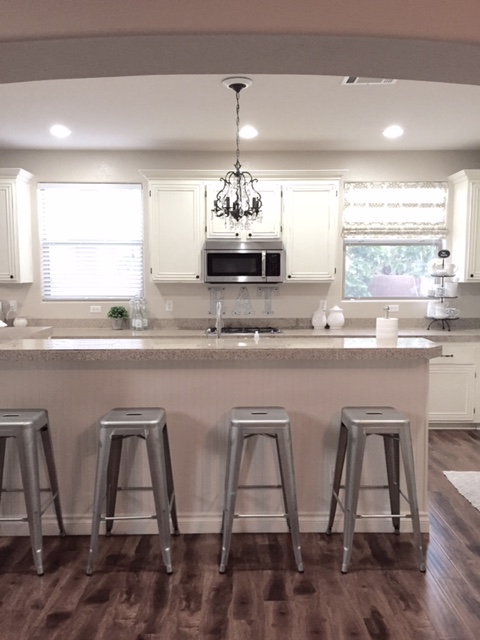 I love mixing industrial, farmhouse, cottage, shabby chic and sometimes modern pieces together.  Chandelier was a vintage find in Waco, TX; Barstools are from Bed Bath & Beyond; Rugs are from Home Goods.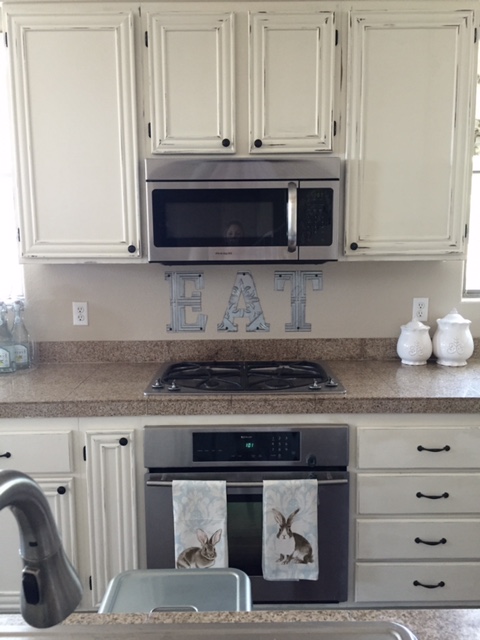 Close-up of the stove because I just love the new "EAT" letters made from ceiling tiles.  It's from Rod Works; Jars from Home Goods, as well as bottled sparkling lemonade and cloche on left; Hand towels are from Williams-Sonoma.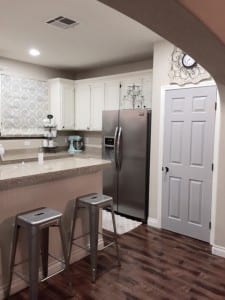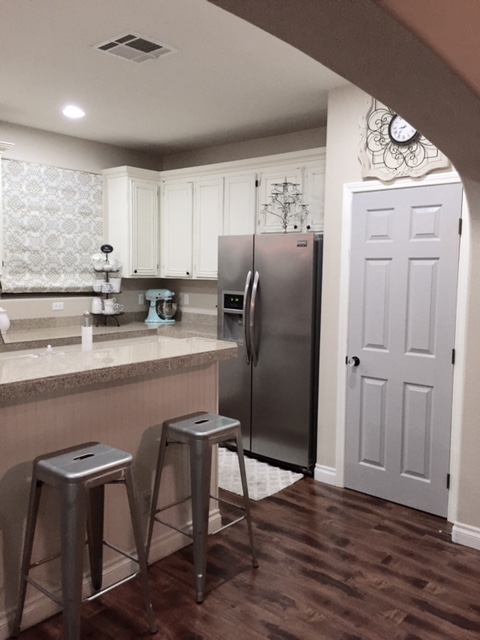 When we moved in, this pantry door was a very bold turquoise.  Well-done but not my style.  I debated on a light aqua even, to match my KitchenAid Mixer, but decided on the grey (I love to mix beiges and greys) called Bluffpark Grey by Valspar.  Chandelier Cupcake Stand is from HomeGoods; Clock from Kirklands; Tea Stand from RodWorks.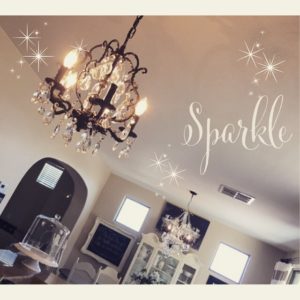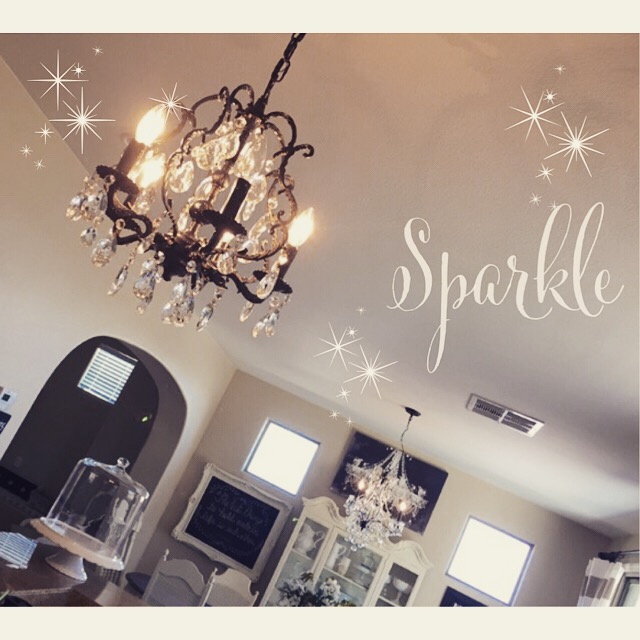 I'm absolutely in LOVE with my chandelier (mentioned above) that I made over!  It hangs above my kitchen sink and sparkles perfectly!  I did a can light conversion to a pendant light (post on that coming later) and then installed this chandy.  It was gold but I took the crystals off and washed them while using spray paint in oil-rubbed bronze to give it that perfect update it needed!  The large black chandelier with clear crystals on the far side of the room is from TaiPan Trading.  Chandelier Print is from Joss&Main.
So there's your sneak peek!  Hope it's helped you make some interior design choices of your own!
xoxo, Summer