I'm so excited to be joining some of my talented friends for our "Home For The Holidays Blog Tour 2016". Thank you to King Of Christmas, who is sponsoring this home tour. We are so honored to collaborate with such a fabulous brand and can't wait to show you the trees that they sent us this year.  There's also a big surprise at the end of this post!
But first, welcome! You might be coming from my friend Susana's blog Too Chic For Words and I just adore her! She knows how to create such beautiful spaces in her home and her tree was no exception. I absolutely loved it! To my regular reader, welcome back and make sure to go through the whole tour and visit Susana's tree and the others that are sharing along with me today. There are so many ideas and I promise you'll leave with so many ideas, whether you're just getting started on your tree or want to add things or tweak a few things. We'll not only give you ideas, but we'll give your our sources. How great is that?!
I have so much to share at this time of year that I can't possibly do it in one post. This last week, I brought you into the entry of my home to share with you How To Hang A Garland, where you got to see my banister of fresh cypress and pine and also my staircase with a fun snowflake surprise. Then I shared my Holiday Living Room Tour a couple of days later and revealed my blush and gold Christmas tree. Today I'm welcoming you into my home for a tour of my Family Room and the tree I've put up in there.
This family room is a bit smaller than we've had at any other home but it has extra other spaces to compensate, so we make it work.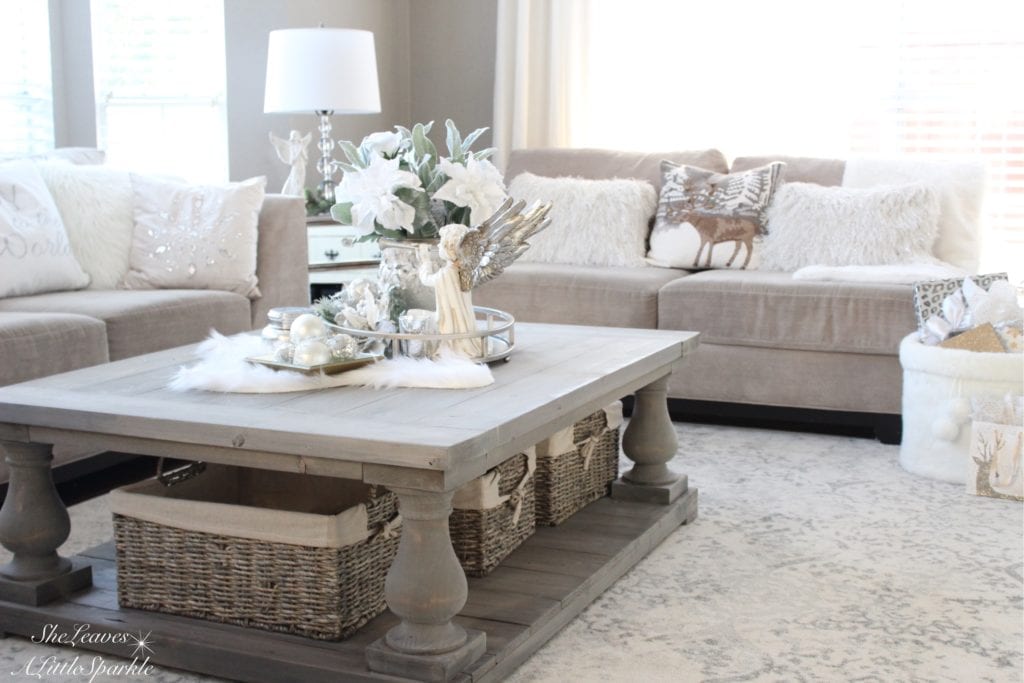 I decided to break all my rules and separate my sectional sofa that we love and just purchased a few years ago (shopping links in the end of post) since we're in a rental until our permanent move next year and would rather wait and know what our new home will look like before running out and buying new sofas.
One thing about opening up the room is that it allowed me to finally fit a coffee table in here, that we desperately wanted and needed for storage and convenience (and to put pretty decor on, wink).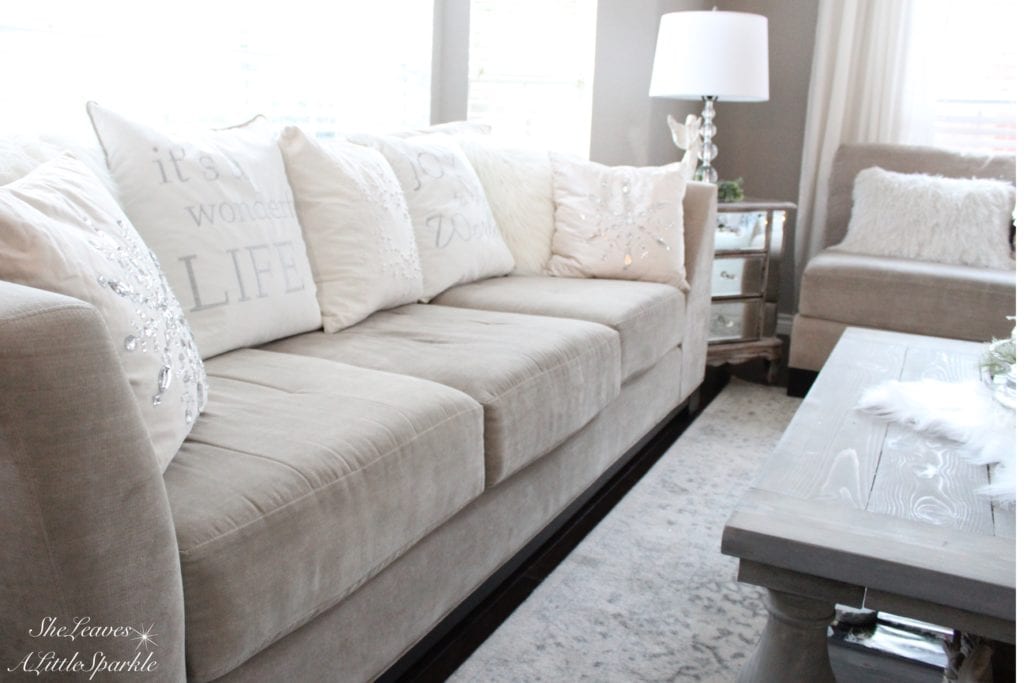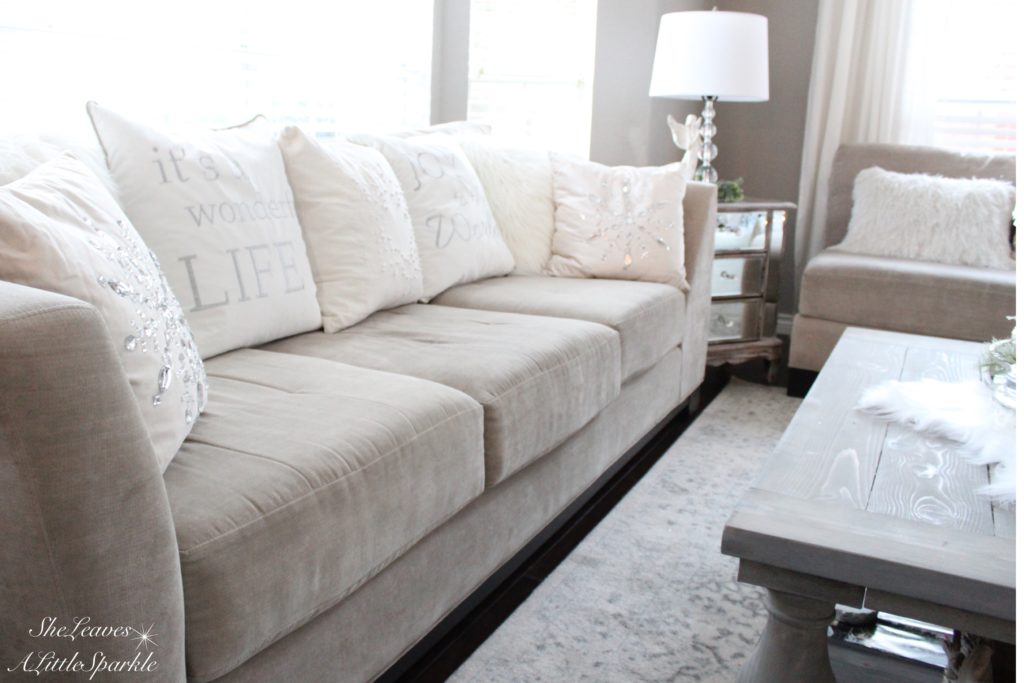 Separating the sectional was risky and a little strange but it definitely worked for this room and opened it up.  To be honest, this light-colored sofa is lovely but with the grey wall color being darker than I'd prefer (owner painted it before we moved in) I wish the sofa was even lighter.  This room tends to feel a little dark, maybe it's just me, so I try to brighten it up a bit.  That's why I found a bunch of soft, down, white pillows to throw on there and these Christmas pillows do just the trick!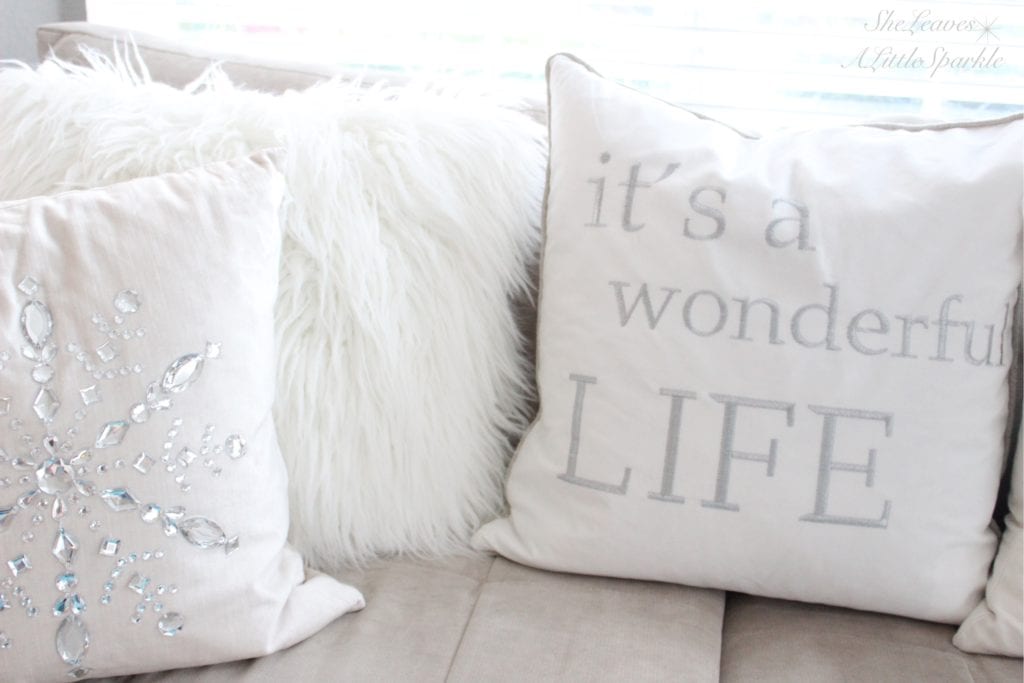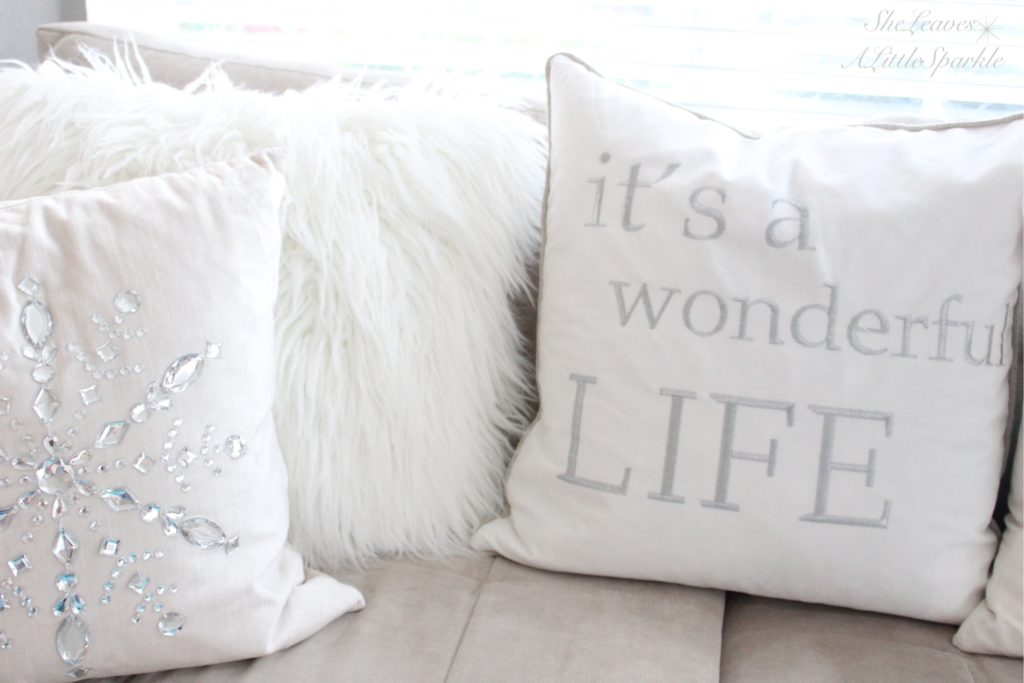 And the messages on them make me smile!  We are all about JOY and PEACE and LOVE this holiday season.  If anyone in our family gets grouchy, I just point to the pillows or the Christmas decor around the house and remind them…ha!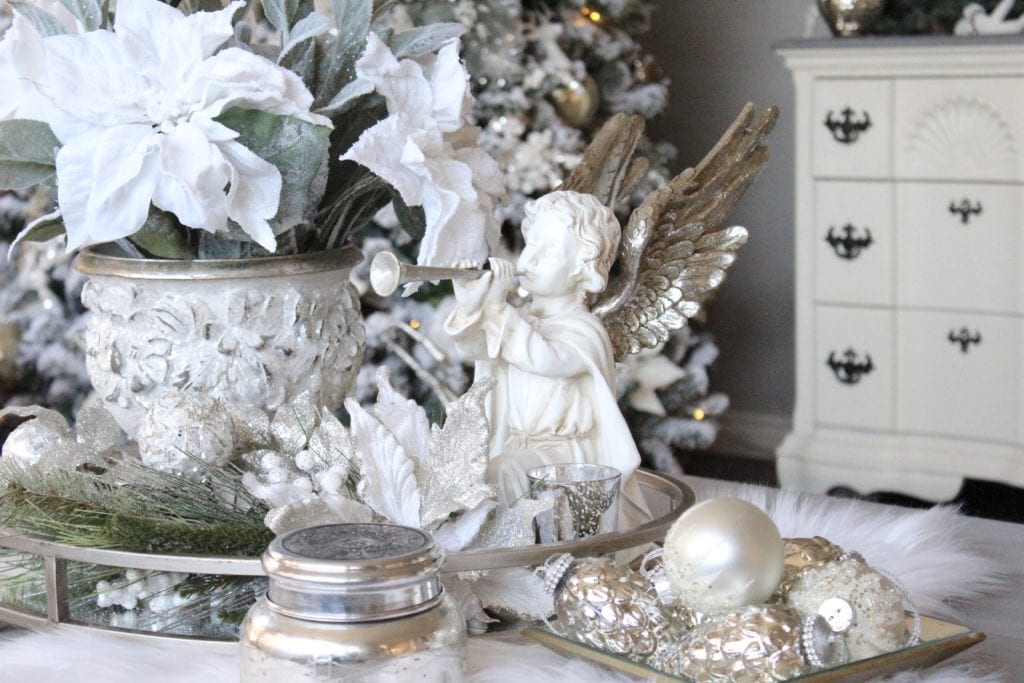 In last month's edition of "Style That Coffee Table" (a monthly blog hop sharing how we decorate our coffee tables – do a search on my blog to see all posts), I shared this Christmas Coffee Table HERE with all of the details and sources. It's definitely a favorite of mine and I still just look at this little angel blowing his trumpet and smile.  It was the start of this bright, fun "winter wonderland" feel that I wanted in here.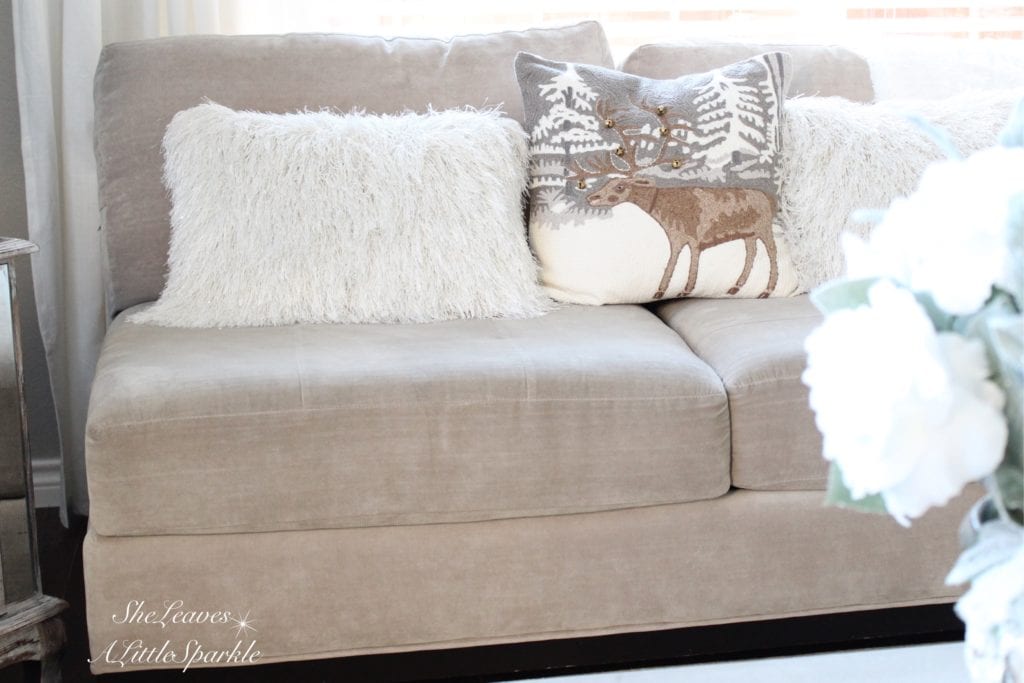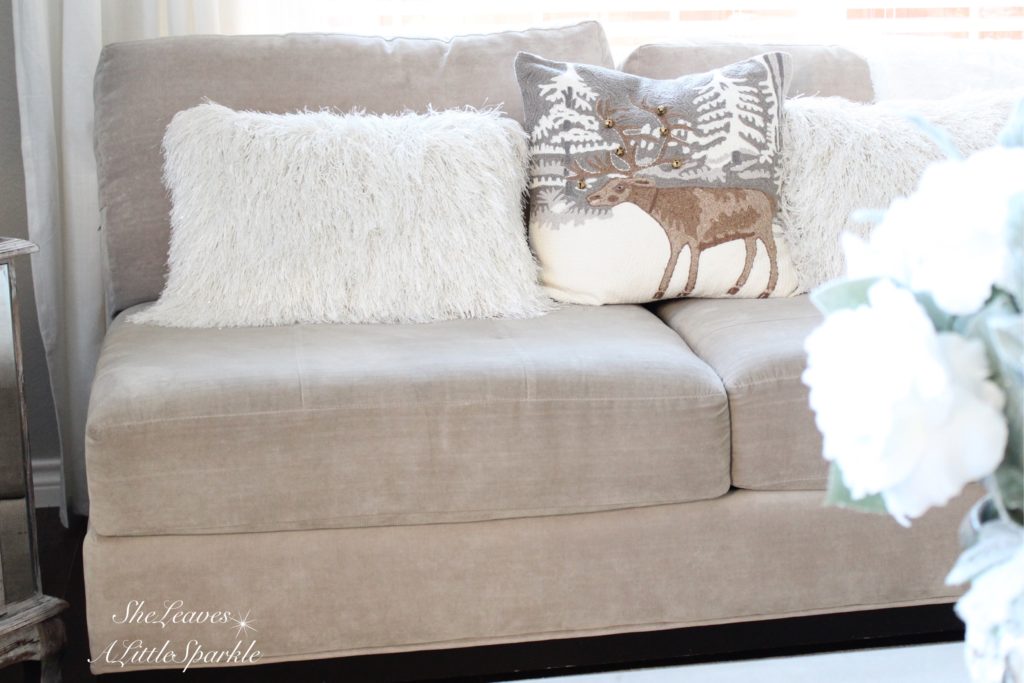 Last year I found this adorable reindeer pillow at Pottery Barn.  With two sparkly, white throw pillows and the softest faux fur throw blanket, it helps this space feel comfortable and cozy versus a broken up sectional piece. Honestly, it really is soooo comfy that the kids rush to steal that spot first.  Which is fine by me because…..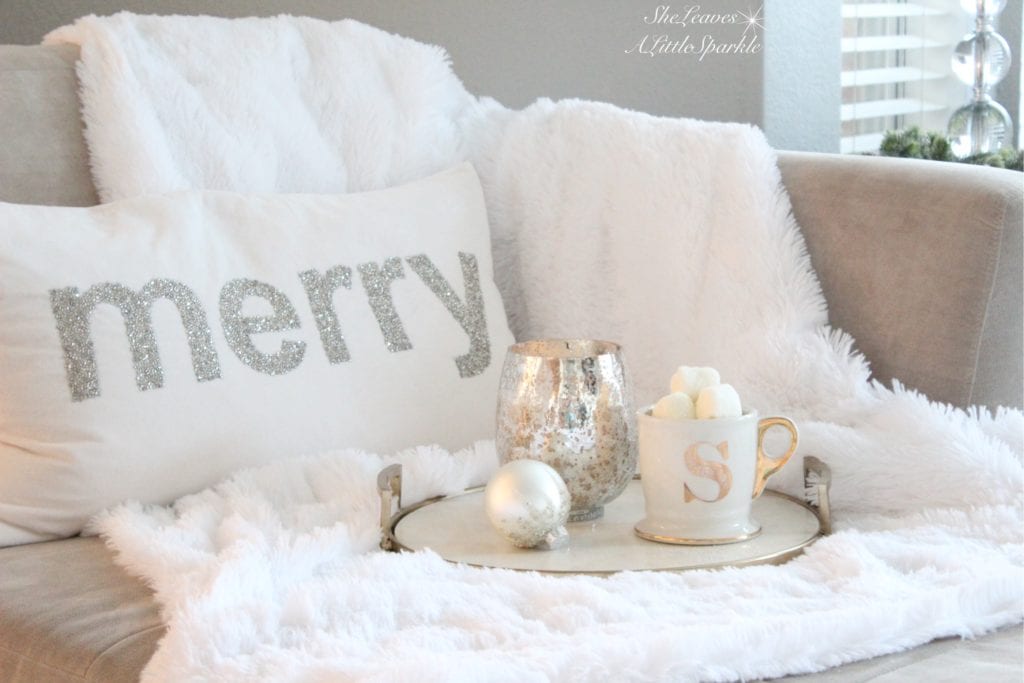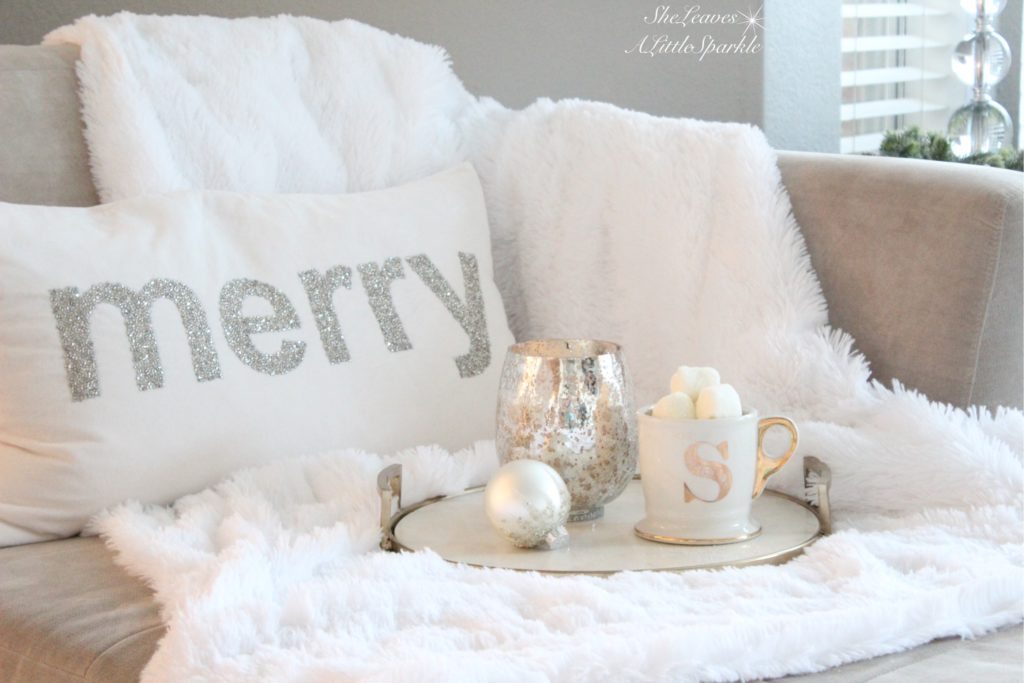 This is MY spot!  You may not see my name written on it, but it's there!  Maybe you can see the "S" mug, which is an indicator I've been there snuggling one of my kids or watching movies during Family Movie Night.  Do you see those large marshmallows?  Well, you can't tell in this picture but they are actually "Sparkly Marshmallows" and I just shared how to make them HERE on the blog a couple of days ago.  They're delicious!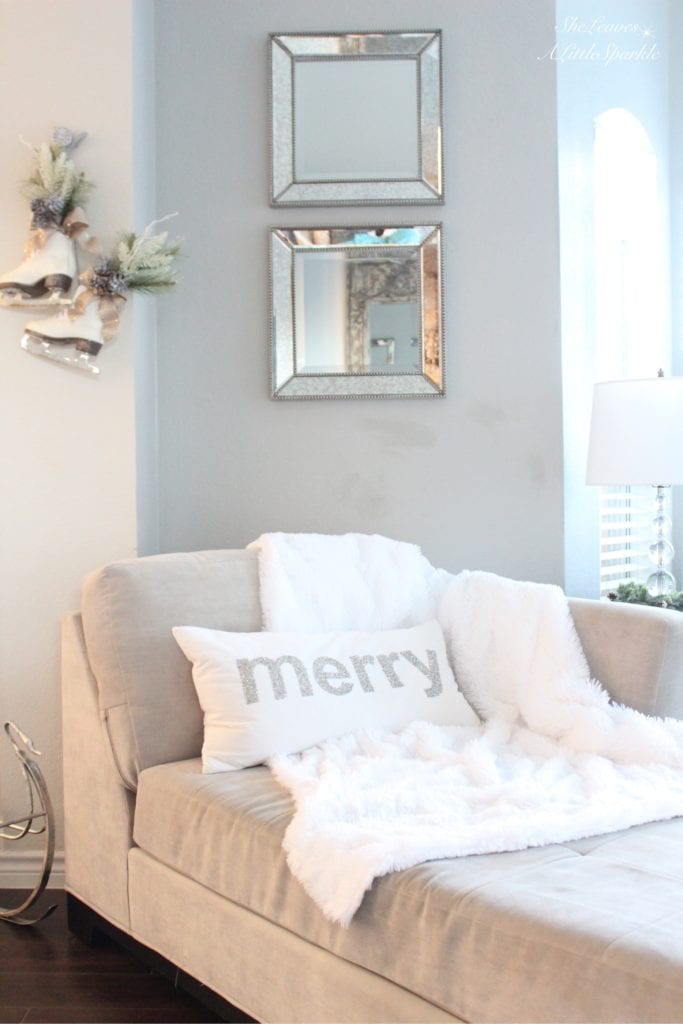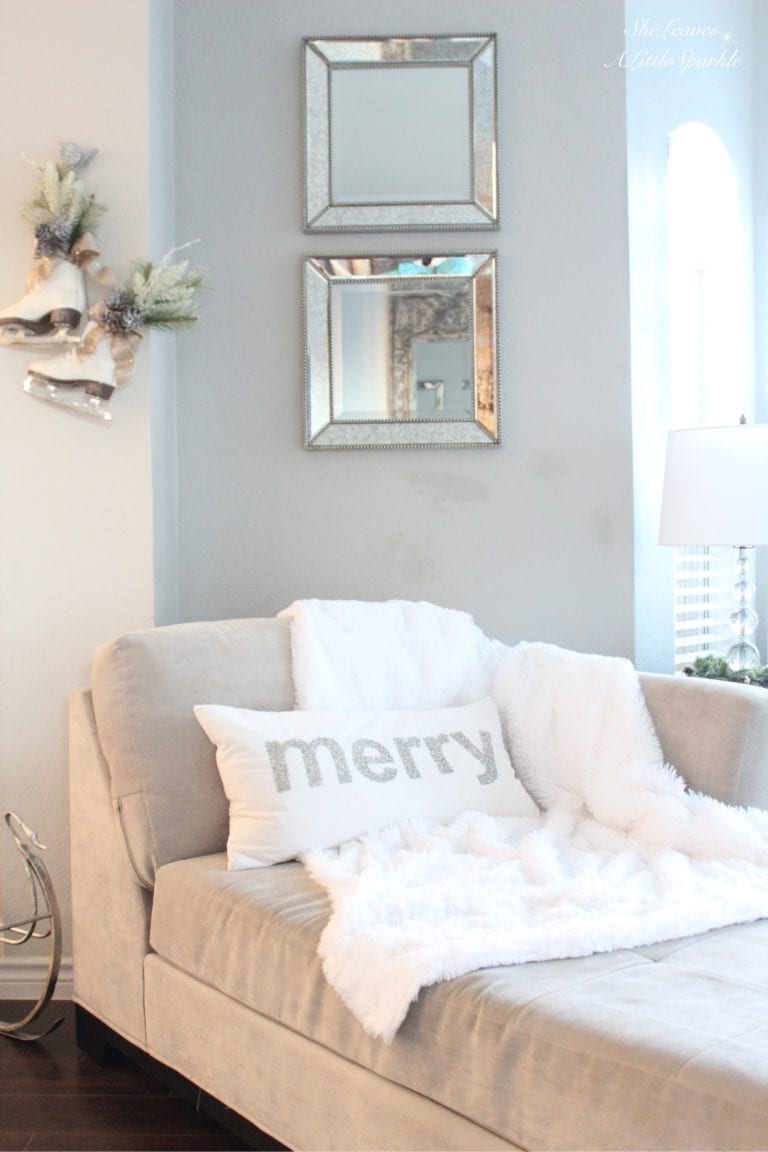 Before I sat with my cocoa, I grabbed a quick shot of this space.  Remember the infamous Ice Skates I made last year?  There's a fun little scene I decided to put together just to the left of them that I'll be sharing soon.
So, here I sit…sipping my hot cocoa and admiring our Christmas tree.  Christmas tree!!!  Let's go see it….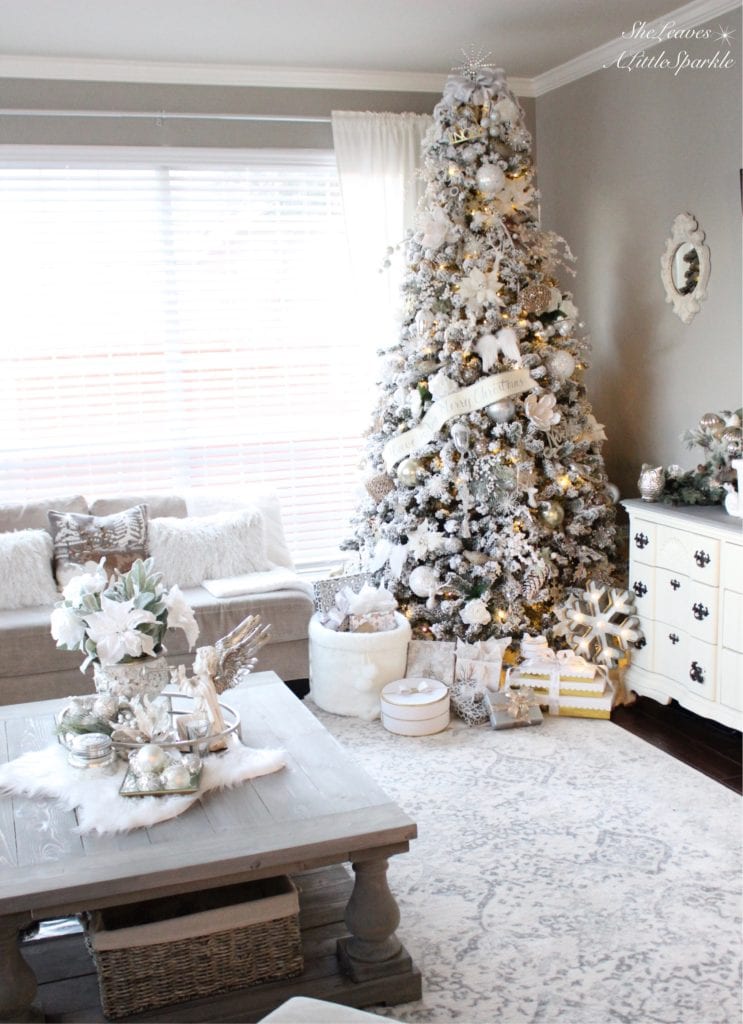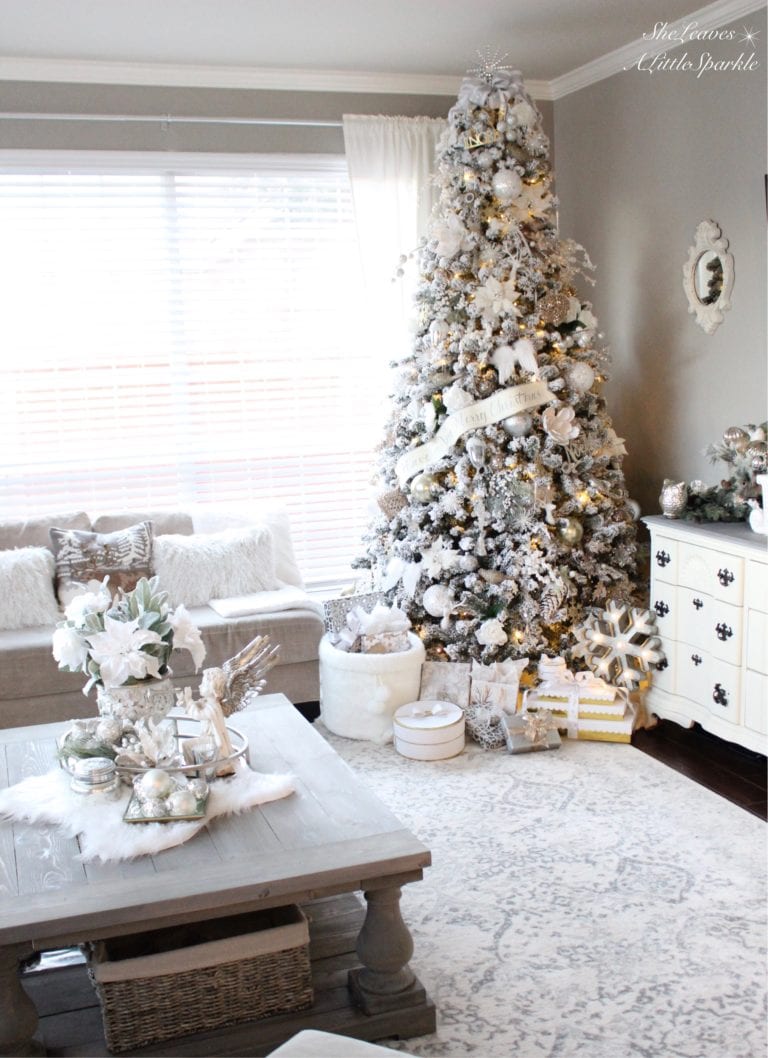 The tree I chose from the King Of Christmas was the 9 Foot Prince Flock Artificial Christmas Tree with 600 Warm White LED Lights.  It looked beautiful online but you never know what to expect until you get it.  I was blown away!  As we pulled the tree out of the box….POOF!  This full, fluffy, white flocked tree with a ton of branches came to life.  I have a flocked tree in my other room and this one makes it sad.  This is the most beautiful tree I've ever owned.  My mom arrived for a visit the next day from California and she said that it was a stunning tree and one of the prettiest she's ever seen.  This comes from the queen of Christmas and the queen of decorating….she has 8 trees!  So, I knew I was not alone in my opinion.  It was so fun to put up and boy am I glad that the tree fit because my husband was wrong….our downstairs ceilings in this home are at 9 feet and NOT 10 feet.  But it fit!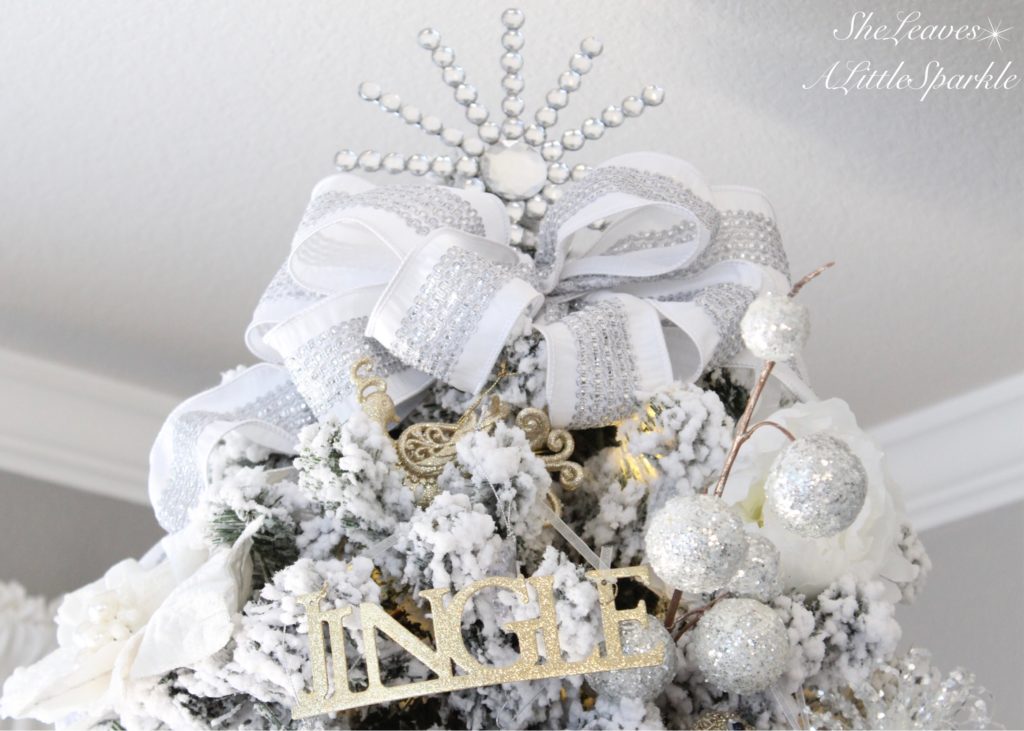 I was even able to fold over the tallest little flocked branch and add my bling star to the top. And if you know me at all, you know I'm going to add a pretty big bow to partner with that star in giving the top of that tree the attention it deserves.  Voila!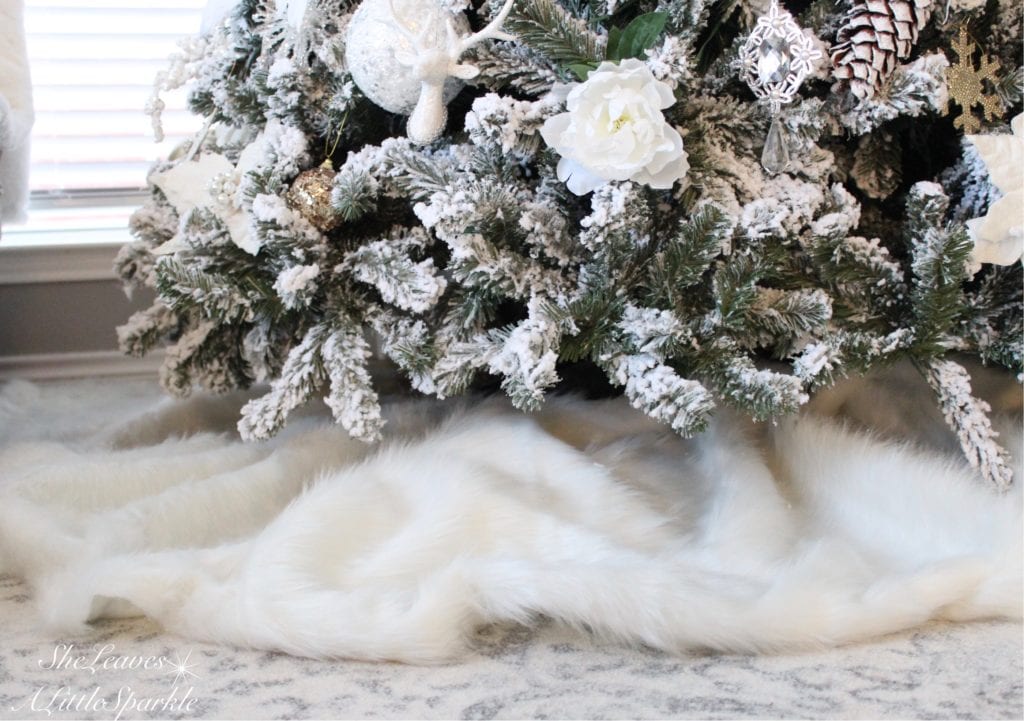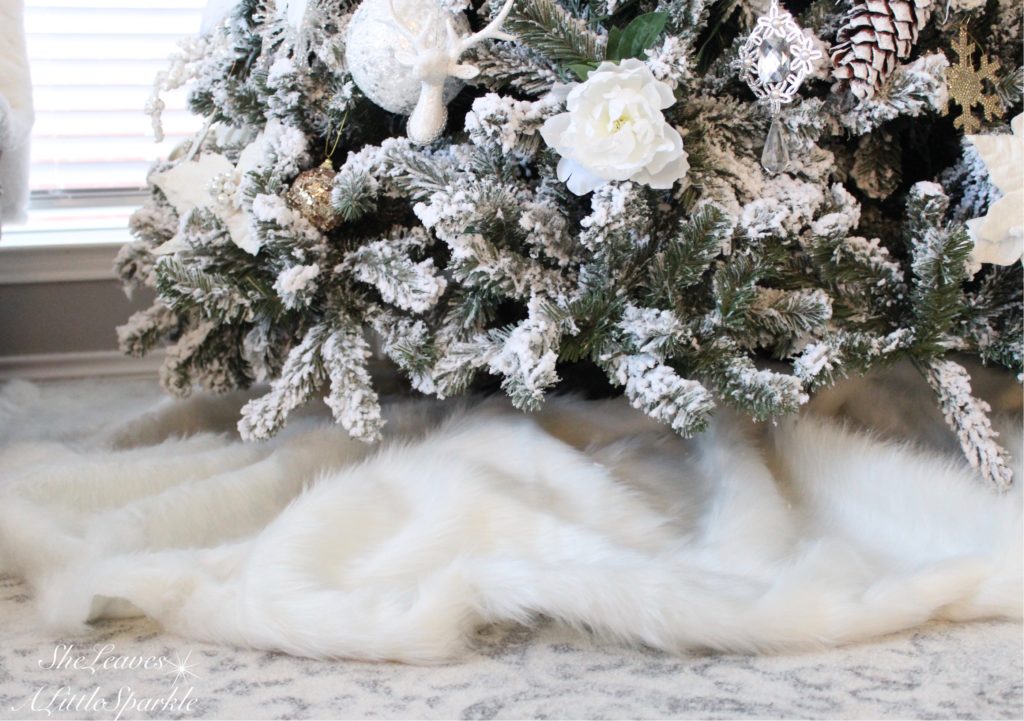 My tree skirt hadn't arrived yet but I came up with the perfect solution.  I ran to JoAnn Fabric and grabbed some faux fur by the yard and since it was on sale, I paid just $20 for 2 yards.  When I got home, I unfolded the fabric and cut it in half, length-wise, and just placed it around the sides and front of the tree.  I overlapped the 2 pieces and just pinched and gathered it to create a ruffle effect and look more like a tree skirt.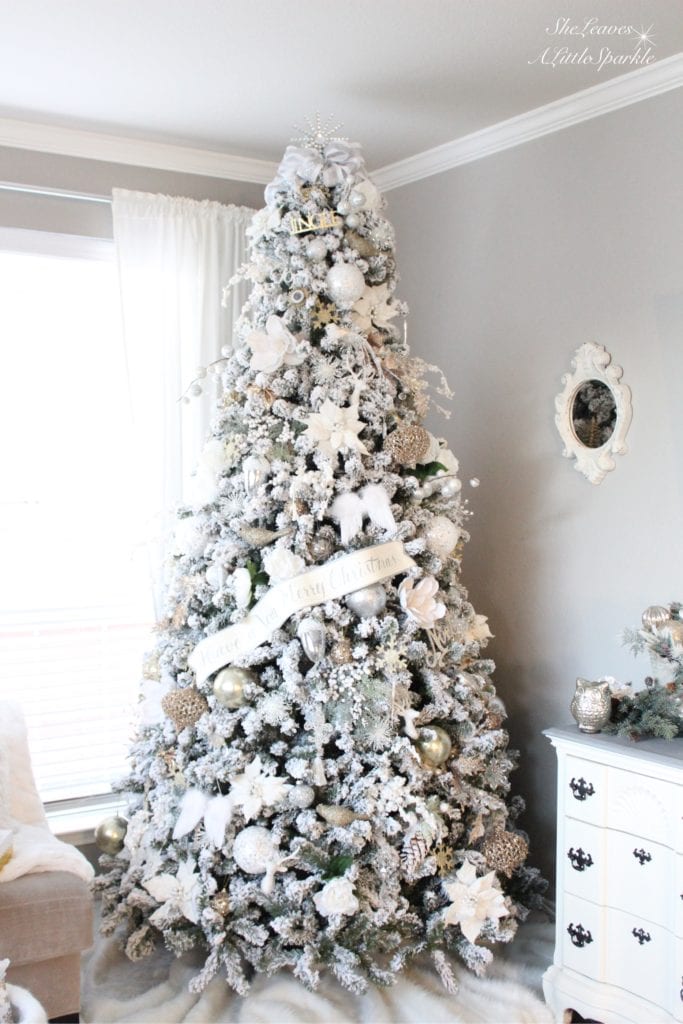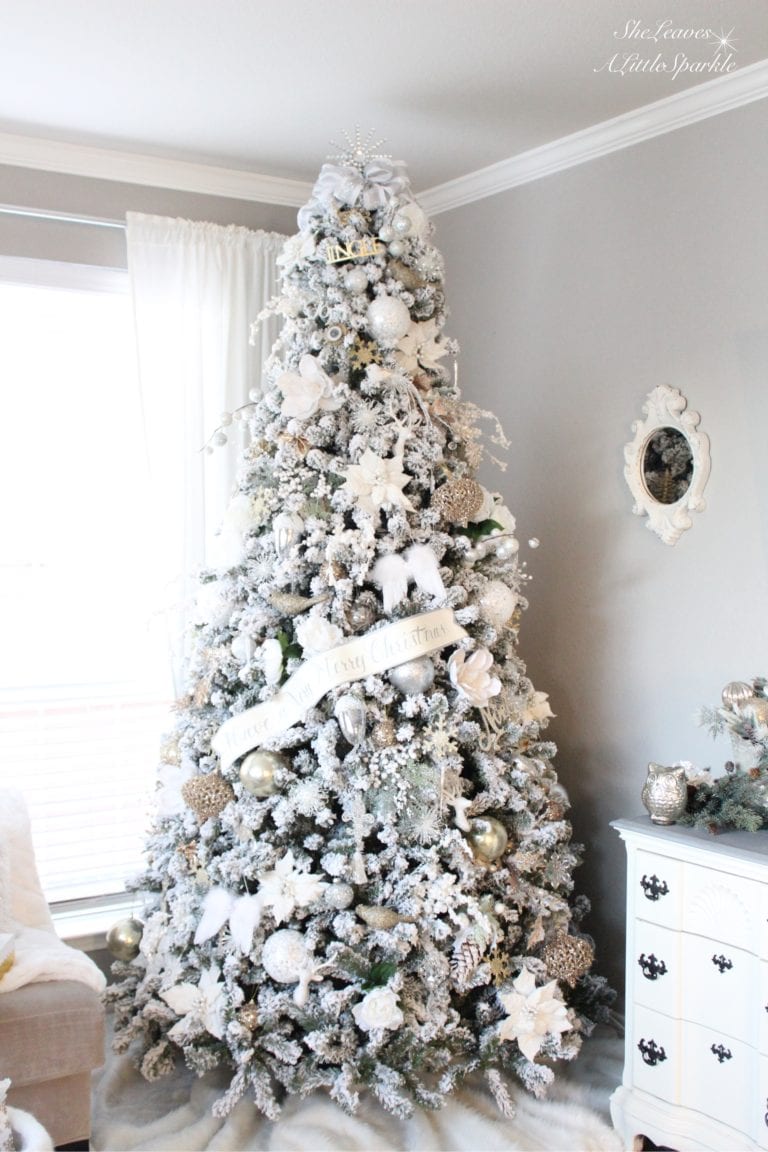 I think it works perfectly!
Because this tree was so full and beautiful, I packed it full of ornaments.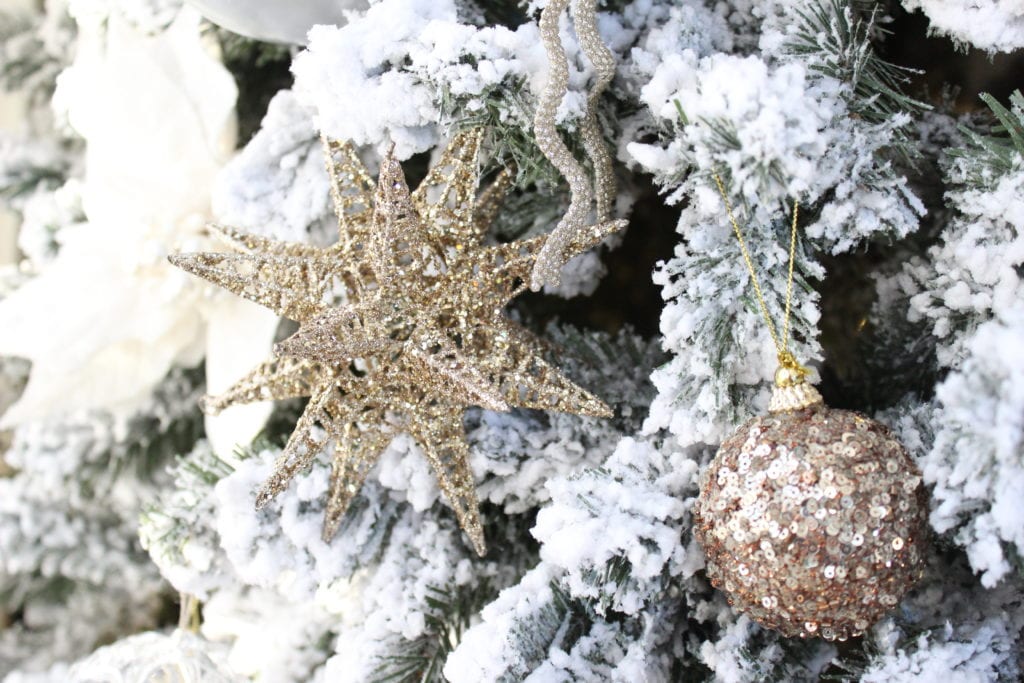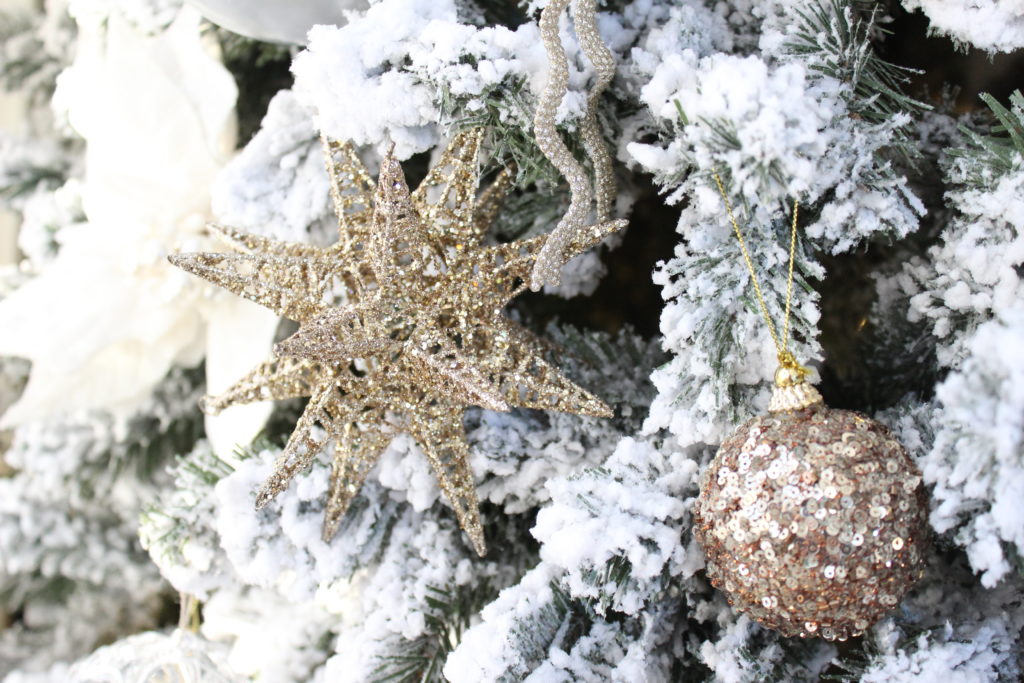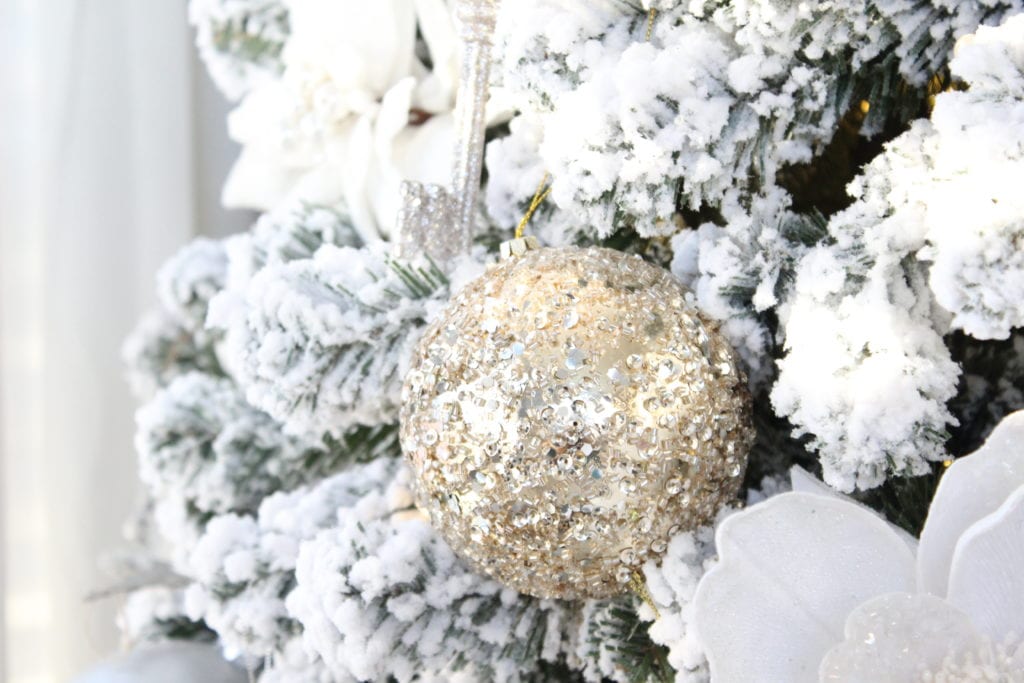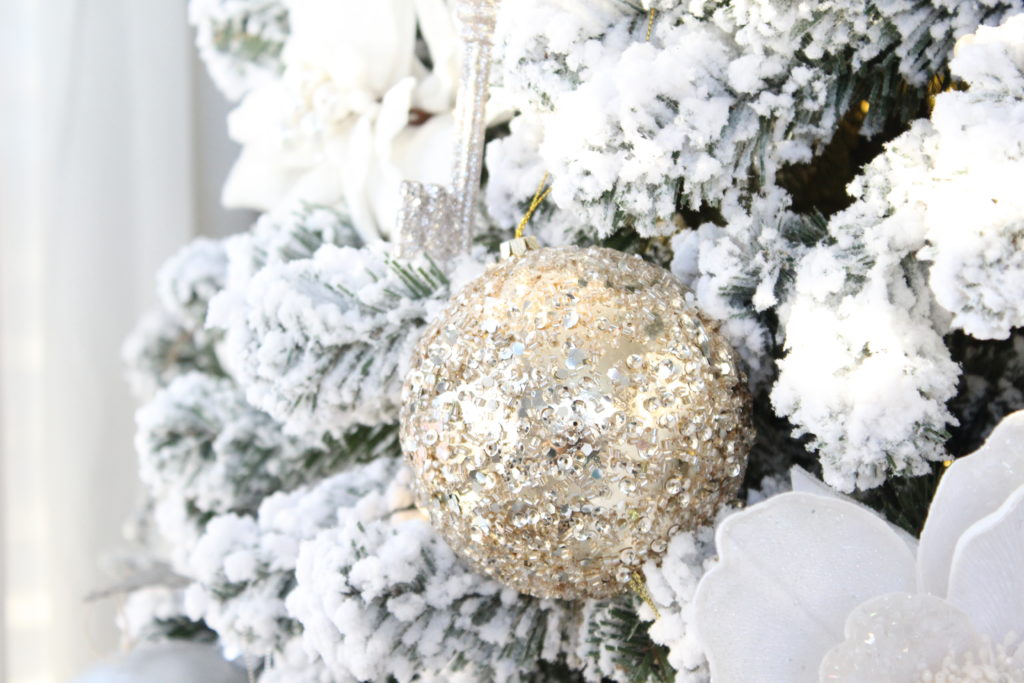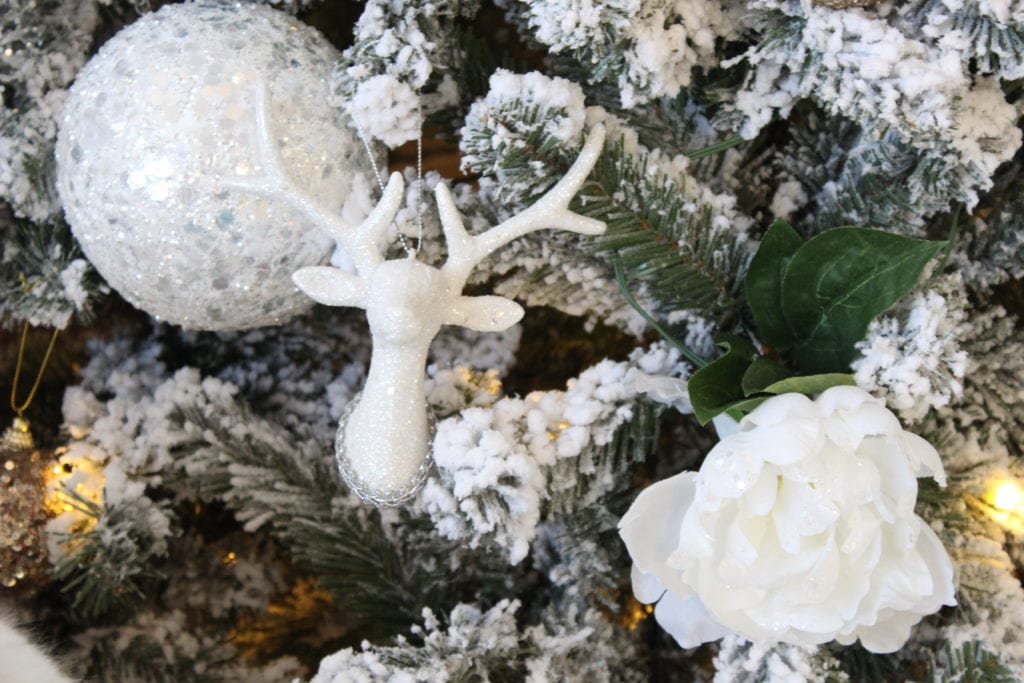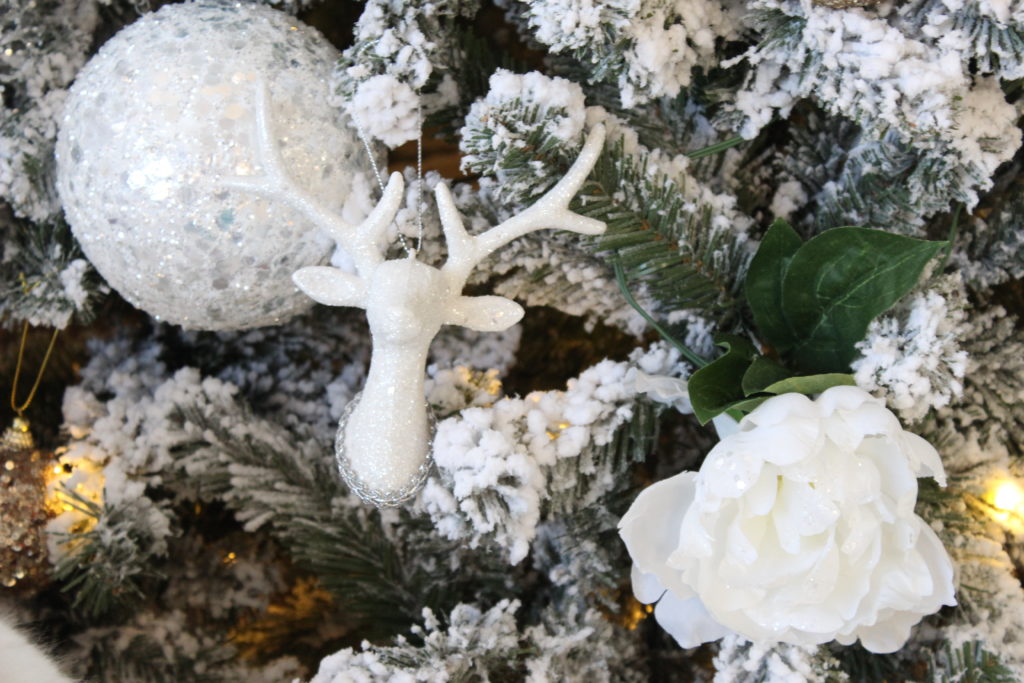 I added lots of white, gold, silver, and champagne-colored sparkly ornaments to give it an elegant "winter wonderland" look that I wanted.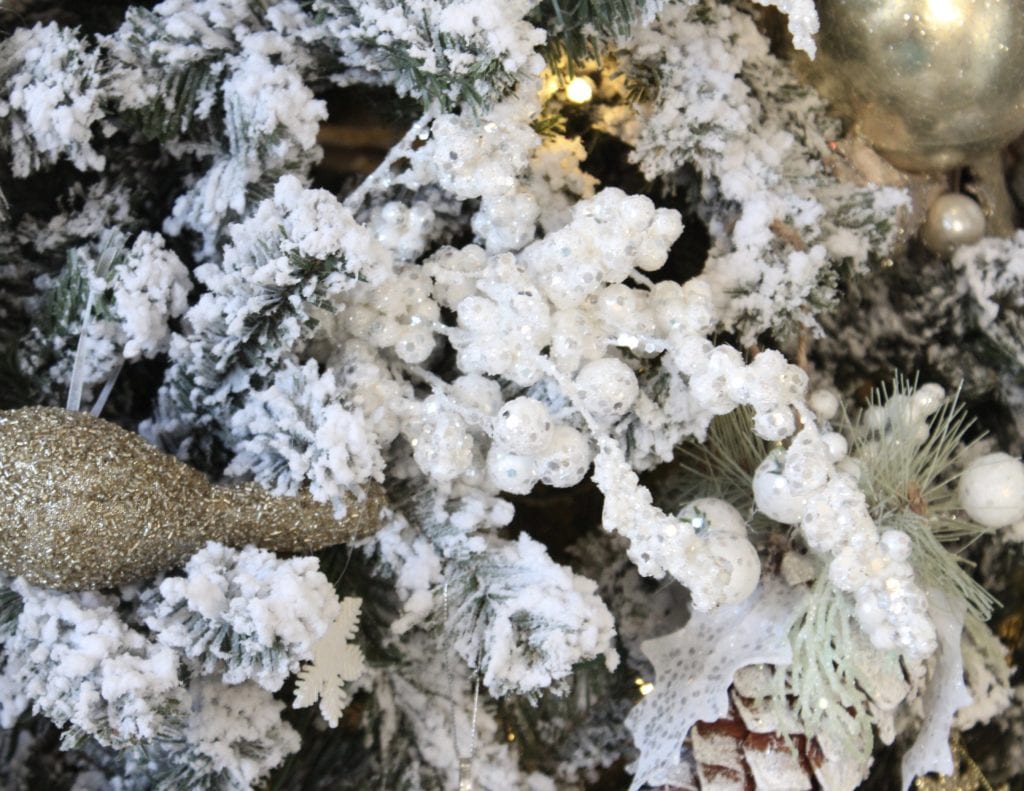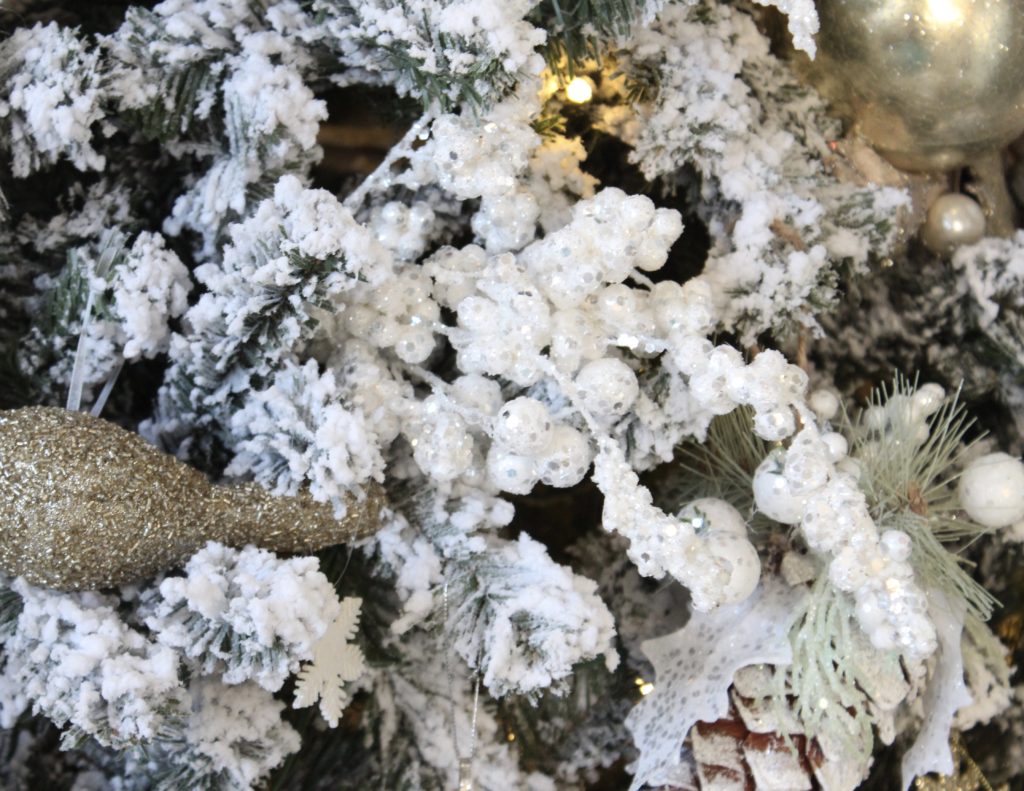 I found these gorgeous sparkly little white berry stems at Decorators Christmas Warehouse here in Arlington, Texas and I just adore the glistening snow effect it gives my tree.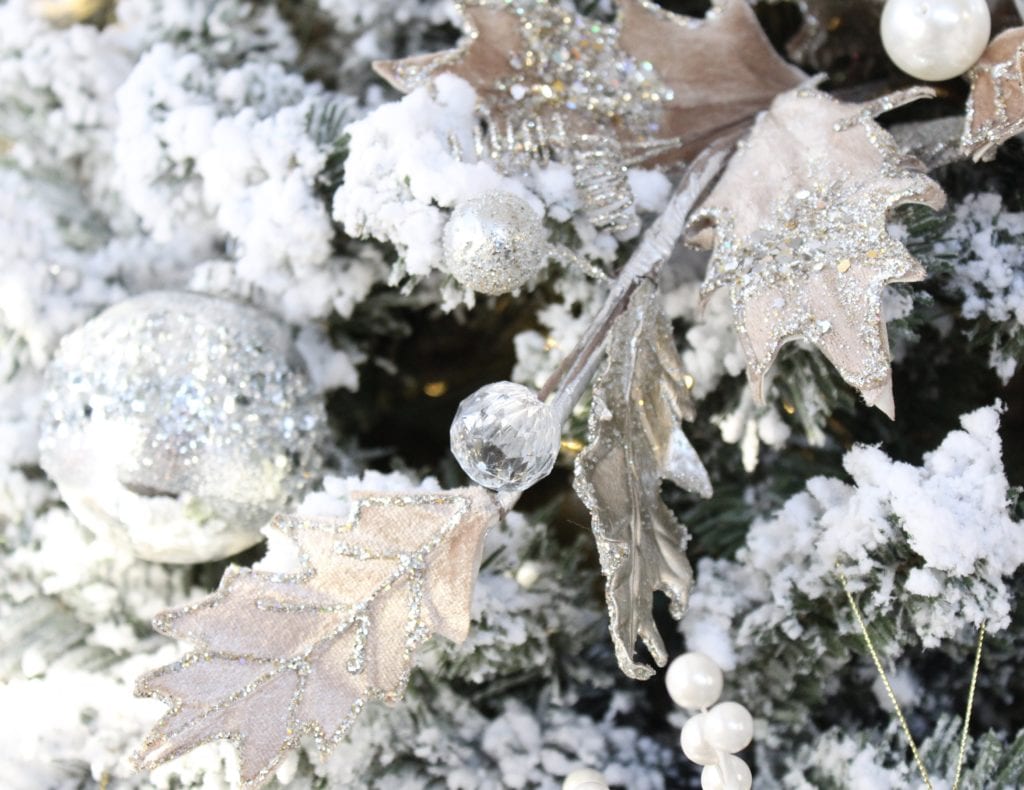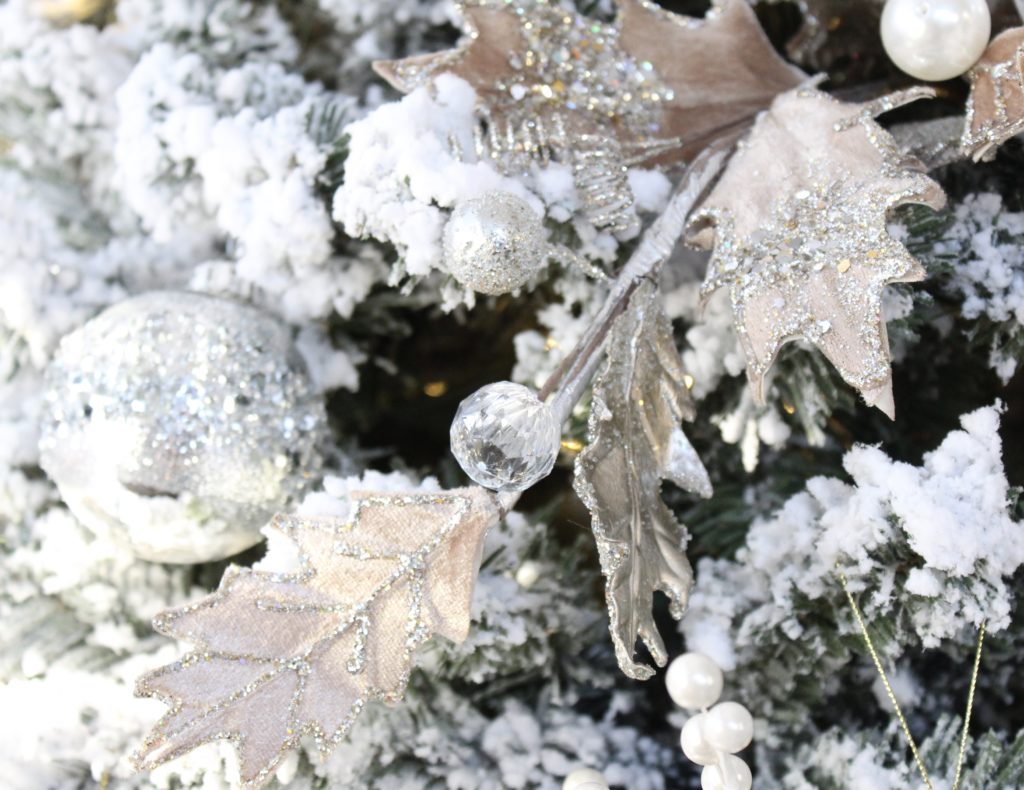 I also found these gorgeous velvet-like, champagne-colored sparkly stems there as well.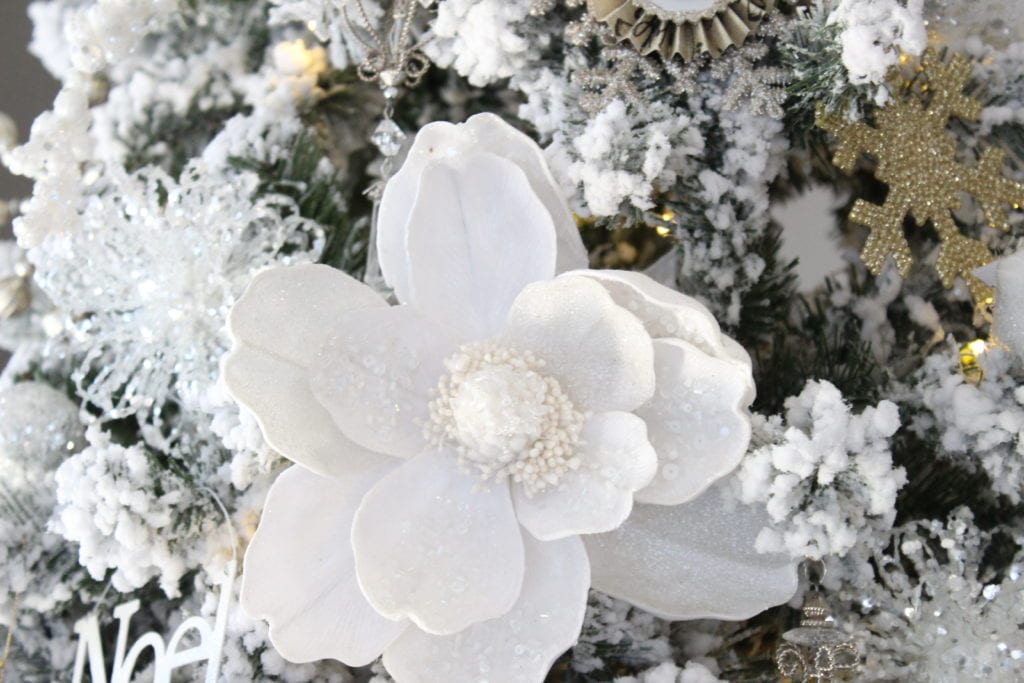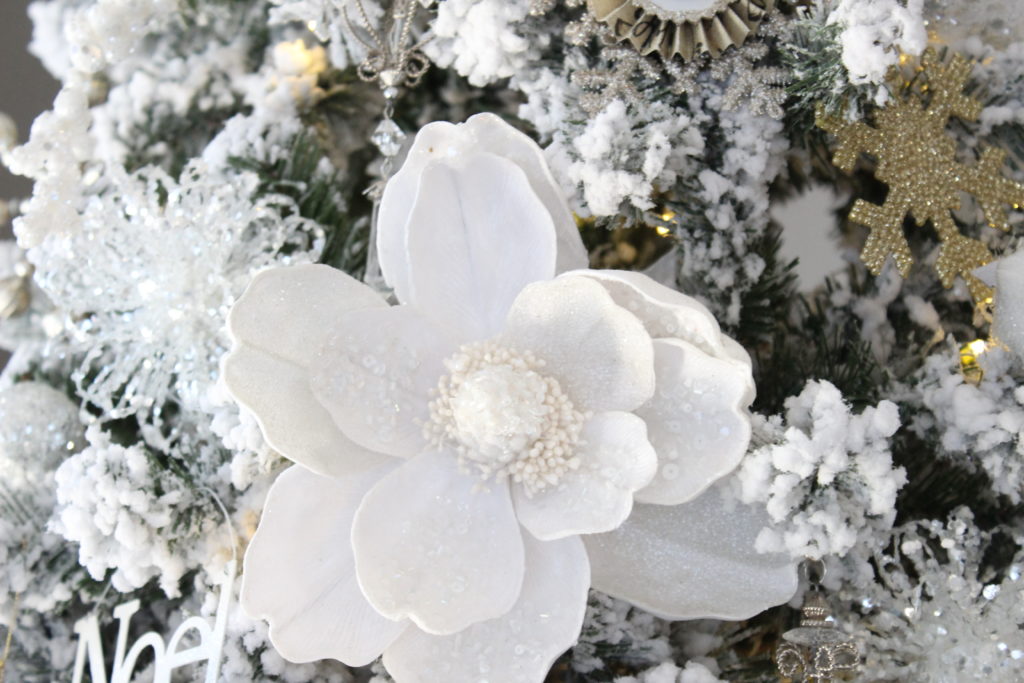 And also these gorgeous beaded magnolia flowers.  I've really loved adding more flower stems to my trees this year other than the traditional poinsettia.  I have a few of those too in this tree, but they are sparkly with glittery beads and pearls.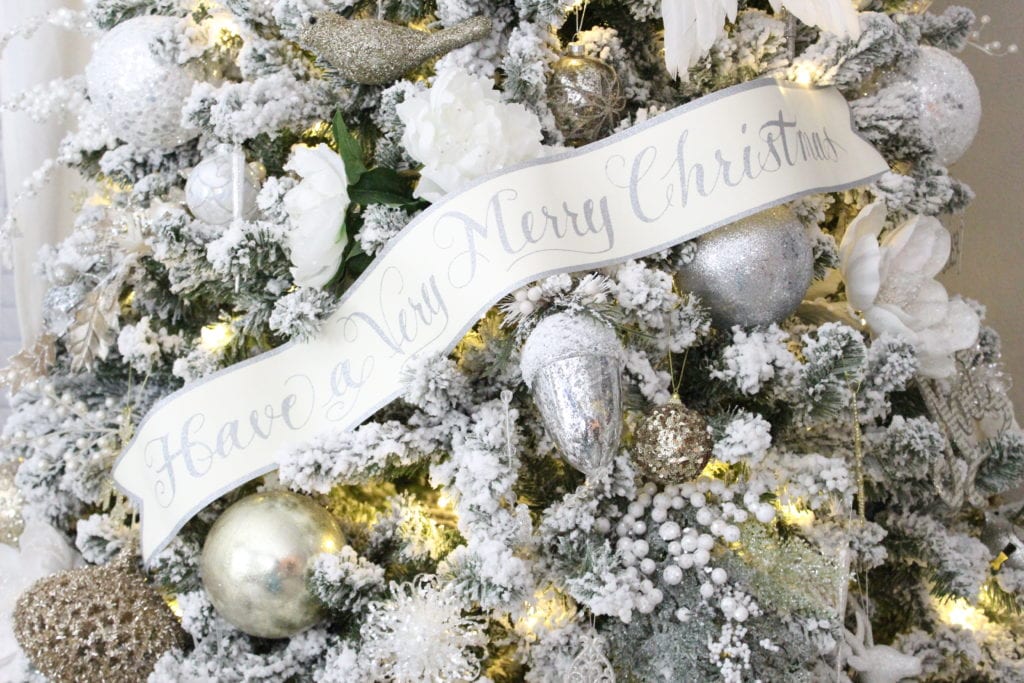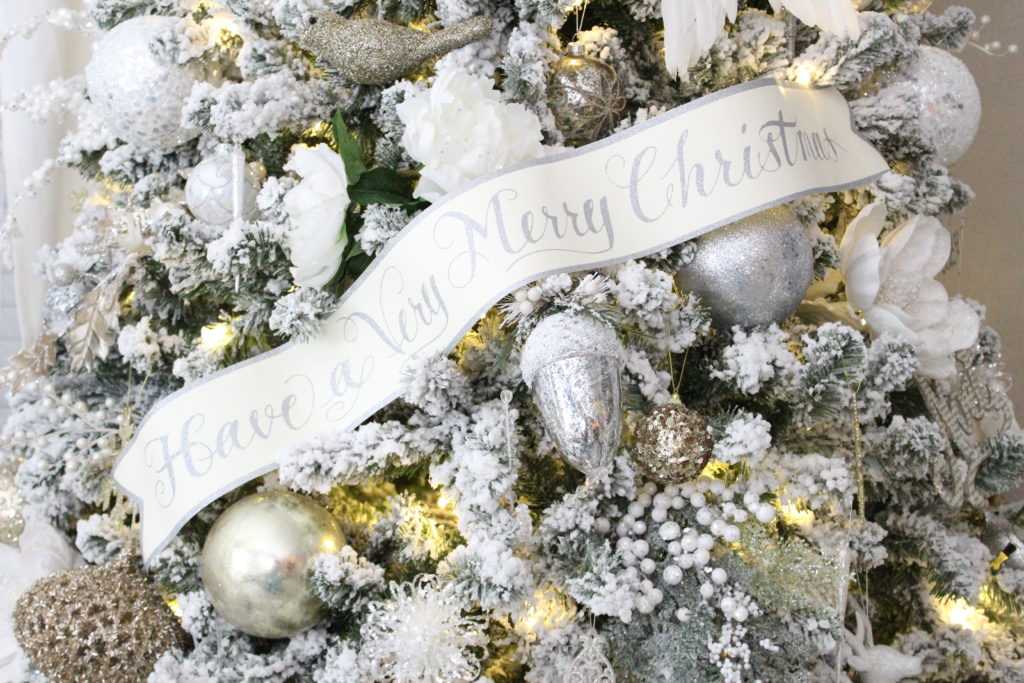 Last year, I found this "Have a Merry Christmas" banner and I love placing it across the middle of my tree.
I changed over from all red and silver Christmas colors about 3 years ago and I have absolutely loved having this neutral glam palette.  And if I want to add a pop of color like red one year, it will be easy to do.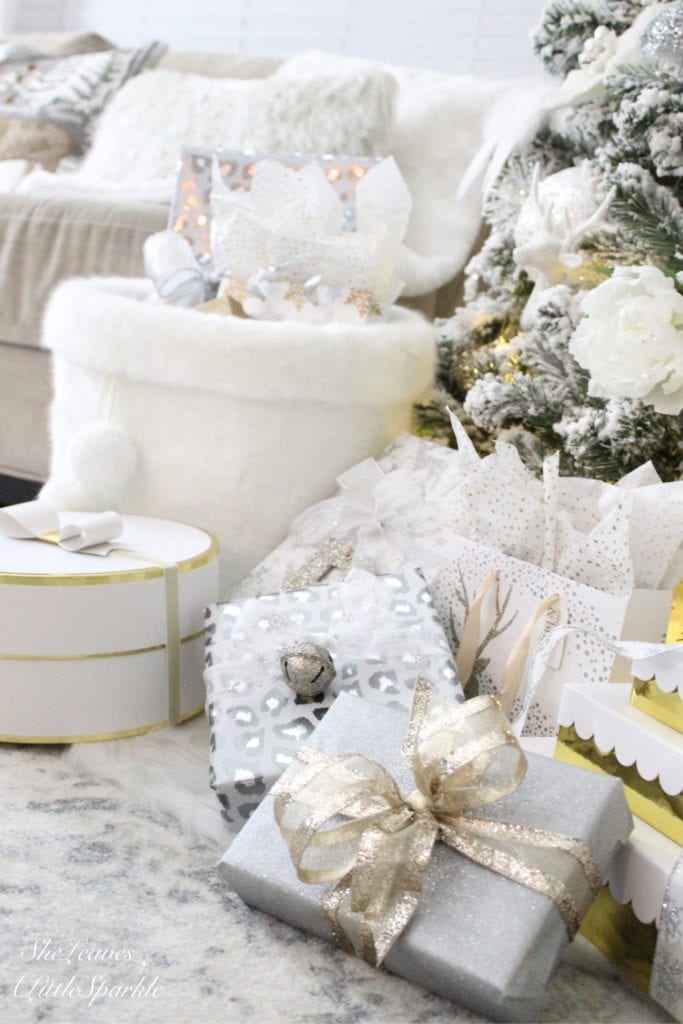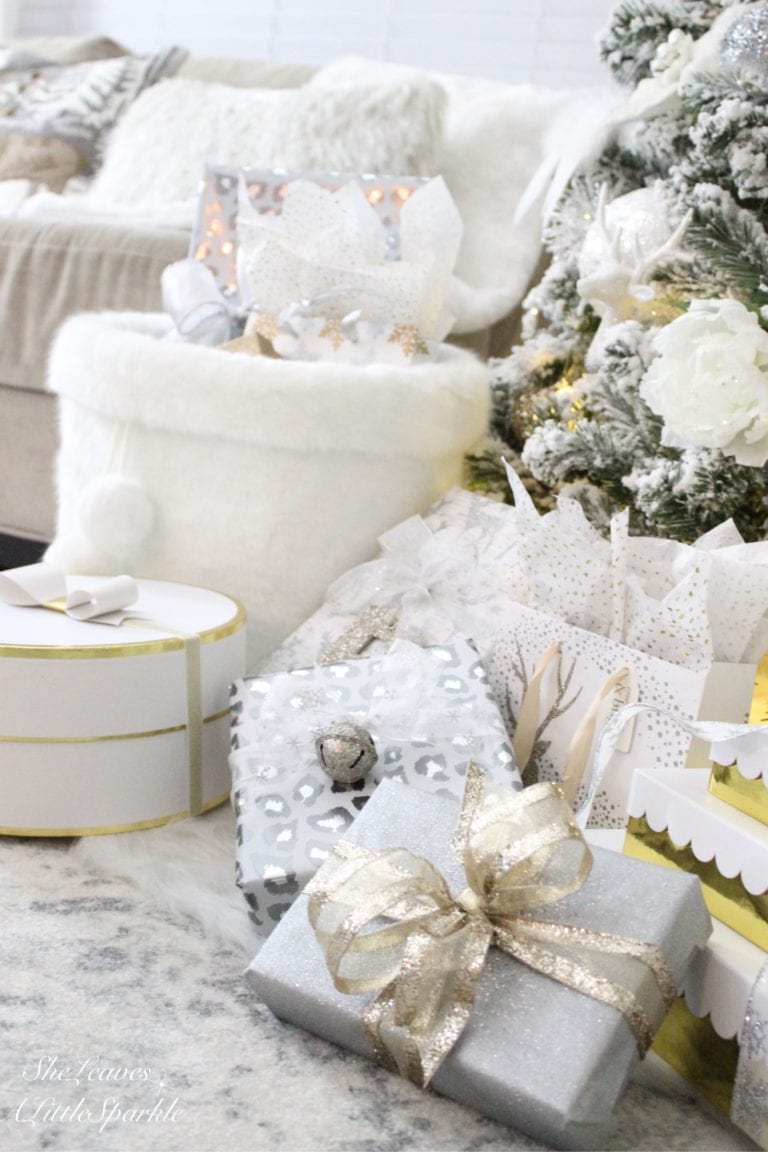 I have always loved wrapping presents in coordinating colors and big, fun ribbon so that it compliments my tree and makes it even that more stunning.  The adorable fur storage basket I found reminds me somewhat of Santa's bag so I had to get it and throw a few presents inside.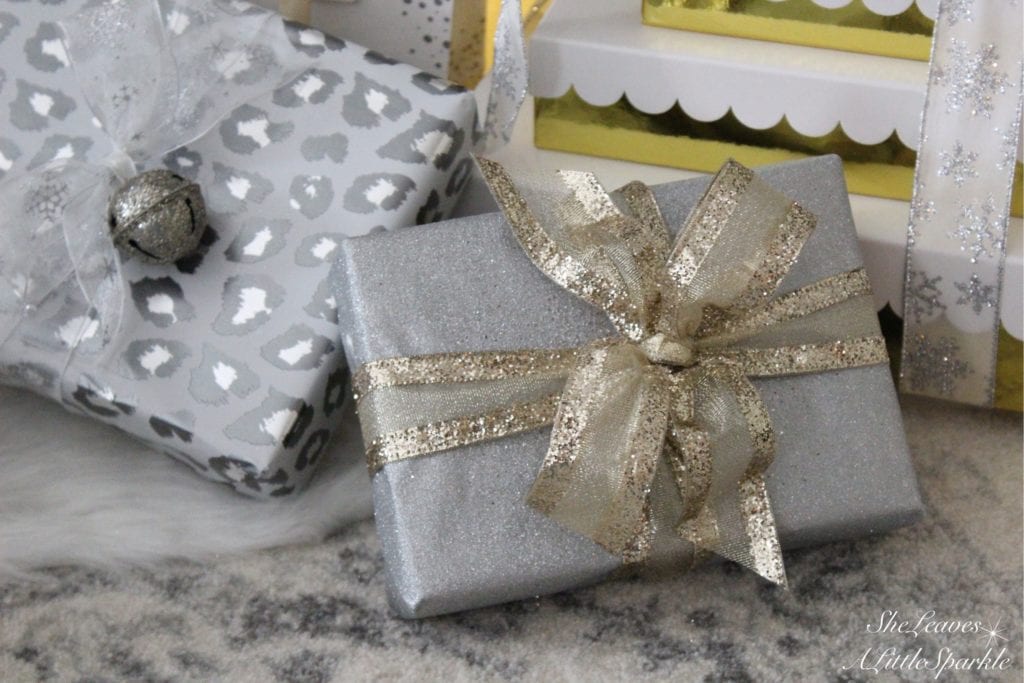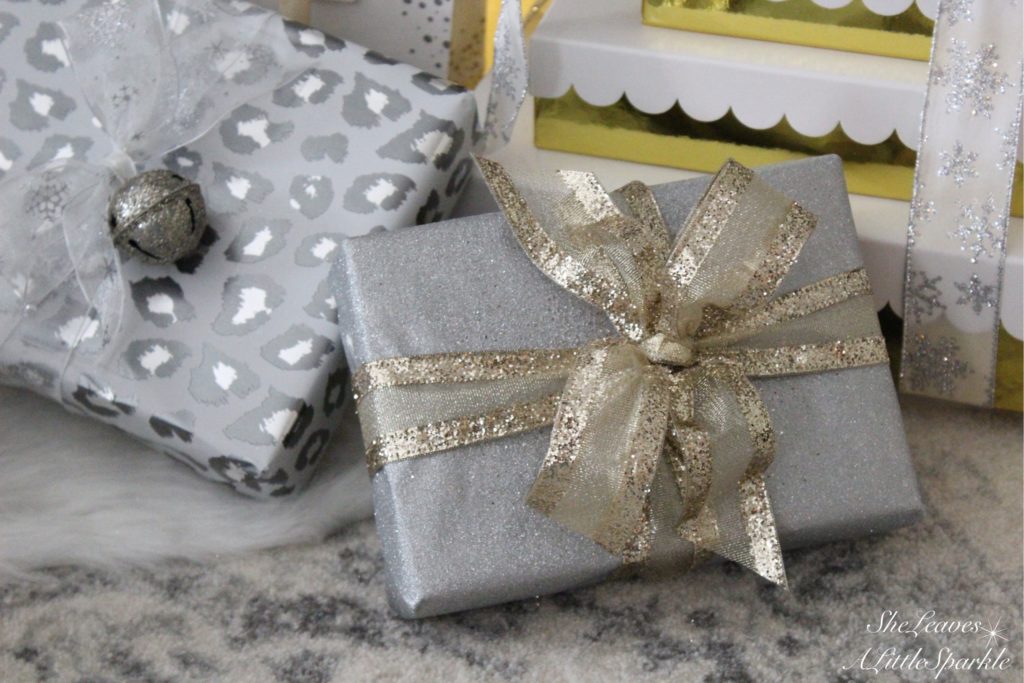 You can add something fun to your ribbon like a piece of pine branch, holly or berries, or even a jingle bell (which I always seem to have a lot of in my Christmas boxes).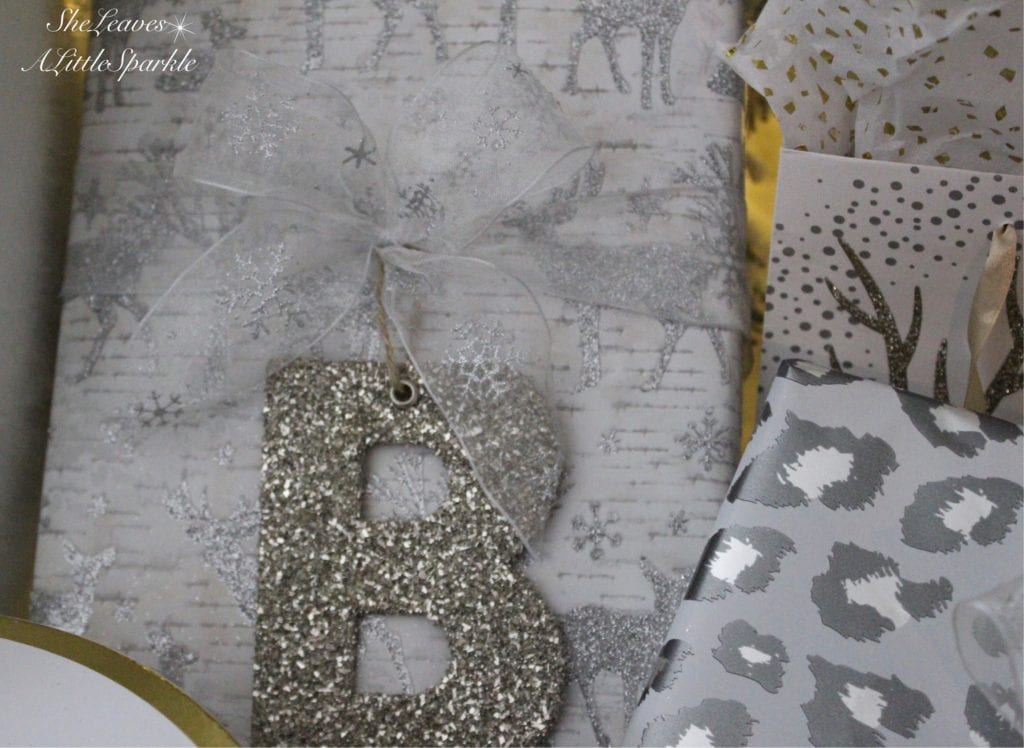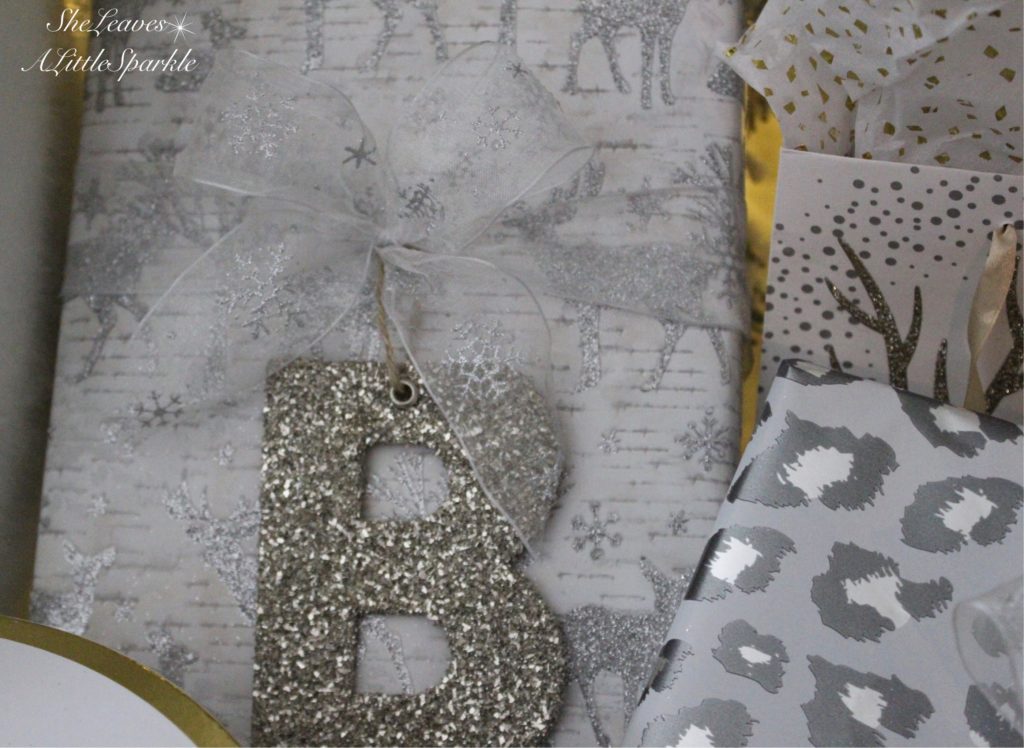 I also think it's a fun way to personalize any gift by adding a glitter initial to the ribbon when tying it on.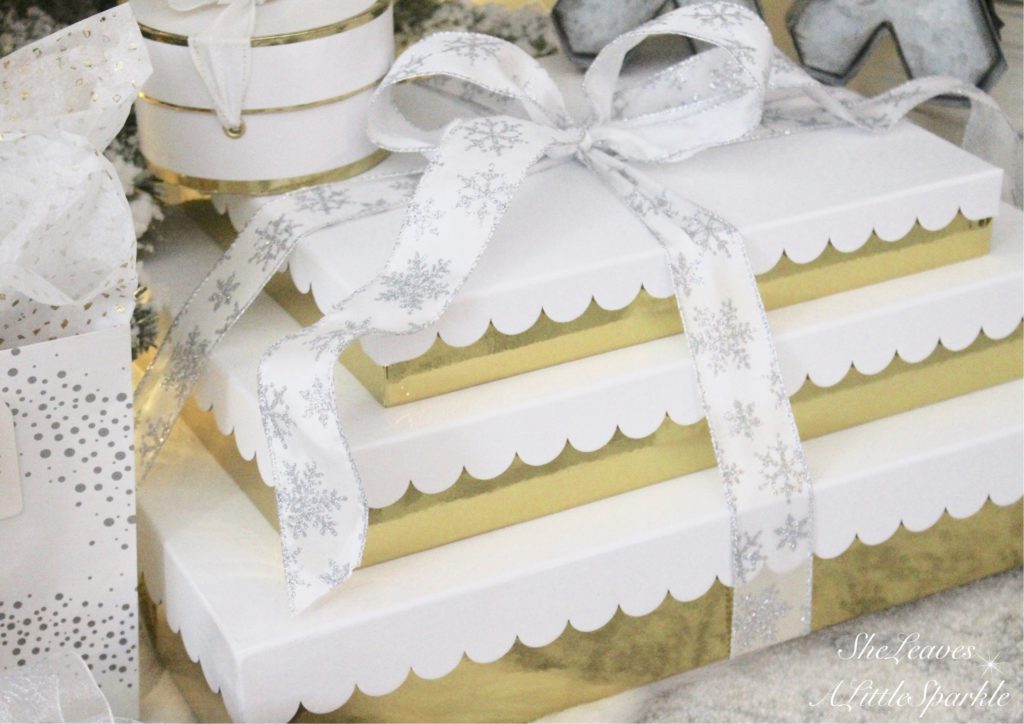 Pretty boxes are the easiest way to "wrap" a gift.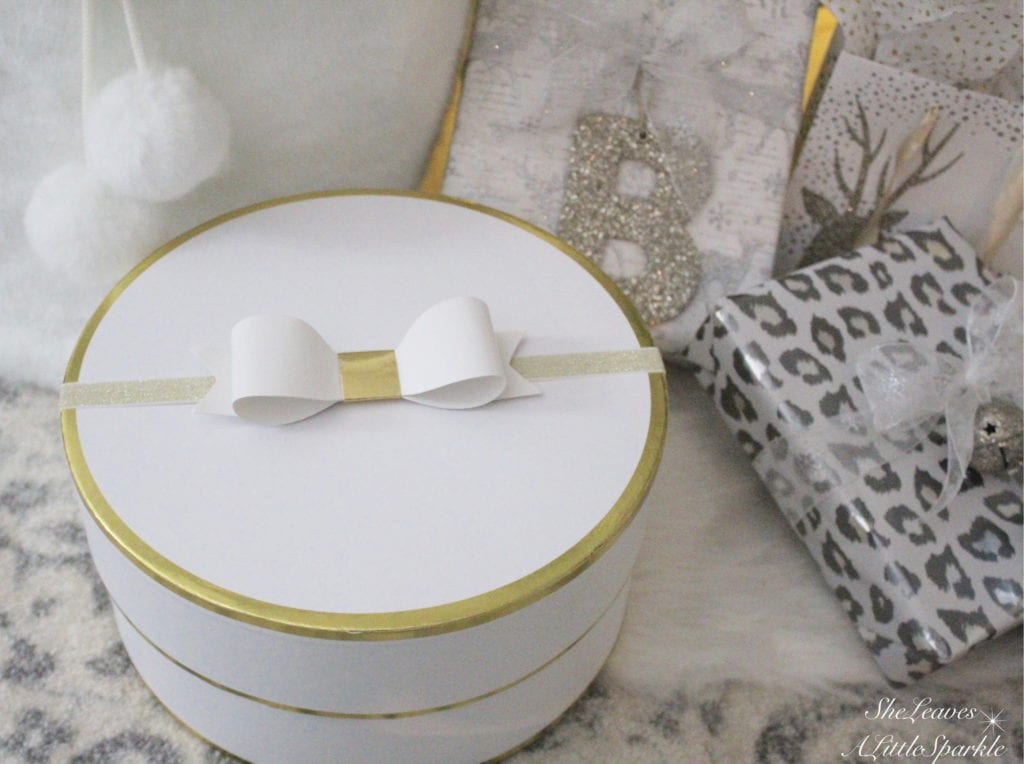 There have been so many lovely ones this year!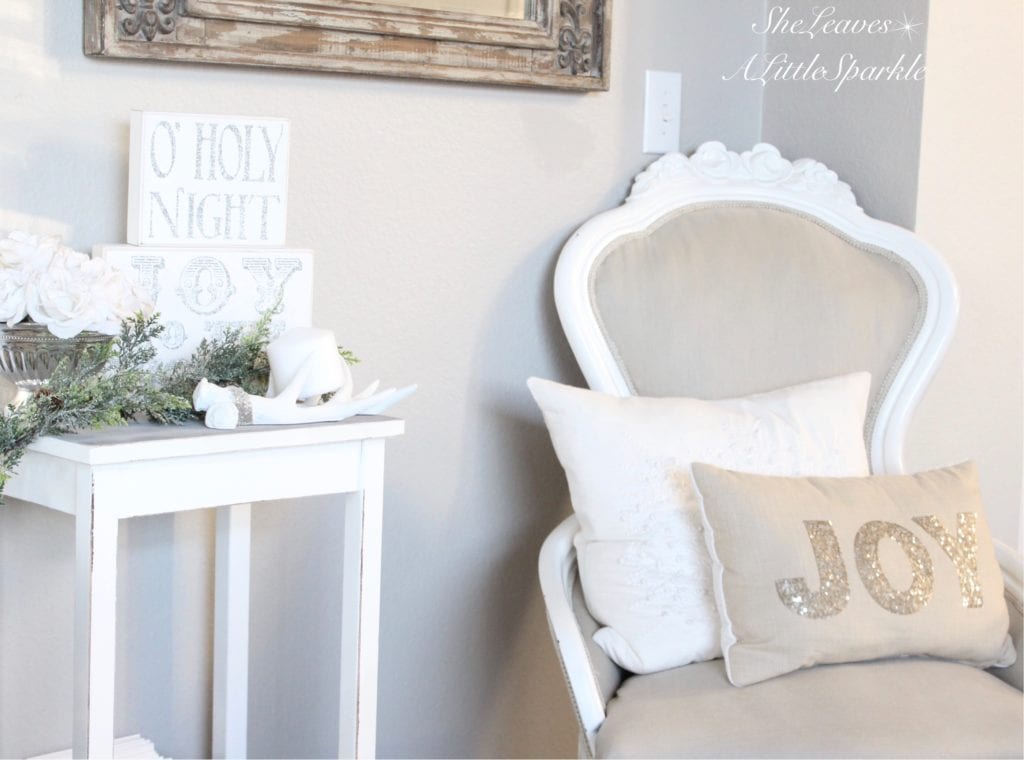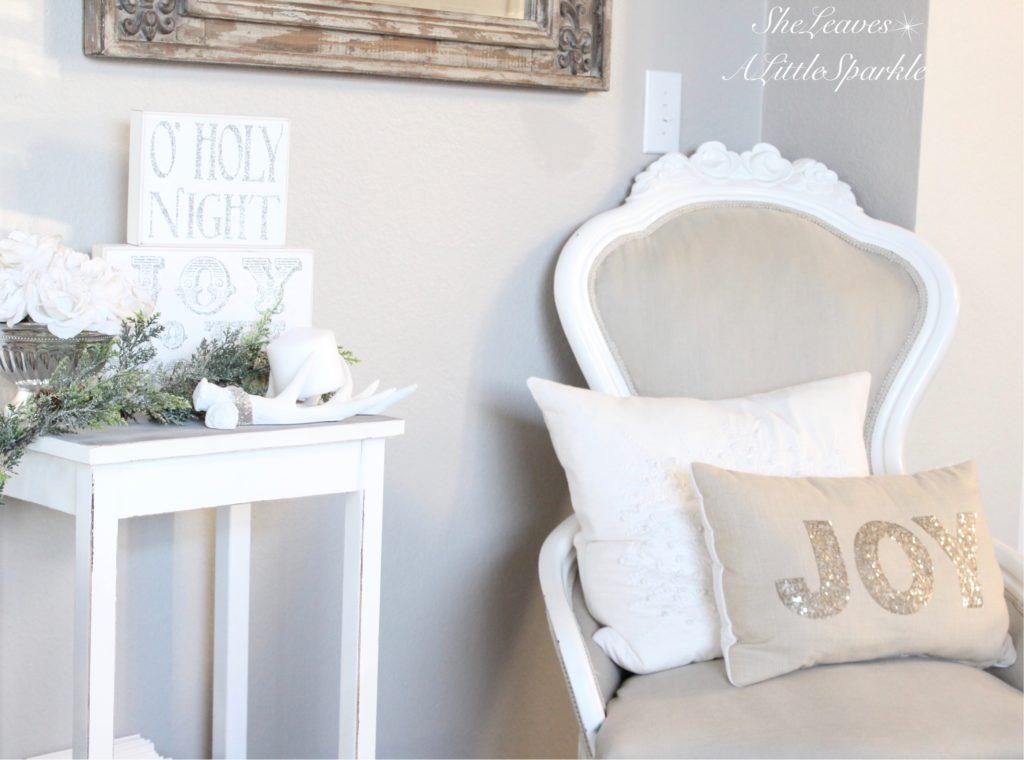 I love this vintage chair I made over a couple of years ago so I added more festive pillows and some fun pieces of decor to continue my "winter wonderland" theme.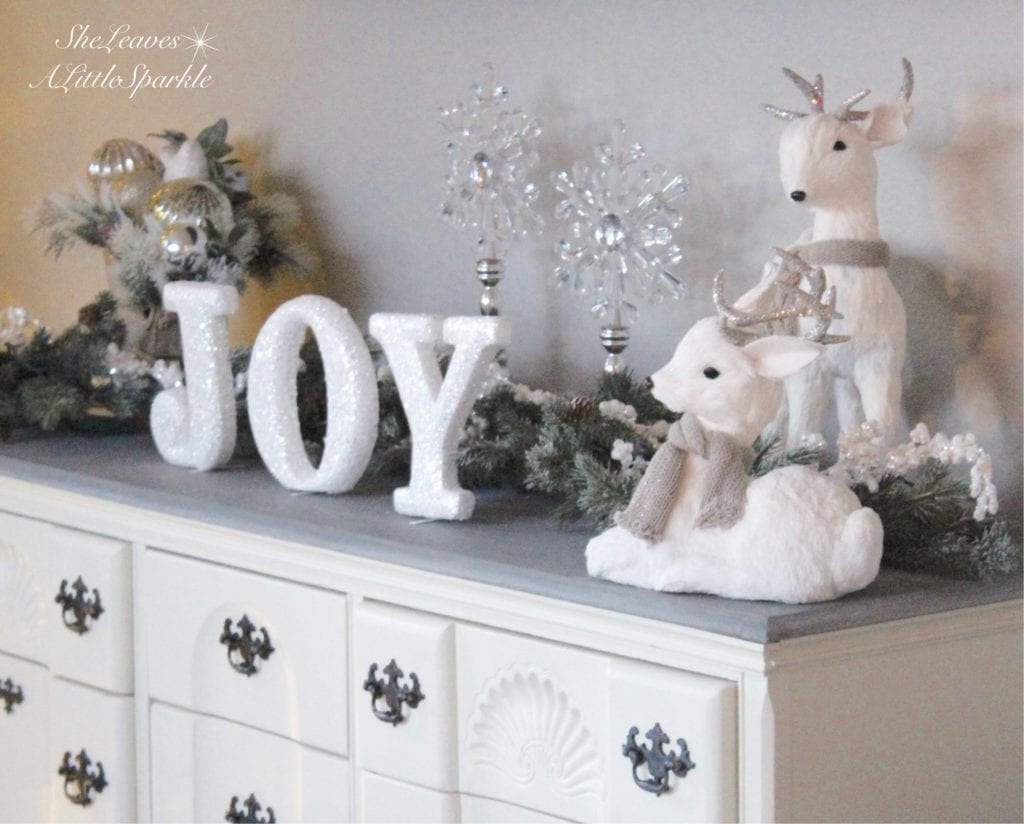 Below the TV (not shown because I'm working on attaching the frame I just built for it), I have created this little winter wonderland scene on the entertainment center with a sleigh full of sparkly ornaments and stems, glass snowflake stands, a pair of adorable deer. and these fun sparkly white "J-O-Y" letters I found that also look a lot like several of my ornaments.  All I had to do was place and arrange a flocked, lit garland throughout these pieces.  It was quite simple.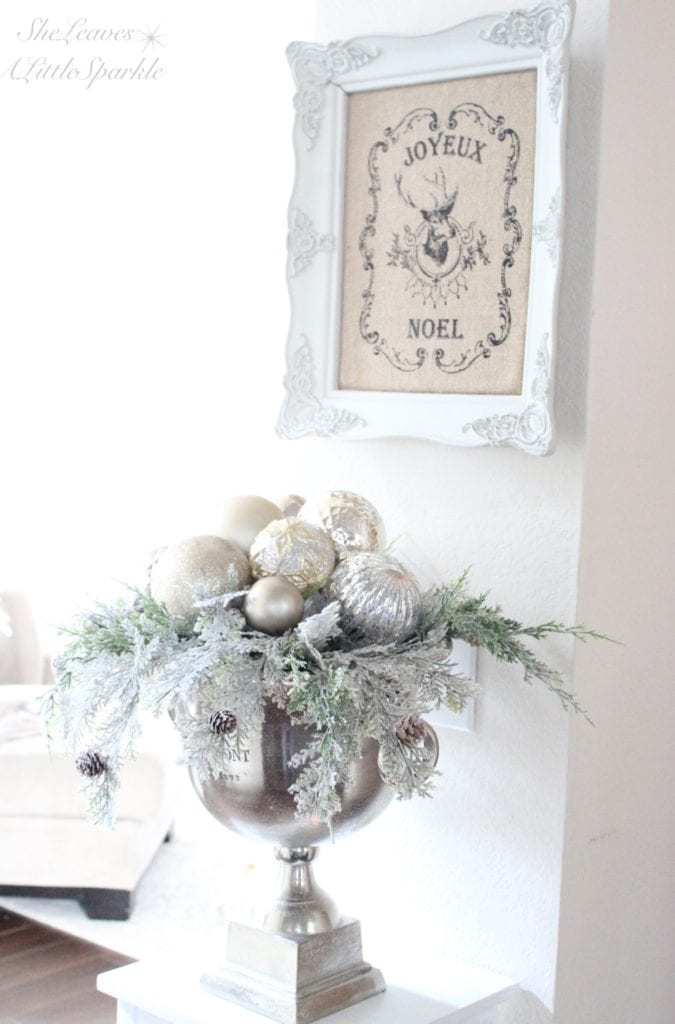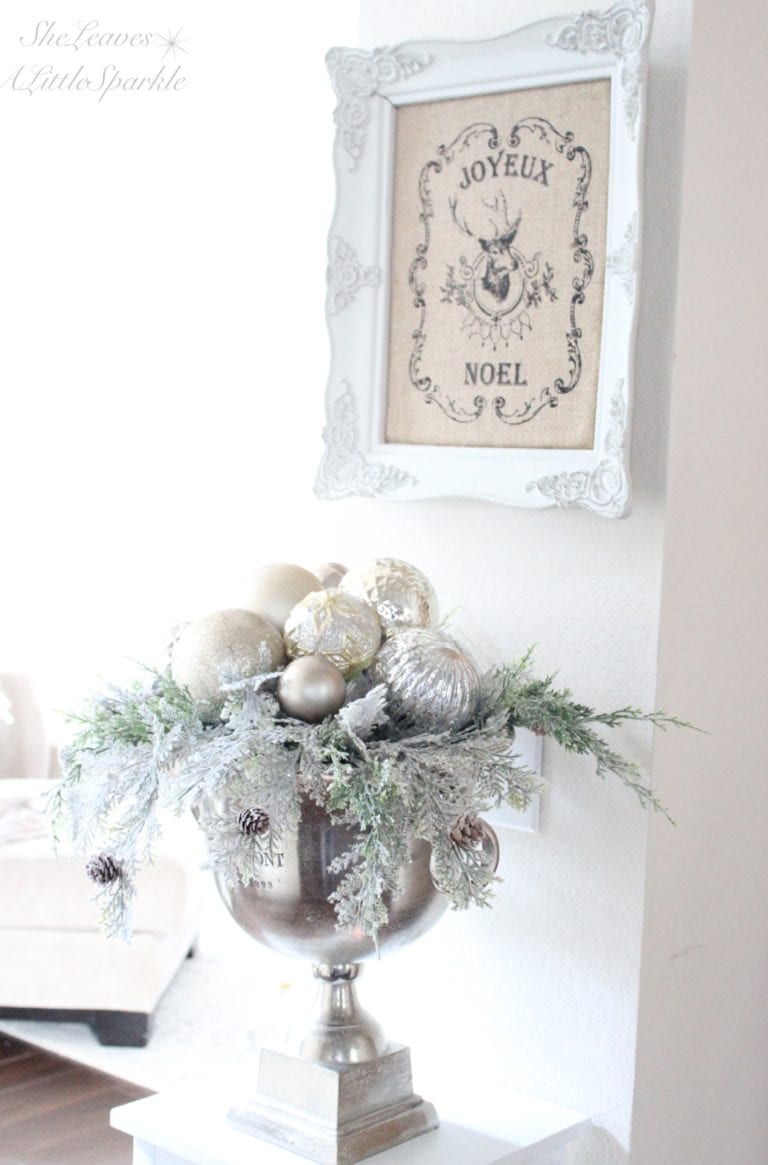 Just outside the family, before heading to the living room, I created this adorable ornament arrangement in my champagne ice bucket.  It was a fun way to use this fabulous piece and transition into the next room with sparkle of Christmas.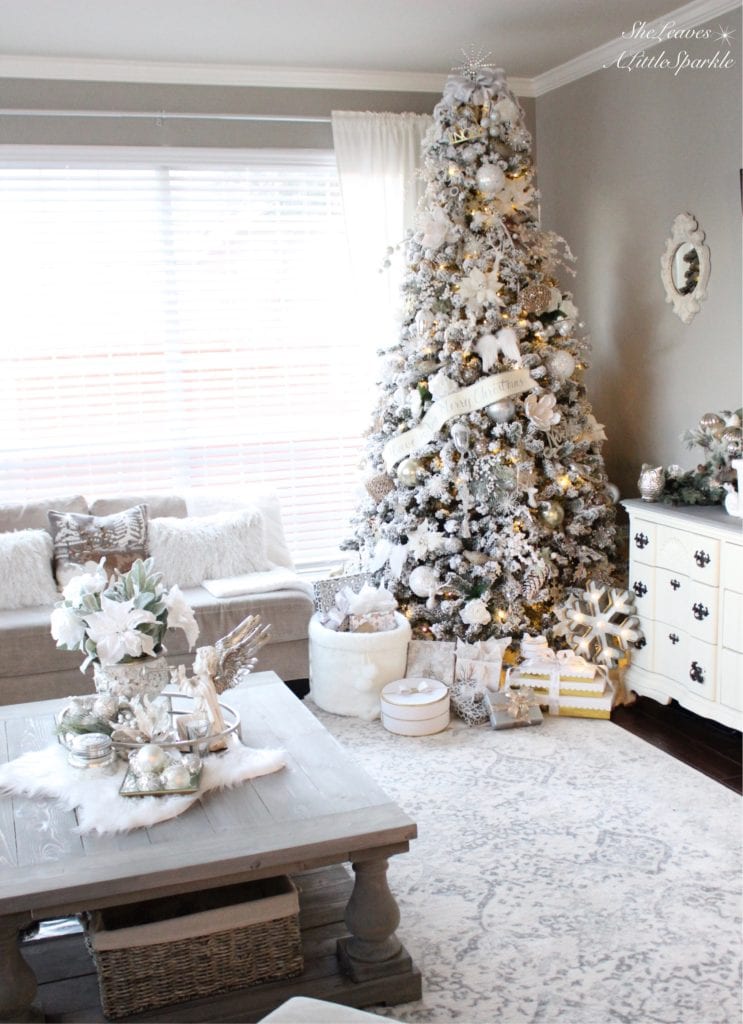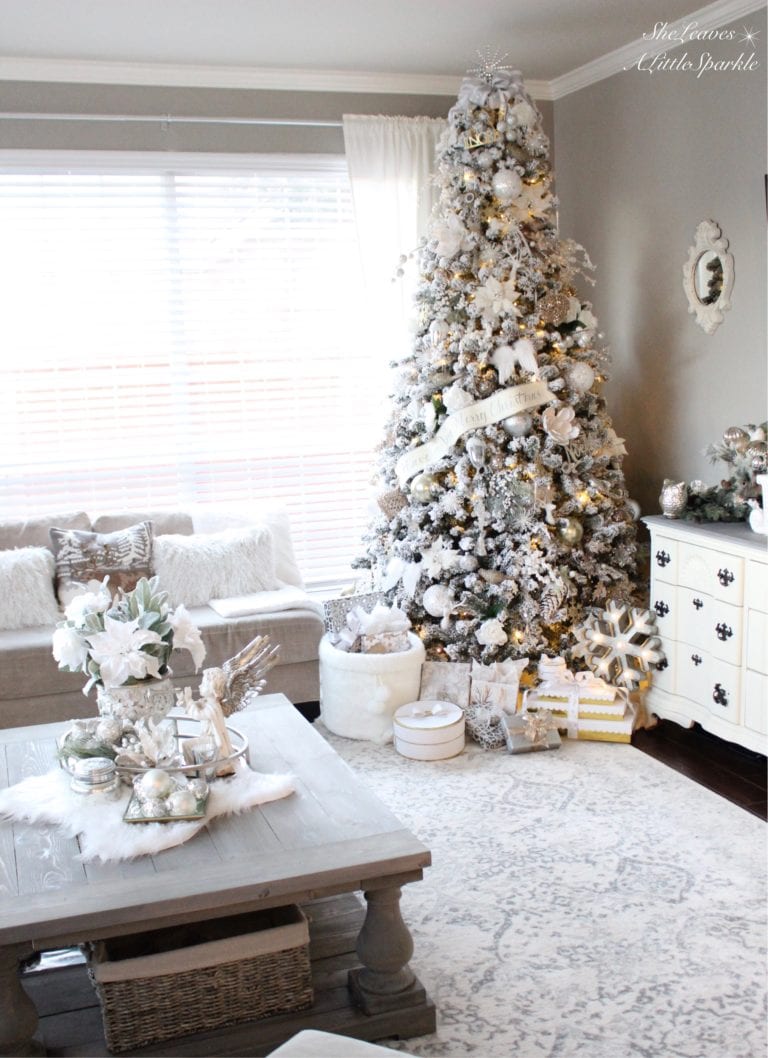 We just love this cozy room!  And we absolutely LOVE our tree!
As promised, I'm linking the items (or similar items) from this post below for your shopping convenience!










I hope you enjoyed touring my Family Room with me!  Please feel free to pin it and save it for later. I'd love it if you subscribed to my email list at the top of the page for the weekly emails of my latest posts and sale alerts to my shoppe as well.  You can also follow me on Instagram and Facebook to see what else I'm up to and sharing and to stay updated.
Oh! And  remember that BIG SURPRISE we hinted about on Instagram? Well here it is… For our Home for the Holidays Blog Tour, King of Chrismas is kindly giving away one 7 foot flocked unlit tree to one lucky winner. Isn't that AMAZING?!! Here is how you enter the giveaway. Each comment (one per blog) qualifies as an entry. So, the more blogs you comment on in our tour, the more entries for you. Also, if you subscribe to our blogs, each subscription gives you two more entries. This giveaway is for US residents and you must be at least 18 years old. This King of Christmas Tree Giveaway ends on December 11th at 8:00 pm Pacific Standard Time. The winner will be announced that week.
Please continue on our tour to visit my fabulous friend, Gloribell from I Don't Know How She Does It to see her beautiful tree and home.  She always inspires my creativity and I know you're in for a treat! Enjoy and hope to see you back here soon!
Your other hosts participating in the "Home For The Holidays Blog Tour 2016" today are:
Happy Happy Nester||Designs by Laila||Lindsay-Hill Interiors||Maison de Cinq
Crazy Chic Design||The Design Twins ||Home and Fabulous||Styled with Lace
Too Chic for Words||(Me) She Leaves a Little Sparkle||I Don't Know How She Does It
Oscar Bravo Home||2 Ladies and a Chair||The Shabby Creek Cottage||Meme Hill
Wishing you all the Merriest Christmas & Happiest Holiday Season!

*Post contains affiliate links.  Although I was compensated by King Of Christmas, all opinions are my own.