Yesterday I participated in a blog hop with a bunch of blogger friends and we shared a lot of fun Valentine's inspiration from decor to DIY's.  I shared our Family Valentine's Bar Cart and they had a fun treat that I promised to share with you today in a separate post.  So, as promised, I'm going to teach you how to make the most delicious heart-shaped macarons and they are just adorable!
This post contains affiliate links for your shopping convenience.
Click here to read my full disclosure policy.  All opinions are my own.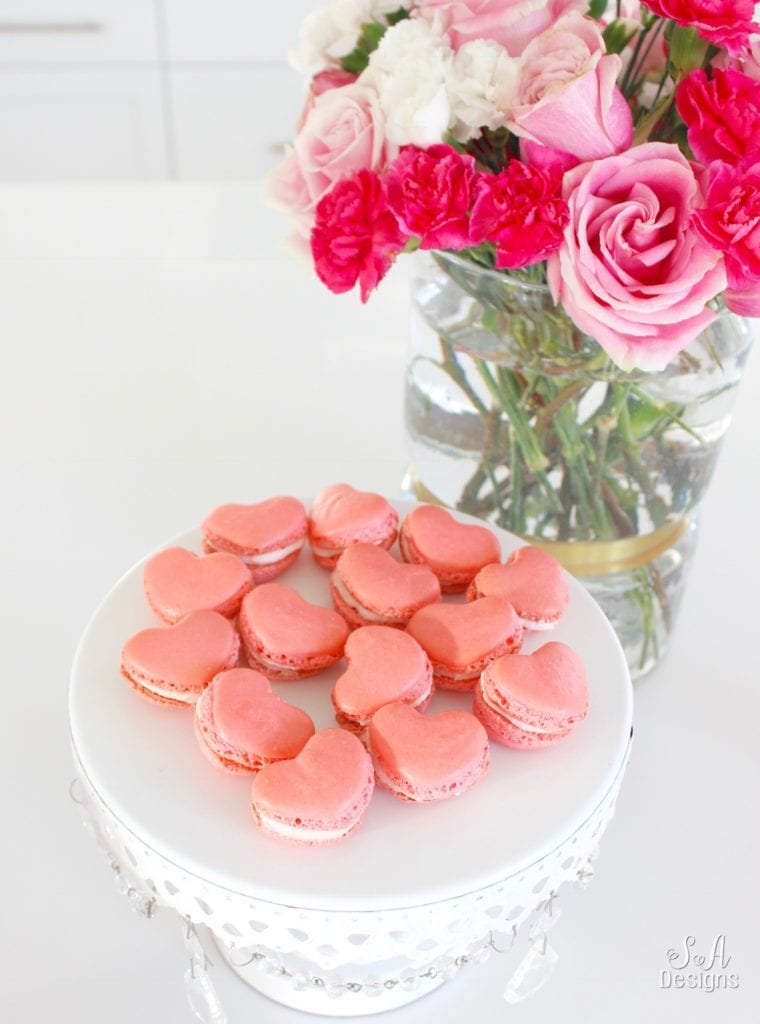 Even if you've failed at macarons, and believe me I've done it a time or two, this recipe is one that always works for us so make sure to follow it EXACTLY and you'll succeed at making macarons too.  I love this little french cookie.
And first, I'd like to clarify something because even MANY American bakers and recipe book publishers get it wrong and it drives me insane…..
One is a french delicate cookie and one is an american coconut cluster cookie.  Okay, now that we've got that out of the way, let's move on…ha!
PREP TIME
40 mins
COOK TIME
20 mins
TOTAL TIME
1 hour
Yields: approx 36 macarons
For heart-shape macarons, use this heart silicone mat.
INGREDIENTS
3 Egg Whites (at room temperature)
¼ cup white sugar
2 cups confectioners sugar
1 cup almond flour 
pinch of salt
¼ tsp cream of tartar
STRAWBERRY BUTTER CREAM
2 cups confectioners sugar
1 stick butter
2 heaping spoonfuls of seedless strawberry jam
1 tsp vanilla extract (I like using Mexican vanilla)
INSTRUCTIONS
•Preheat oven to 300F degrees
•Beat egg whites until foamy, then add salt, cream of tartar and white sugar for 5 mins. TIP: egg whites should be room temp.
•Whip until they form a peak that stands upright.
•Then add the food coloring. TIP: Color does fade as it cooks, so do a shade or two darker than you want them to be.
•Sift almond flour, and powdered sugar.  You want a really fine powder mixture to create a smooth cookie.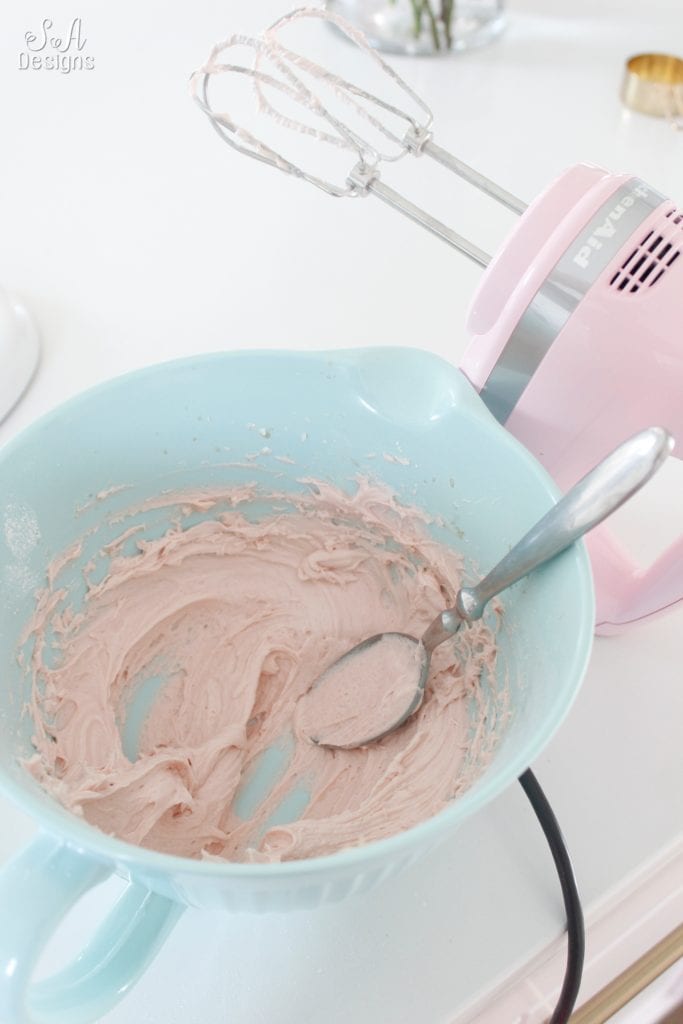 •Fold flour/sugar mixture into the egg white mixture. TIP: This is where all your hard work can really go wrong. Under mix and your macarons will be lumpy and cracked when the bake with no feet, over mix and your macarons will be flat and won't have feet, the mark of a well-made macaron. In my experience, 65-75 turns of your spatula when folding is about the right amount of time. 
•Transfer batter to a pastry bag.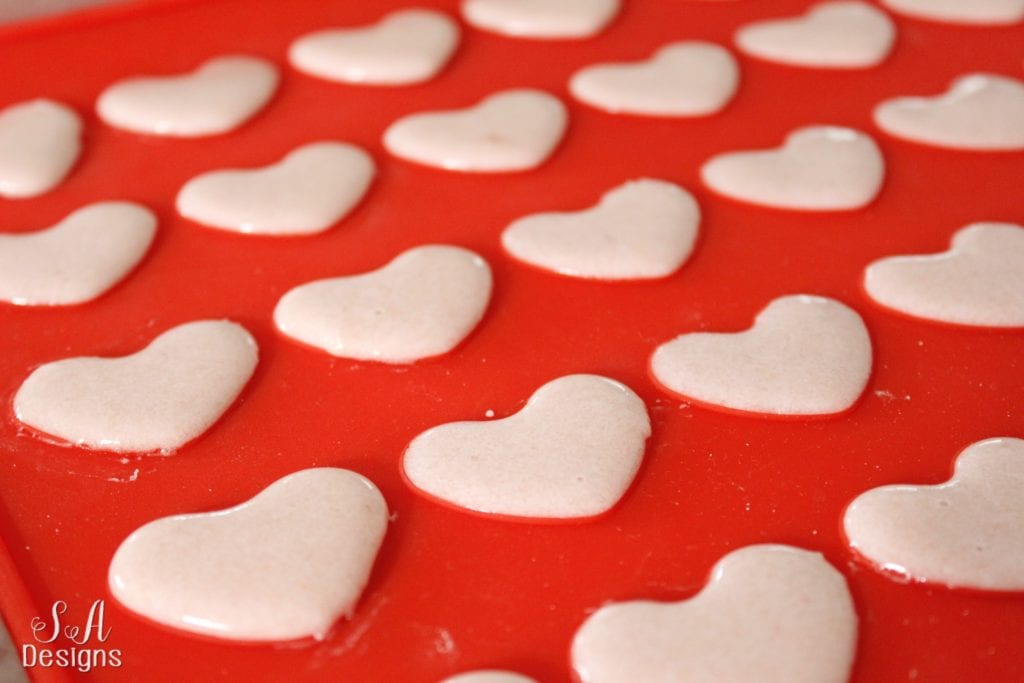 •Pipe out on to silicone heart macaron mat and try to shape with frosting tip.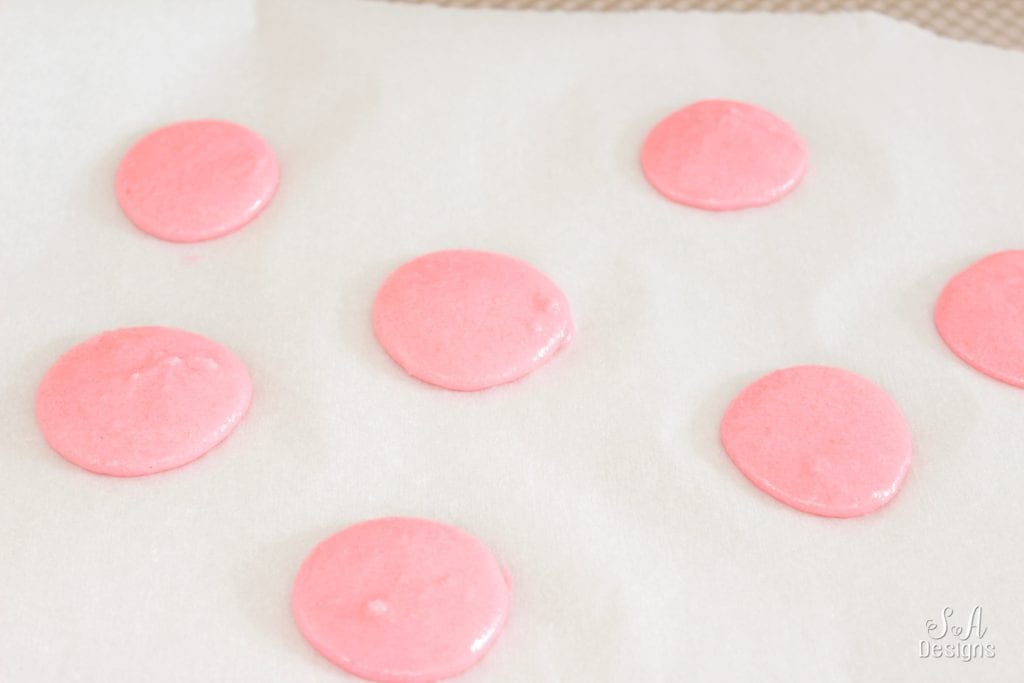 OR pipe out 1 inch rounds on a baking sheet lined with parchment paper, if you don't want to make a heart-shaped macaron.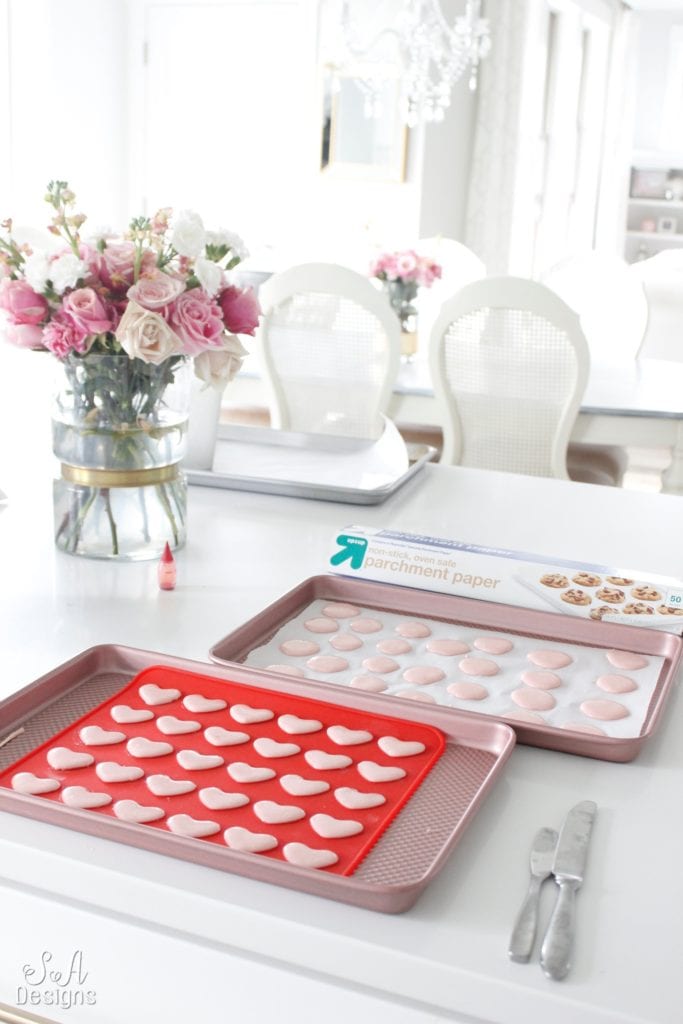 •Tap the pan hard against the counter, at least 2-3 times to release the air bubbles. This will prevent the tops of your macarons from cracking.
•Let them sit out for 30 mins, or up to an hour if you want. This will allow them time to dry out a bit before hitting the hot oven. They should be "tacky" to the touch, but not stick to your fingertips. This is another important step to assuring your macarons develop feet! When they dry out they can't spread out in the oven, and are forced to rise up. That's what creates the feet.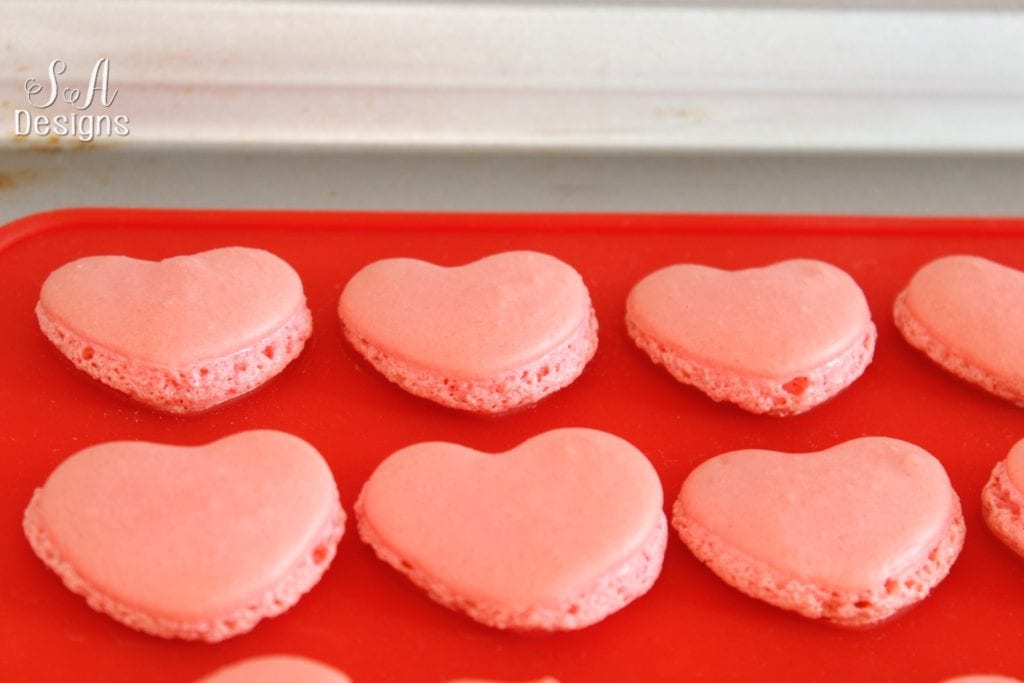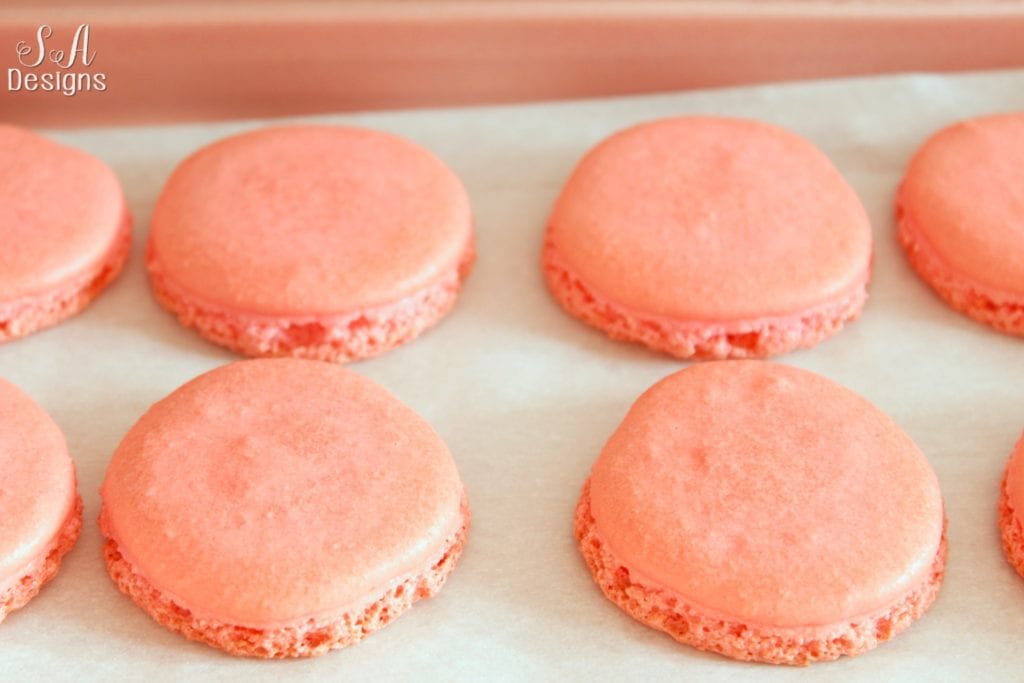 •Bake for 16 mins. DO NOT UNDER BAKE, even if they look done! Otherwise they will stick to your tray.
•Meanwhile mix the buttercream. Whip room-temperature butter with an electric mixer until pale and fluffy. Slowly add sugar. Then add jam and vanilla.
•Transfer to a pastry bag, fitted with a small tip (about ¼ " in diameter)
•Reverse cookie shells on their backs, and pipe a small mound of filling on one of them. Top with the other shell, holding the sides to do it.  Don't smash them on the top or they will crack.

•If not eating right away, keep refrigerated.
And that's it!  Brooklyn and I made a bunch of heart-shaped macarons and also traditional round macarons last weekend.  They are so light and fluffy and chewy and sweet…oh my goodness!  They are truly divine!  Macarons, creme brûlée, and my mom's fudge cake might be my favorite desserts ever!


If you'd like to see more on my kitchen, please read this post!
I would love it if you subscribed at the top of the page in order to receive my weekly emails of all my latest blog posts and hear about digital printables & freebies, as well as sales or new items in My Online Shoppe.  You can also follow me on Instagram, Pinterest, and Facebook to see what I'm up to in creating a home and lifestyle of inspiration!
xoxo,

SaveSave