Have I mentioned how much I love Valentine's Day?  Ok, so I have….in all my recent posts.  I'm a hopeless romantic and I love L-O-V-E!  And when I became a mom, Valentine's wasn't just about romantic love anymore because it was just about love in general and showing that love to the most important people in your life.  Sure, we do this everyday, or should.  But I love a holiday that encourages us celebrate it and to show it and say it more often.  I make a big deal out of this holiday, like with the 14 Days of Valentine's tradition that I do for our kids.  I also love putting together a fun Valentine's bar cart with sweet treats for the entire family as well.  So that's what I'm sharing with you today!
This post contains affiliate links for your shopping convenience.
Click here to read my full disclosure policy.  All opinions are my own.
Our Family Theme Song
This little family of mine LOVES music!  We dance and sing in the kitchen at nights around dinner time, we sing in the car, and we have a family "theme song".  Our favorite for years now has gone something like this….
"I belong with you, you belong with me…."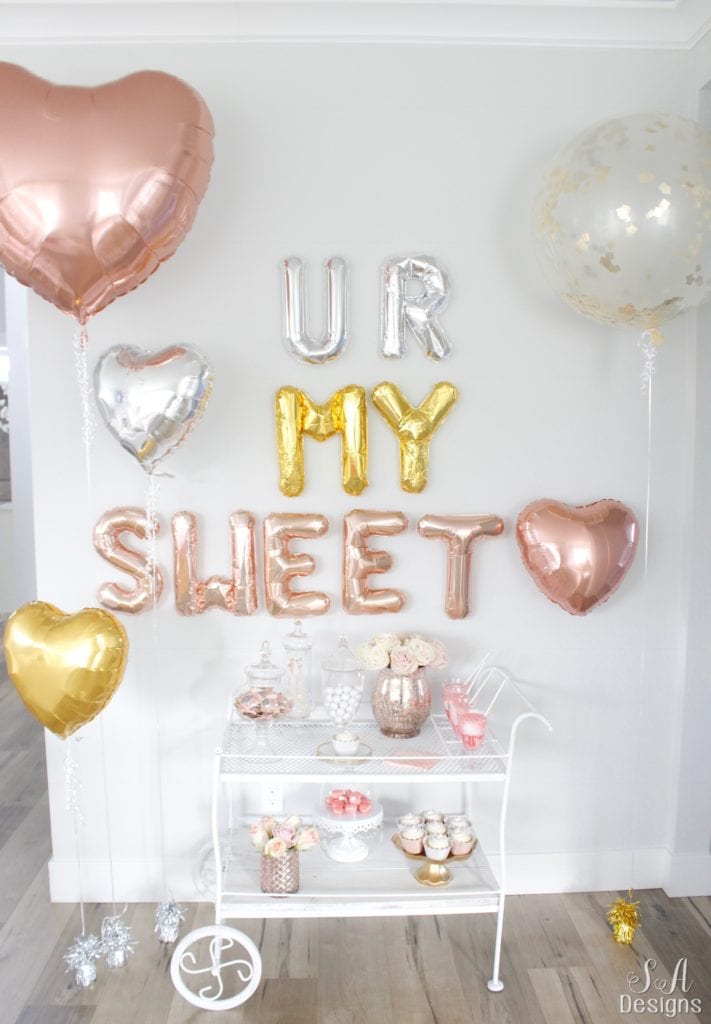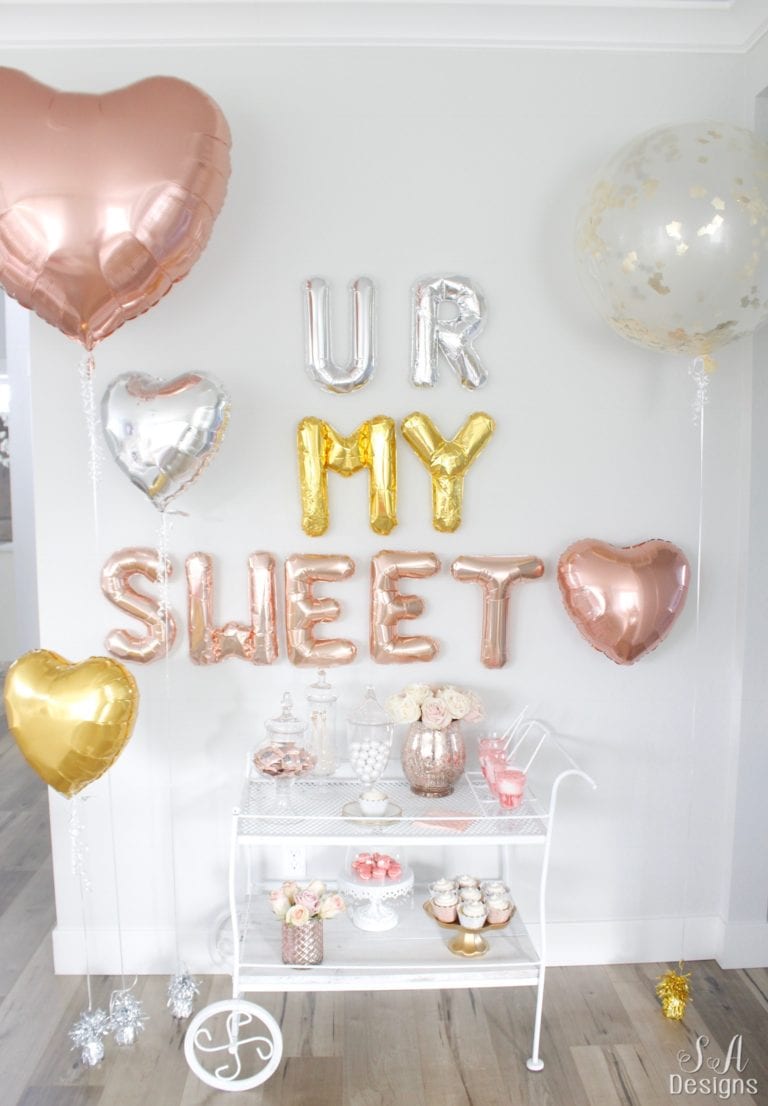 "…you're my sweetHEART!"
The Lumineers put out this song in 2012 and we've loved it ever since!  You can watch the music video HERE if you're not familiar with it!
One day, while browsing Instagram, I stumbled upon the feed of the cutest little shop called Paris312.  I saw this "Ur My Sweetheart" balloon set and knew I had to have it for my family's bar cart this year.  It includes all the balloons that you see in this space.
(You can see last year's cart here.)
I reached out to them and they were kind enough to send me this set and guess what?  My family went NUTS over it!!!  Seriously, their faces and squeals (even the boys) made it even more fun!  It was the best surprise and it was meaningful, so it made it that much more special.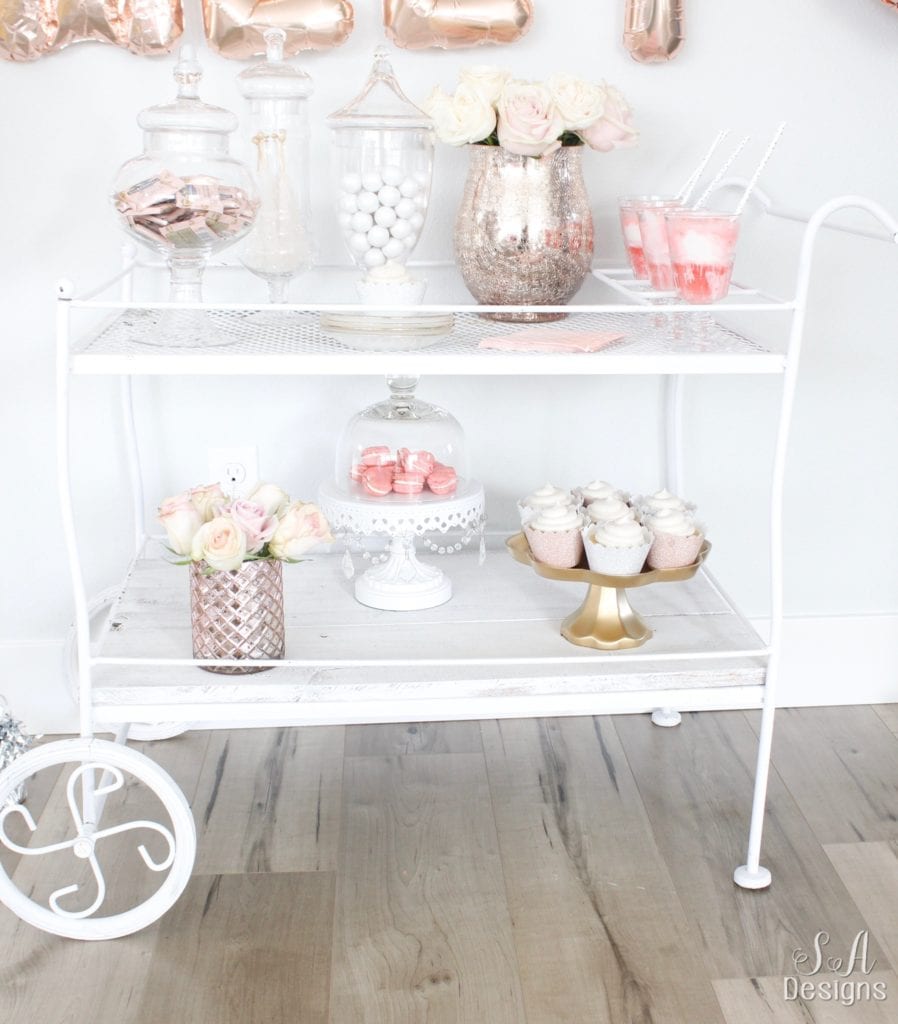 Paris312 has so many ADORABLE balloon sets and lots of party decorations that are to die for!  Make sure to check them out for your next event!  You can still order TODAY for Valentine's.
I grabbed my favorite vintage cart and started loading it up with sweets to surprise them.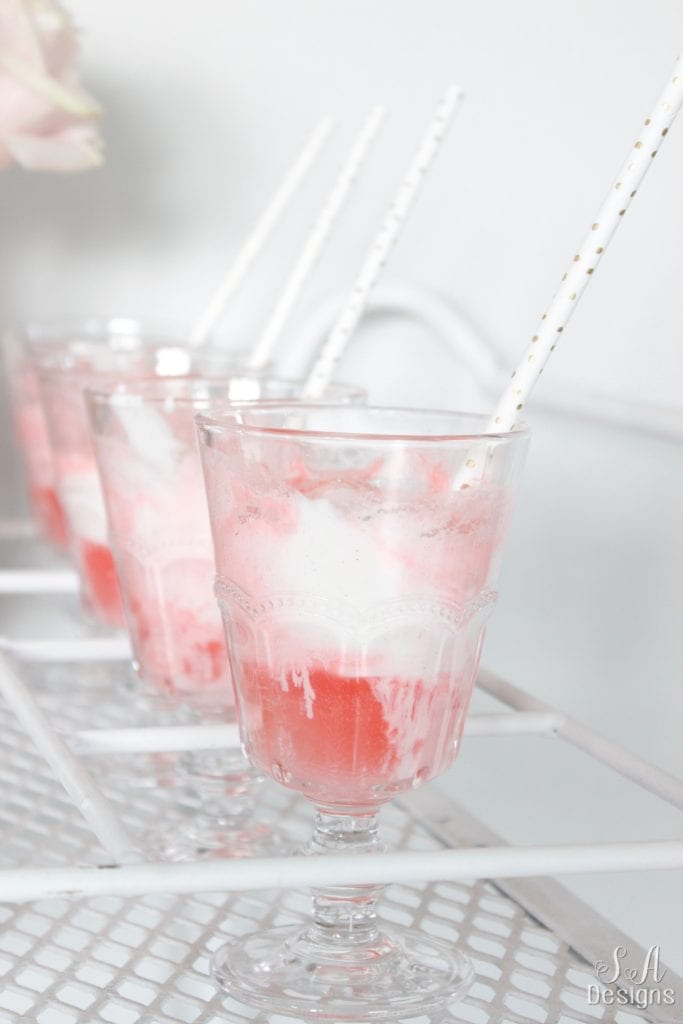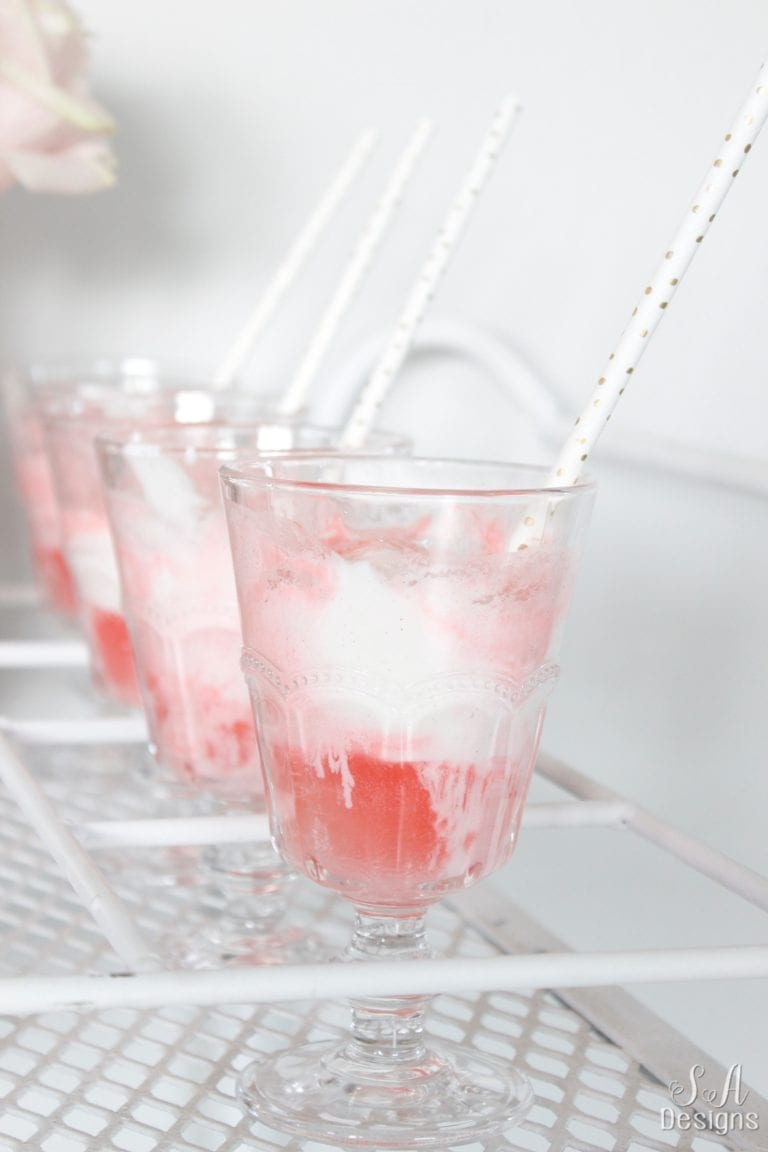 I grabbed some pretty glasses and made "Sweetheart Floats".  To make a Sweetheart Float, you simply add a big scoop of vanilla ice cream to your glass and then top it off with strawberry soda (I used Crush brand).  I might love it more than a rootbeer float!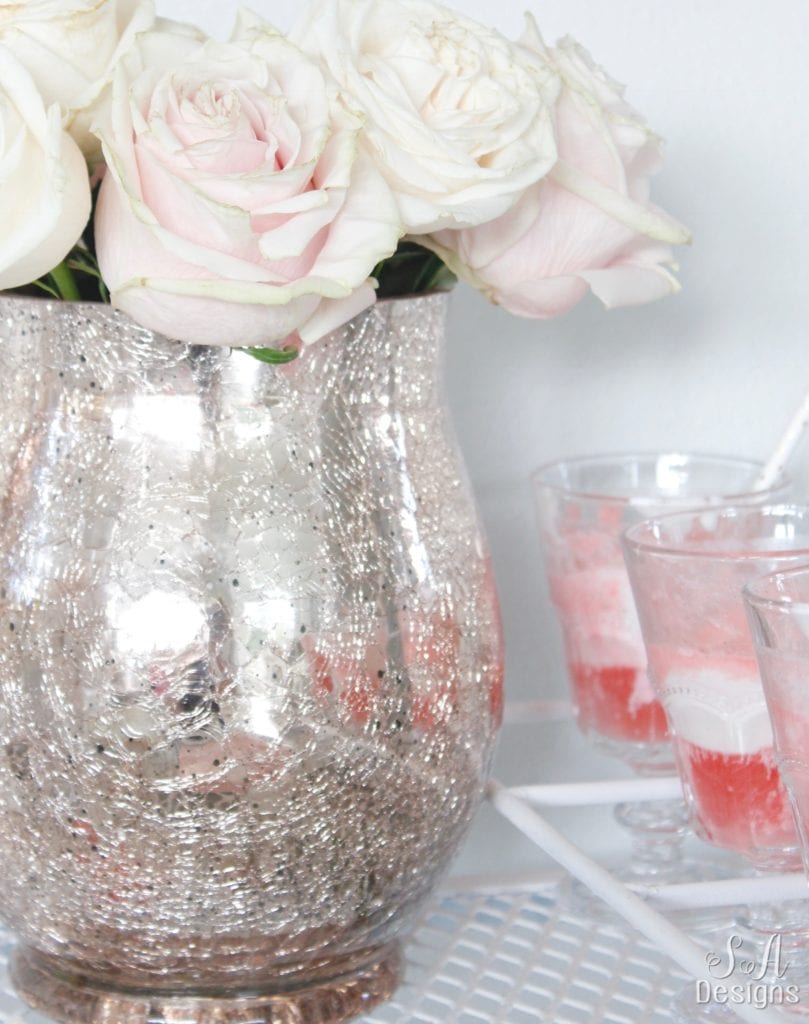 Beautiful fresh flowers were essential!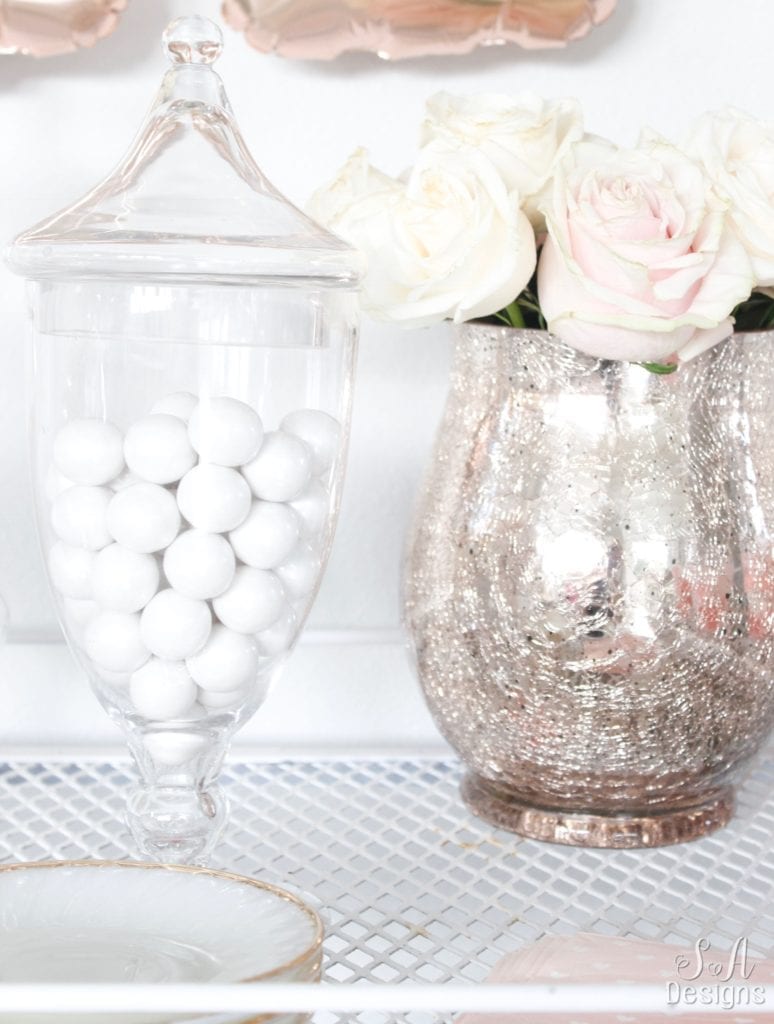 I grabbed a few apothecary jars and filled them with gumballs…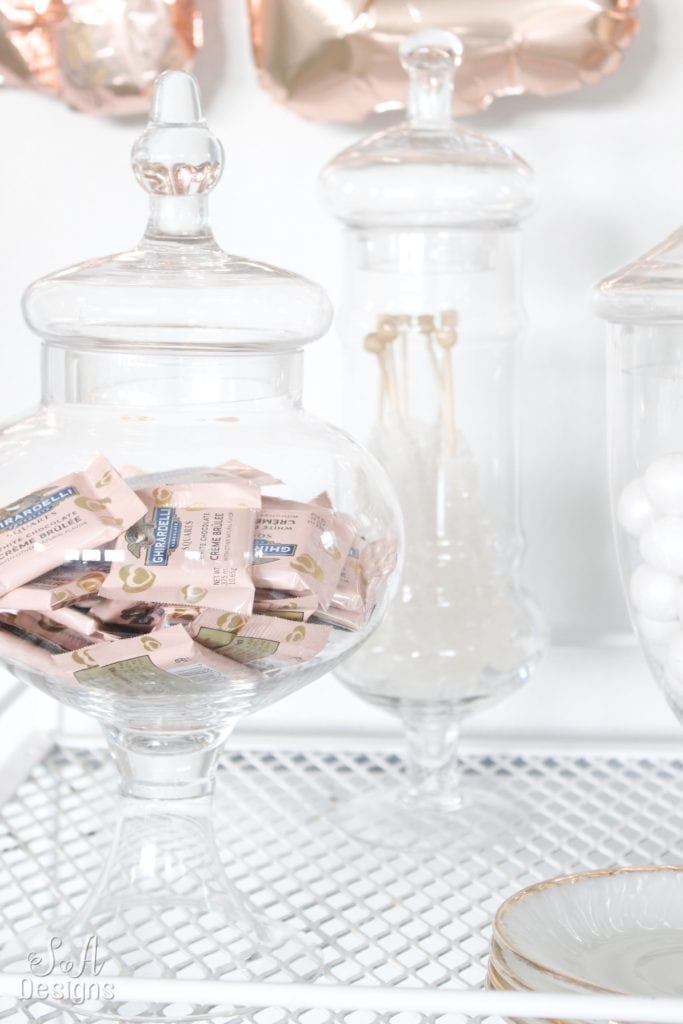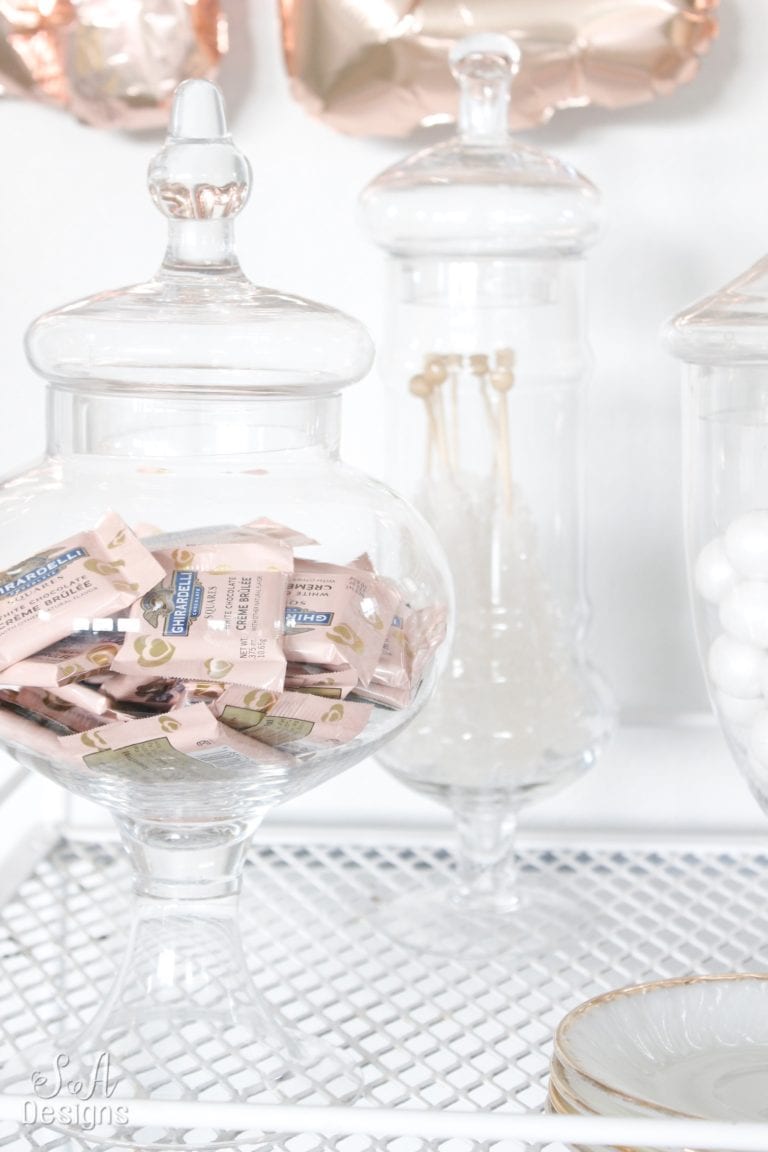 …white rock candy, and blush-wrapped candies.  I was thrilled to find those last ones!  Ghirardelli came out with a creme brûlée white chocolate that came wrapped in blush AND they were on sale so I grabbed all 6 bags that were left.  Aren't they so pretty?! They're delicious too!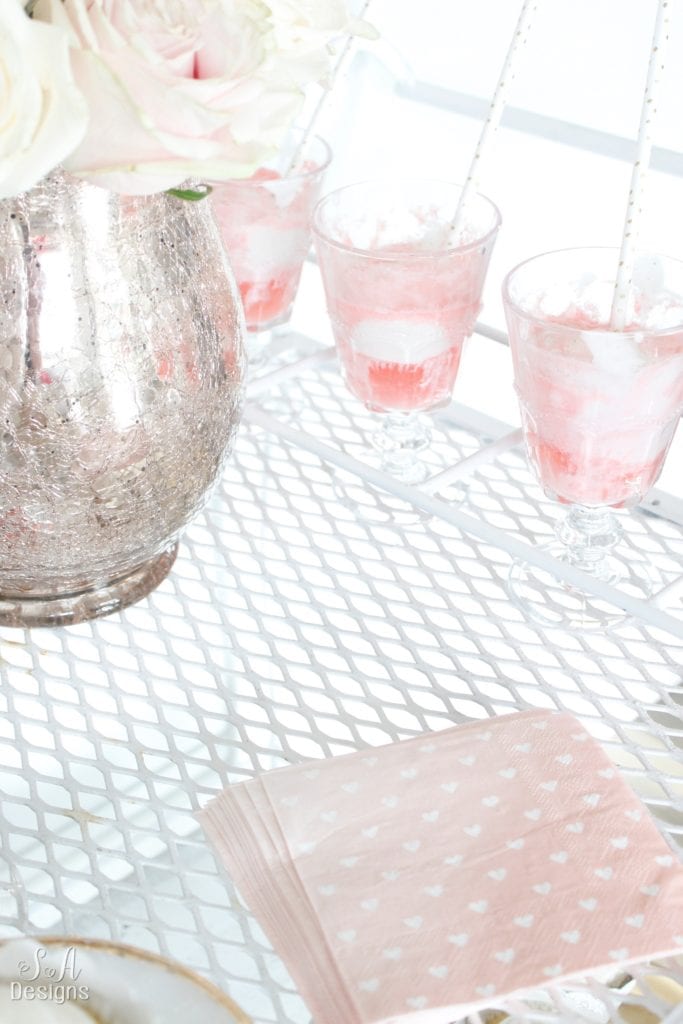 I keep pretty napkins for all occasions so I pulled out these adorable blush heart ones I found at HomeGoods last year.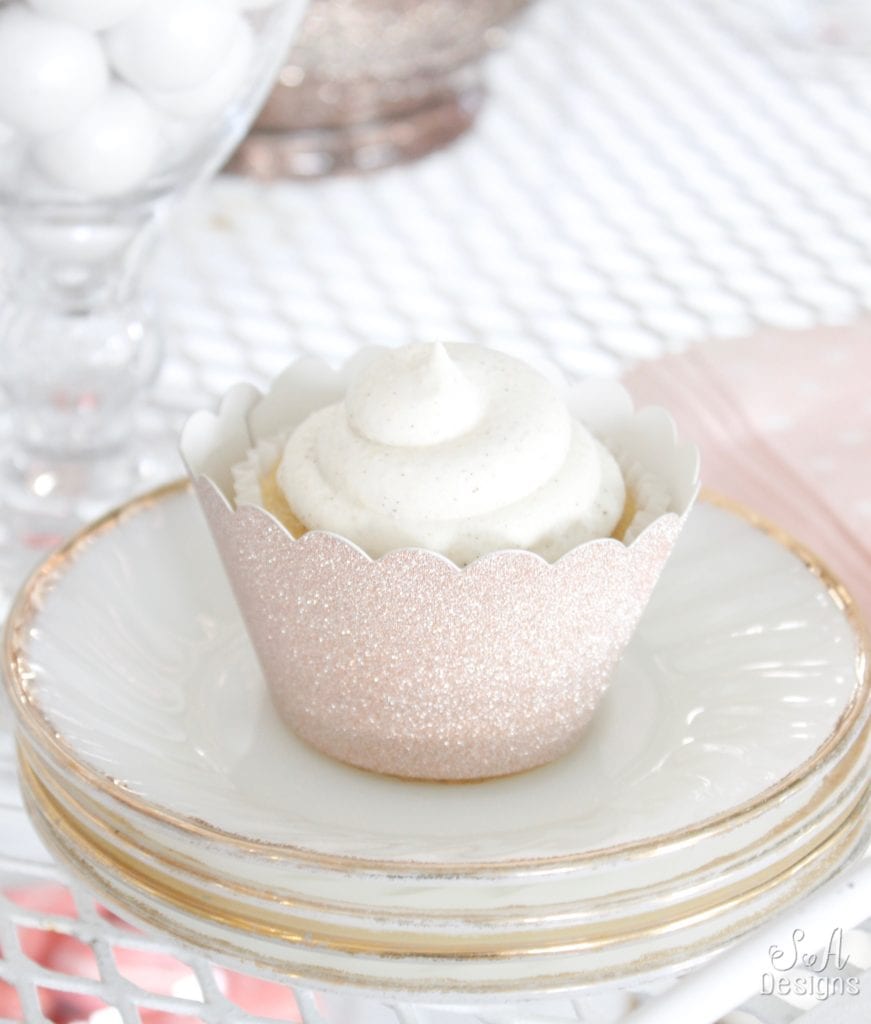 I grabbed these vintage gold-rimmed milk glass plates that I recently purchased from an estate sale.  I just adore them.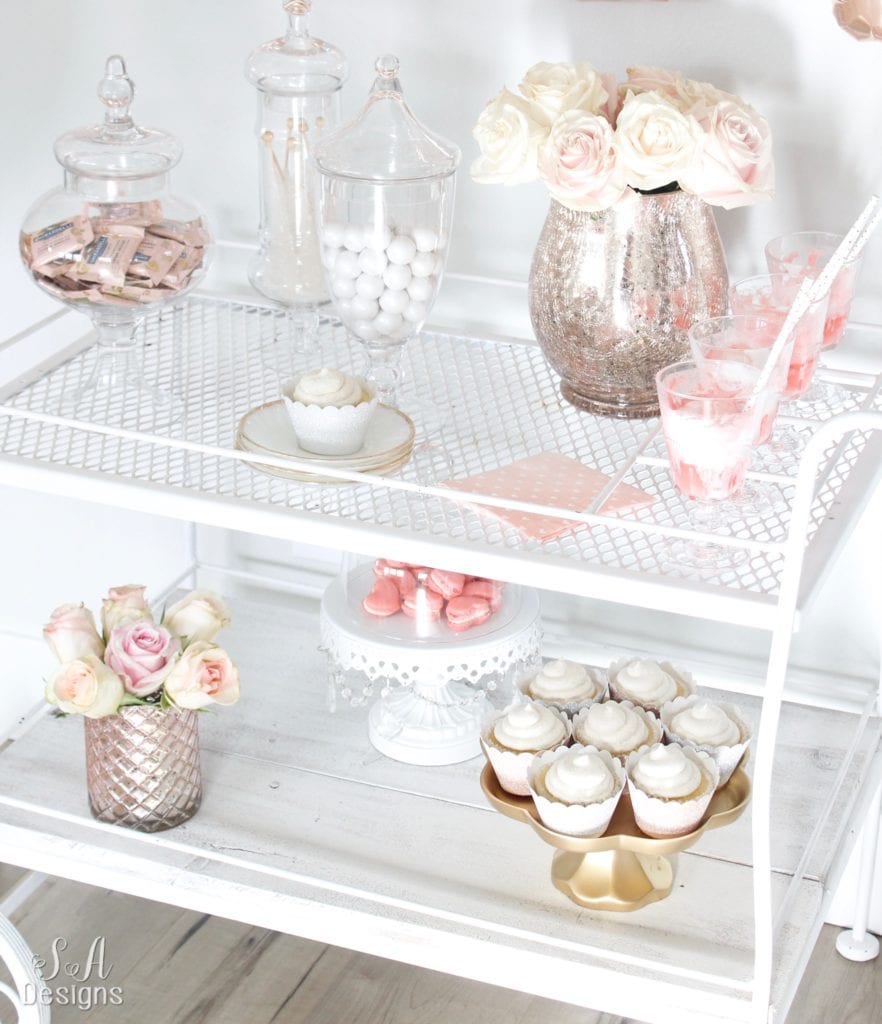 So that's the top shelf.  For the bottom shelf….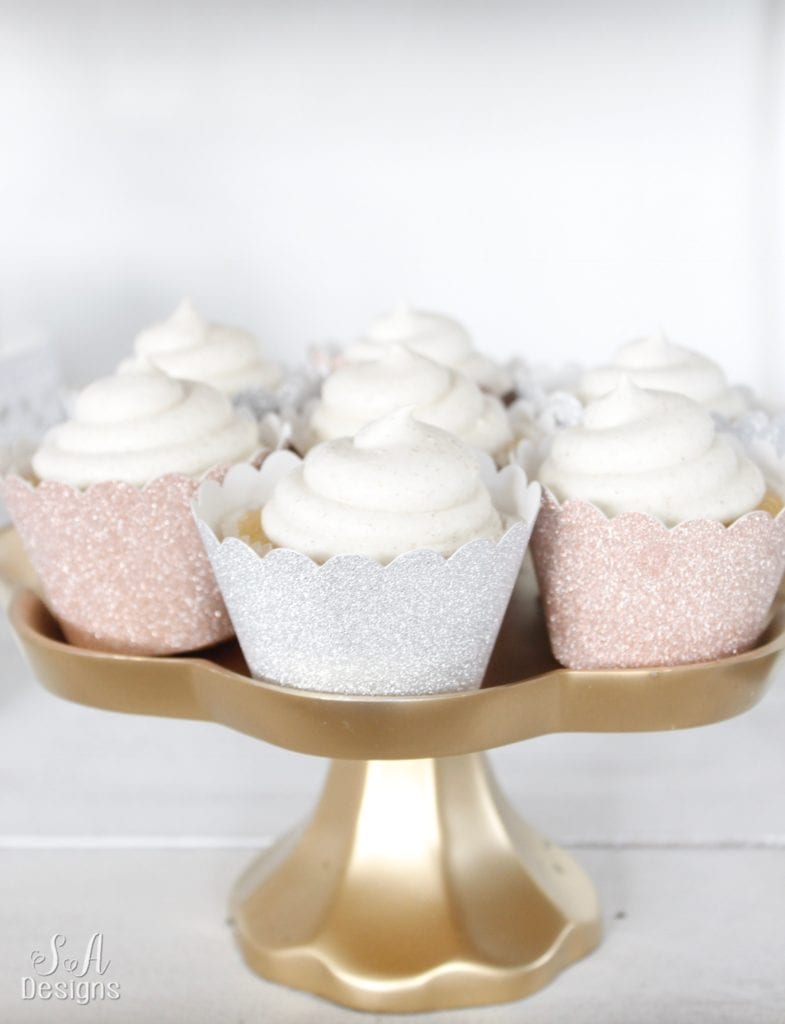 I made vanilla cupcakes with vanilla bean buttercream frosting and put them on a gold cake stand.  It used to be silver but I sprayed it last year. Don't be afraid to do that.  I also found these adorable blush and silver glittery scalloped cupcake wrappers at HomeGoods so I grabbed every package.  They'll last me for several celebrations, I'm so glad!  They're just too cute!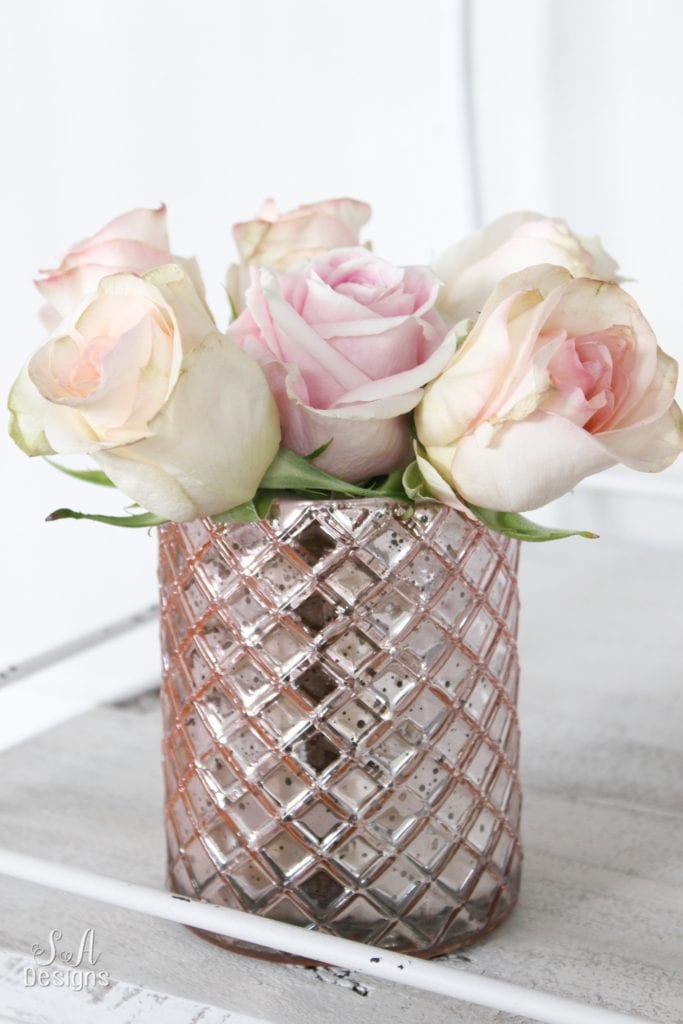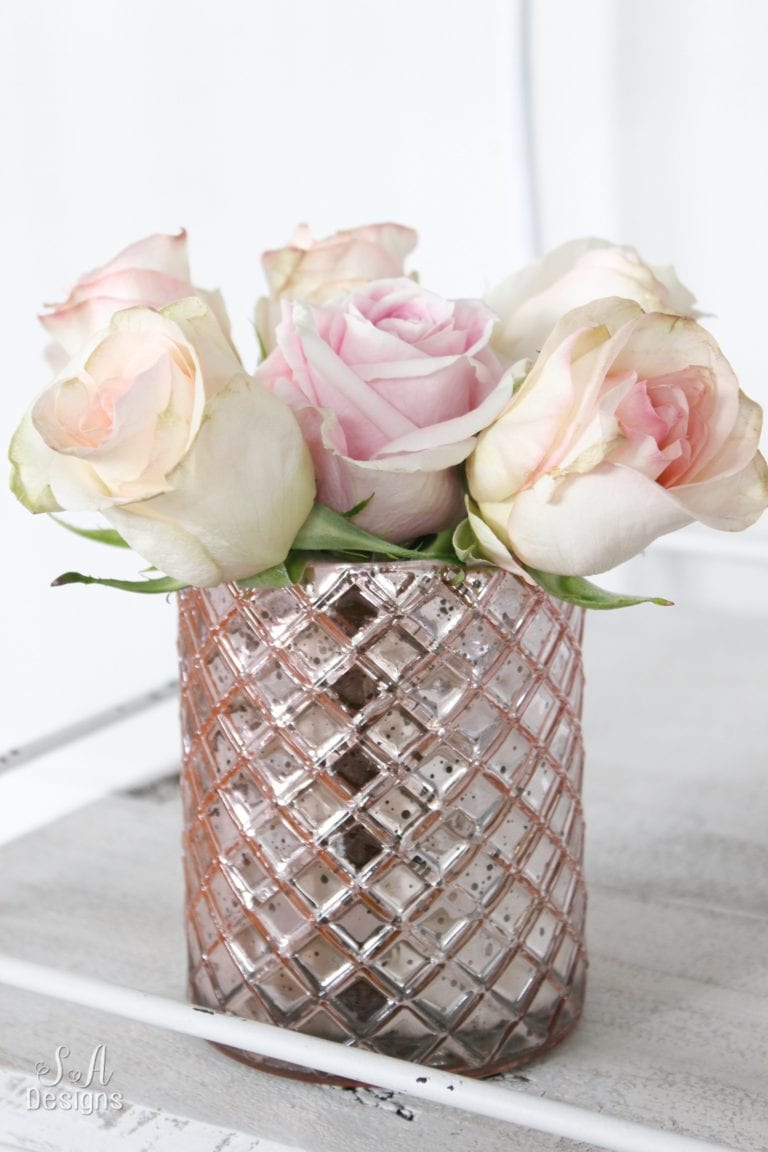 More fresh flowers on the bottom shelf.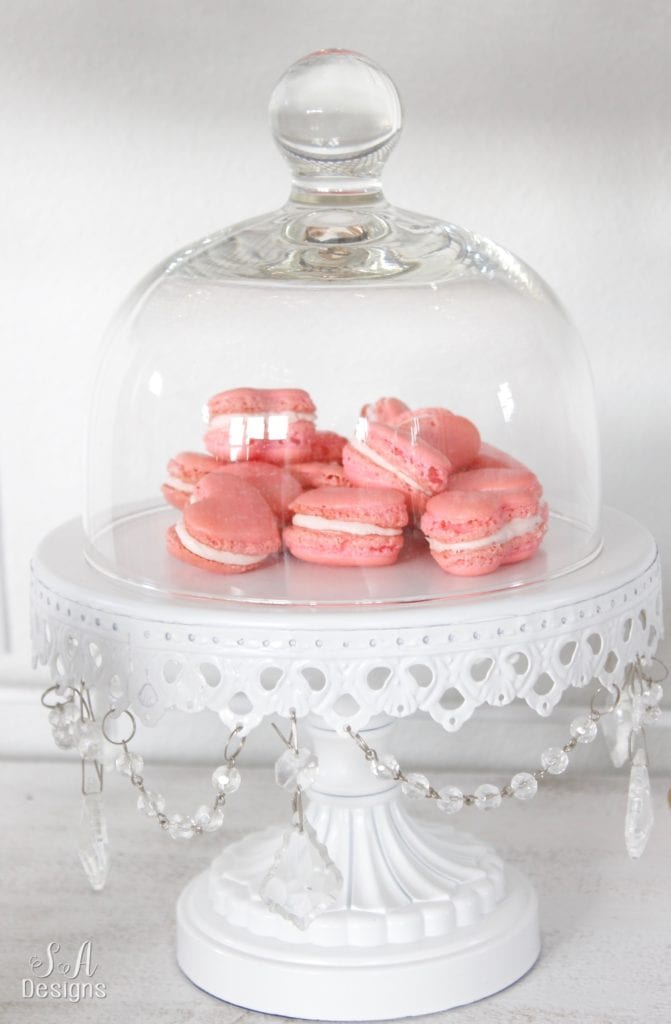 Now these babies…these were really fun!  If you follow me on Instagram, you might have seen my IG stories the other night and that Brooklyn and I were baking something fun.  We tried these heart macarons and they were sooooo fun!  We've baked macarons, like these, and many others before but we've never baked heart macarons.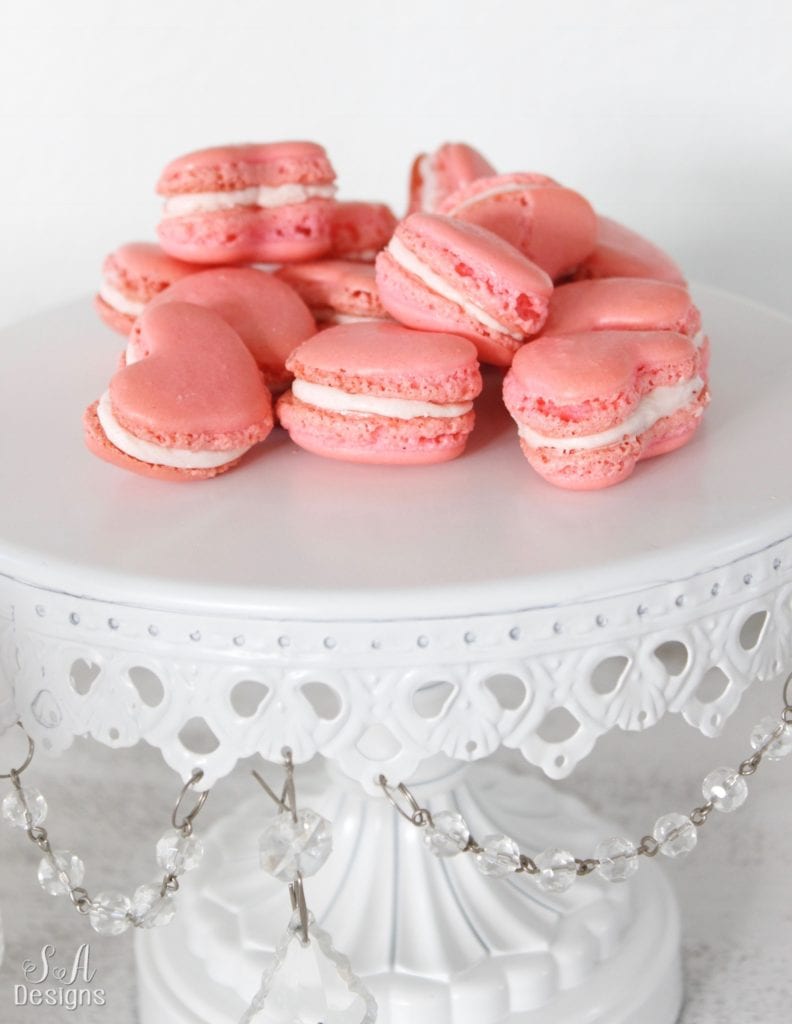 They're not only adorable but they are sooooooooo delicious!  The filling was my favorite yet and I can't wait to share the recipe with you!  I'll be posting it tomorrow so please make sure to check back!  There's an easy secret to it and you're going to love it.
Doesn't that all look delicious?!  It was a really fun surprise for my family. So, make sure to check back tomorrow for the Heart Macaron Recipe and keep coming back because I have some fabulous Galentine's Ideas AND another fun family idea to share.  If you haven't already read my Valentine's Apparel, Gifts & Decor post, it's a must!  Soooo many fun and fabulous ideas for you and for your home and friends and it's not too late to order for Valentine's Day.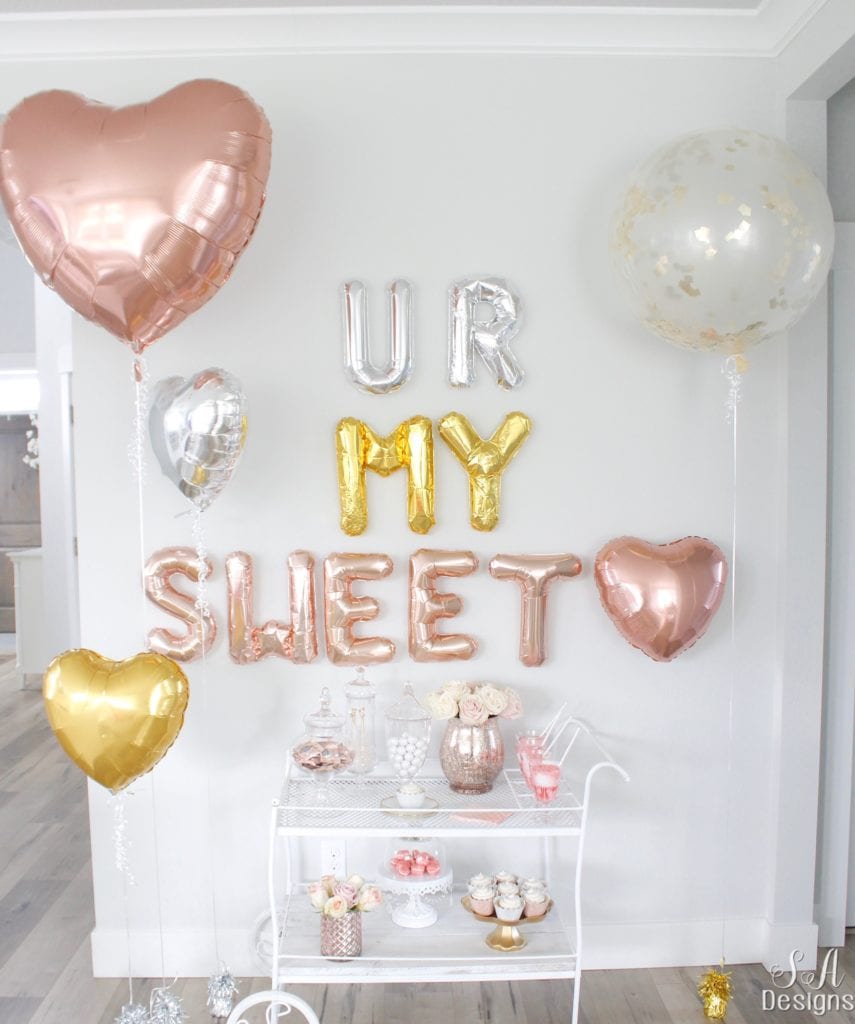 Click on arrows to scroll right and left.  Click on item picture to shop.



Welcome To Our Monthly Blog Hop
Kim & Lacey | Styled With Lace
Jodie & Julie | The Design Twins
Gloribell | Know How She Does It
Please make sure to visit my talented friends above and see what they're sharing today!
I would love it if you subscribed at the top of the page in order to receive my weekly emails of all my latest blog posts and hear about digital printables & freebies, as well as sales or new items in My Online Shoppe.  You can also follow me on Instagram, Pinterest, and Facebook to see what I'm up to in creating a home and lifestyle of inspiration!
xoxo,

SaveSave
SaveSave
SaveSave
SaveSave