Just a few months ago, we moved into our new home as it was finished being built. As we've settled in and have finished organizing and decorating rooms I've been revealing them to you here, one by one. Today I'm taking you into a room that's all my own, where I create and think and write and plan and dream. Join me as I reveal to you my blush and gold glam office!
This post contains affiliate links for your shopping convenience.
Click here to read my full disclosure policy.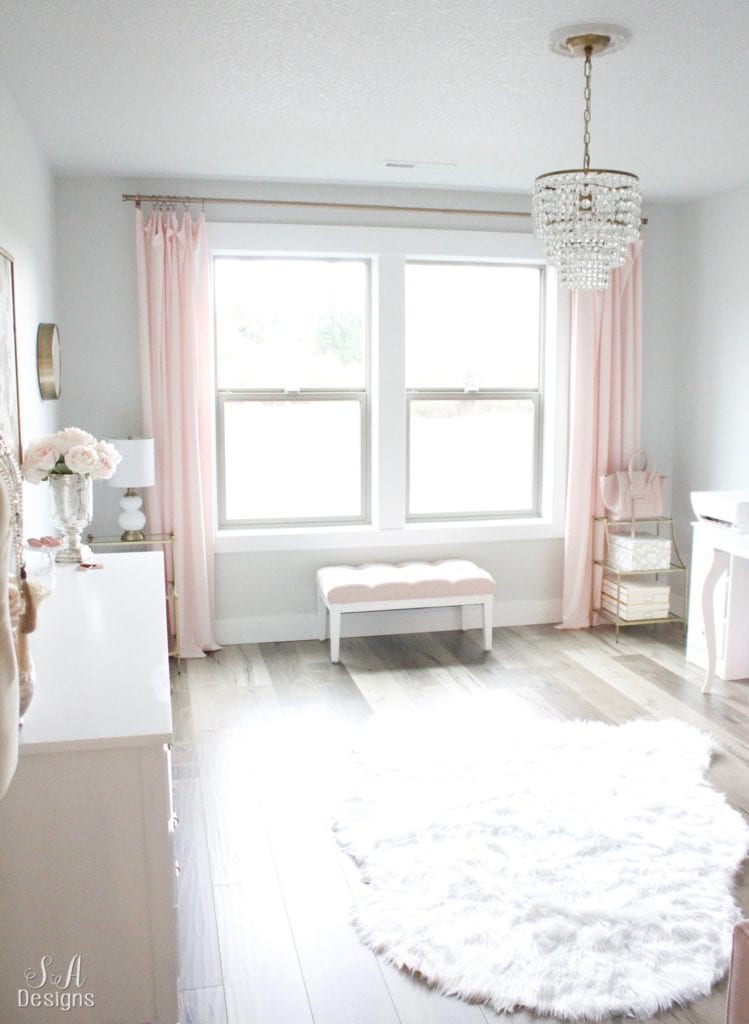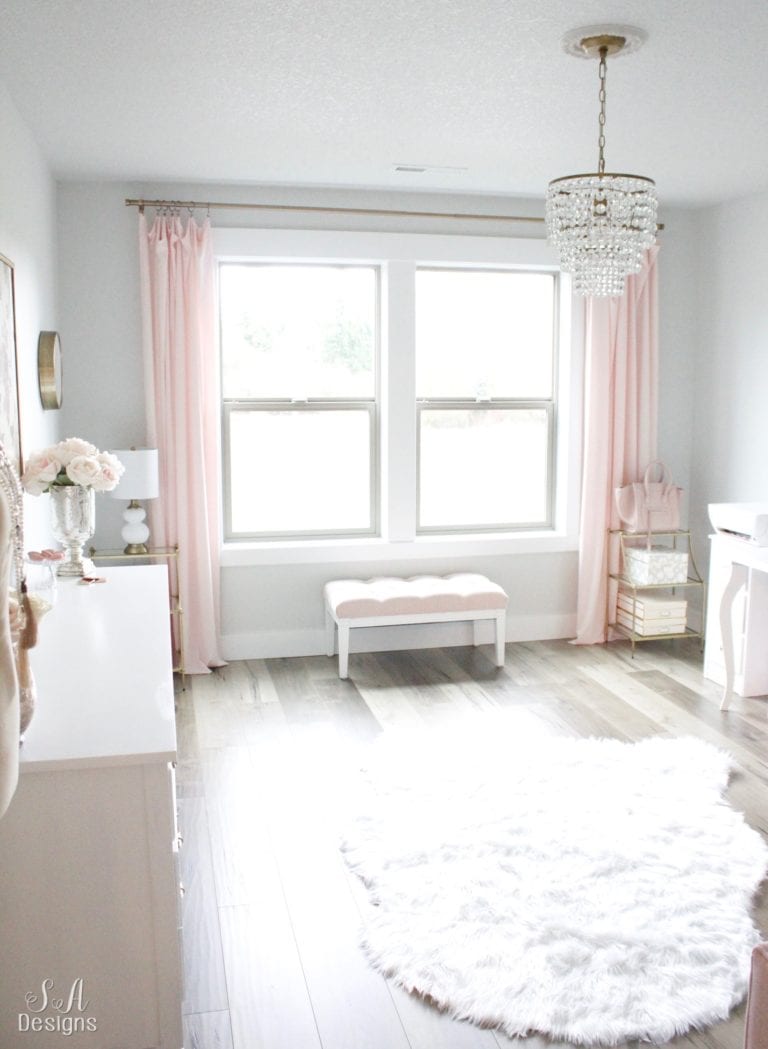 This upstairs office is just next to our master bedroom and the only space upstairs with the same flooring as our downstairs.
For interior paint colors and flooring information, please read this post.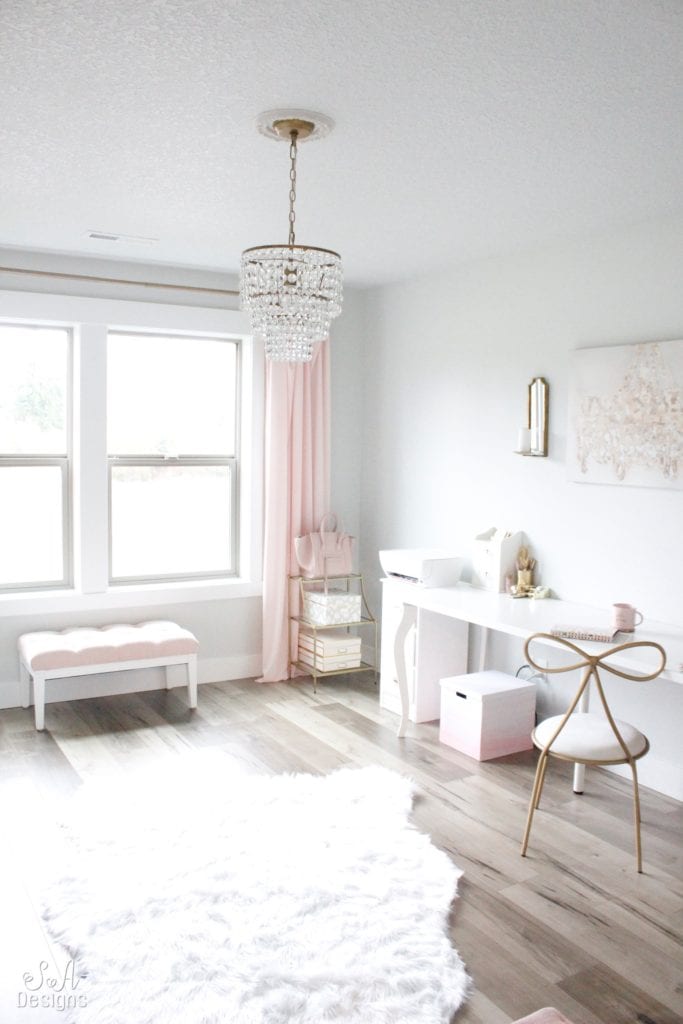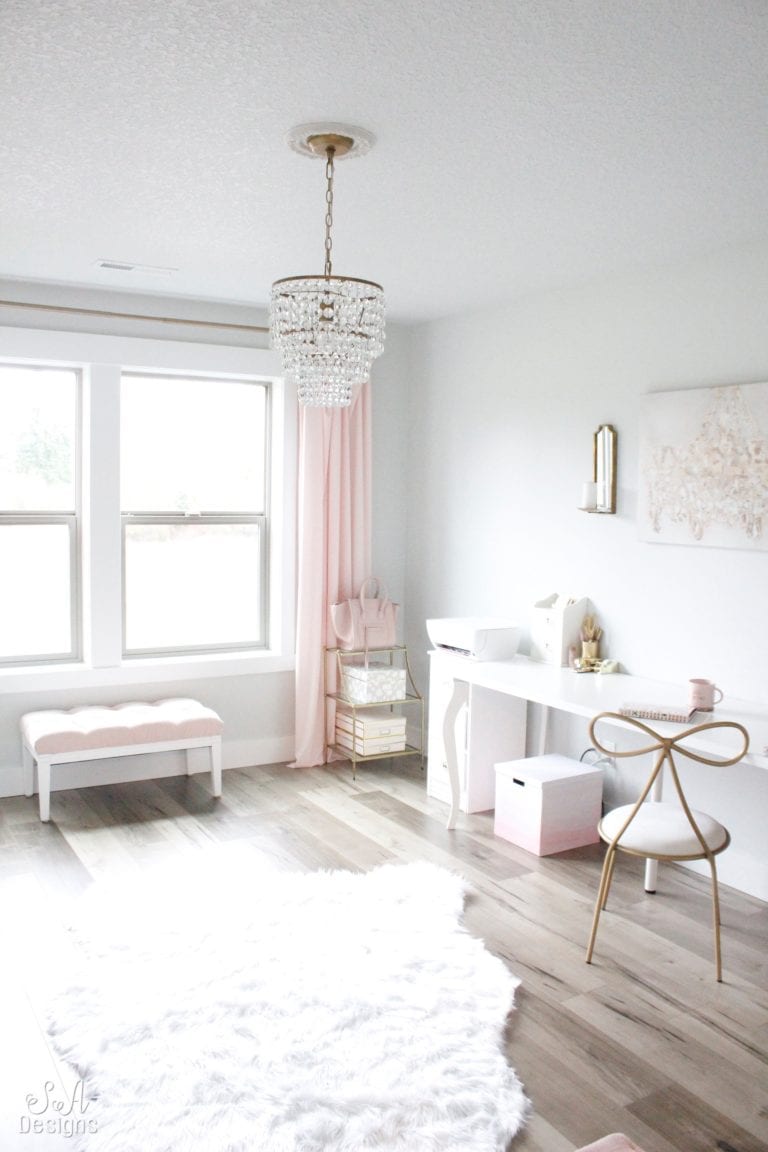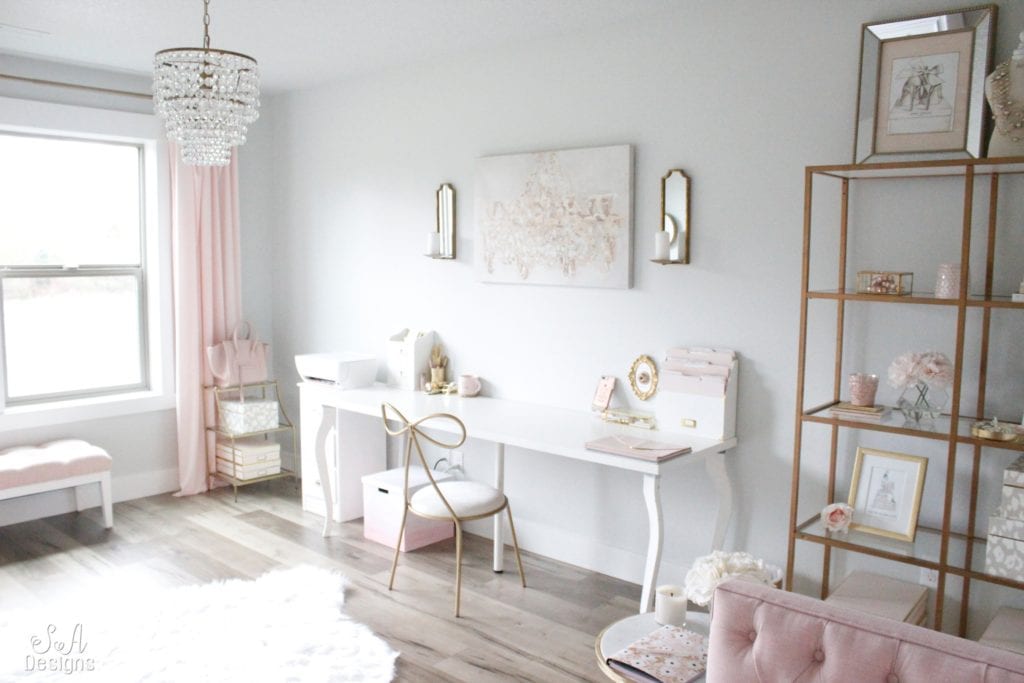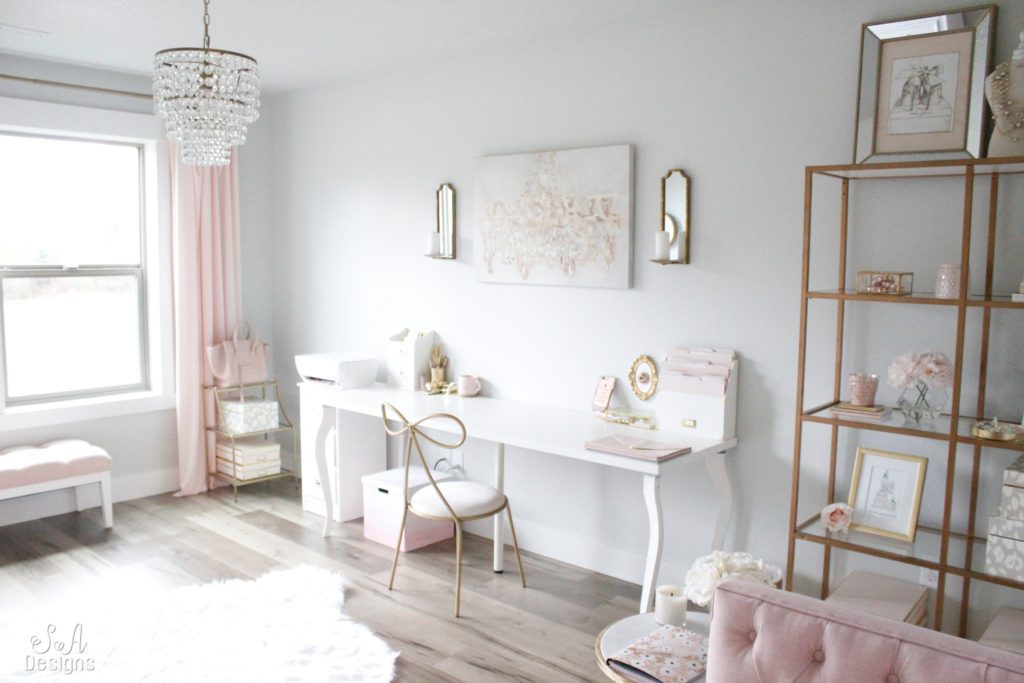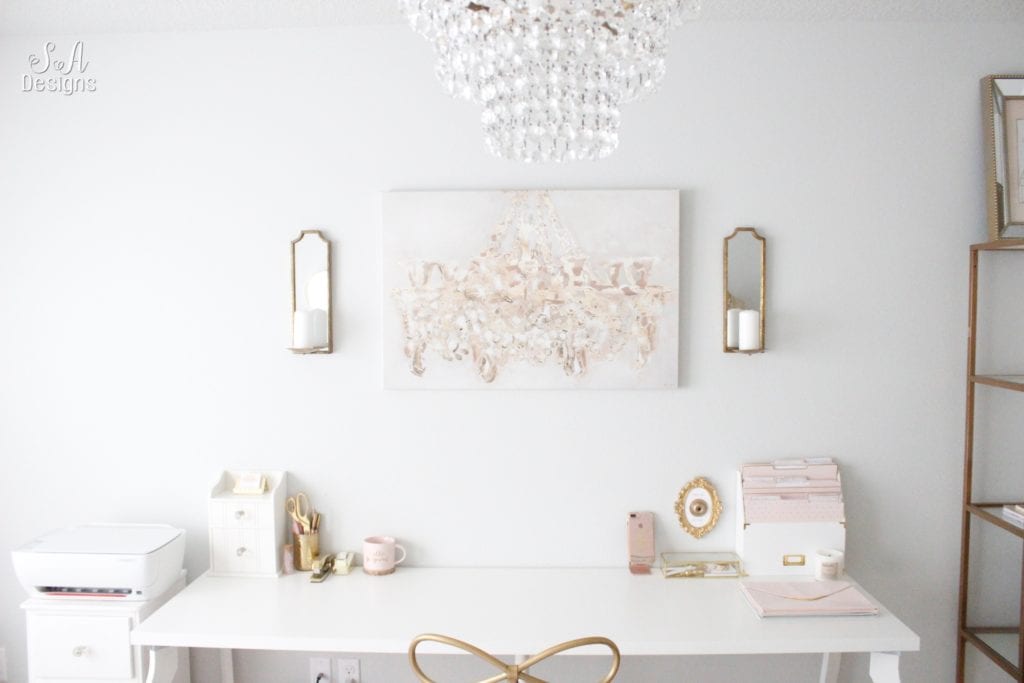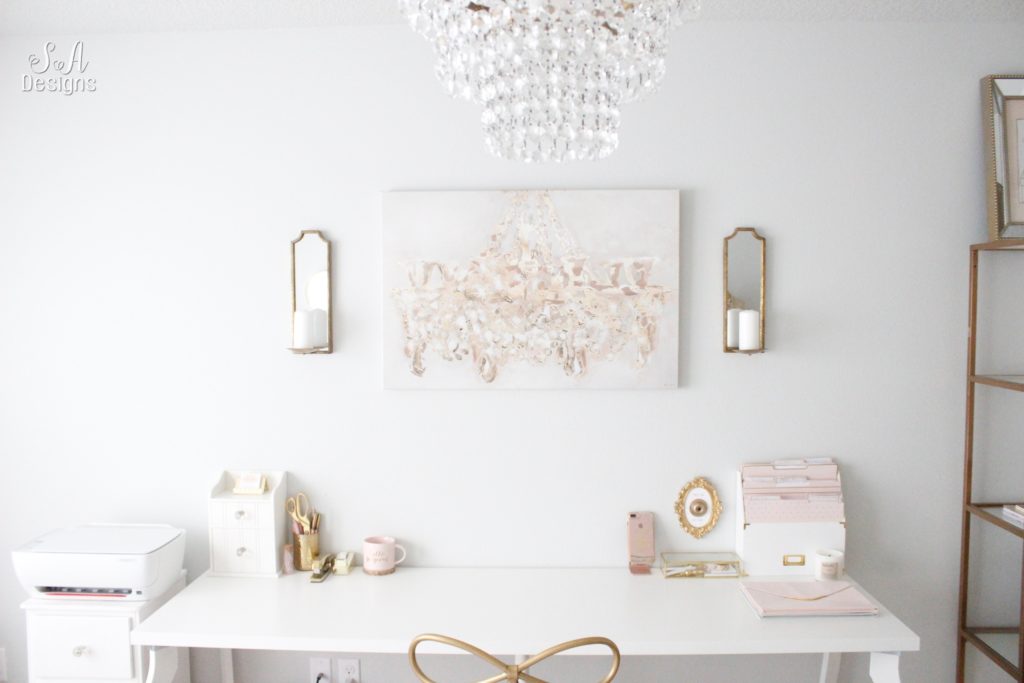 I kept my long white desk that we had back in our Dallas home. It's from IKEA and I love it because it's so long that I can work on a couple of projects at once. I can sew on it if I want to or pull out my small sewing folding table. (Note: I think they only make this desk in black/brown now and not white but you could prime and paint it. It's a great piece!)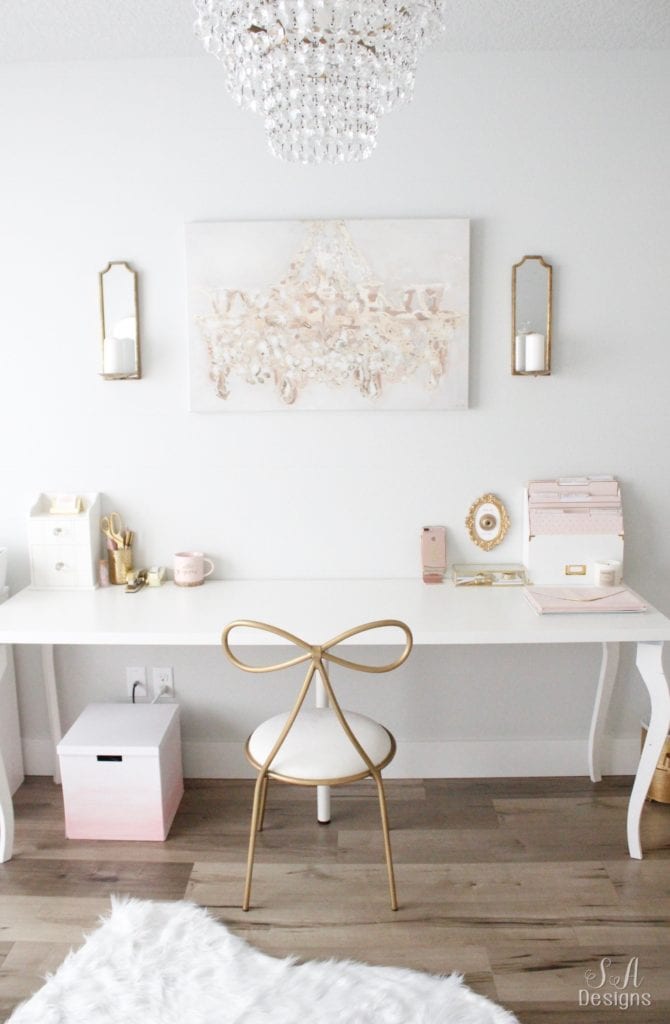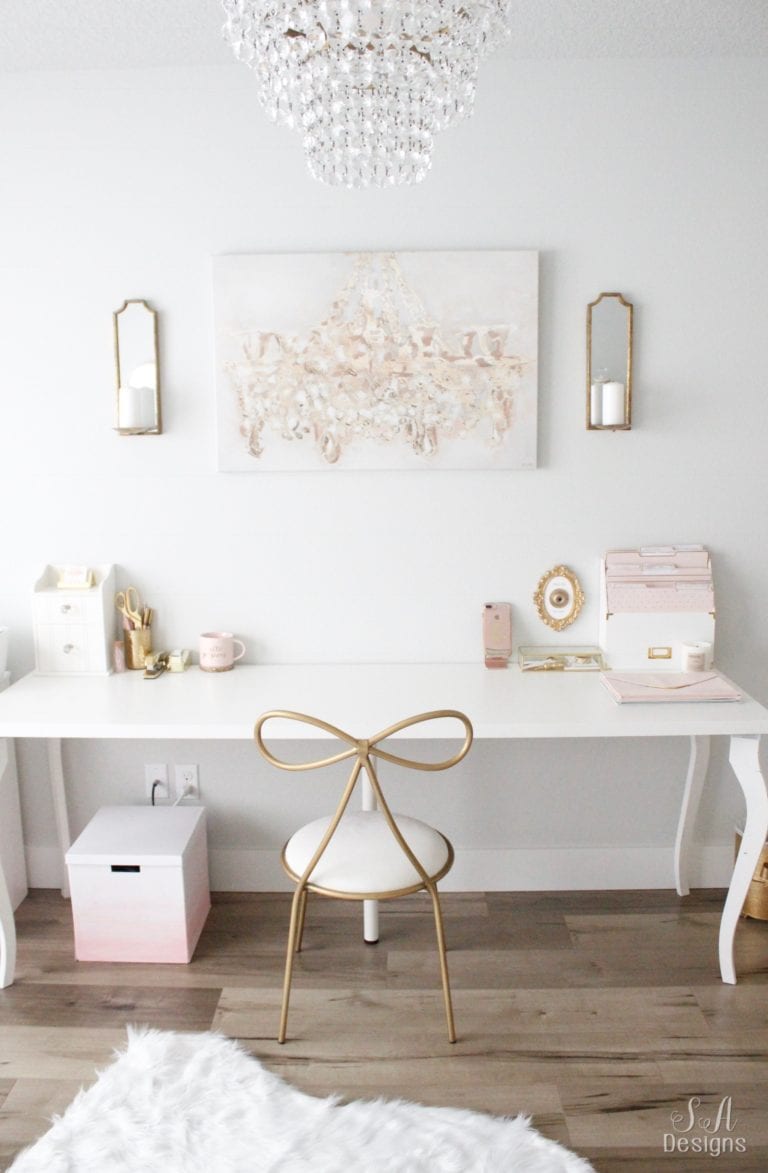 I wish I could find one as long as it but with drawers.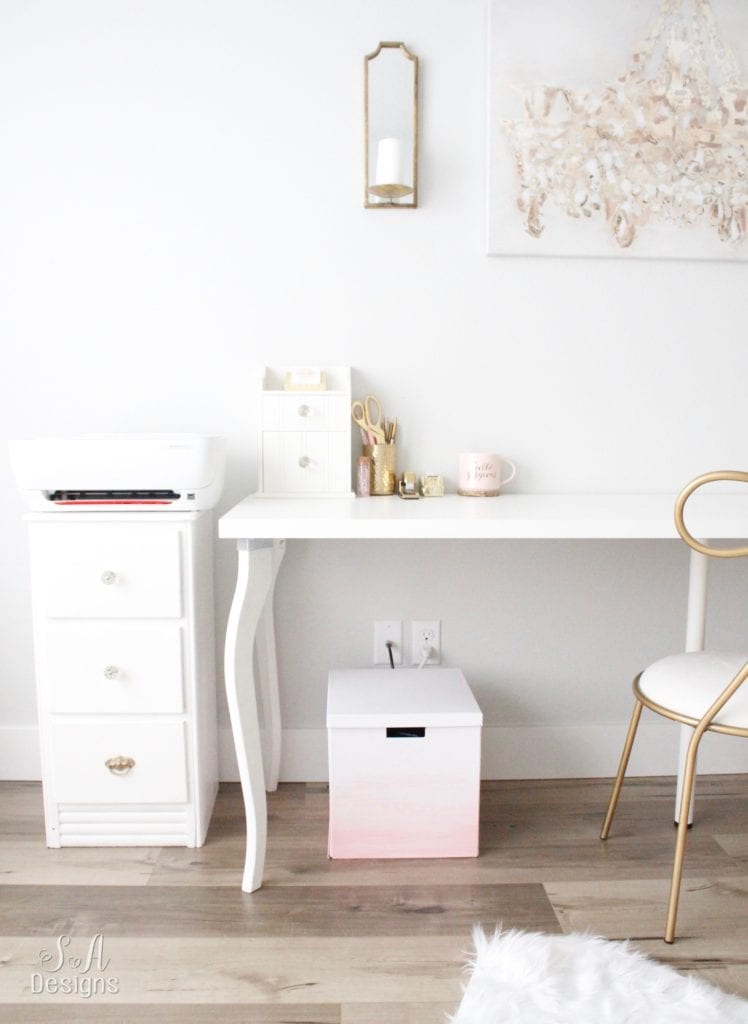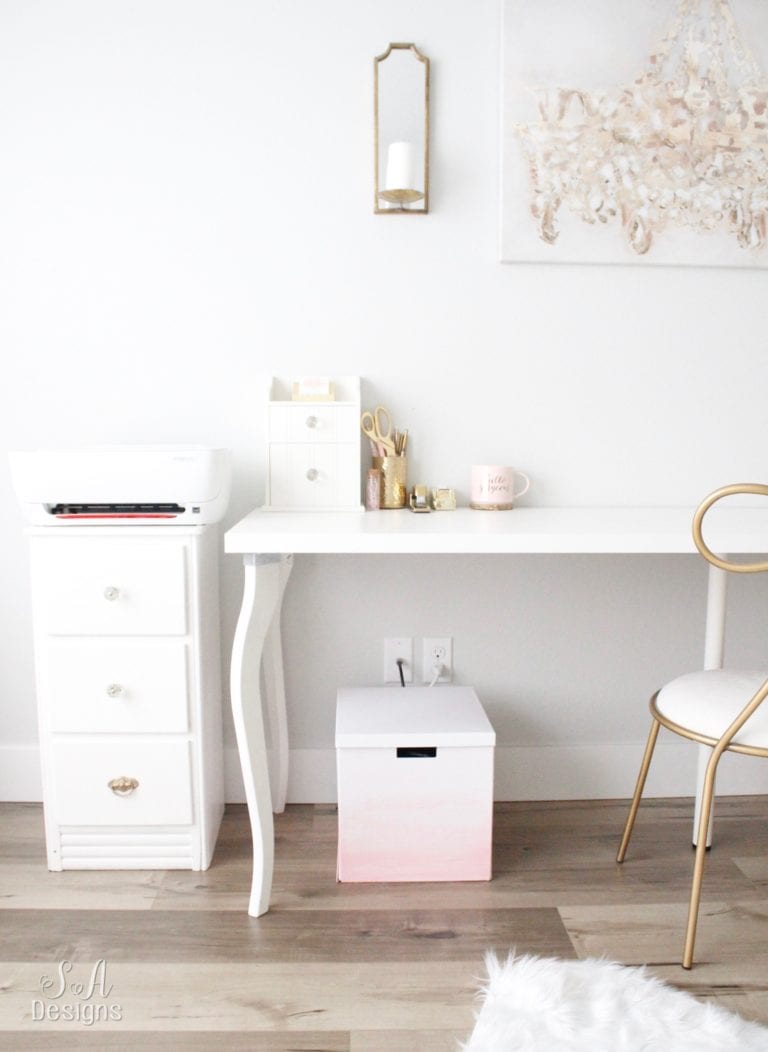 Until then, I have a vintage piece that I keep next to my desk, full of office supplies and holds my printer.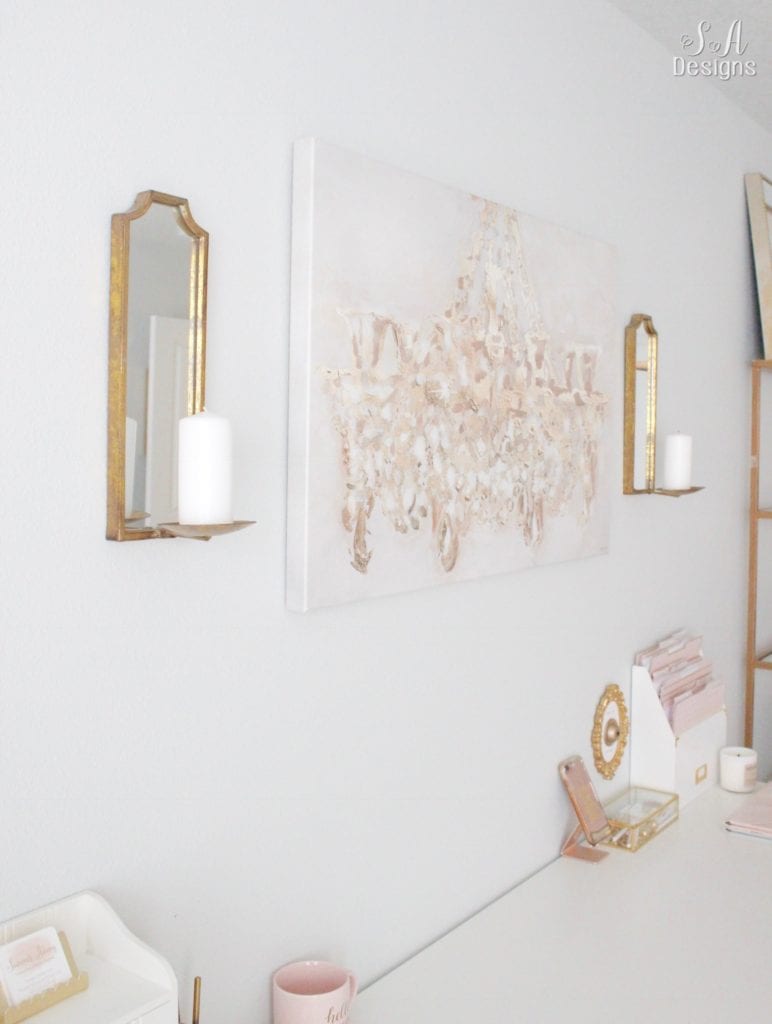 I once had these mirrored candle wall sconces (found at Tuesday Morning a couple of years ago) and this pretty chandelier canvas art by Oliver Gal called "Candelabro" in our living room back in our home in Dallas.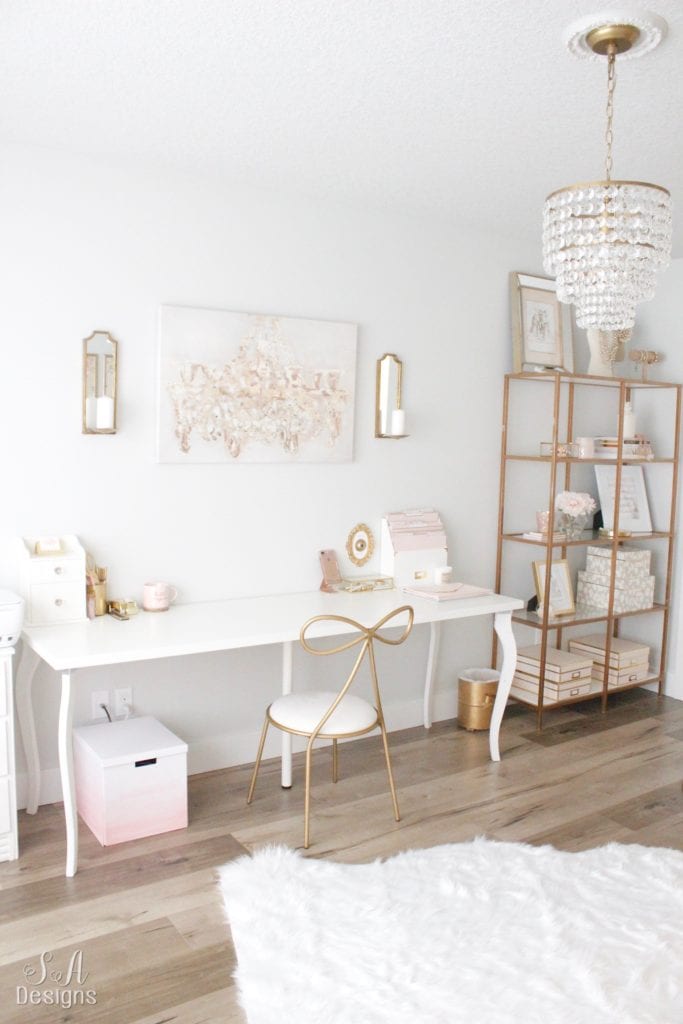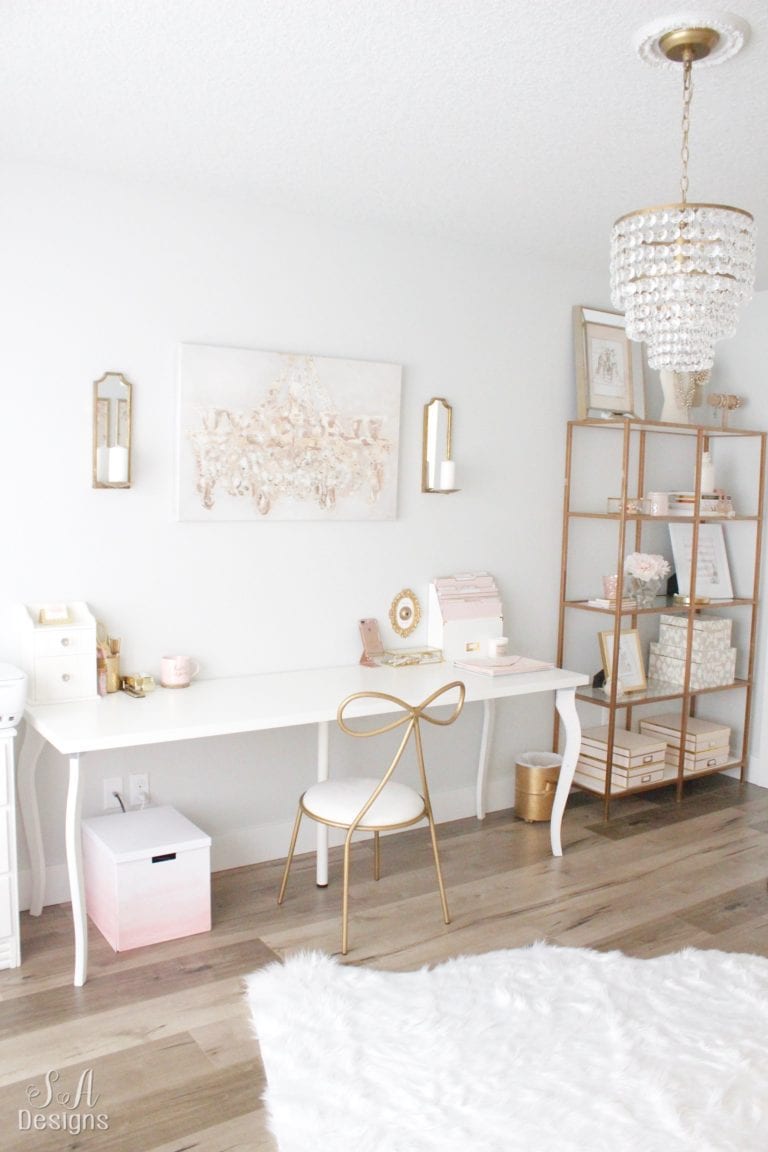 I like the subtle grey of the art blending with the wall and the gold and blush tones. It was perfect for this blush and gold glam office!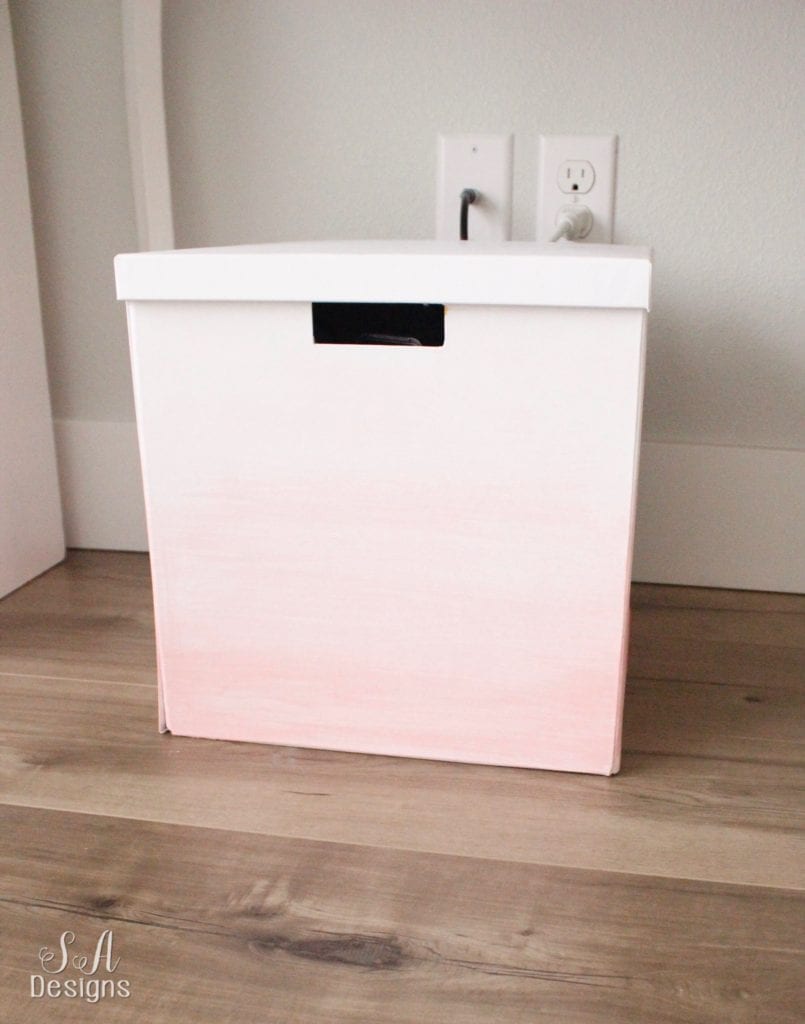 HOW TO HIDE CORDS:
One of the most frequent problems of any office is how to conceal the router and cords so that everything looks tidy and beautiful. For a couple of months I searched for pretty boxes to hide them in, as this was the only way with the style of desk I have and not much to hide it behind. I already have many pretty boxes in my office but they weren't large enough to put everything in. I decided to grab a $5 white IKEA file box and use blush paint and water to create an ombré watercolor design. It's simple and it matches. All the cords go through the back hole of the box.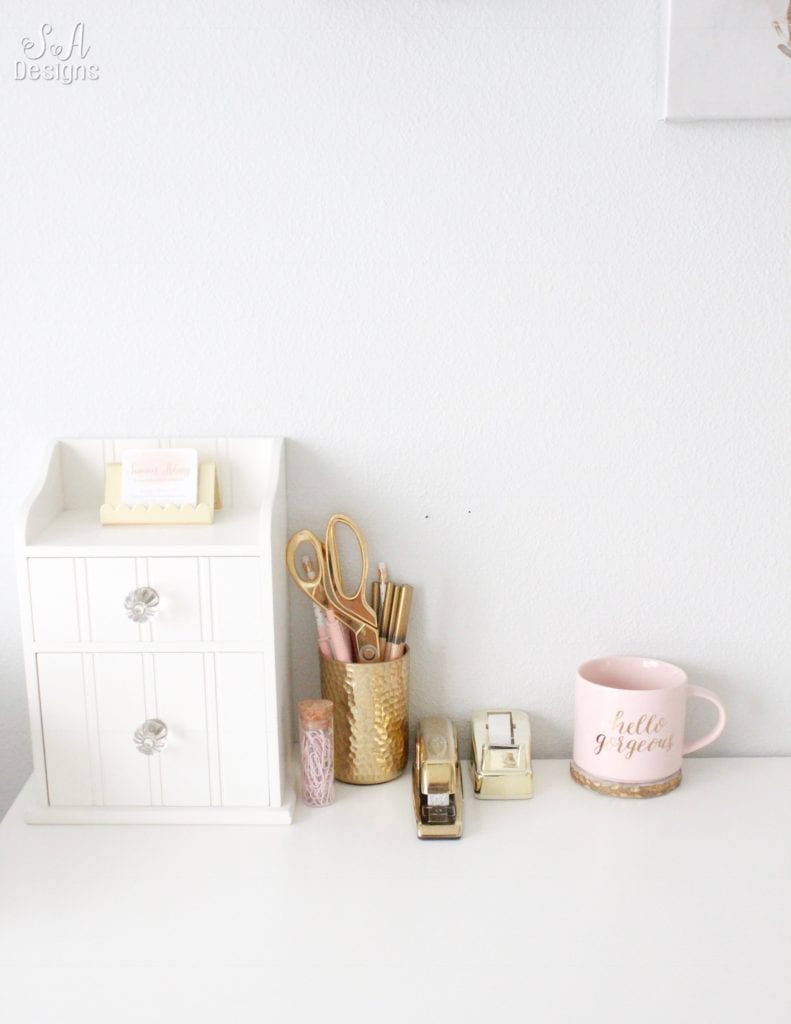 I made sure everything on my desk was blush, gold, and white and pretty to look at.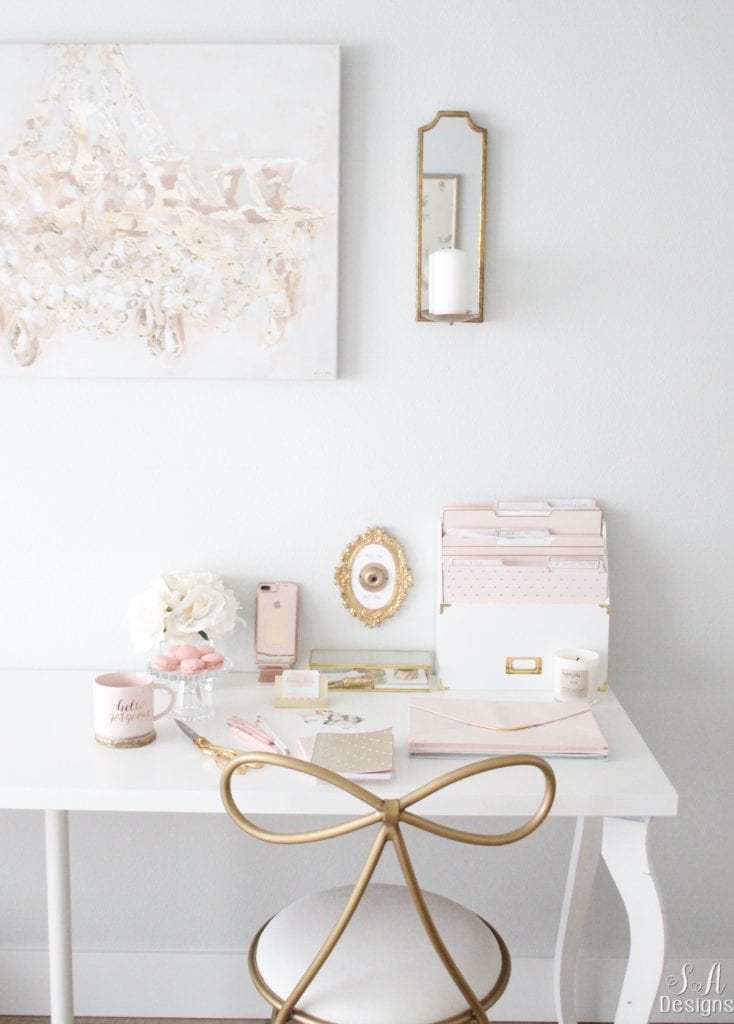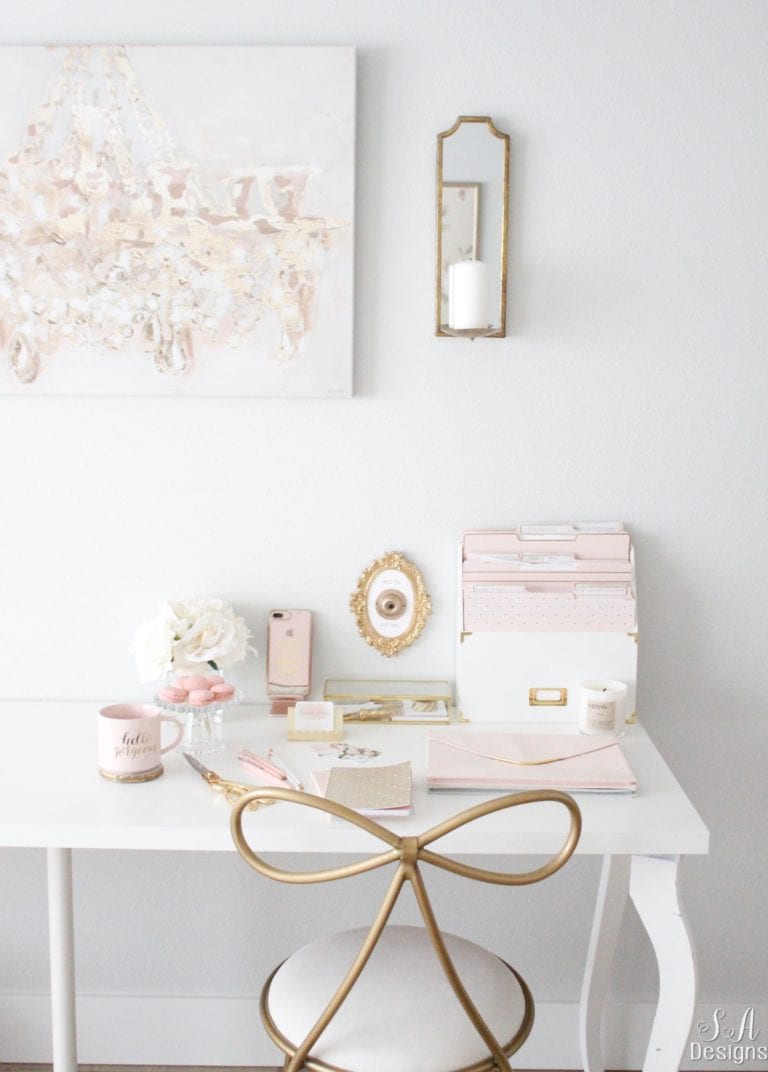 Blush pens, pretty mugs, coordinating portfolios, pretty notebooks, candles and accessories.
And of course…there's my favorite bow chair.
I'll link all of these things at the end of the post in my "shop the post" section.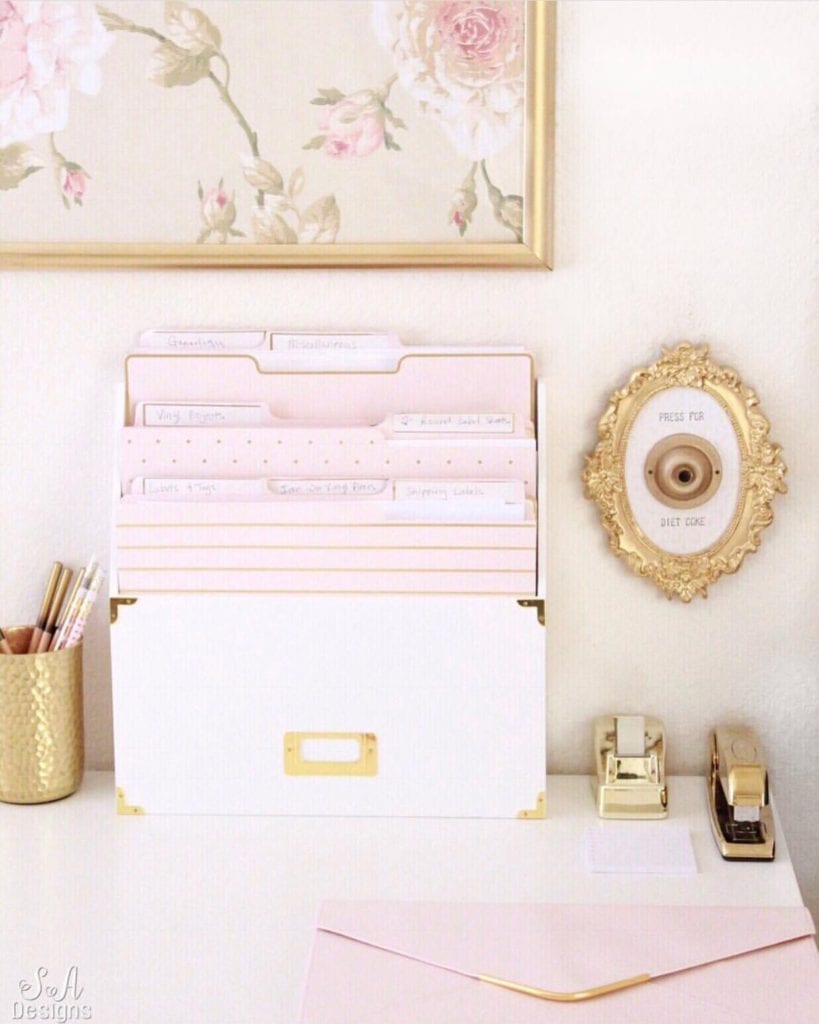 Remember this set-up from my office back in Dallas? This "Press For Diet Coke" framed buzzer is back.
All you need are the items below to make your own and also the words printed on a piece of paper that fits in the frame. Click on items to shop.


Spray the frame gold first. You'll just hot glue the buzzer onto the middle of the printed paper, already in the frame. Hang on the wall. OR you can order it already made below at the end of the post in the "
Shop The Post
" section.
It gets soooo bright in my office but I love my view with the big windows. I get to watch all the horses run around on the beautiful property next to us and I get to see the most beautiful sunsets out the back window. I love having a lot of natural light in my office. I would hate for it to feel like a dungeon.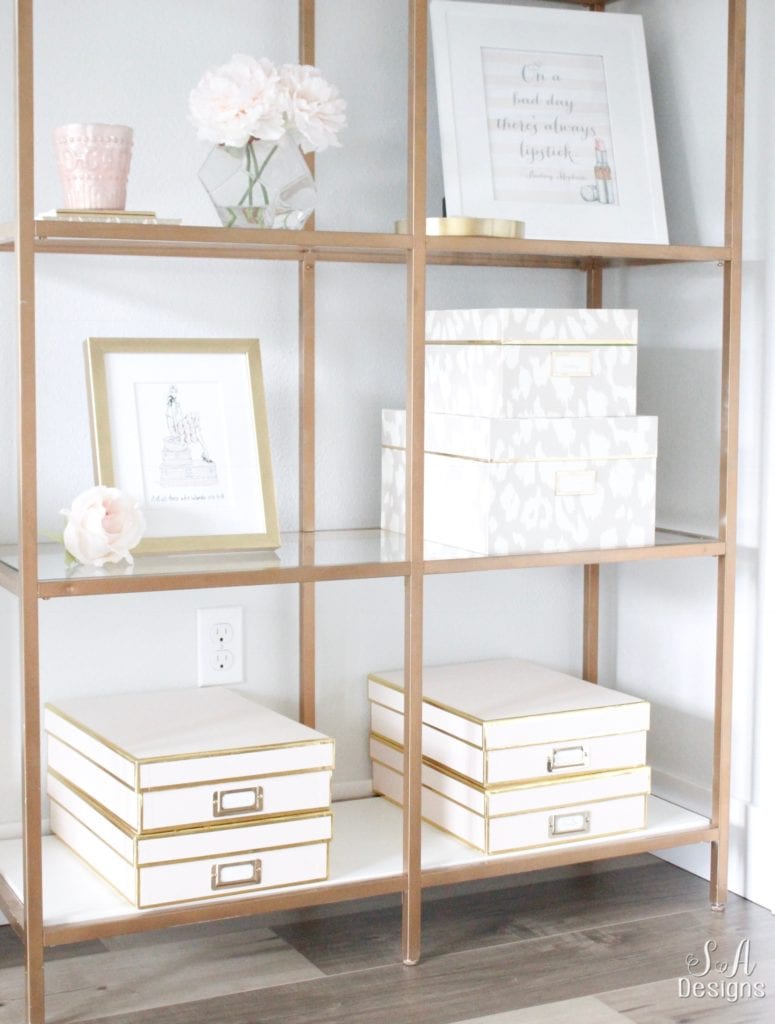 This is a popular IKEA hack. The Vittsjö shelving system is inexpensive, can be sprayed gold, and is a beautiful way to store things.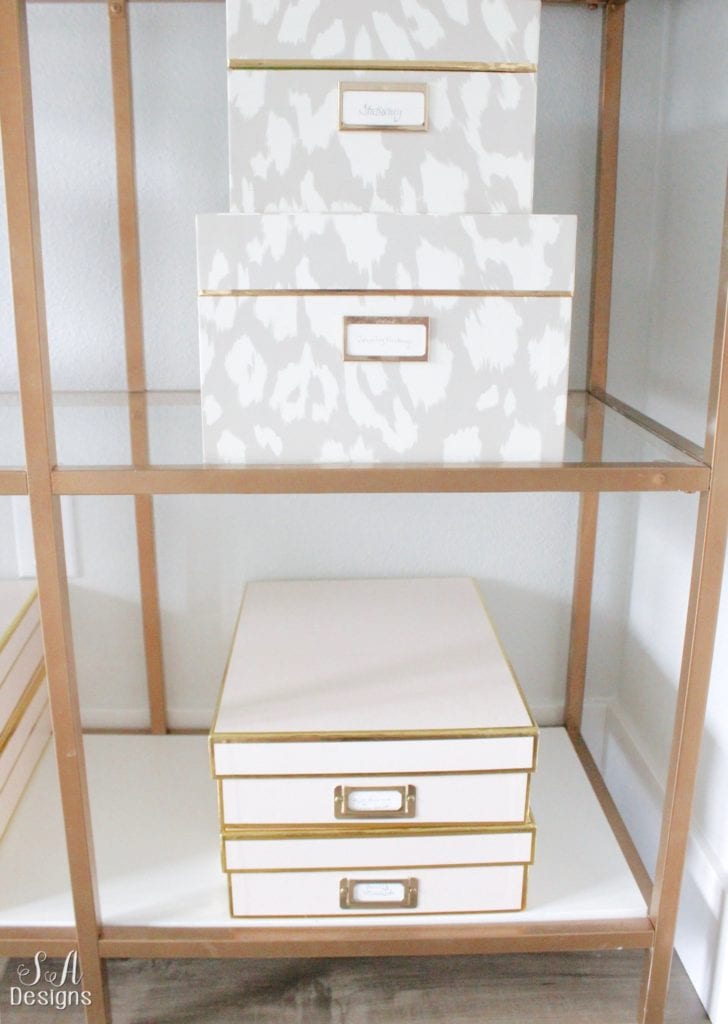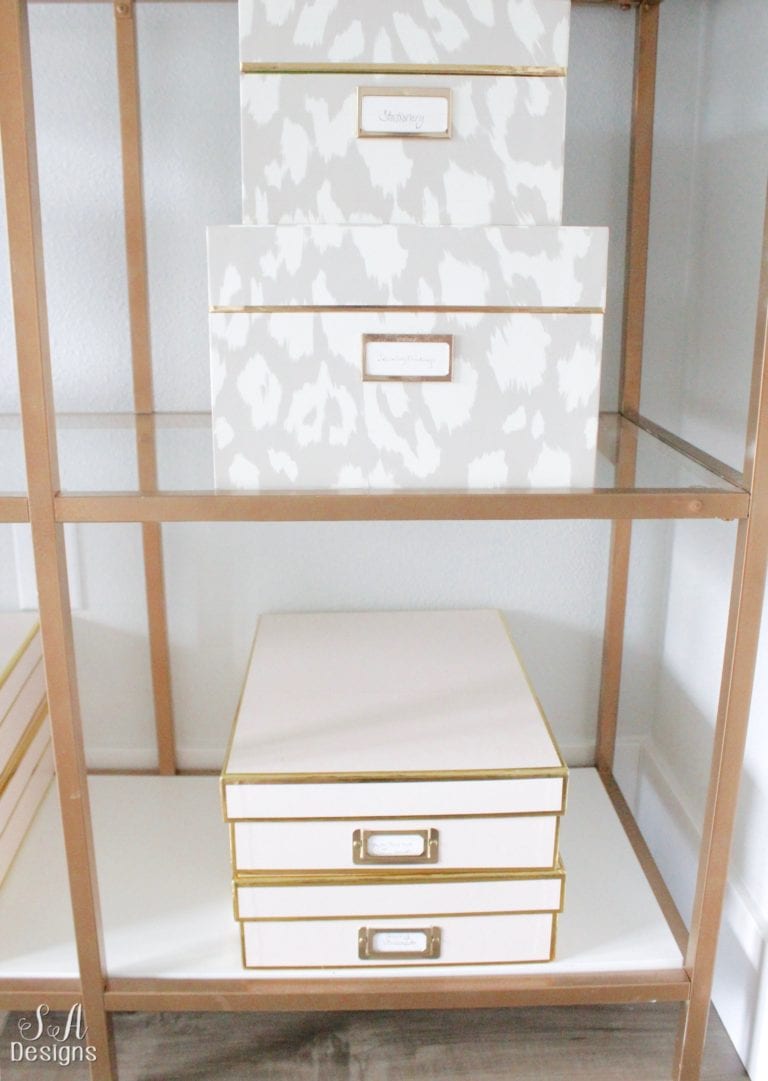 I keep a lot of files in boxes, rather than a filing cabinet. I like the way it looks and is a prettier way to store important documents. It also takes up less space.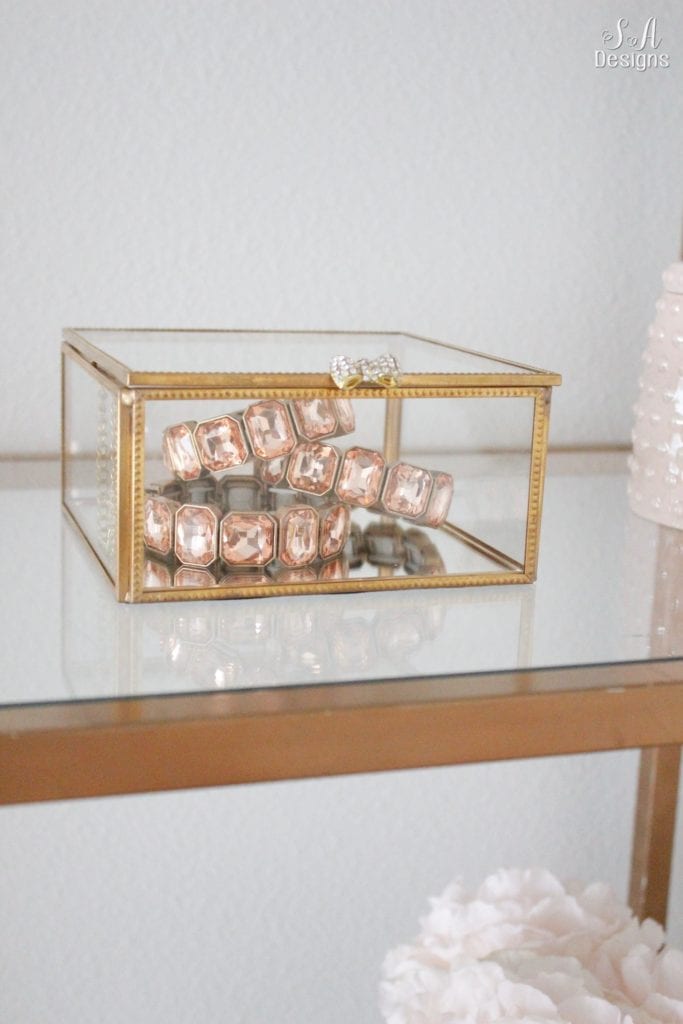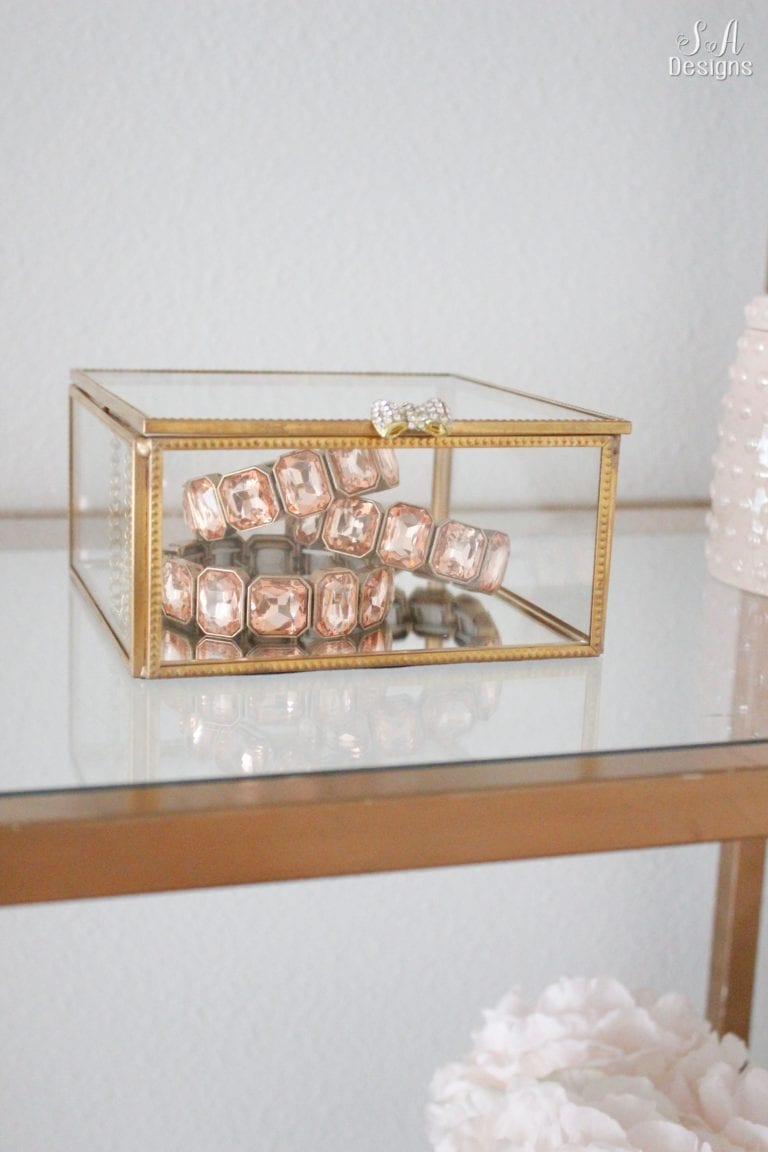 I styled the shelves with not only pretty boxes of important files but also with pieces that are new to my online shoppe.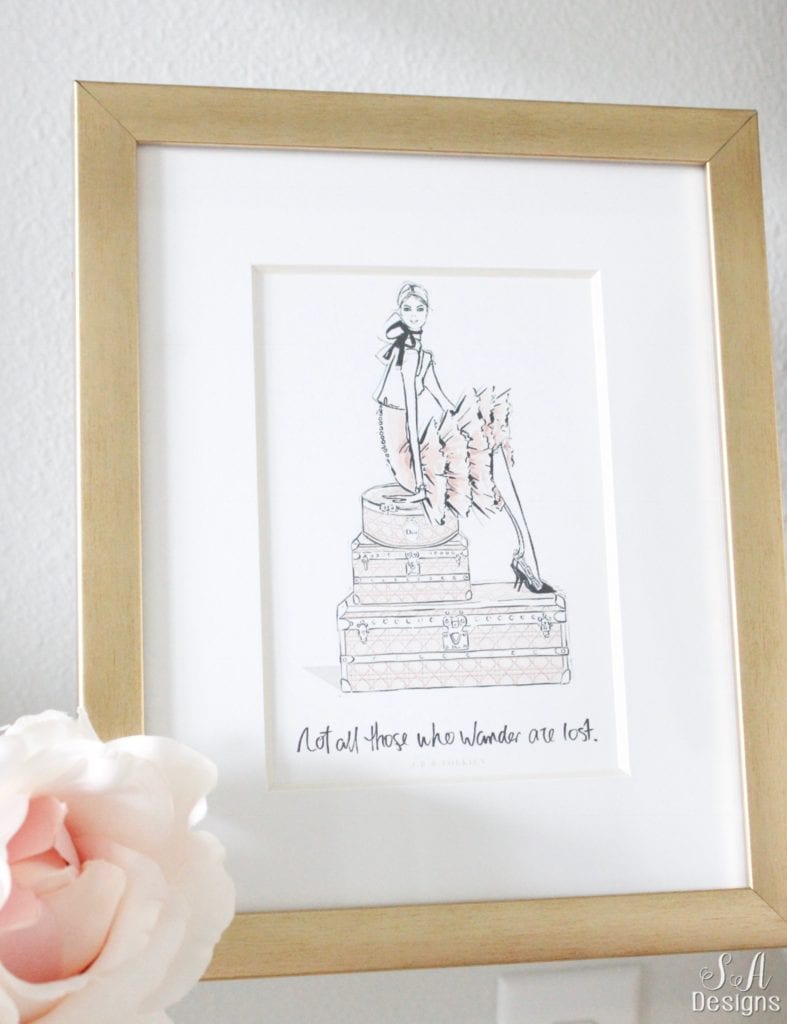 A darling print from Megan Hess framed.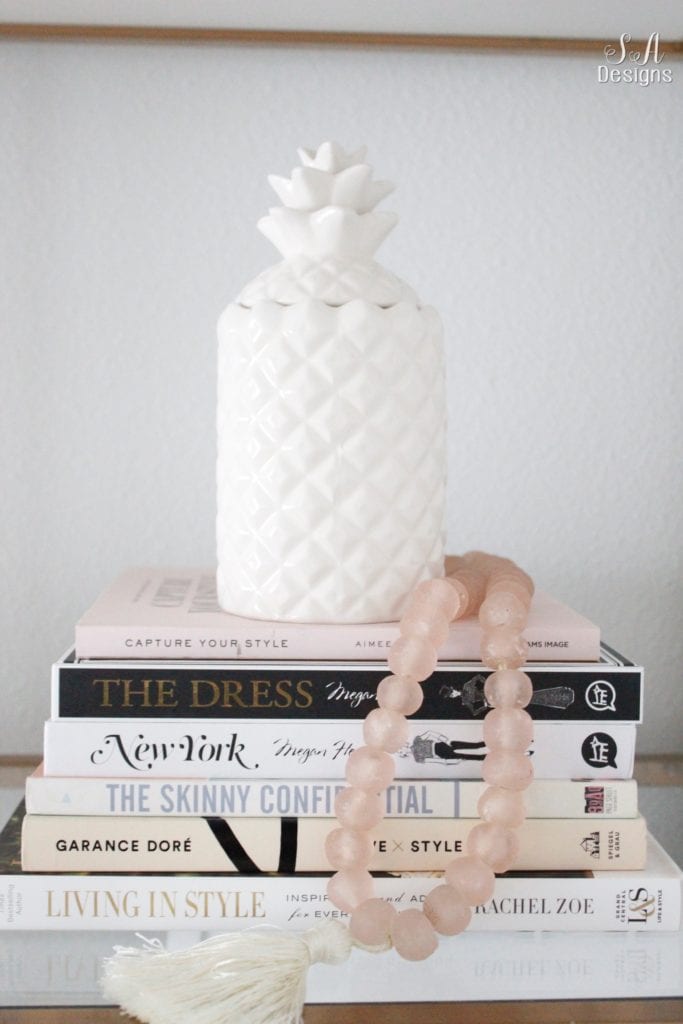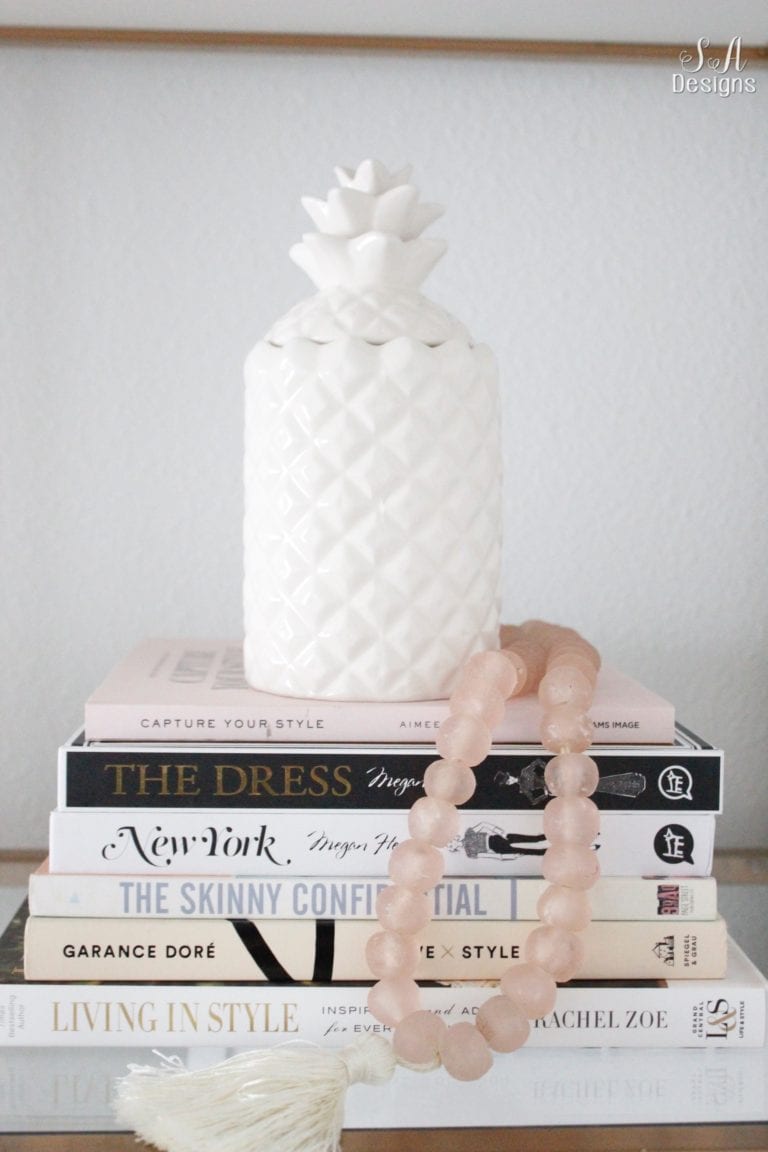 I have a lovely collection of fashion books that I also keep here.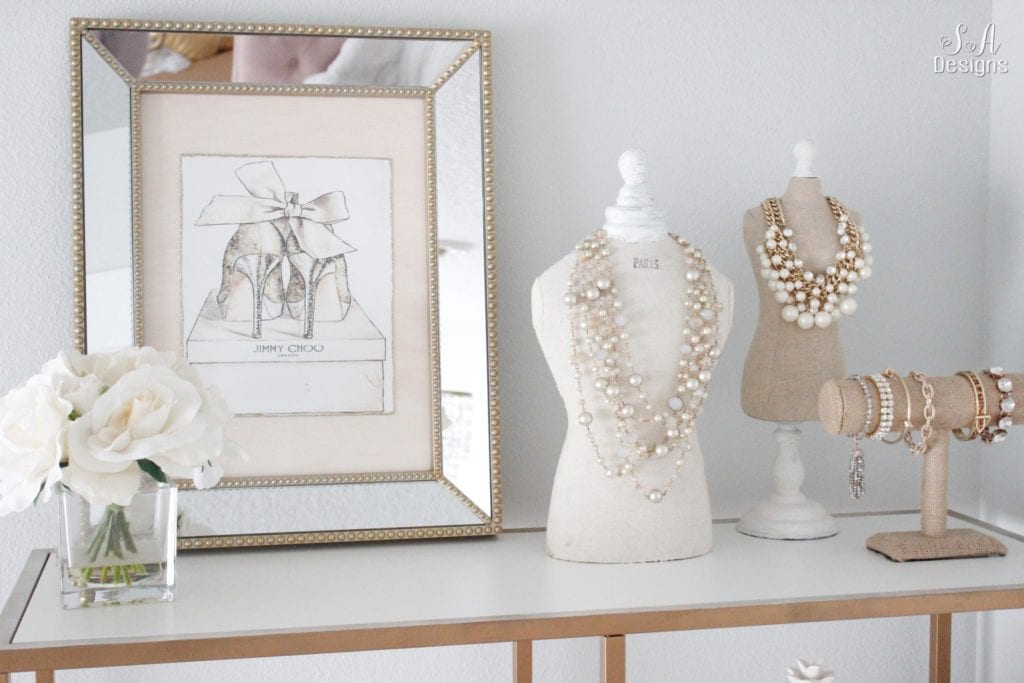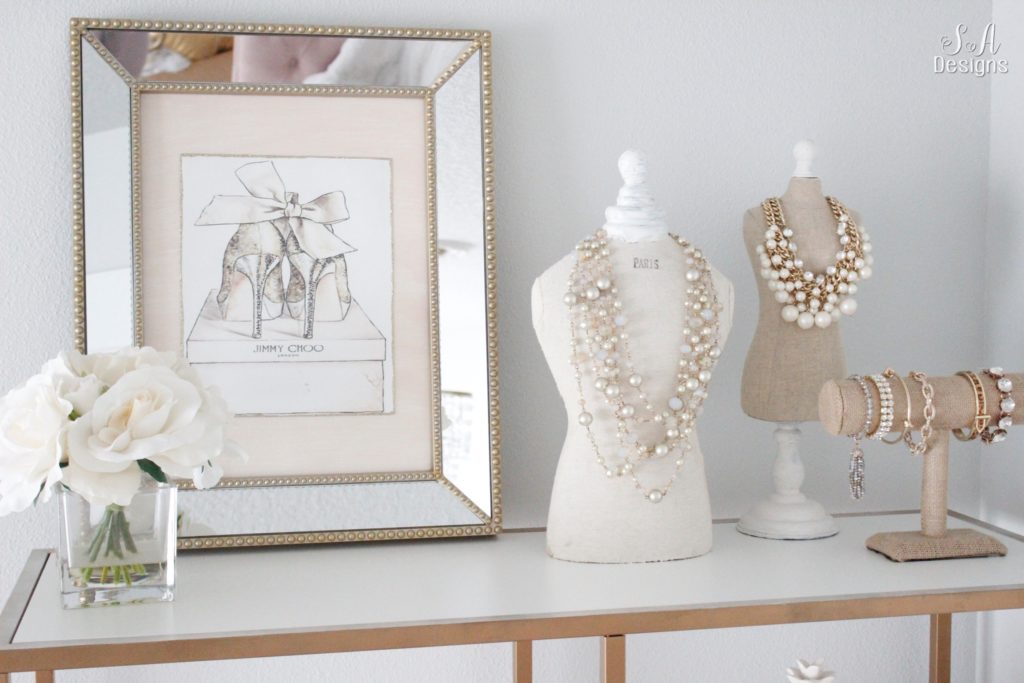 I also display jewelry on the top and one of my favorite prints that a friend gave me, trimmed in gold glitter and in a mirrored frame.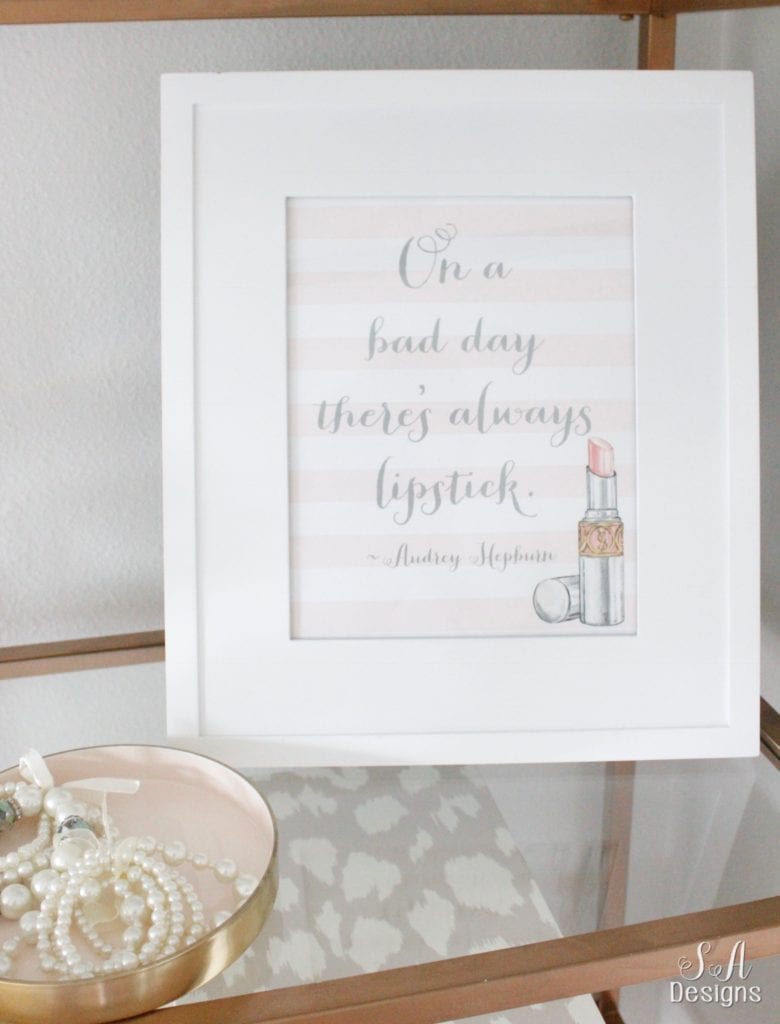 FREE PRINTABLE JUST FOR YOU!
I wanted a way to display this Audrey Hepburn quote, that I've always loved, and created this darling print on photoshop. I thought you all might enjoy it too so I'm offering it as a free printable.
***To access printable file, click HERE. Click on image and print from browser.
It's an 8×10 size. For personal use only!!!***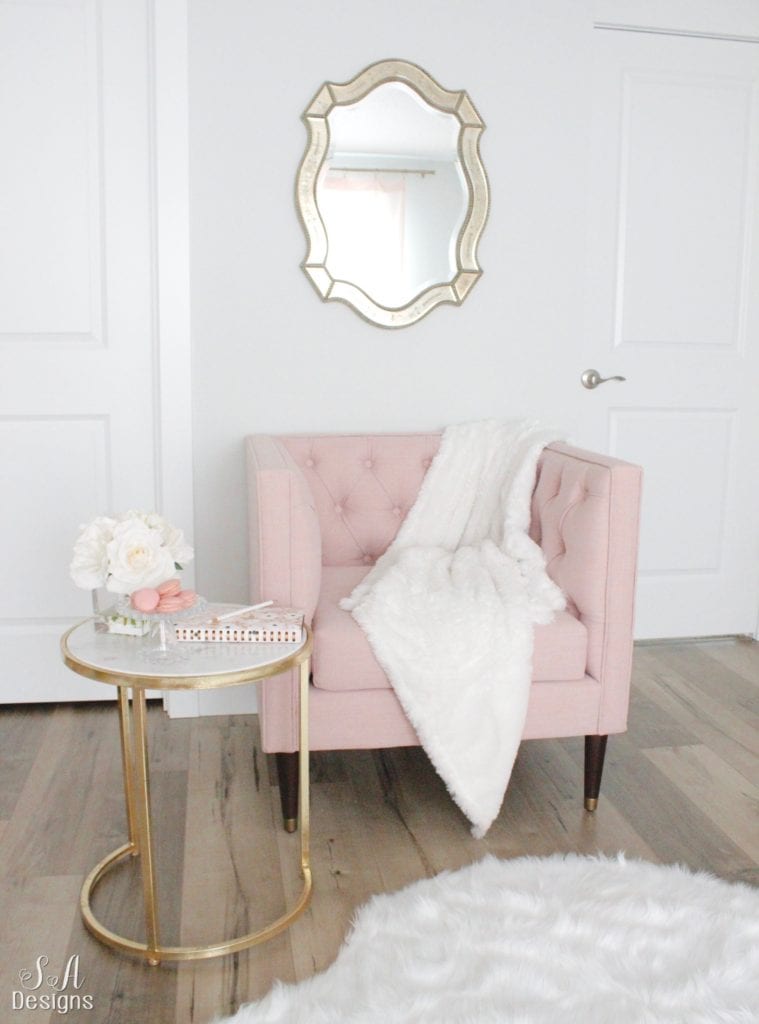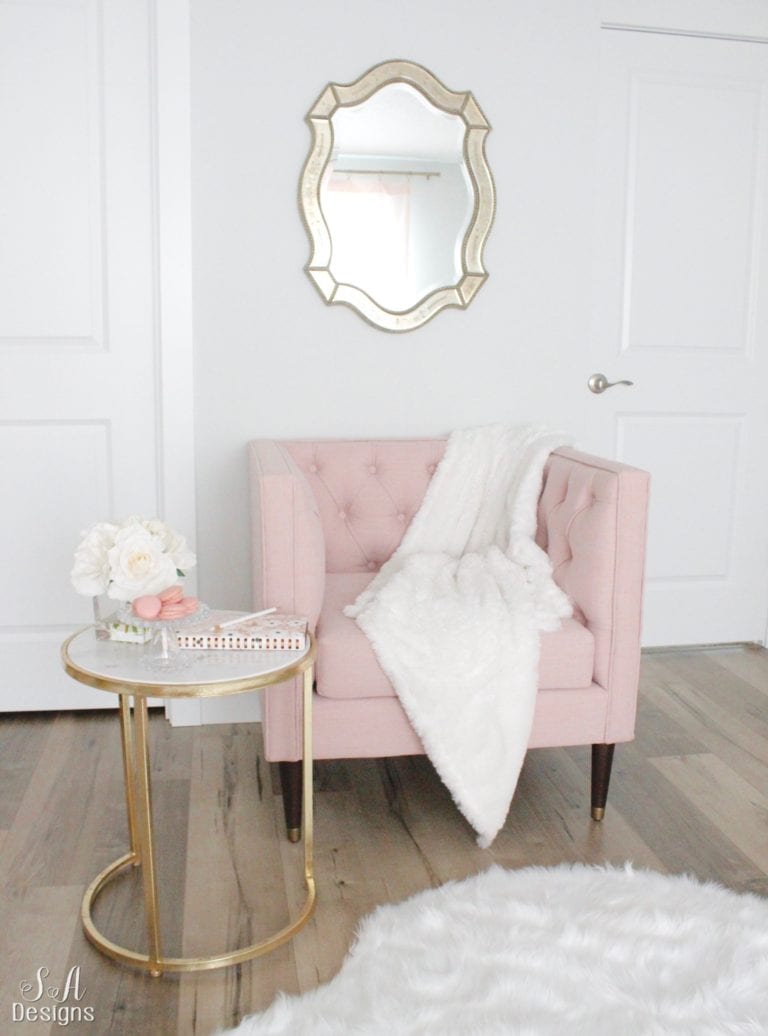 My favorite blush chair (originally shared in this post) also came with us from Dallas. I like to call this my "instafamous blush chair" because this Nate Berkus-designed chair caught his eye on my Instagram feed (back when my IG name was "SheLeavesALittleSparkle") and he even included it in his blog post. You can read all about it HERE on Nate Berkus' blog.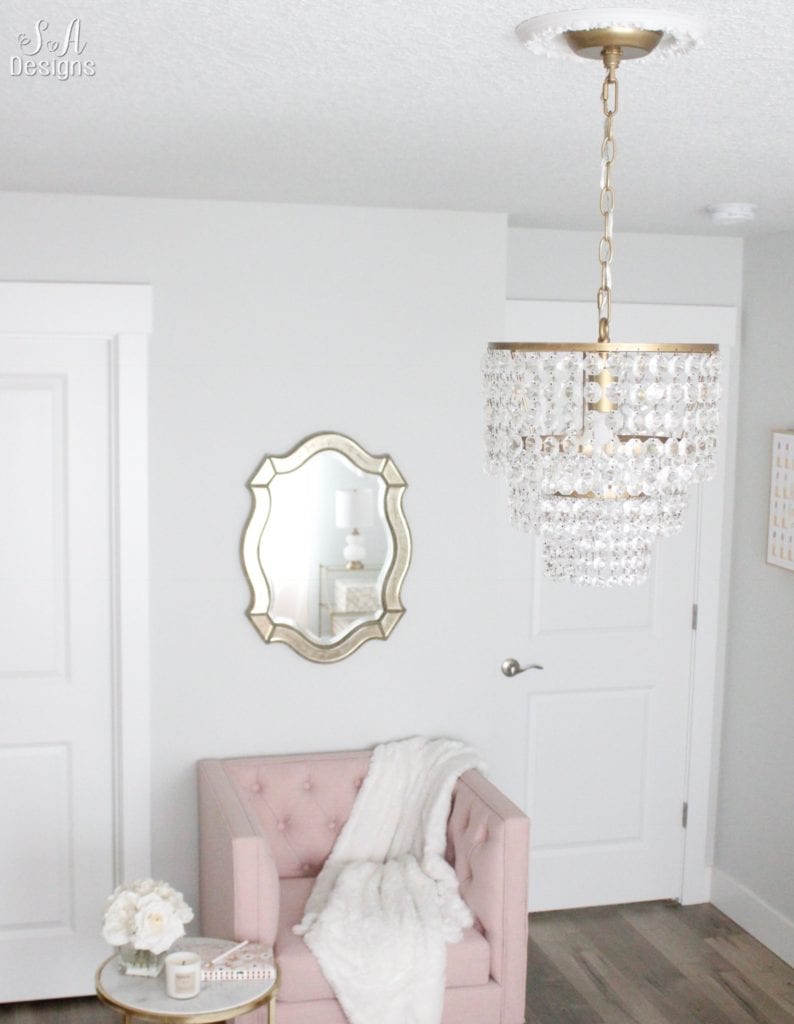 At a California Interior Designer's warehouse sale back home, I found that lovely venetian-bordered mirror with gold distressing. It's really unique and I love the glam feel of it. I knew it would be perfect above my chair.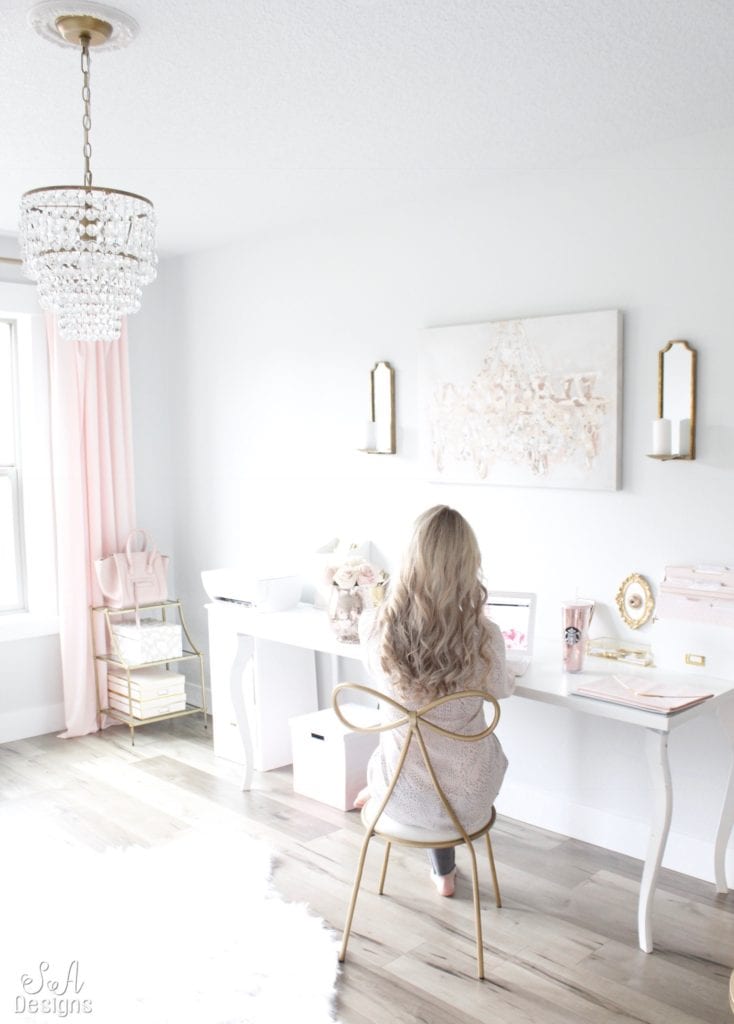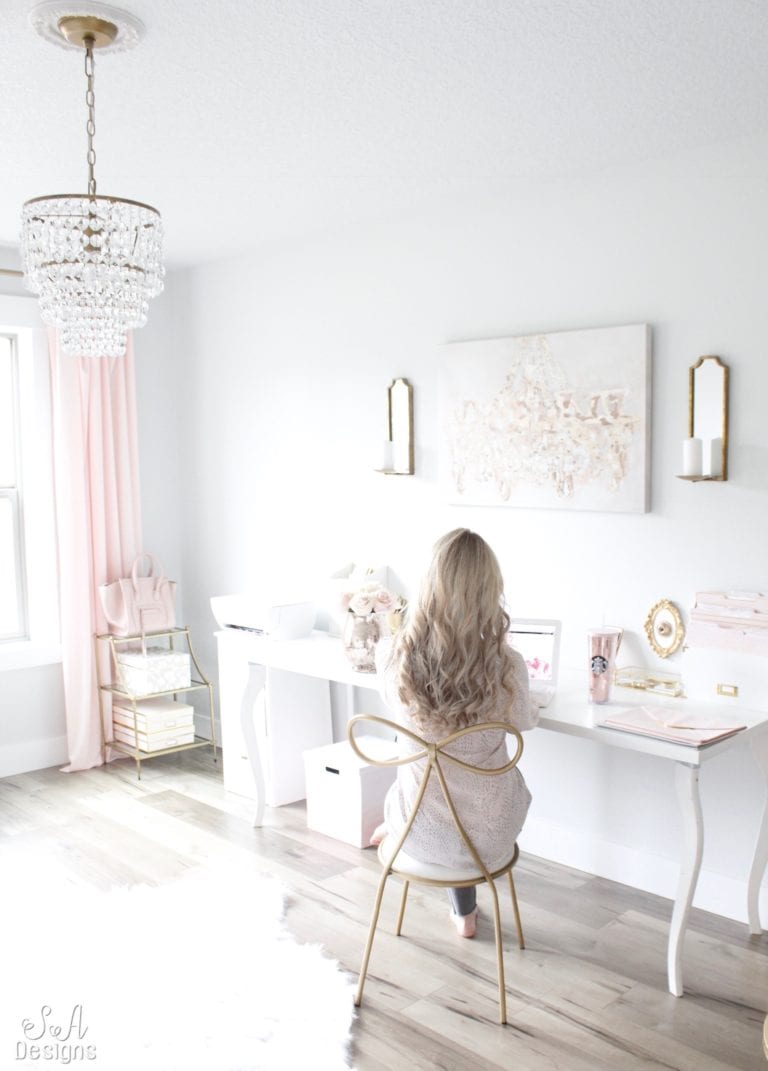 When I'm typing or creating something, I usually sit in my favorite bow chair at my desk.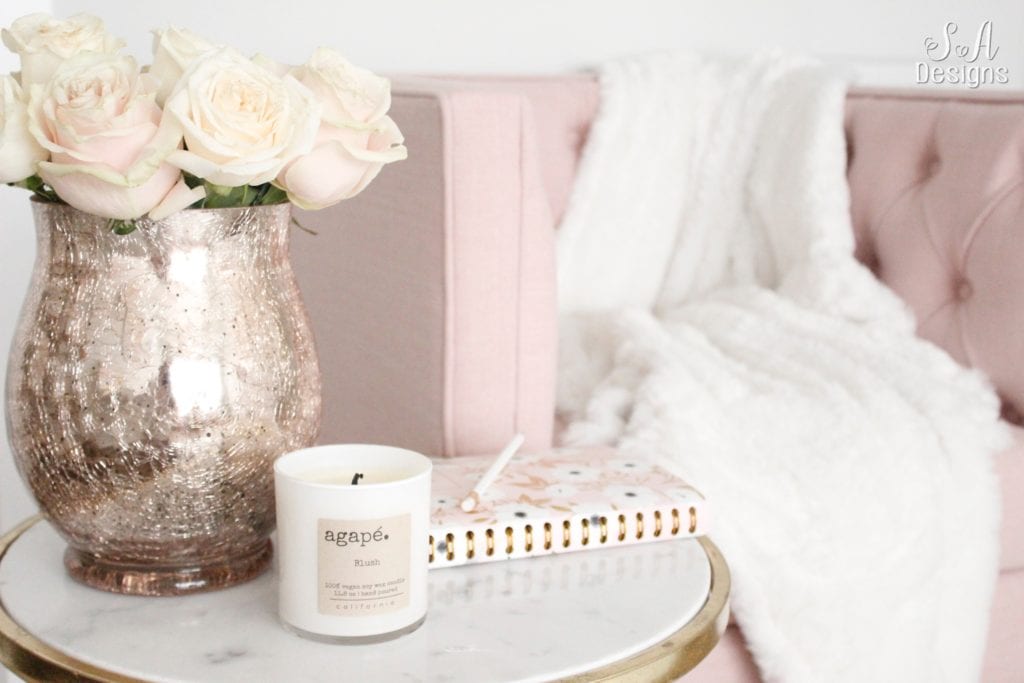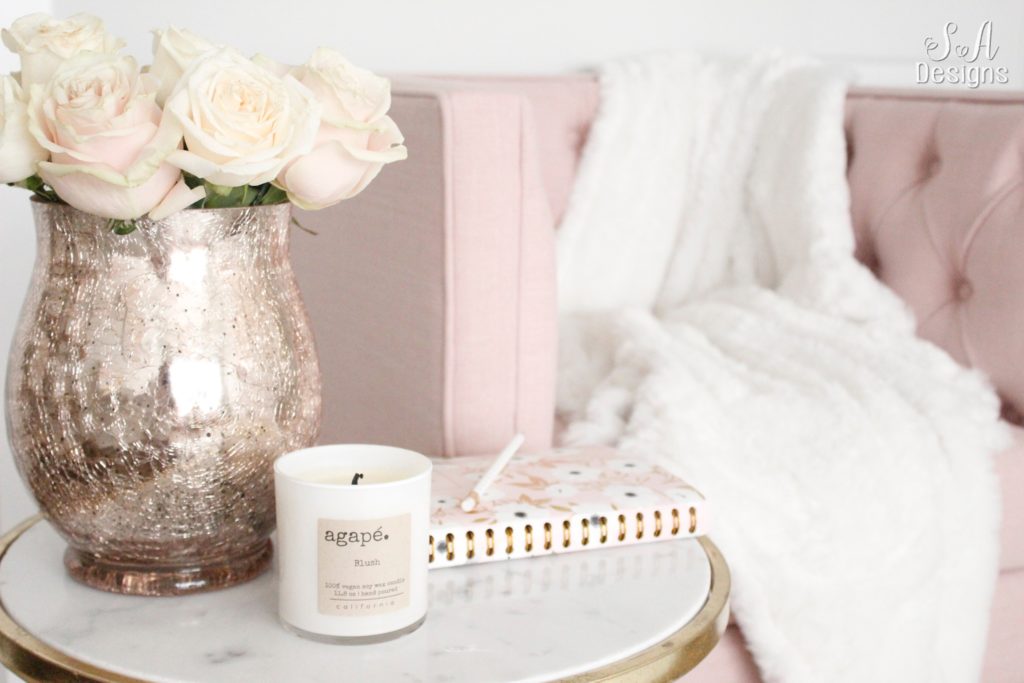 If I'm going to be writing or editing a while, I like to sit in my blush chair. I also like it because it's a place my kids can come, or my hubby, and sit and talk to me while I'm in my office.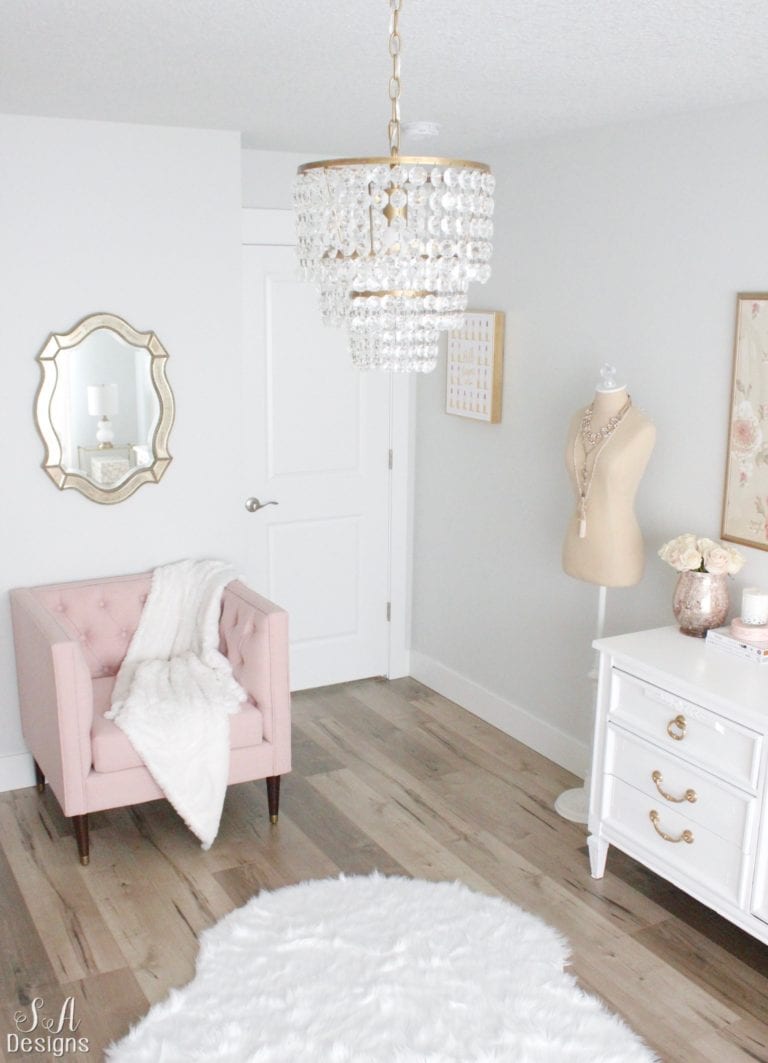 I looked and looked for a chandelier that felt right for this office. I wanted crystals on it, more modern clean lines, and brass or gold metal. I found it here.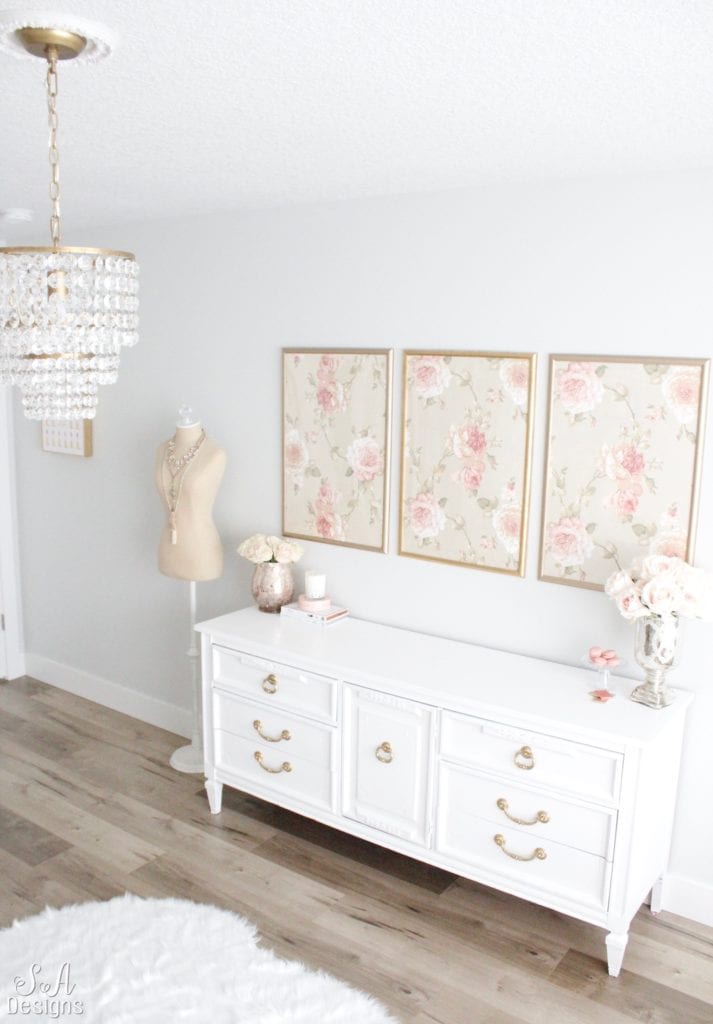 A couple of years ago I wrote a blog post on DIY Framed Wallpaper Panels as a solution to a bare wall. We were renting at the time, back in Dallas, and knew we'd be moving for my husband's job but I really loved wallpaper. So I made framed wallpaper panels (so easy) and loved how it turned out.
I enjoyed them but was looking for something new for this new office. I tried fashion art in a collage and I tried several large pieces of art but in the end….nothing seemed quite right. I pulled out the panels from my "for sale" pile in my garage and fell in love with them again. I love the champagne and blush colors with the gold frames.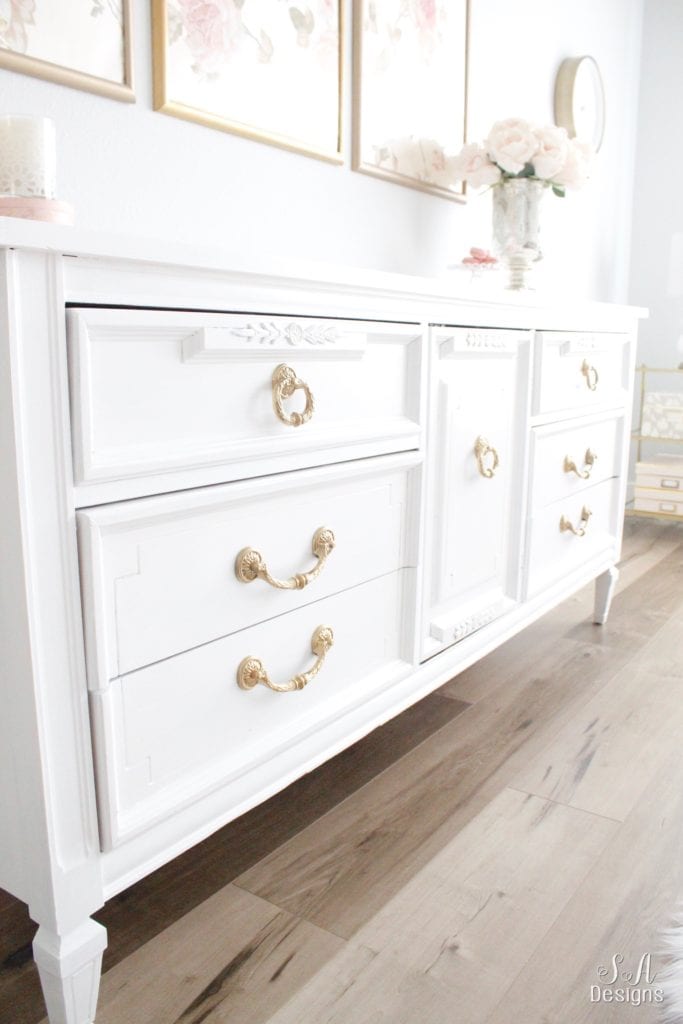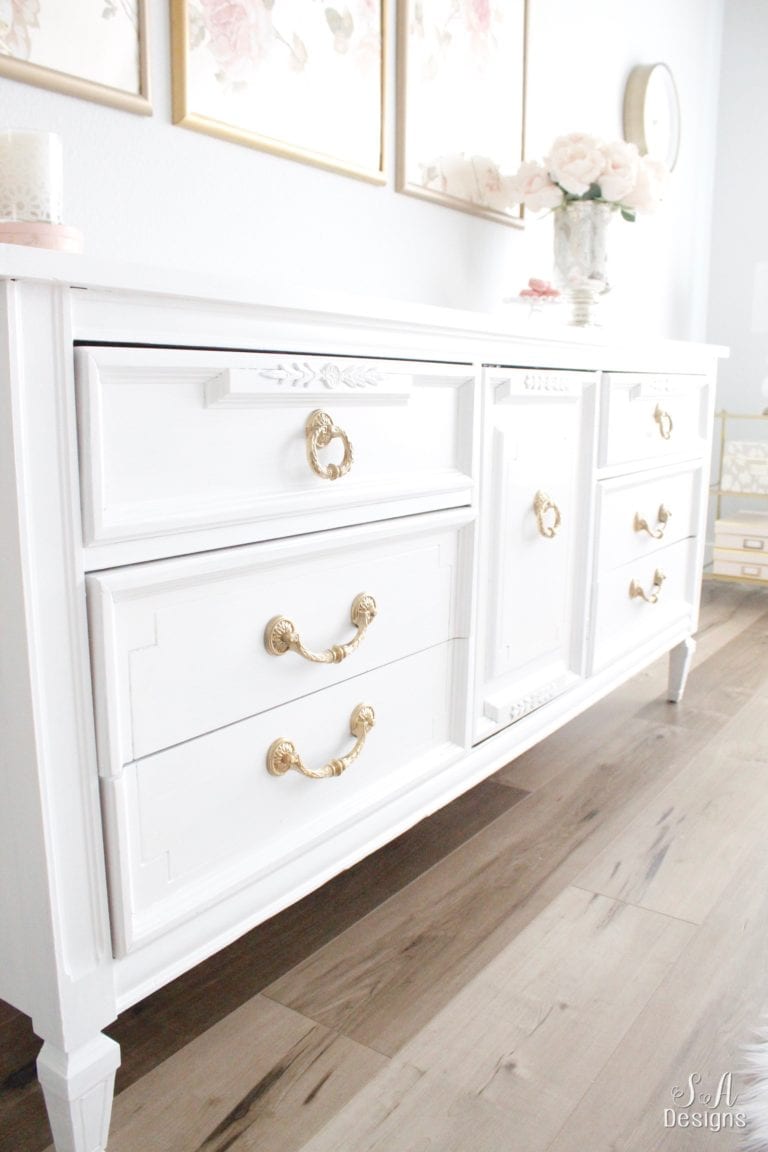 I sold 2 other pieces of furniture that just didn't fit this office and didn't give me the storage solution I wanted for all my crafty things, customer orders, and shipping supplies. But I came across this vintage dresser being sold locally on Craigslist and knew it would be perfect.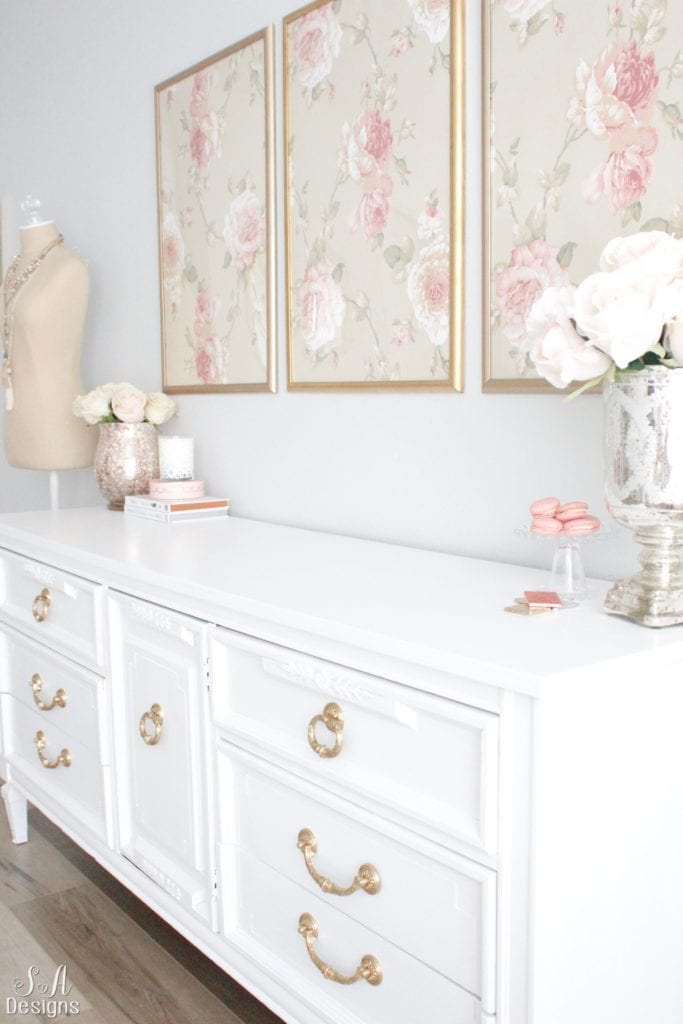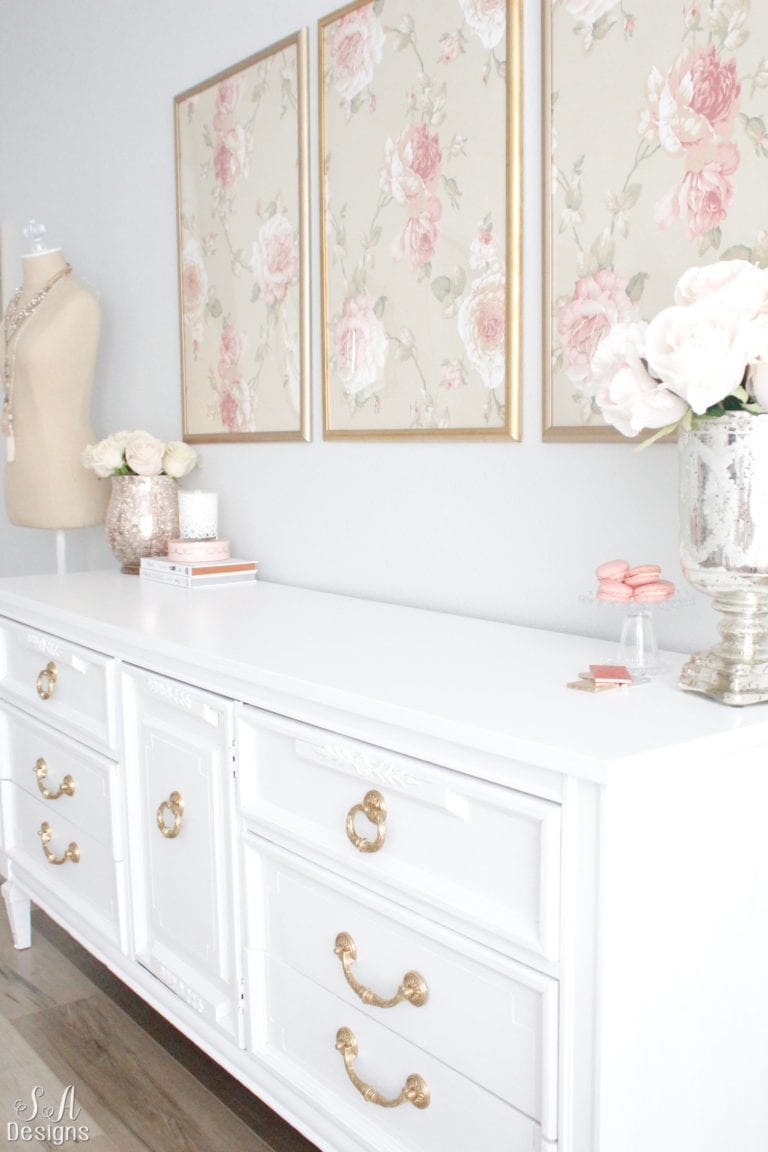 I painted it and sprayed the vintage handles gold instead of replacing them because I thought they were so cool. Aren't they pretty?!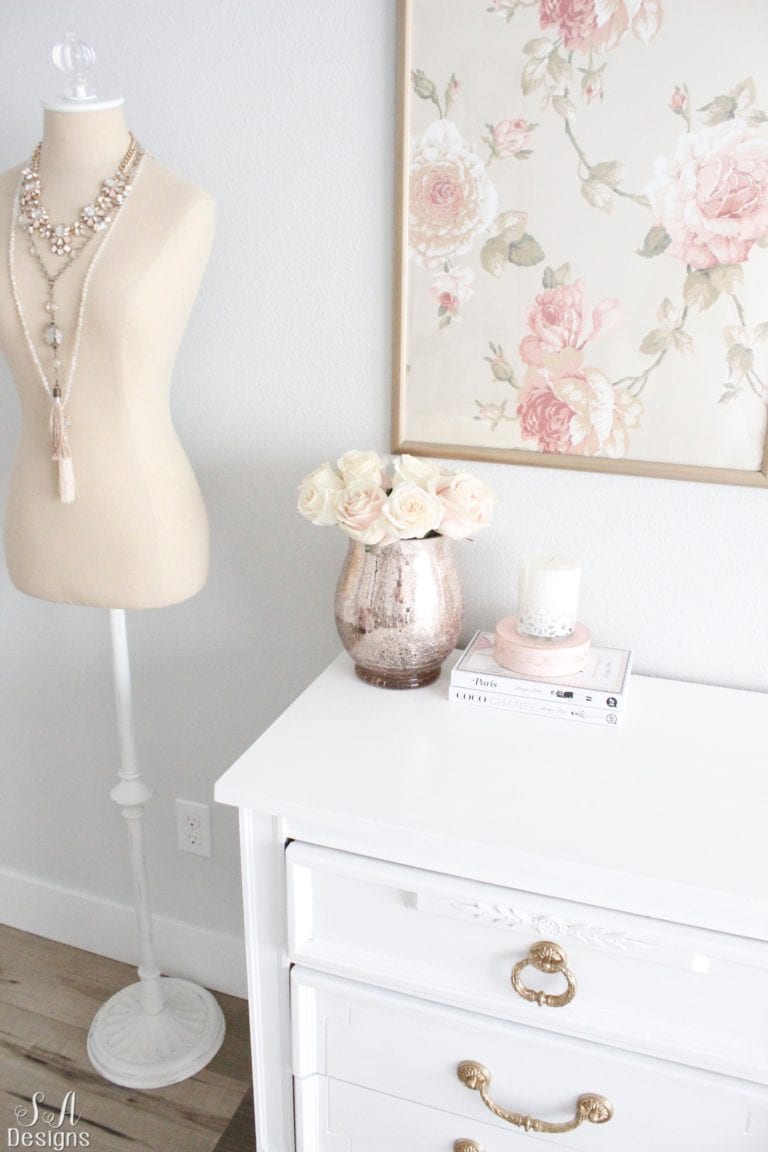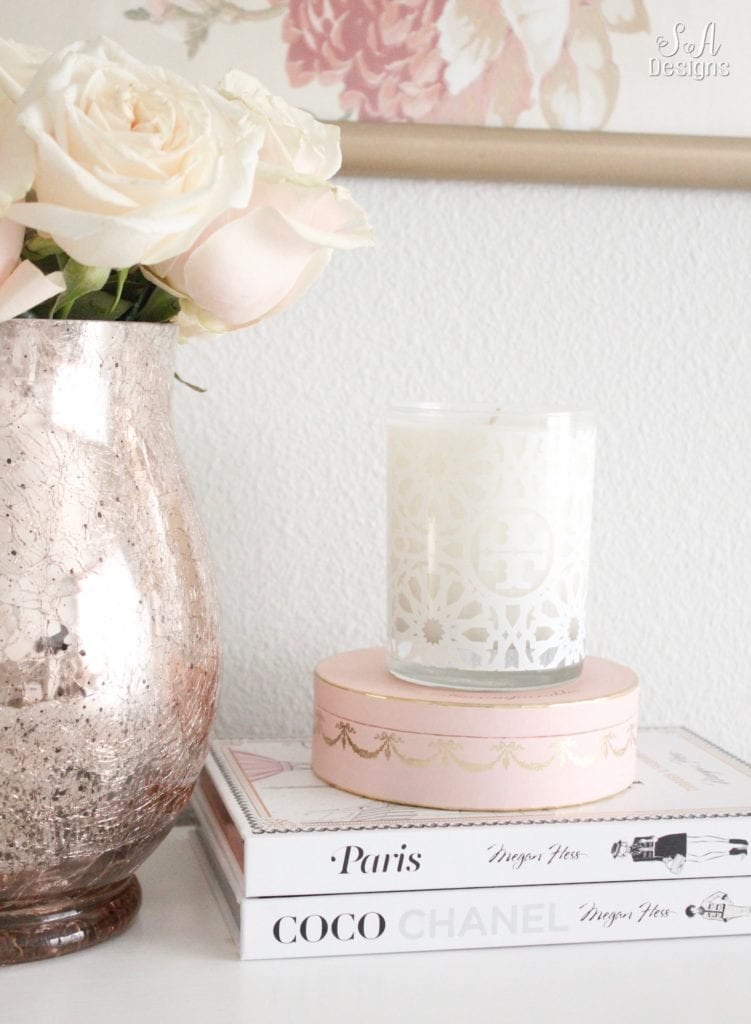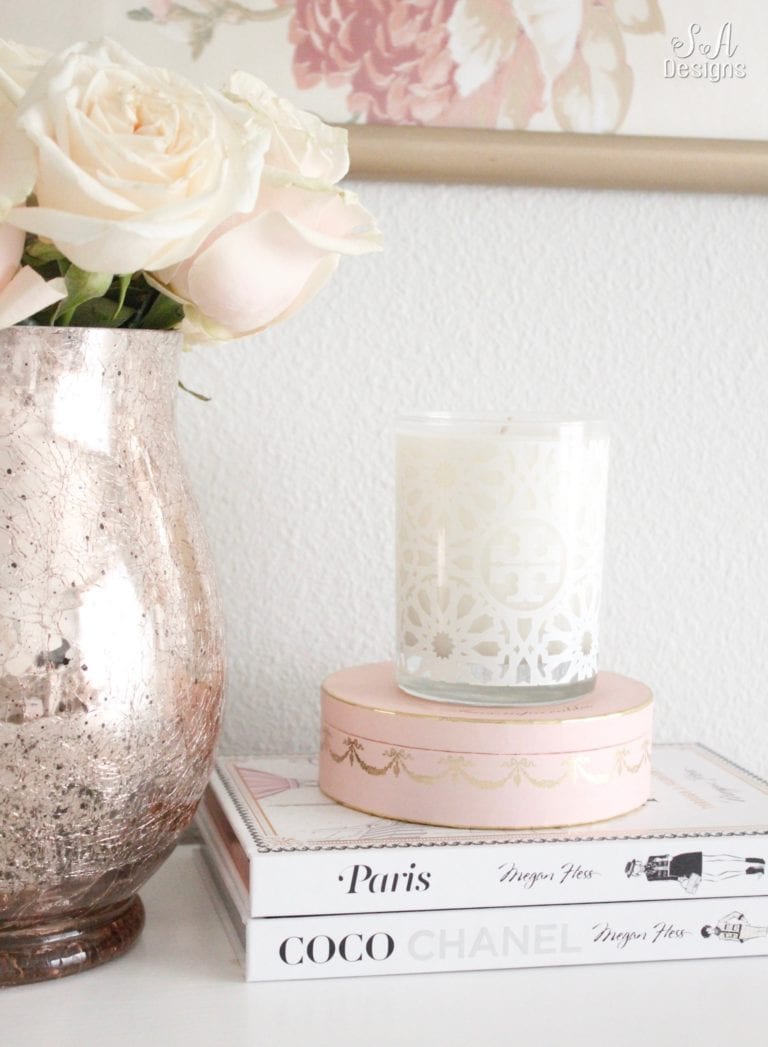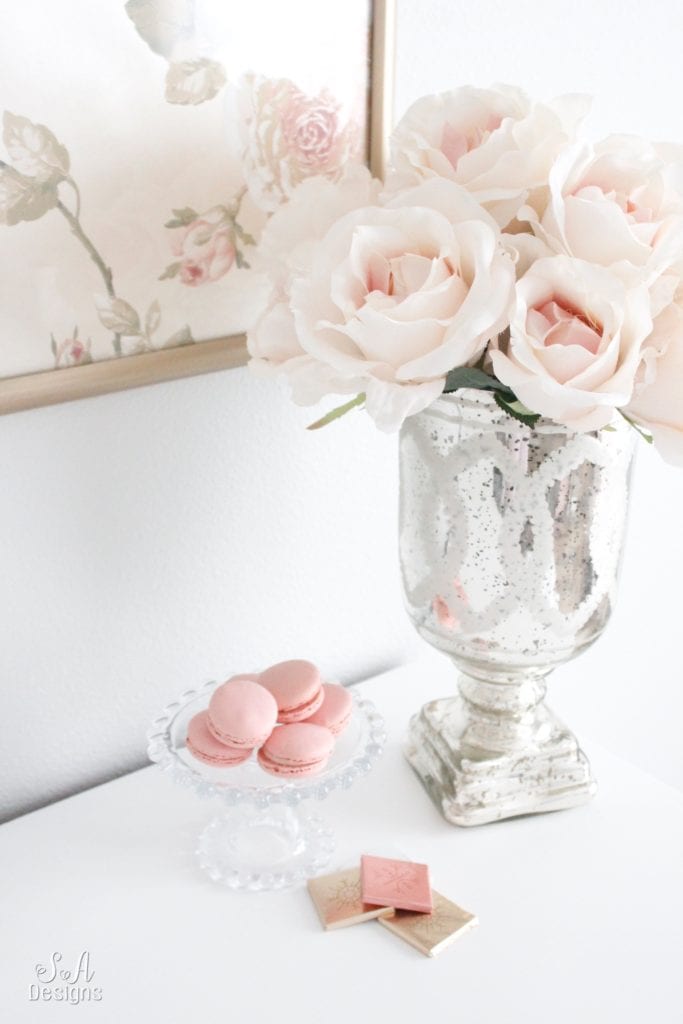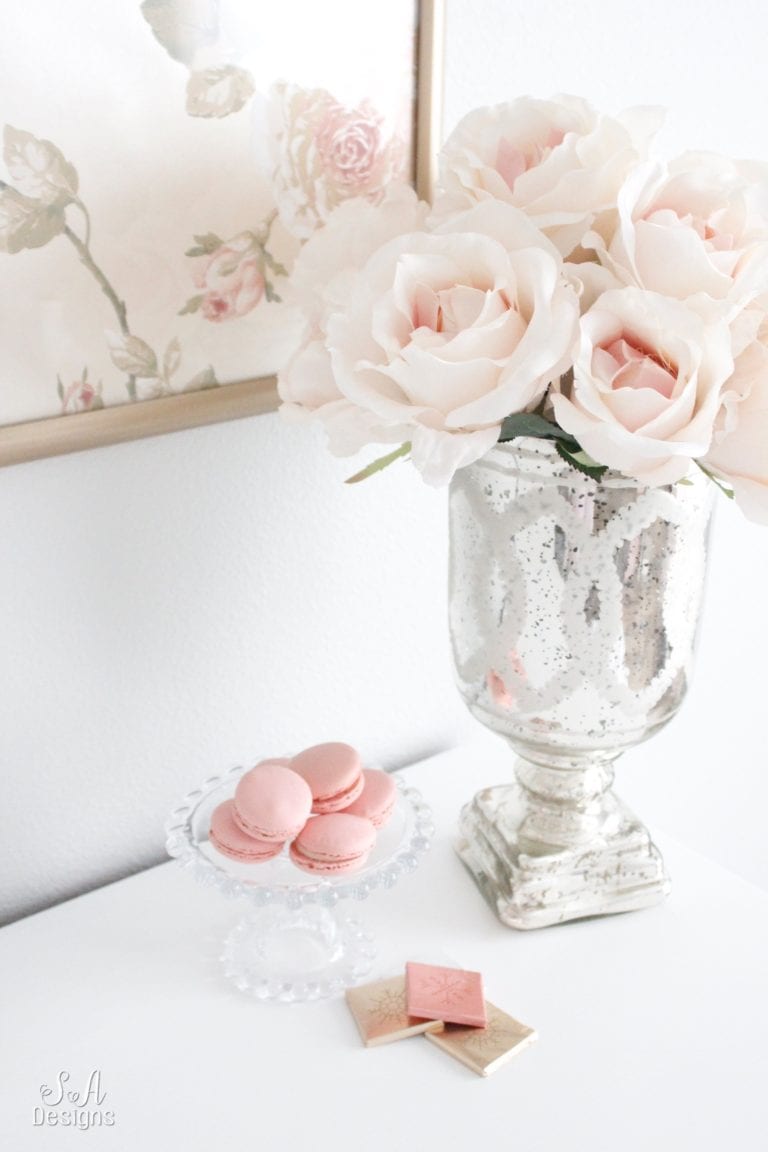 A treat for visitors…because macarons and chocolates are the best treats. Don't you wish you could reach through the screen right now and have one? I wish you could too. If you were here in person, I'd even make you a Dirty Diet Coke!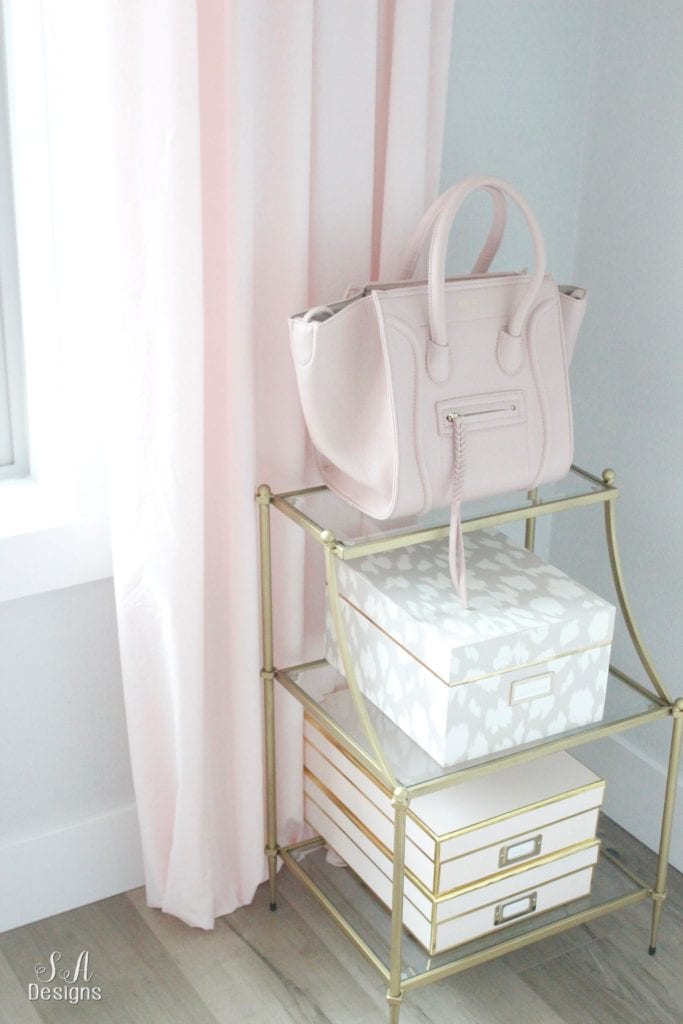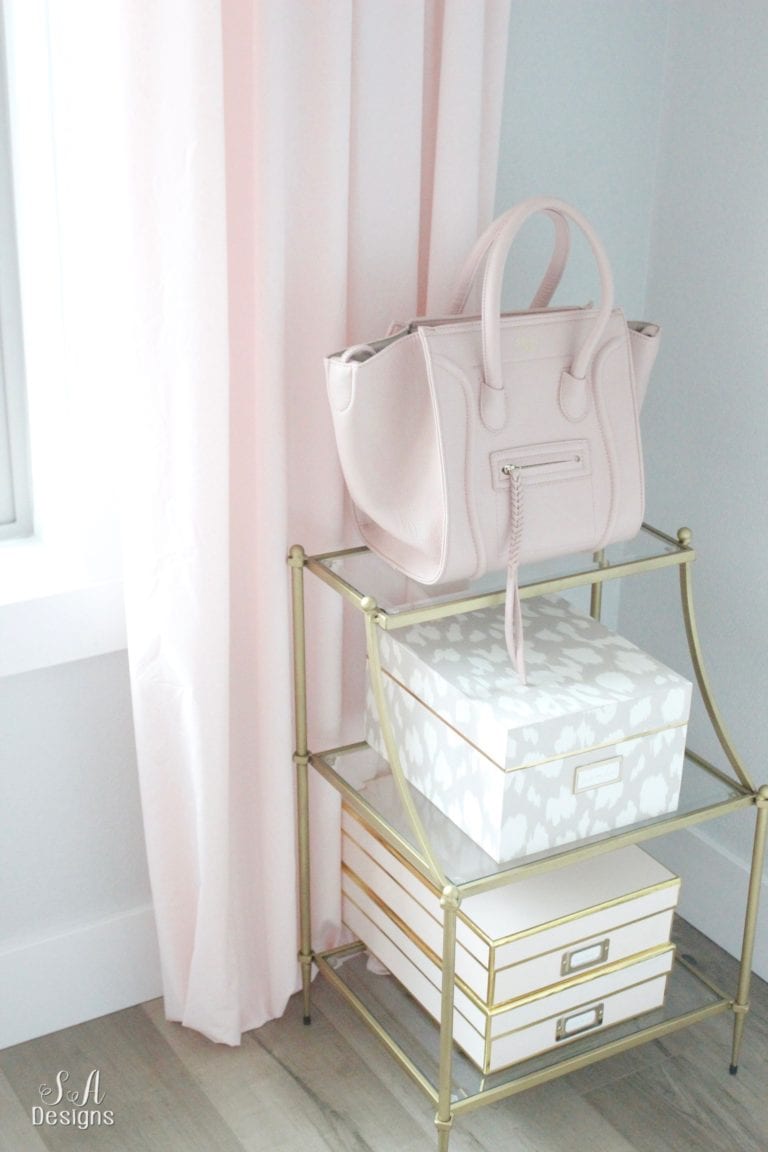 I found these lovely etagere end tables at Tuesday Morning a couple of years ago but I'm linking similar ones below. They're perfect for the sides of my large office window to help frame the room and add extra storage.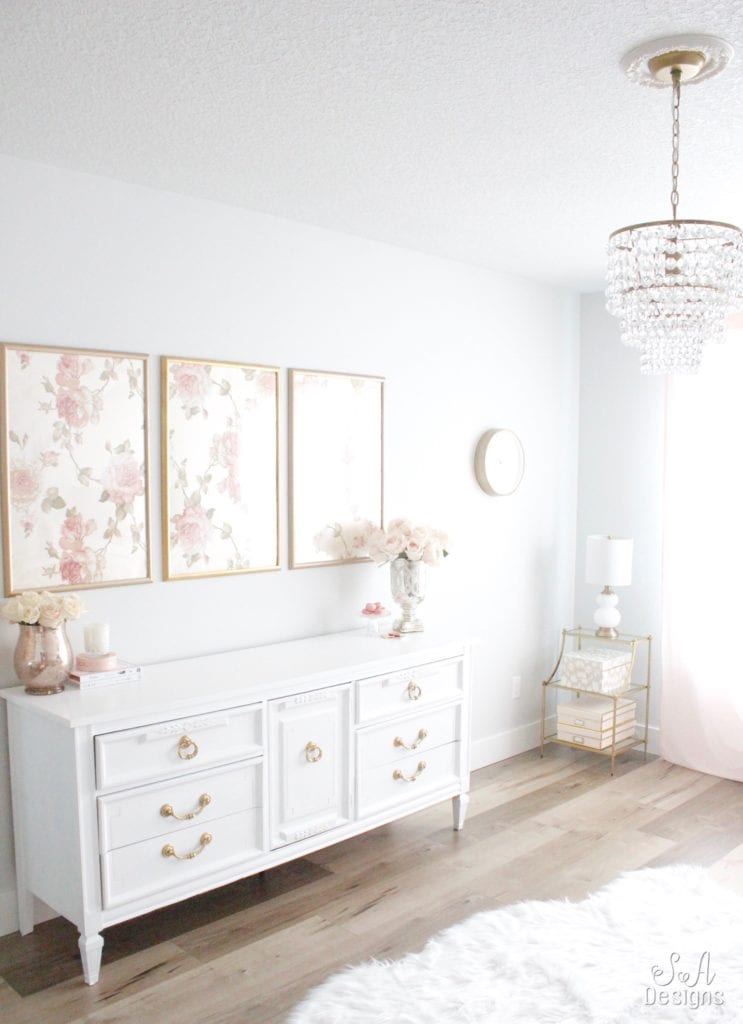 In the other corner is a lamp for a little extra night on those late nights.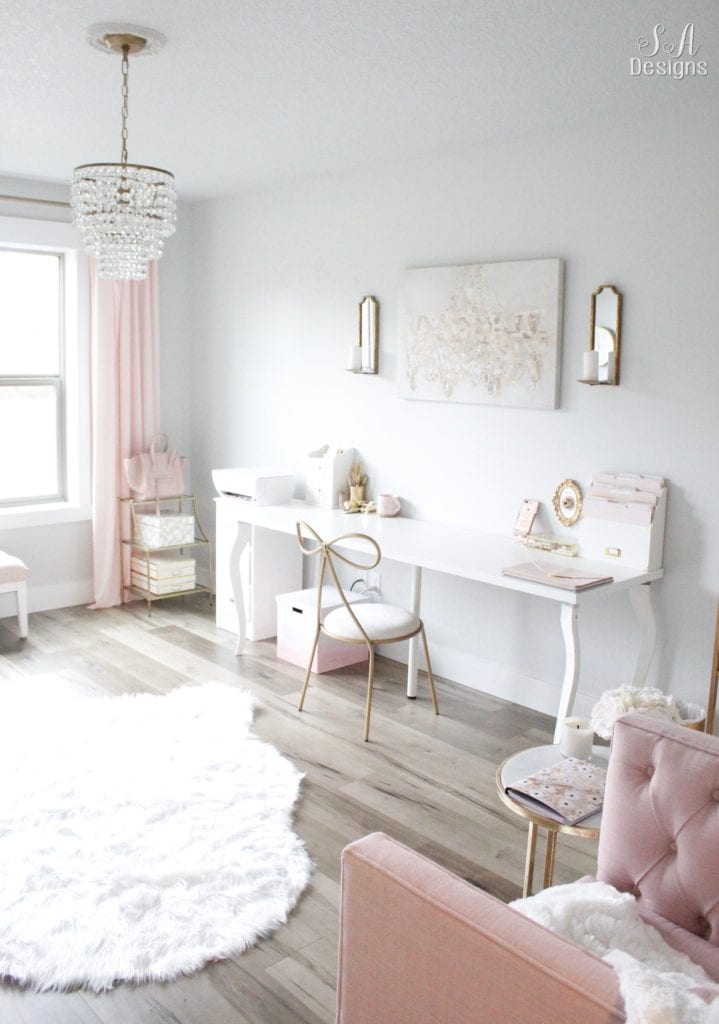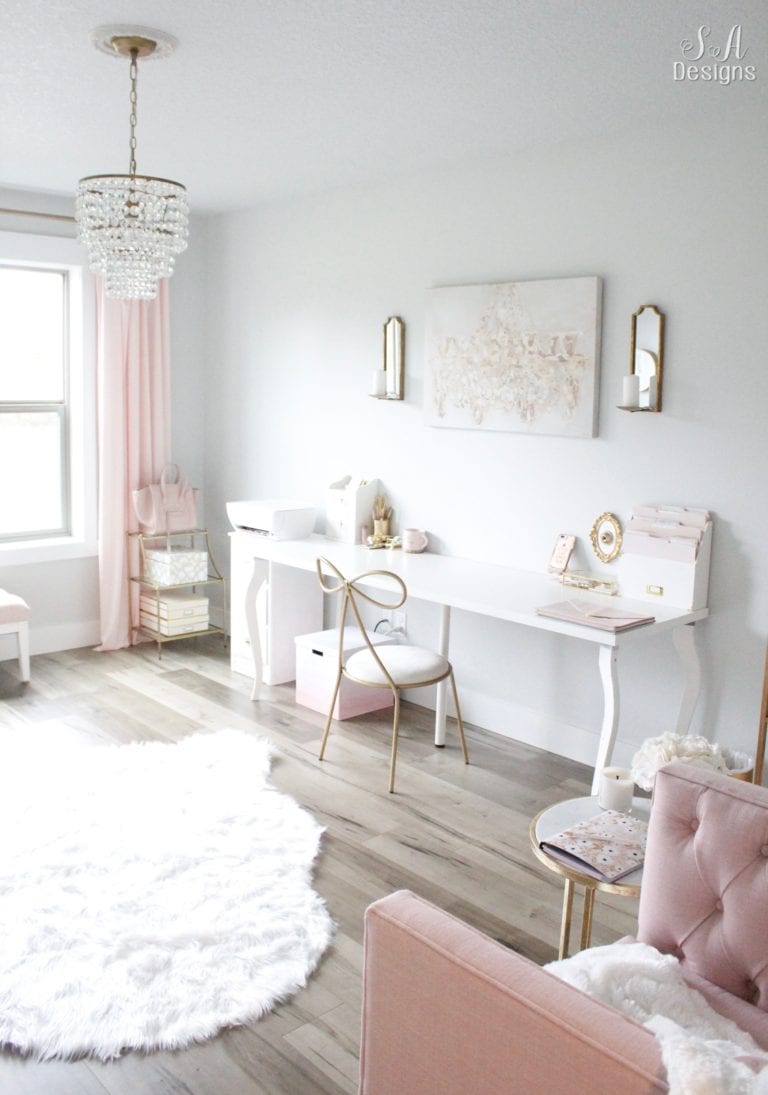 For your convenience, I'm adding affiliate shopping links below.
Click on arrows to scroll right and left.









I would love it if you subscribed at the top of the page in order to receive my weekly emails of all my latest blog posts and hear about digital printables & freebies, as well as sales or new items in My Online Shoppe. You can also follow me on Instagram, Pinterest, and Facebook to see what I'm up to in creating a home and lifestyle of inspiration!
xoxo,

SaveSave
SaveSave
SaveSave