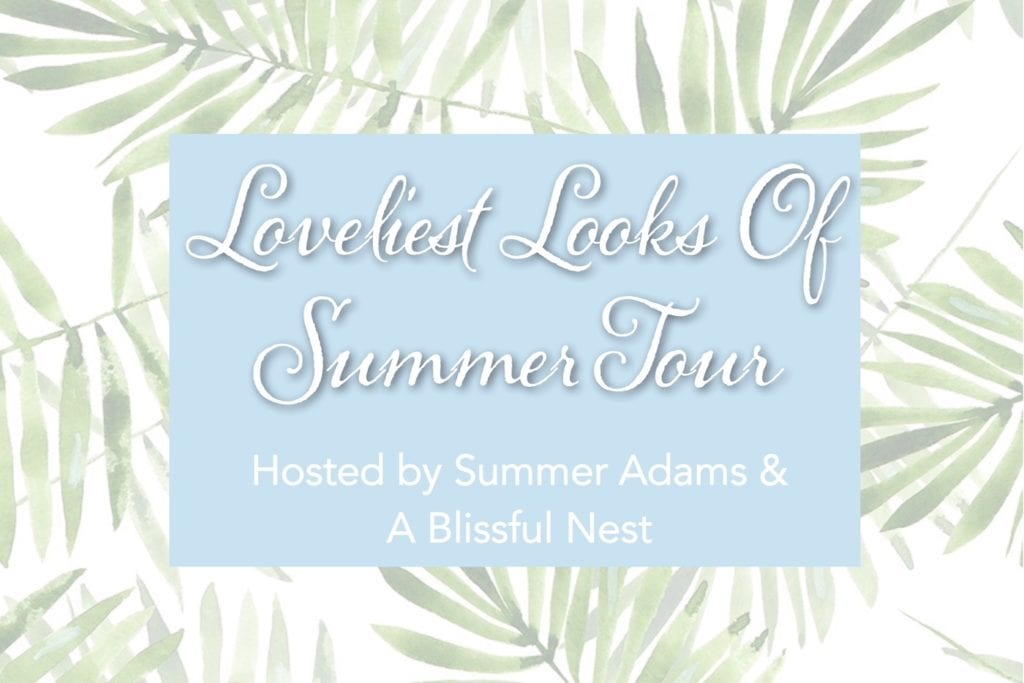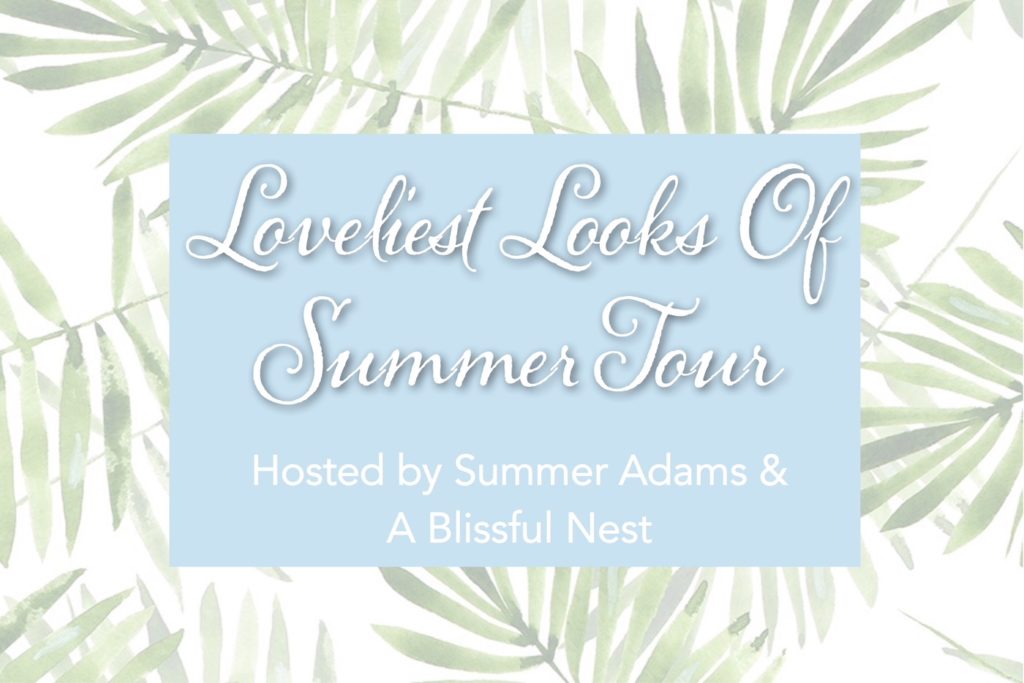 Hello, friends!  I am so thrilled you're here today!  Whether you're one of my regular readers or if you're here from a friend's blog for the first time….Welcome!!!  Today my friend Rebekah from A Blissful Nest and I are co-hosting the Loveliest Looks of Summer Tour and we've invited a group of fabulous lifestyle bloggers to join us in sharing summer fashion and decor!  I'll share all of their links at the end of my post so that you can hop on over and visit another friend.
This post contains affiliate links for your shopping convenience.
Click here to read my full disclosure policy.  All opinions are my own.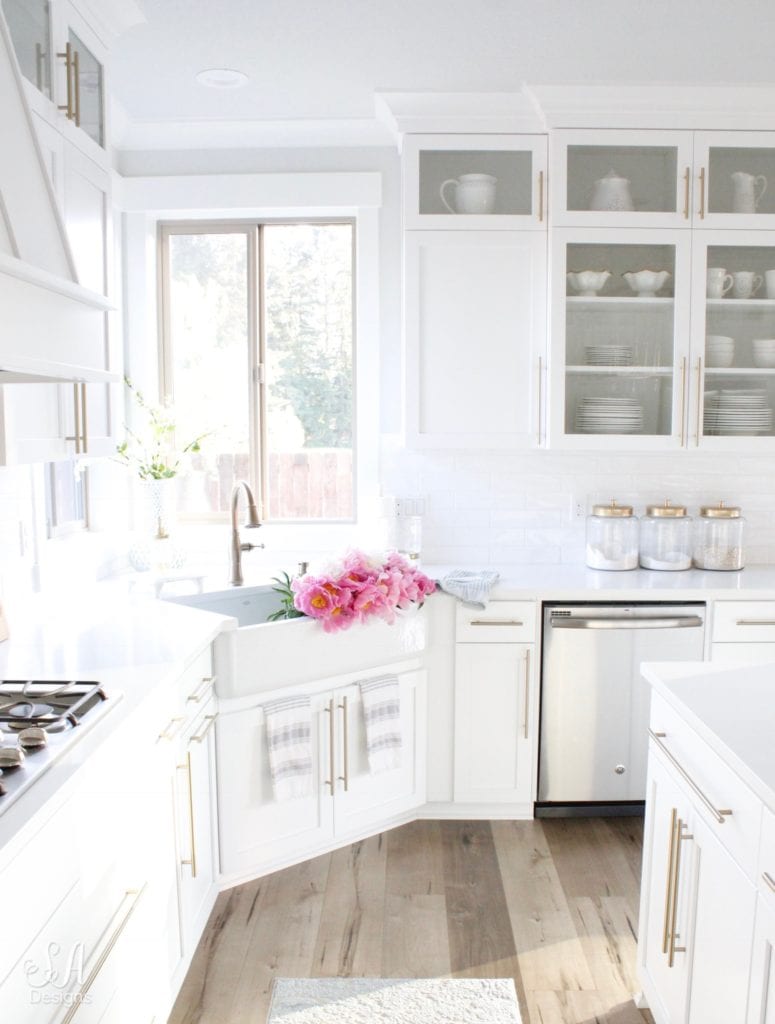 Spring was graced with peony season and I couldn't be happier because it leads us right into summer.  Here, in the Pacific Northwest, we have a plethera of peonies.  I've been buying them every week until my new peony bushes finally bloomed and filled with white and light pink peonies.  Oh happy day!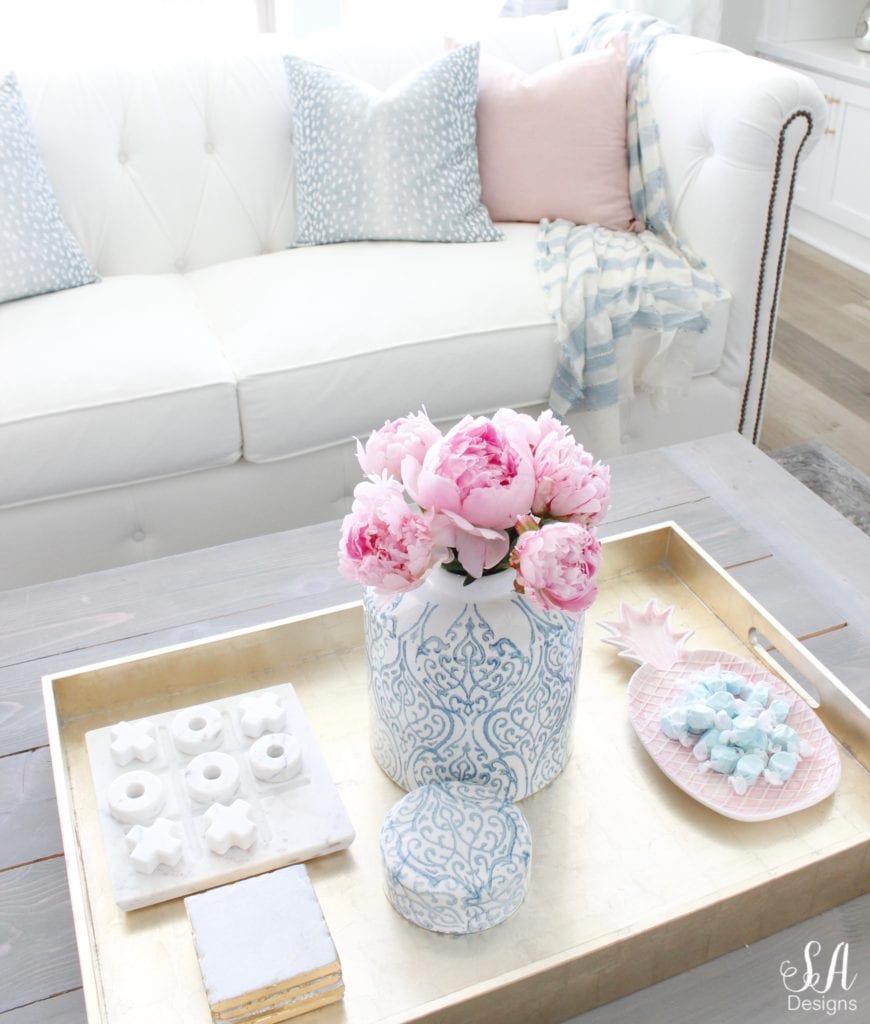 I switched up my coffee table a little bit from my spring table (here) and added some pink peonies.  My friend sent me this darling blue and white square ceramic jar and, in keeping with my blush and blue palette, they looked so pretty in it. I just found it for sale HERE and HERE, as it comes in 2 sizes.
After weeks of heading to Trader Joe's for pink peonies, guess what?  My peony bushes bursted with the prettiest pink peonies.  I found this adorable long basket at HomeGoods one day and I knew it'd be perfect for carrying all the flowers from my garden that I clip and bring into my house.
The Perfect Dress for Summer

This darling summer dress is a new favorite of mine!  My sweet and talented friend Elizabeth of Elizabeth Wilson Designs sent me this beautiful Judy Lanien Dress in Stripe and I'm head-over-heels in love with it!  She has the prettiest dresses and tops.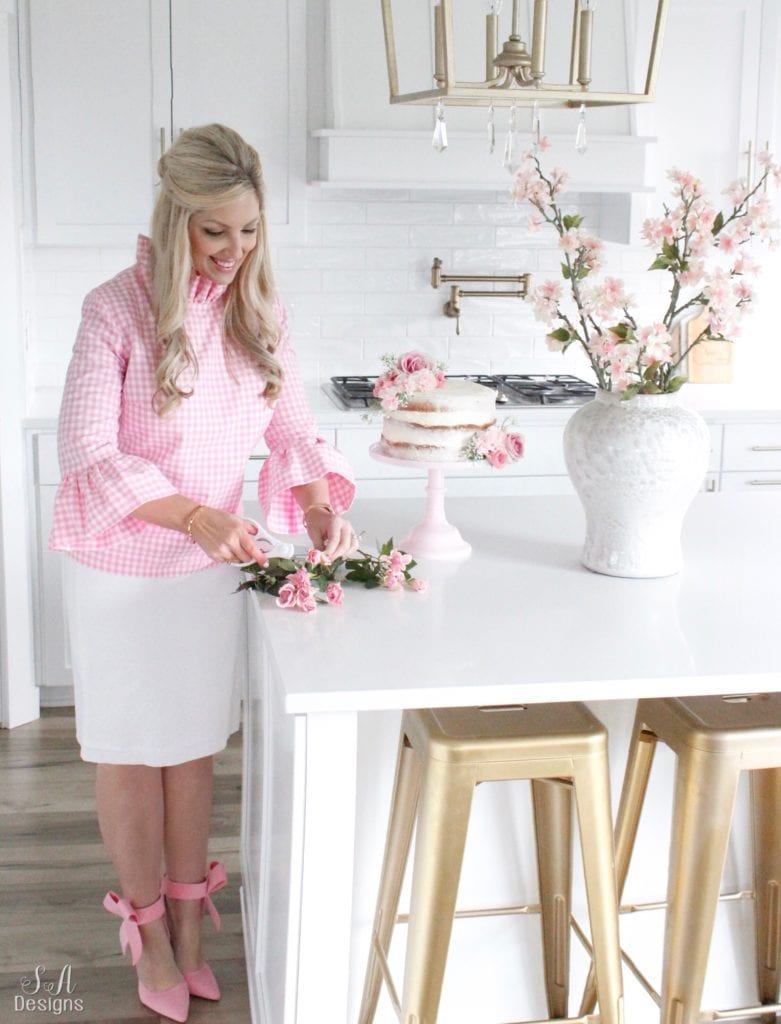 I recently shared this darling Katherine Top from her shop and you all went nuts over it.  I love her designs so much!  If you want this delicious Pink Lemonade Chiffon Naked Cake recipe, I highly recommend it!  It's to die for and the perfect summer treat!
Ok, back to my living room…..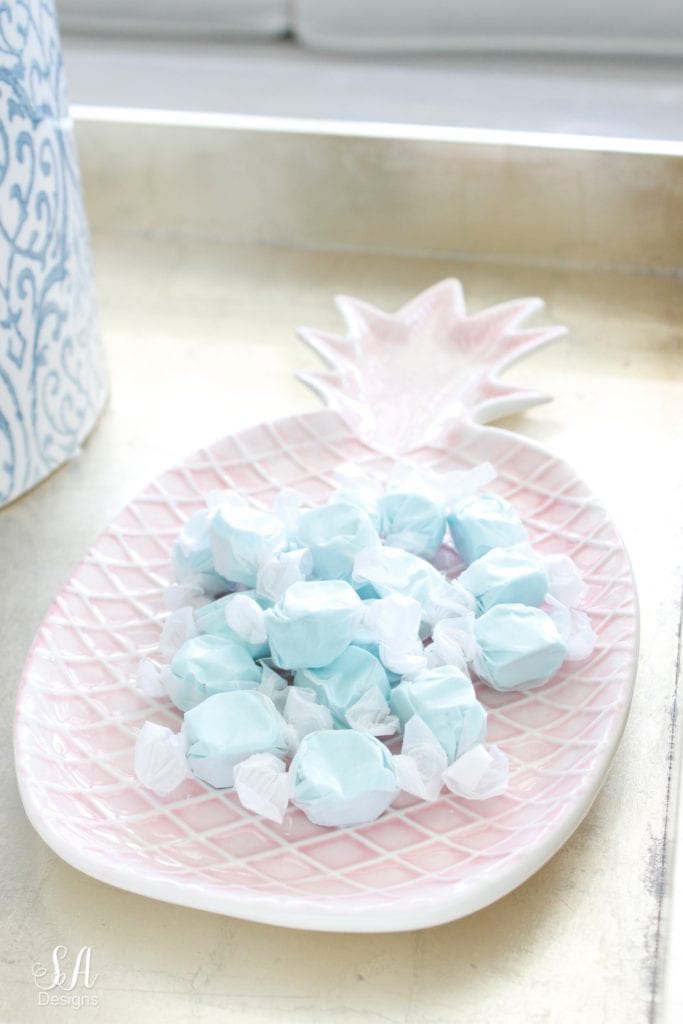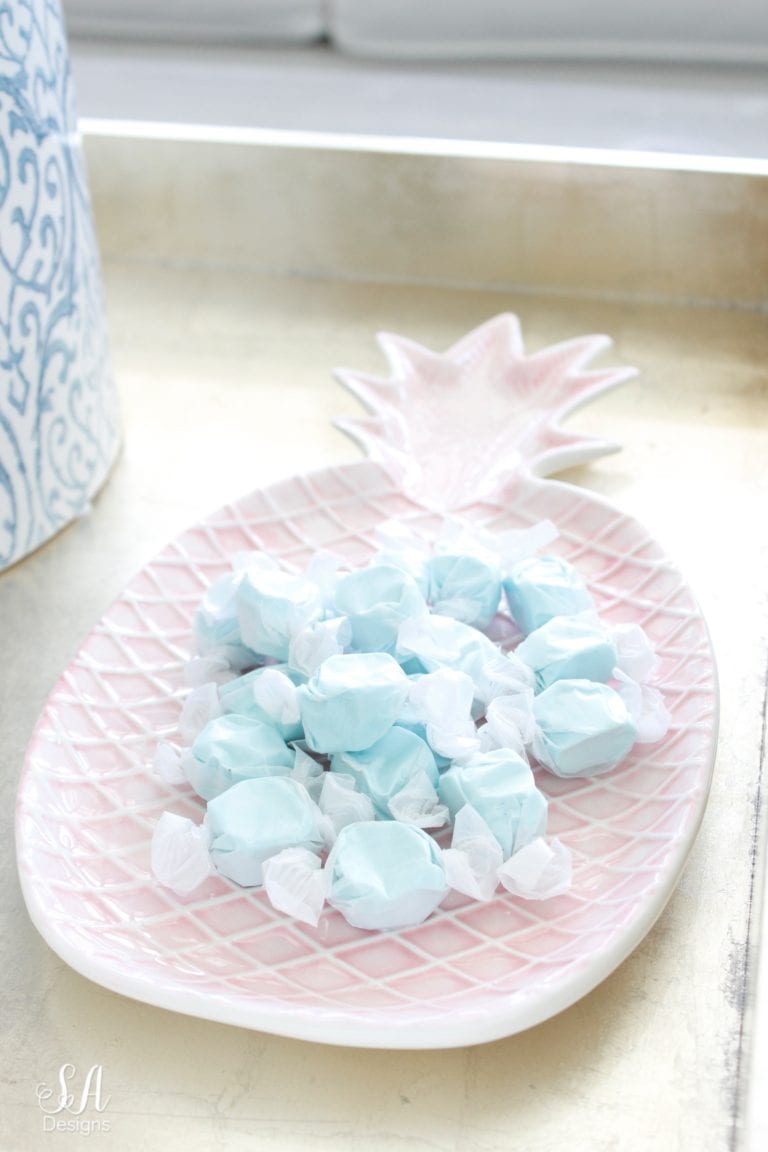 I found the cutest blush pineapple dish at a local boutique and knew it'd look adorable with some candy here.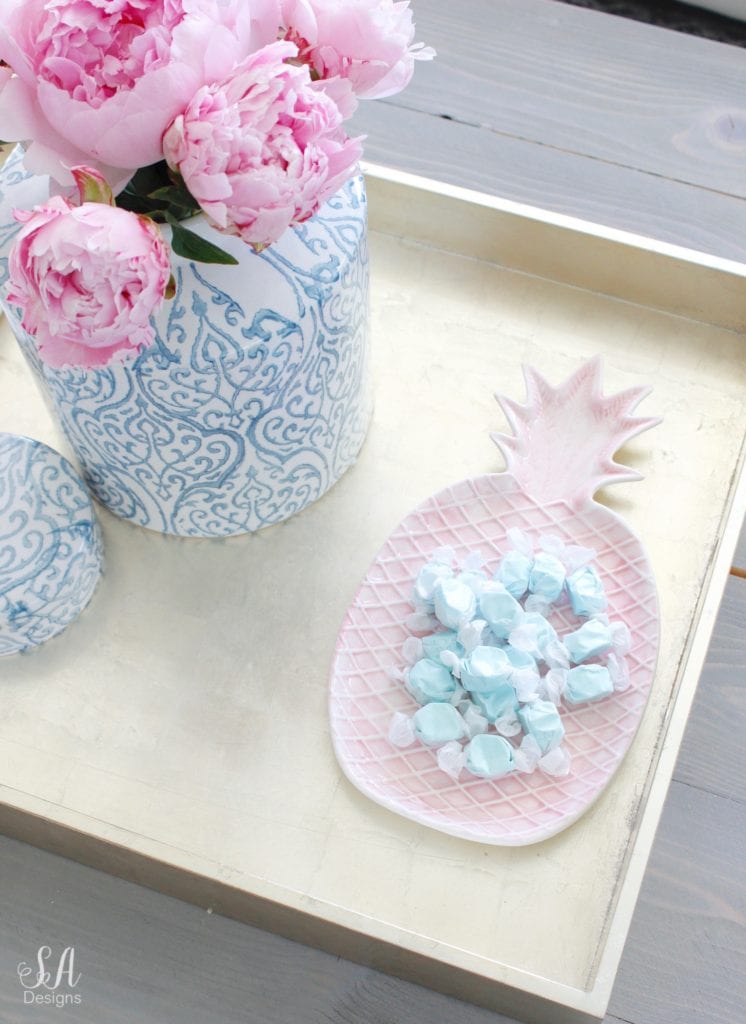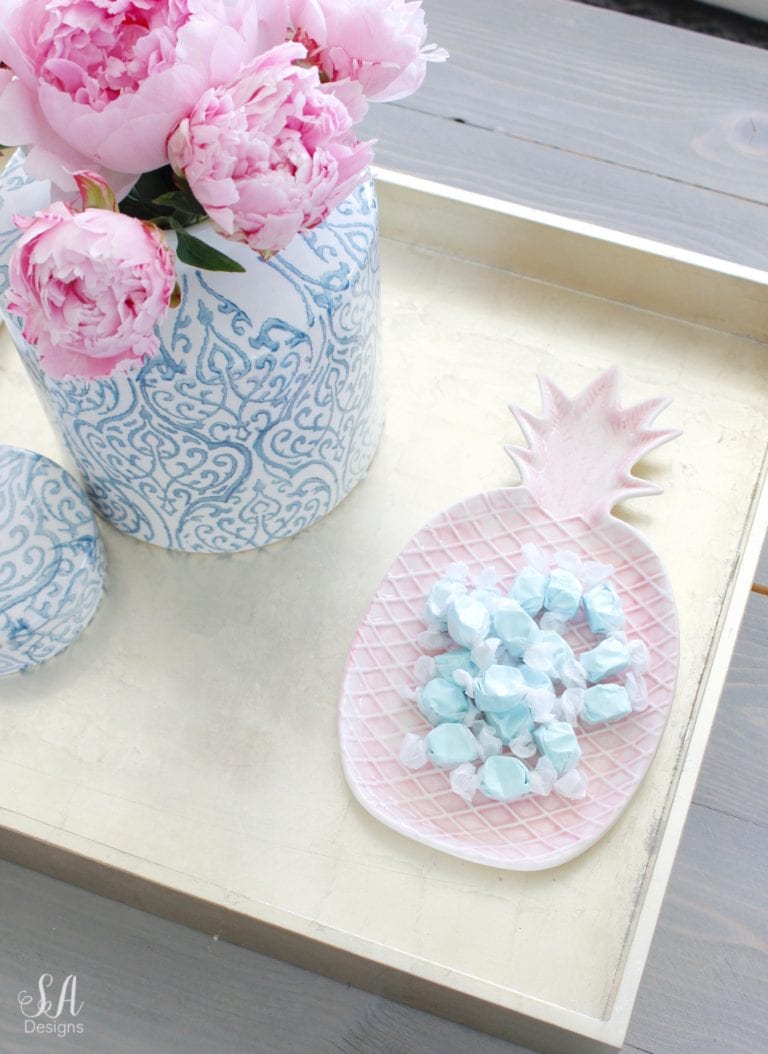 I removed all the other pieces from this tray on my coffee table to keep it simple and fresh.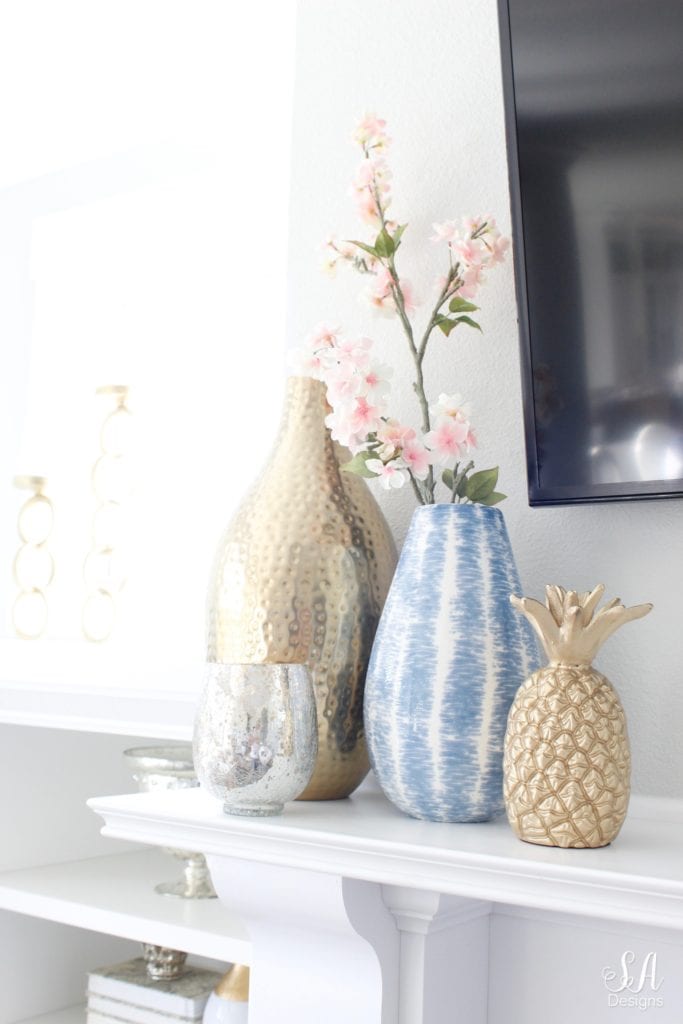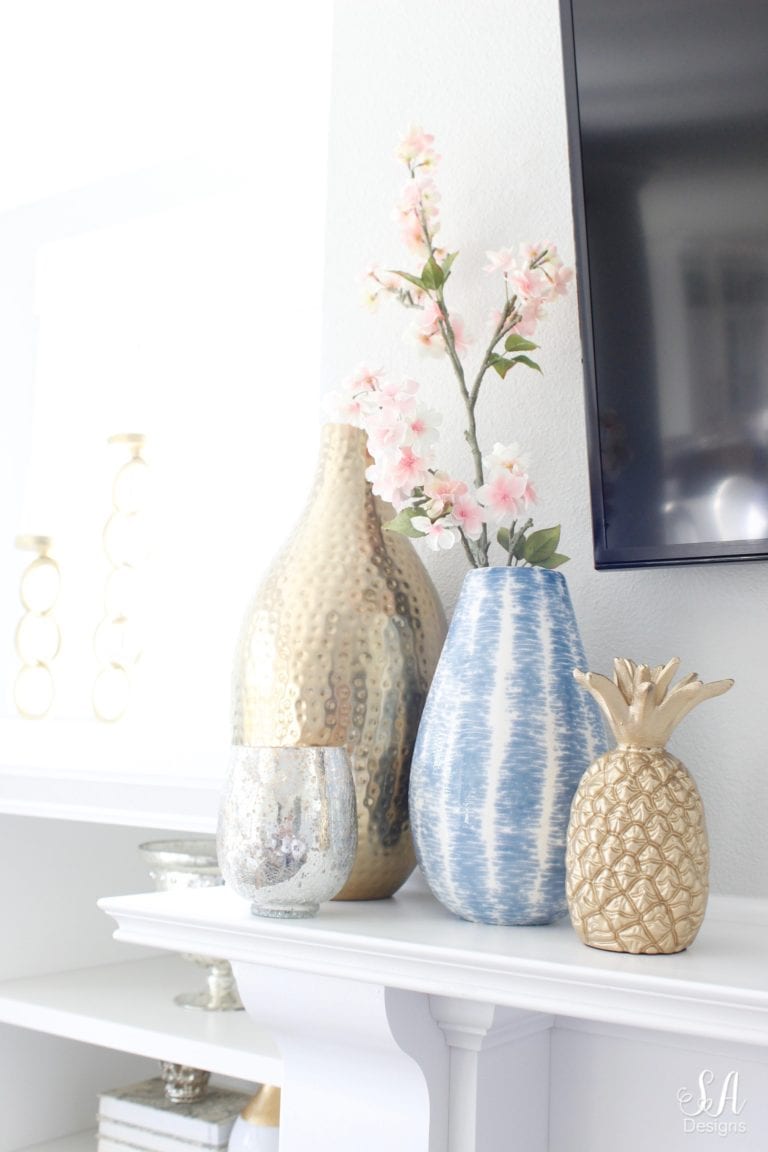 I also found a darling gold pineapple that I knew would be perfect for my mantel.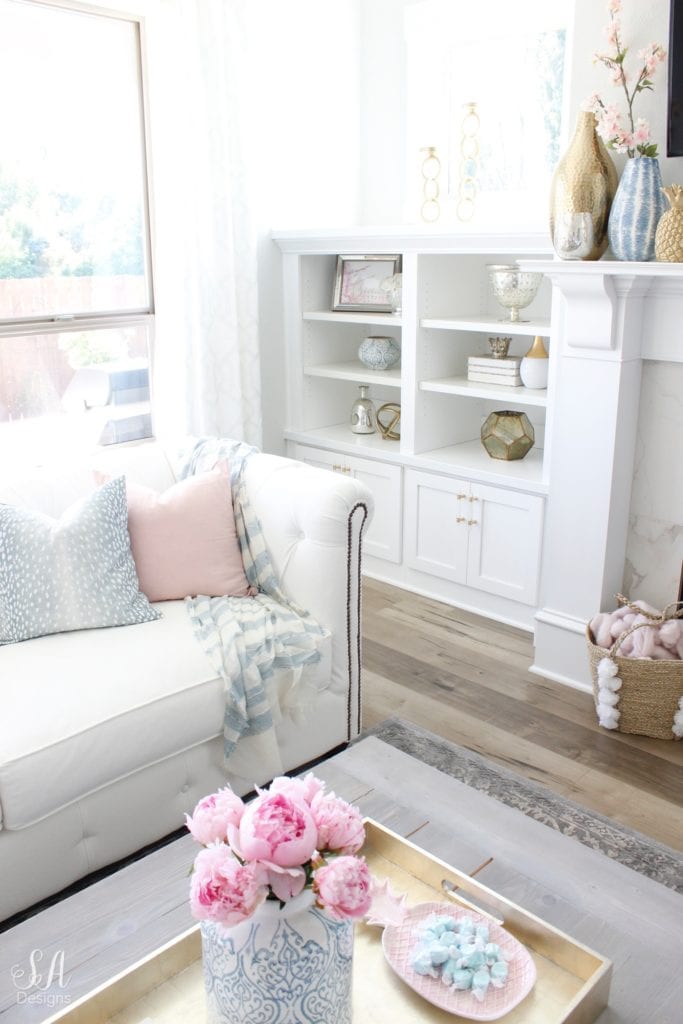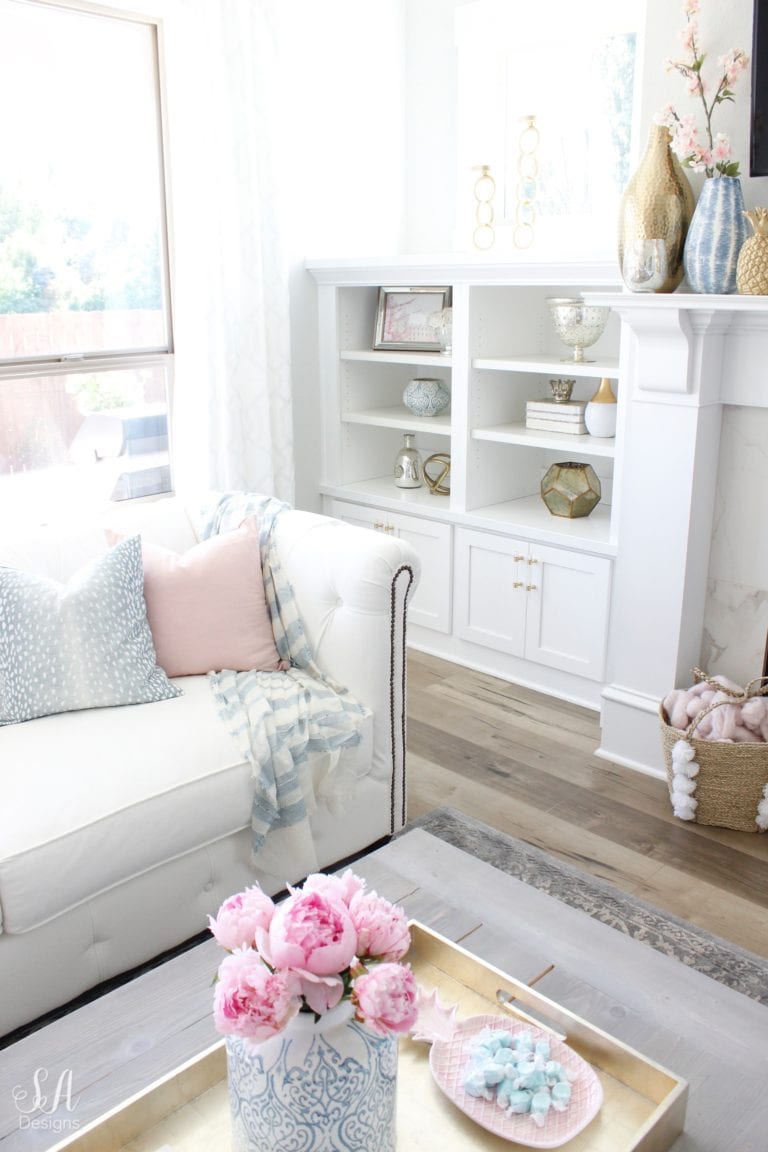 I wanted to keep everything else the same in this room but I did grab light throws and replaces the heavy faux fur blankets with them for the summer.  I think it was a good change.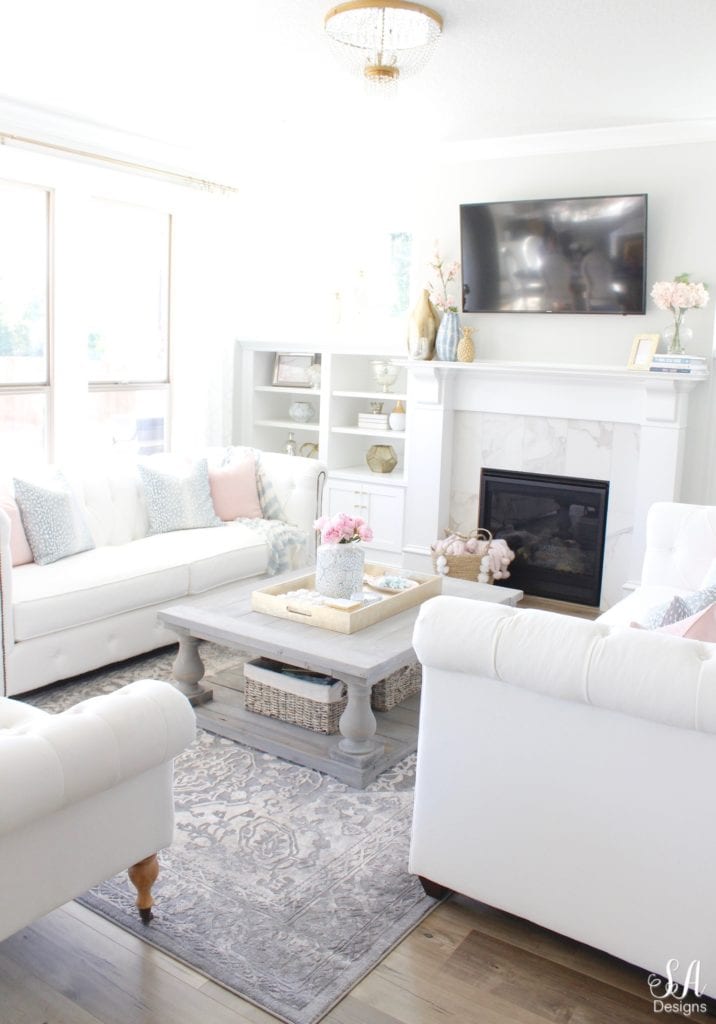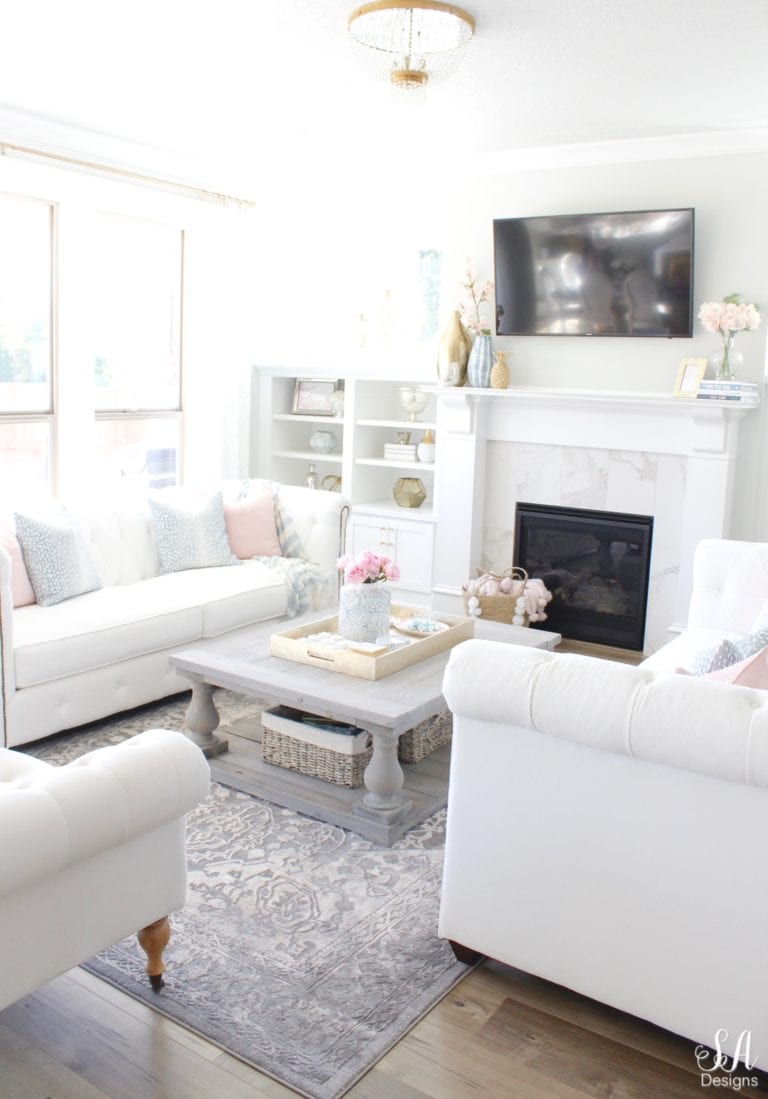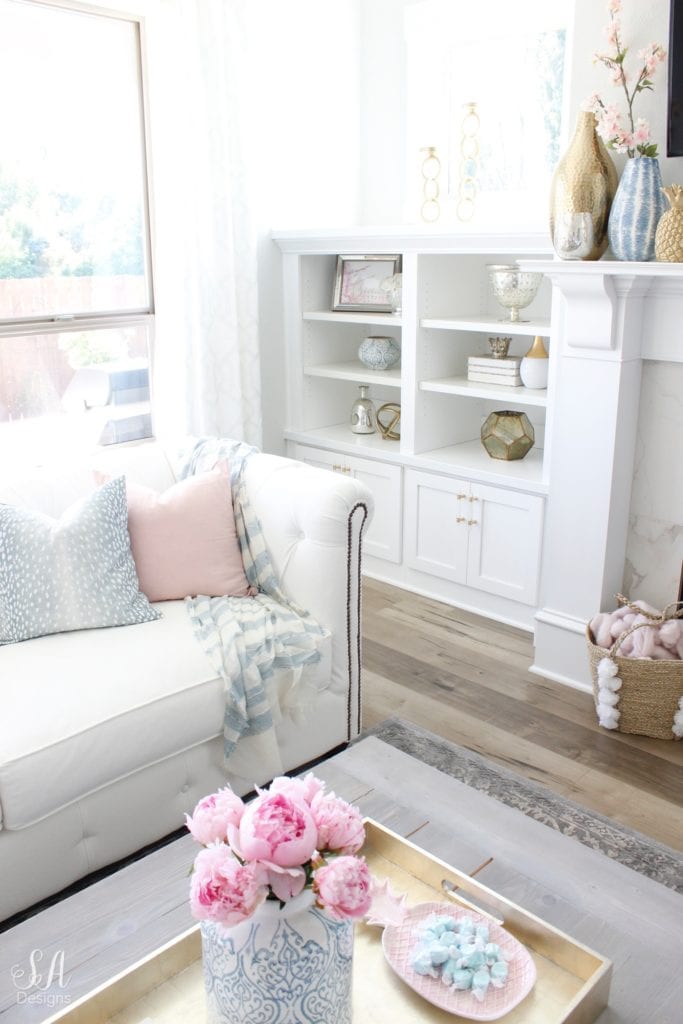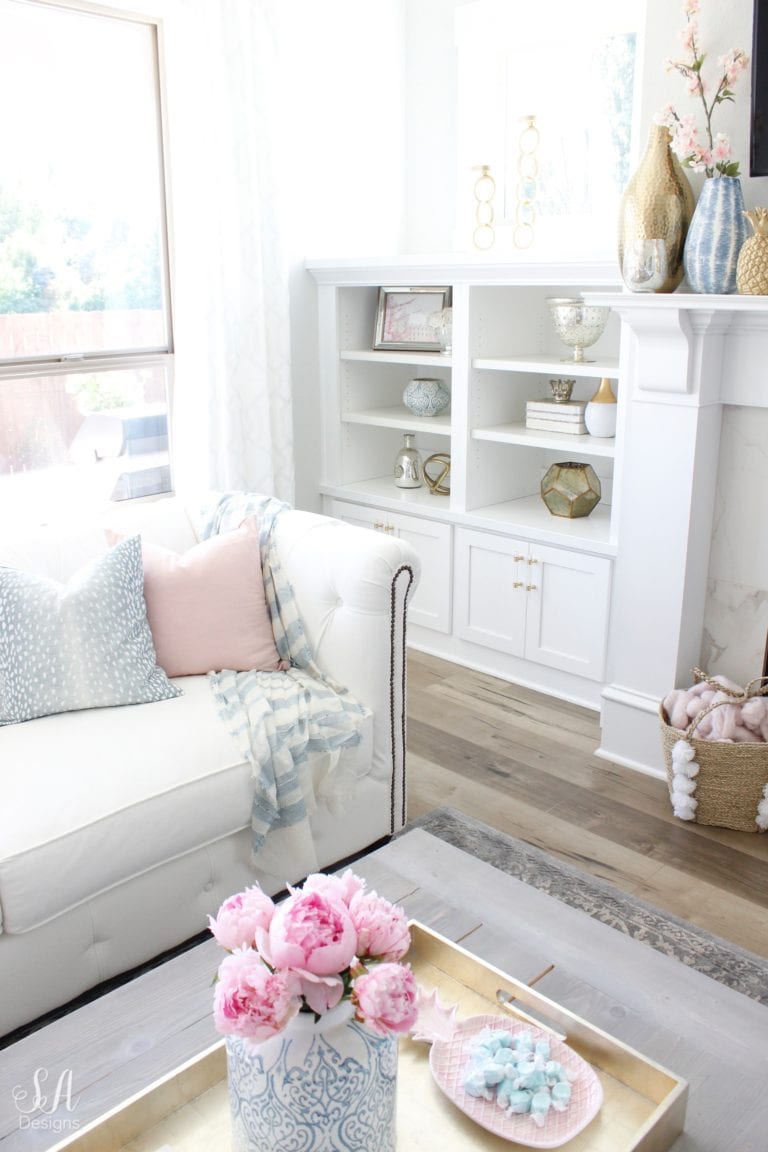 I also added a cute pom pom basket to hold one of my favorite blush throws.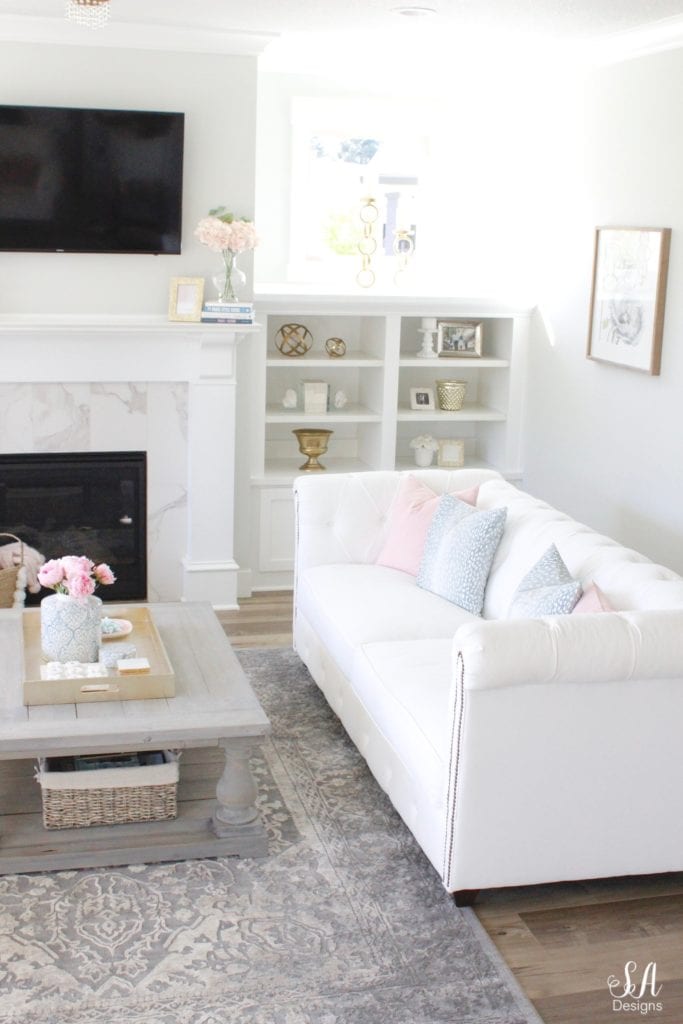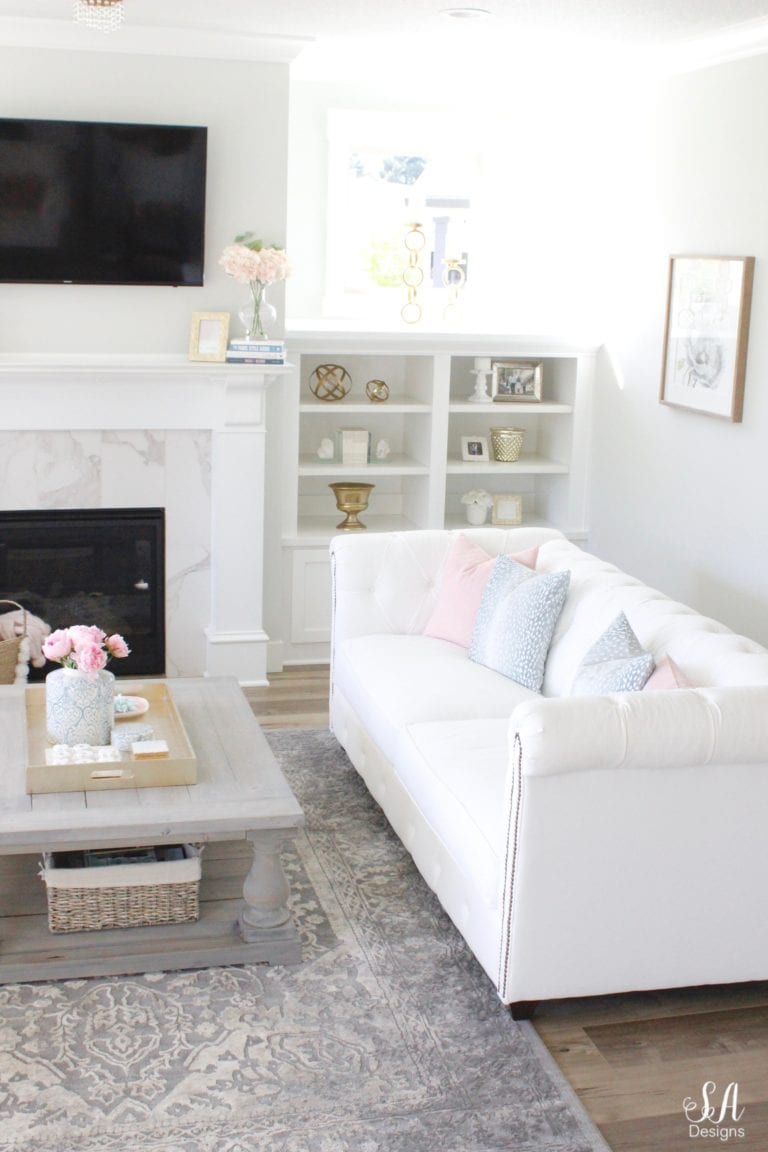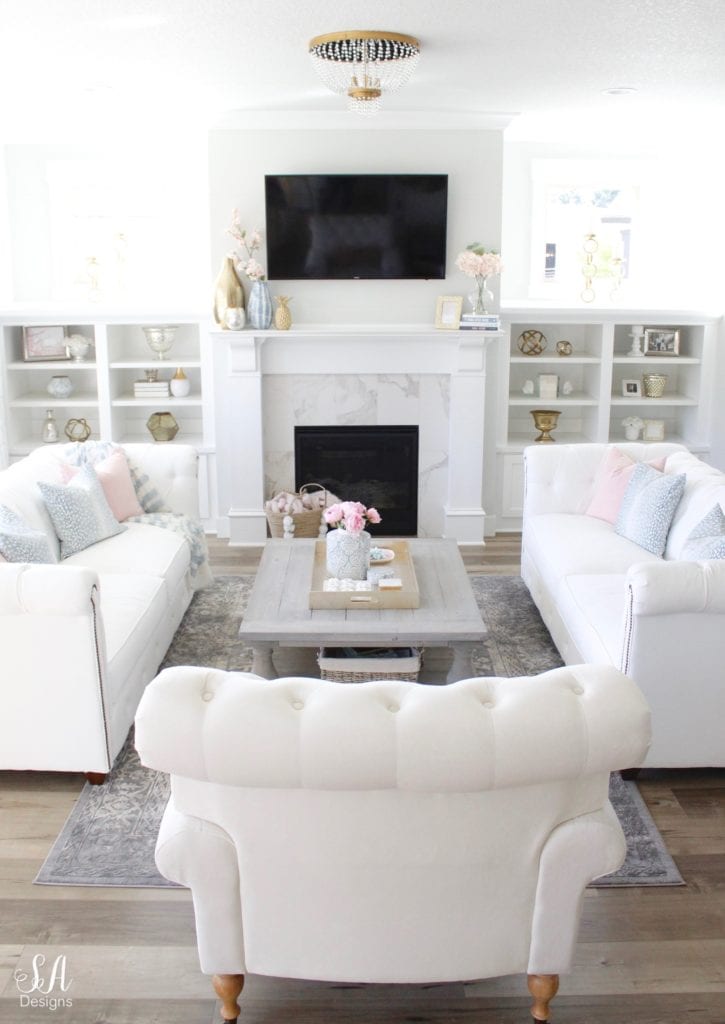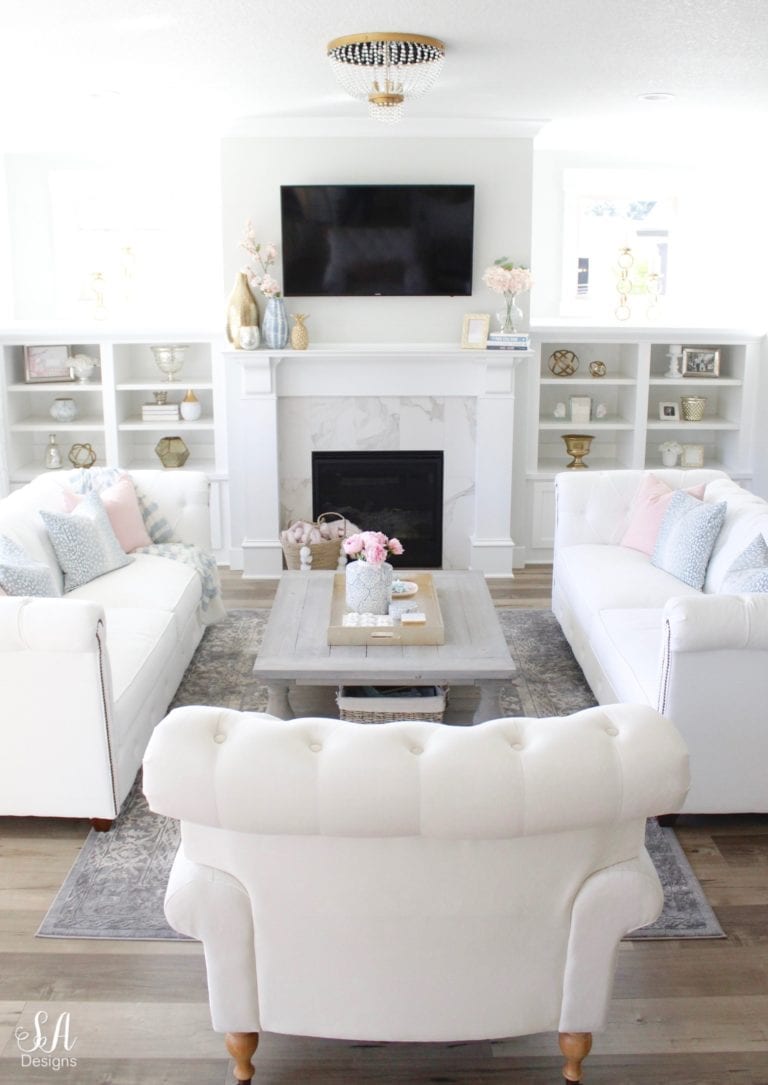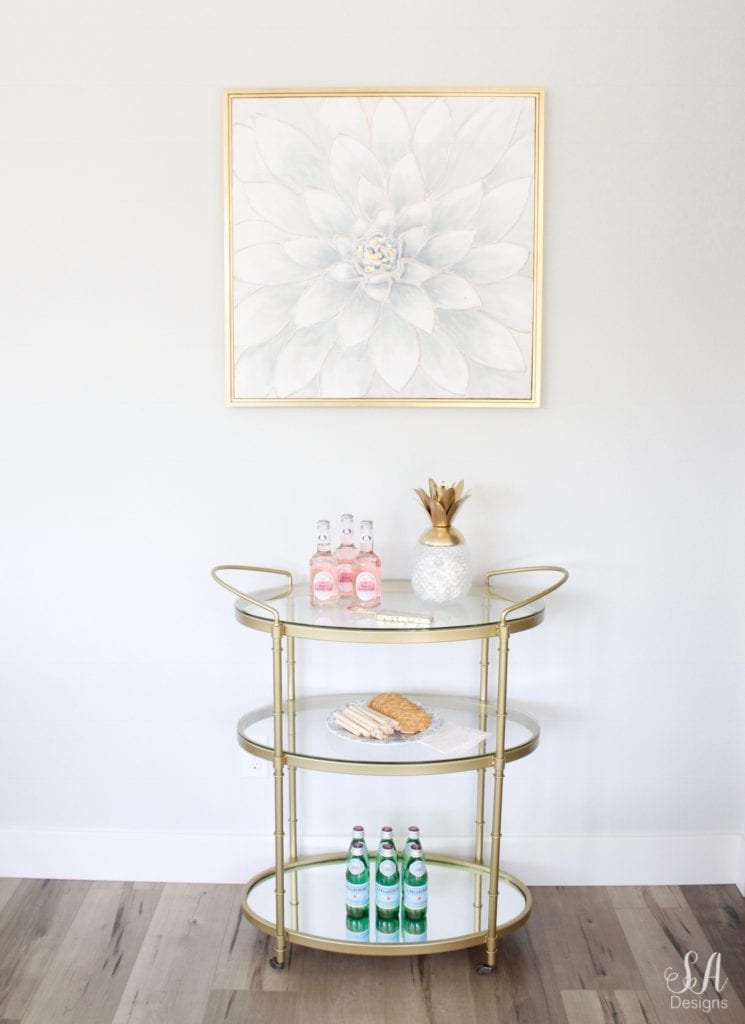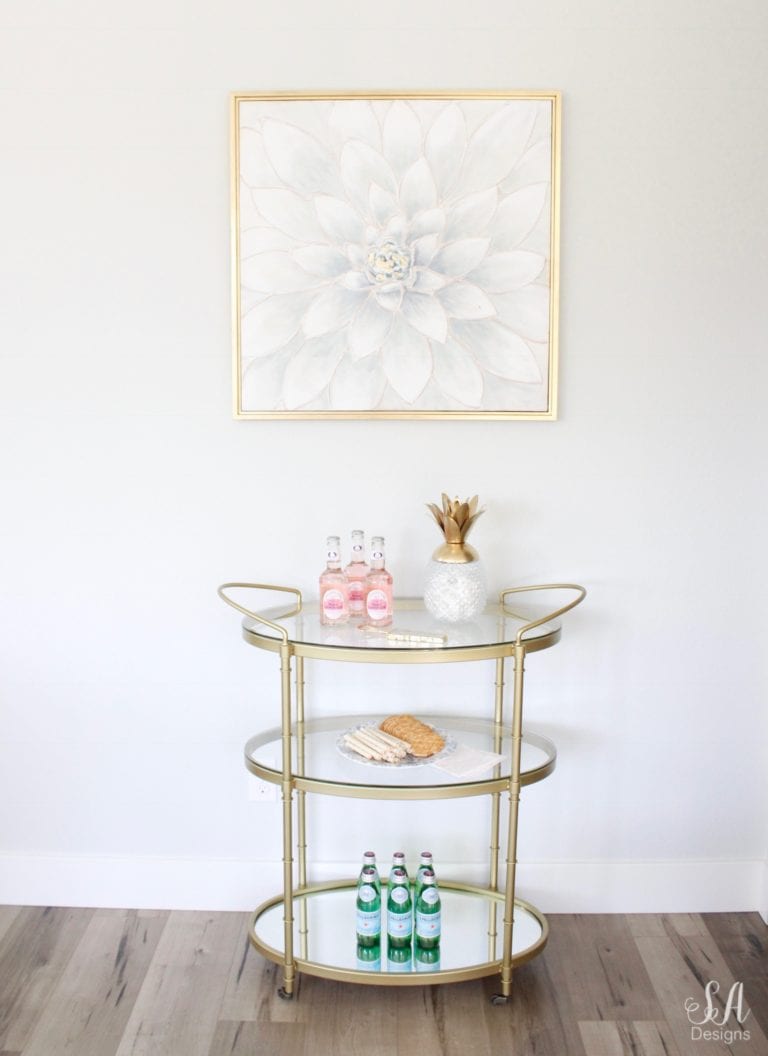 I also changed up my bar cart for the summer.  I just received this particular bar cart last month and shared it with you on my French Bistro back patio dining area.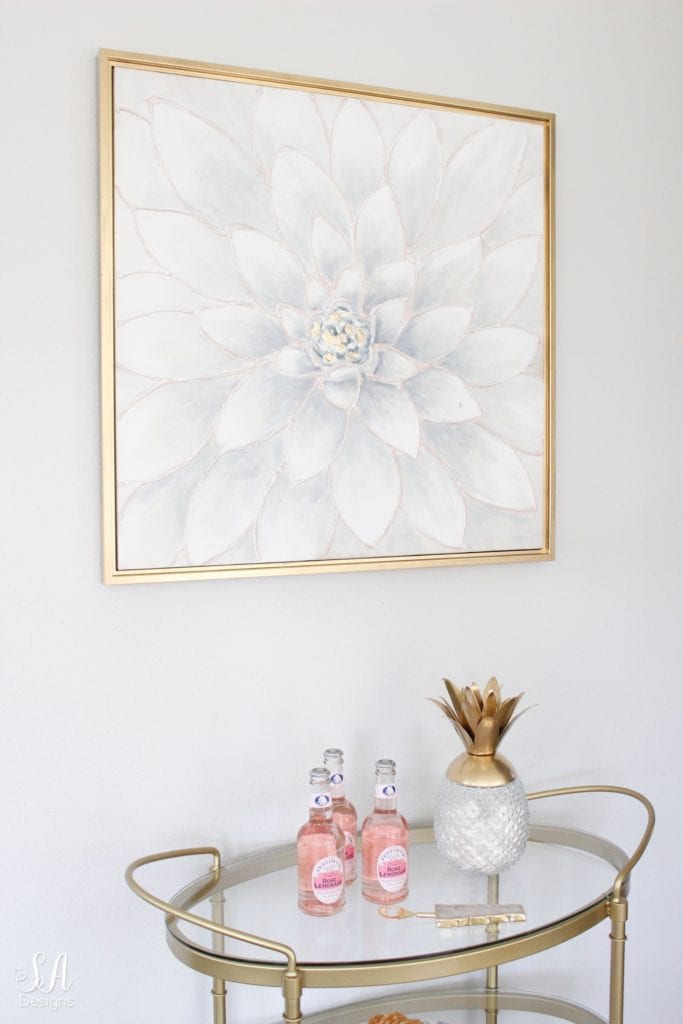 I decided to remove the juju hat that was here on the wall and put it up in our bonus room.  Instead, I replaced it with this lovely floral canvas art I found at HomeGoods last week and was so thrilled with the lovely pinks and blues.  However, it had a silver frame so I painted it gold and I also put gold leaf paint in the middle of the flower to cover up the silver.  I really love how it turned out.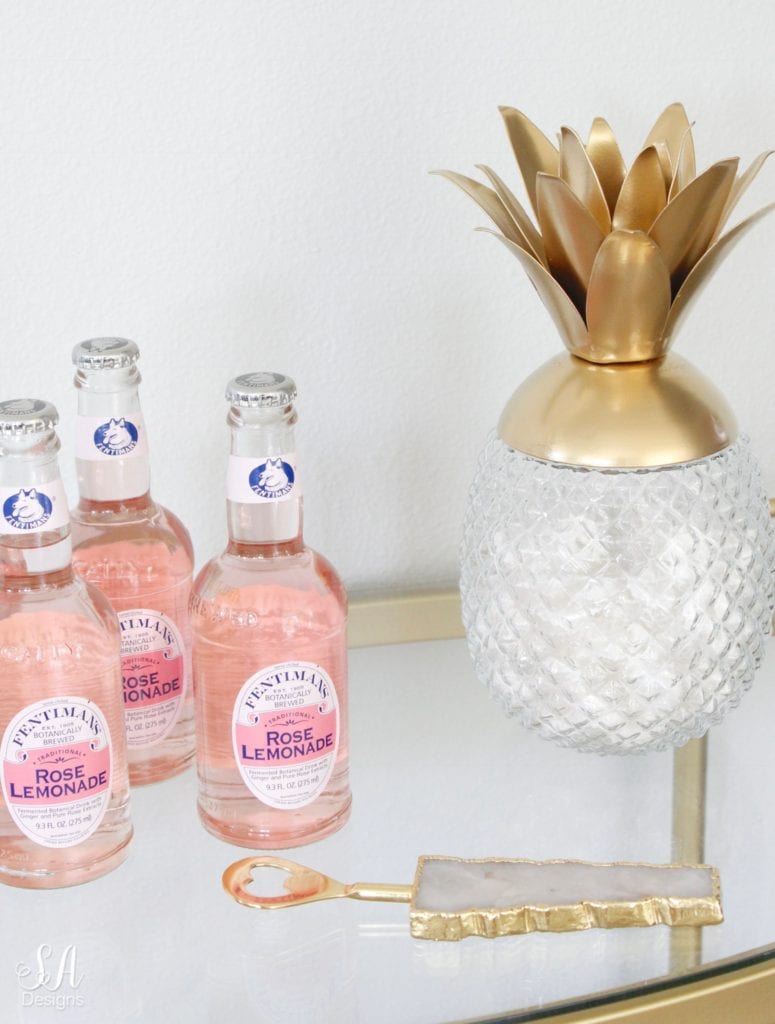 While I am patiently waiting for my new pineapple snack jar to arrive from Pottery Barn after being restocked, I happened upon this almost identical one at HomeGoods and brought it home.  I'm thrilled to have 2 of them.  This darling jar is perfect for pina colada jelly beans or other candies.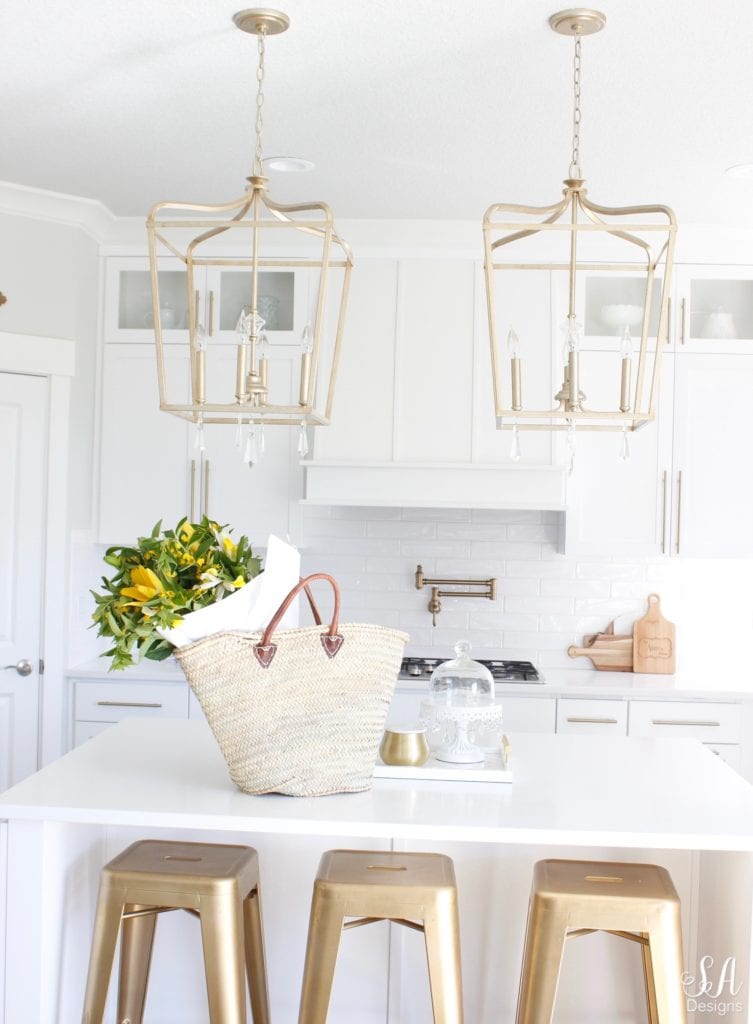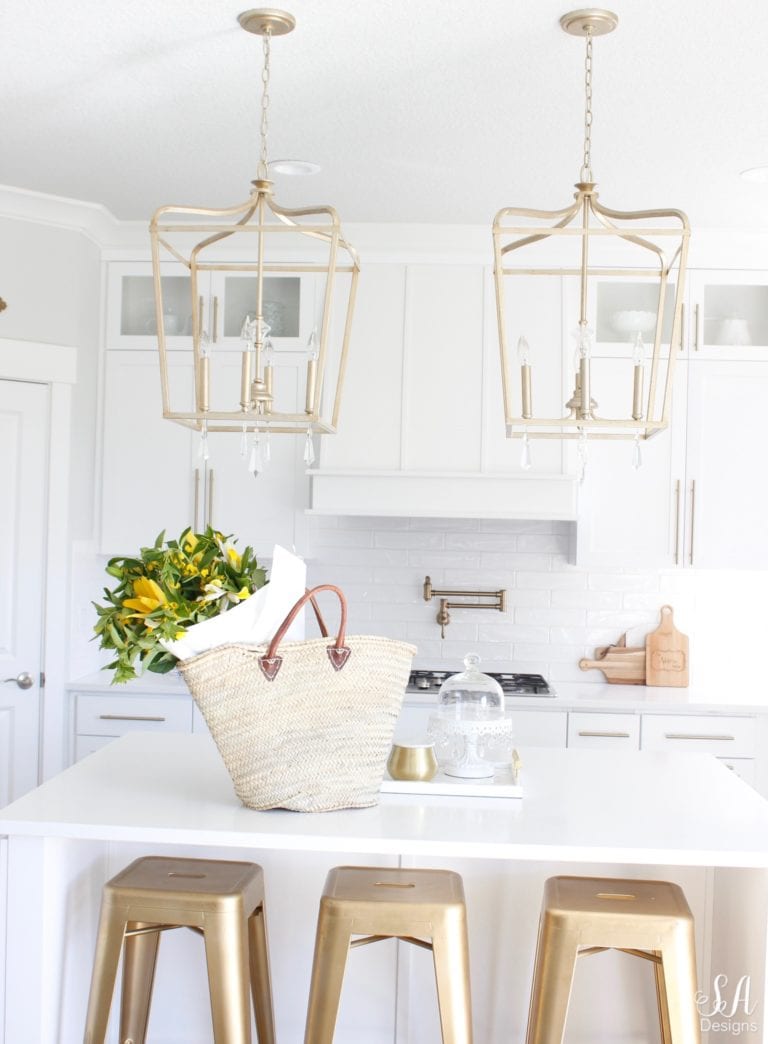 Every Saturday after Beckham's soccer games, our family loves to go to our local Farmers' Market for baked goods, delicious jams, fresh organic fruit and veggies, and lots of beautiful flowers.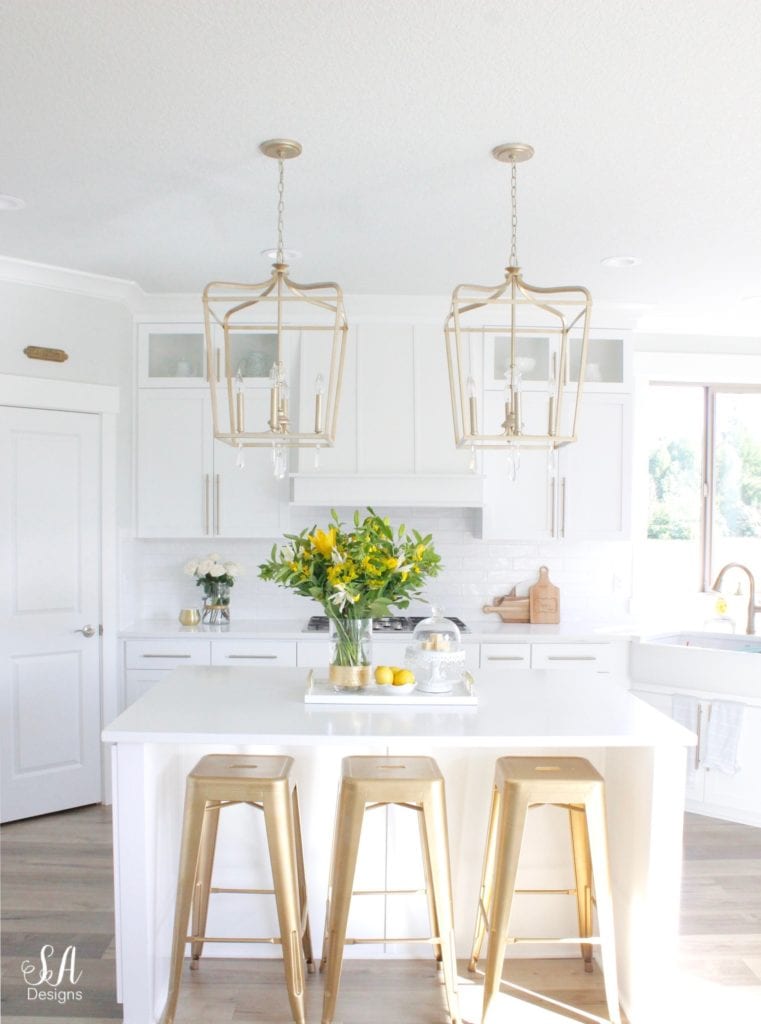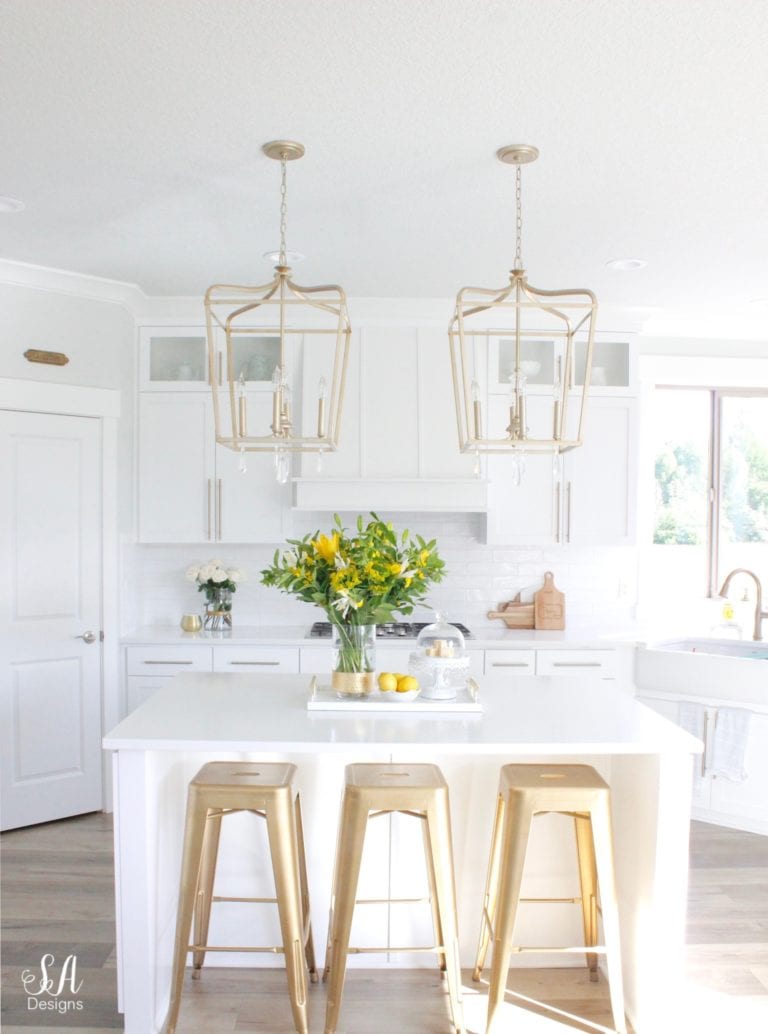 I've brought home the most beautiful bouquets each week that have graced my kitchen island.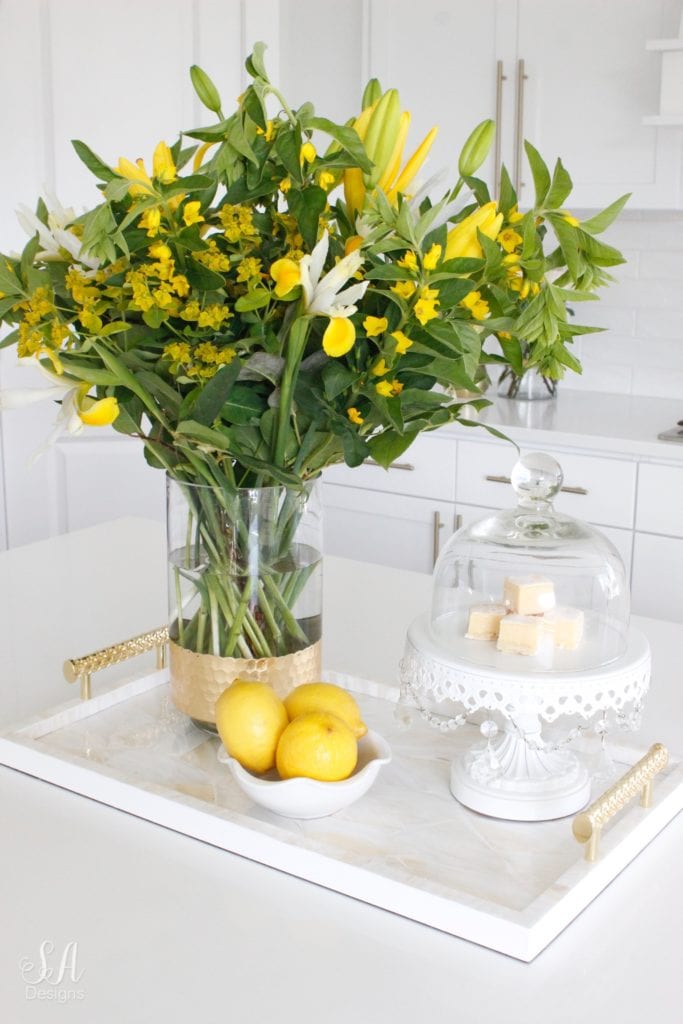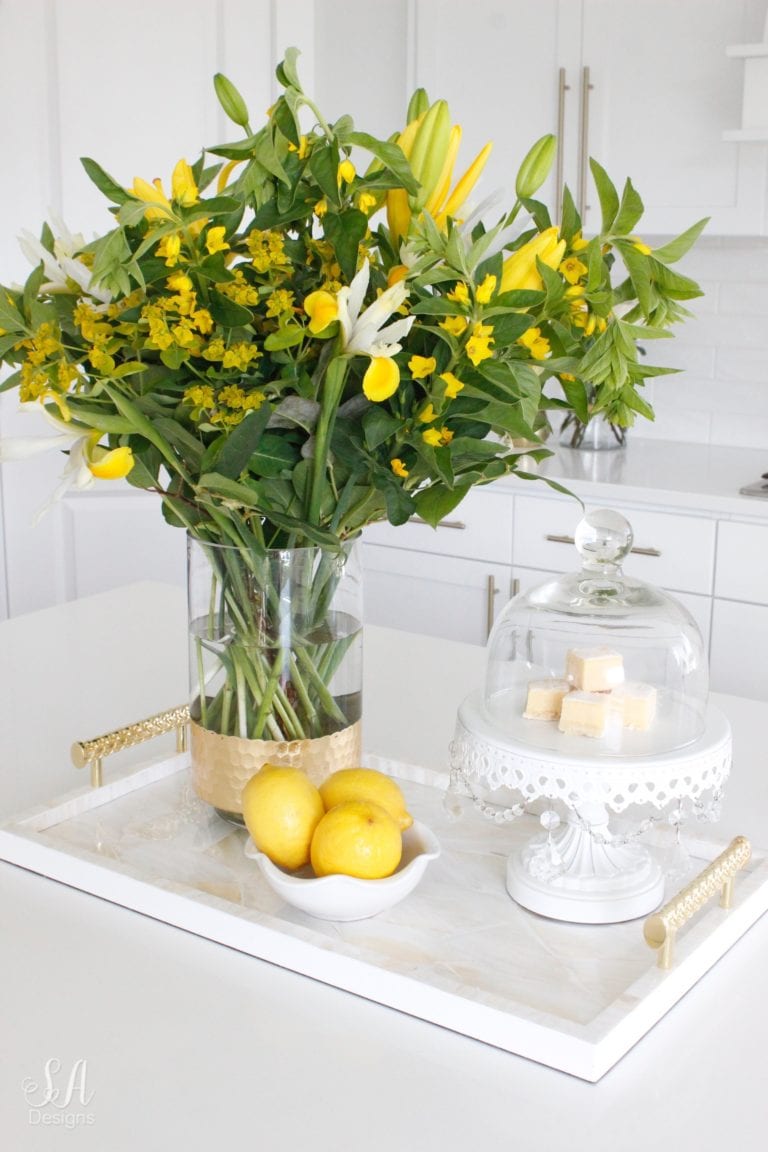 I try to have some kind of coordinating treat out on my cake stand and these Trader Joe's lemon squares, although not nearly as good as my mom's recipe, do just fine.  I also grabbed lots of freshly-picked lemons, as lemon screams "summertime" to me!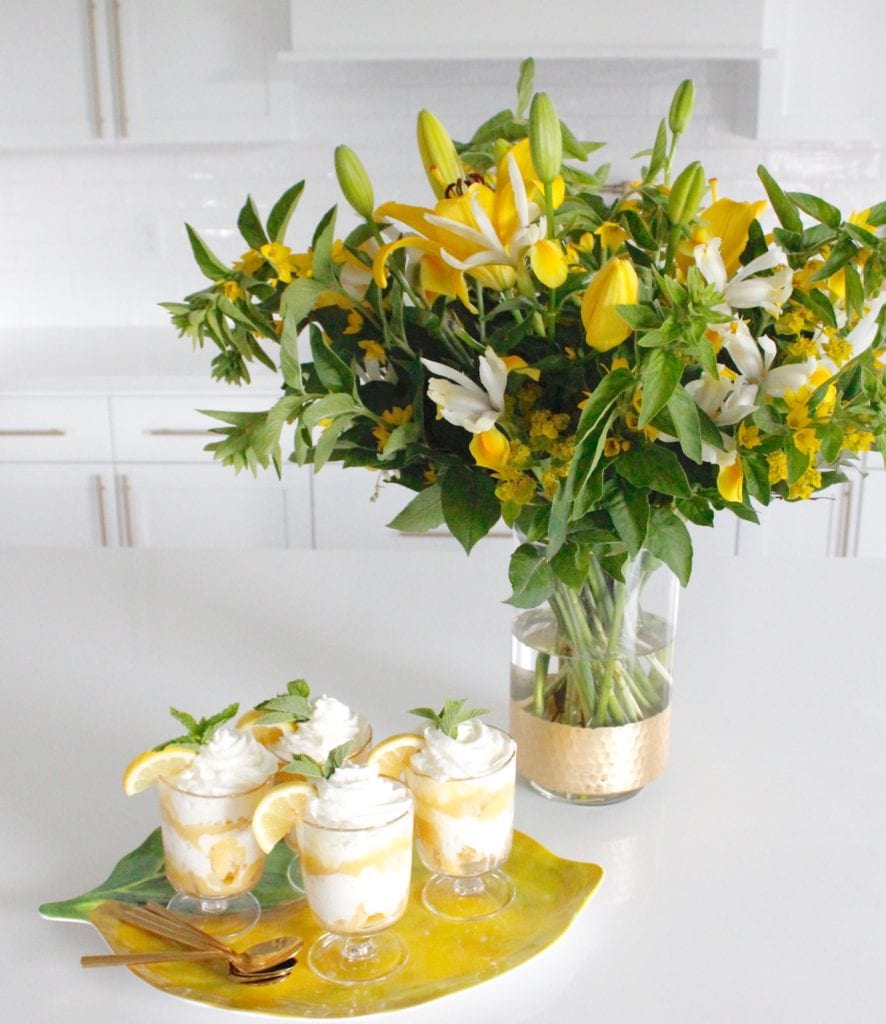 Make sure to come back on Wednesday as I'll be sharing the most delicious Lemon Curd Parfait Recipe that is perfect for the summer and my family absolutely loves it!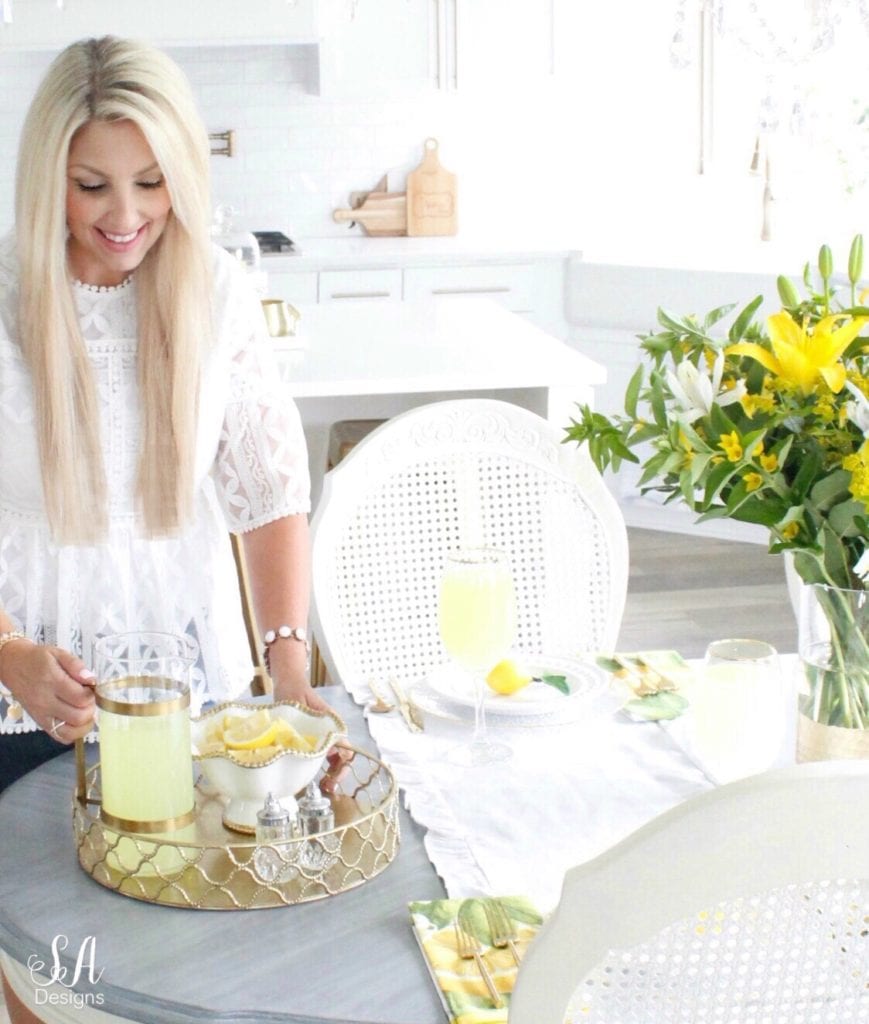 Also, later this week, I'll be sharing the most darling little summer tablescape with lemons and more of these pretty flowers.  One of my favorite things in the summer is to wear pretty white tops and sundresses.  I love this darling white top as it is so light and airy but feminine.  I pair it with denim bermuda shorts and my favorite white sandals that are perfect for the summer.  I'll share more pics of this outfit later.



I hope you're feeling inspired about what changes you want to make to your home for summer.  Now get ready for more summer interior inspiration and fabulous summer fashion by visiting my other friends below that are joining in my tour today.  Trust me!  You do NOT want to miss any of these beautiful ladies!


Summer Adams | Curls And Cashmere | Kristy Wicks


The Lush List | A Blissful Nest | House Full of Summer


J. Cathell |Born On Fifth | Going For Grace
*****
Thanks so much for stopping by today!  I would love it if you subscribed at the top of the page in order to receive my weekly emails of all my latest blog posts and hear about digital printables & freebies, as well as sales or new items in My Online Shoppe.  You can also follow me on Instagram, Pinterest, and Facebook to see what I'm up to in creating a home and lifestyle of inspiration!
xoxo,