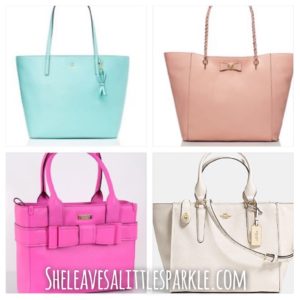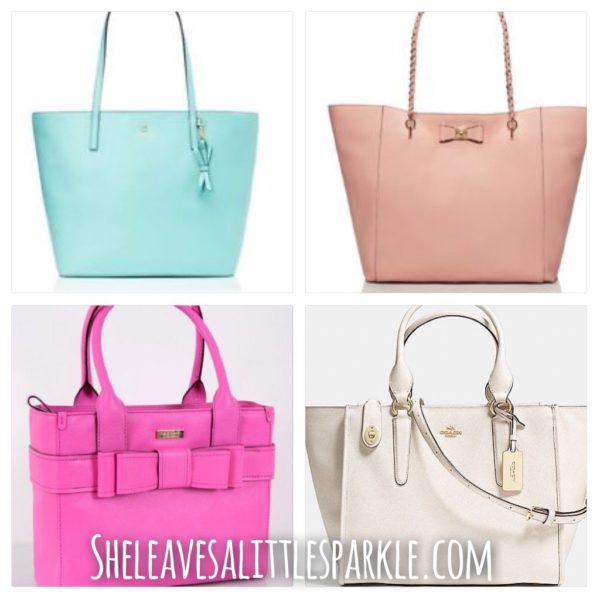 We're talking handbags for the Spring today!  ***squeal***  These are a few of my faves!
Yes, it's only February but when you live here in Vegas and it's 75 degrees and trees are budding, flowers are blooming, birds are chirping, your A/C is on and you're in shorts and flip-flops (have I rubbed it in enough yet? haha)….well, ya just can't help but start looking at your Spring wardrobe and especially your accessories.  Good-bye boots and scarves and leopard handbag (here in Vegas at least) because I'm pulling out my spring accessories and getting a pedicure with a bright pink polish.
Yesterday, our UPS man dropped off the newest addition to my handbag family……this aqua baby!  I love her!  It's the Kate Spade Sawyer Street Maxi Handbag (I bought online last weekend and it's now sold out but look on eBay).  It's such a beautiful aqua color, stands up on it's own, has nice long handles so I can throw it over my shoulder AND has just a small bow accent.  I loooooove bows, if you didn't already know.  Perfection!  Now, a little secret…. go to http://surprise.katespade.com and sign up for their Surprise Sales!  This handbag below was about $298 and I got it during their Surprise Sale for $110.  Sign up now!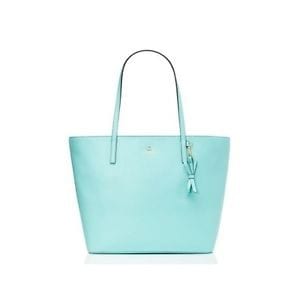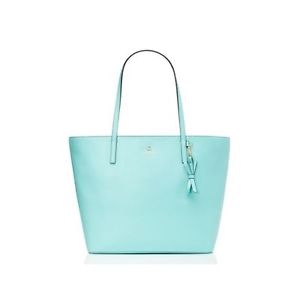 If you can't afford this bag or don't want to spend the money, Target has one HERE at just $5 that is pretty close and also comes with a clutch inside, just not the bow.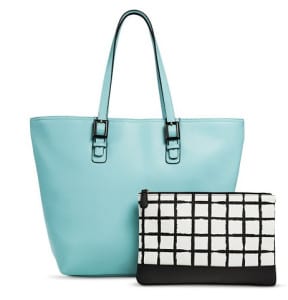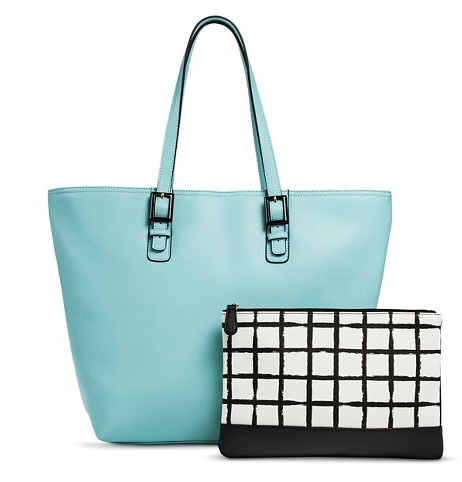 My other fave is one I bought last year…this gorgeous Kate Spade Pink Bow Handbag (sold out but again….you can find them on eBay).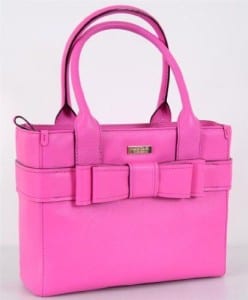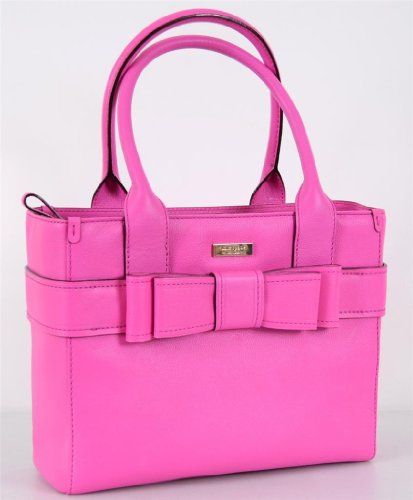 I bought mine for around $130 at Nordstrom Rack last summer. Target has one HERE that is a great alternative for only $35 (wow) but it comes in black, red, and then a pretty cream/black option also.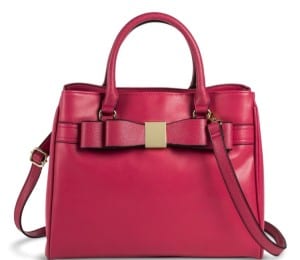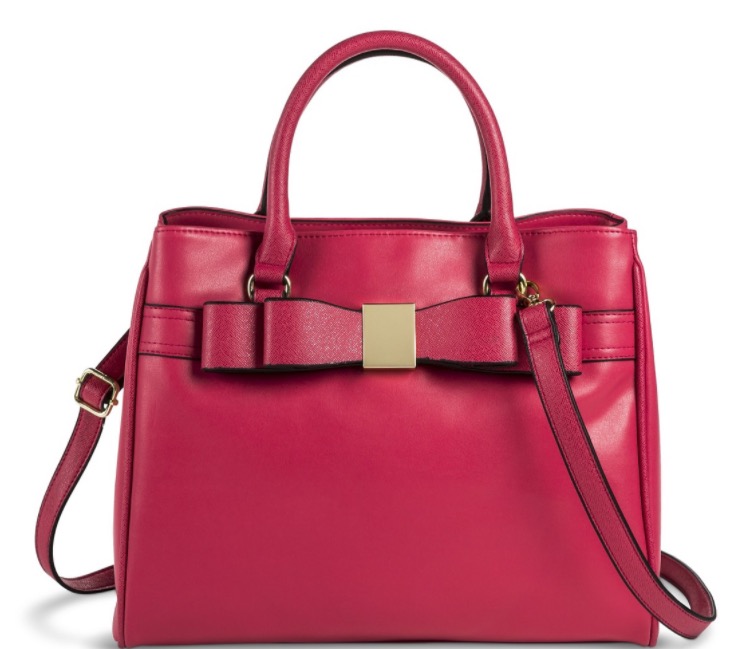 My next favorite, The Kate Spade Madison Chaplin Drive Maeve, I actually do NOT own because it's almost $1200 (wowza) but it's to die for!  I don't know if it's the Italian pebbled leather, the Italian satin lining, or the 14K gold plated hardware that makes it so expensive but it's not in my "handbag budget" right now.  I do love a blush handbag this time of year though.  So classy and feminine and neutral.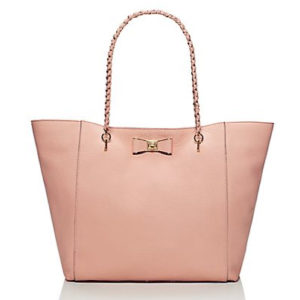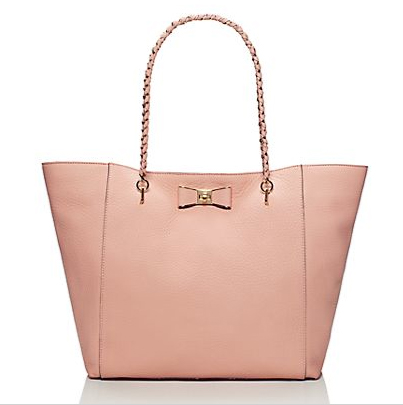 Kate Spade makes another gorgeous blush handbag which is MUCH more affordable at a sale price of $278 called the Mattie Street Amelie (below) and I love it!  It's screaming my name BUT since I just bought the aqua bag I'm gonna pass and find a "steal" that's similar.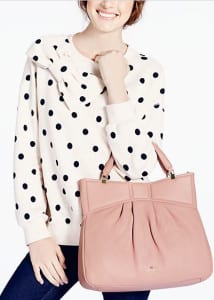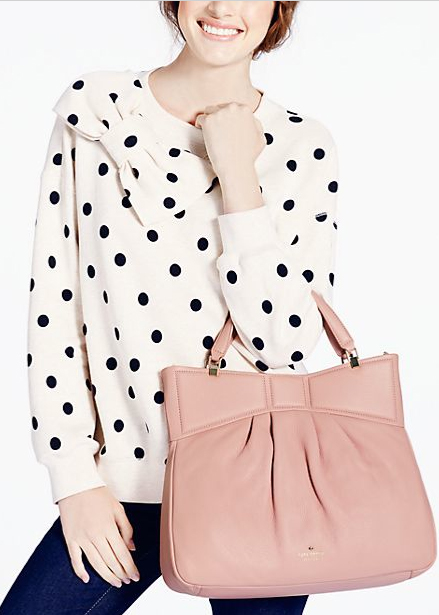 So….here's another alternative (below) from Target!  I just purchased it online with my Target RedCard (free shipping and 5% off) for only $42.  Now that's a steal!  And it's more blush than beige in person.  Either way, I LOOOOVE taupe and it's close.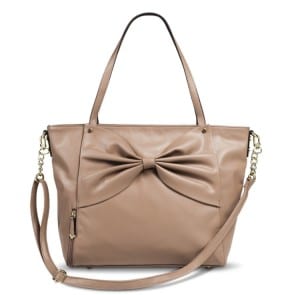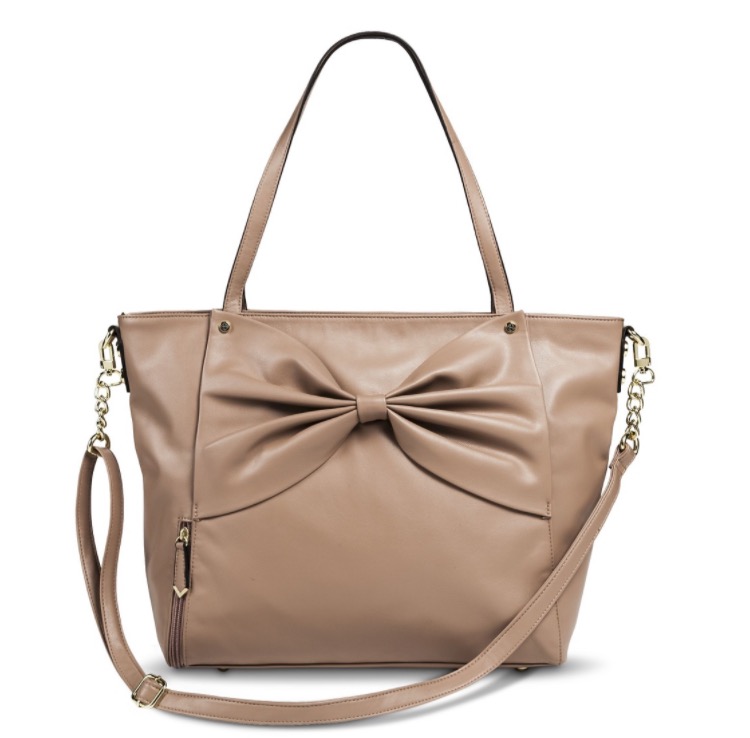 Now, when it's spring and summer, I always believe in having a pretty cream or white handbag,  And I love this one HERE from Coach called the Crossgrain Leather Crosby Carryall.  The color is "Chalk" and has light gold hardware accents.  It's gorgeous.  And Crosby is my maiden name so I might be a little impartial 😉 ha!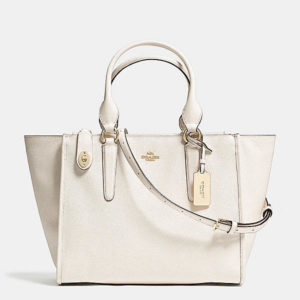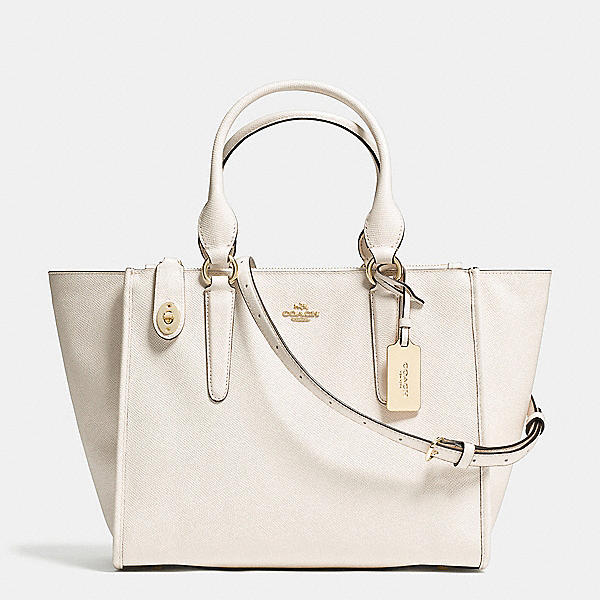 I hope this inspired you to clean out your closets and to get thinking about spring handbags!  Sell your out-of-date bags and accessories on eBay or at a garage sale etc. and then turn around and apply that money towards a really GREAT bag for this spring and summer.


xoxo, Summer