Did you know that Valentine's Day was my 2nd favorite holiday? Yep. Right after Christmas, this is my next favorite holiday.  I live for all the fun traditions I've created for my family and love spoiling them with extra hugs, kisses, love notes, and sweets.  And of course, I love adding extra pink around my home. Today, a group of friends and I are sharing our Valentine's Day inspiration and I'm sharing my tips for classy Valentine's decorating.
Affiliate links are included in this post. Click here to read my full disclosure policy and here for my privacy & cookies policy. All opinions are my own.
Everyone knows what traditional pieces they love using for most holidays but when it comes to Valentine's Day decorating, I hear people say over and over that they either A) don't have much or any decor for this holiday, B) they don't like any of the decor they have, or C) they never decorate for Valentine's because they don't know how.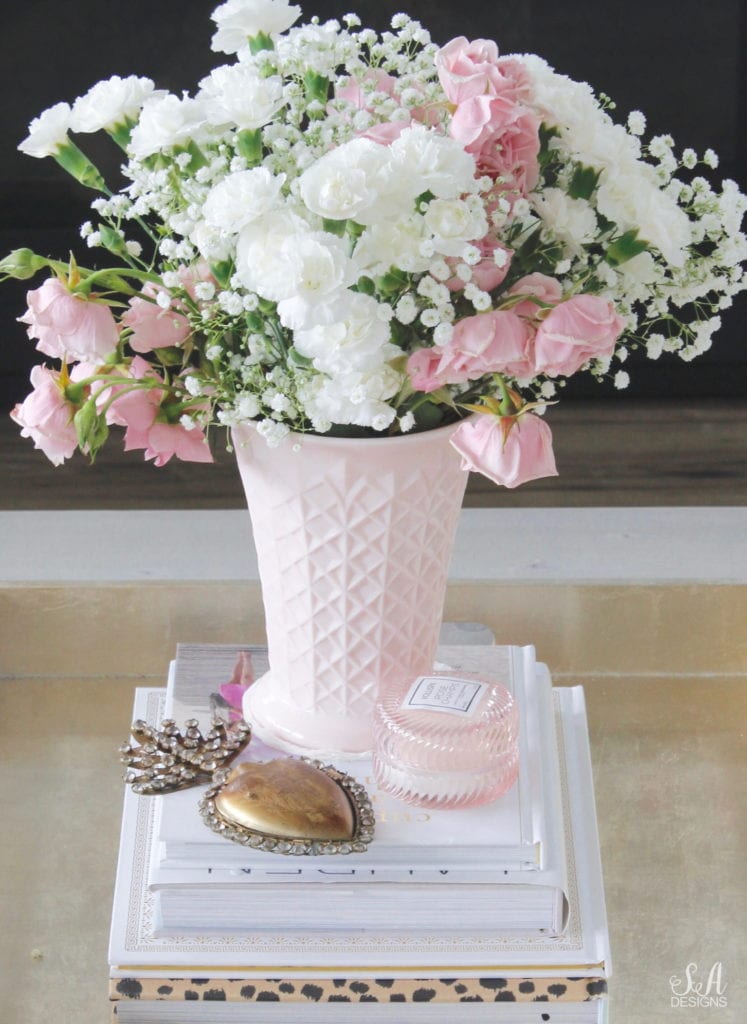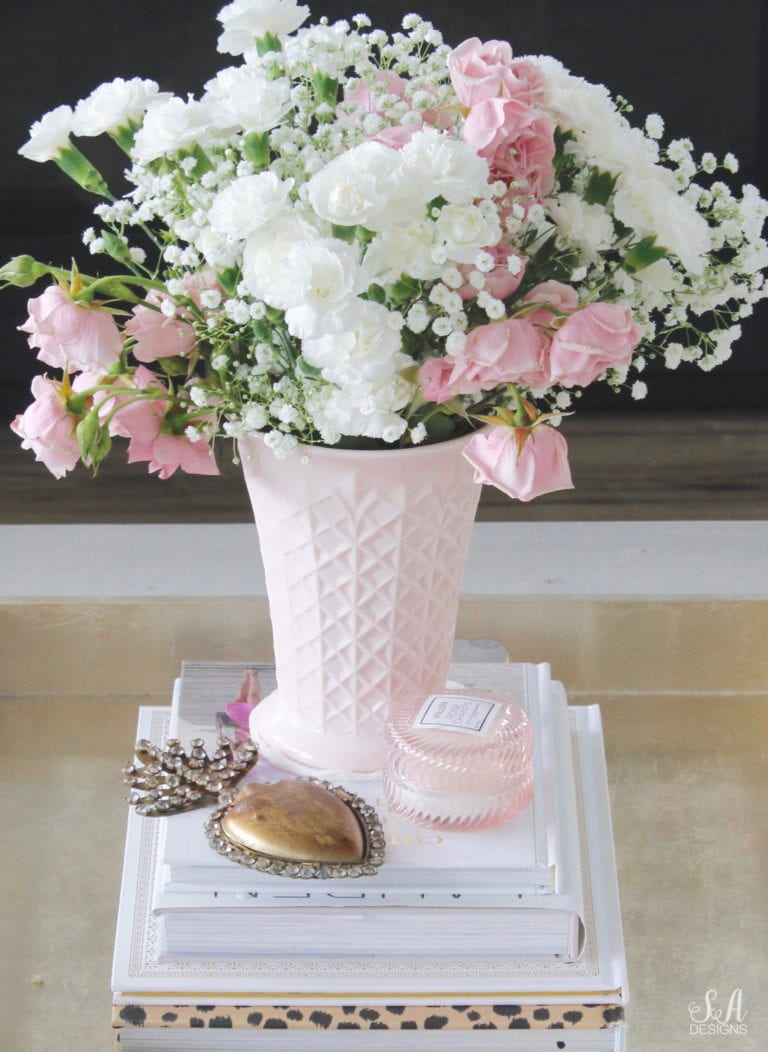 Tips for Classy Valentine's Decorating
So here are my tips for classy Valentine's decorating so that you'll start loving to decorate for this holiday as much as I do and find it easier than you have in the past.  First, let's start with a few things you should not do.
Things you should NOT do when decorating for Valentine's Day:
• Do NOT use kitschy, tacky, cheap decor. (Yes, it's okay to pass up all of those fun little decor items in that famous dollar spot in the front of Target if you're going for a classier look! Less is more here.)
• Do NOT overdo the pink and red combination. (This isn't Christmas decorating and you don't want every nook and cranny bursting with pink and red if you want classy Valentine's decor.)
• Do NOT use too many heart-print items or lip-print items. (I know…tempting. It's all so cute but if you're trying to achieve more of a "classy" look, beware of all the prints and from buying every heart pillow for sale.)
• Do NOT purchase Valentine's decor that doesn't go with your style and the look you've already created in your home. (It should look like it belongs and flow seamlessly with existing home decor.)
Things you SHOULD do when decorating for a classy Valentine's season:
• Bring out pink home decor accents (or any red if desired as well) that you already own to decorate. (This might include pink vases, ginger jars, glass sea beads, large and small candles, cake stands, trays, throw pillows, throw blankets, recipe books for the kitchen with pink and/or red colors, etc.)
• Create fresh flower arrangements at home with affordable bouquets from your local grocer. (I have a weekly fresh flower budget and so I like to mix a few different pink flower varieties with some white and even red too.)
• Invest in some good-quality faux florals as well to create arrangements around your home. (Nothing says "romance" like flowers and using lots of floral to decorate gives such an elegant look and will cheer up your gloomy winter days.)
• Set soft, elegant tables and centerpieces. (You can even keep your table set if you prefer and it's at a separate dining space than what you're family sits at each night. This adds so much to the ambiance.)
• Use apothecary jars and special bowls/dishes to display your candy or hot cocoa bars. (Avoid the kitschy jars that you'll see in stores but instead use a variety of heights for your buffets and/or bar carts.
• Start with your higher-end stores that you already love/trust for home decor and shop their Valentine's decor sections. (They're likely to have serving pieces and decor pieces that blend with your existing decor and pieces of higher quality. You can also shop them for pieces you'd normally use to decorate your home and choose those items in pinks/reds.)
• Do get creative and create beautiful decor of your own that looks elegant and romantic. (Wreaths, pennant banners or garlands, etc. should reflect this look and not look like it belongs in a children's playroom or bedroom.  Keep that in mind when designing and crafting.) If you want to add some peppy designs, then the newest thing on the market is a neon sign! You can Shop Neon Lights UK or practically anywhere else in the world, so a custom sign with your favorite design could add a nice touch, as long as it's not too flashy.
Classy Valentine's Day Decorating
Here are a bunch of examples of all the DO's from my tips for classy Valentine's decor below.
This year I kept it extremely simple in our entry. Just a darling sequin banner, pink ginger jars, and lots of pink ad white floral stems.


I love finding vintage and vintage-inspired items, like this sacred heart cachette, that's perfect to put out all year-long but especially at Valentine's, along with pink ginger jars. All my pink ginger jars are from ShopLoHome.Com
I bought 2 of these soft white throw blankets with pink hearts for each of the sofas because I knew my kids would love them while watching TV. I bought some for the bonus room upstairs too. It's festive and sweet without going overboard.
I grabbed my favorite peony stems and other to create a lovely faux arrangement this year. They're beautiful, come in so many color options, and the price is fantastic for each bunch of them.
I love these darling banners created for me a few years ago. They're the perfect size and not too bold. They go perfectly with the rest of my decor. I also found the cutest vintage pink milk glass dishes and jars last year and they're perfect to bring out for Valentine's to hold candy.



Large and small pink candles (these Voluspa candles shown are the prettiest) and fresh pink flowers are the perfect way to celebrate the month of love after all that Christmas decor is put away.
I love bringing out some of my favorite pink pieces to create lovely little vignettes after starting with a blank slate. Get creative with things you might already have in your cupboards (like I did stacking these pink teacups on a cake stand).
I even brought out my mini pink and white teacups for my large jars. I love pretty little details.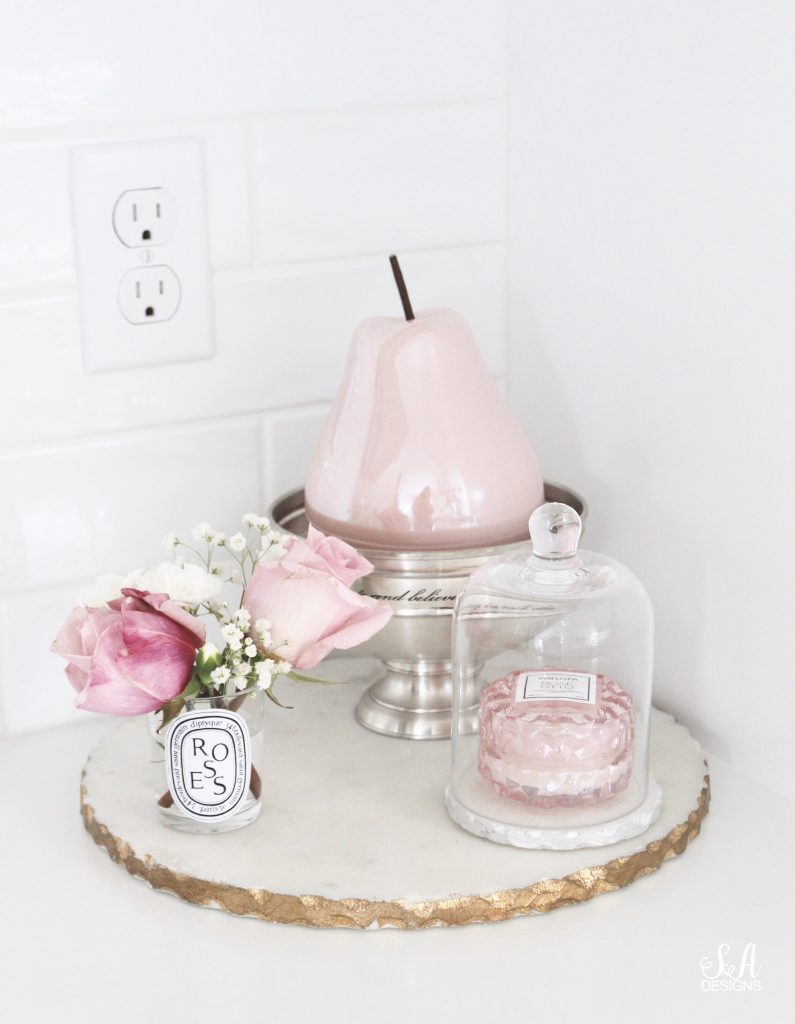 Not everything in your decor has to be pink and red or covered with hearts for it to create a classy Valentine's decor look.



Here are a couple of Valentine's tablescapes I've created in past years.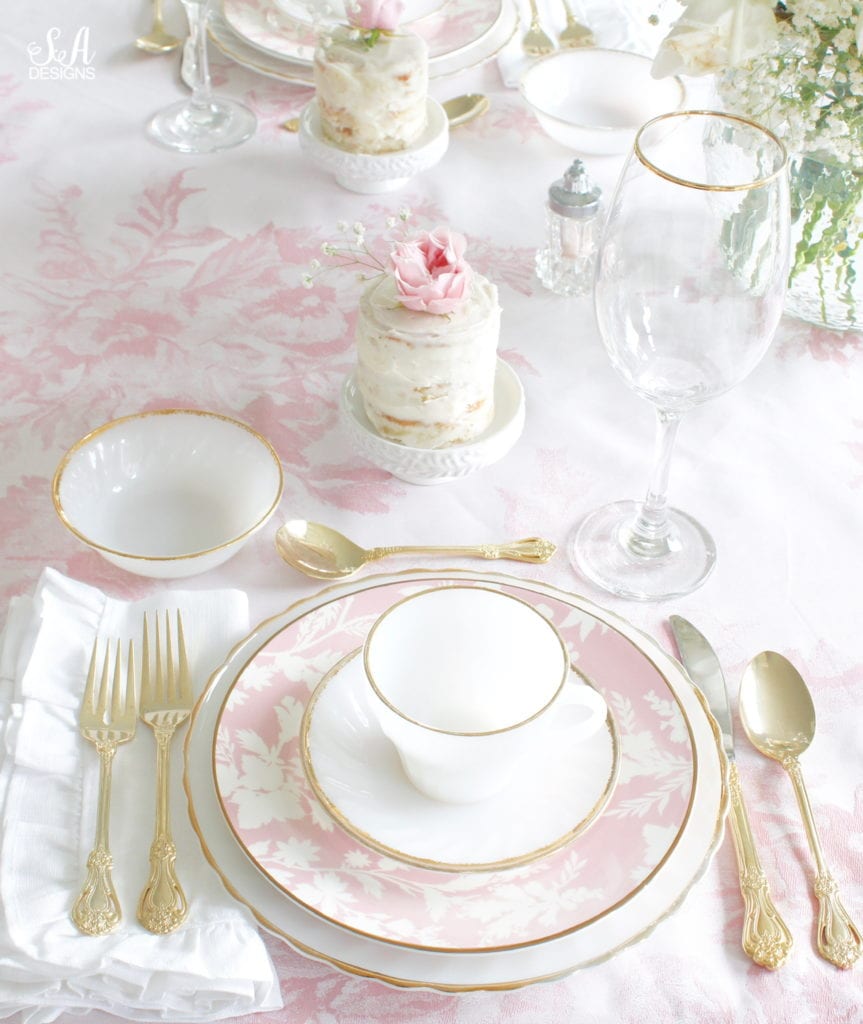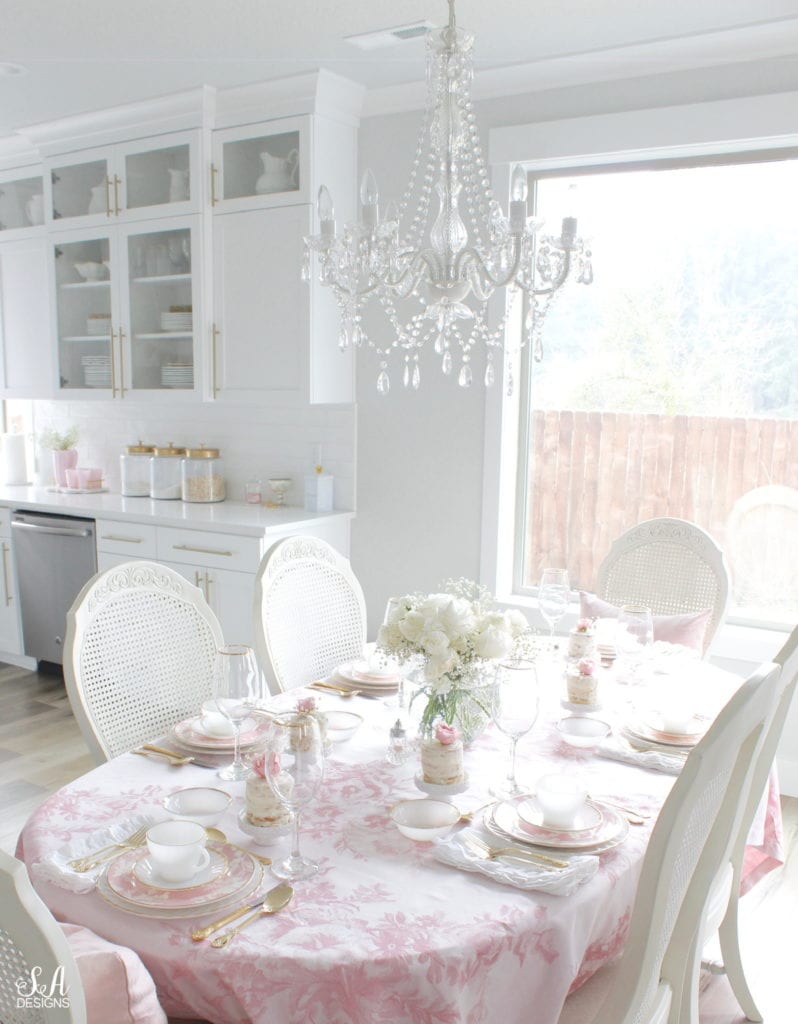 Read more about this post and find the sources HERE.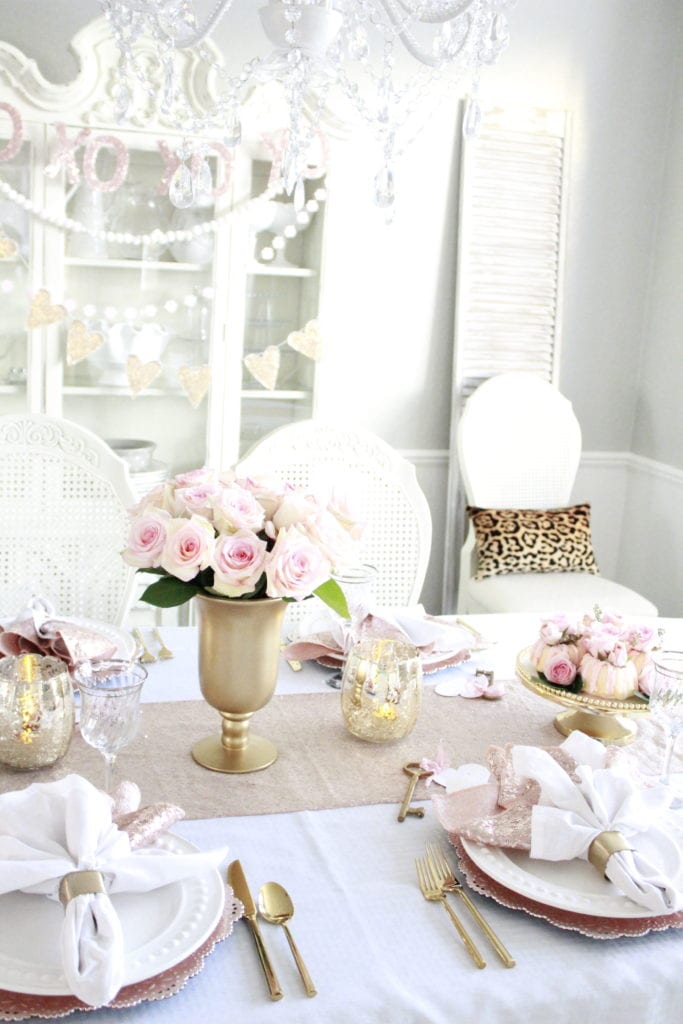 See more of this glam table HERE and more Valentine's decor from our Dallas home a few years ago.
I hope my tips have been helpful to you and that you feel more excited and confident in decorating for Valentine's Day.
Please click on my friends' links below for more gorgeous Valentine's Day inspiration! 

Maison de Cinq | Ella Claire Inspired | Zevy Joy | Happy Happy Nester
My 100 Year Old Home | Modern Glam | Summer AdamsHappy decorating and Happy Love Day!
((Happy Valentine's decorating and Happy Love Day!))
I'm so glad you could stop by today!  I would love it if you could subscribe at the top of the page in order to receive my weekly emails of all my latest blog posts and see everything I'm working on!  You can also follow me on Instagram, Pinterest, and Facebook to see what I'm up to in creating a home and lifestyle of inspiration!
 xoxo,

---
Want to shop my Instagram posts?  Click on any square below! 
Reader Interactions