I hear it every January….many feel saddened as they take down and put away their Christmas decor and their house just seemed to be empty.  I have to say I usually agree.  However, this year, we had just moved in and put Christmas up almost immediately and I didn't feel like I had time to enjoy my home as it was.  So this year I looked forward to putting it away.  Today I want to show you my style of transitioning from Christmas to winter decor, just in my living room.  Later this week, we'll be moving on to the rest of the house and I'm really looking forward to sharing it with you.
This post contains affiliate links for your shopping convenience.
Click here to read my full disclosure policy.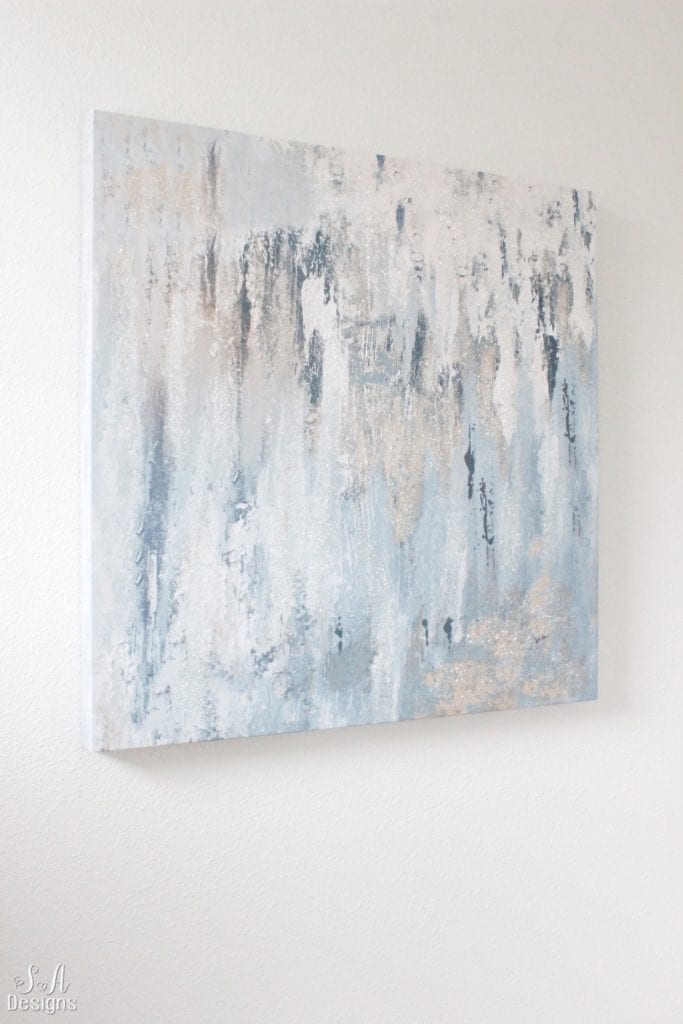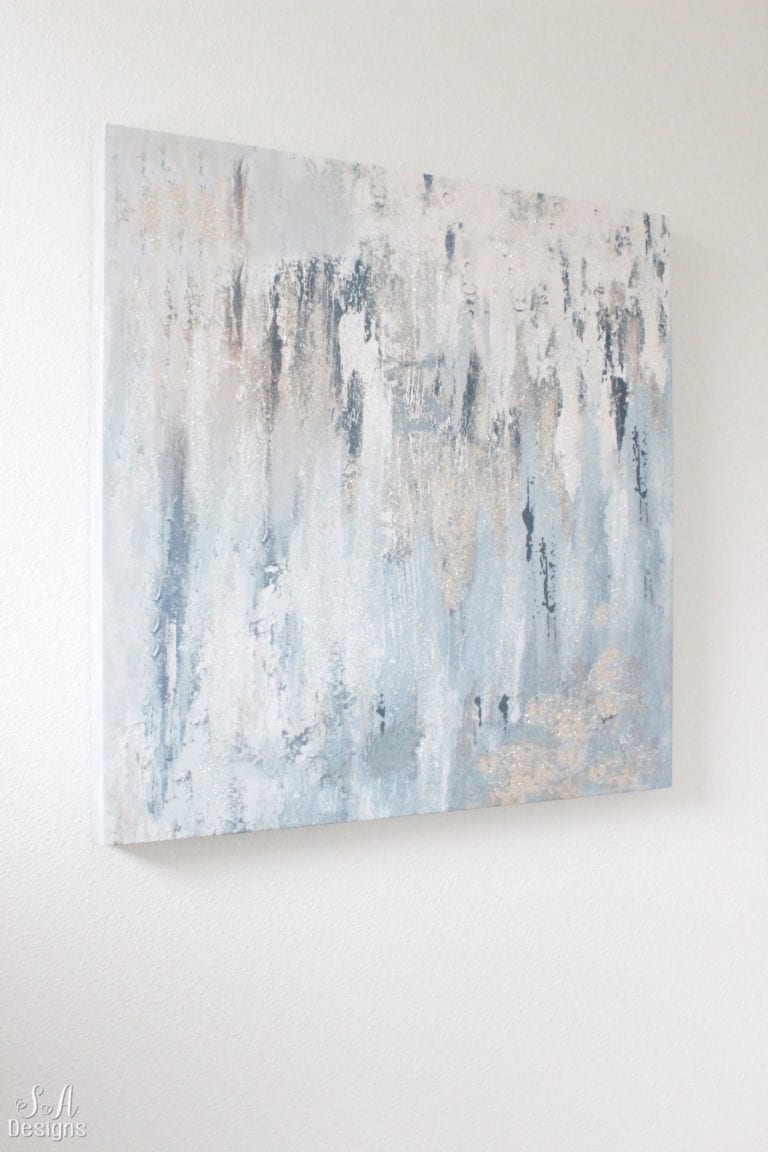 Months ago, as we were moving into this house, I knew I wanted to bring in some light blue or even several shades of blue after Christmas.  While out Christmas shopping one day at HomeGoods, I happened upon this lovely piece of art with mixed blues, taupes, and my favorite part…glitter!  If you zoom in you can see how truly marvelous it it. Well, this inspired my after-Christmas decor.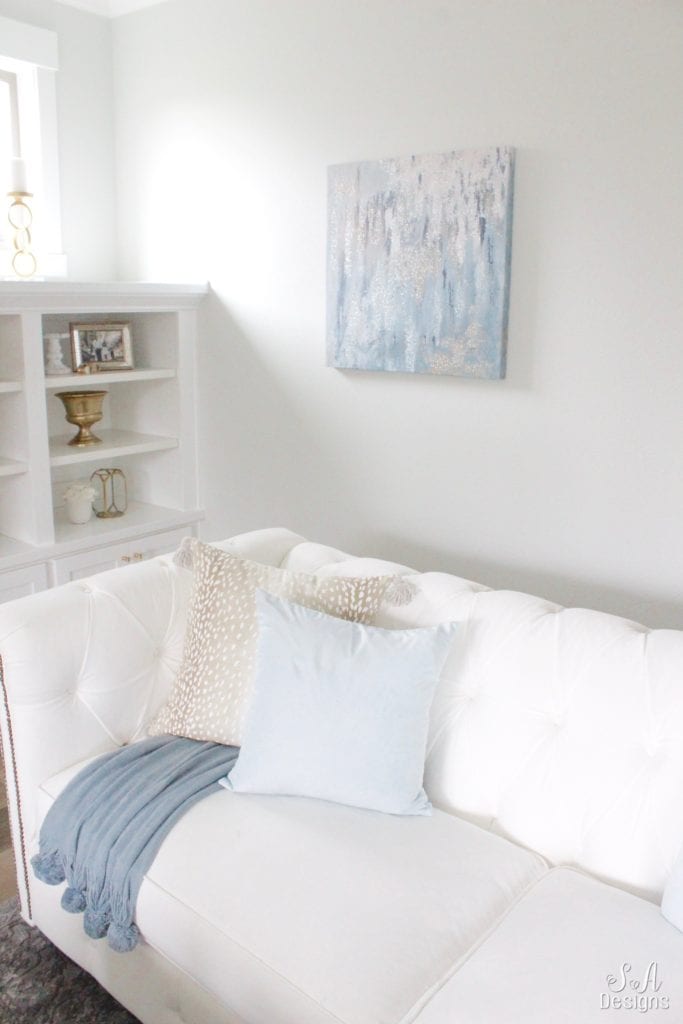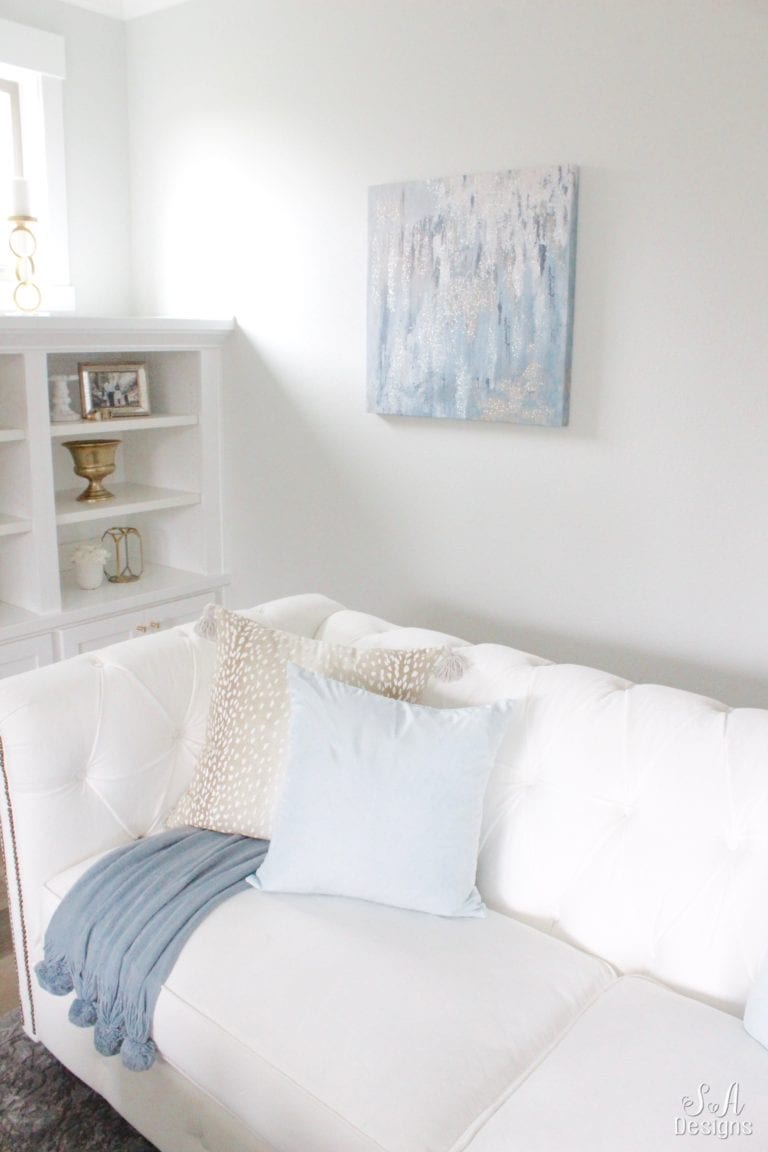 I kept the darling antelope pillows which I shared in my Christmas Living Room post.  Animal print can bring such wintery feel.  And I added icy blue velvet pillows, layered with a deeper cool blue pom-pom throw blanket.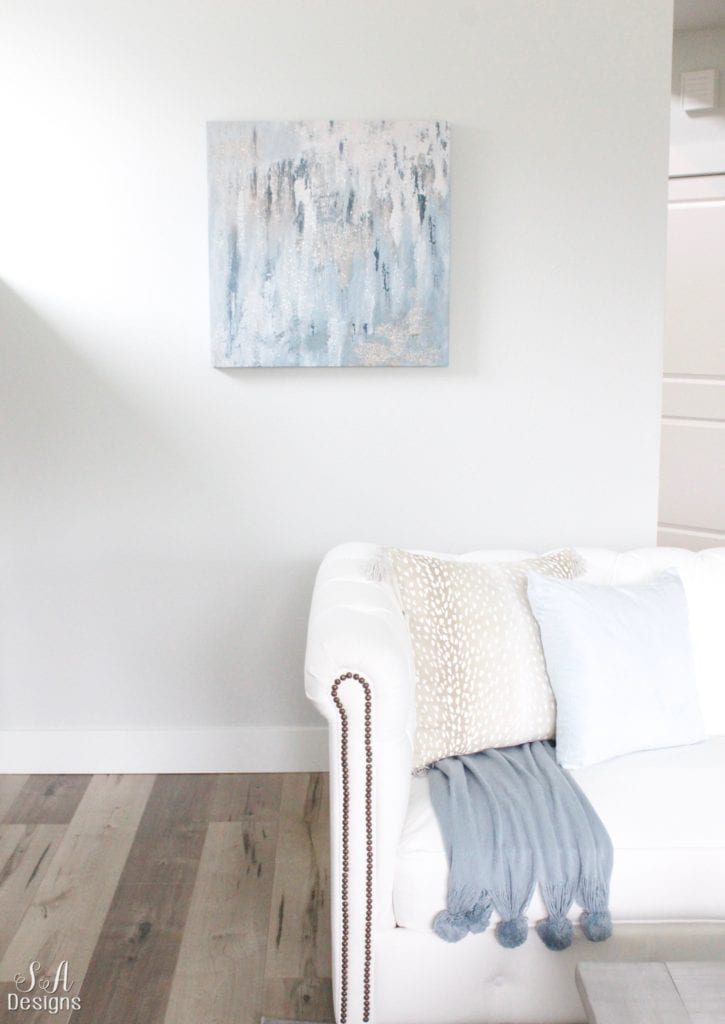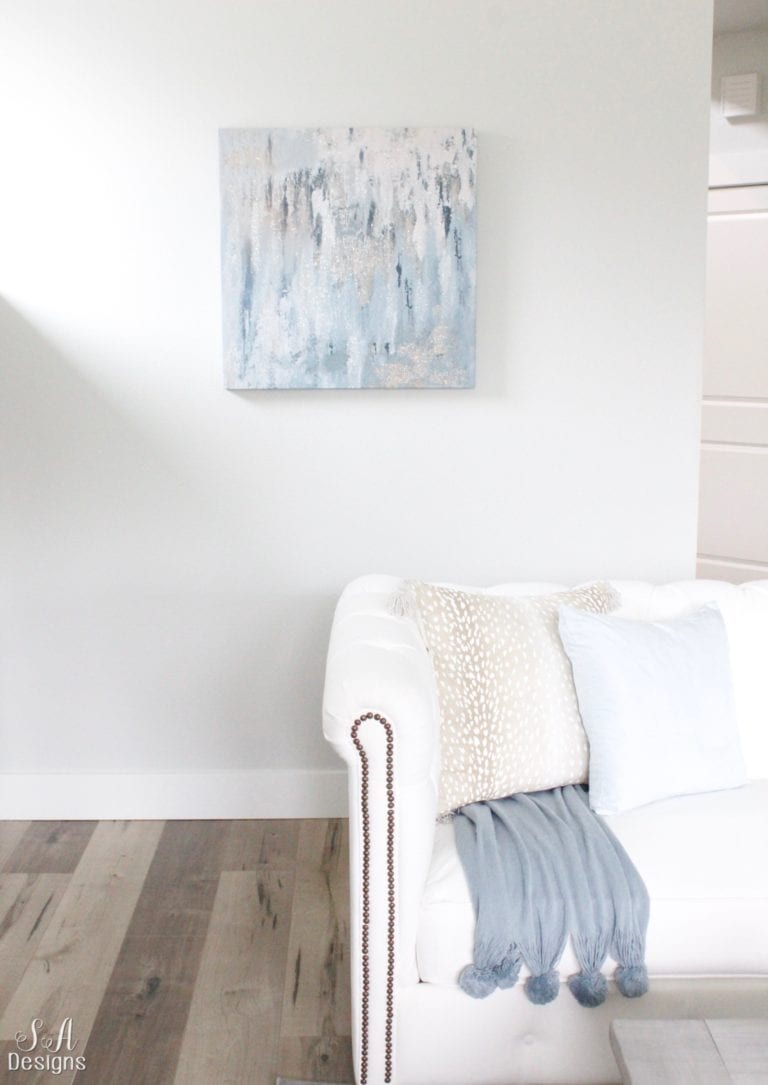 I was really loving this color palette and it seemed perfect for winter.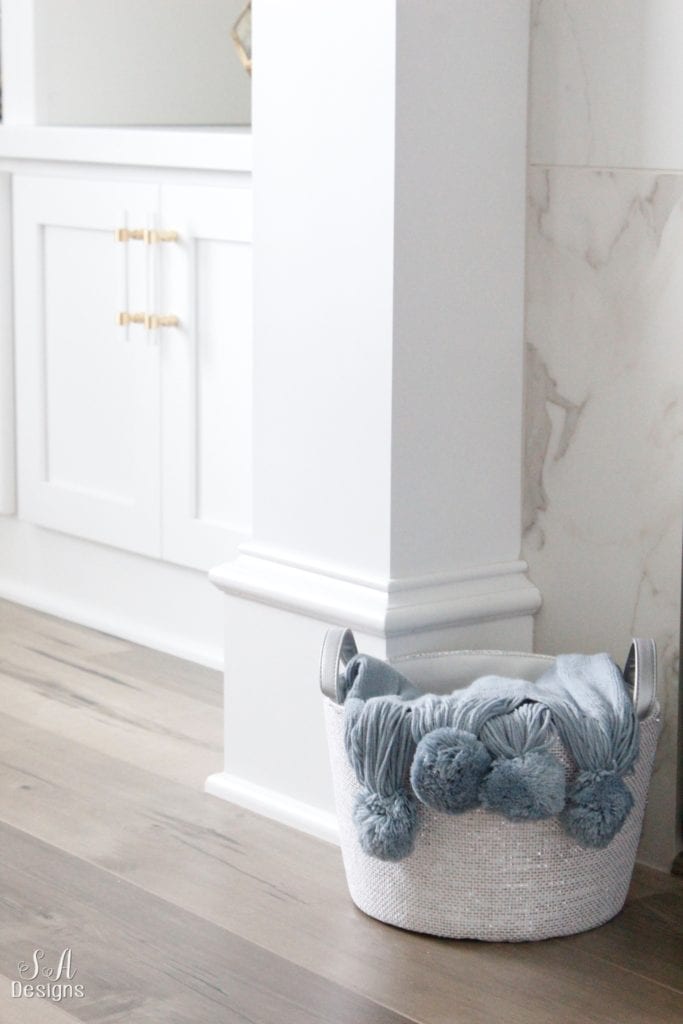 Here are a few tips for transitioning from Christmas to winter decor…
Baskets of throws are always a good idea to stay cozy and warm.
You don't have to use the same shade of accent color.  You can give the room
depth and sophistication by layering different shades of that color.
Bring in fresh or faux flowers.  Florals always bring warmth and elegance to a room.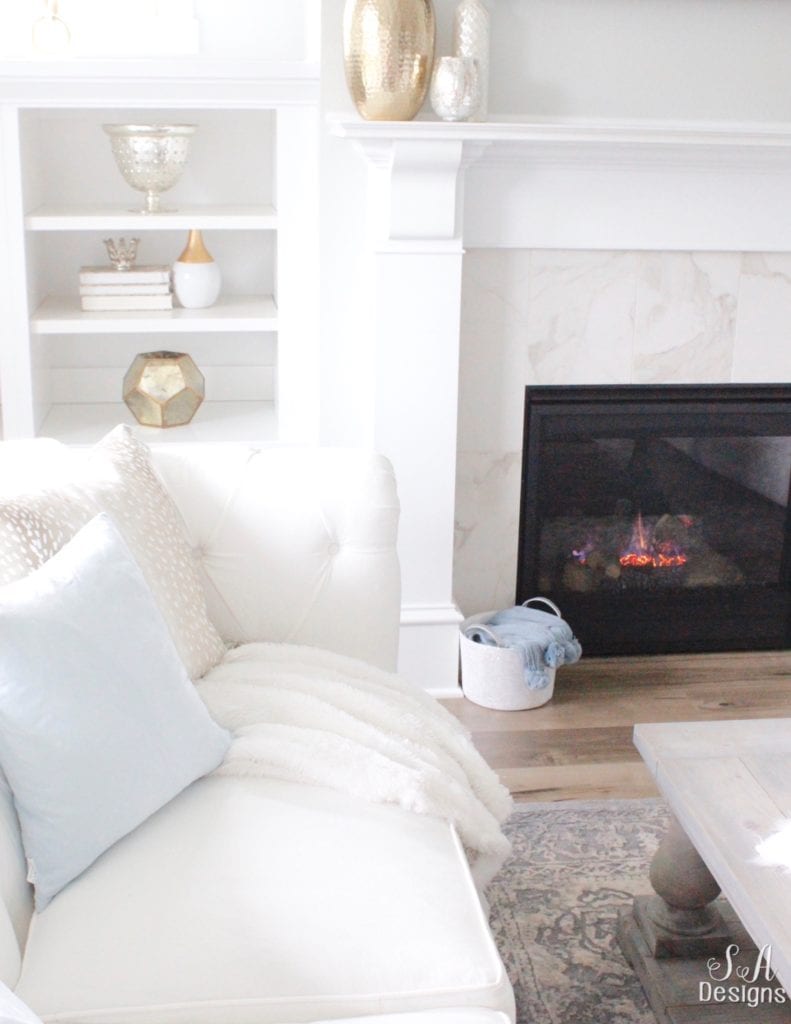 Adding faux fur throws draped over sofas can keep the winter and cozy vibe you long for.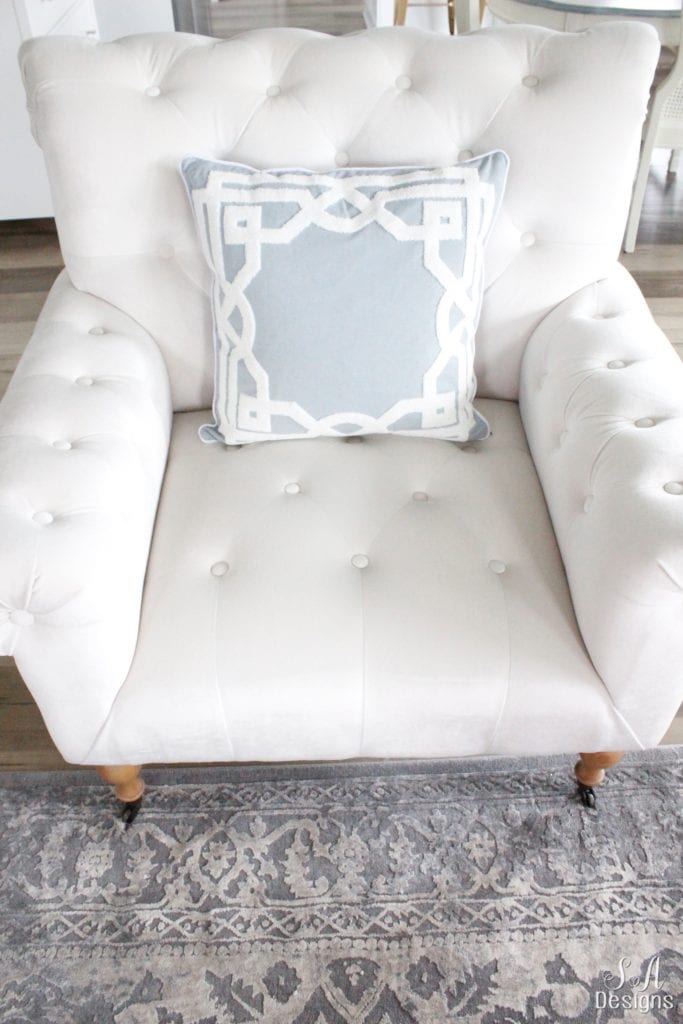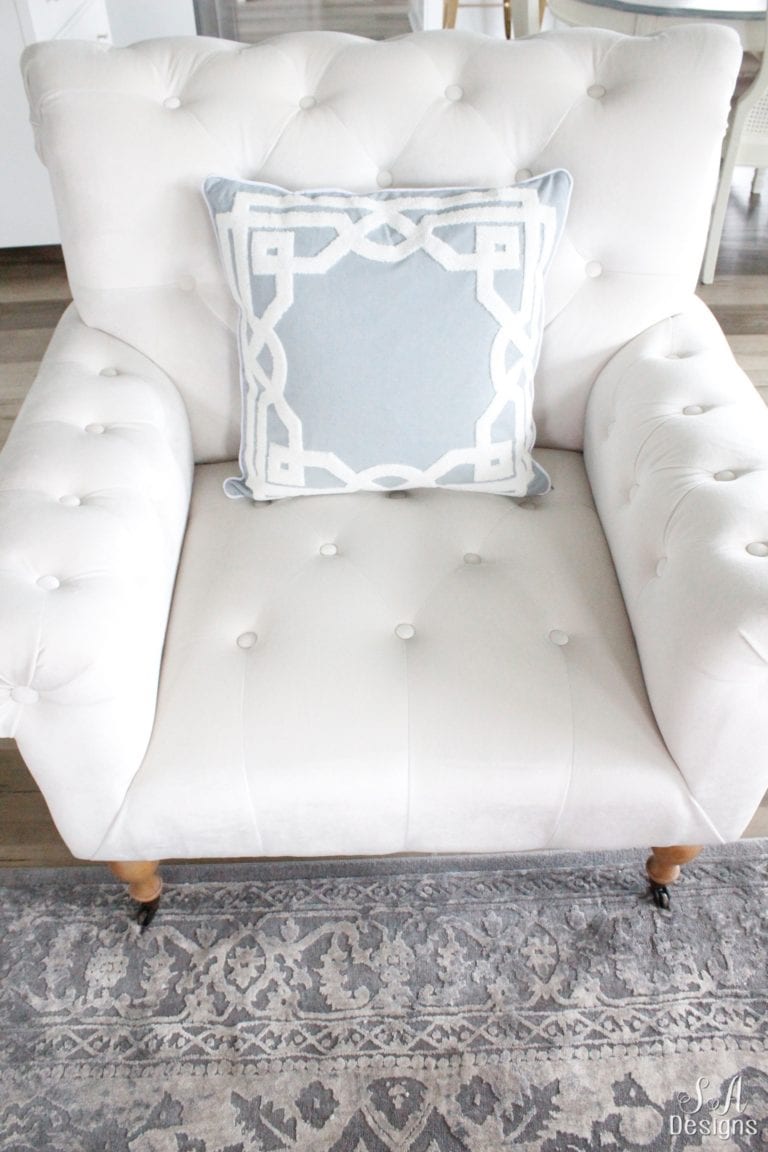 Not all of your pillows need to match. In fact, I love that our sofa chair has a different
light blue pillow in a style of its own.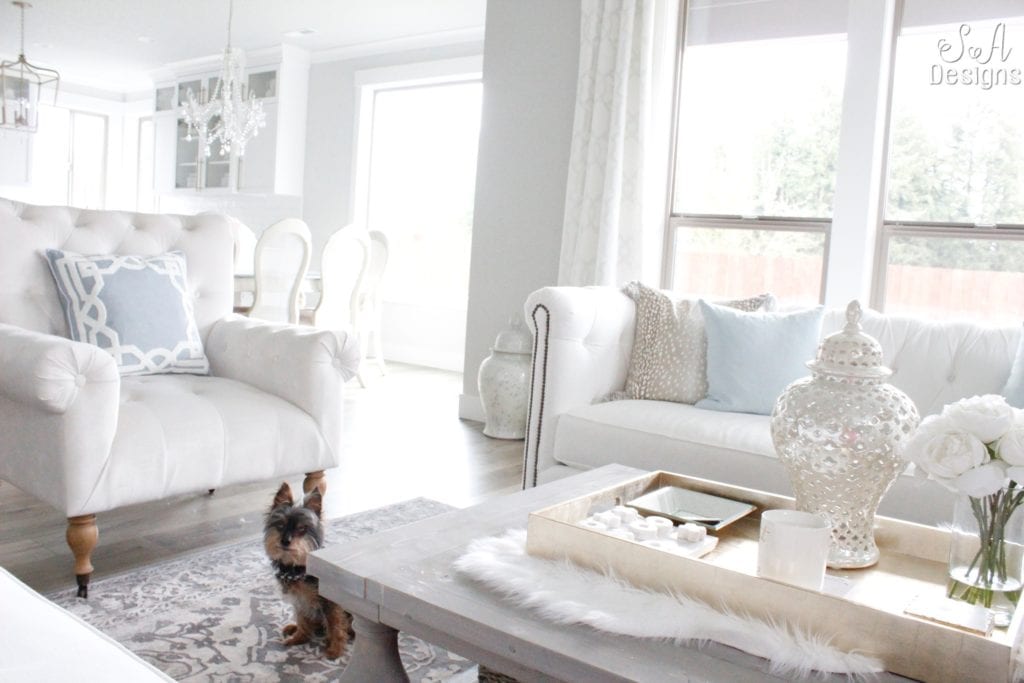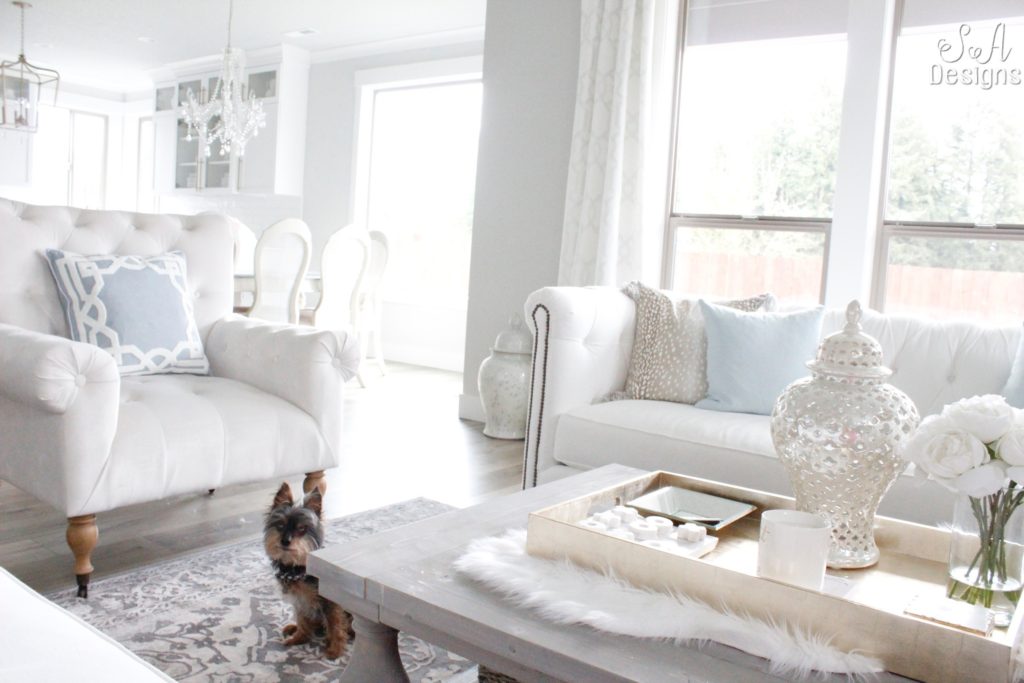 Every time I go to shoot a room, this little guy wants to be in the photo.  Oh Giorgio!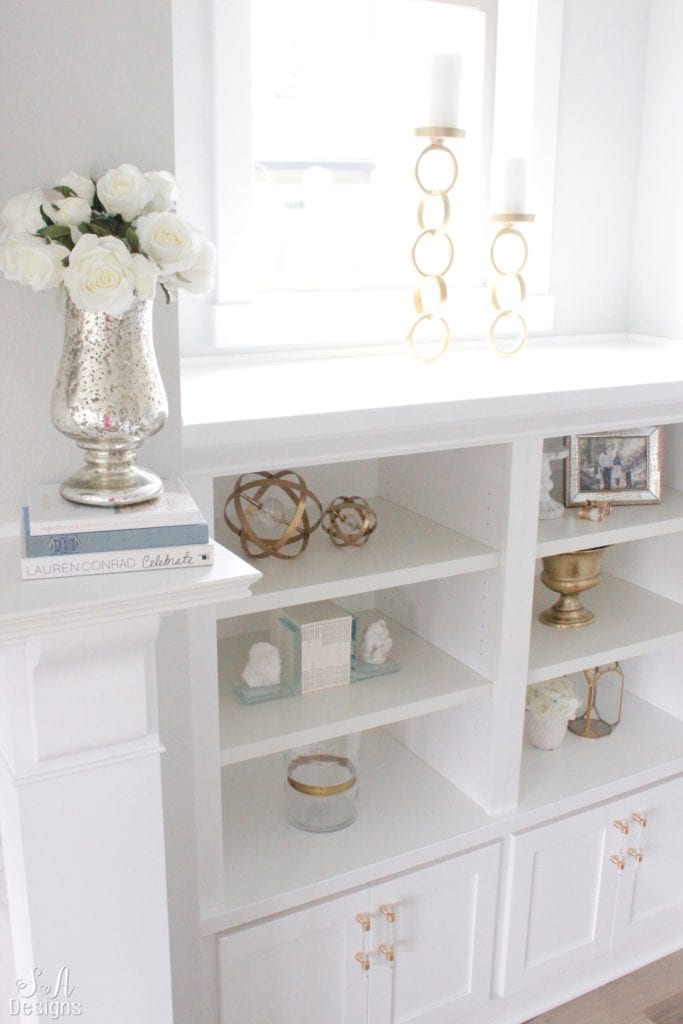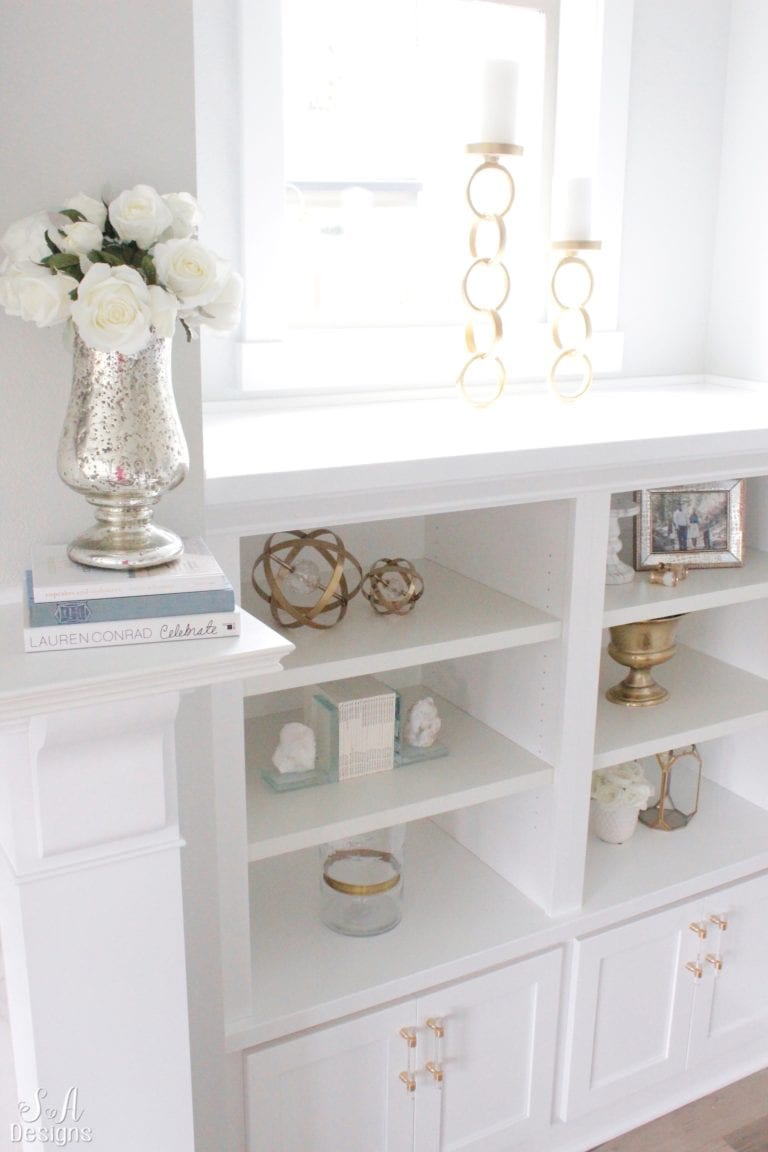 I have the sweetest little light blue book, it's vintage, of "Little Women" that I used to add a small pop of blue on the mantel.  I wish I had more blue decor for my shelves but I didn't want to go out and spend much money.  I wanted to keep it simple, as I'll be changing it again in a few weeks for Valentine's.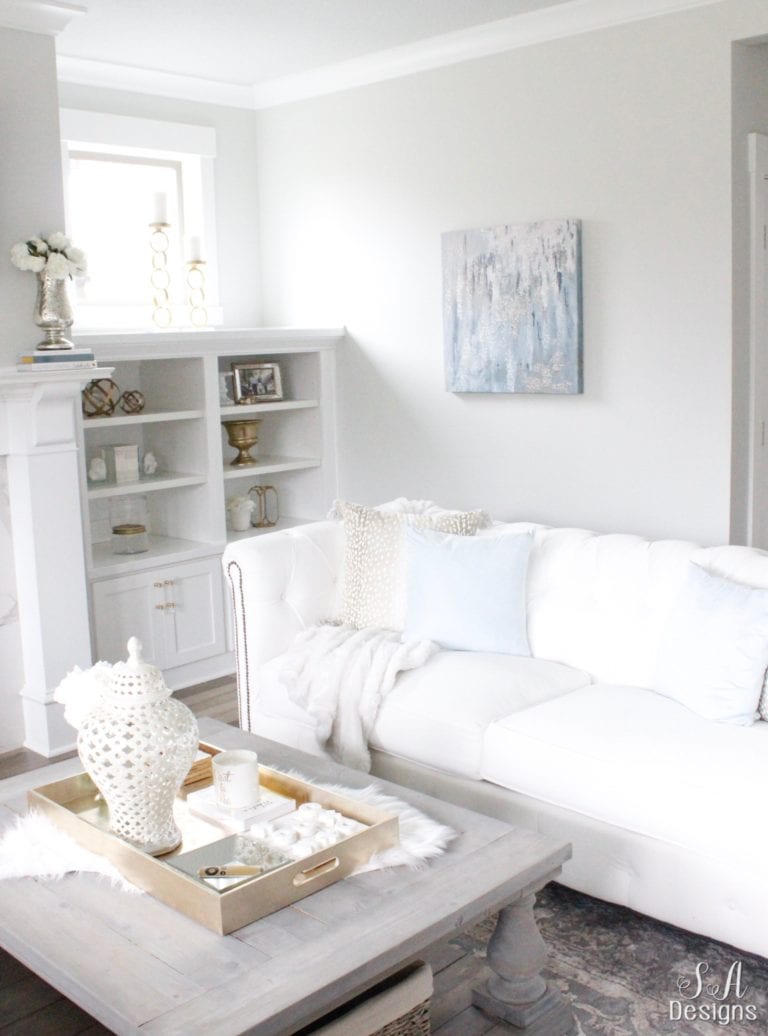 You all know how much I love a "bright white home" and in our first reveal of this living room, it was indeed very white.  But what I love about that is that you can add a pop of color whenever you want and still continue to keep a bright white space.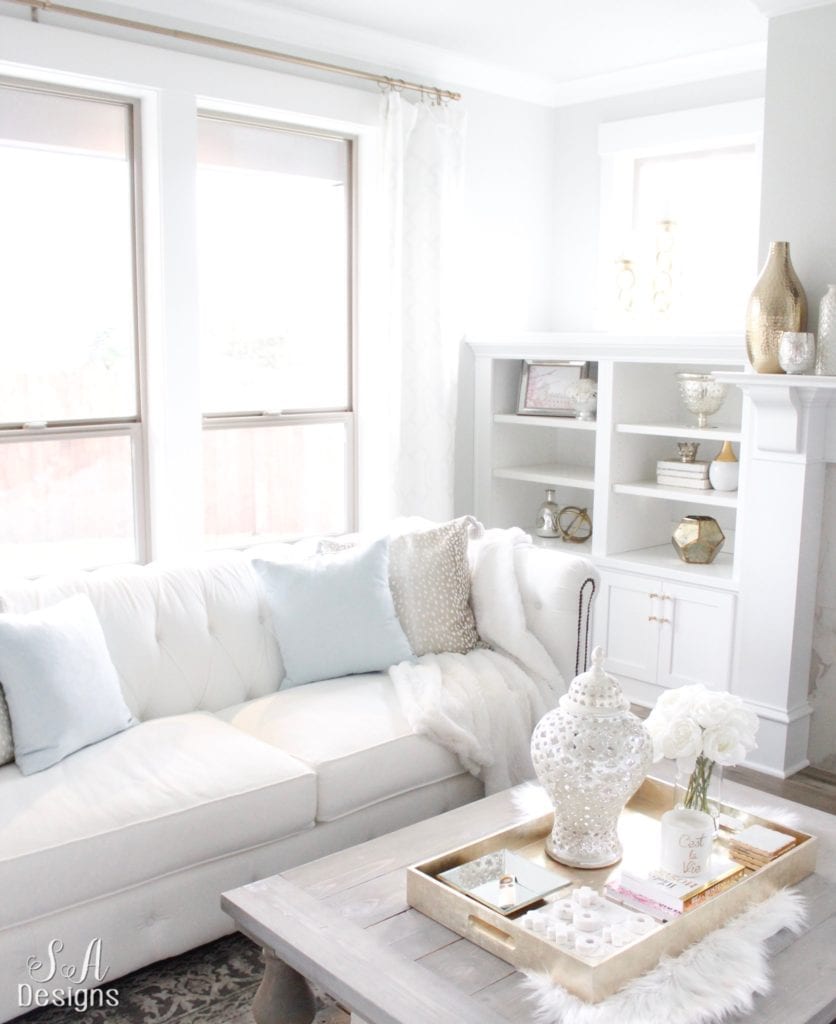 Another tip is to keep a faux fur throw or small rug and use it in styling your coffee table, as shown here.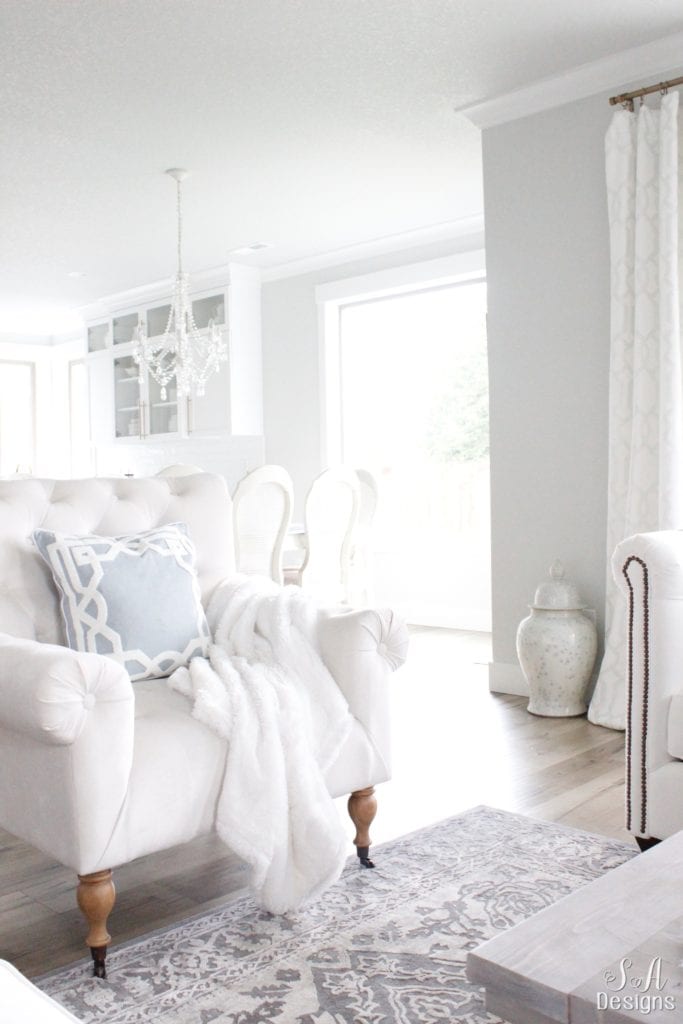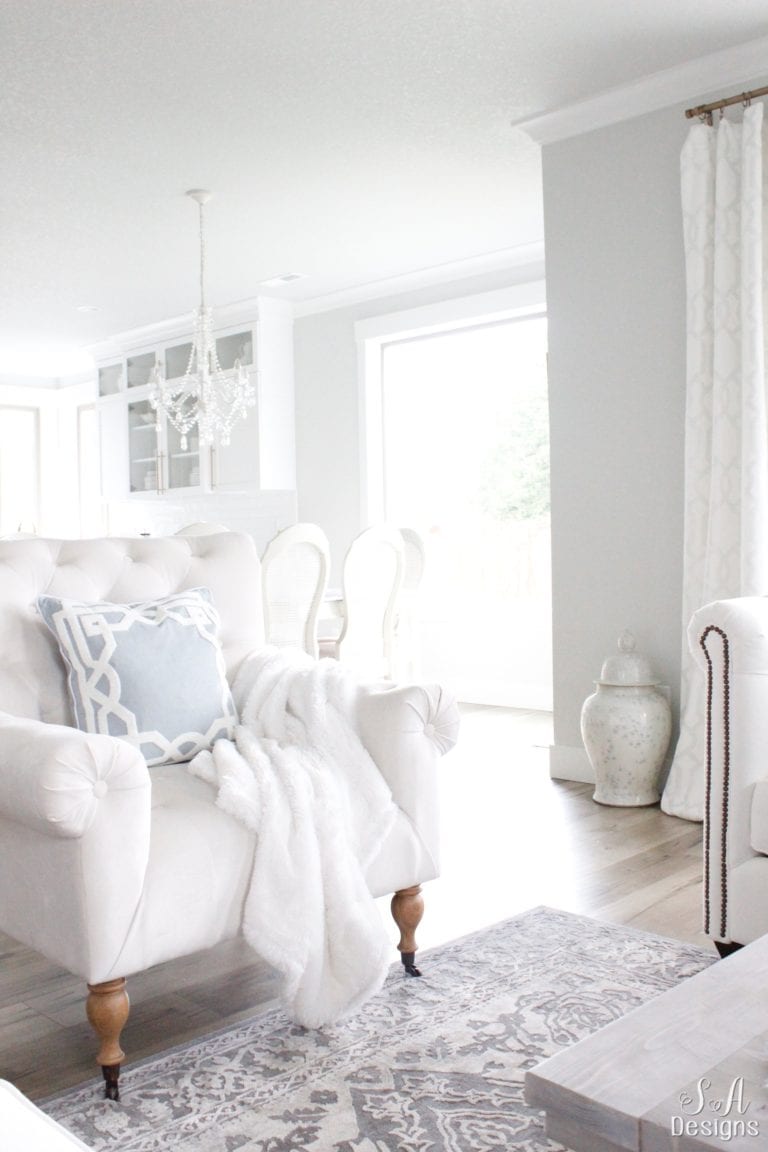 See how simple this is?  I love how clean it feels after Christmas but to cure any post-Christmas blues, try adding blue ha!  Use whatever color you prefer.  But make it feel different than it did before Christmas decorations went up and keep it feeling cozy and inviting.
You don't have to buy all new pillows and decor but add a few new things to make it
feel anew and refreshed.






I would love it if you subscribed at the top of the page in order to receive my weekly emails of all my latest blog posts and hear about digital printables & freebies, as well as sales or new items in My Online Shoppe.  You can also follow me on Instagram, Pinterest, and Facebook to see what I'm up to in creating a home and lifestyle of inspiration!
xoxo,