It's been just over 2 months now since we've moved into our new home that we built here on "Tall Trees Lane", as we like to call it.  I've shared our Living Room and Kitchen with you so far and now that Christmas is over and all put away, I'm sharing with you our bright white entry with coastal glam style. Welcome to our home and come on in!
This post contains affiliate links for your shopping convenience.
Click here to read my full disclosure policy.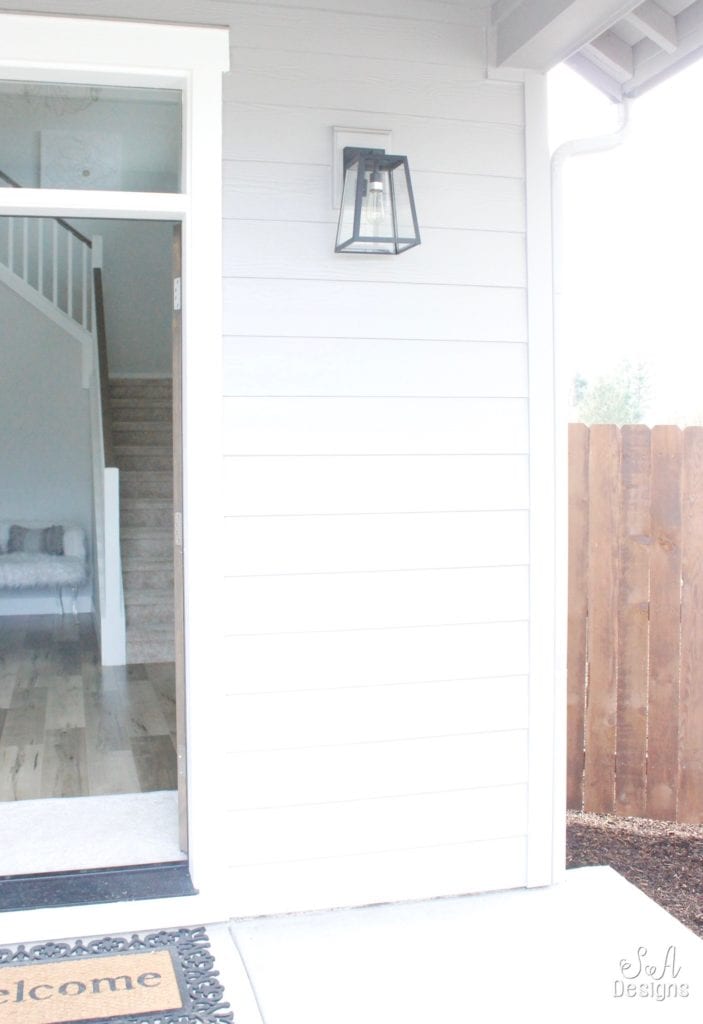 I partnered with Lamps Plus for my exterior lights and chose these Arrington High Mystic Lanterns.  While looking for lights, and I looked at many, I saw these and knew they'd be perfect!  They're perfect for that contemporary craftsman-style home that we have.  I first revealed them when sharing our Christmas entry HERE.  Here's a look at it below at Christmas and I'll update this post when I get my planters.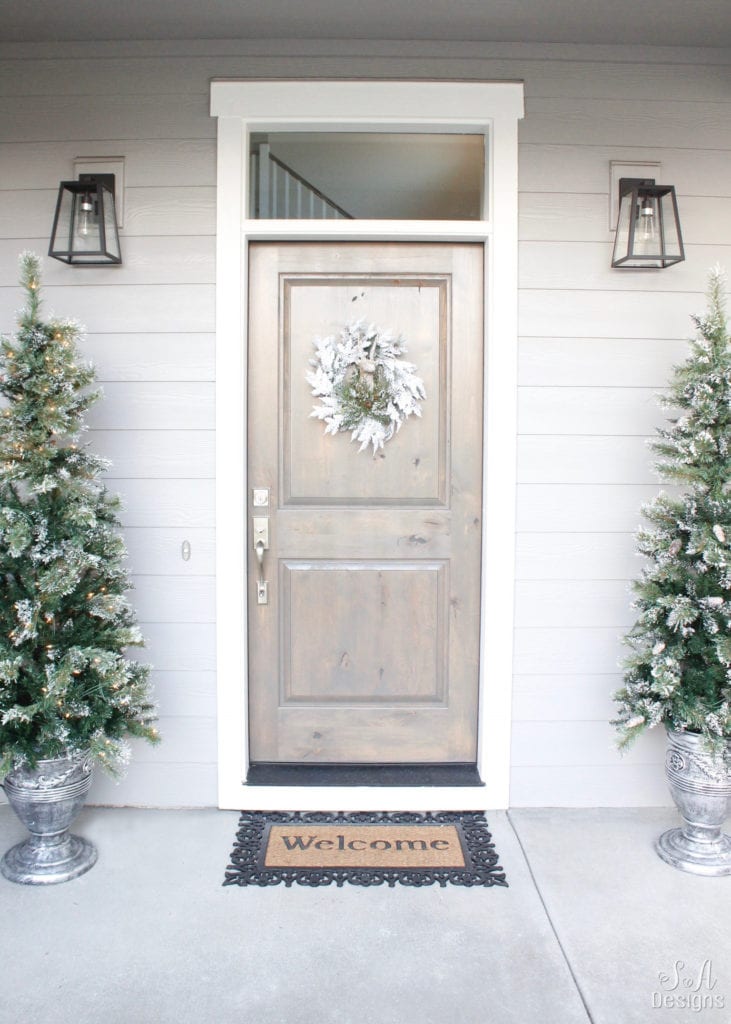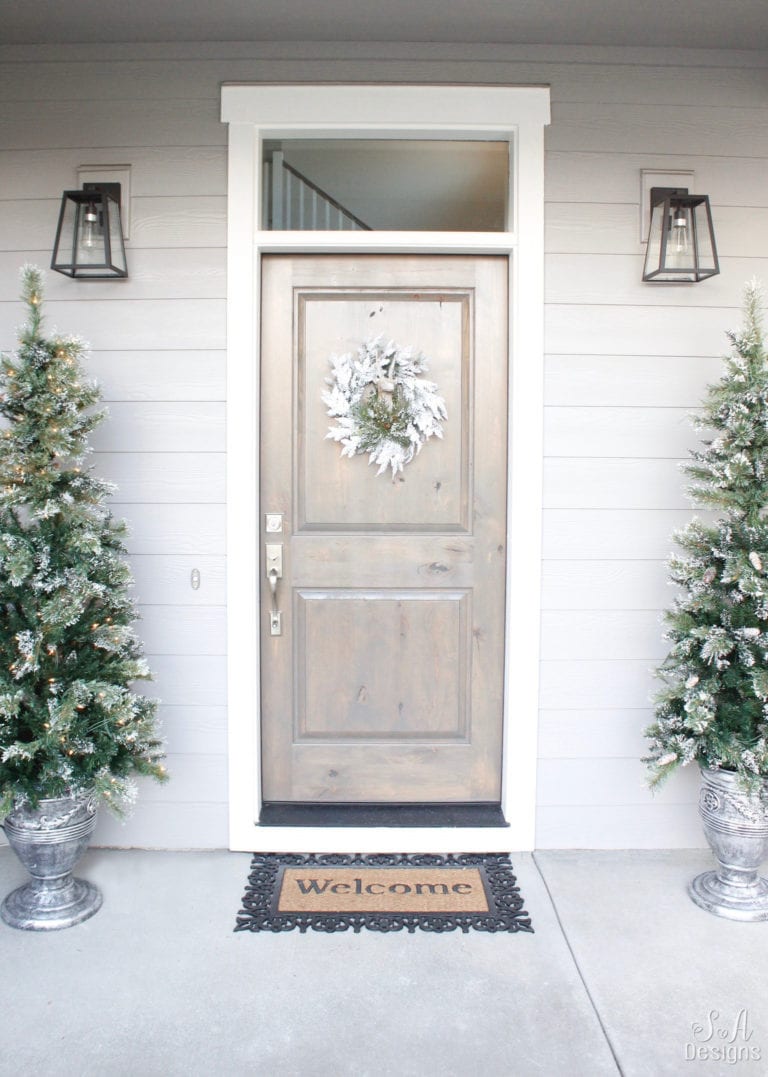 I just put away our Christmas tree topiaries that were in front of our home and I haven't replaced them yet but I know exactly what I'm getting for all year-round.  I can't wait to show them to you.
Here's another look at them during Christmas.  I love that these lanterns have the same shape as my white columns.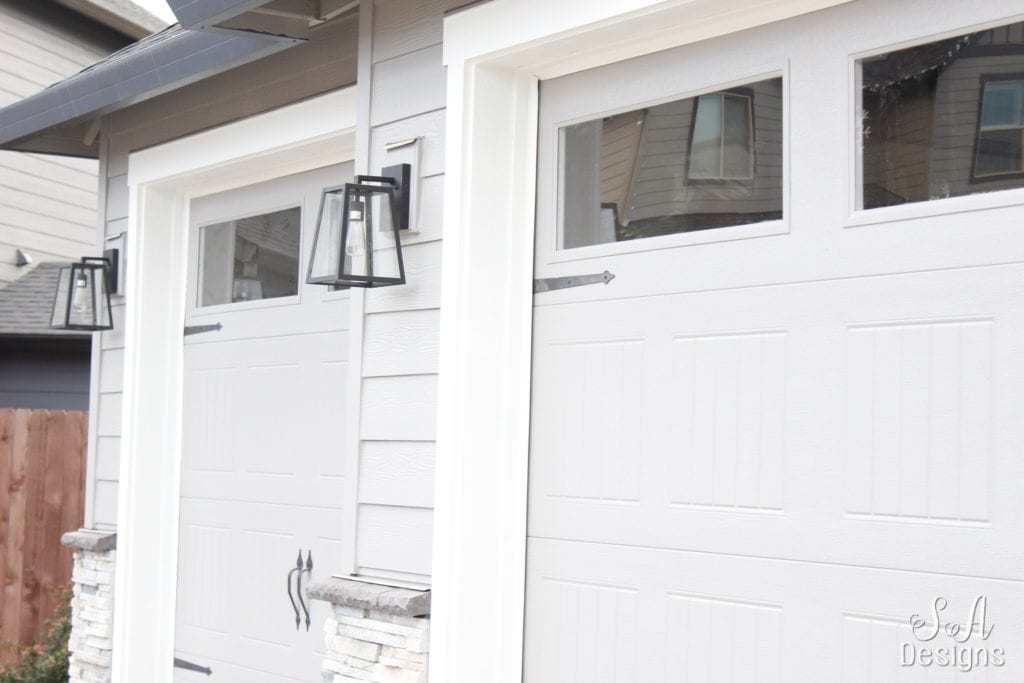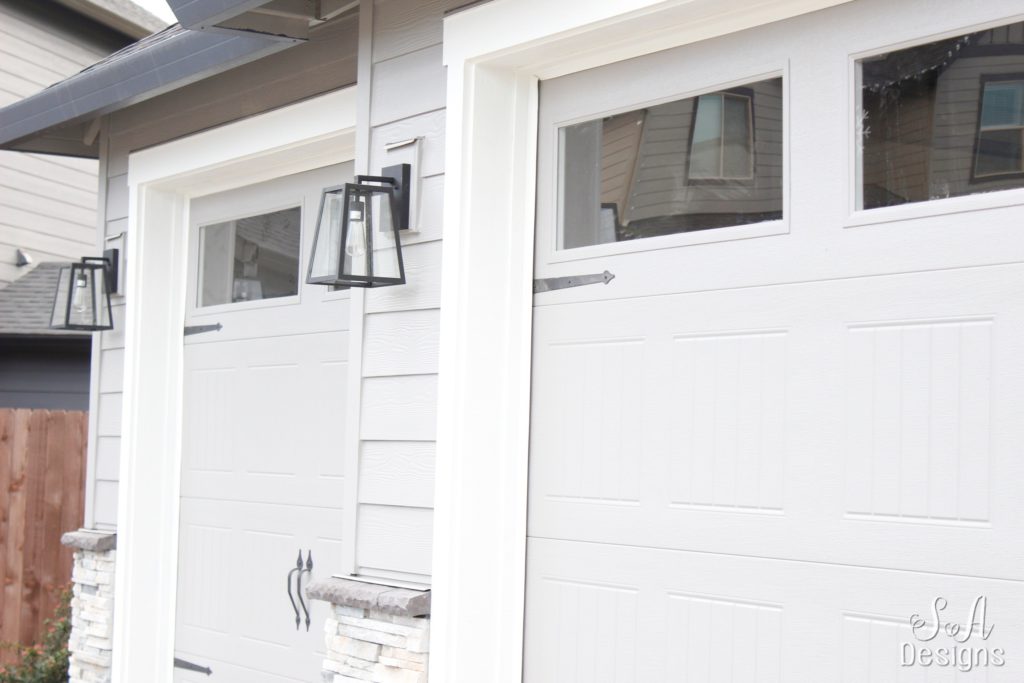 I'll share more pics when all my planters are here and when I write a post on the exterior of our home and the paint colors.  Ok, let's go inside!
Bright White Entry – Coastal Glam Style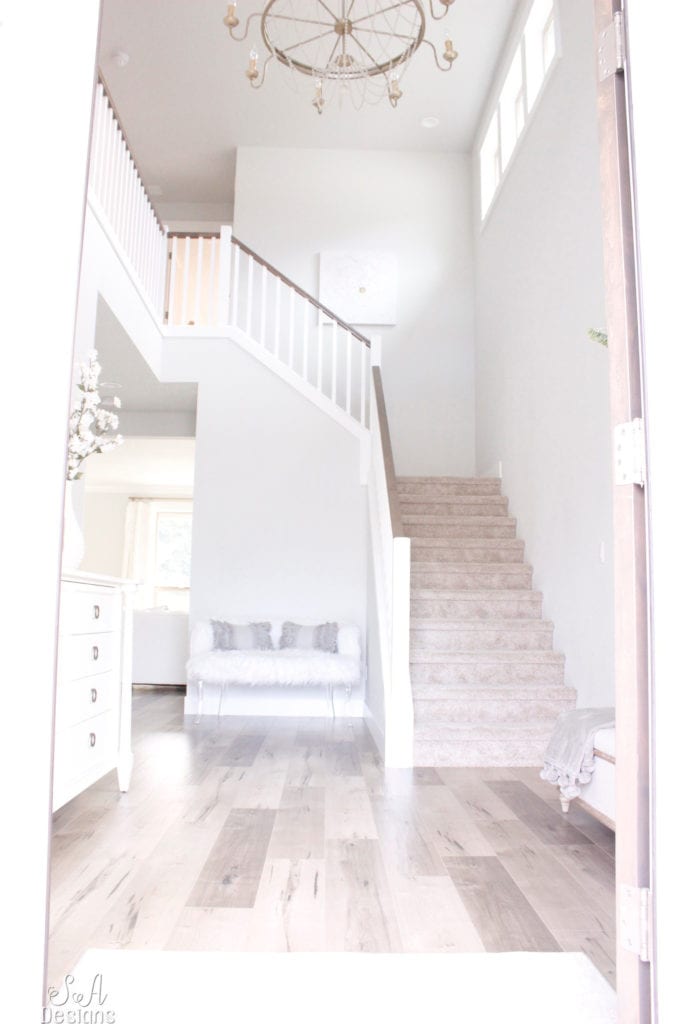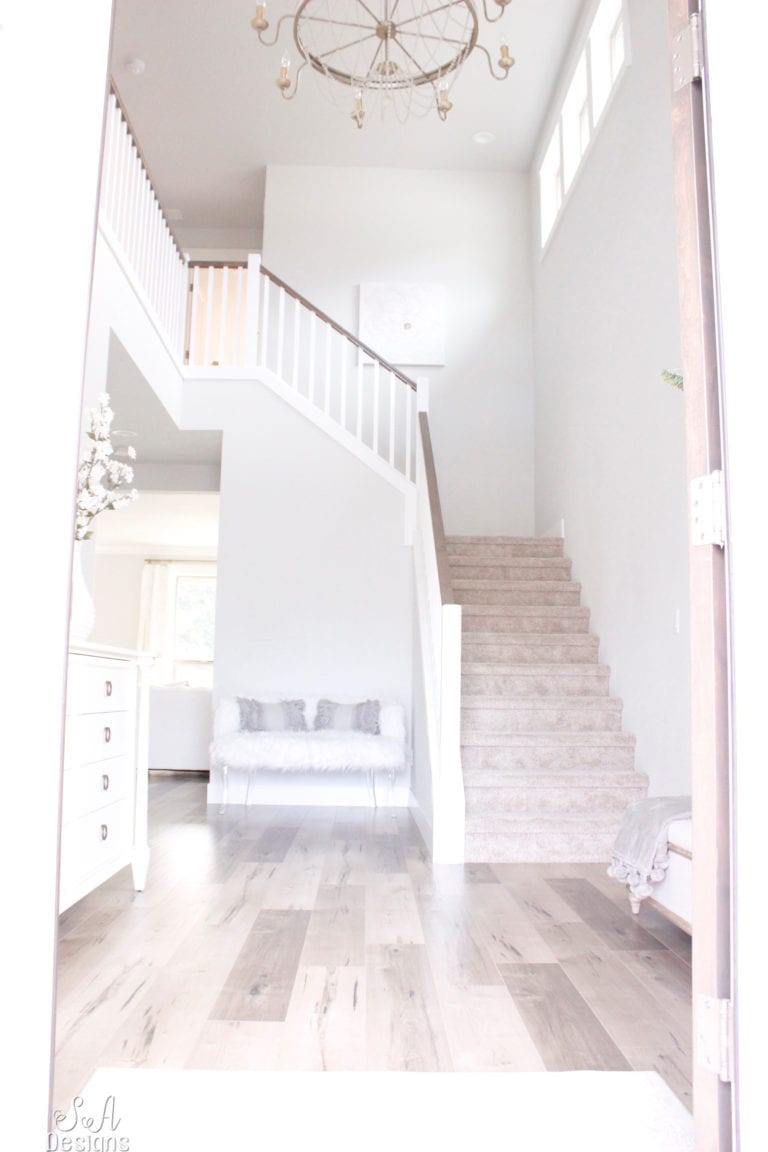 It's bright and white, indeed!  All those cloudy Pacific Northwest days of winter have actually been pretty sunny the last few days.  So I had a LOT of sun coming in while taking these pictures.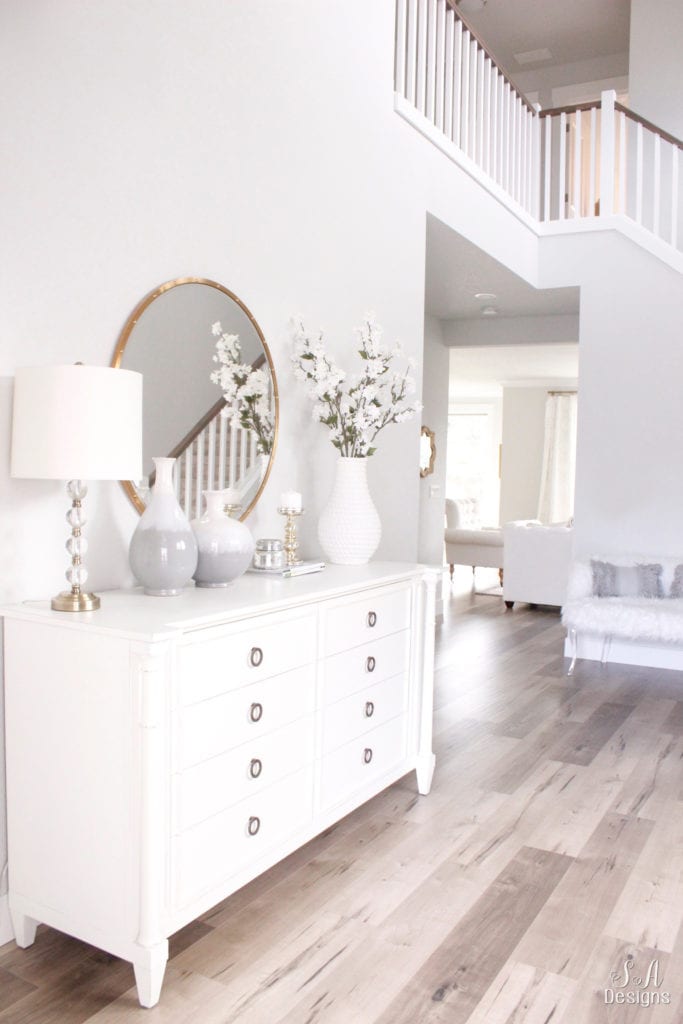 In my Elegant Christmas Entry tour, I introduced the front half of my entry that includes this gorgeous piece.  I partnered with Perigold and they sent me this gorgeous transitional-style Havana Dresser that I wanted to use in my entry.  I needed a bold white piece to combat the cloudy days and a dim entry, as this can be with just shorter windows.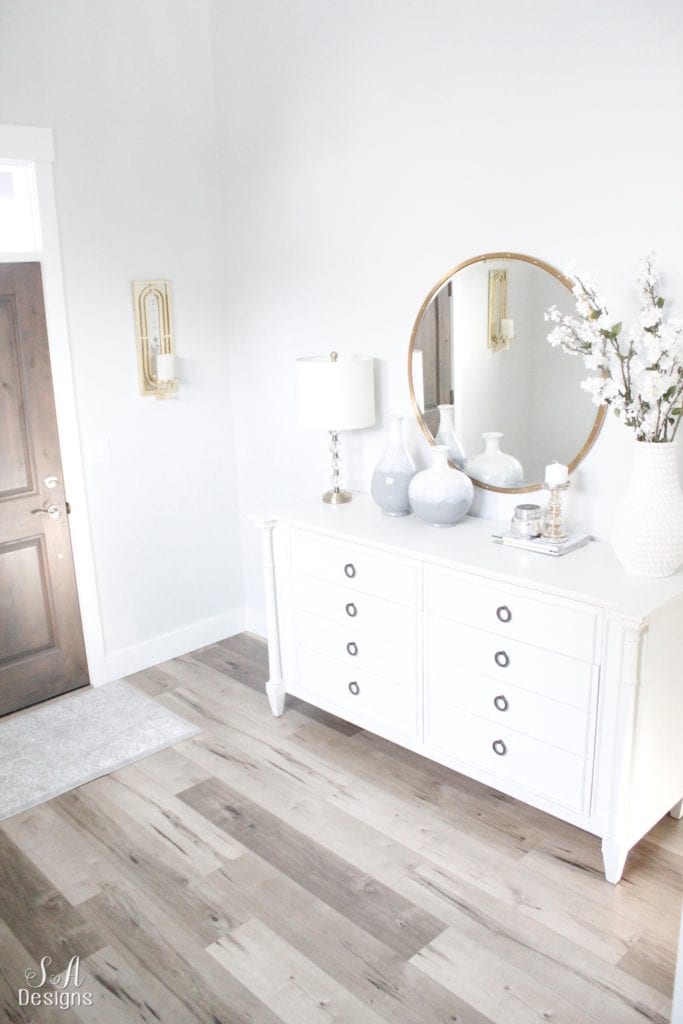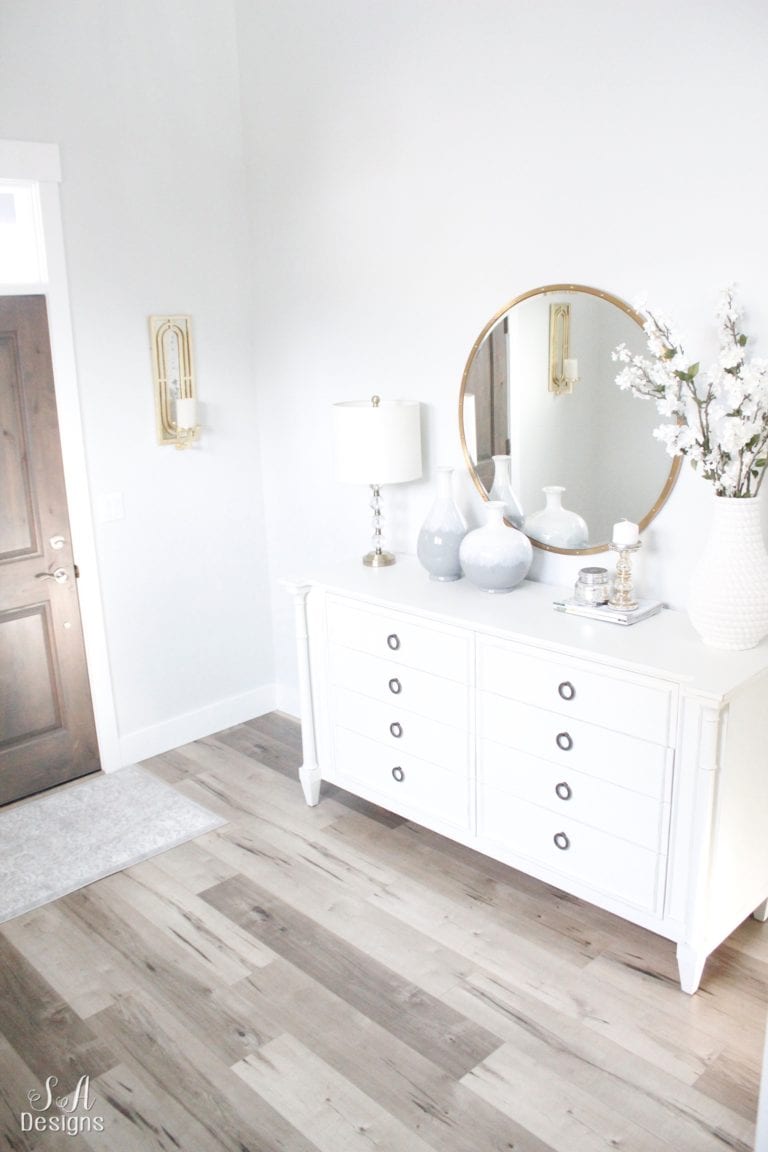 It's the perfect piece that is not only high-end and beautifully built, but it gives me that extra storage that I wanted for "this and that" and we use the top drawer to throw our keys in.  I also really love the drawer pulls.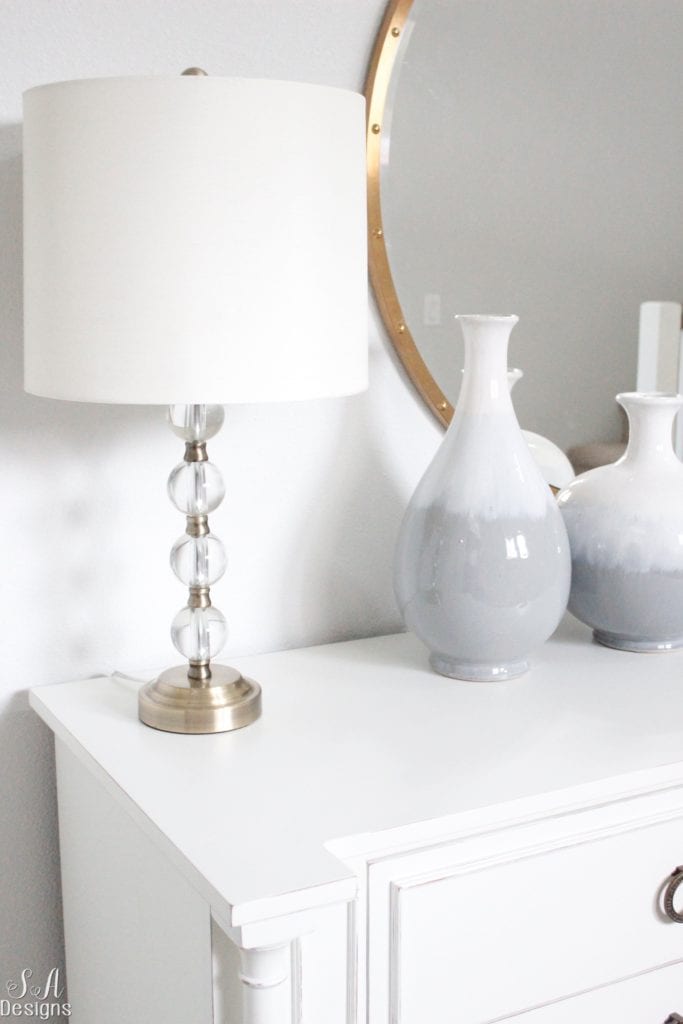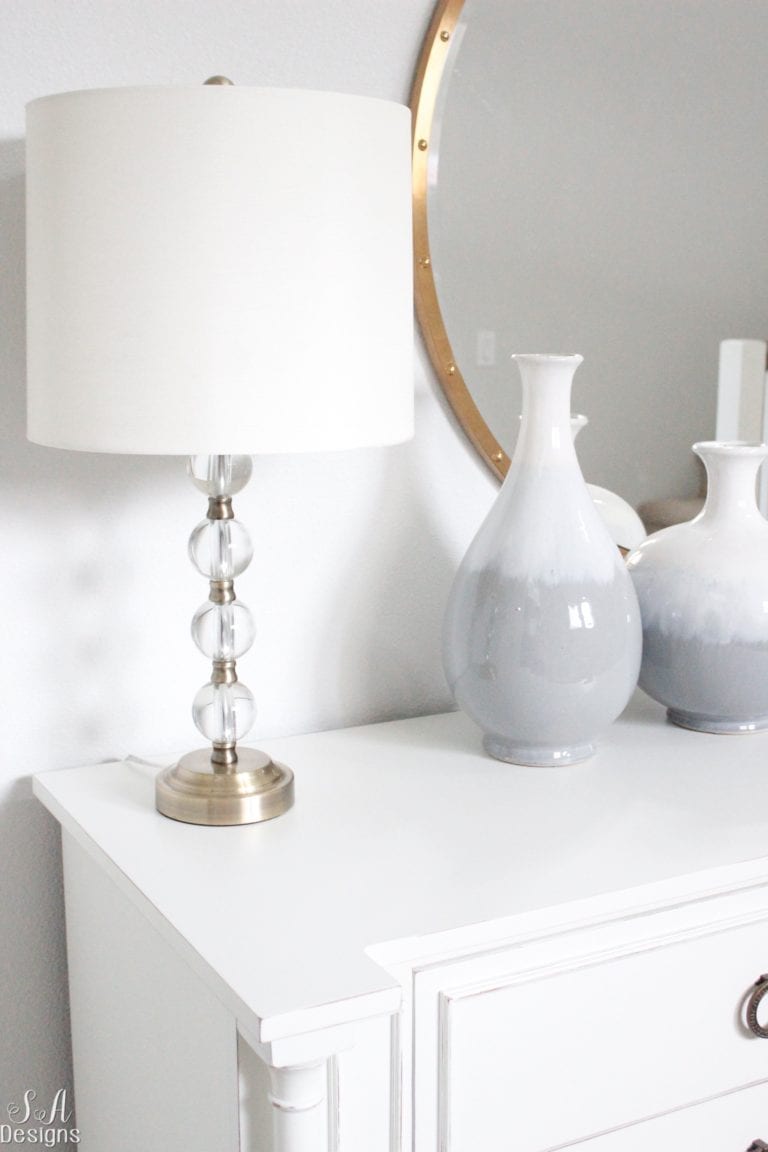 I found this lamp at Home Goods last year but I'll link other options in my "shop the post" section at the end.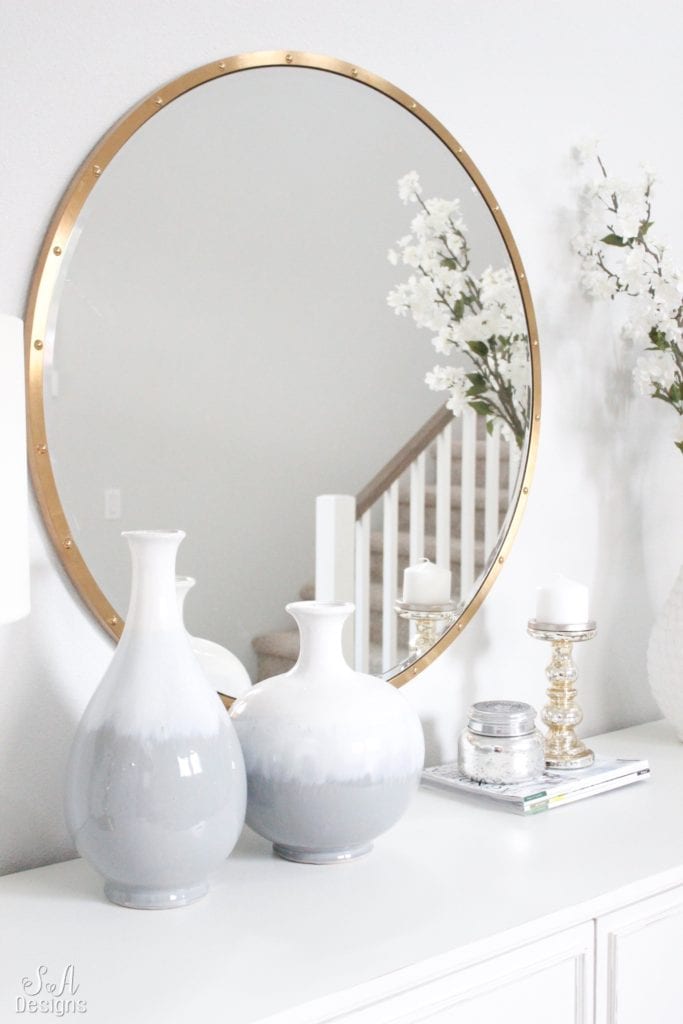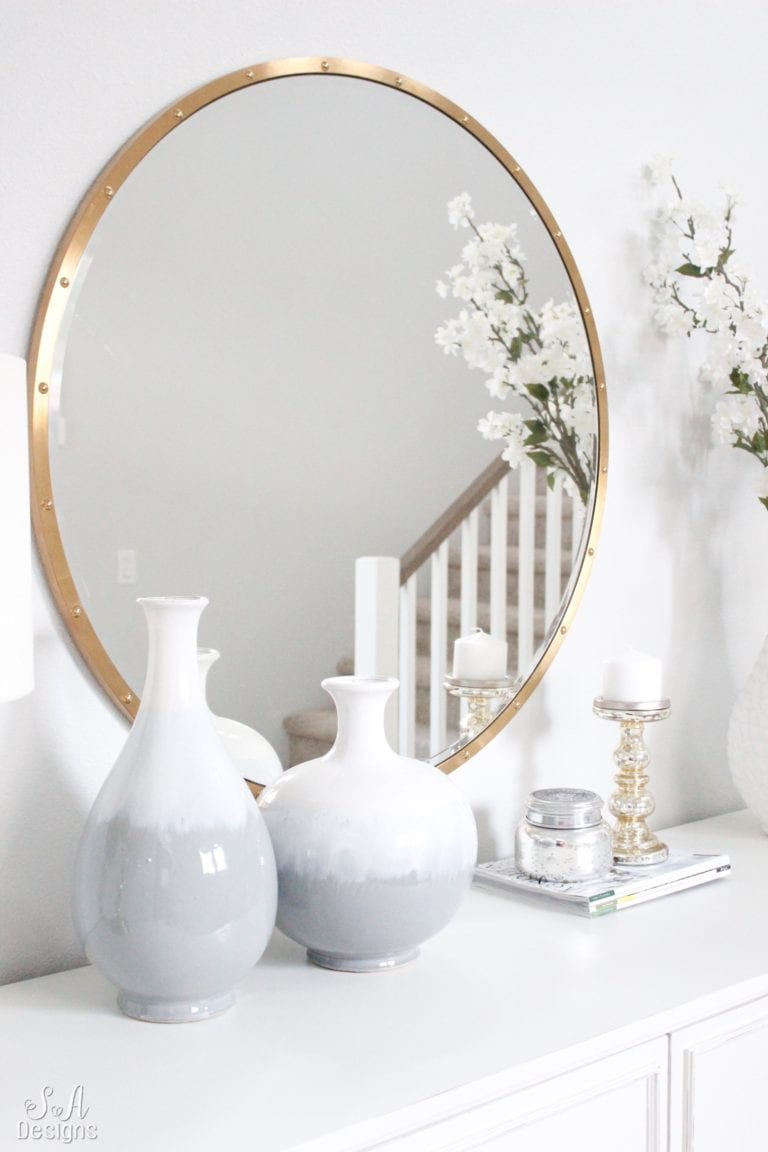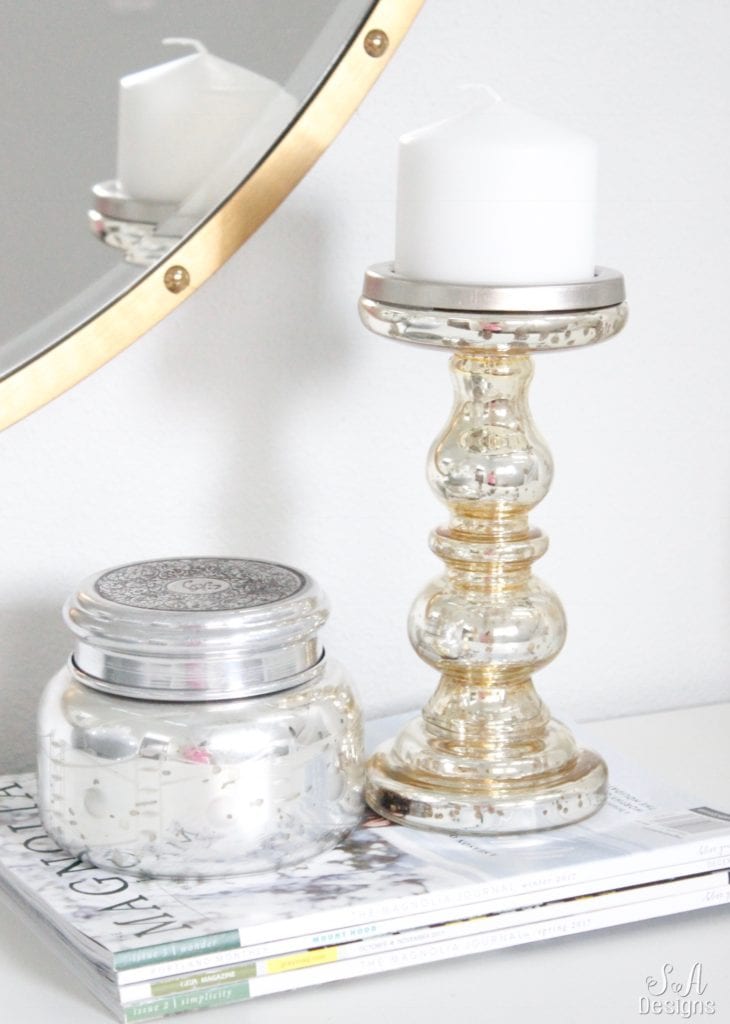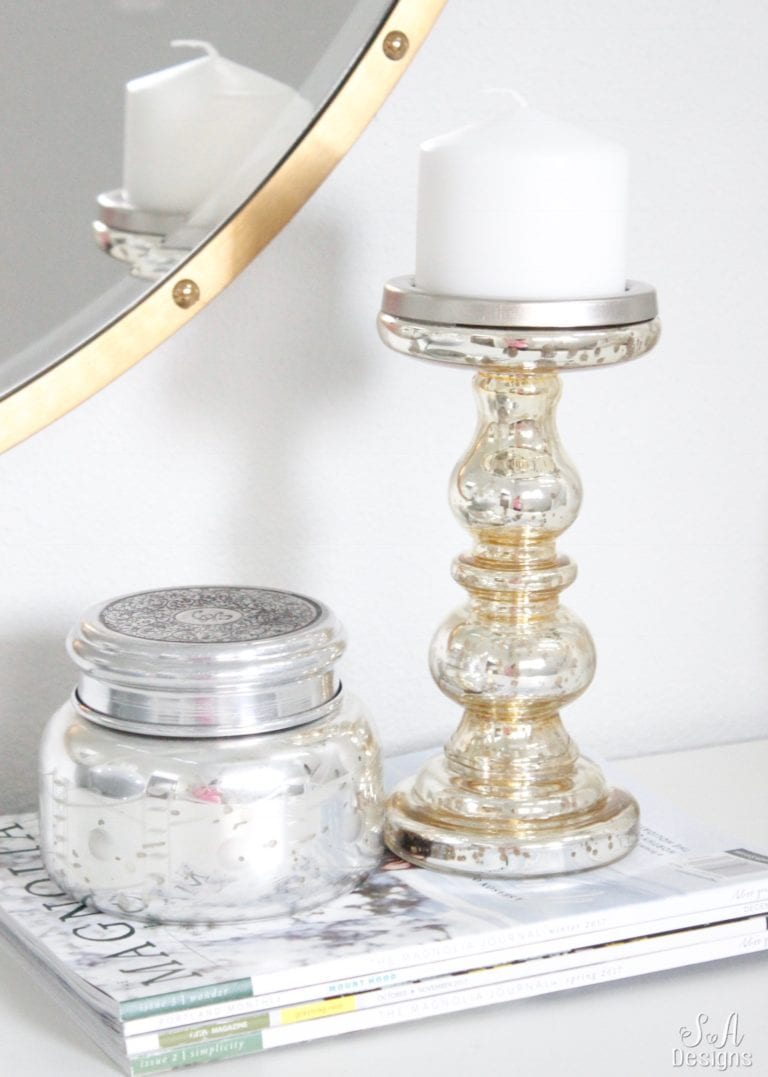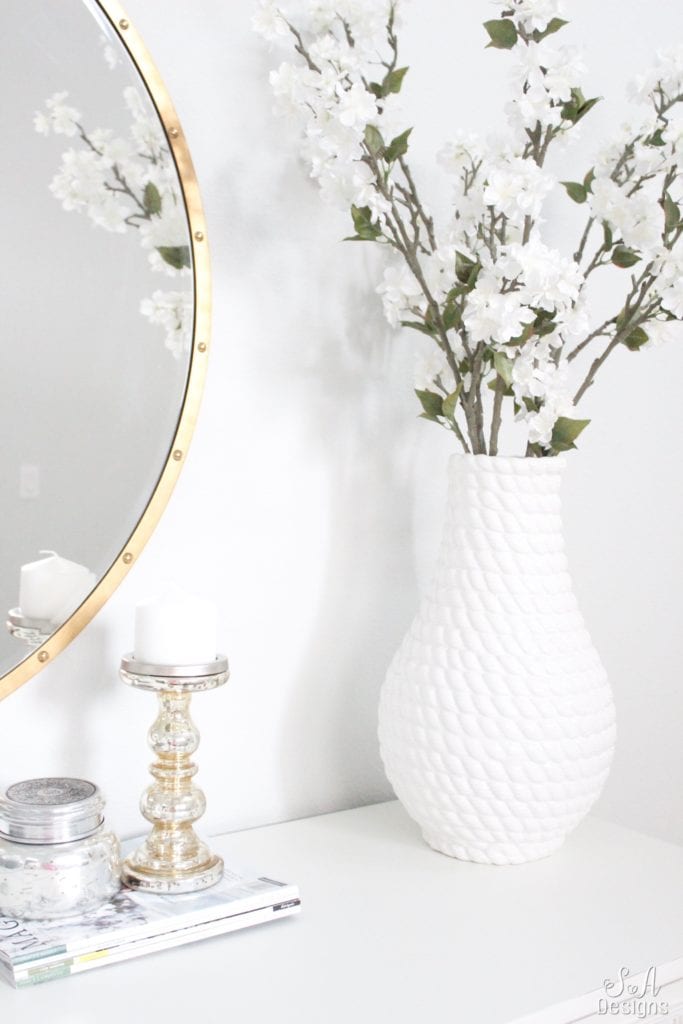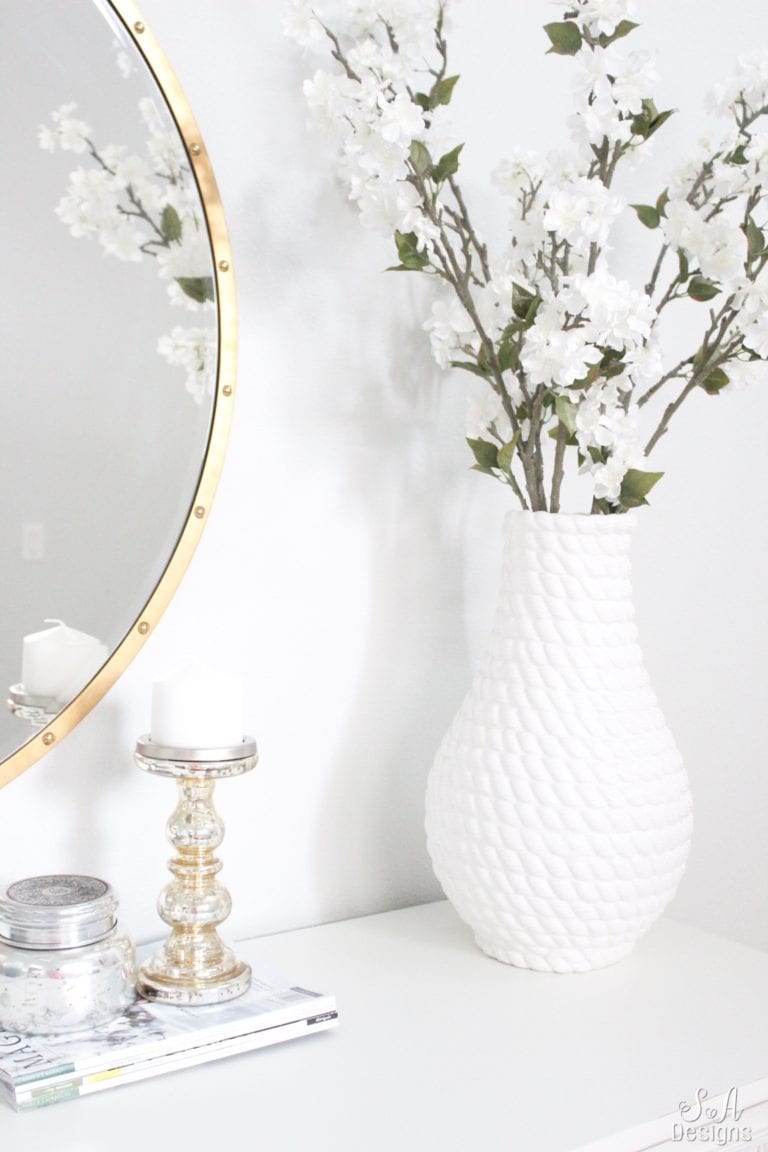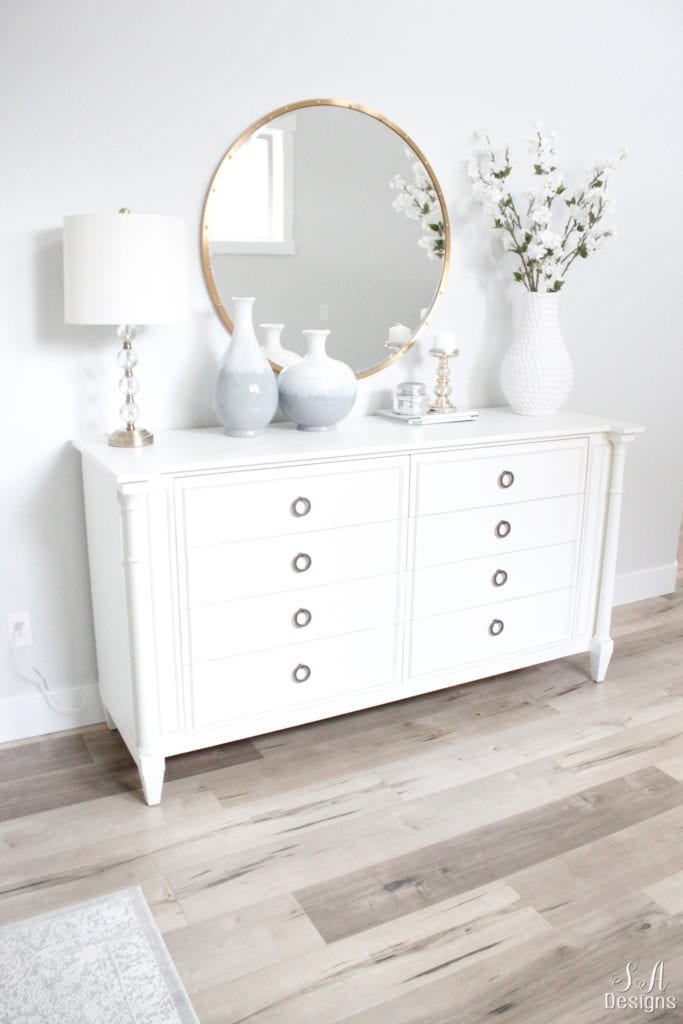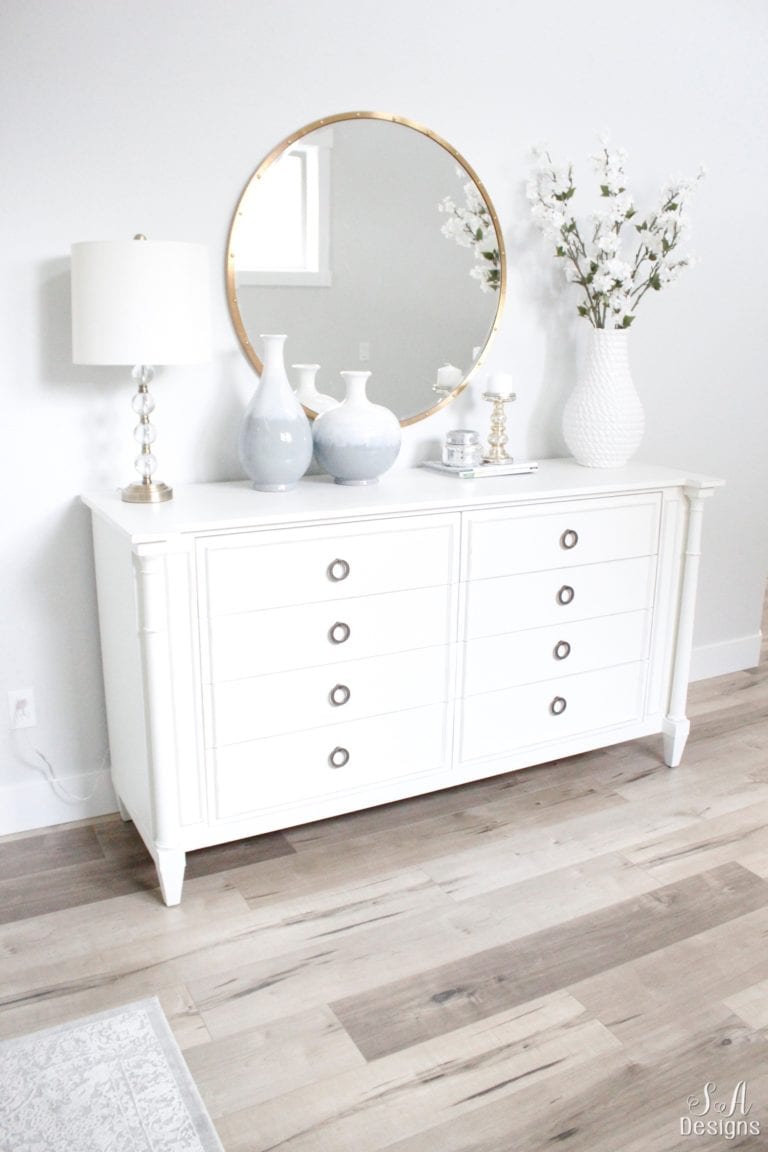 I also found the round brass mirror at Home Goods a couple of months ago but I'll also link several similar ones below.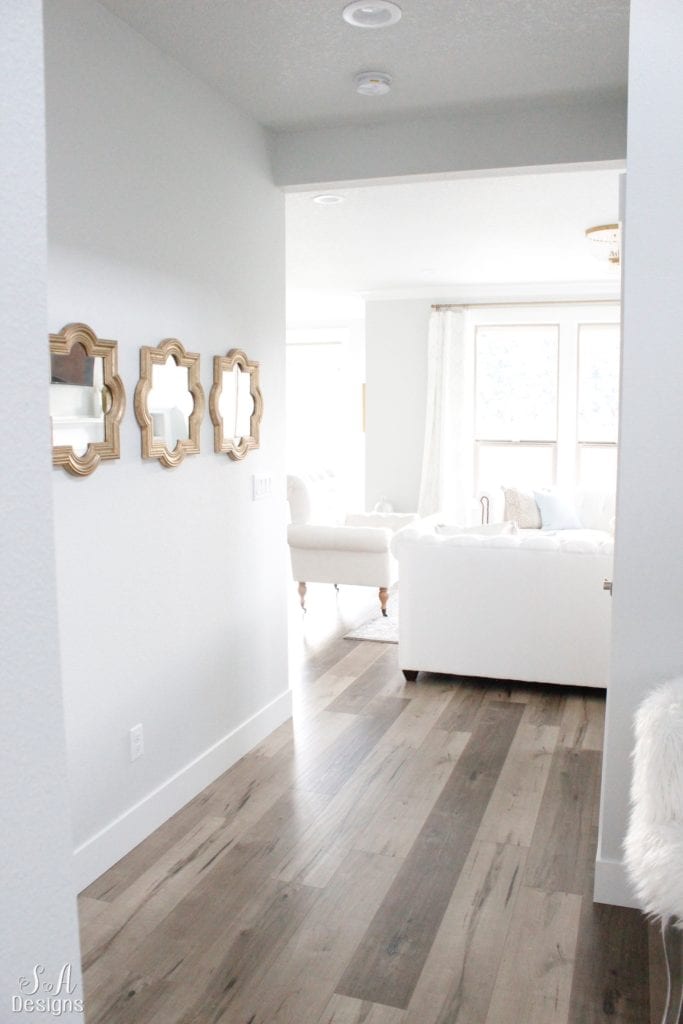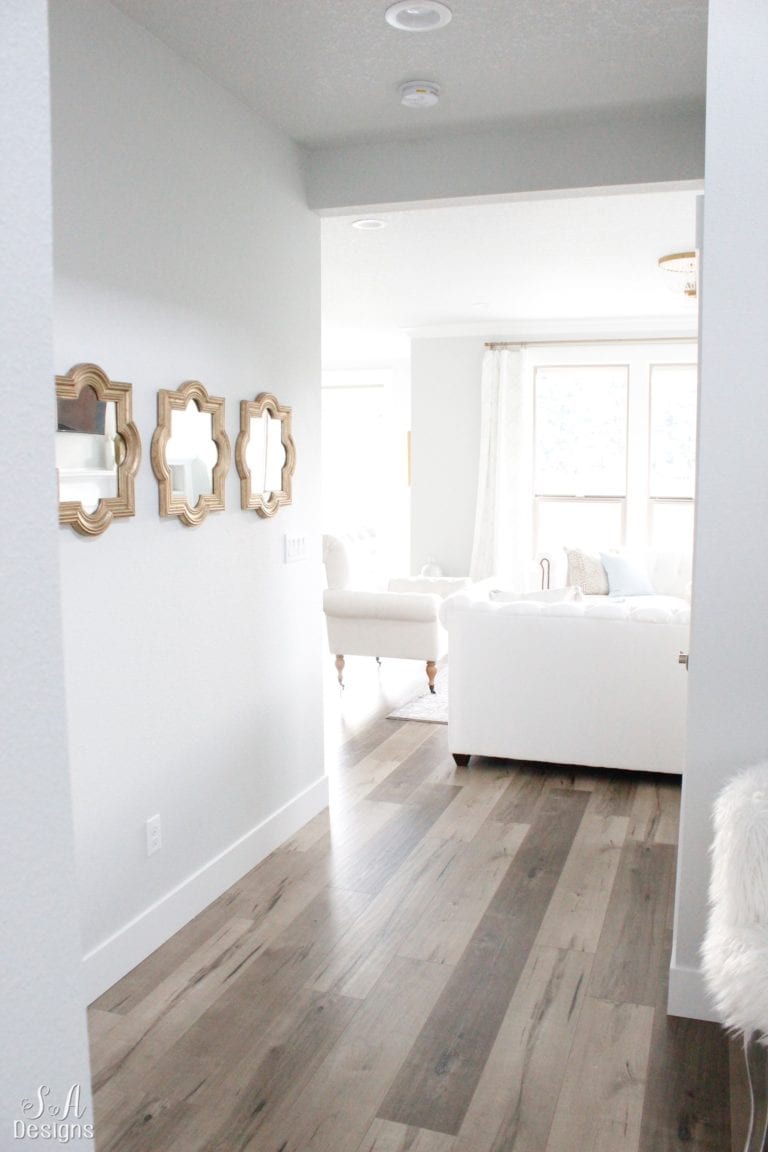 Just past the entry, I found 3 gold-framed mirrors to lead into the Living Room.  I like the way they reflect light back and forth to each space.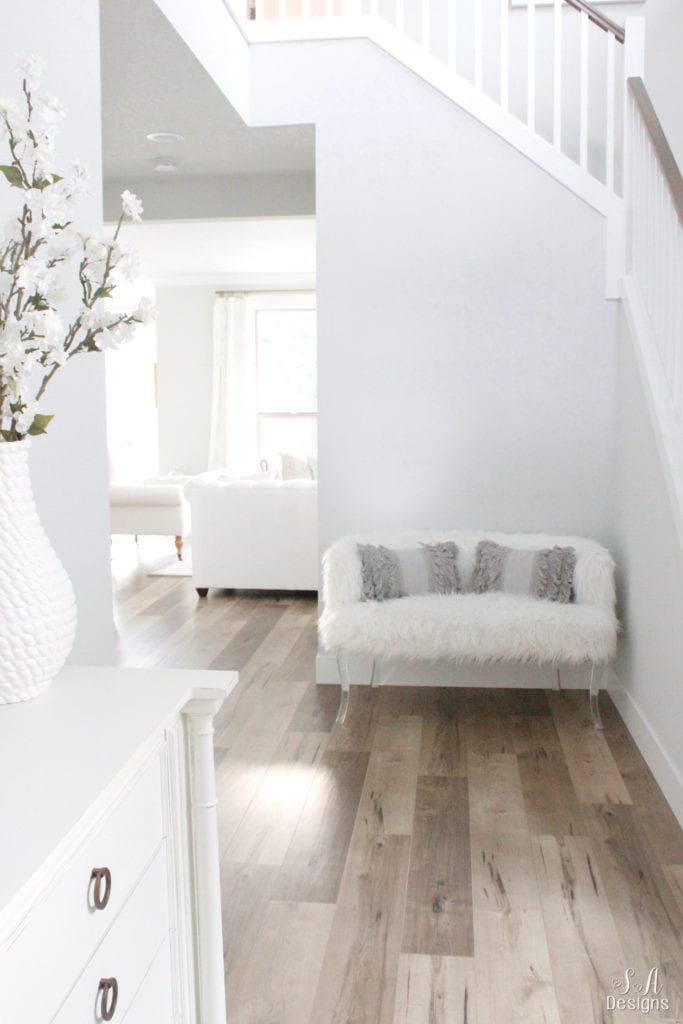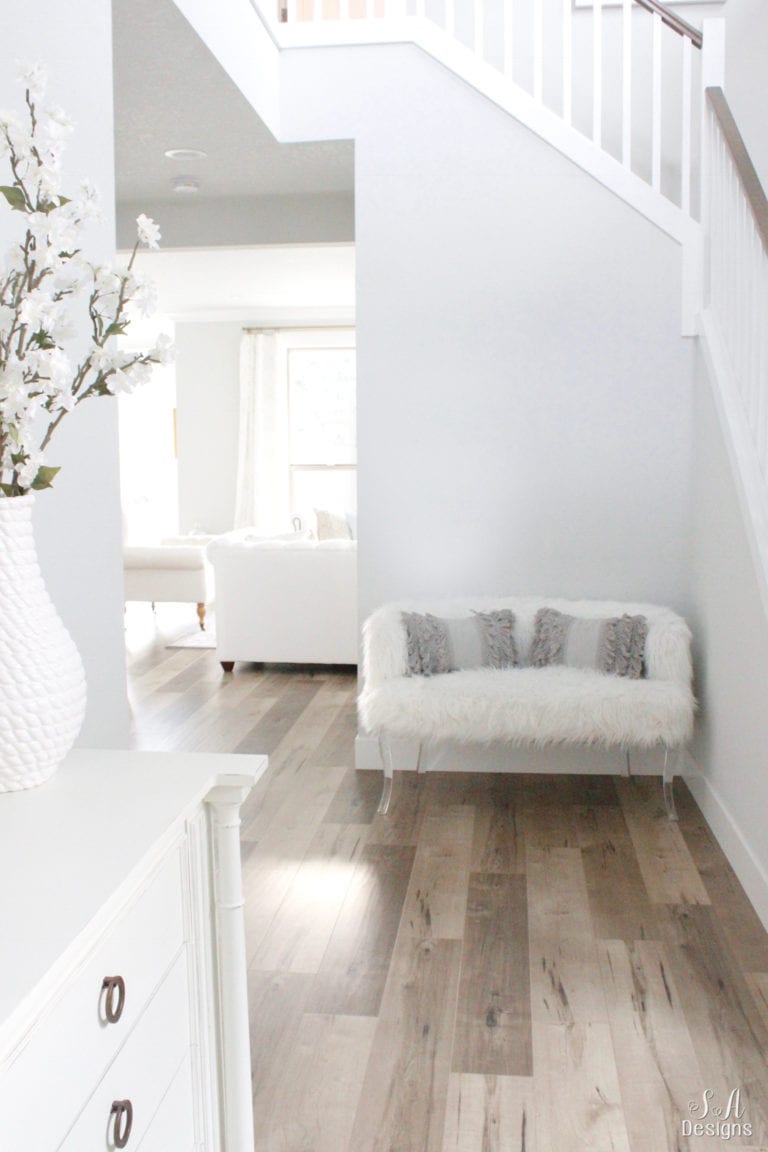 In the corner of my stairwell I have the prettiest fur settee.  If you saw my Christmas entry post, you recognize it.  I'm still looking for art to go above it but I've been looking for 2 months and nothing has seemed like the right fist.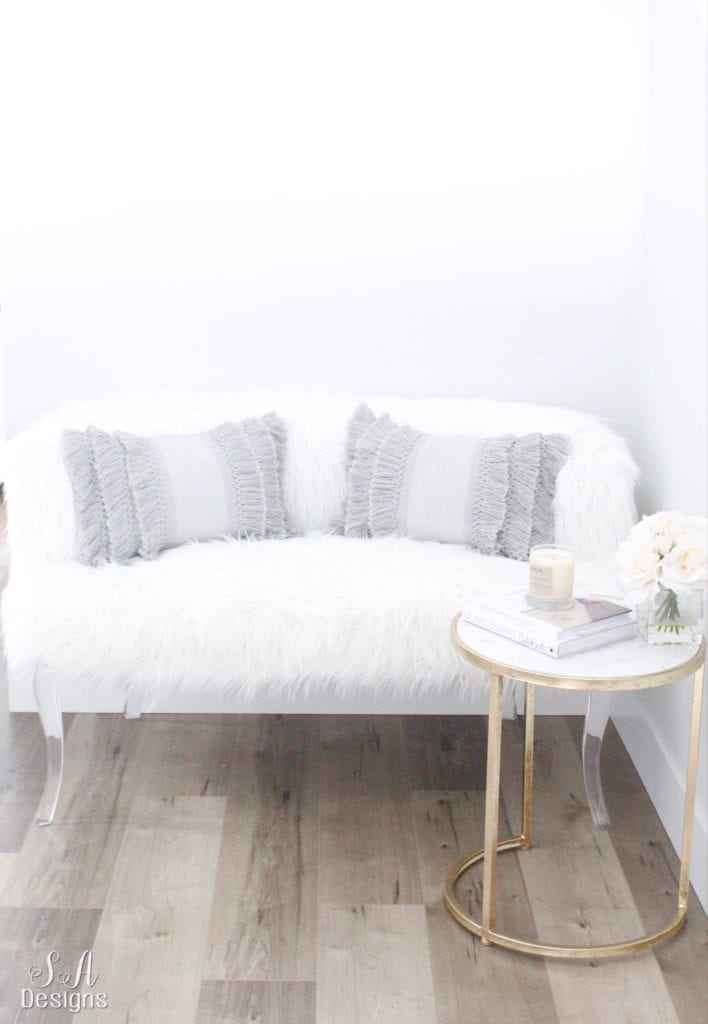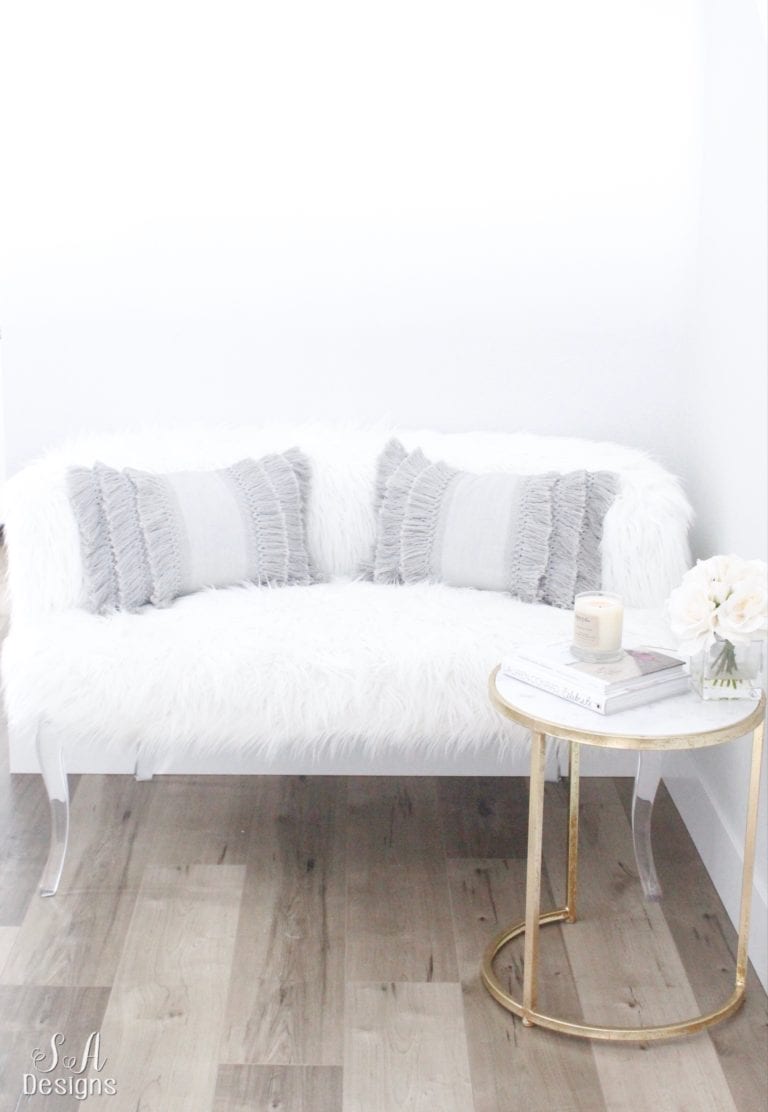 I'll definitely be updating this post and letting you know when I do find it but if there's something you should never rush, it is finding the perfect art for your home!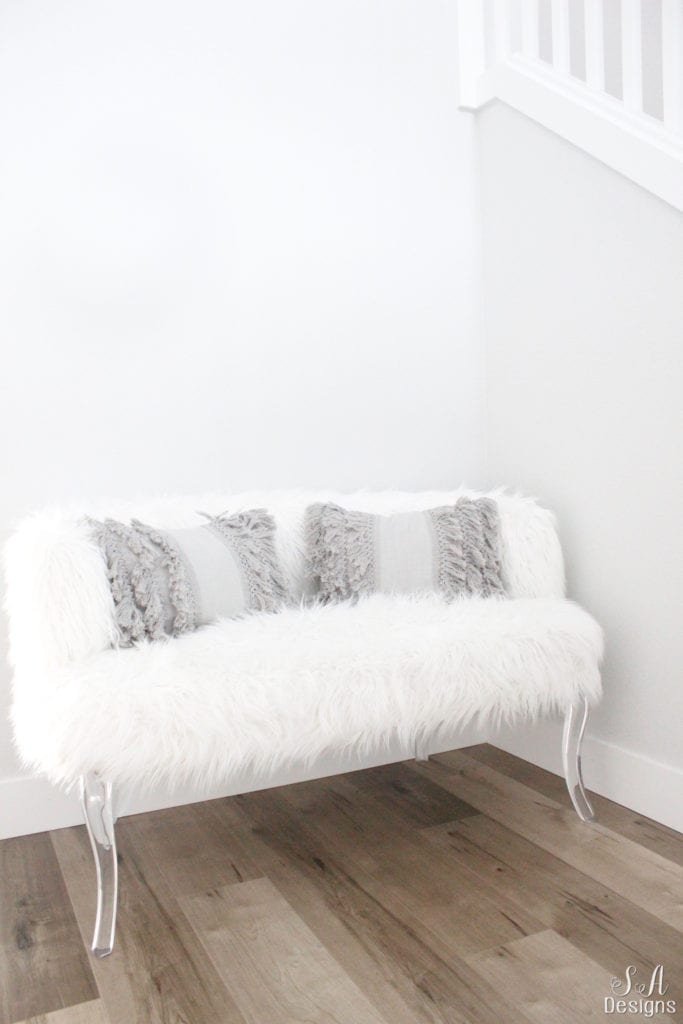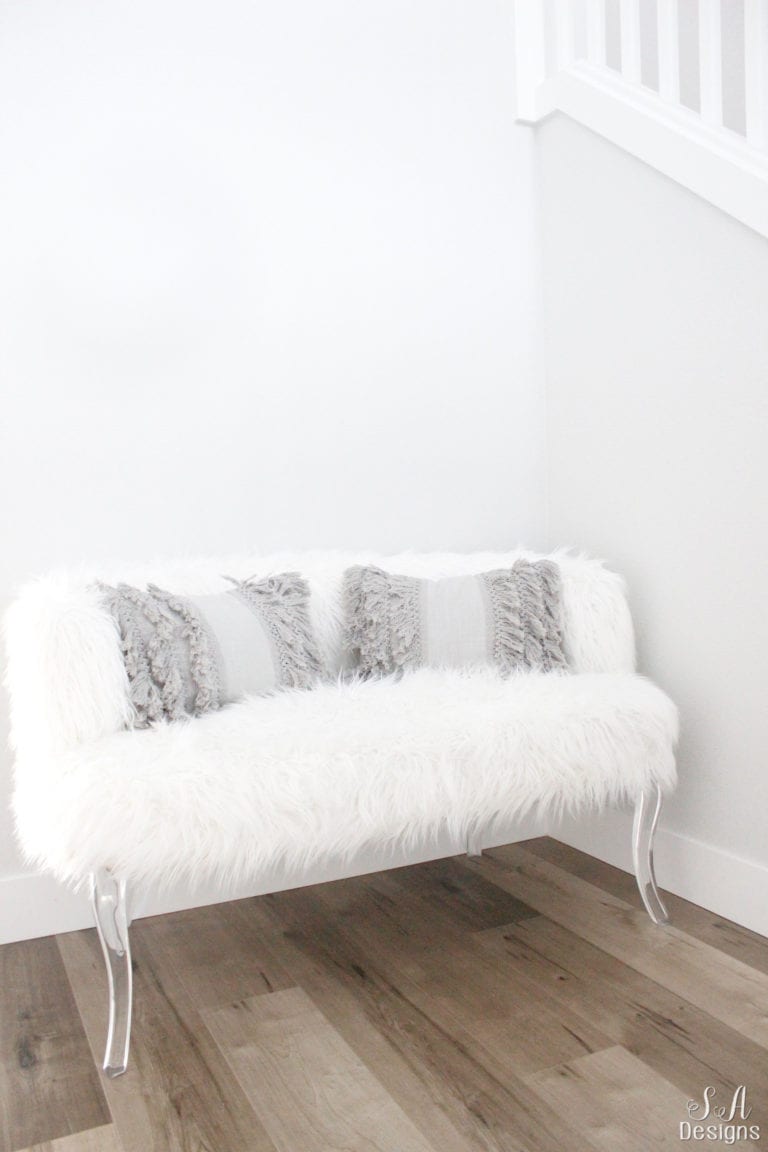 As shared in my Christmas entry post, I partnered with a company that was new to me called My Chic Home.  As I scrolled through their pages of furniture on their site, my jaw hit the floor when I saw all of the low prices.  I could hardly believe it.  You'll definitely need to look through and find furniture you love and have it shipped to you.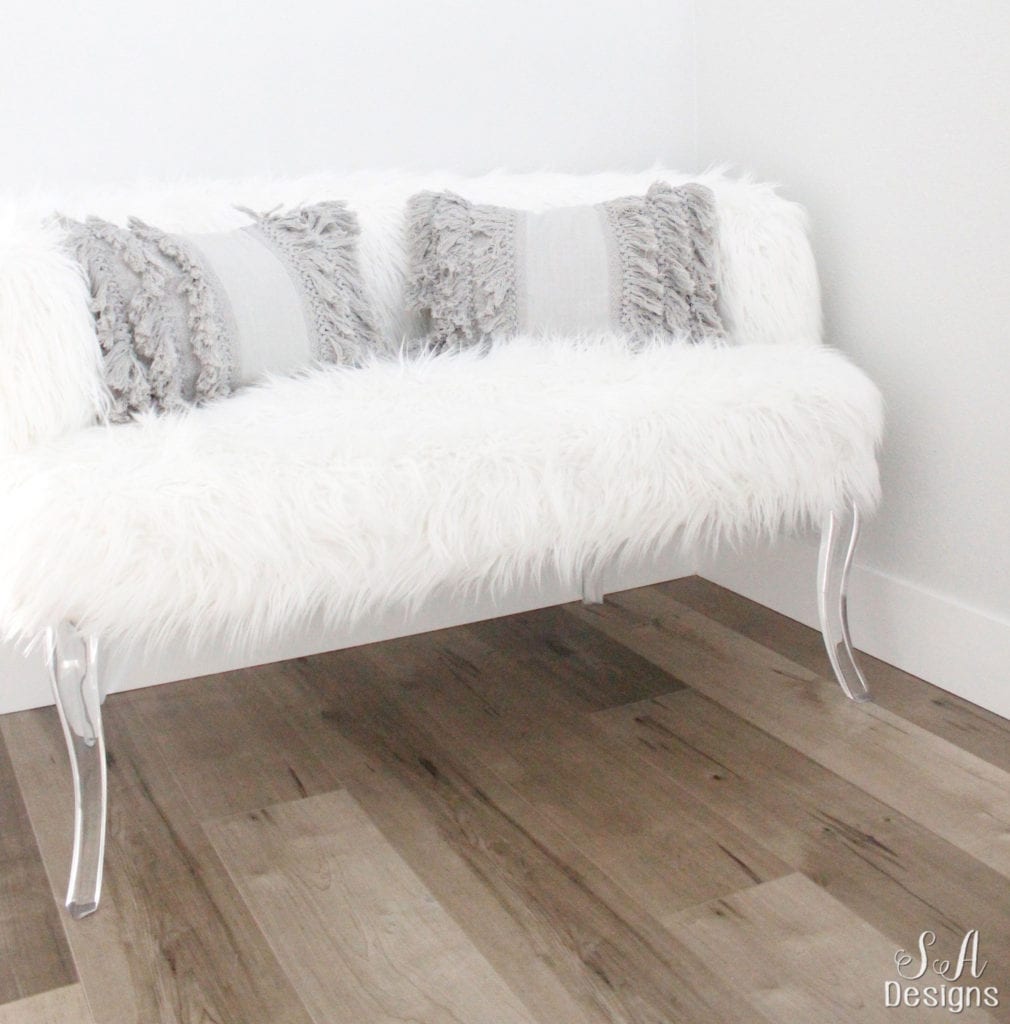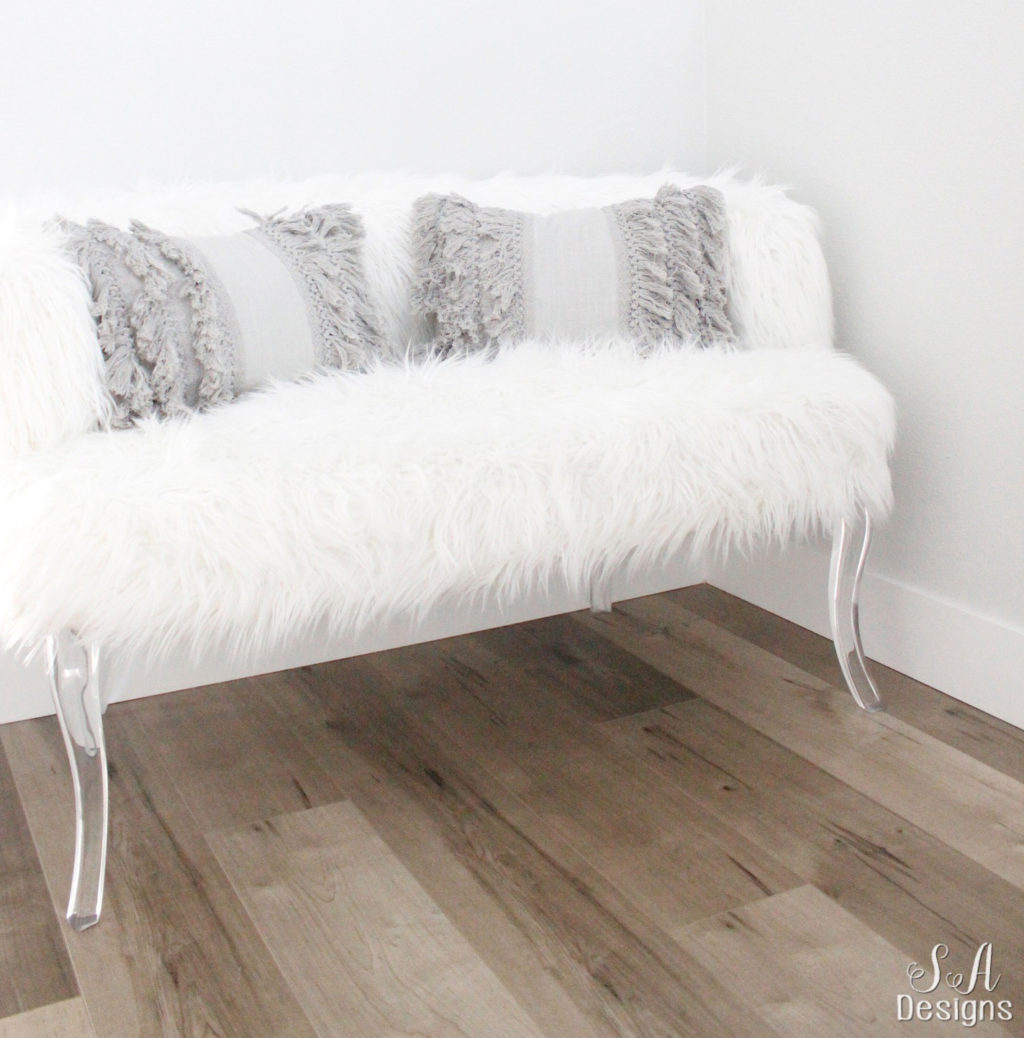 I chose this Emilia Contemporary Faux Fur Settee and they sent it to me.  All I had to do was screw on the gorgeous acrylic legs.  Aren't they sexy?!  Acrylic furniture and home accents are so popular right now, as is faux fur.  The two combined is perfection. Use the promo code "SUMMERCHIC" for 20% off your purchase at MyChicHome.com.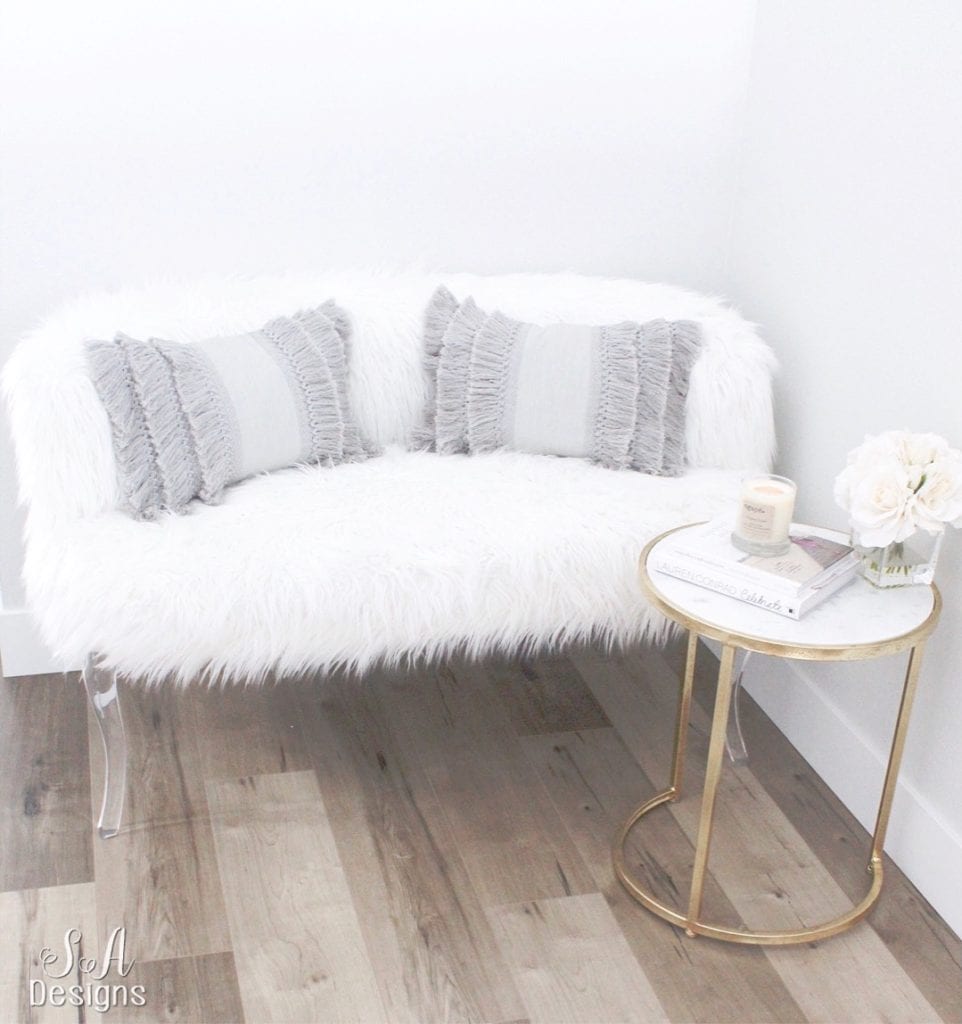 Many people have come over and sat on it.  It's sturdy and not wobbly and very high-quality.  I'm absolutely obsessed with it!  Isn't it fabulous?! It brought that perfect touch of glam to this entry.
The pillows were from the Nordstrom Anniversary Sale and I love the way they look on this gorgeous settee.   Nordstrom still carries them HERE.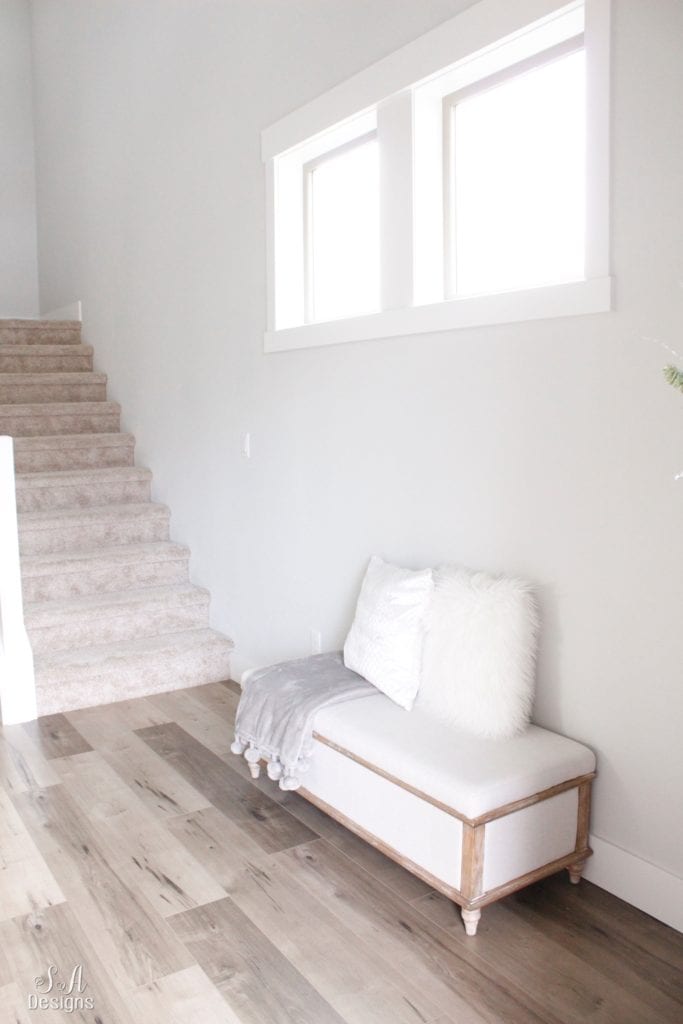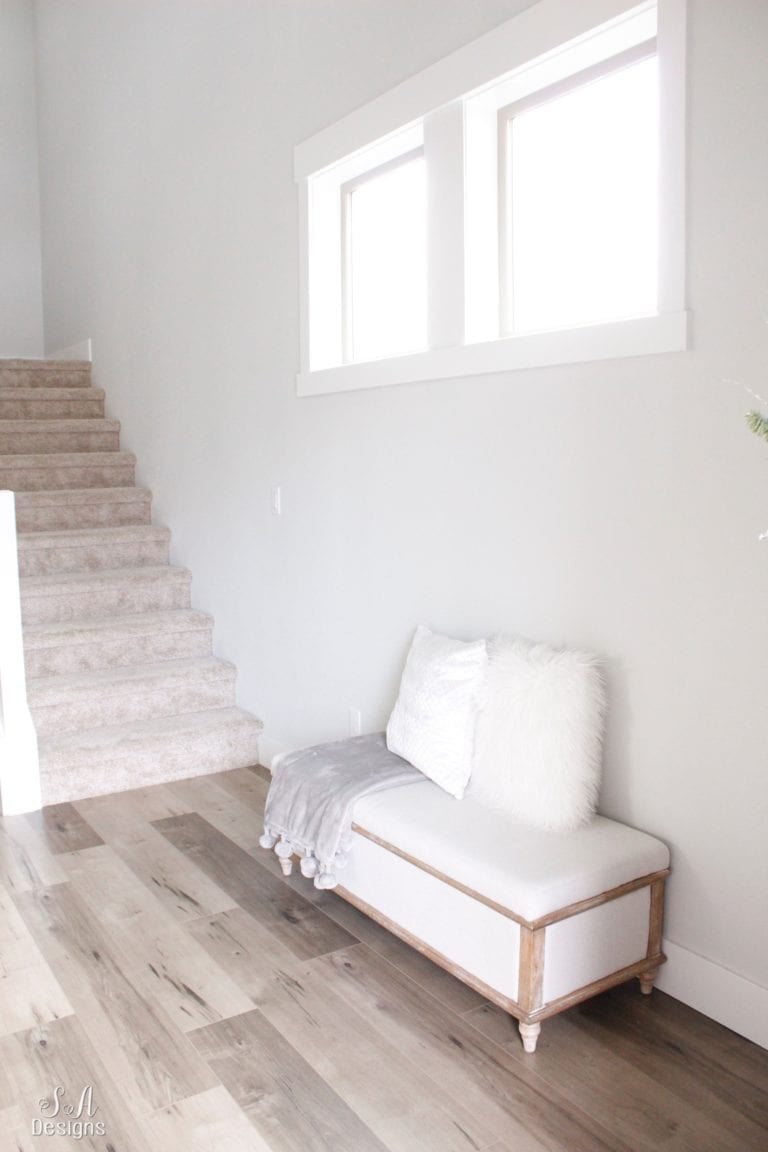 On the other side of the entry, I have this lovely wood and linen storage bench.  It's perfect for taking shoes off and on, especially as we wear rain boots here often.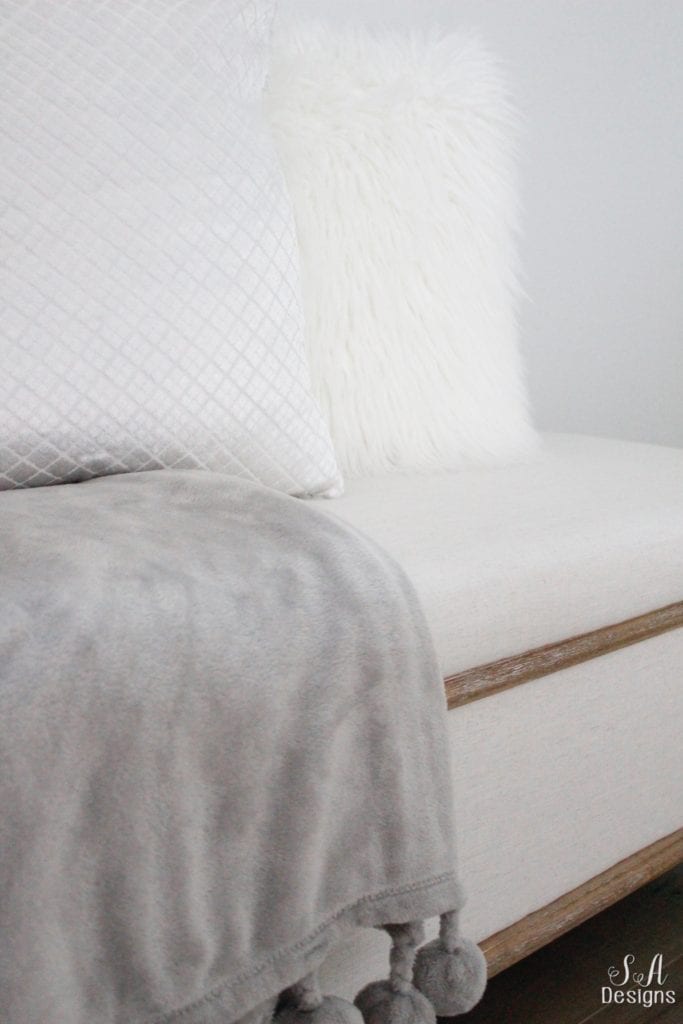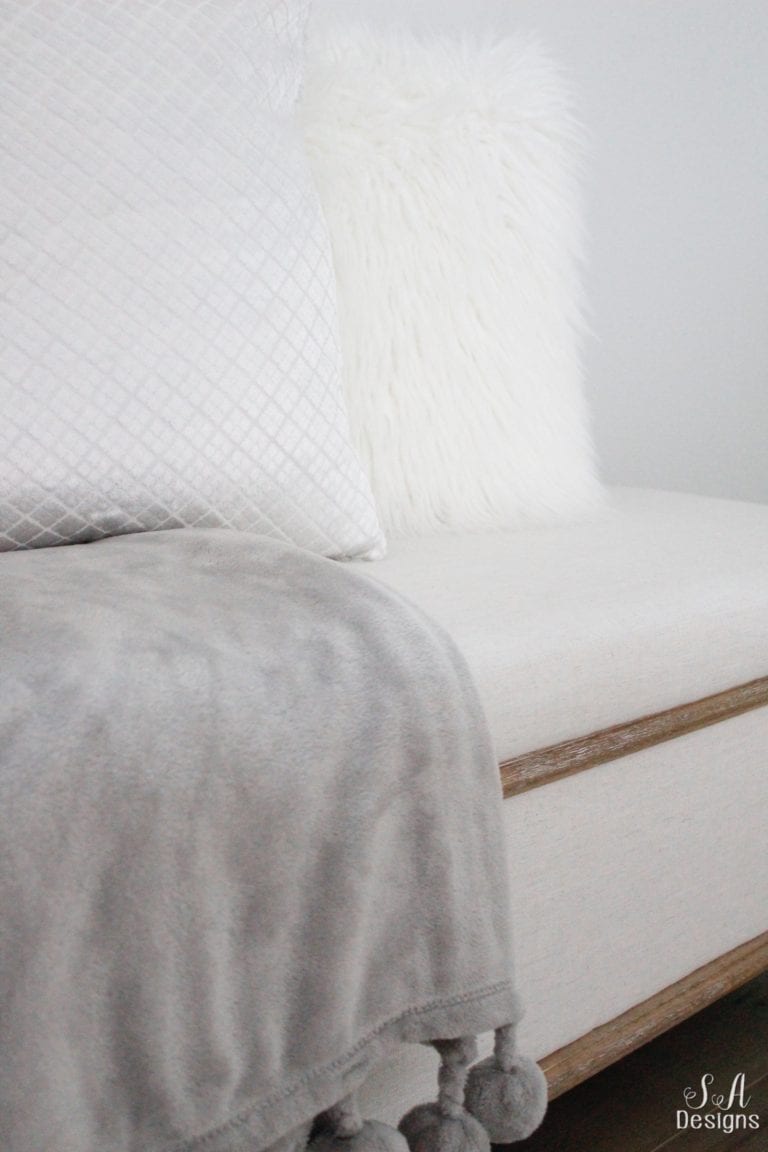 For now, and since it's winter, I have a snow white velvet pillow and a faux fur pillow.  I often grab this pom blanket and run out the door to drive the kids to the bus stop around the corner.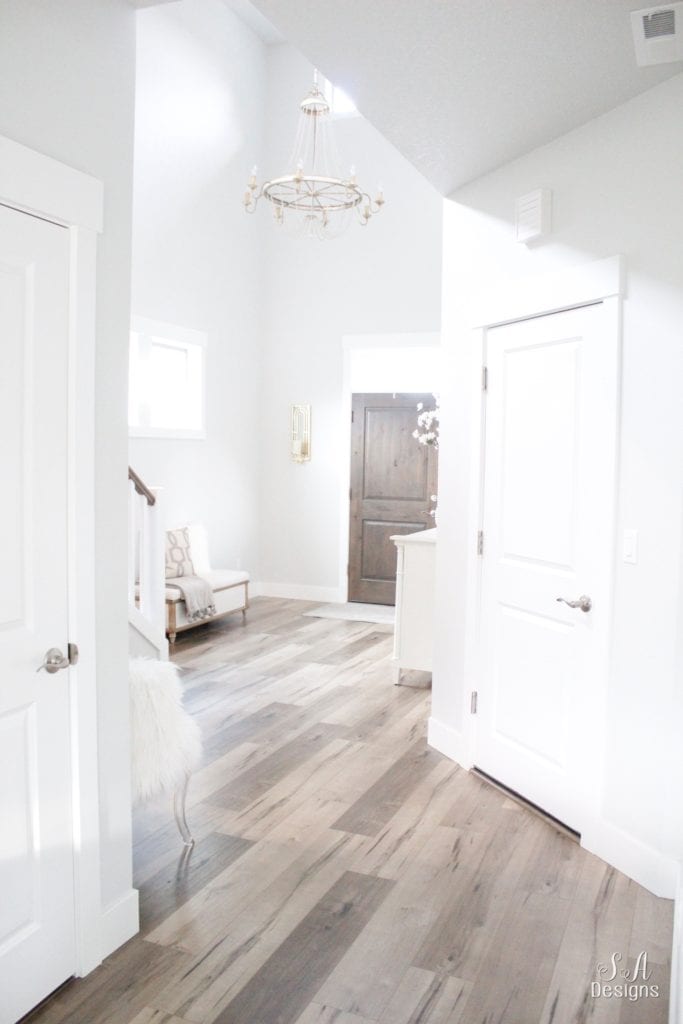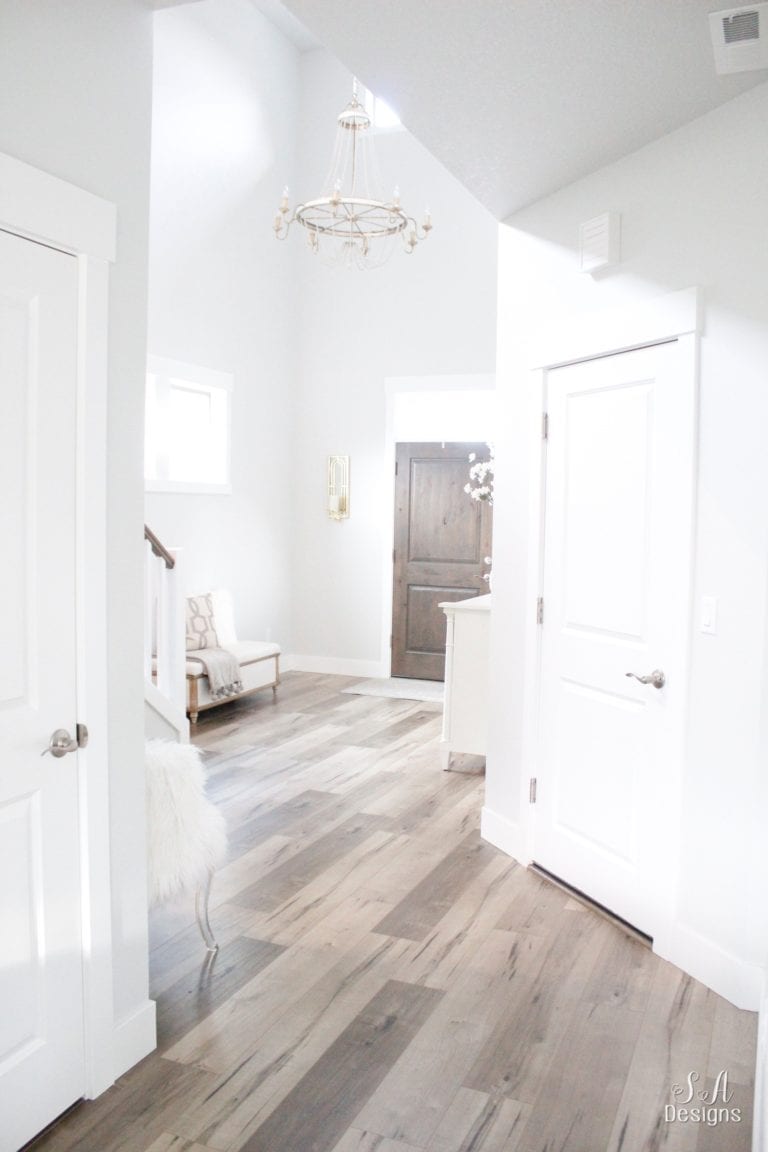 Now, for the moment we've all been waiting for…..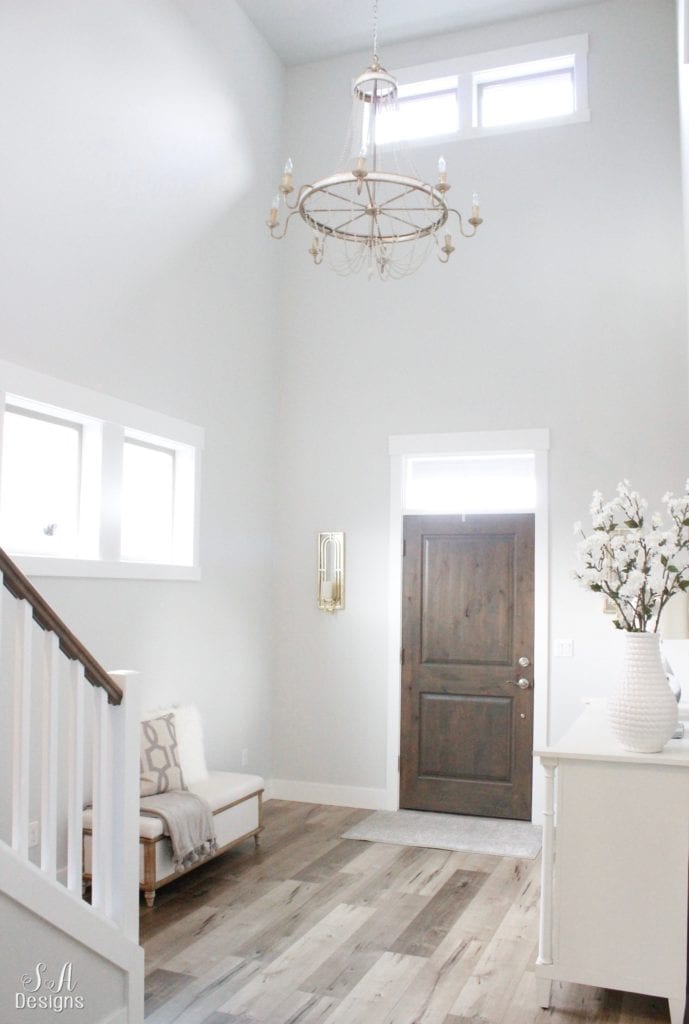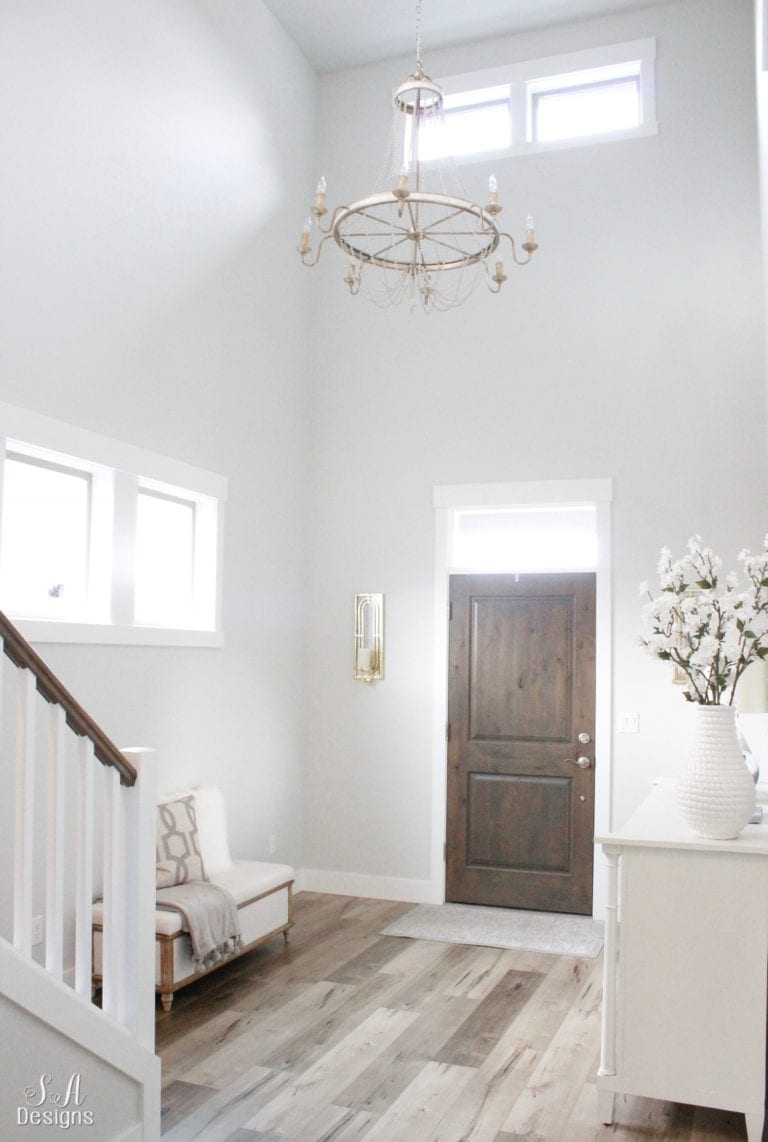 …THE CHANDELIER!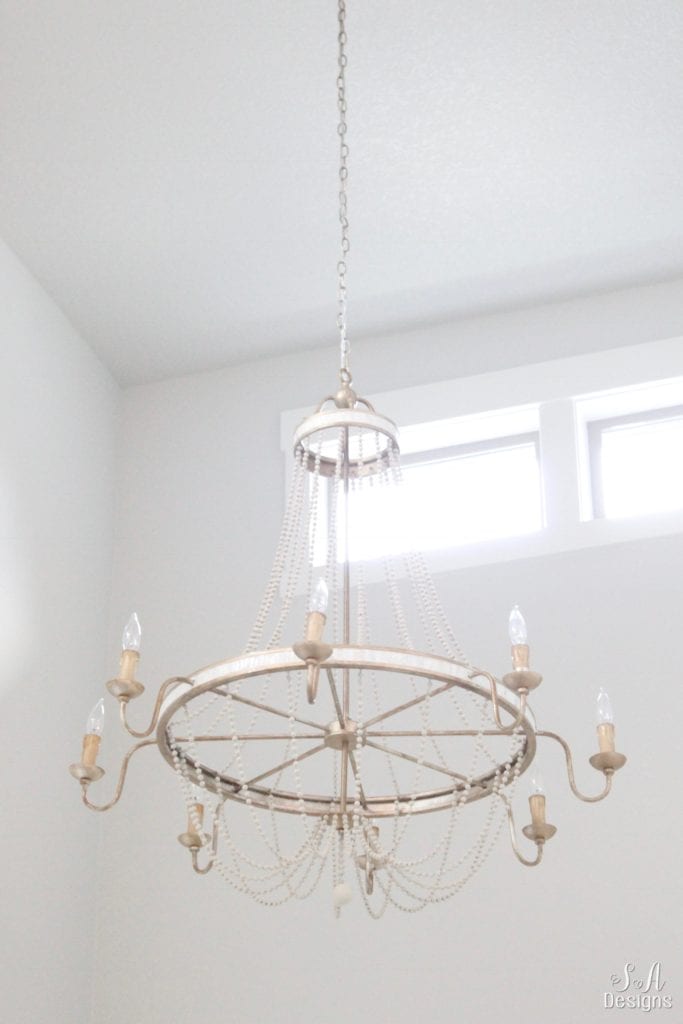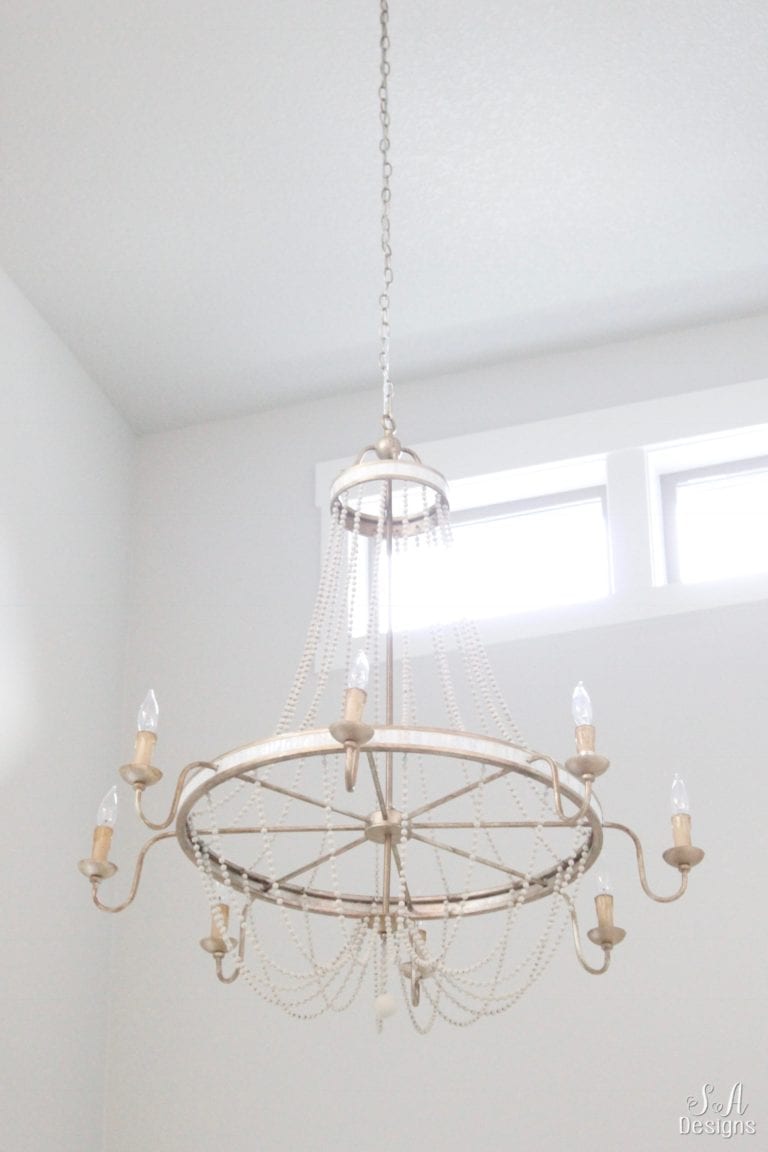 If you follow along with me on Instagram and have been watching my stories, I've been sharing my light-less entry for months and have been looking for the perfect chandelier.  From the moment I first ascended the staircase during construction to moving in….I shared with you my desperate search as I spent hours and hours, looking at thousands of chandeliers.  It had to be large, as this was a tall 2-story entry, and it had to reflect that coastal glam feel that I wanted.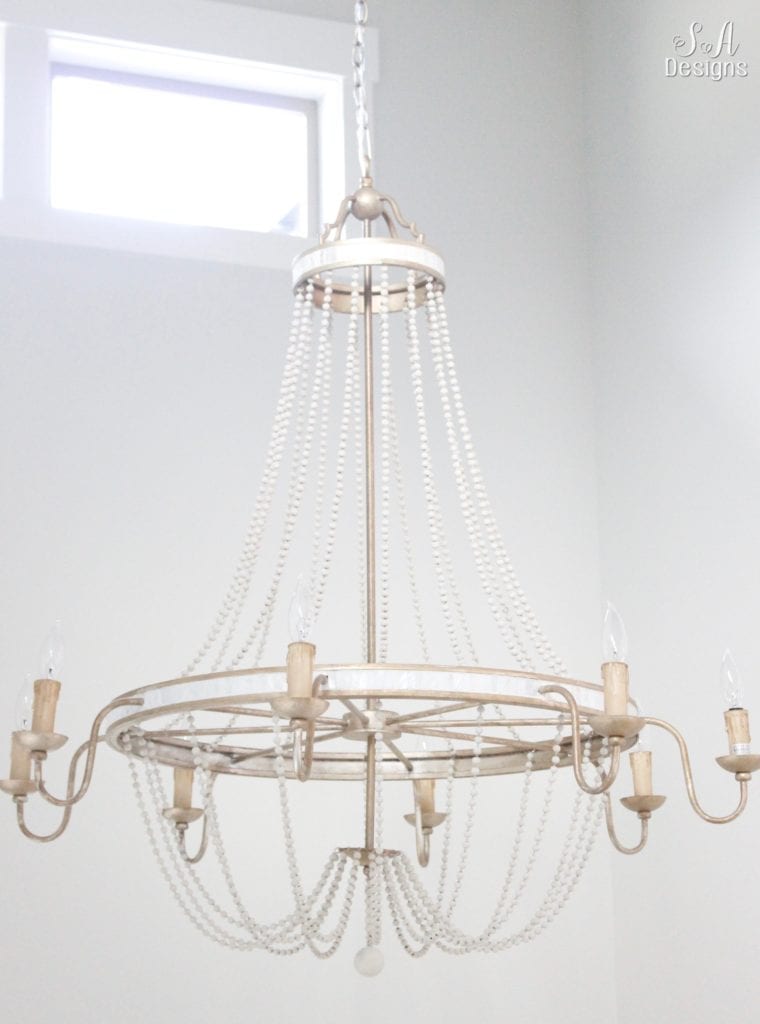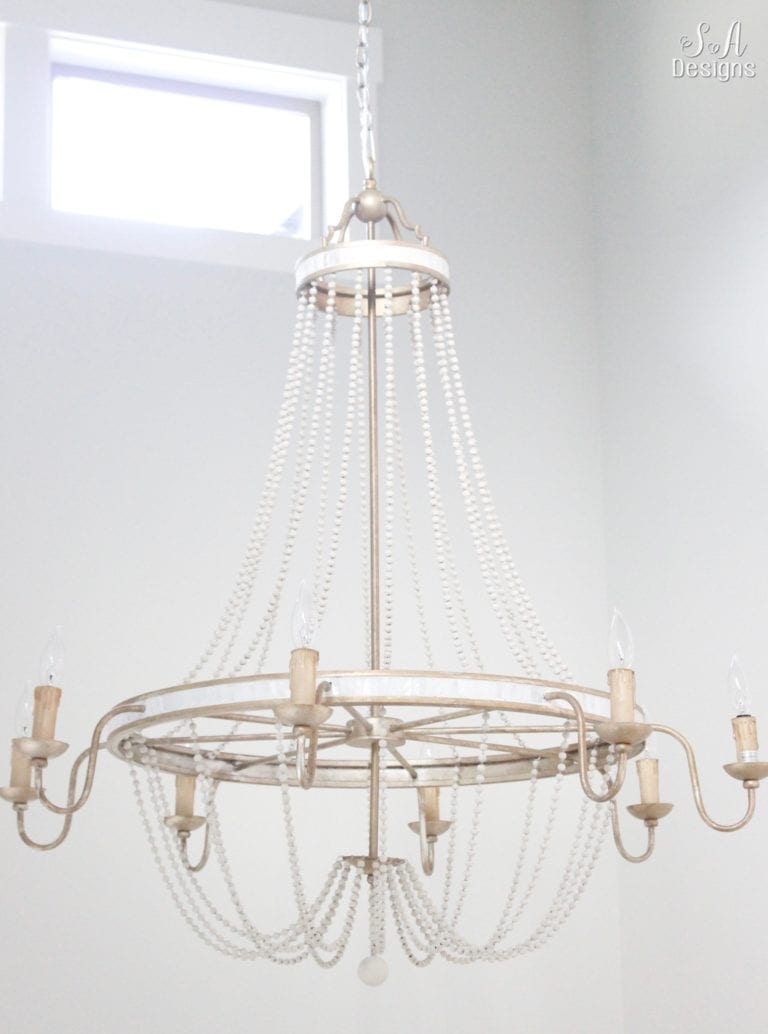 I looked more closely on Bellacor's website, as I love their lighting and so many other pieces, and saw this chandelier.  It was the one!  I remember that exact moment.  I'm so grateful that they wanted to collaborate with me and send me this chandelier for my entry.  It's called the "Corinna Chandelier", manufactured by Gabby Home, one of my favorite brands.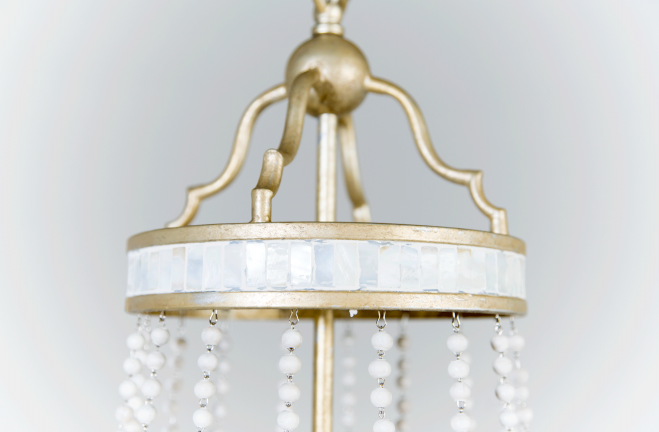 The gorgeous mother of pearl shell brings in that oceanic and coastal element that I wanted.  And with its gorgeous iridescent sheen, accompanied with the champagne gold/silver finish of the metal, it was as glamorous as I could have wished for.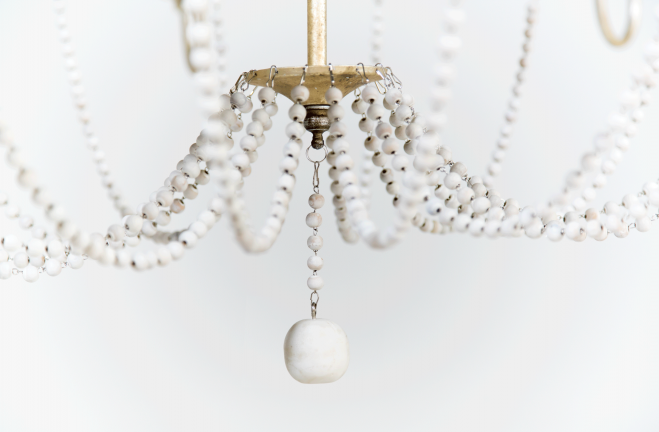 I absolutely adore the gorgeous painted wooden beads, also giving it that coastal vibe I wanted.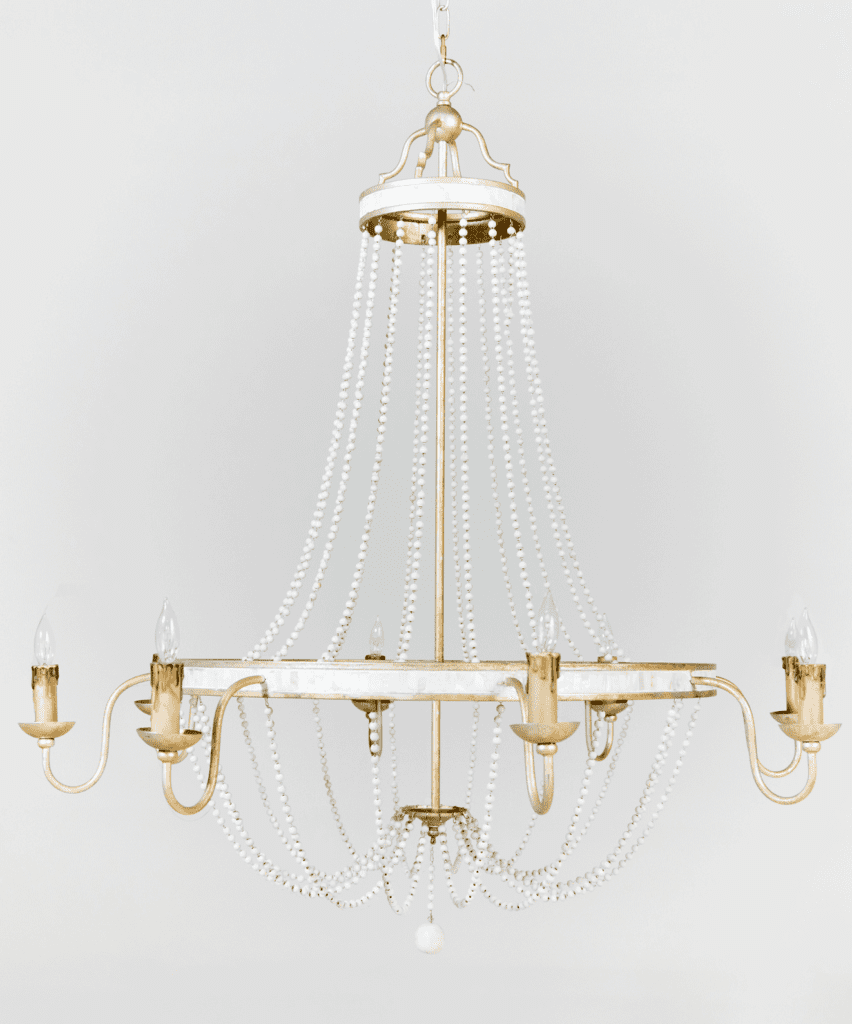 The 3 together is the most perfect combination.  And at nearly 46″ high and 41″ across, it's the perfect size and was large enough for my entry.
I keep telling people that it was made for my entry but in truth, my entry was made for that chandelier!
With 3 sets of short windows in the stairwell and entry, the light reflects so beautifully off of the mother of pearl and shines through the chandelier.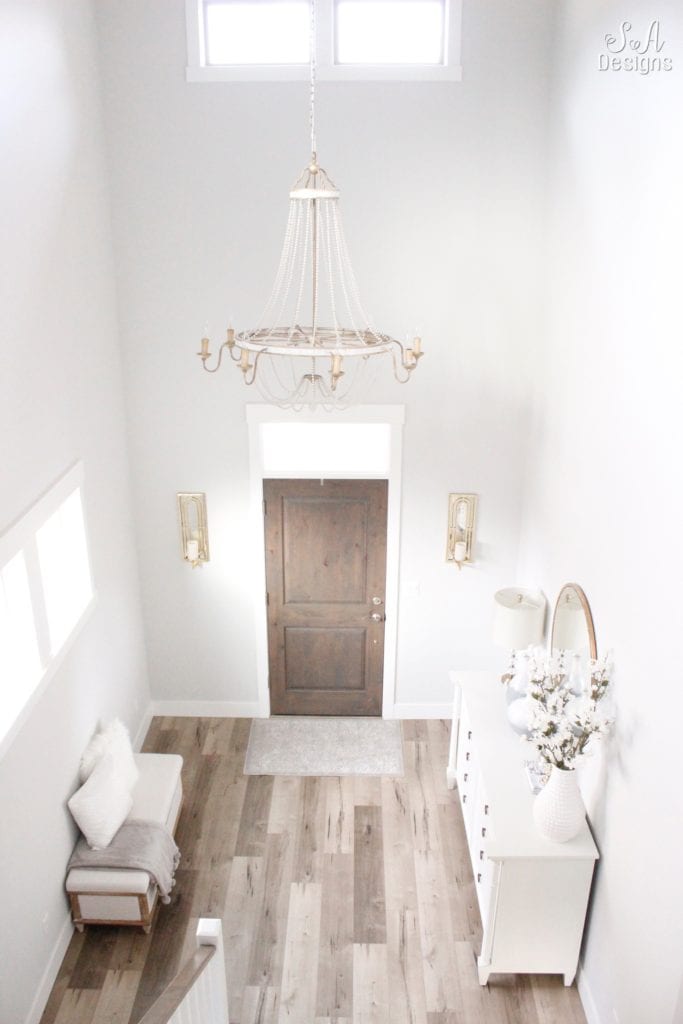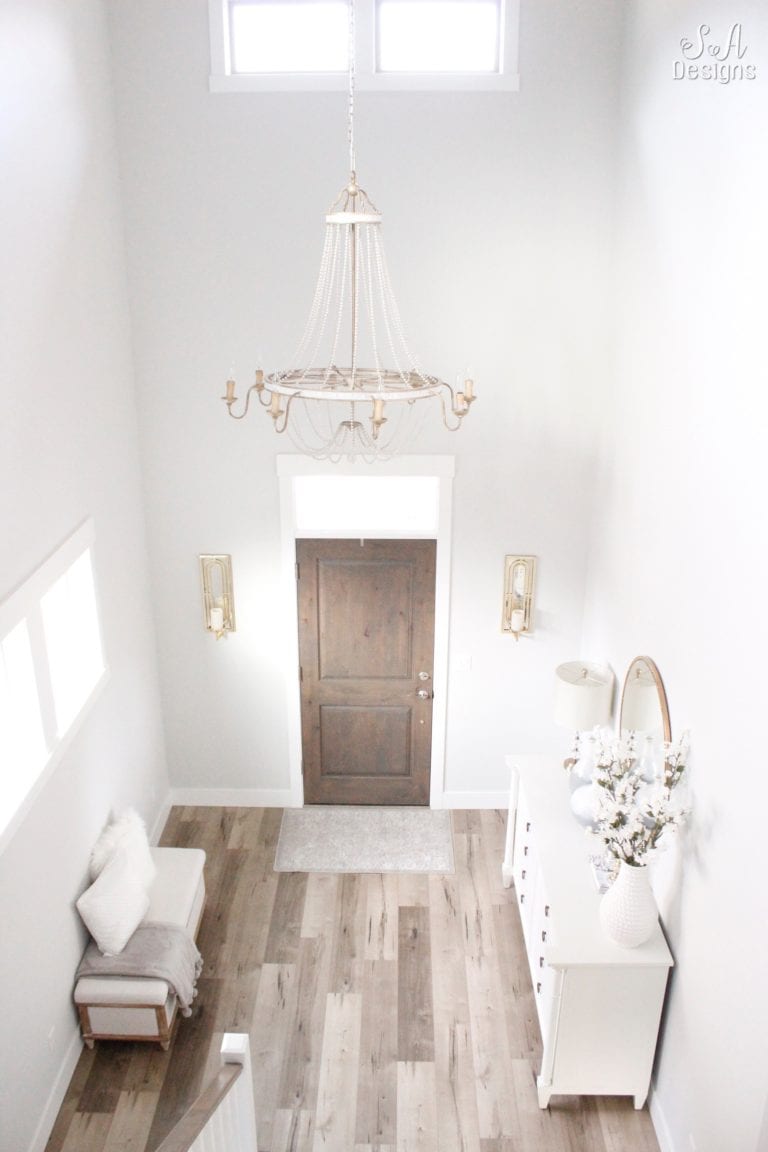 There's nothing like waking up and walking downstairs and looking at this beauty! And it's such a grand statement when we open the door to visitors.  I always love seeing their reactions.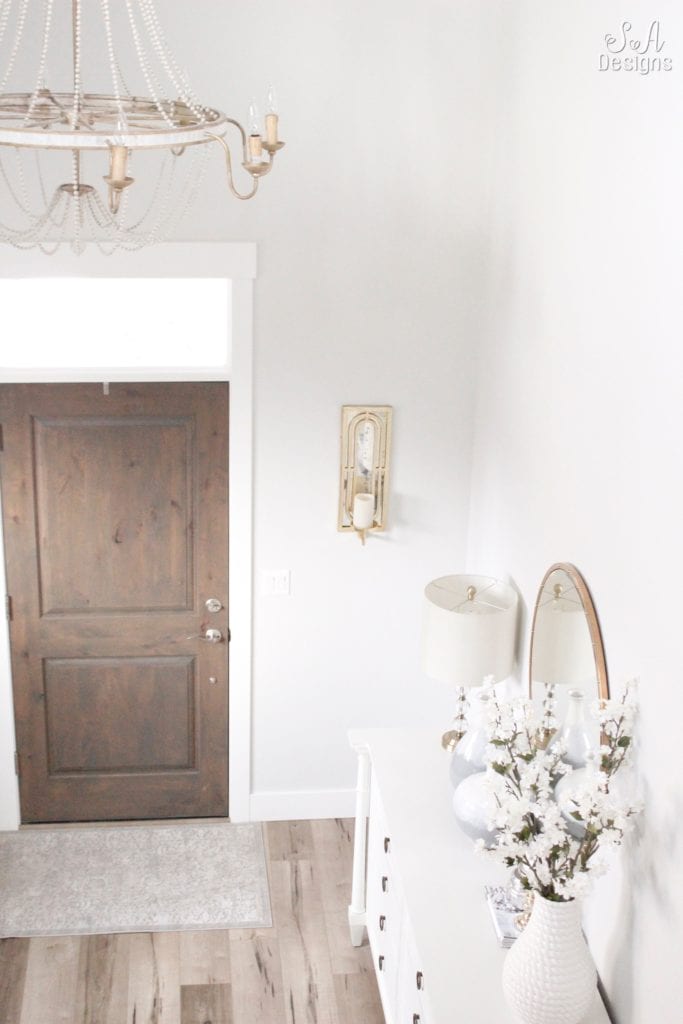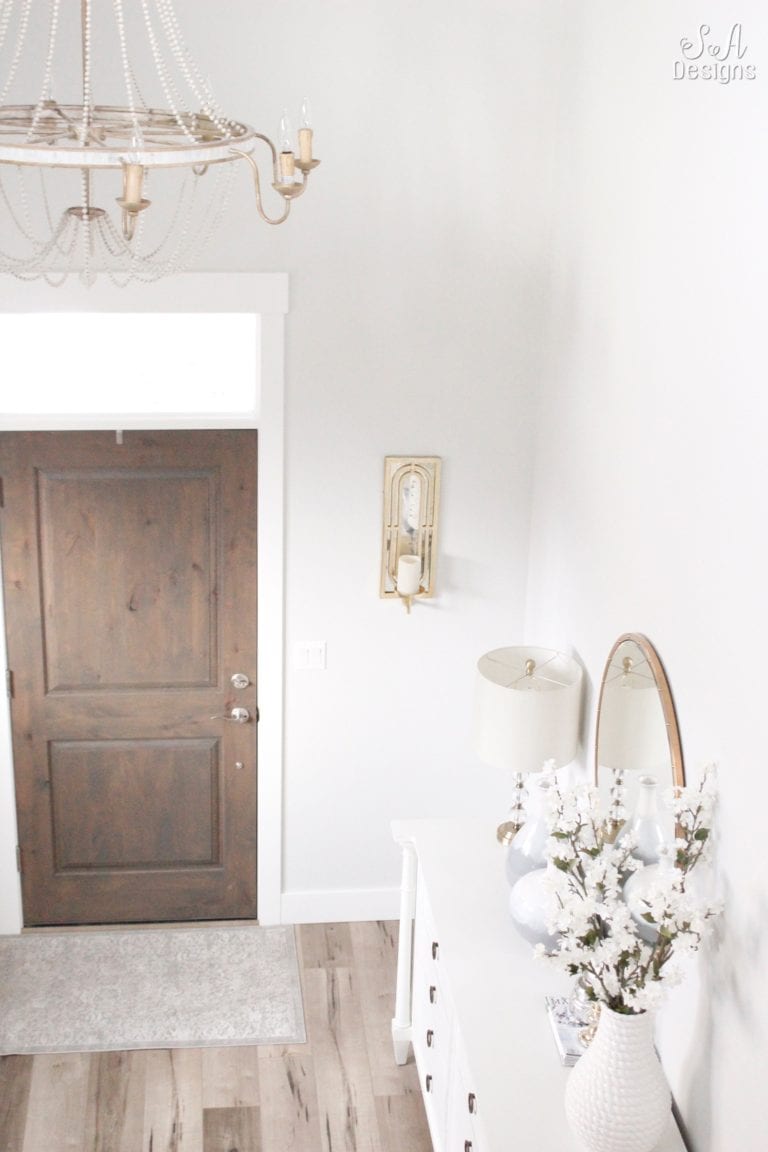 It's so fun that people love it and appreciate pretty chandeliers like I do!  Thanks again to my friends at Bellacor and Gabby Home!  Please make sure to shop Bellacor for the most fabulous lighting, furniture, decor and more!  They have been absolutely amazing to work with and I can't wait to collaborate with them again!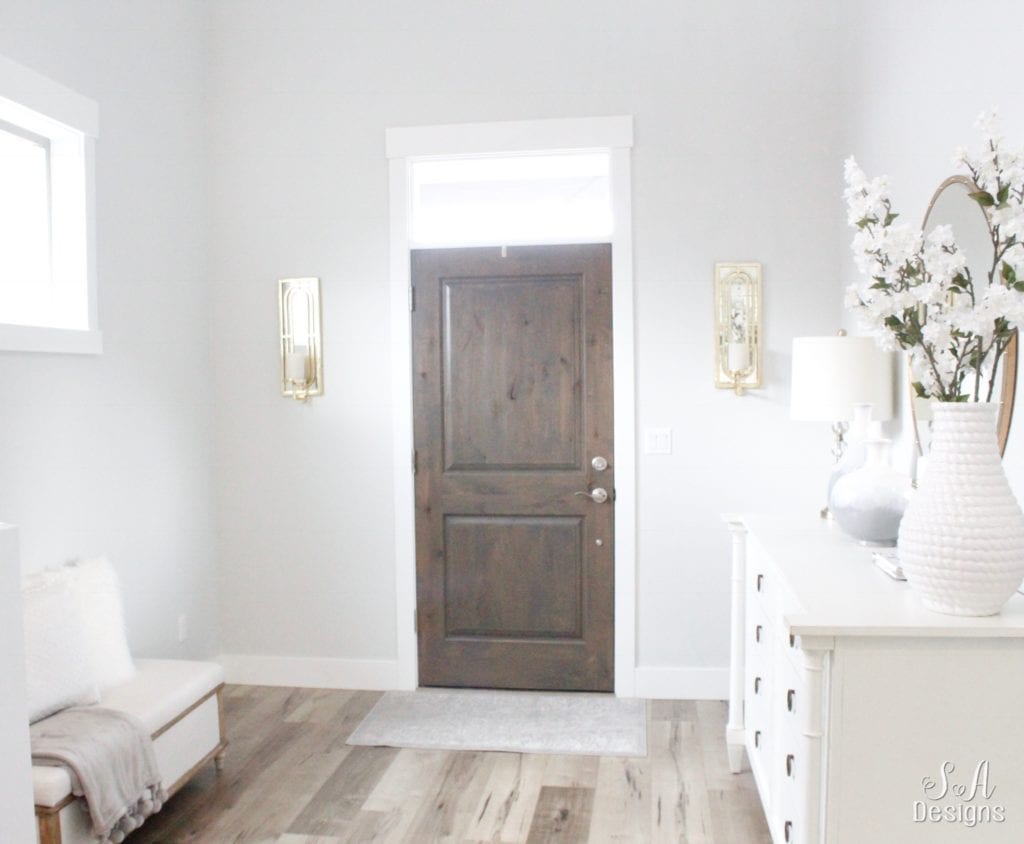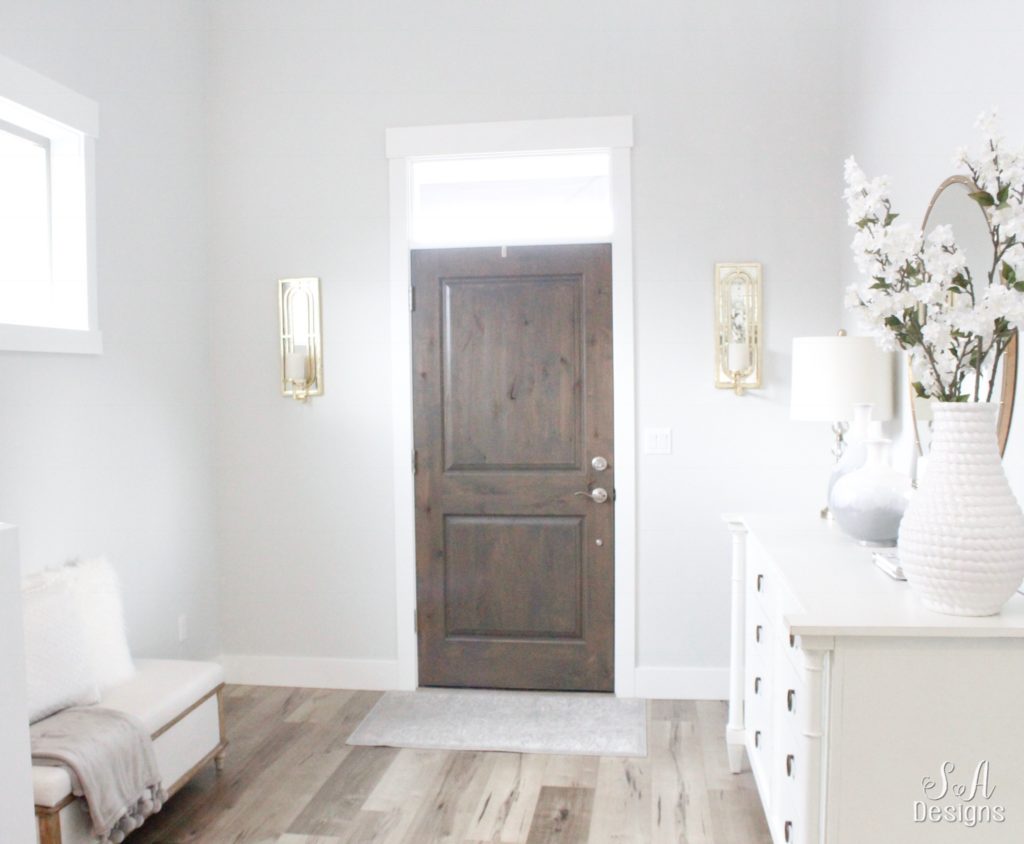 On my weekly Home Goods run this last week, I found those gorgeous gold sconces and were exactly what I wanted for the sides of my front door.  I'll link similar ones below.  All the tag said was "Made In India".  There was no brand or I would've scoured the internet looking for a link for all of you.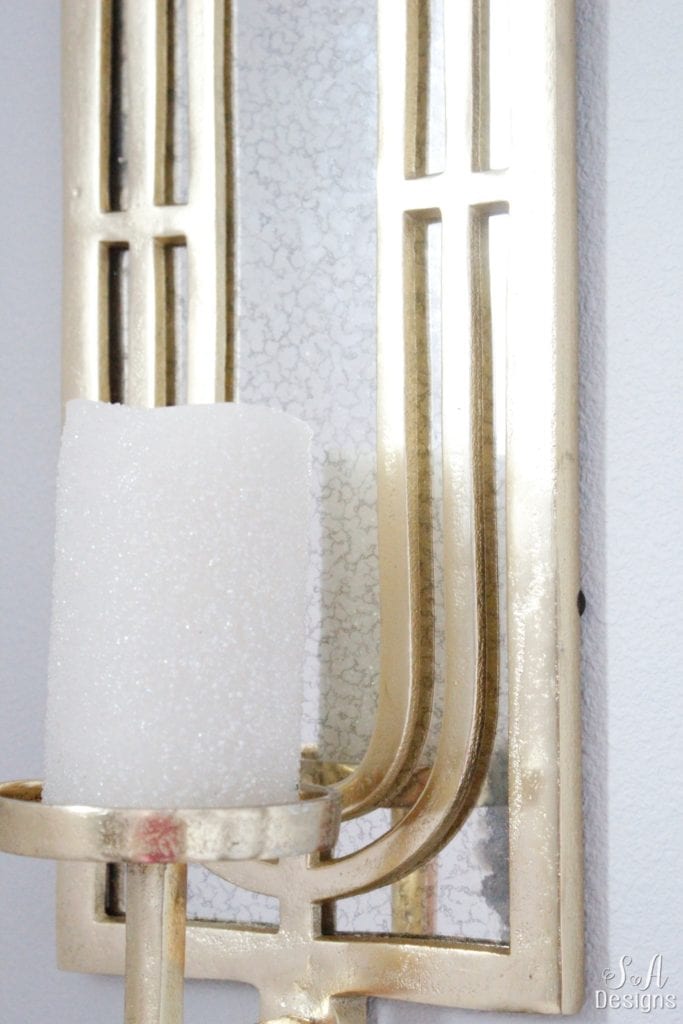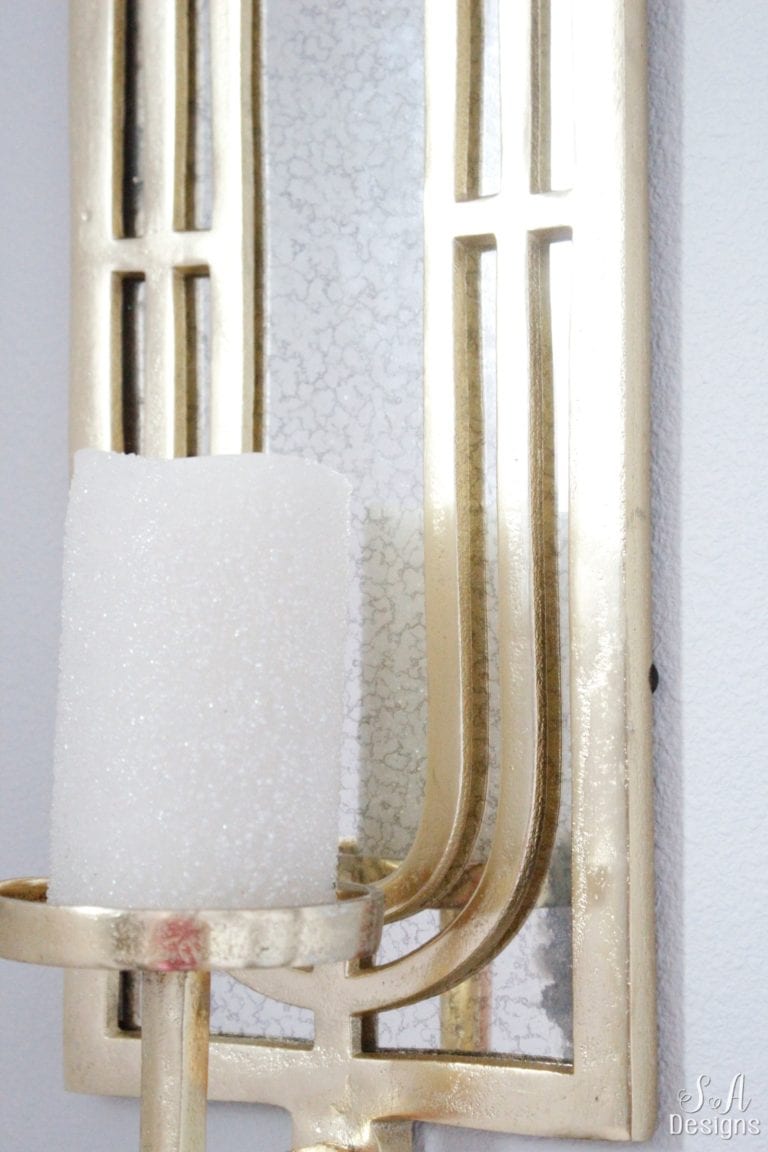 I loved the gold leaf finish and the distressed mirror accents.  They were perfect.  I paired them with sparkly battery-operated candles.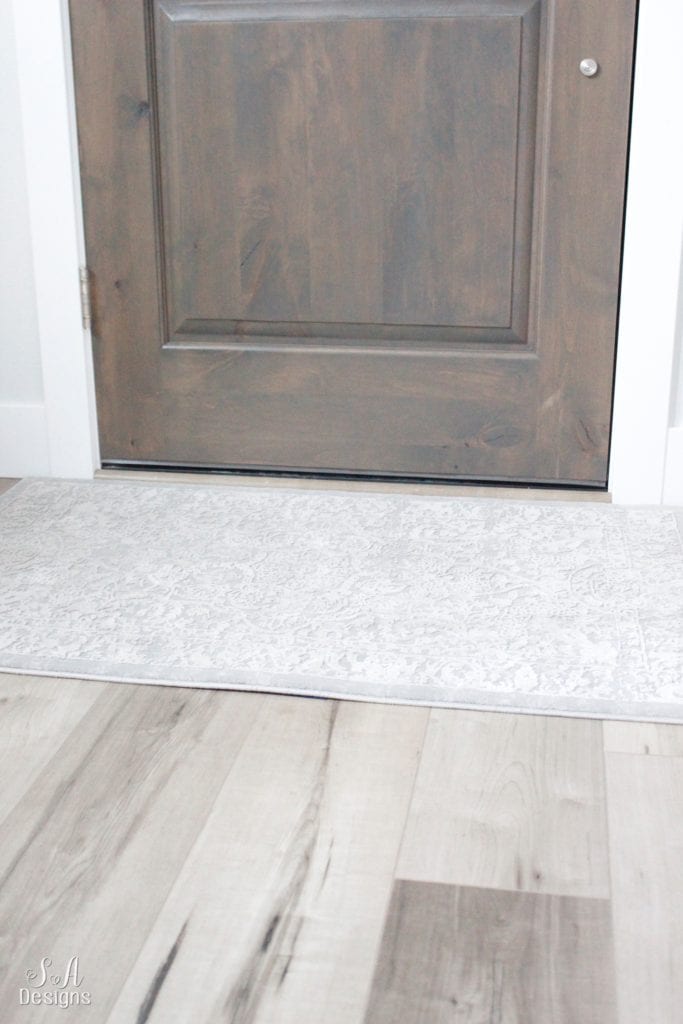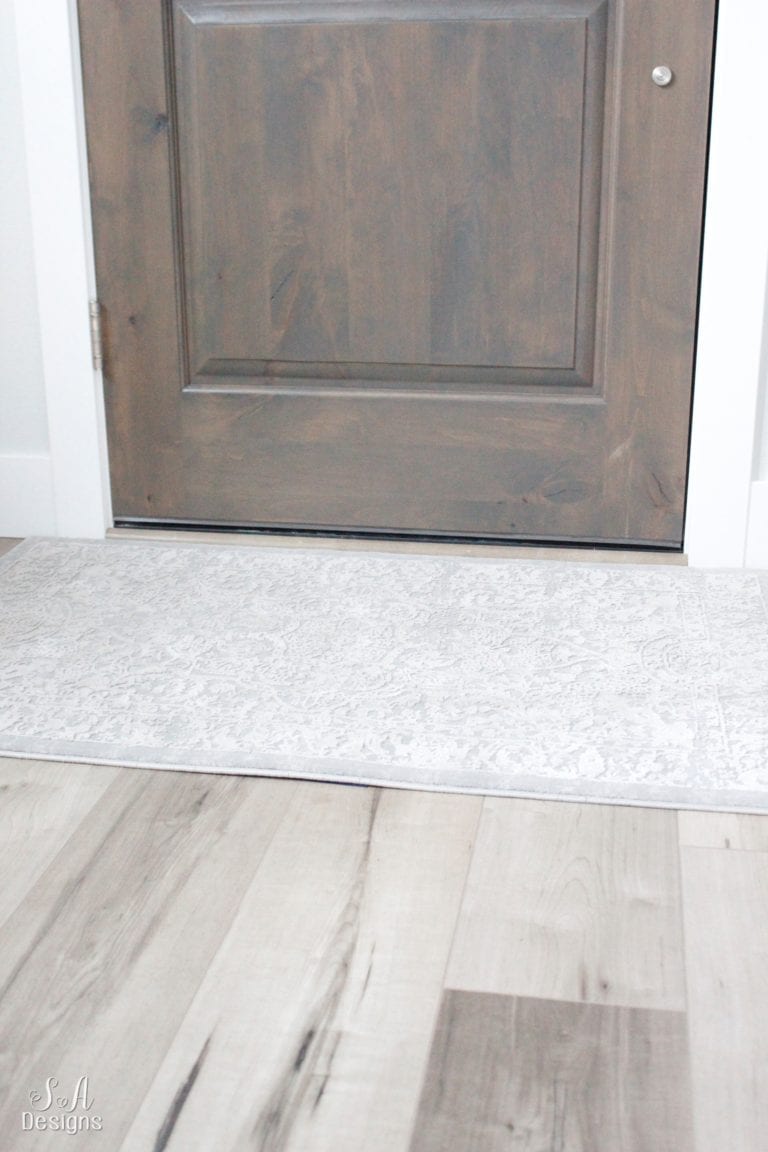 When it's not raining, I throw the plain grey entry rug in the garage and bring out this prettier one.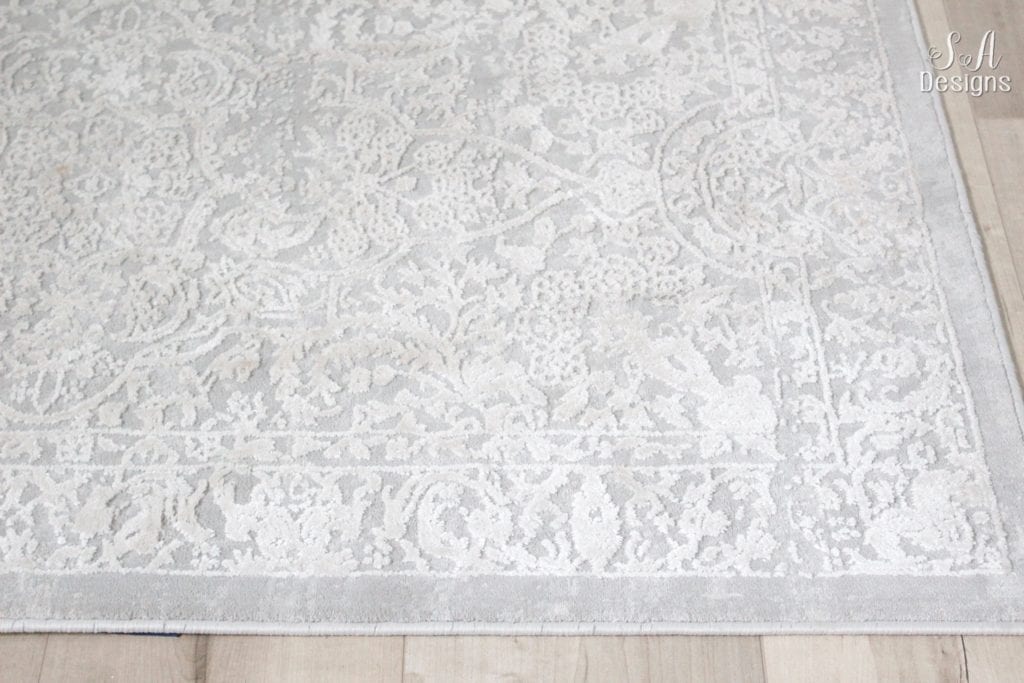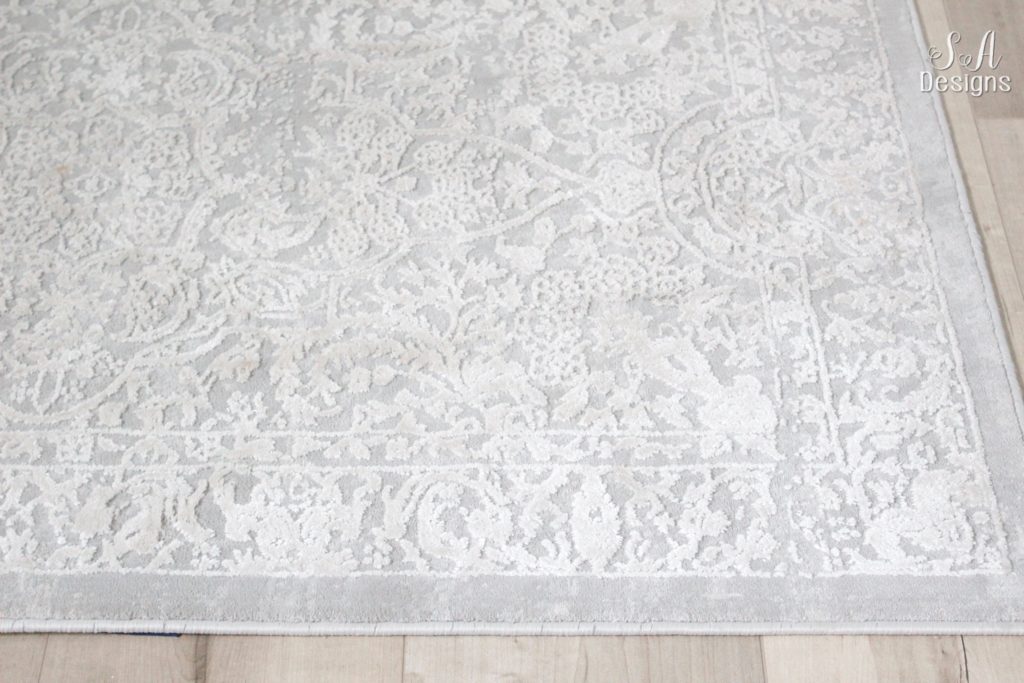 It's by Dynamic Rugs and I really loved the ornate design.  (That is the exact one linked and again at end of post.)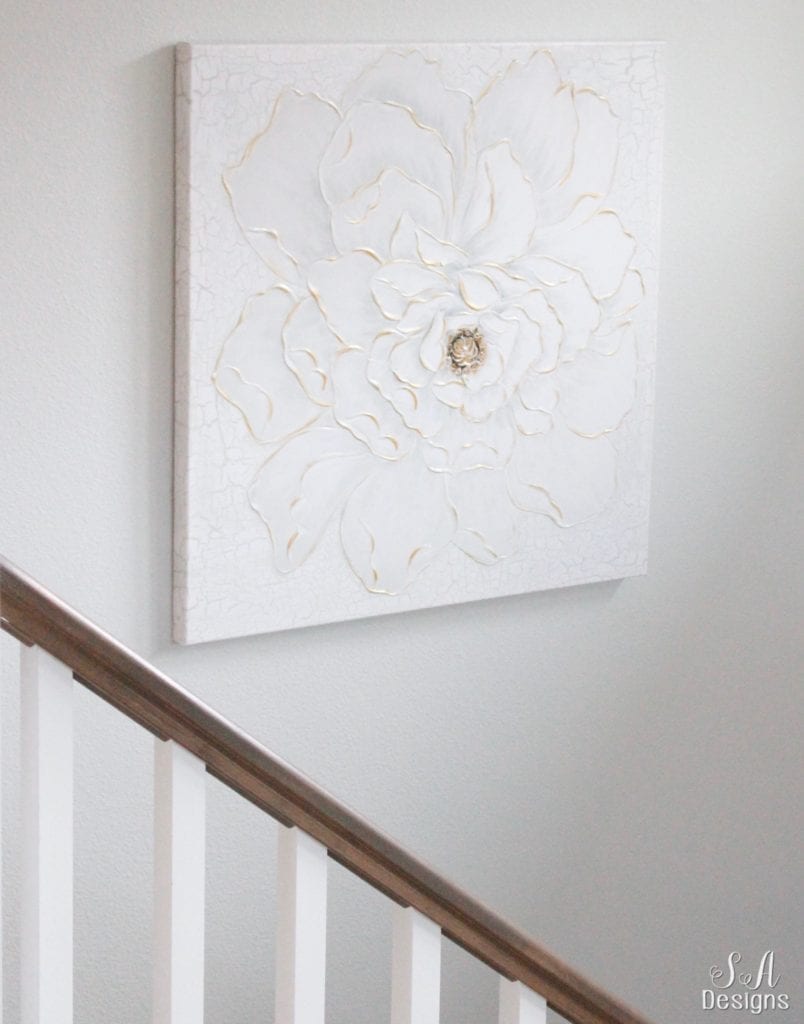 At the top of the stairs, I'm still looking for artwork and I know what I want now.  But until then, I found this lovely textured floral canvas art at Home Goods and I love the metallic gold paint that shimmers off each petal.  I may just bring it down stairs and hang it above the faux fur settee once I find the other art for this spot.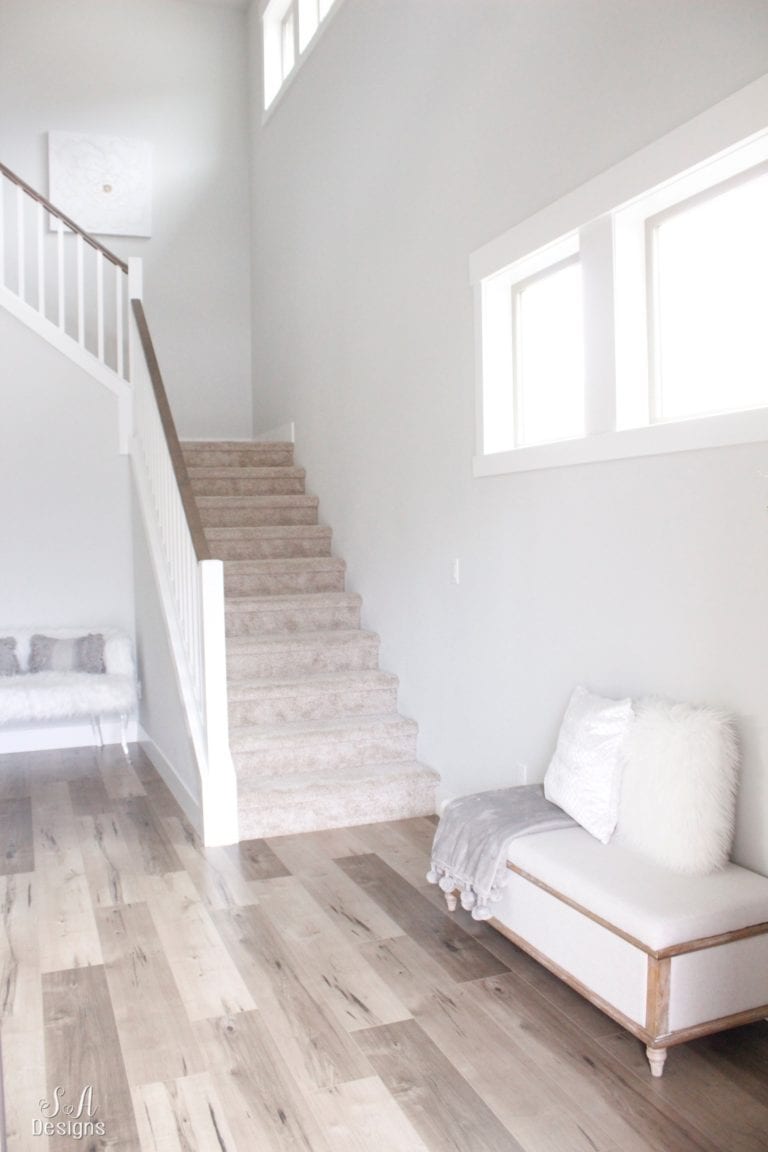 ***funny story***
Now, if you're wondering why I chose carpet instead of the matching laminate, here's a condensed version.  I chose my laminate flooring and immediately saw it and loved it.  I knew it was the flooring I wanted.  My husband asked for only one thing in this house.  While we have a ton of nieces and nephews (4 which were just born this last year and there are more to come since I'm the oldest of 6 kids and they're all still having babies) and we know they'll all be visiting, he asked if we could please do carpet on the stairs.  He could envision those crawling babies or even toddlers trying to get up the stairs OR the older cousins running up and down the stairs and having Nerf gun wars and someone slipping and falling.  Our kids may or may not have done that a time or two and it's been scary.  And that was on carpeted stairs.  He couldn't imagine laminate-wood stairs.  I agreed.
But then he agreed "it doesn't photograph as well" haha!  Sure, the carpet is not as aesthetically pleasing as the alternative would be.  We would just make sure the kids were extra careful.  So I called the flooring rep and guess what?  That flooring choice doesn't have the pieces that go on the stairs with that lip.  Oh my goodness. Really?  Ok well that was kind of a bummer but it was settled and meant to be.  So I just decided to upgrade my carpet and go a little lighter too, to compliment the flooring better.  I think it worked out for the best.  For now at least.
***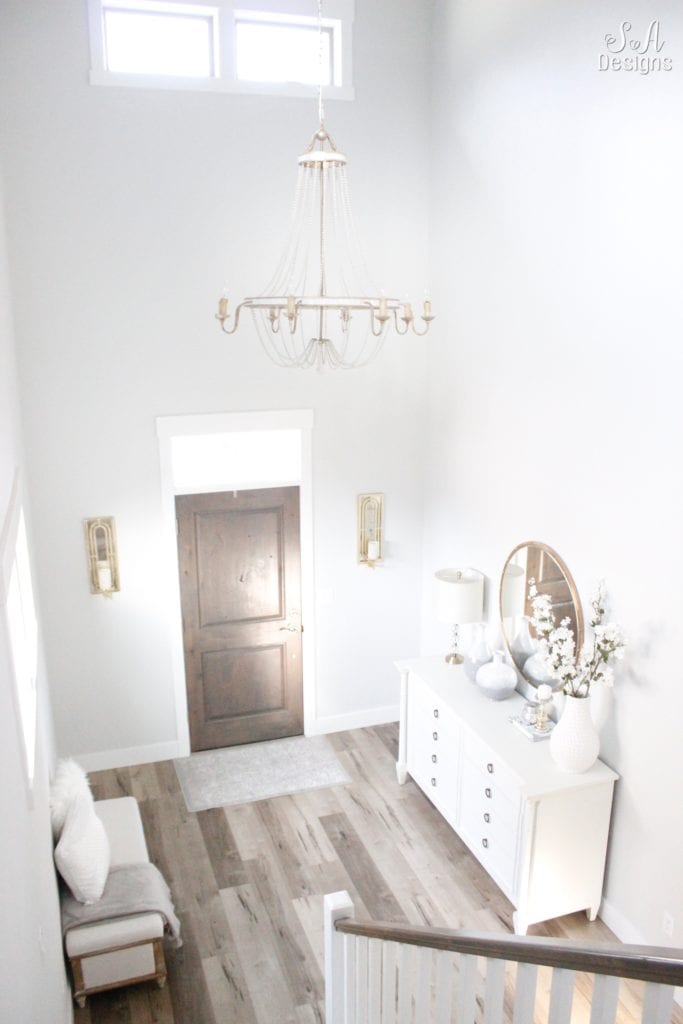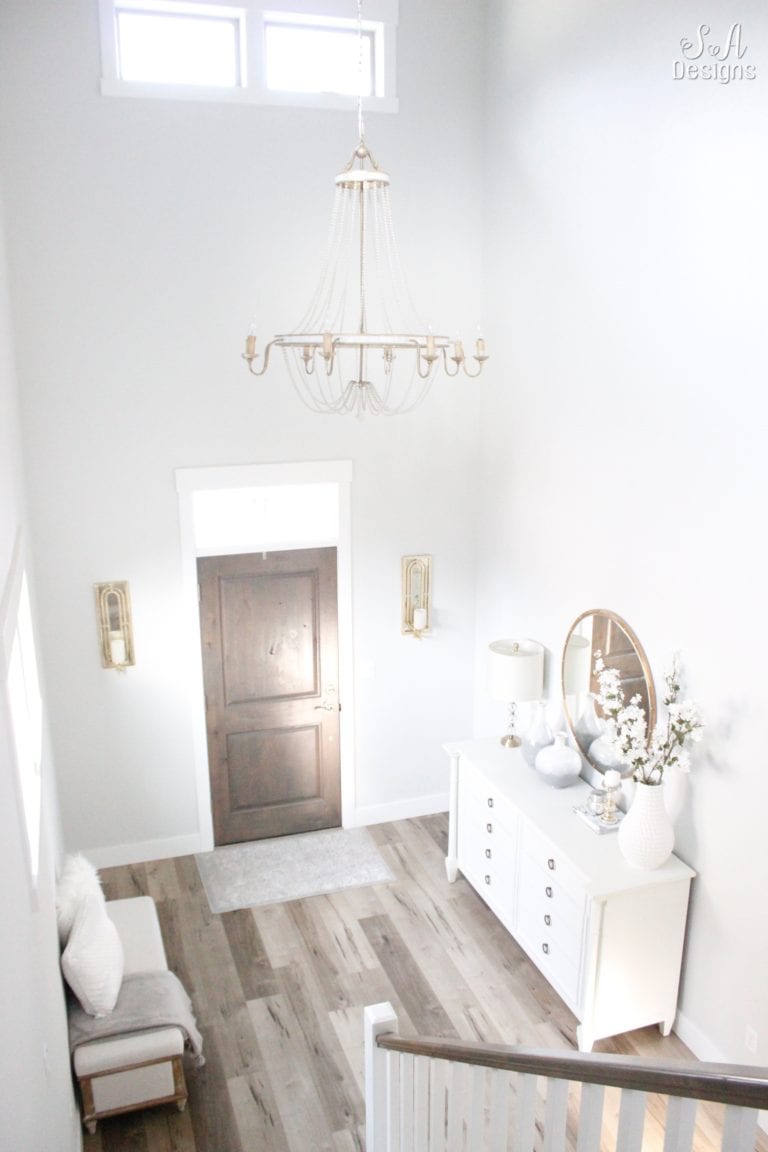 For my flooring info and paint colors, please click HERE.
Thanks so much for stopping by today to see our entry way.  As I add or change things in this space, I'll make sure to update the post as well.
For your convenience, I'm adding my affiliate shopping links below for you.




I would love it if you subscribed at the top of the page in order to receive my weekly emails of all my latest blog posts and hear about digital printables & freebies, as well as sales or new items in My Online Shoppe.  You can also follow me on Instagram, Pinterest, and Facebook to see what I'm up to in creating a home and lifestyle of inspiration!
xoxo,