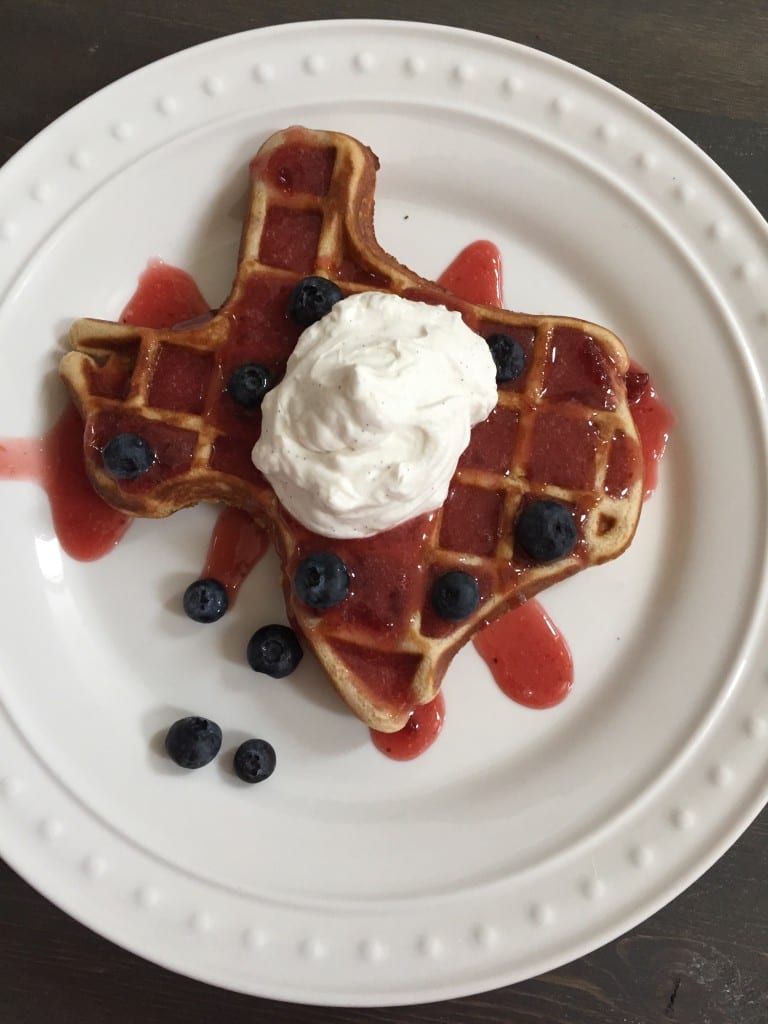 I don't know about you, but when I think about Sunday mornings, I think about waffles and pancakes, French Toast and Aebelskivers. I had really great recipes for all of those except for waffles. I wanted a TRUE Belgian waffle recipe. I found one and am happy to share it with you this morning.
Ingredients:
2 cups all-purpose flour
3/4 cup sugar
3-1/2 teaspoons baking powder
2 eggs, separated
1-1/2 cups milk
1 cup butter, melted
1 teaspoon vanilla extract (I use vanilla bean paste)
Sliced fresh berries or syrup
Directions:
In a bowl, combine flour, sugar and baking powder. In another bowl, lightly beat egg yolks. Add milk, butter and vanilla; mix well. Stir into dry ingredients just until combined. Beat egg whites until stiff peaks form; fold into batter.
Bake in a preheated waffle iron according to manufacturer's directions until golden brown. Serve with strawberries and/or syrup (I like to make a homemade strawberry syrup).
To make Vanilla Bean Whipped Cream:
Whip small carton of heavy whipping cream on highest speed until thick and making stiff peaks. Add 1 cup sugar and then vanilla bean or vanilla bean paste (I find it HERE) and whip into cream. Enjoy!
Yield: 10 waffles (or 12 Texas-shaped waffles)
Nutrition Facts: Ummm…I'm pretty sure they are fat-free, calorie-free, and contain every daily vitamin and mineral necessary for optimum heath! Ok, maybe none of that is true hahaha!? But they are soooo delicious!!? You should allow yourself a cheeky treat from time to time, and it's not like you can't find proper nutrition and vitamins elsewhere, is it? I know a lot of people who take Custom Vitamins in the form of supplements so then they can easily insert them into their diet without drastically altering the things that they eat every day. I've personally seen these supplements under various labels, but I know that they tend to use the same private label manufacturer meaning that any brand can get into the nutrition business if they wanted to. Anyway, I'm just glad that I've got an excuse to keep eating these pancakes now that I know I can get my vitamins elsewhere – I can eat guilt-free!
If you're looking for the Texas shape waffle maker or other great waffle makers, I have linked them below.
(affiliate links used but all opinions are my own)

Other recommended waffle makers:

Fun for the kids:

I'm so glad you stopped by today! I would love it if you subscribed at the top of the page in order to receive my weekly emails of all my latest posts. You can also follow me on Instagram, Pinterest, and Facebook to see what I'm up to in creating a home and lifestyle of inspiration! See you soon!
xoxo,