We've been in our new home here in Vancouver, WA for almost a year now and I'm just now getting Brooklyn's tween girl's bedroom finished and posted. In blush, gold, and grey and with subtle bows in the design, this room is chic and modern enough but glam and vintage to give Brooklyn exactly the feel she wanted.
This post contains affiliate links for your shopping convenience. Click here to read my
full disclosure policy and here for my privacy & cookies policy. All opinions are my own.
Back in Dallas, we gave Brooklyn her first tween bedroom makeover as she was growing from a young girl to a "tween-ager". She wanted it to feel older but still have the little girl elements.
Before…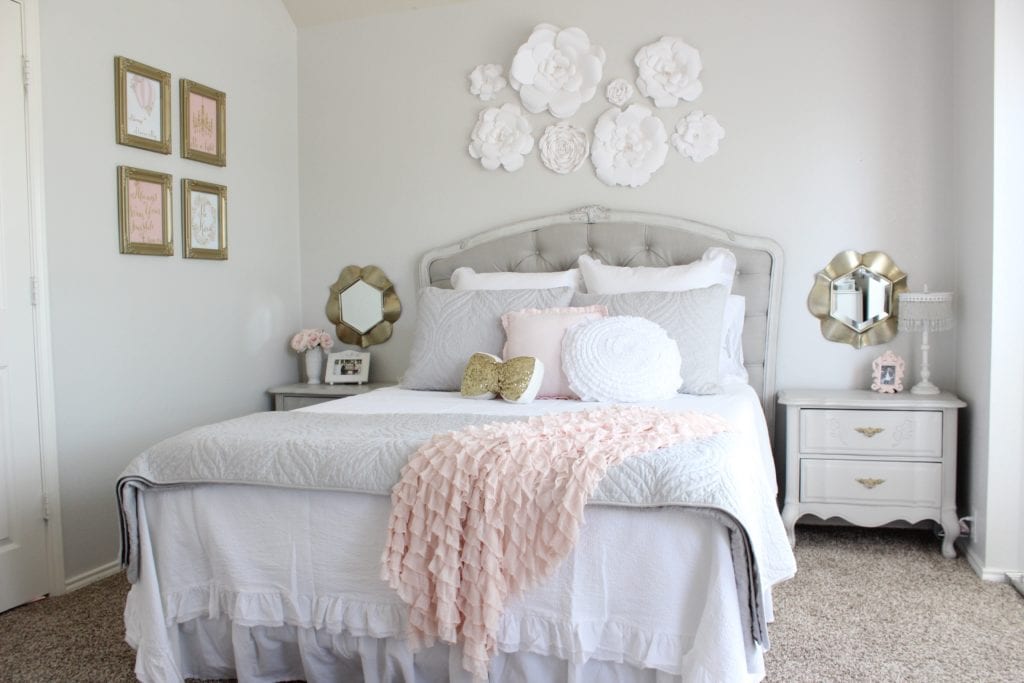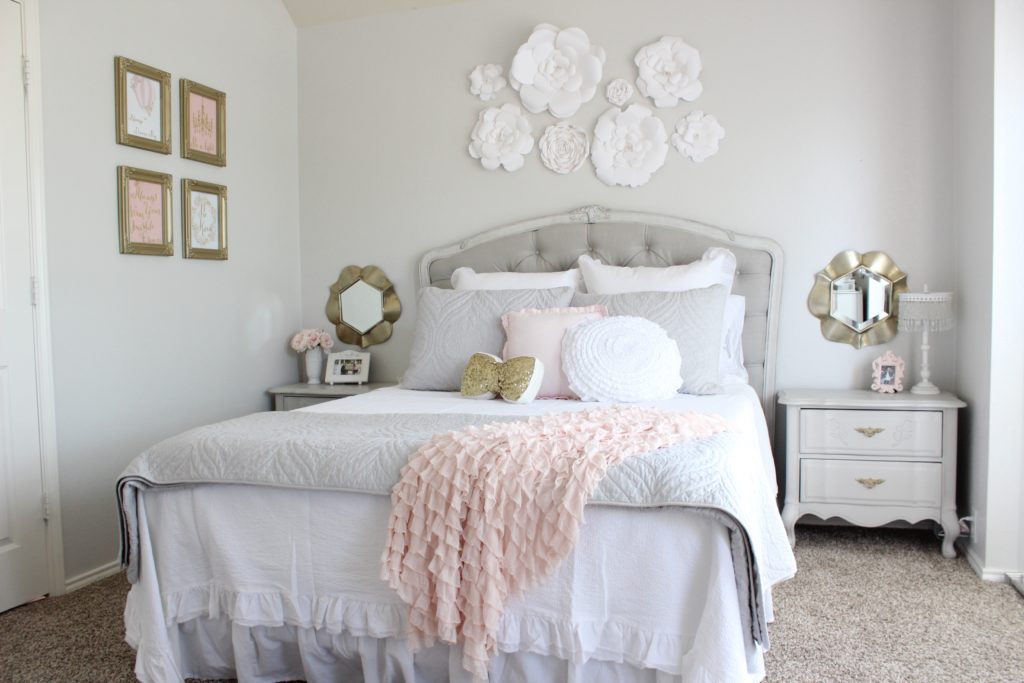 Now, she wants to leave some of those little girl touches and grow more towards a teenage girl room, switching out a few things here and there.
Tween Girl's Bedroom in Blush Gold & Grey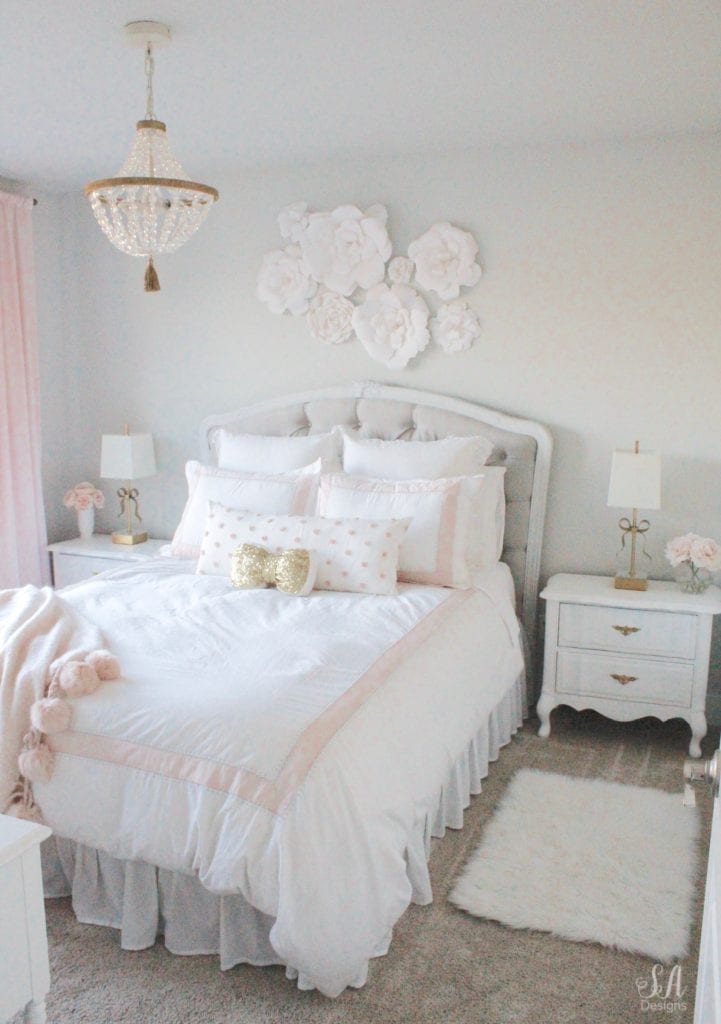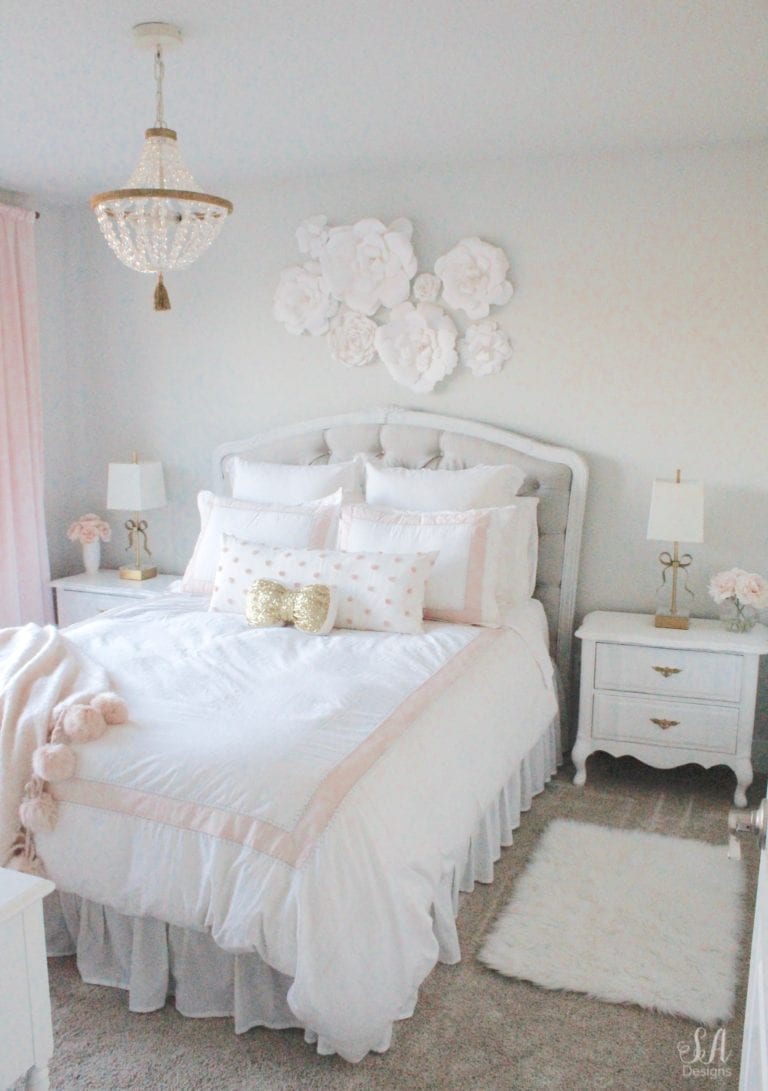 Brooklyn actually chose the smallest bedroom in the house but she loved the location of it, facing the front. It's a lovely way to wake up! Her large walk-in closet holds her dresser (shown in her last bedroom) and all of her clothes, shoes, and other things.
We got rid of the brass flower wall mirrors and single lamp and replaced them with this gorgeous pair of gold and ivory bow lamps from Perigold. I always find the prettiest things from Perigold's online store! (Wait 'till you see what else I ordered from them as is on its way!) I fell in love with these lamps and really wanted them for my blush and gold office but knew they were a better fit in here. Brooklyn was thrilled.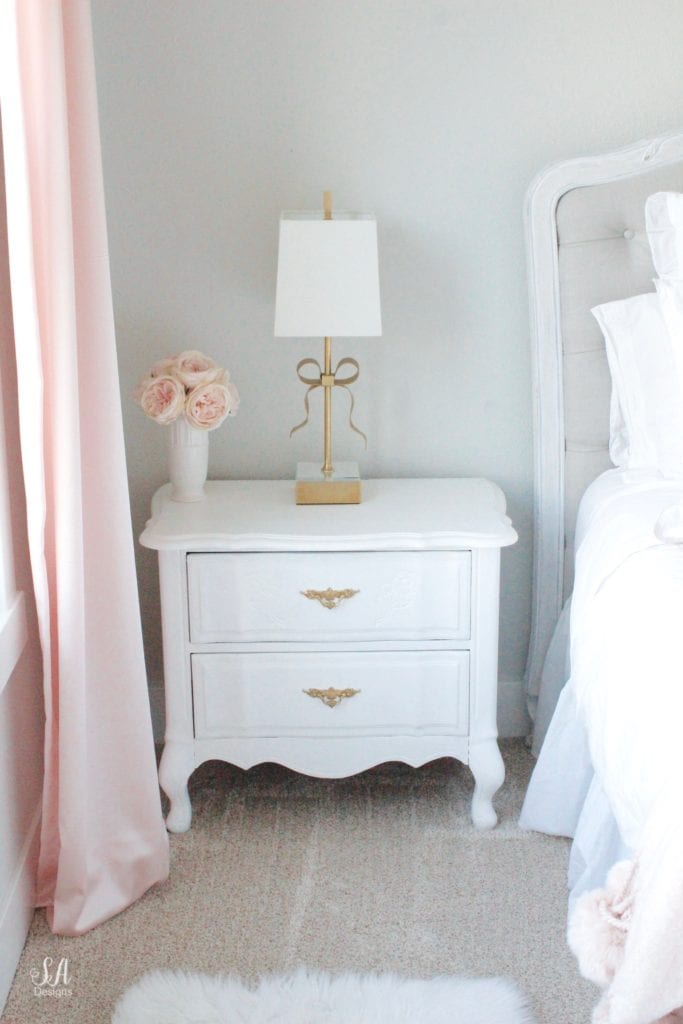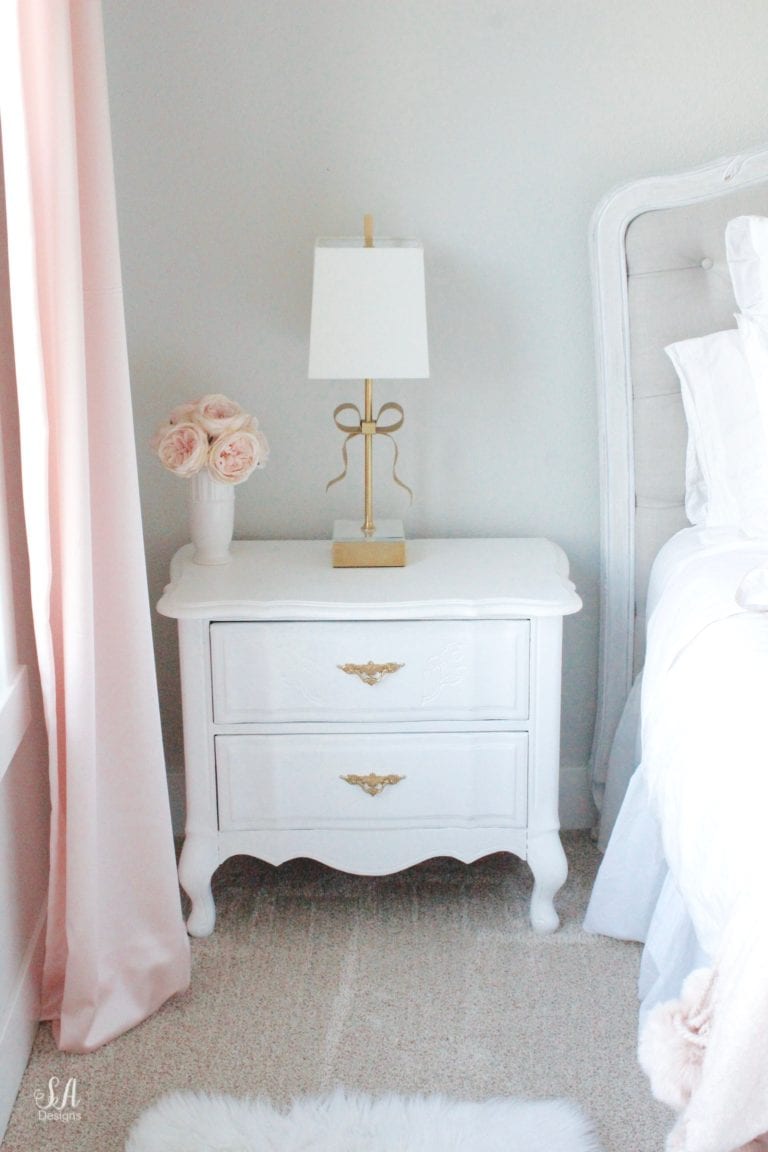 We also painted her nightstands white to avoid too much grey, as her headboard was grey and so are the walls. (For wall paint color, click HERE.)
This is the Colette Bed from Restoration Hardware Baby & Child.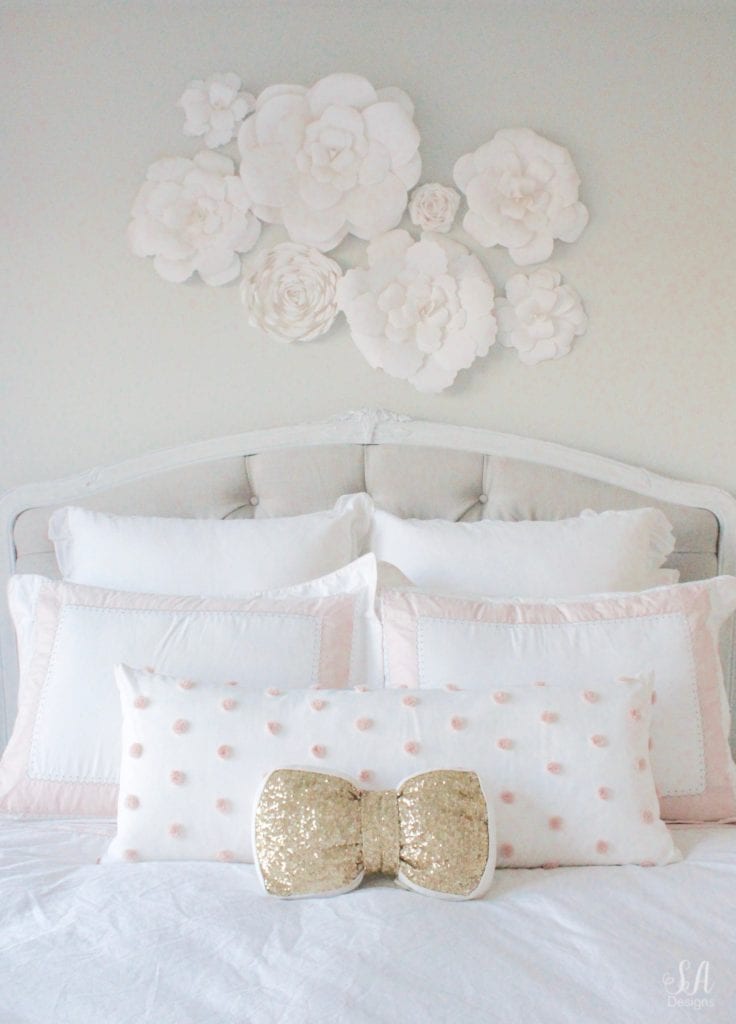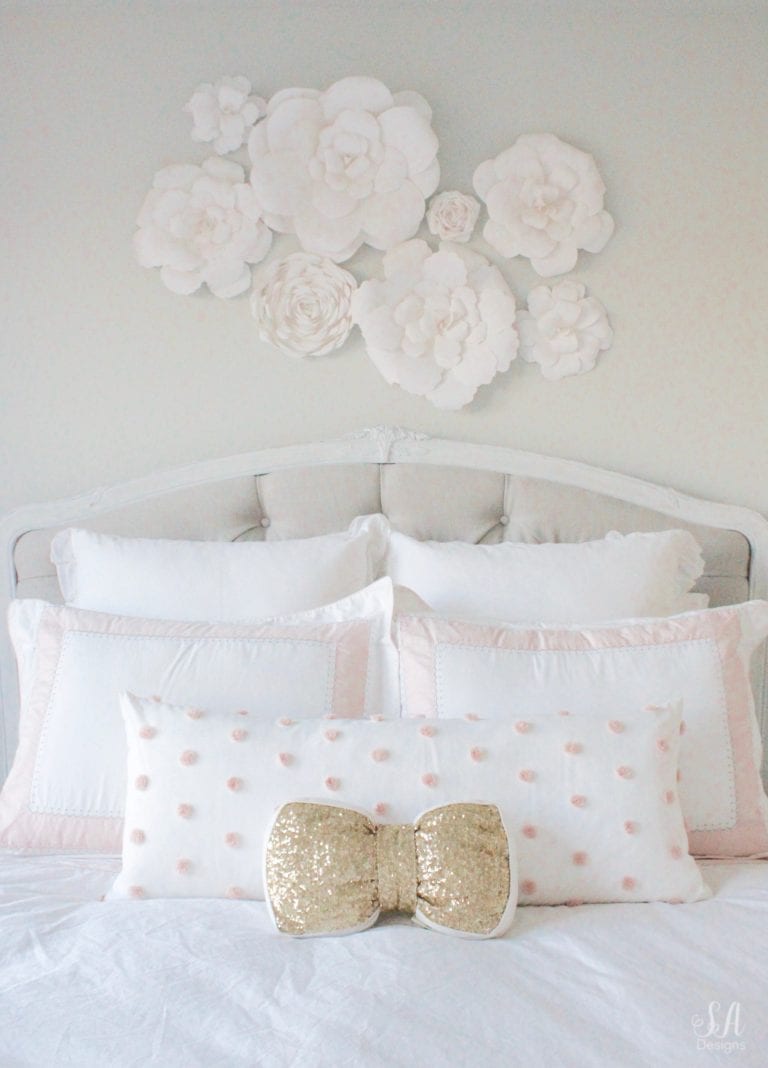 We kept these gorgeous paper wall flowers that were made for Brooklyn's bedroom back in Dallas. Everyone loves them as much as we do.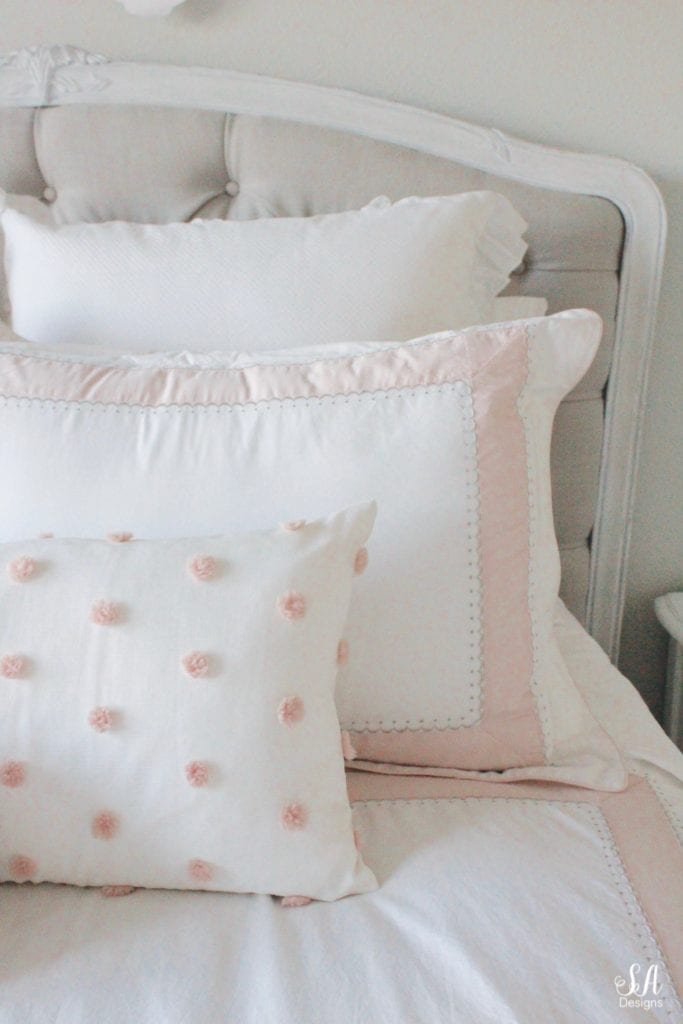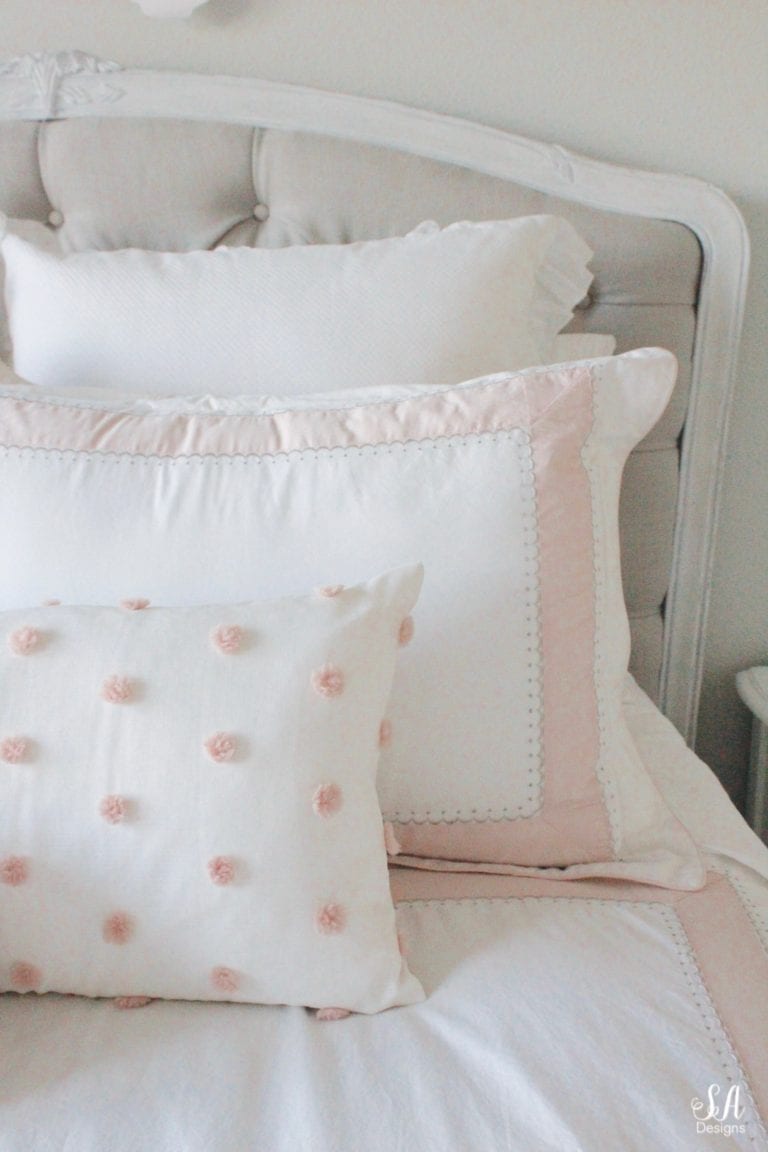 Before the movers came to pack up our home in Dallas, I found this gorgeous new bedding for Brooklyn's bed and threw it in one of the boxes, knowing it would be 6 months before getting to put it on her new bed.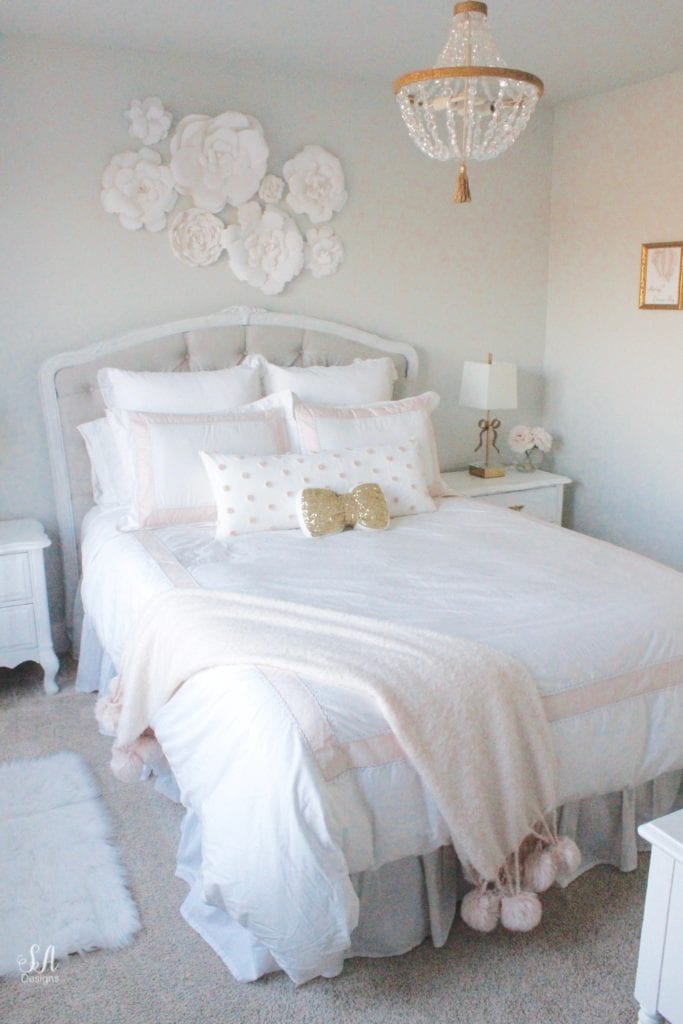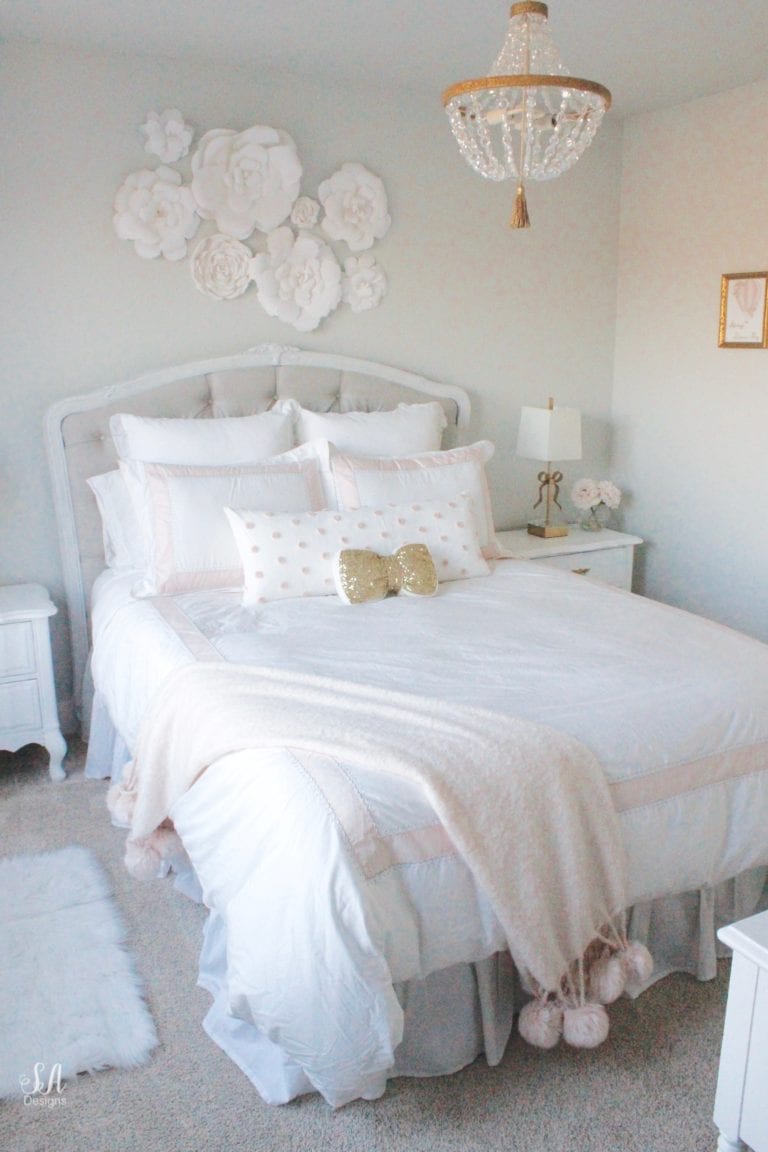 The lumbar pillow with blush dots was found at HomeGoods and we decided we liked the bed best with that gold sequin gold bow pillow that she's had.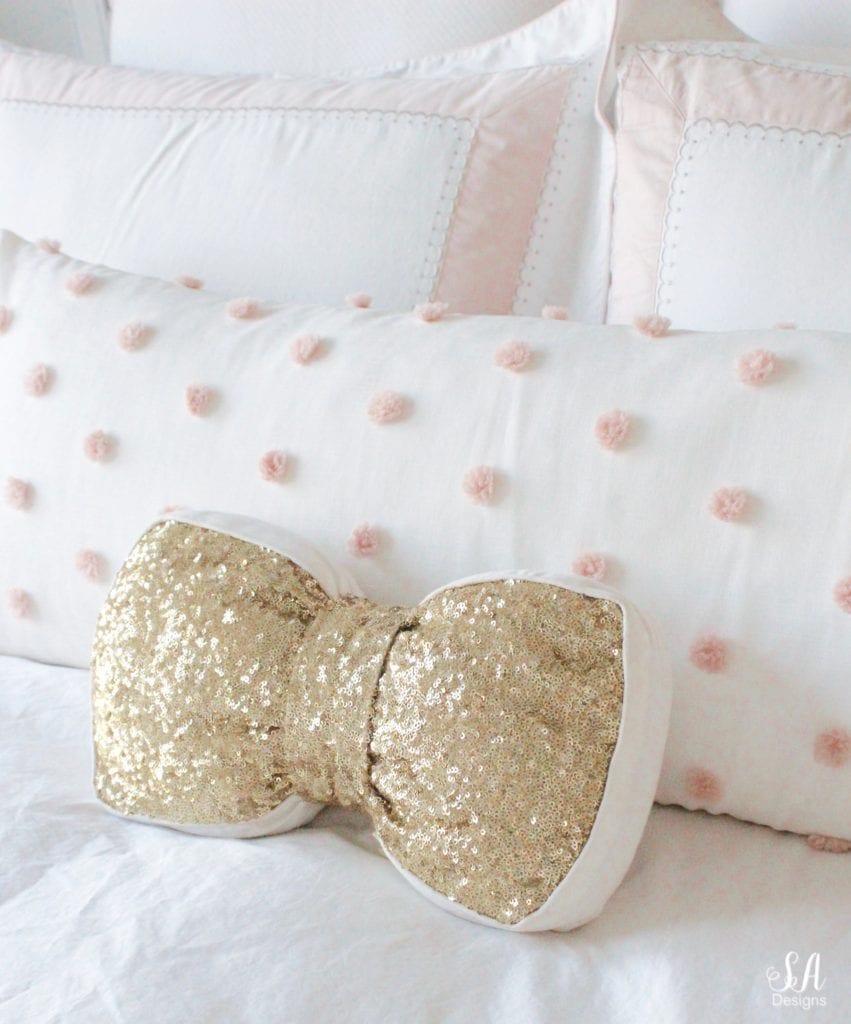 It's that perfect touch that says, "not a girl's bedroom but not a teen's bedroom". So cute.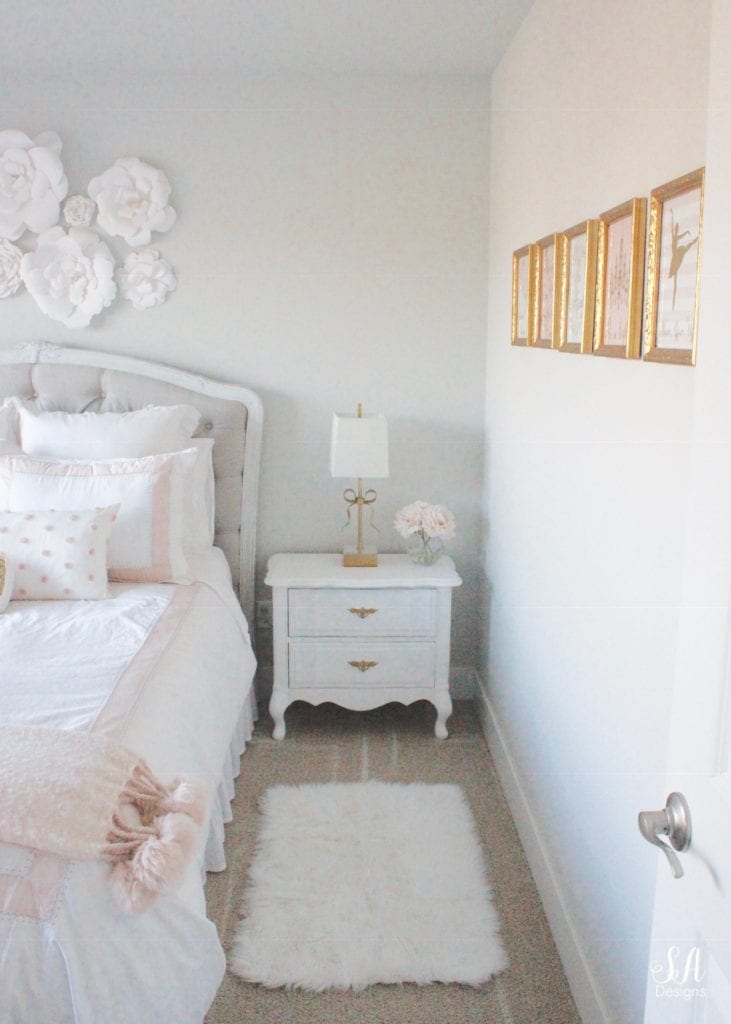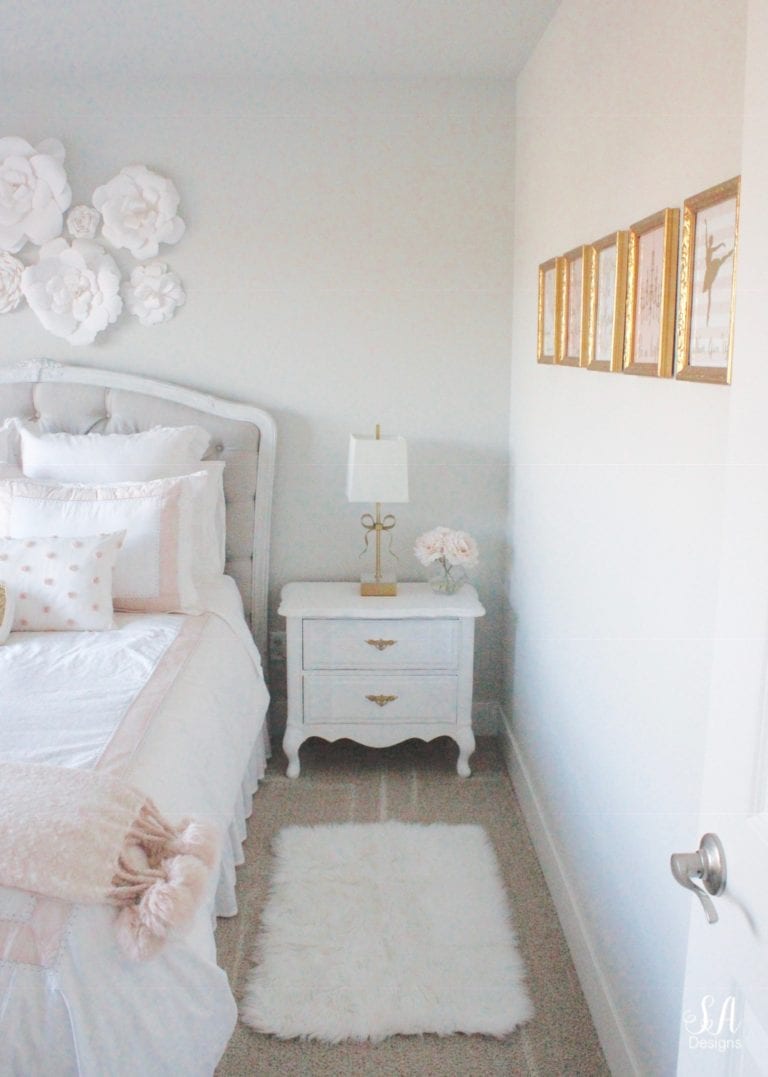 We tried one blush rug under her bead and didn't love the look so we wen't with white faux fur rugs on either side of the bed and it was perfect.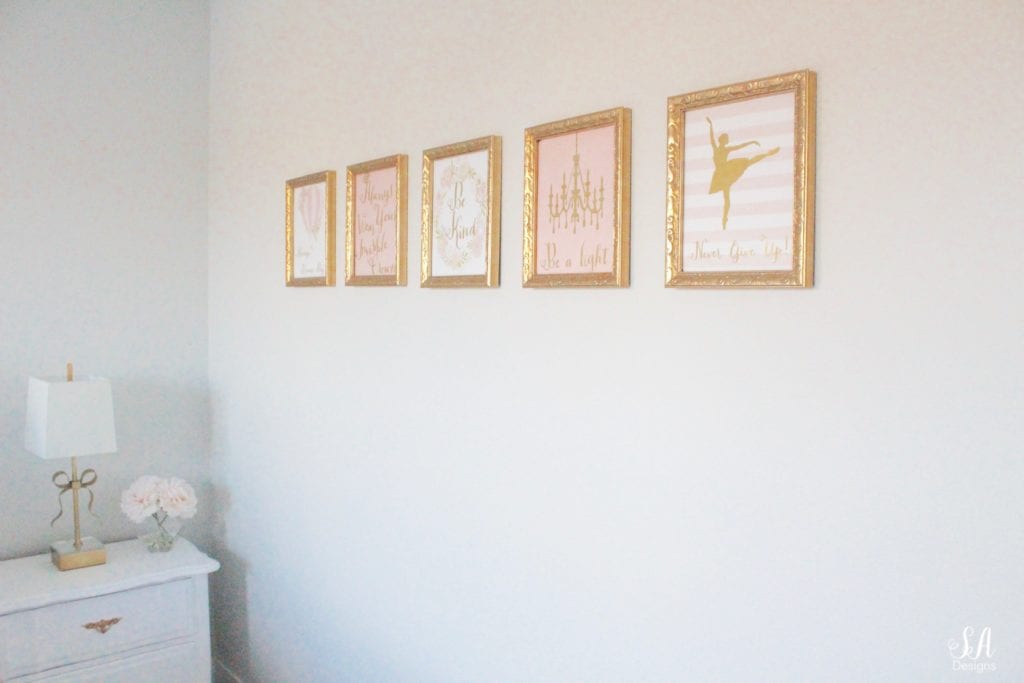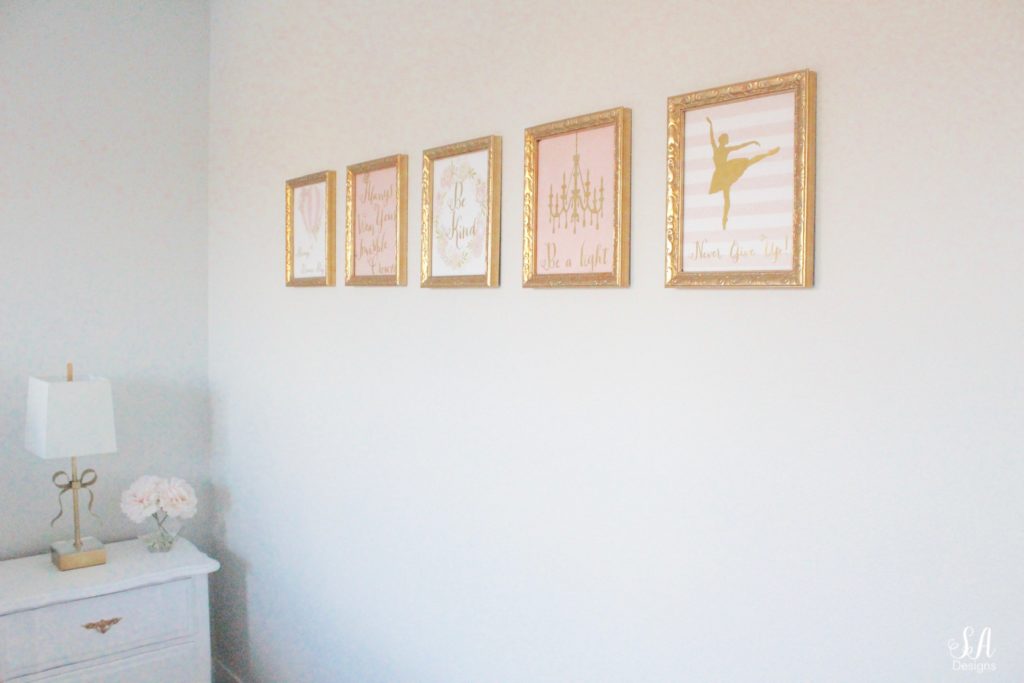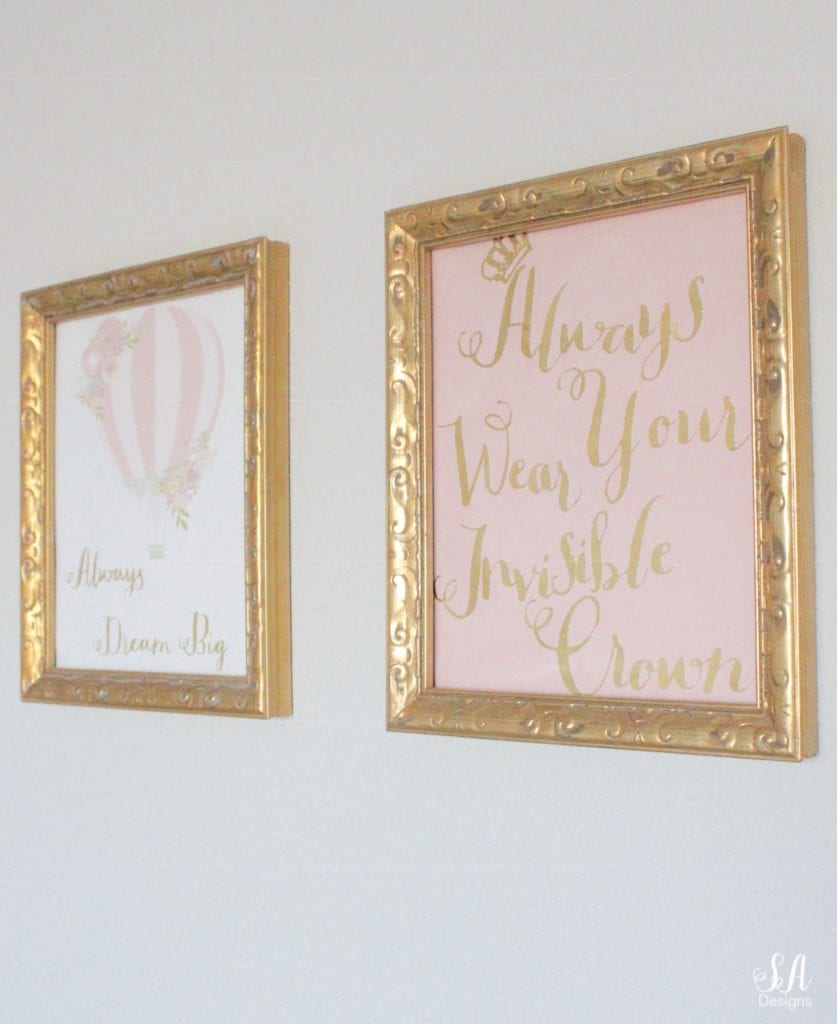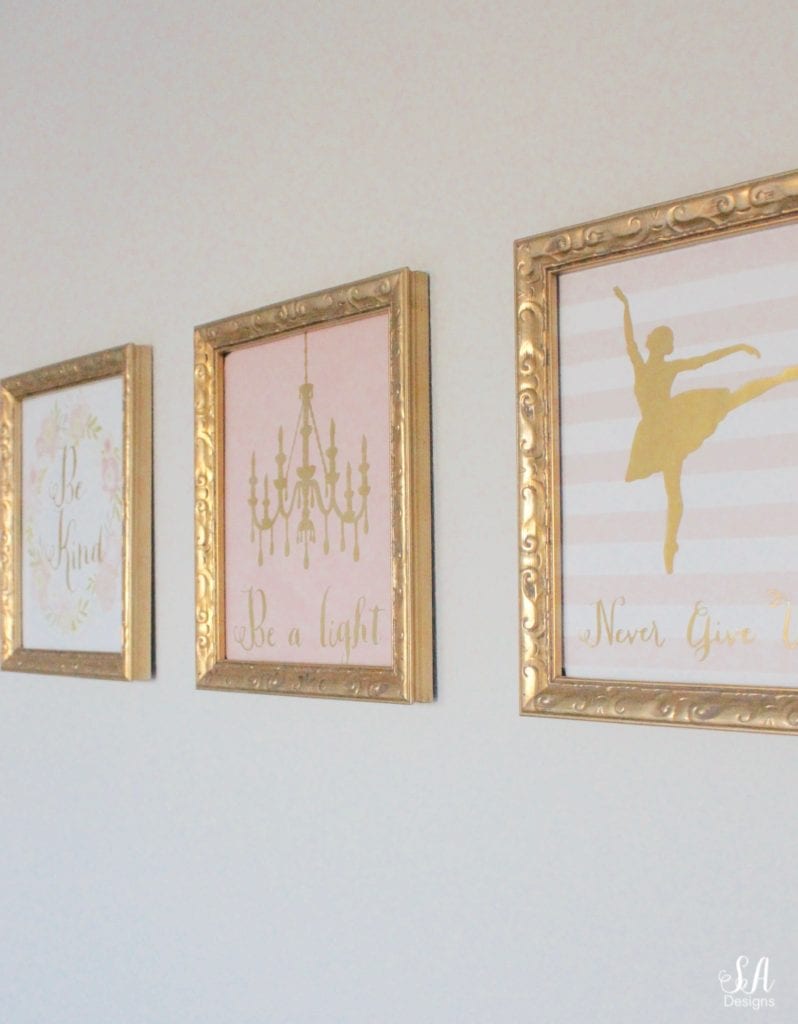 I made this 5-set of motivational wall art, framed in gold, for her last tween bedroom in Dallas (on Photoshop and with my Silhouette machine). She still loves them and wants to keep them a little longer so I was thrilled. If it wasn't for that then I think I would have looked at an acrylic prints buy guide here to get her some bigger art for her walls. They look so tiny on these big walls it would have been good to get something to fill out the space a little more.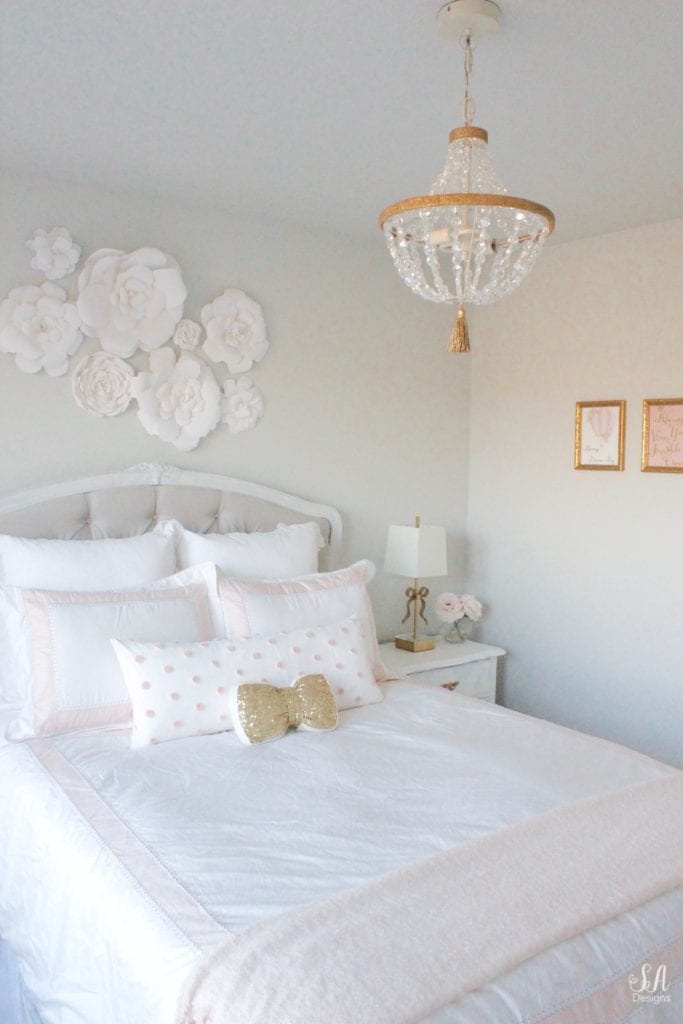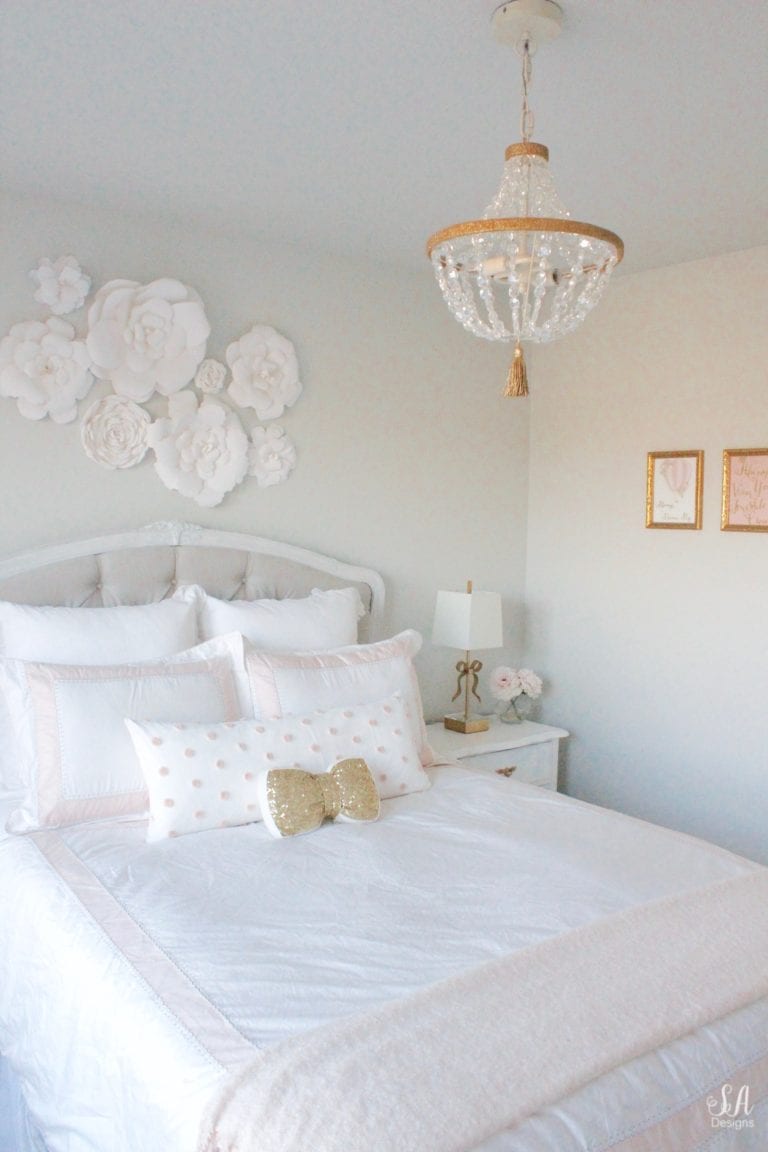 I had this chandelier in my office back in Dallas and Brooklyn wanted it for her room. It was a PBKids chandelier that I restrung myself with sparkly glass beads and then added gold glitter paint to the jute tassel and wrapping on the chandelier.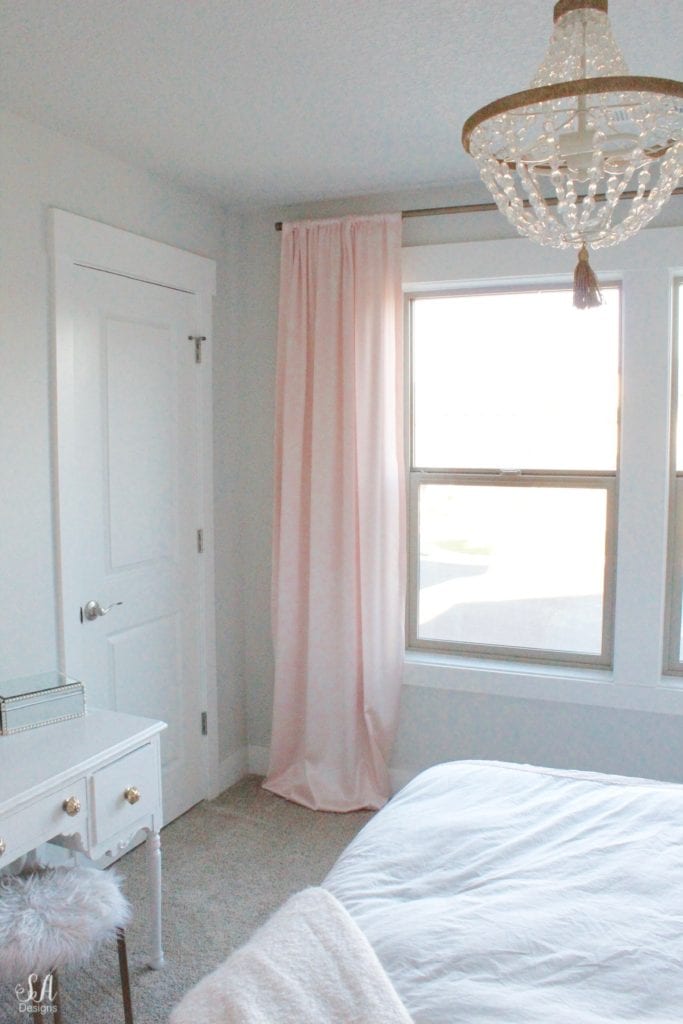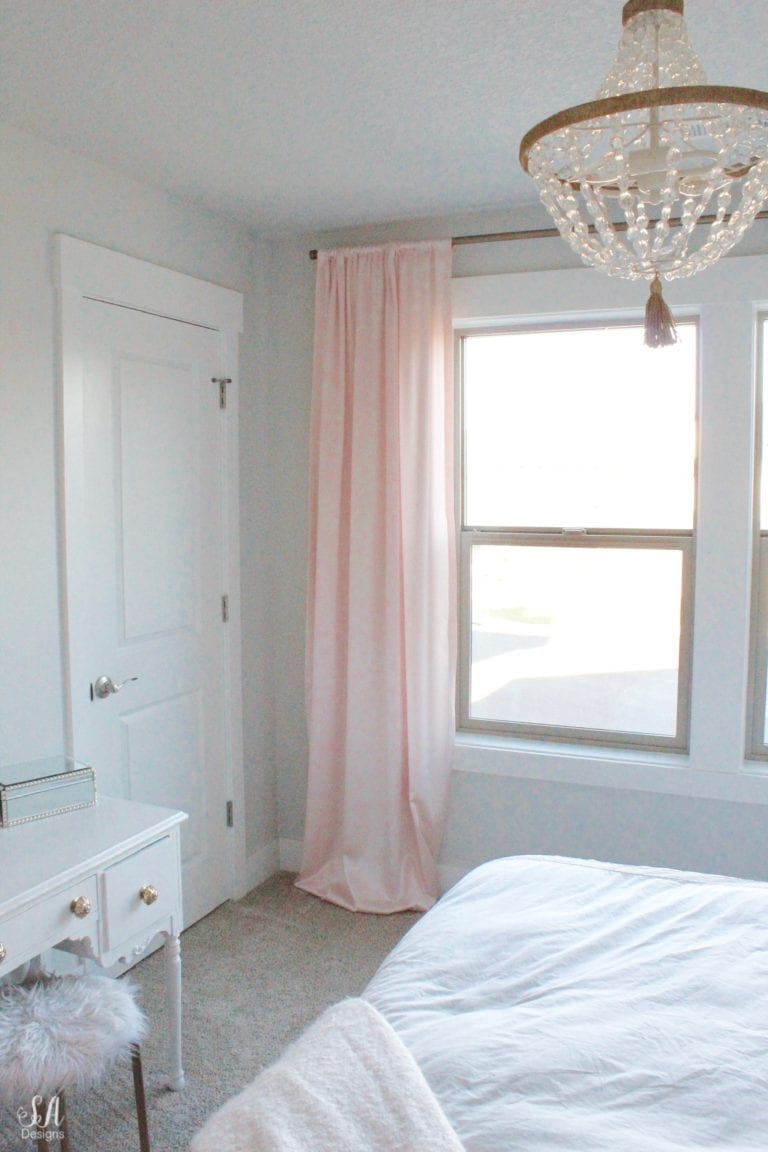 Of all the blush pink drapes we've tried, we finally went with this option because we liked it best.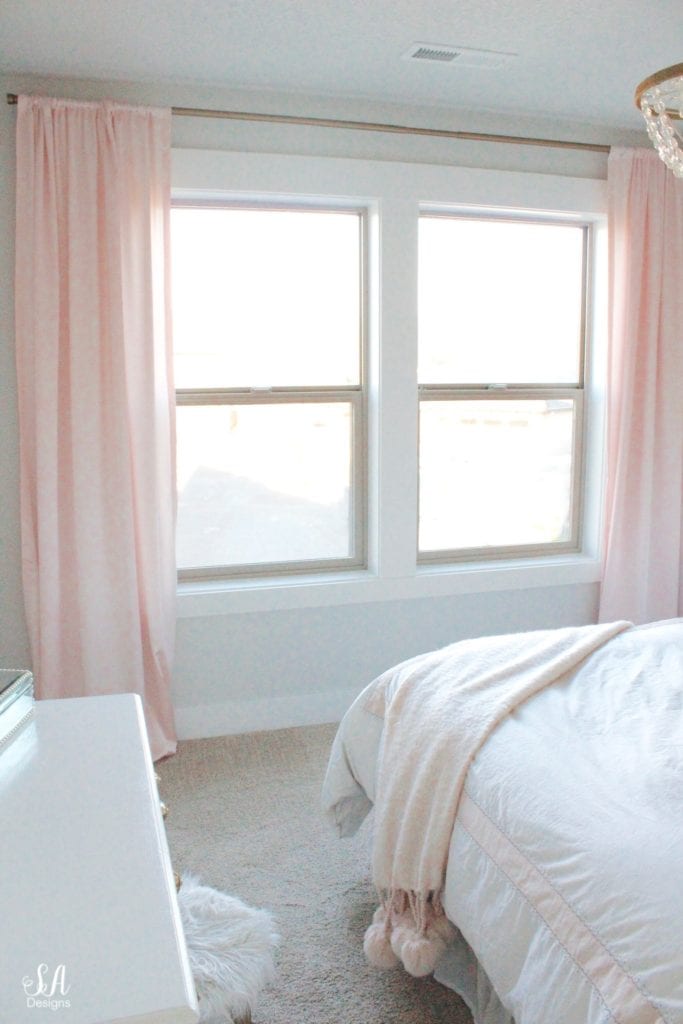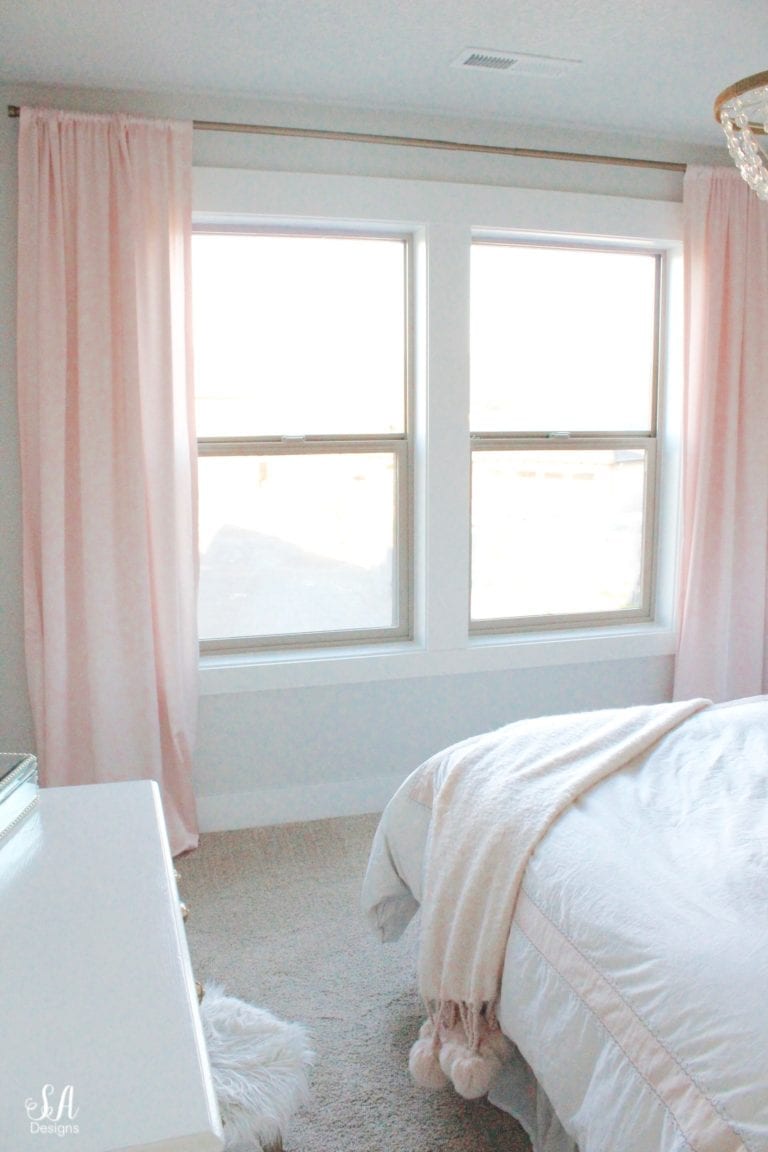 I found this gorgeous sateen fabric at JoAnn's Fabrics in "Rosewater" and sewed the edges, made a pocket for the curtain rod, and then kept it long enough to puddle on the floor. I love that look.
Girls White Vanity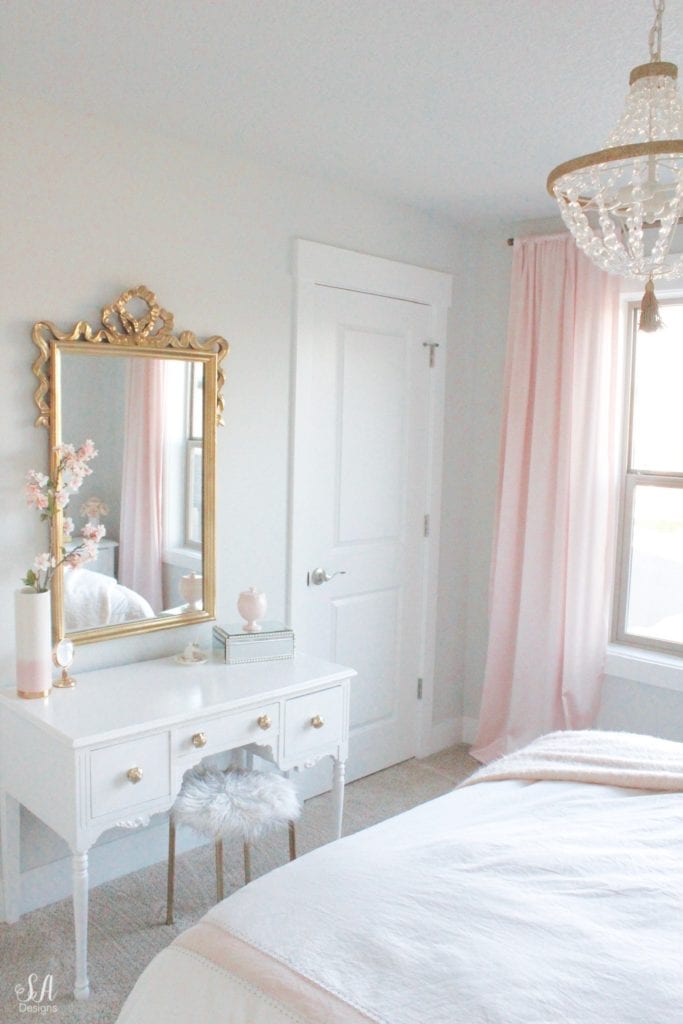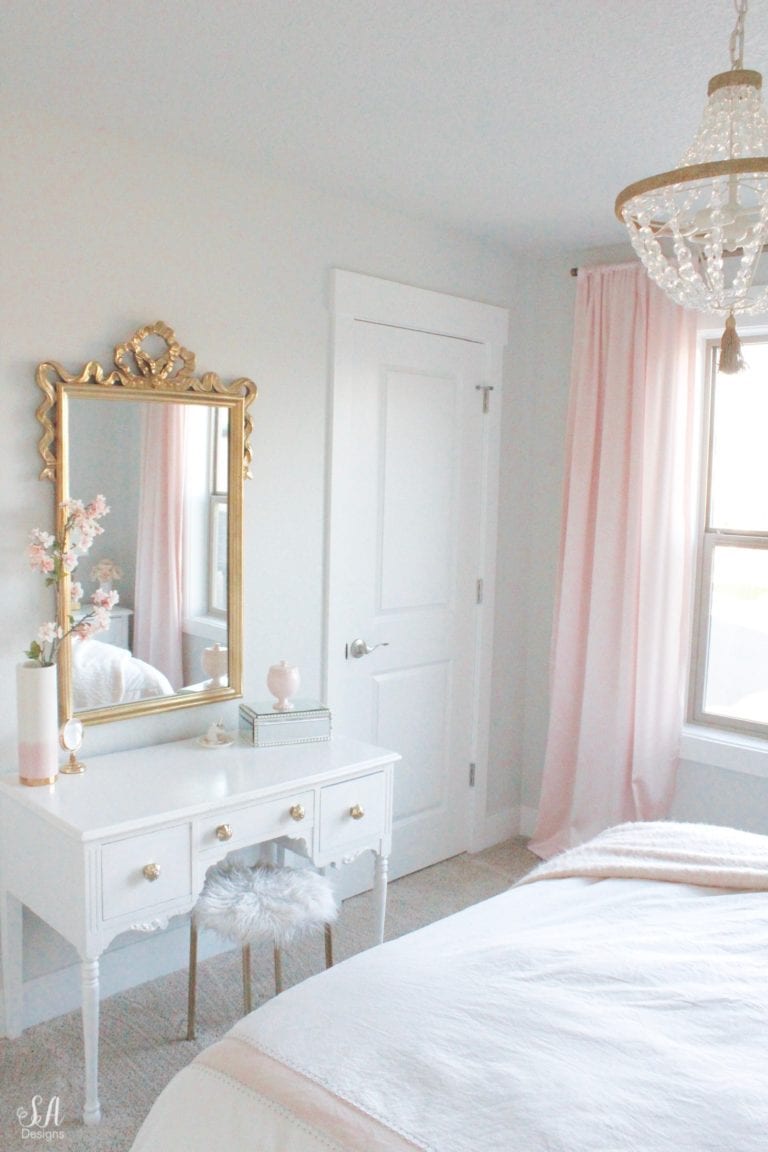 Since she wanted her vanity out in her small bedroom, we put her dresser in the walk-in closet since it fit just fine. Funny thing…we actually wanted to get Brooklyn a new vanity for this bedroom BUT we couldn't find the right one in our budget or made of real wood. So I fixed the drawers, gave it a new coat of paint and it's lovely for now. The vintage mirror was a fabulous find back in Dallas and was actually in my last office. I love the detail of another gold bow in the room. We added some gold spray paint to the edges (my favorite spray paint is in this tutorial here) to brighten the dull gold and make it more modern. We did the same to this simple stool we found and then added padding and faux fur. I love the mix of modern and vintage pieces!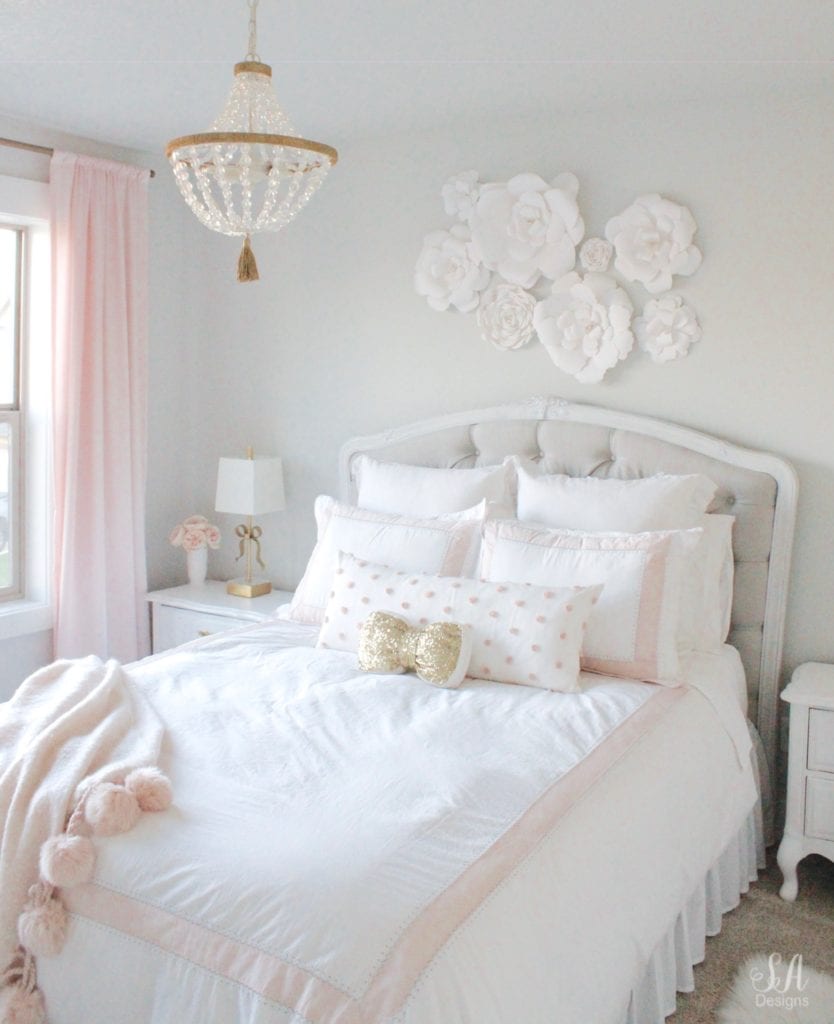 I'll link everything from her bedroom below OR similar items!



Thanks so much for stopping by today! I would love it if you could subscribe at the top of the page in order to receive my weekly emails of all my latest blog posts and see everything I'm working on! You can also follow me on Instagram, Pinterest, and Facebook to see what I'm up to in creating a home and lifestyle of inspiration!
xoxo,