I still can't believe how quickly September came and went!  At least October is here and we get to decorate for Halloween!  Last year, we were finishing building our home here and didn't move in until Halloween day so we're enjoying getting to decorate and celebrate this season.  Today I'm sharing my glam Halloween entry with pops of pink that I just finished, along with a group of friends who are sharing their fabulous Halloween decor also.
This post contains affiliate links for your shopping convenience. Click here to read my
full disclosure policy and here for my privacy & cookies policy.  All opinions are my own.

Giorgio wants to welcome you all and thank you for coming today!  He is probably thrilled not to be the only thing that's black in my pictures against my white interior now that Bethesda and Halloween decor are present.  Ha!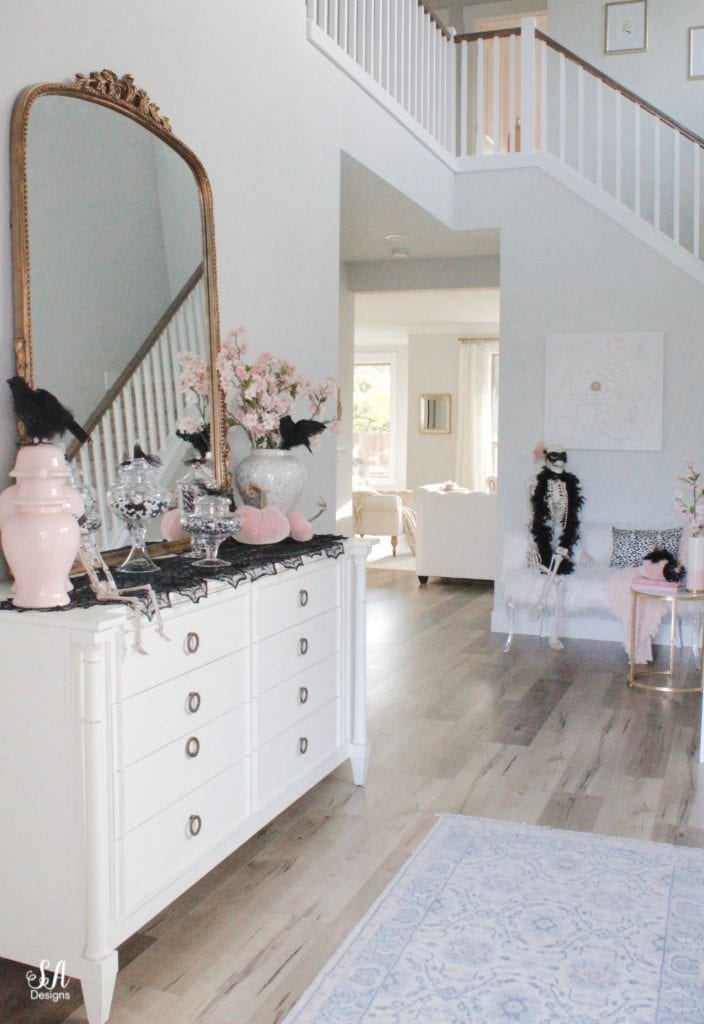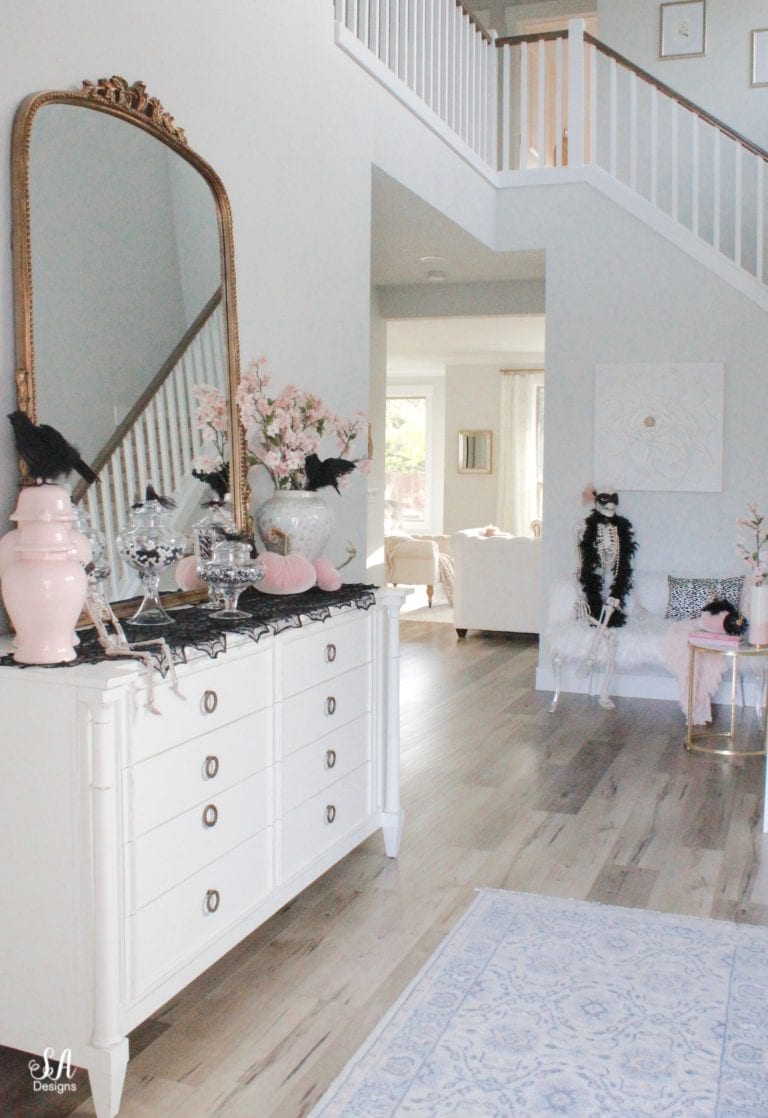 I just received this new tall gorgeous mirror for my entry and it's the perfect size for an entry that's 2 stories.  It's totally transformed this space.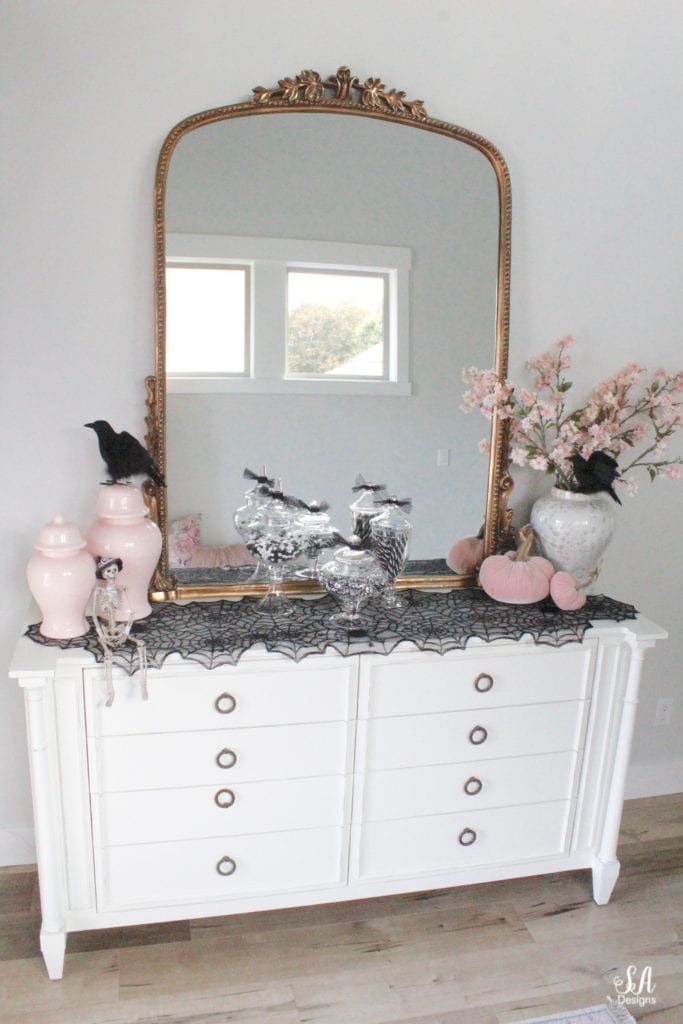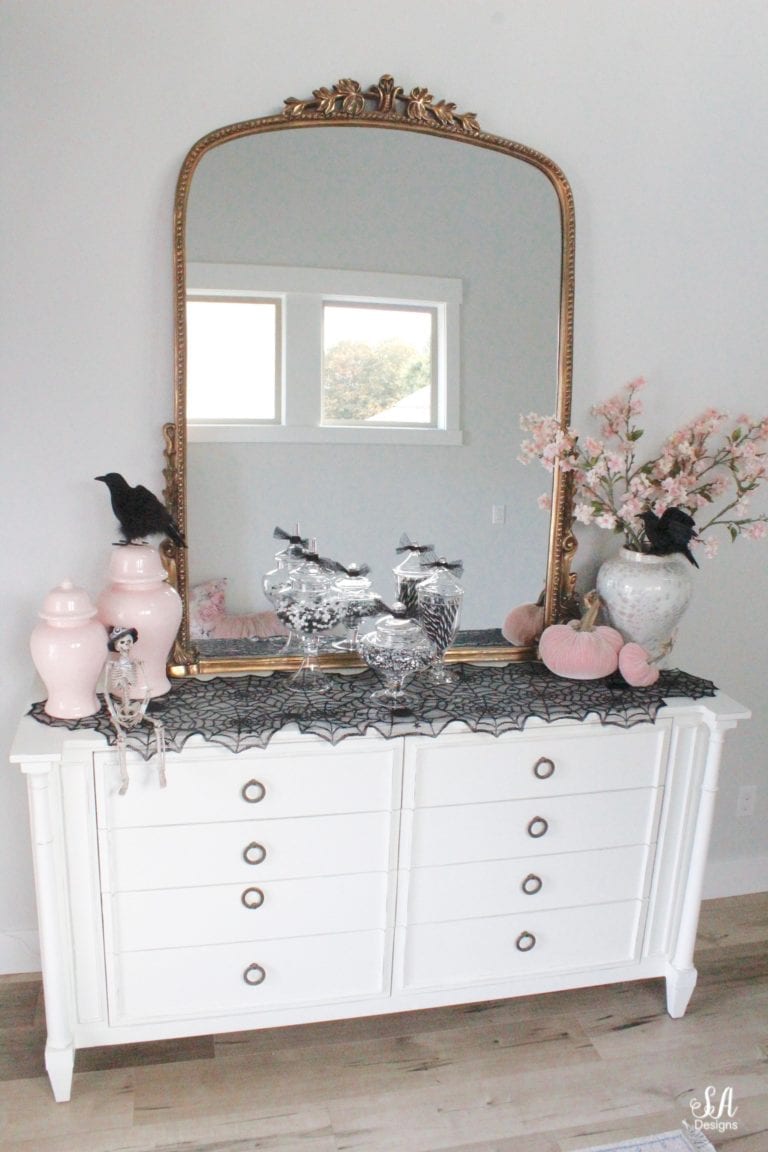 I had to sneak some pink in this Halloween.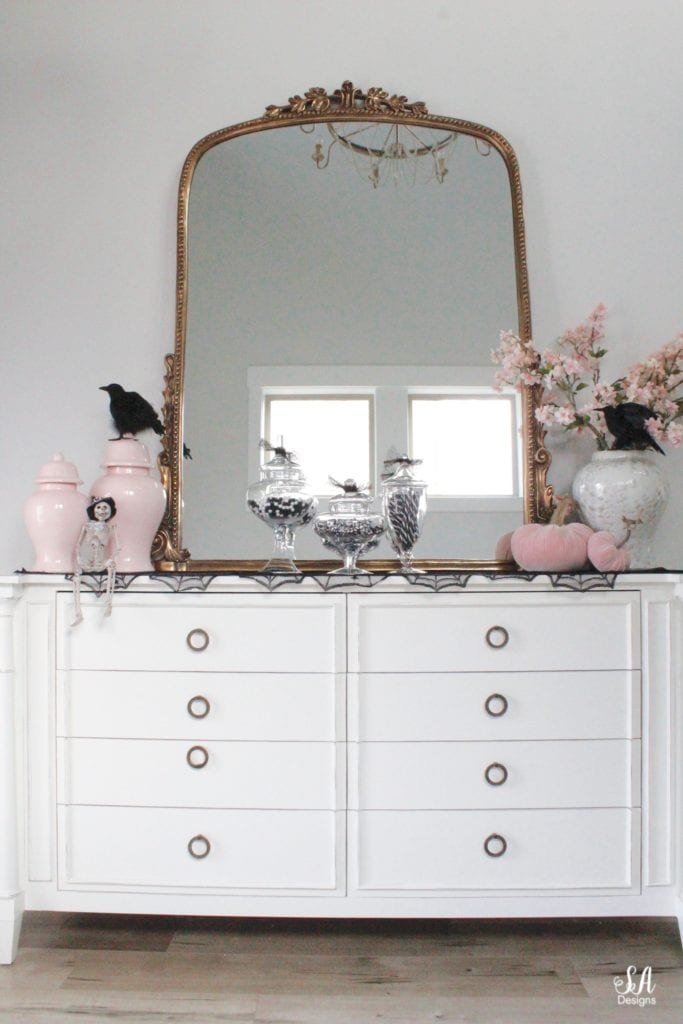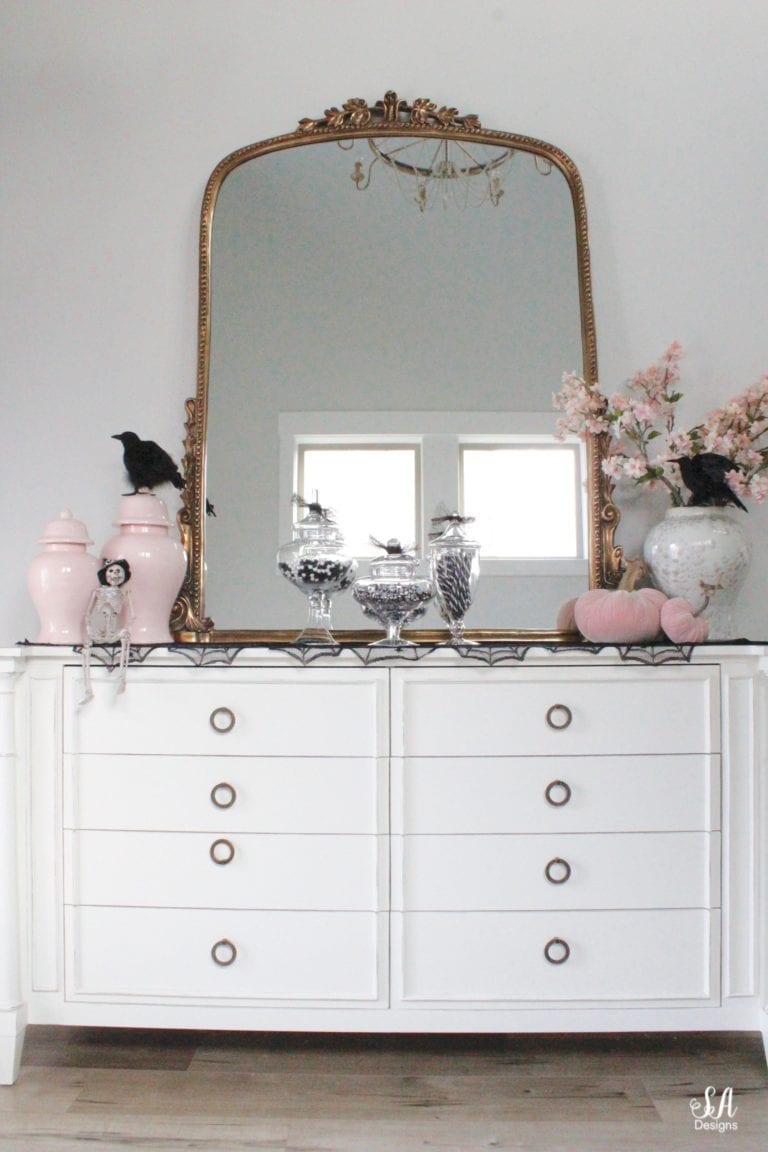 I started with a black spider web table runner.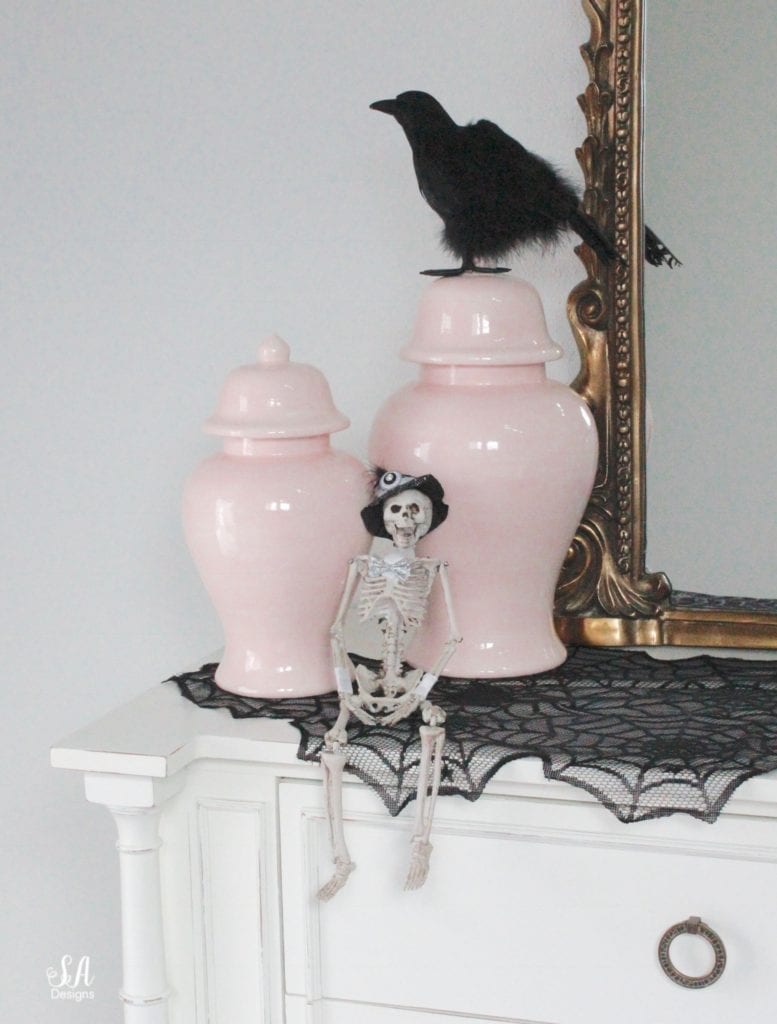 I received the most gorgeous set of pink ginger jars from Lo Home, the online store of my friend Lauren Haskell Designs.  I've Googled "pink ginger jars" many times and they just don't exist anywhere but she has them!  And they come in other colors too.  Aren't they stunning?  They come in sets of 3.  The other is in my kitchen for now.  I found this cute Skeleton guy years ago in a boutique.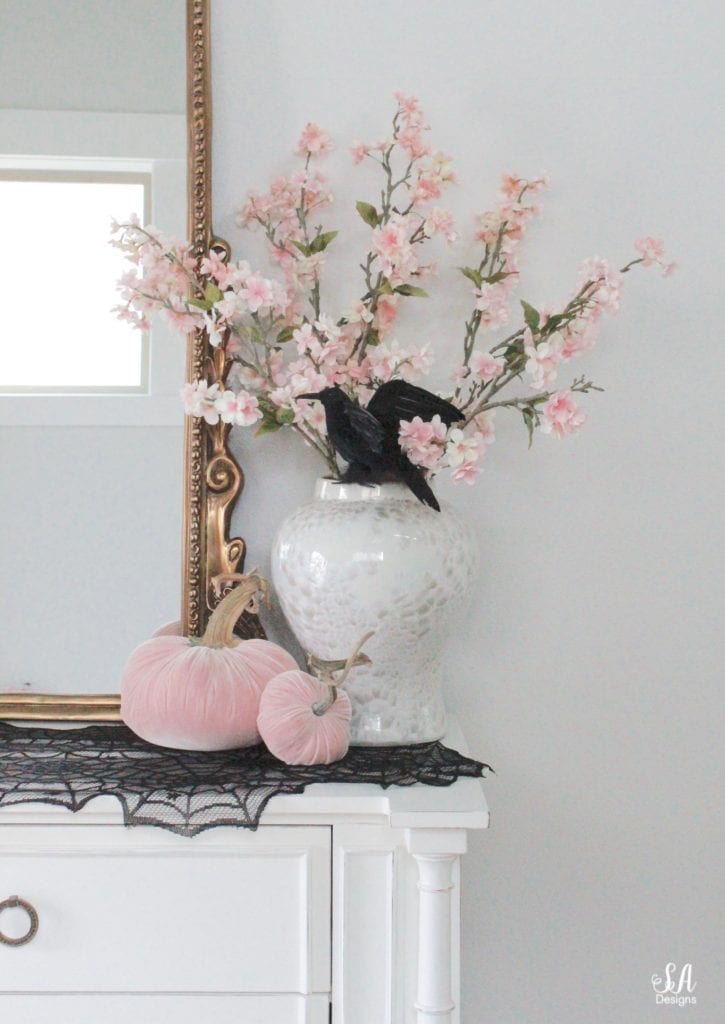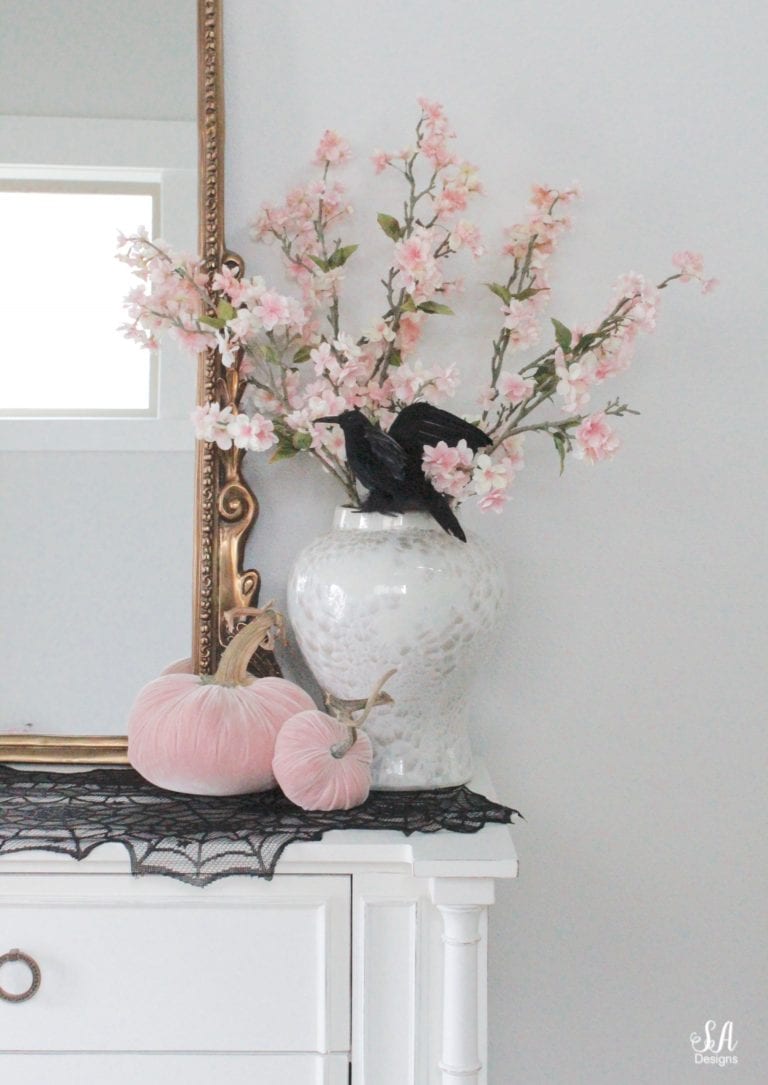 My favorite white ginger jar and cherry blossom stems stayed for fall.  While they might look more spring and summer, the black ravens and gorgeous blush pink velvet pumpkins make them perfect for halloween.  What do you think?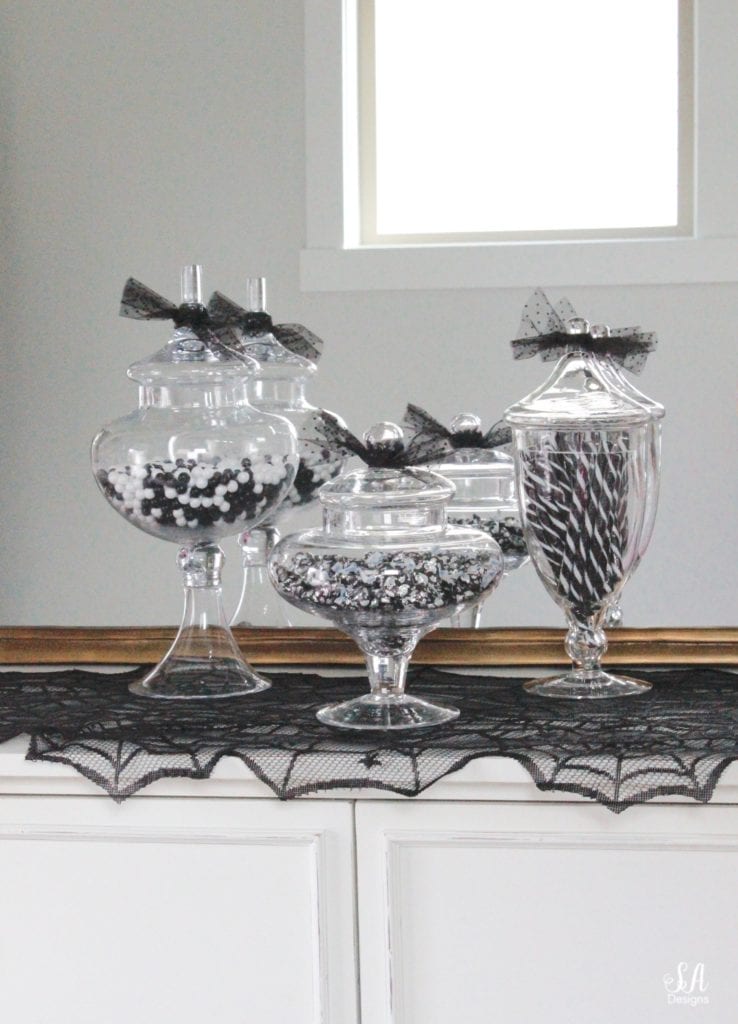 I always have a candy bar at Halloween and keep it black and white but this year I did only 3 apothecary jars, on a smaller scale, instead of 5 or 7.  We have a lot more neighborhood kids coming in and out of our house than ever before and it would be more candy to have to keep replenishing ha! (Candy from Winco and Party City)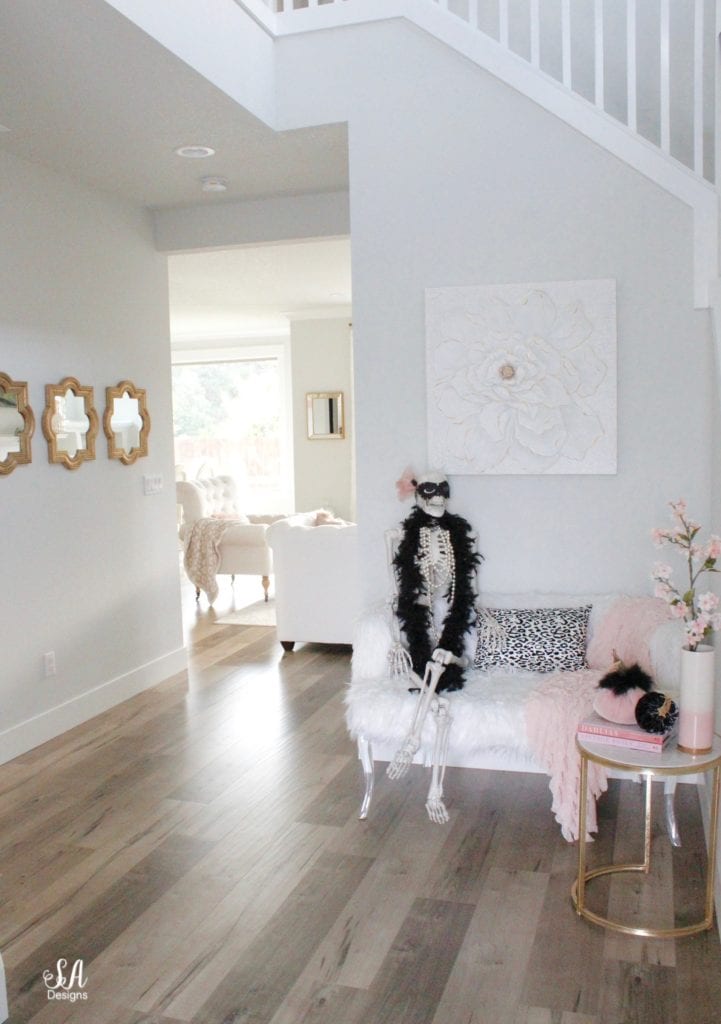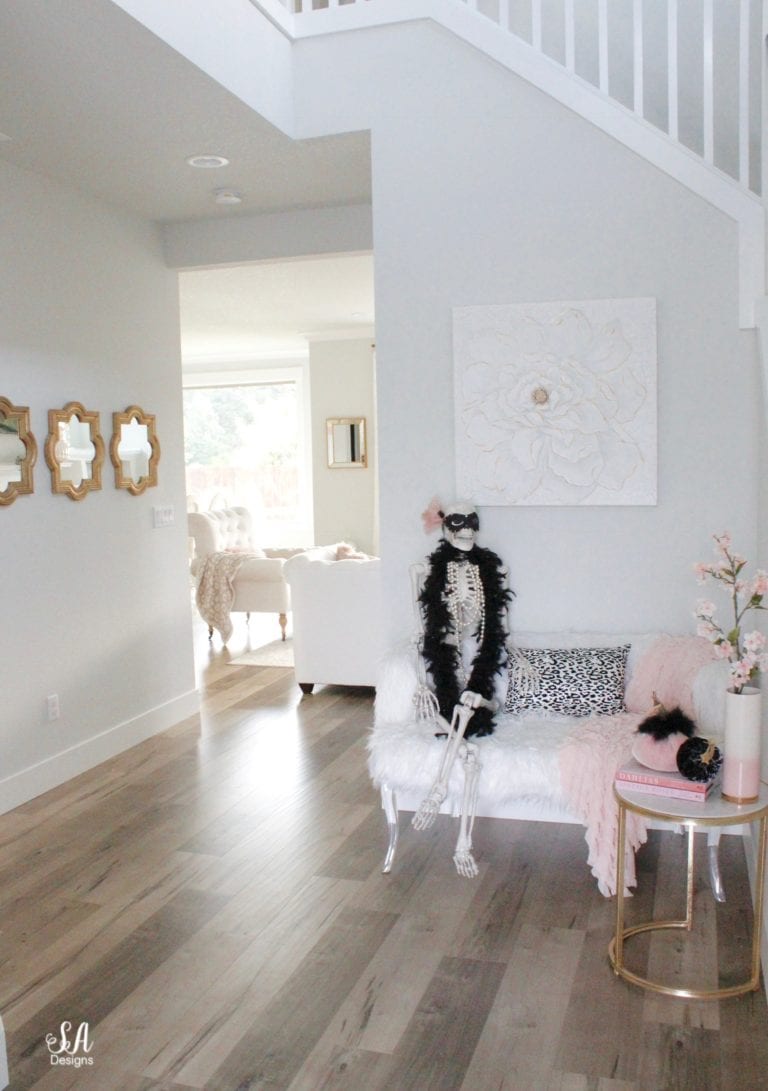 Meet Bethesda.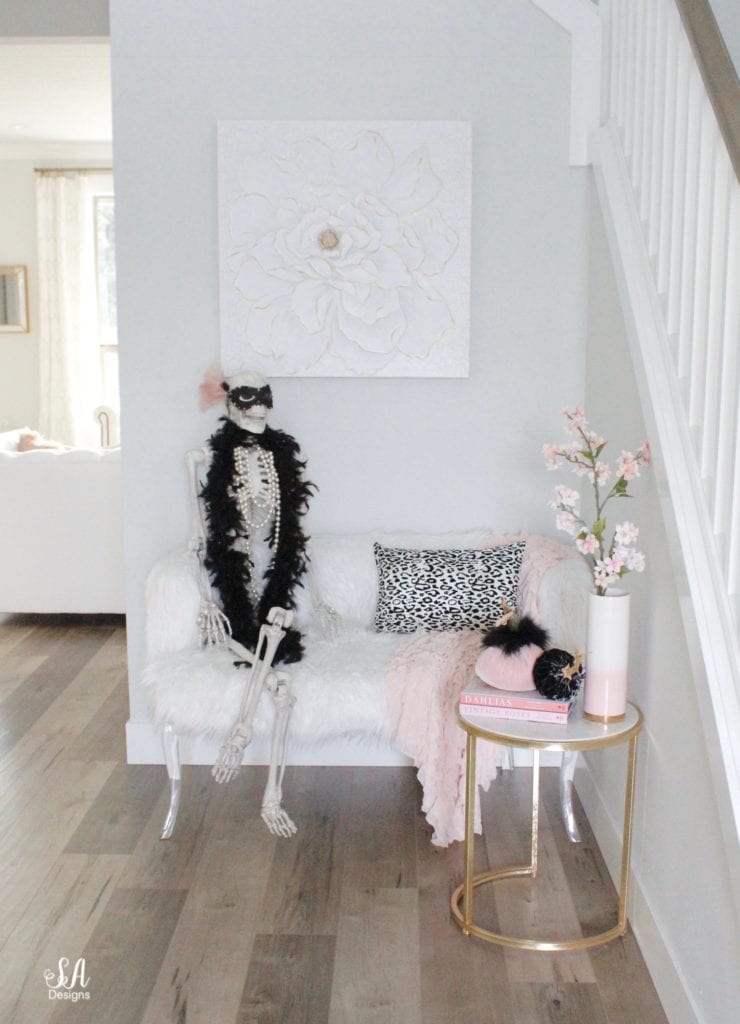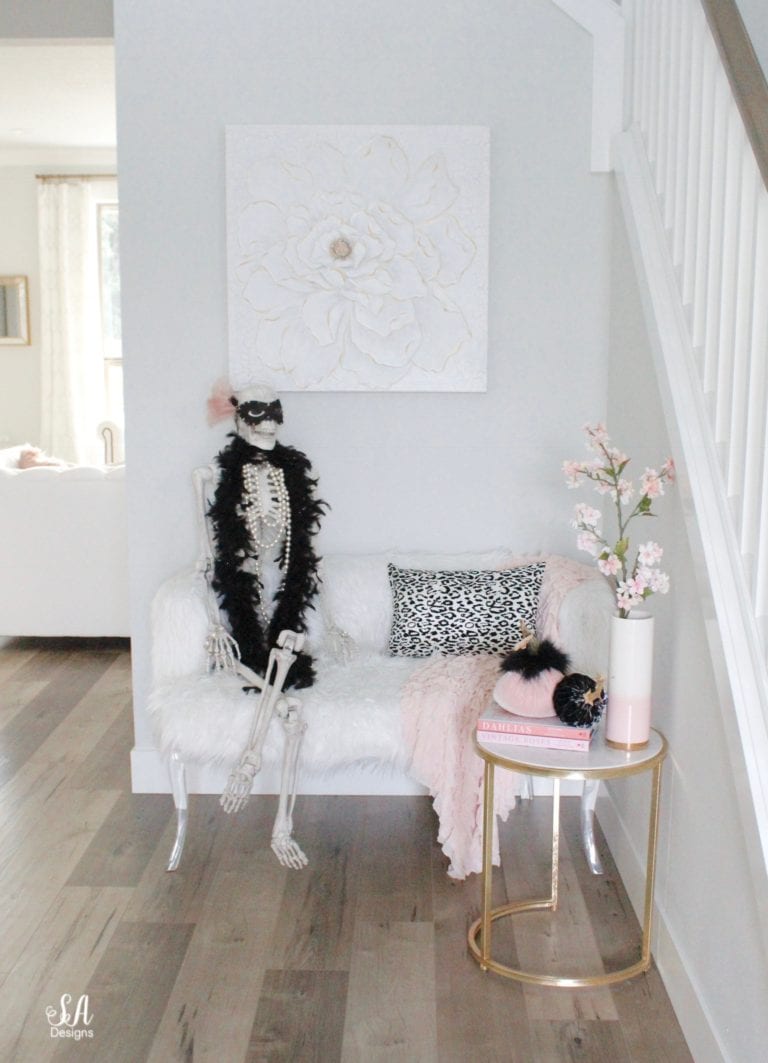 She's our family friend that stops by every Halloween and she's quite the glam queen.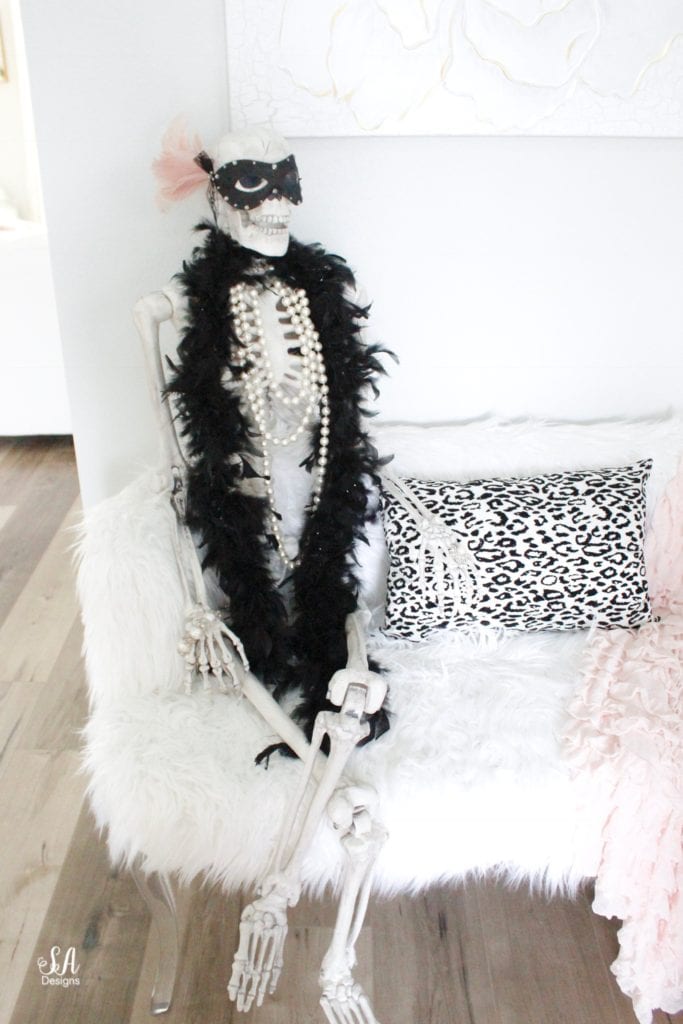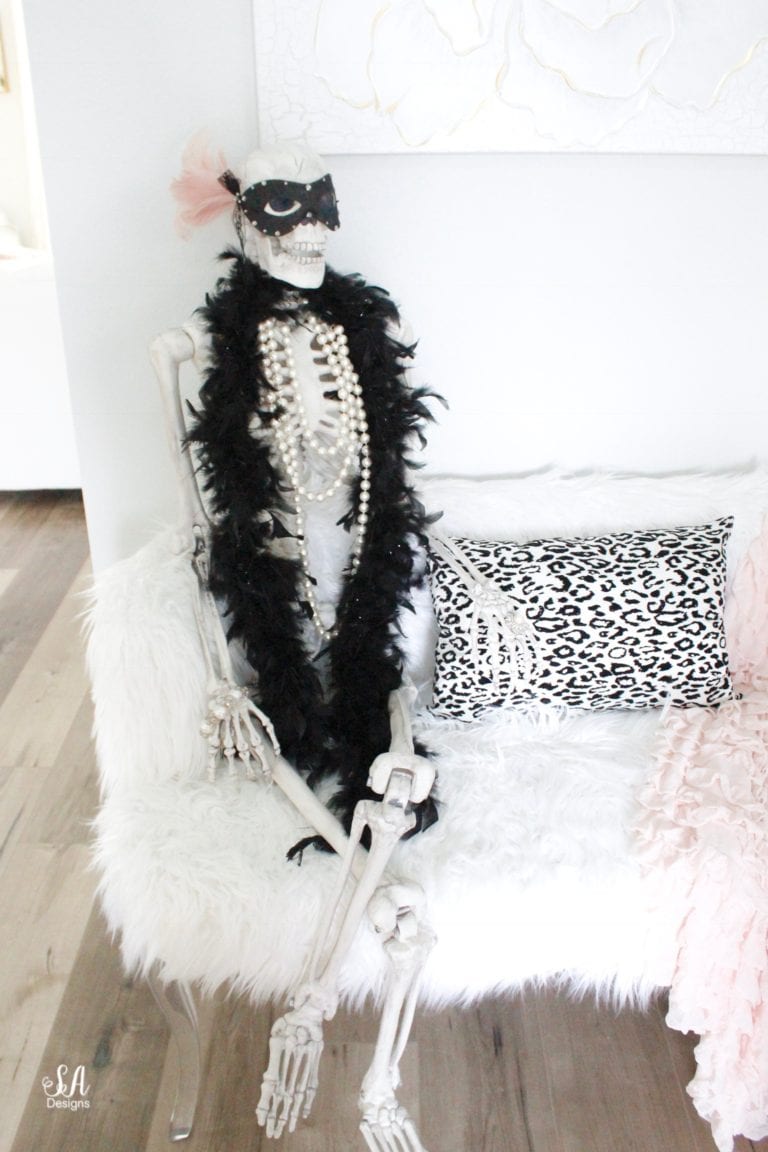 The other day, I decided Bethesda needed a new accessory.  You know, something of her own because she loves stealing my jewelry and black feather boa.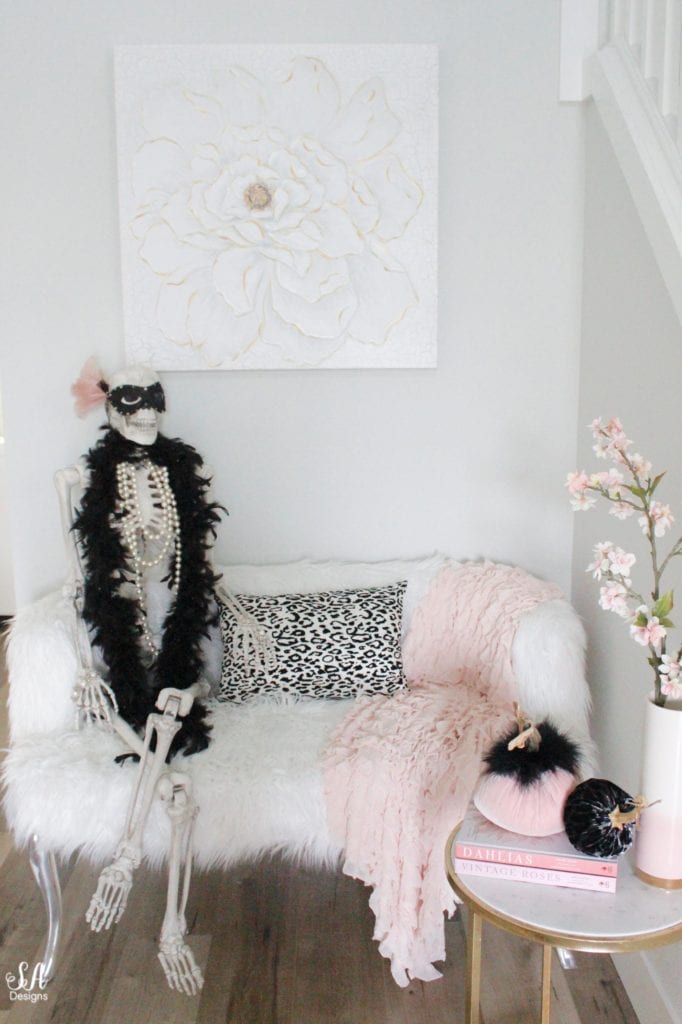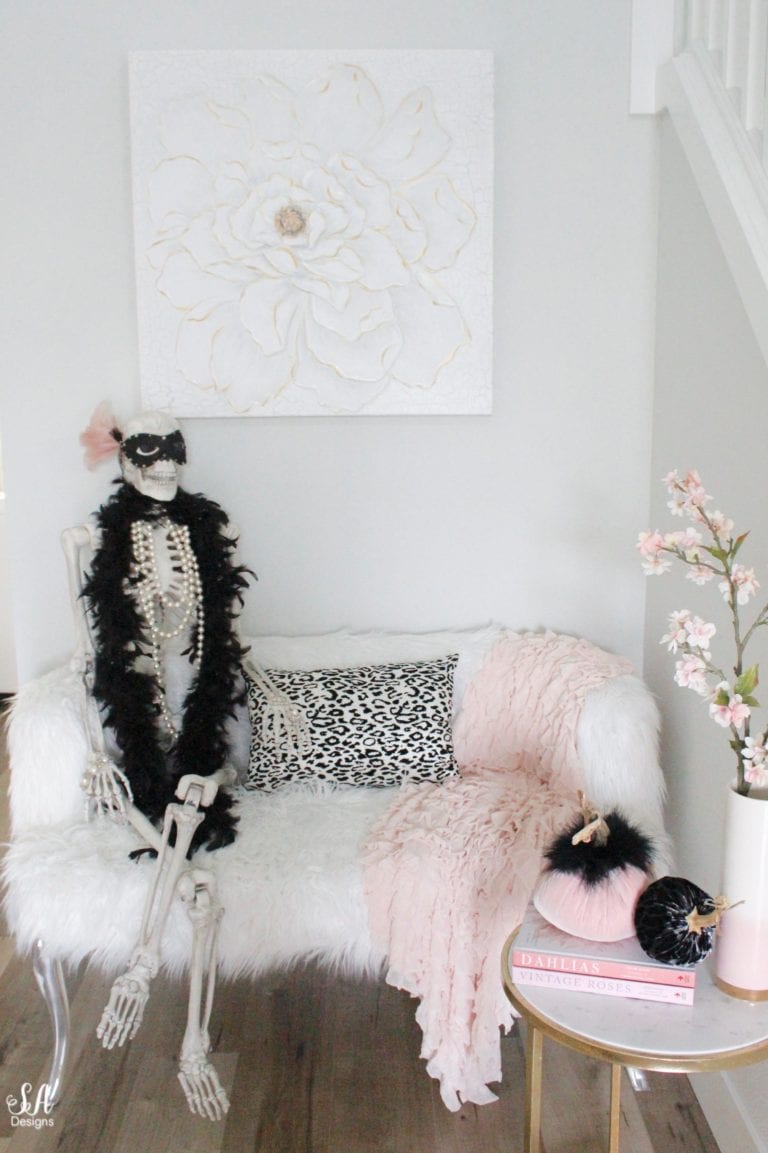 So I made her this 10-minute Glam Halloween Masquerade Mask and I think she looks stunning.  Don't you?!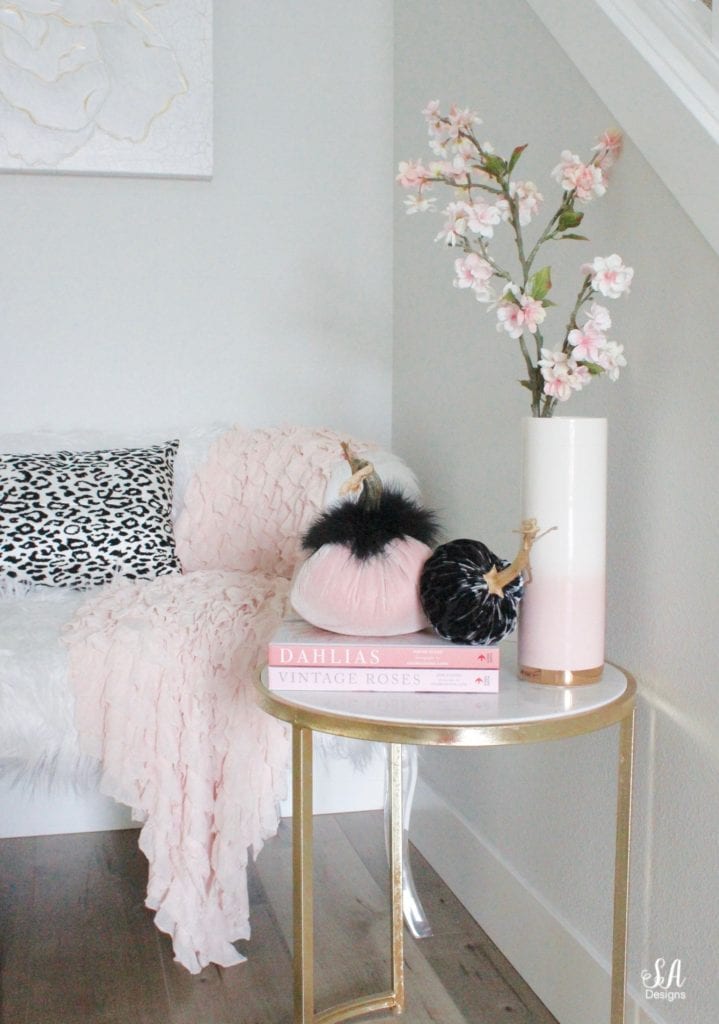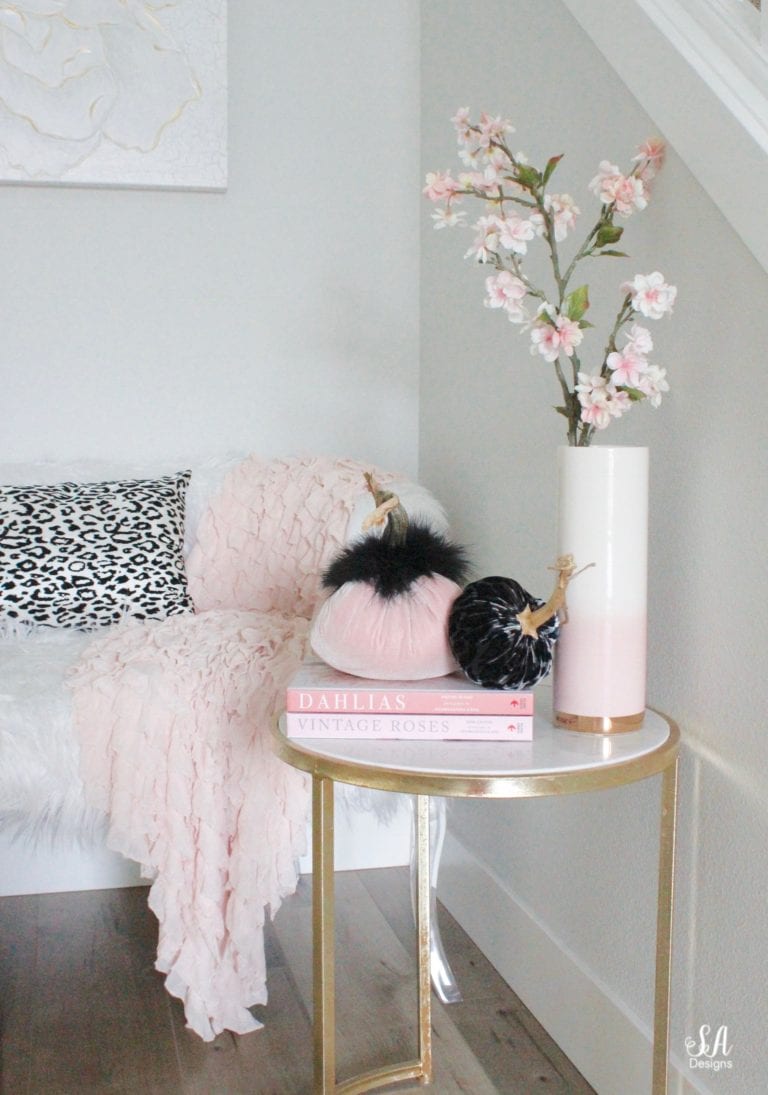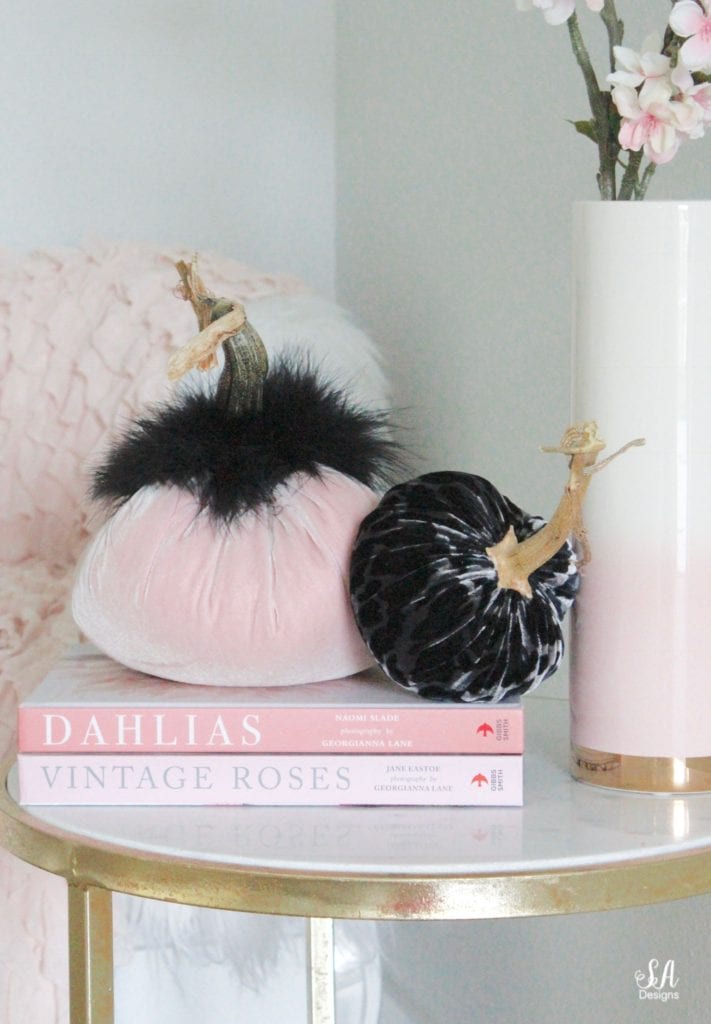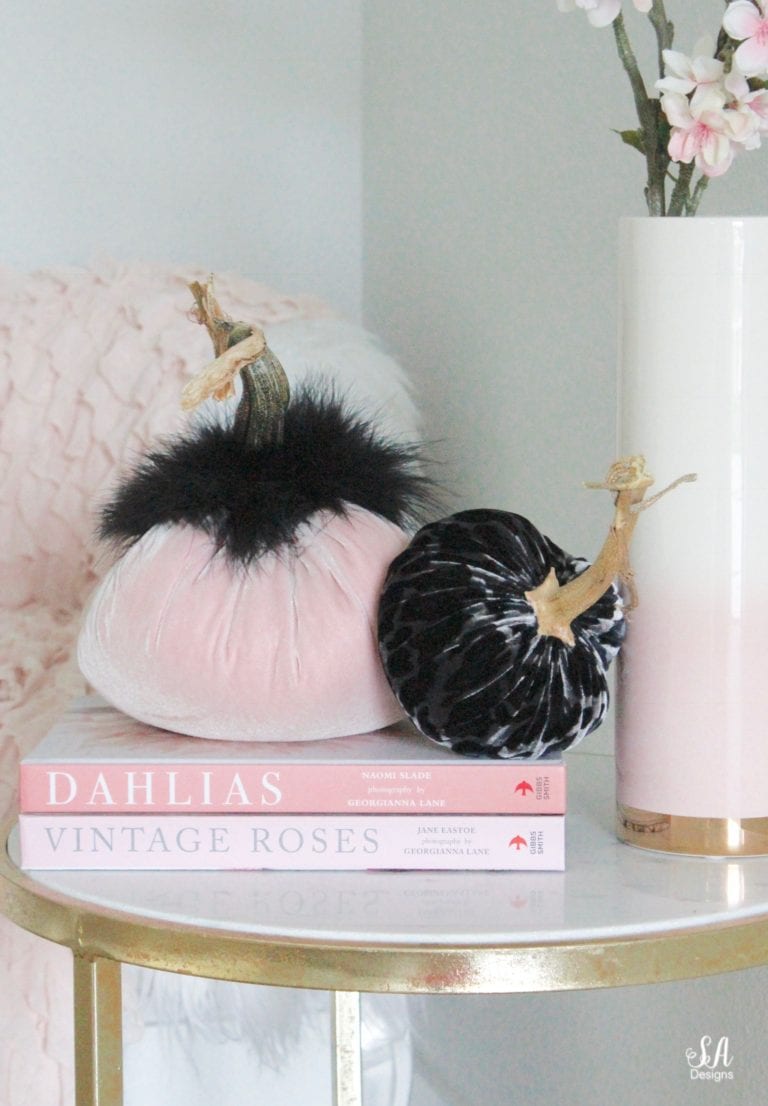 I kept all the other decor I've had here too but added more velvet pumpkins.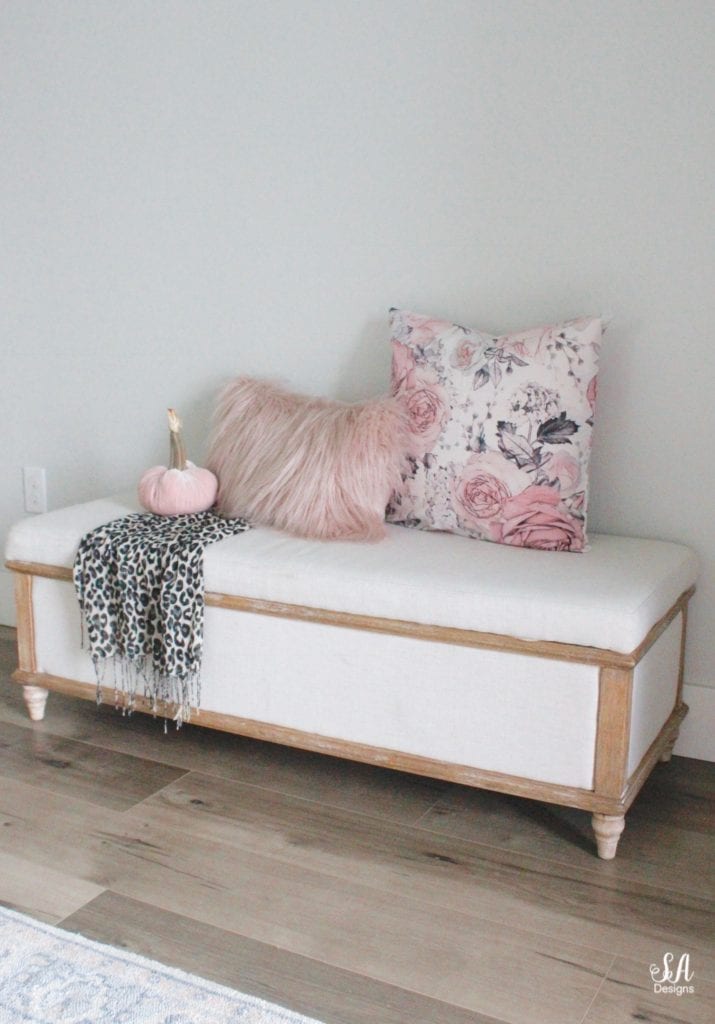 I switched out my pillows here for a blush, black and grey look.  I didn't have a throw blanket with black in it so I took a large scarf and folded it over my bench layered with a pretty velvet pumpkin for that glam look.  You can always improvise if you don't have what you'd like to have.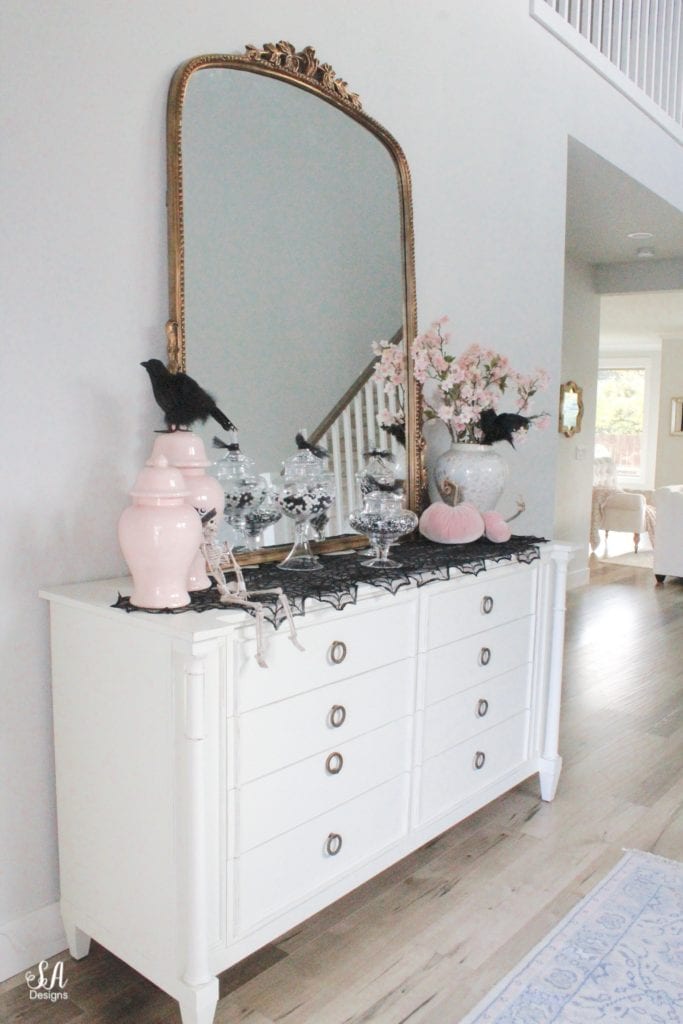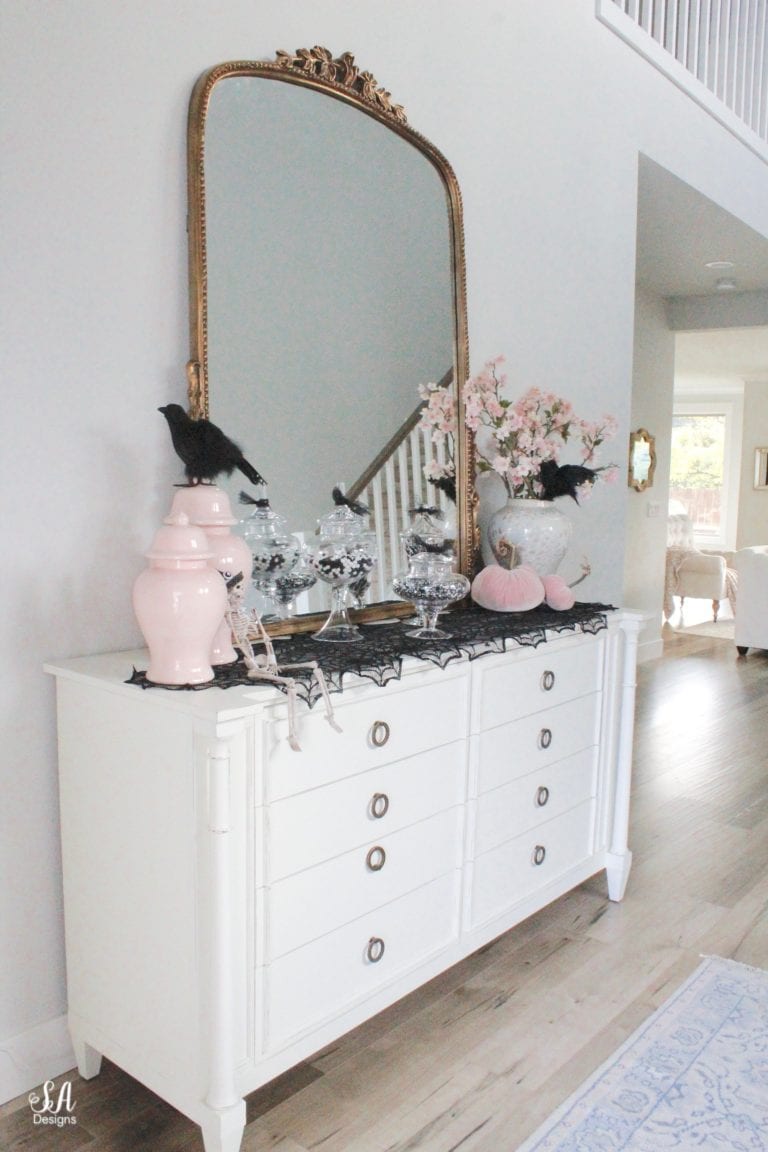 I'm linking items (or similar) below for your shopping convenience!
Halloween Tours
Today I'm excited to be joining some of my favorite bloggers who are also sharing their Halloween decor! Hop around to take in all this spooky inspiration…
Janine | Happy Happy Nester
Ashley | Modern Glam
Jackie | Finding Lovely
Summer | Summer Adams
Joan | 2 Ladies & A Chair
Yuni | Love Your Abode
Bethany |The Posh Home
 *****
Thanks so much for stopping by today!  I would love it if you could subscribe at the top of the page in order to receive my weekly emails of all my latest blog posts and see everything I'm working on!  You can also follow me on Instagram, Pinterest, and Facebook to see what I'm up to in creating a home and lifestyle of inspiration!
xoxo,