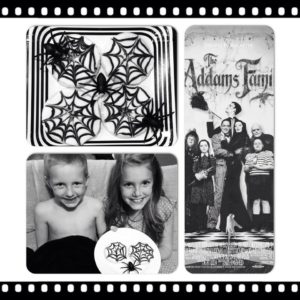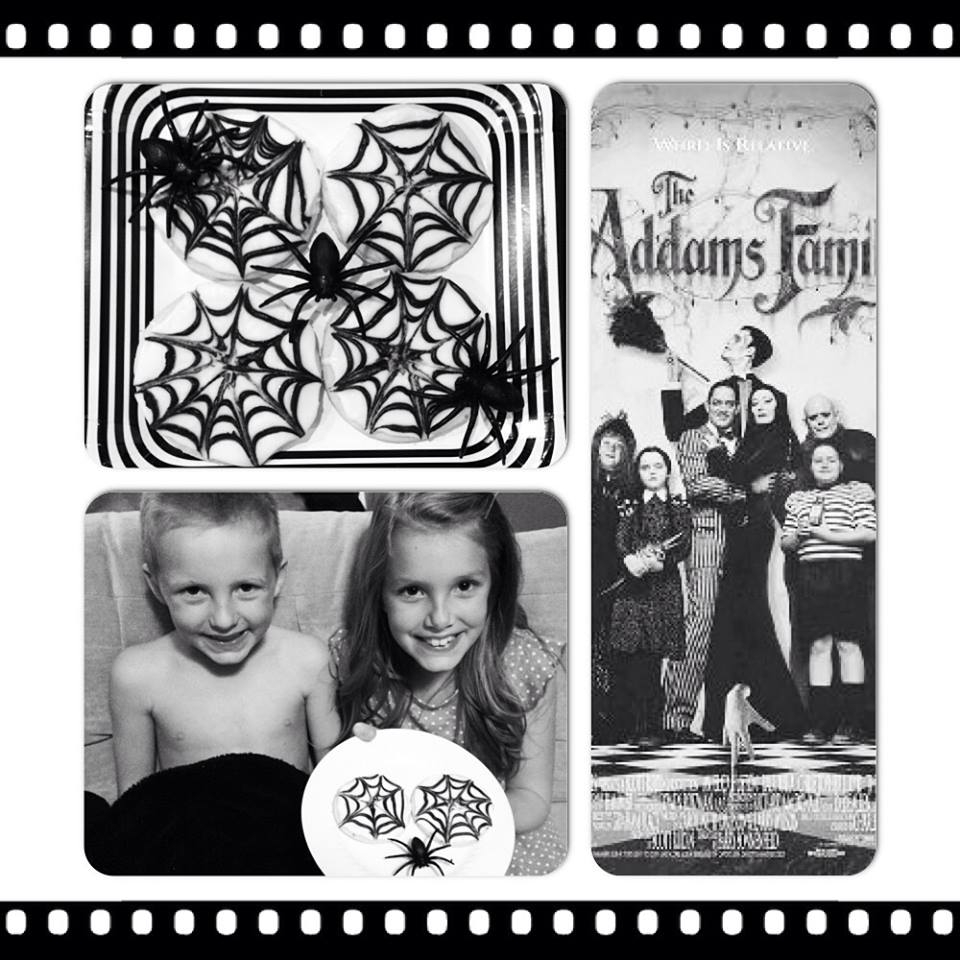 Our 5th "Countdown to Halloween: Frightfully Fun Family Movie Night" presents…"The Addams Family" (snap snap)!  I make my spiderweb sugar cookies every year and tonight it was perfect for this movie and for our black and white theme!
Soft Sugar Cookie Recipe (amaaaaazing!!!)
1 cup butter, at room temp
1 3/4 cup sugar
2 eggs, at room temp
1 tsp vanilla
1 cup sour cream
1/4 tsp lemon or almond extract
5 1/2 cup flour
1 tsp baking powder
1 1/2 tsp baking soda
1/2 tsp salt
In a large bowl mix together butter and sugar. Beat until creamy. Add in eggs, vanilla, lemon extract (or almond extract) and sour cream and mix together until combined.
In a separate bowl mix together flour, baking soda, baking powder and salt. Slowly add dry ingredients to the wet ingredients. Mix just until combined.
Split dough in two and place in saran wrap. Refrigerate dough for 1-2 hours.
Once dough has been chilled, roll out dough on a bakers mat or parchment paper. Add another 1/4 – 1/2 cup flour if dough is still sticky. Cut with floured cookie cutter.
Bake at 350 degrees for 8-9 minutes.  *I've noticed that with my gas oven, I have to adjust my time.  So I bake mine 2 minutes less.
Easy Icing:
1 and 1/2 cups powdered sugar
1/2 teaspoon vanilla extract
1 teaspoon light corn syrup
2 – 2.5 Tablespoons lukewarm water
pinch of salt
Spread white easy icing on one cookie at a time.  As soon as you've applied that, take a black tube of store-bought decorating icing and make a spiral shape on top of the cookie.  Then I grab a butter knife and flip it over to use the smooth end and drag from the center end of the spiral and drag 5 lines out to the edge of the cookie.  And there is your beautiful and delicious spider web cookie!  I like to add fake spider toys and spider rings to the plate of cookies for extra gasps from the kids.  It's the perfect touch!