Just a couple of weeks ago, a handful of my new girlfriends suggested we get together and have a girls night.  Instead of going out, I invited them to my home for a more relaxed evening where we could just talk and get to know each other better, since I'm still relatively new here.  We had such a fun time and I thought it would be a perfect opportunity to share with you my tips for hosting the perfect Girls' Night In.
This post contains affiliate links for your shopping convenience.
Click here to read my full disclosure policy.  All opinions are my own.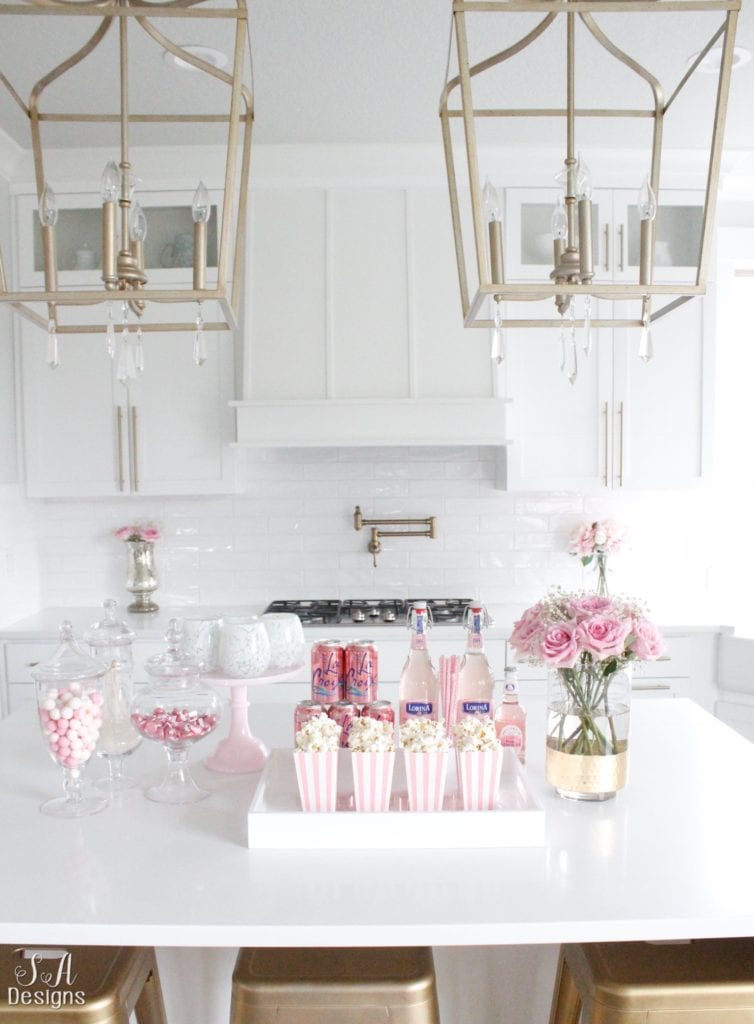 It's no secret that I love pink.  I talk about it all the time.  So I had all things pink on hand and brought them out just before my friends arrived.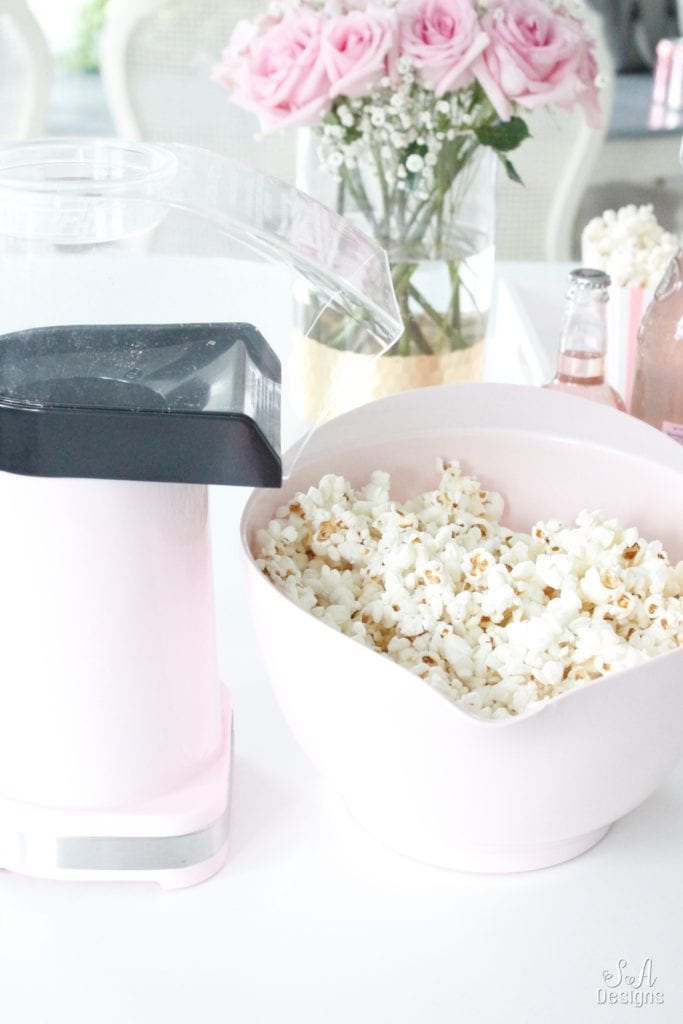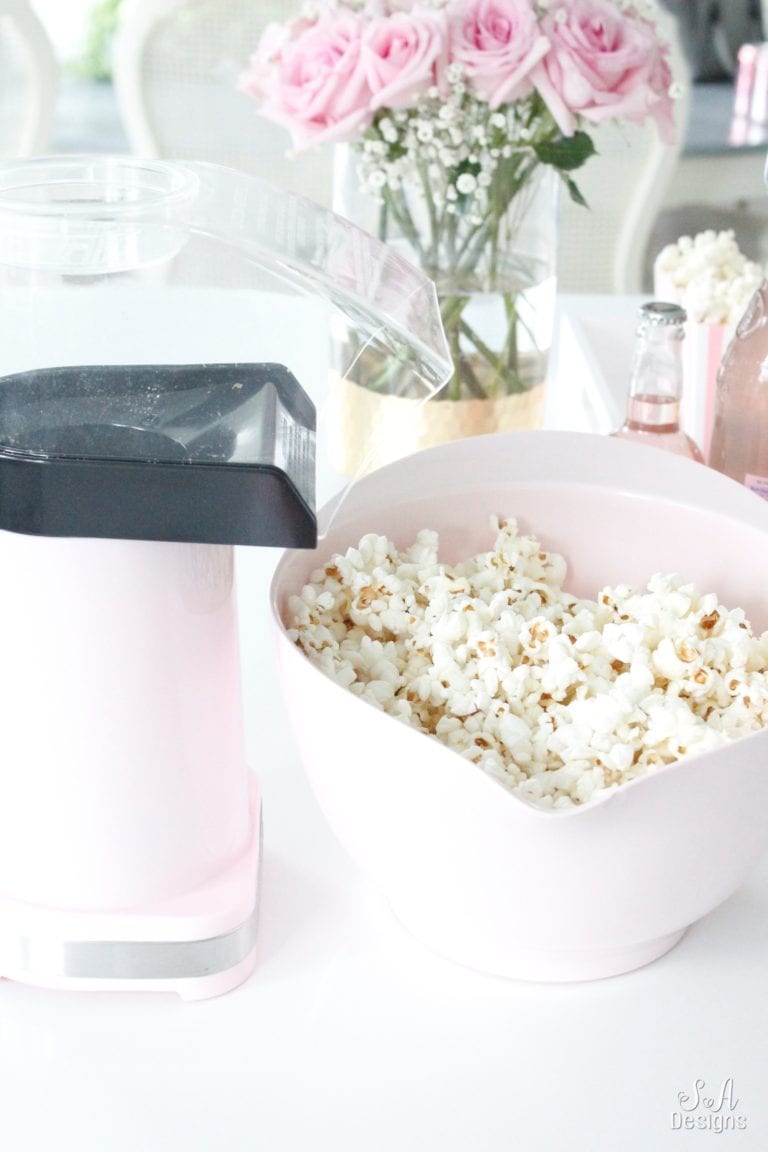 Popcorn.
It's one of my favorite snacks that you can just sit and eat handfuls of while talking for hours.  I prefer to grab my cute pink popcorn popper and air-pop my own popcorn.  It's so much tastier than the packaged stuff.  Plus, you can add your own variations like sea salt, cinnamon and sugar, kettle corn, candied popcorn, and more.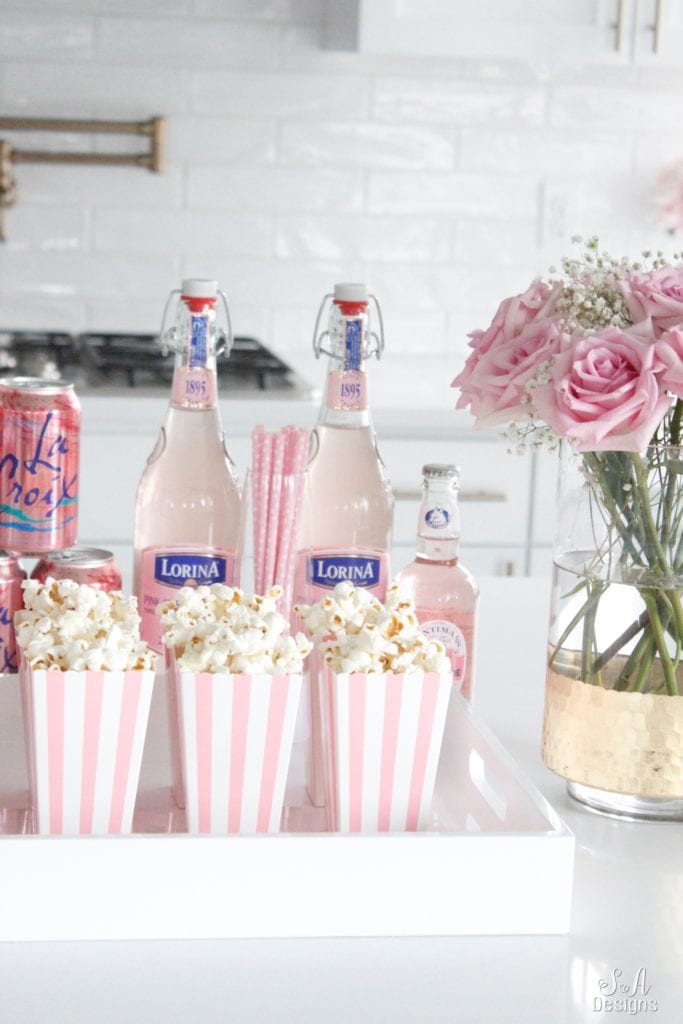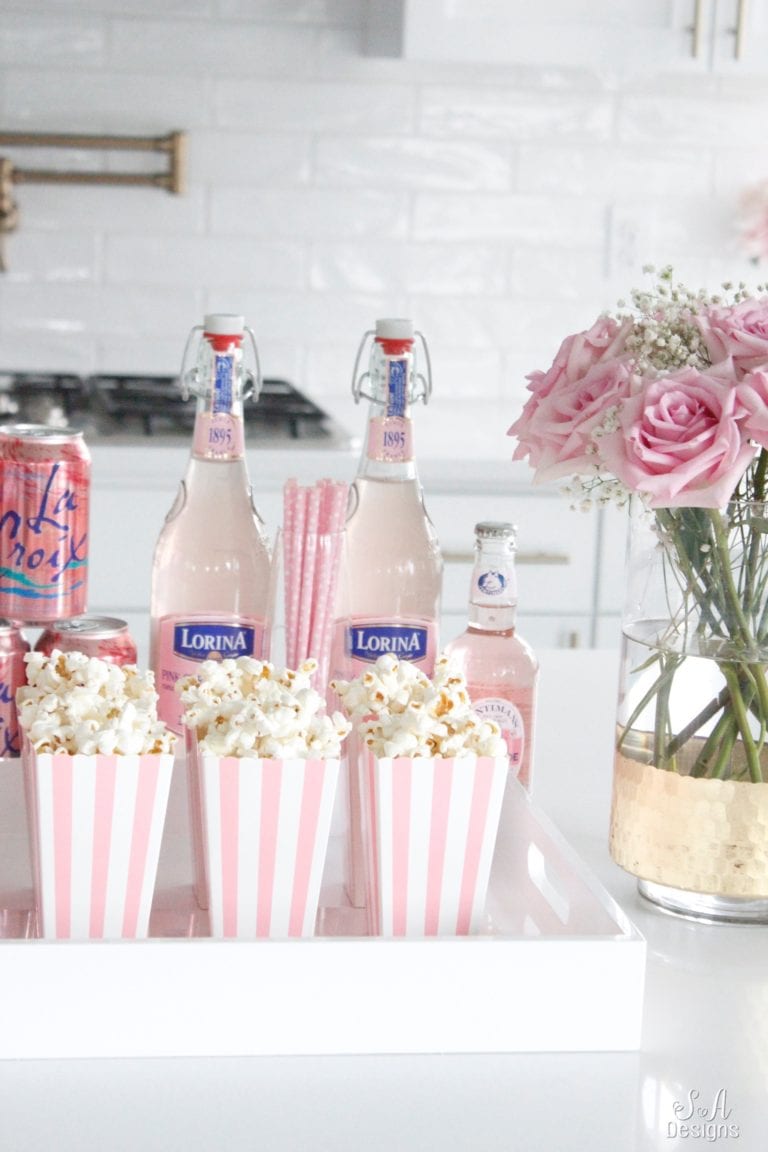 Cute popcorn boxes.
Years ago I purchased these cute pink-striped popcorn boxes for Brooklyn and her friends when they came over and some blue ones for Beckham and his friends.  I love having them on hand all the time for impromptu get-togethers.  They're so inexpensive that you can buy them in a variety of colors to have on hand and then there are not multiple hands (and germs) grabbing for popcorn over and over from the same bowl.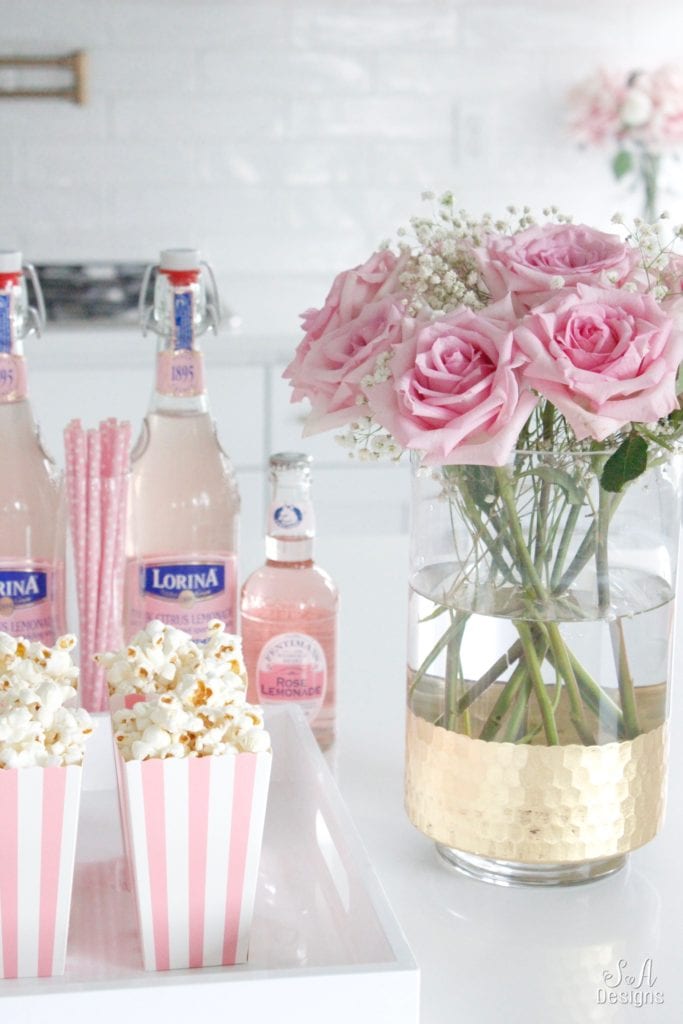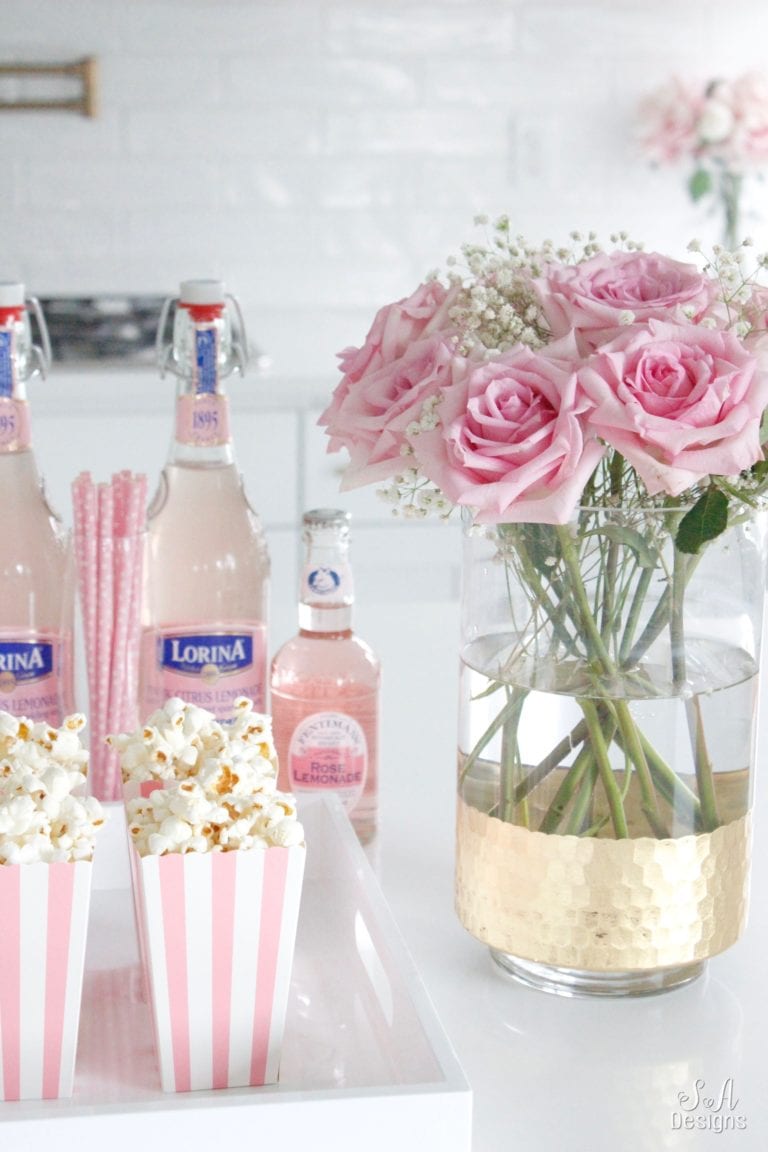 Fresh Flowers.
Since I grab fresh flowers every week, I had these pretty pink roses already on this vase.  These were actually 2 weeks old and going strong so all I grabbed that morning was some Baby's Breath and stuck them in the vase and removed a few dead roses.  It was a perfect combo because the Baby's Breath looks like popcorn too, doesn't it?!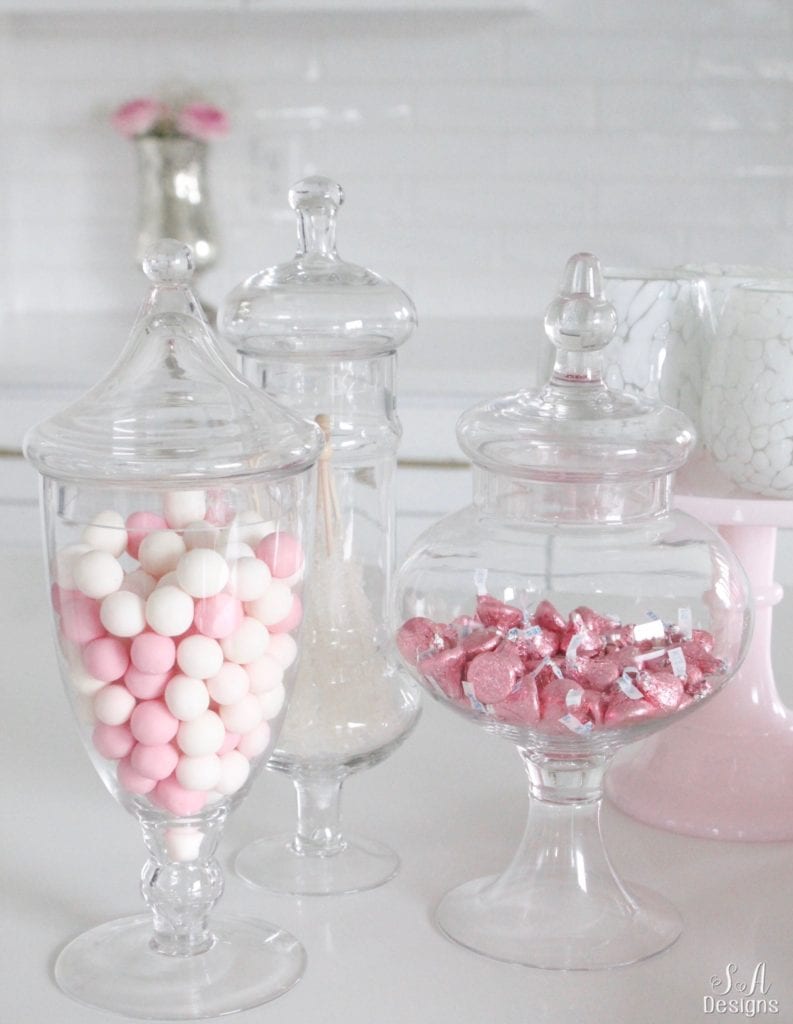 Chocolate.
Women and chocolate go together like cereal and milk.  I love simple chocolate Hershey's Kisses or Dove Chocolates and I love sweets in general.  So grab some candy and you can even buy the bulk candy in the color you want. I always like to display them in cute apothecary jars.  Several women brought cookies and other snacks to share as well.  I highly suggest my favorite sugar cookie recipe with pink frosting!  It's the BEST!  If I'd had more time, I would've made those as well.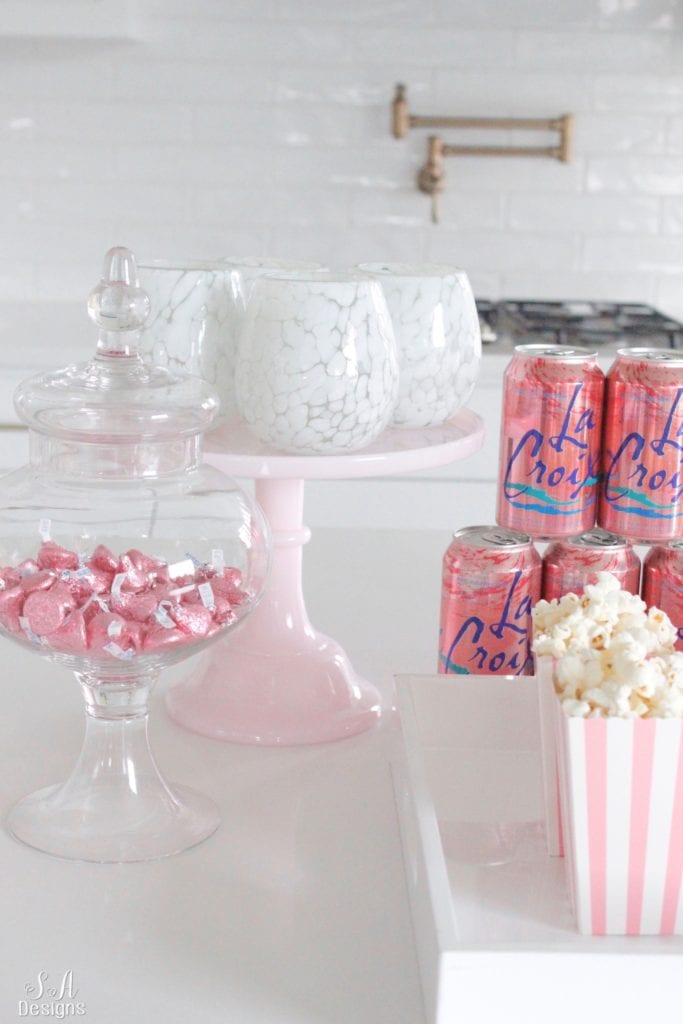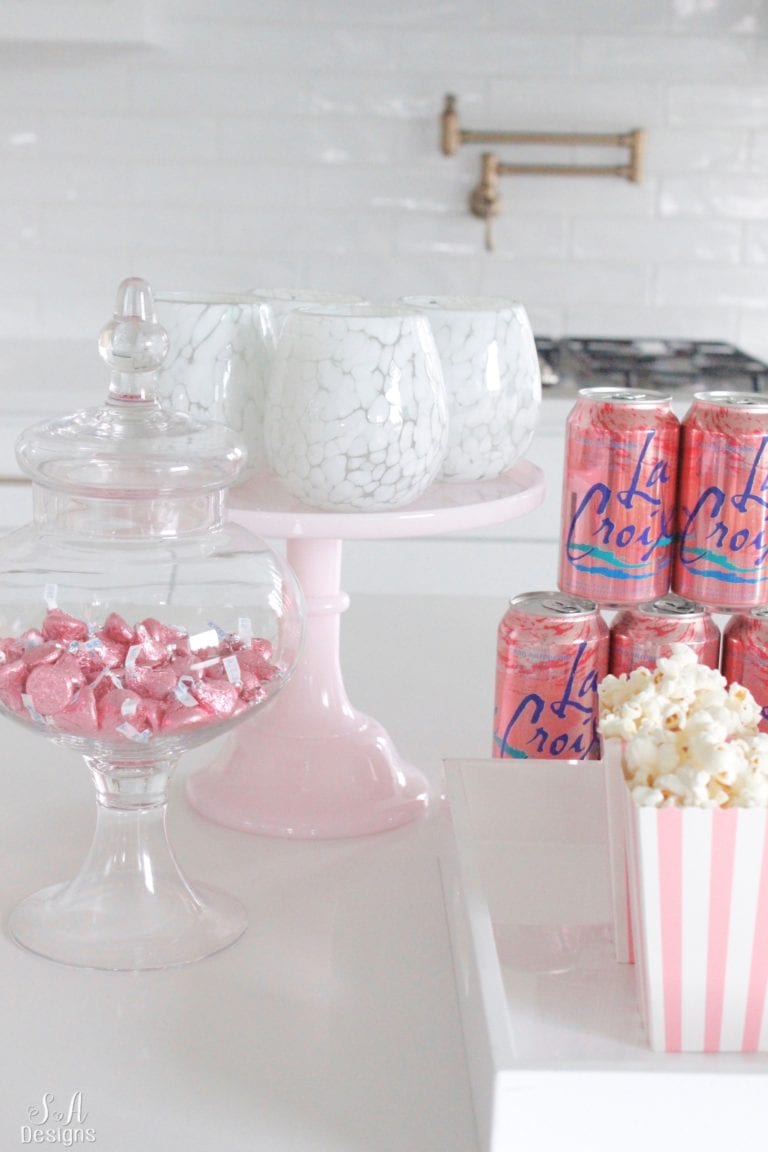 Drinks.
We all like different drinks.  I grabbed everything pink from my pantry like this Lacroix and Pink Lemonade and Rose Lemonade.  But then I also busted out the Diet Cokes and syrups and made "Dirty Diet Cokes" and "Southern Gentlemen" (that recipe coming soon).  A pretty pink cake stand can be a darling way to display cups or any other sweets.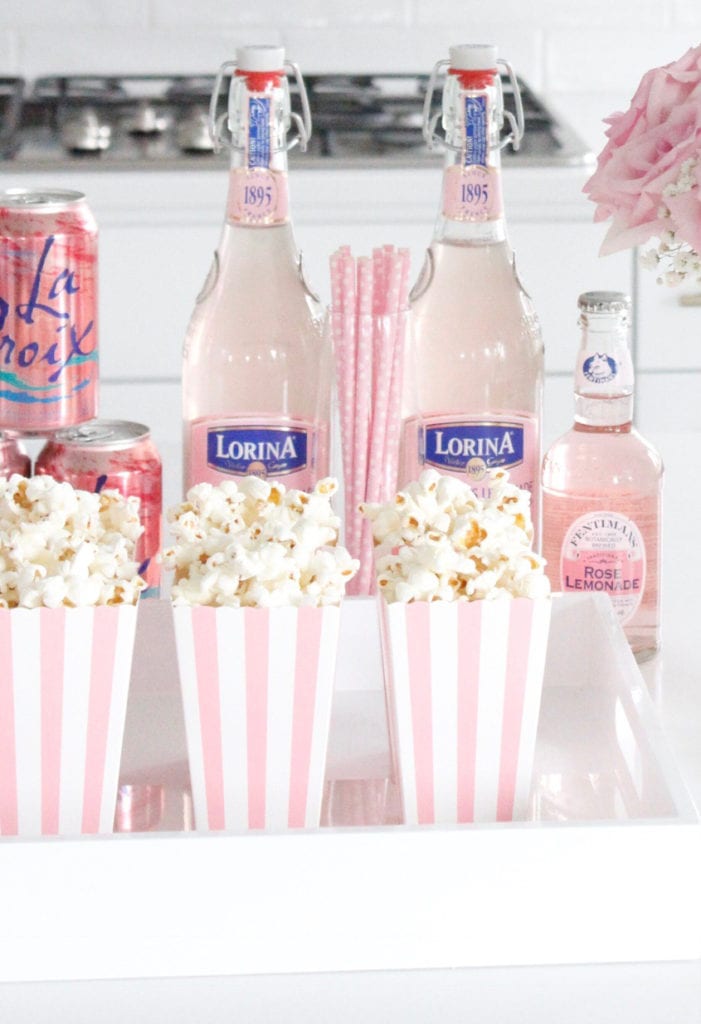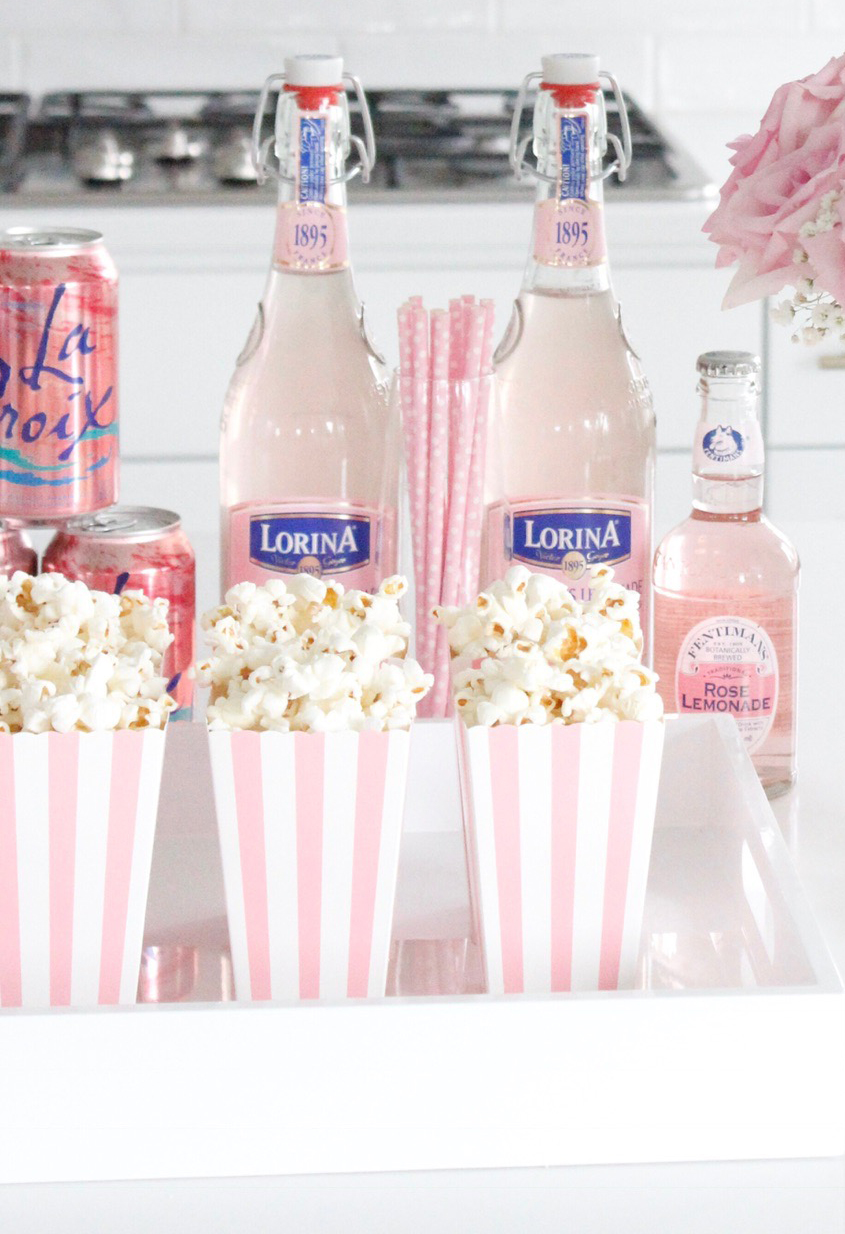 They're all non-alcoholic and all delicious.  They're also pretty and go with my pink things perfectly.  I also keep a ton of cute straws on hand at all times.  I have every color and every seasonal design, ha!  I can never pass them up in a store!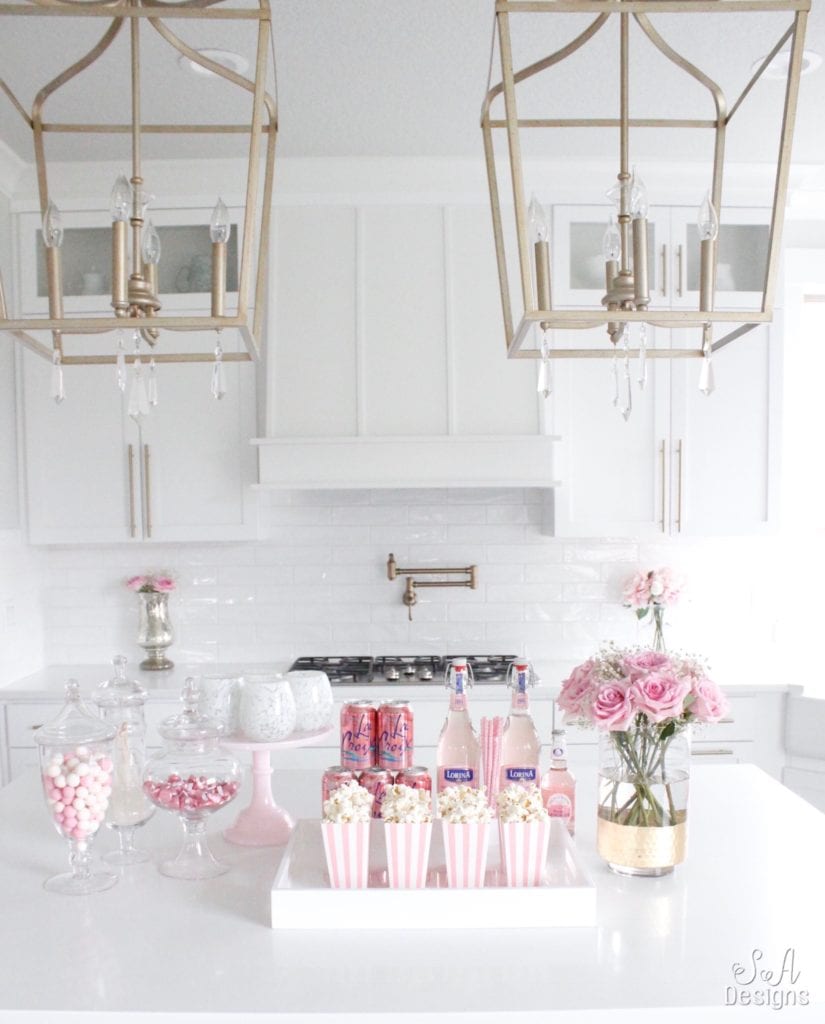 Now all you need are cute pajamas (so I'll link my favorites below), good company, and you're set!




Wishing you all a fun Girls Night In!
I would love it if you subscribed at the top of the page in order to receive my weekly emails of all my latest blog posts and hear about digital printables & freebies, as well as sales or new items in My Online Shoppe.  You can also follow me on Instagram, Pinterest, and Facebook to see what I'm up to in creating a home and lifestyle of inspiration!
xoxo,