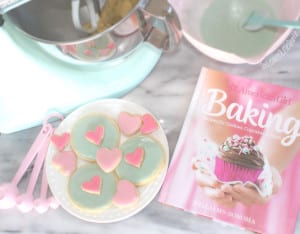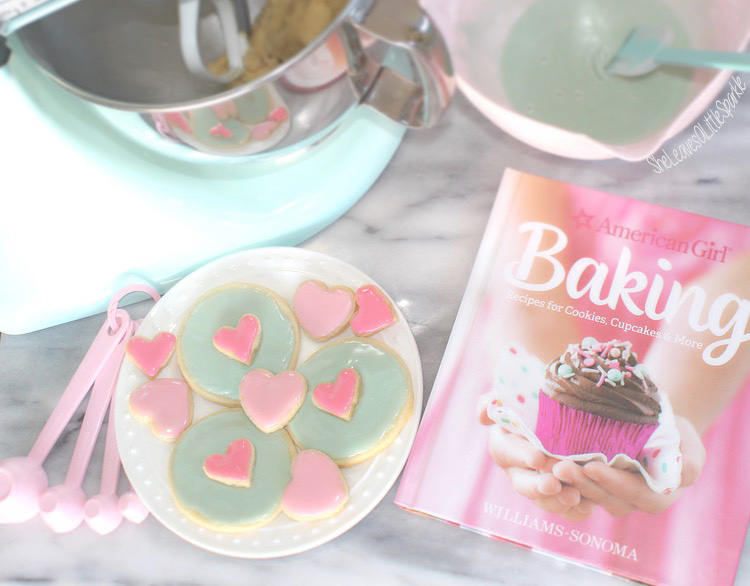 Whether you have new neighbors, company coming, or just a craving….baking cookies is ALWAYS a good idea!  My daughter is almost 10 and really enjoying baking with me and learning different recipes.  One of the best gifts we gave her at Christmas was this American Girl Baking recipe book that I purchased at Williams-Sonoma.  Each recipe so far has been delicious and really explains each step of the recipe, which is great for beginning bakers.  So, we sat her 2 dolls in the kitchen (to join in on our fun, because they go everywhere…ha!) and got to baking.
The roll out sugar cookie was FABULOUS and the cookies actually kept their shape after baking, which other recipes have failed to do.  I'm attaching the recipe below BUT changing a few minor details (to avoid copyright issues).
Roll-out Sugar Cookies:
2 cups all-purpose flour
1/2 tsp baking powder
1/4 tsp salt
1/2 cup (1 stick) unsalted butter
1 cup granulated sugar
1 large egg
2 tsp Vanilla Bean Paste or Vanilla Extract
Glossy Frosting:
2 cups powdered sugar, sifted
3 TBSP warm water
2 TBSP light corn syrup
1 tsp vanilla extract
1-4 drops food coloring (I use just 1 to keep it very light but add more if darker is desired)
Sprinkles, optional
Preheat oven to 350ºF and spray cookie sheets with non-stick cooking spray or parchment paper.  In medium bowl, whisk together flour, baking soda and salt together in one bowl and set aside.  In another bowl, use an electric mixer to beat butter and sugar for about a minute until blended.  Add egg and vanilla.  Add flour mixture, half at a time on low speed.  Dough will look a little lumpy or pebbly but that's ok.  Scrape down bowl and put in fridge for 1 hour.  I have also put it in the freezer for 20 minutes and that worked just fine.
On a clean surface, sprinkle flour and then roll out dough to 1/4″ thick.  Use cookie cutters to cut out shapes, place on cookie sheet, and bake for 8 minutes.  Let cool for 10 minutes before removing from cookie sheet (you don't want them to break or wrinkle) and then frosting when cool enough.
For the icing, whisk together the sifted powdered sugar, water, corn syrup and vanilla until smooth.  Add food coloring and whisk together.  Frost cookies (immediately add sprinkles if desired) and let dry for 20 minutes before serving. They will be so pretty and glossy!
I not only brought these delicious cookies to friends and our new neighbors but I also added them to the darling little cake stand on my vintage tea cart. During the winter it becomes our Hot Cocoa Bar.  But now that it is warming up, this vintage tea cart becomes an adorable area to entertain guests and serve them something sweet and either sparkling water or fresh lemonade.  You may be asking why I am NOT turning it into a Tea Station since it's a tea cart.  Well, I already have one in my kitchen.  See HERE.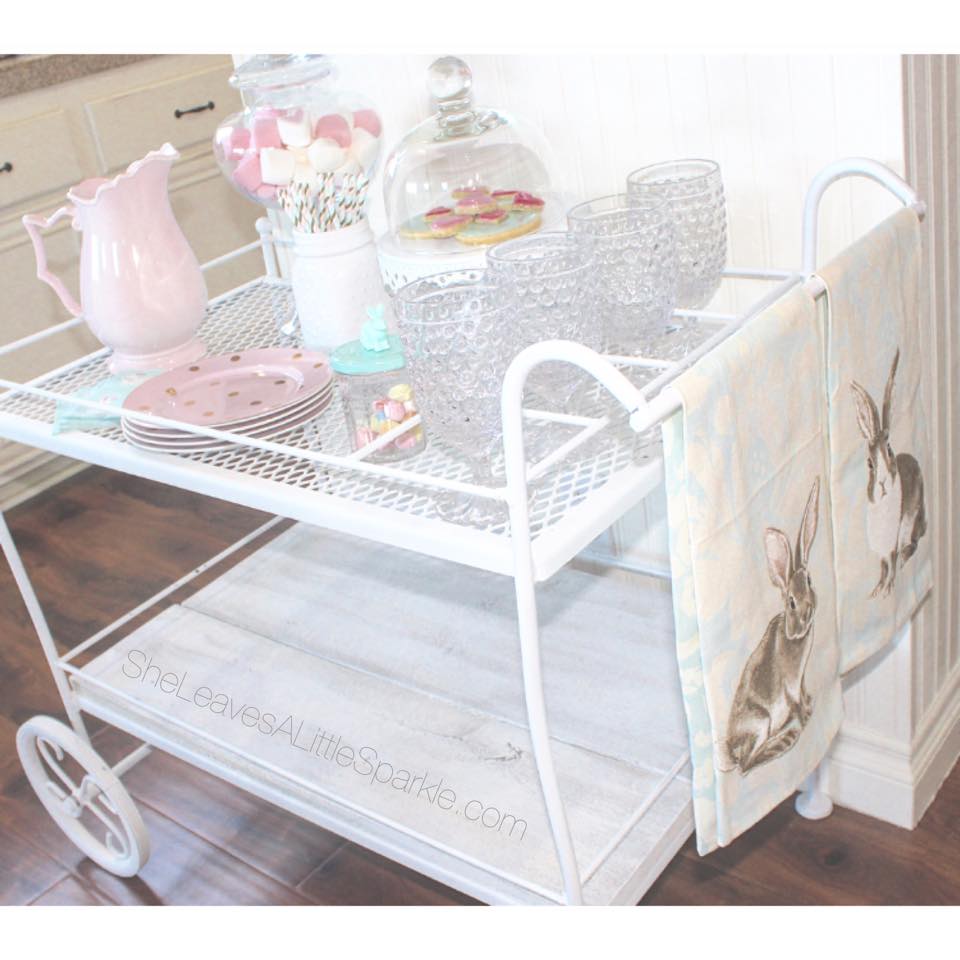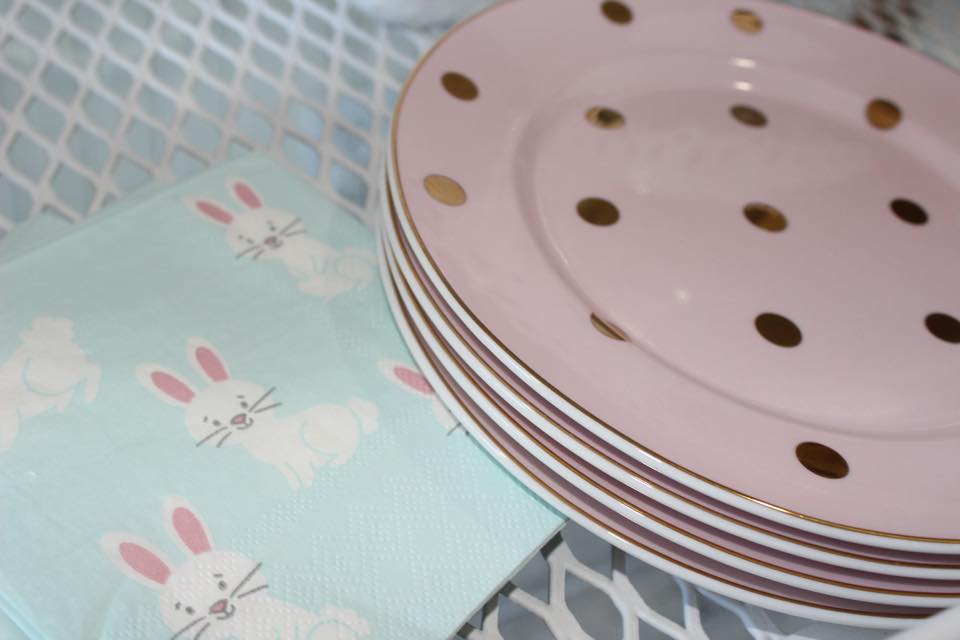 I love having giant marshmallows because my friends' toddlers that come by to visit always love a marshmallow!  While living in Portugal years ago, I was so impressed that every time you entered a home that the Portuguese people would offer us cookies and something to drink.  Even if they did not have much and worked several jobs to put food on the table, they always were the kindest hosts and offered us something.  That meant a lot to me and I made sure that I would always be ready for guests stopping by and make sure I had something lovely to offer them.
Sources:  Bunny towels from WIlliams-Sonoma, Bunny jar from Target Dollar Spot, Pink & Gold polka dot plates from HomeGoods, Pink pitcher & Cake stand/dome from Home Goods, Bunny napkins from T.J.Maxx, Hobnob glasses from Home Goods, Straws from T.J.Maxx, Hobnob jar from HomeGoods, Apothecary jar from Home Goods, Heart and jumbo marshmallows and Mini Cadbury Eggs from Target.  
What do you do for your guests?  I'd love to know so leave a comment below!
xoxo, Summer