Hello friends!  I'm so excited to welcome you all to another Holiday Home Tour in our new home!  I brought together a handful of extremely talented friends with fabulous style to share our Christmas decor with you and welcome you into our homes.  Today I'm sharing my "Winter Wonderland Flocked Christmas Tree and Mantel".
If you're new to my blog and coming from my friend Alicia's blog The Lush List, I'm so thrilled to have you and hope you'll come back again and again.  A huge hug to all my regular readers also here today!
Winter Wonderland Flocked Christmas Tree & Mantel
This post contains affiliate links for your shopping convenience.
Click here to read my full disclosure policy.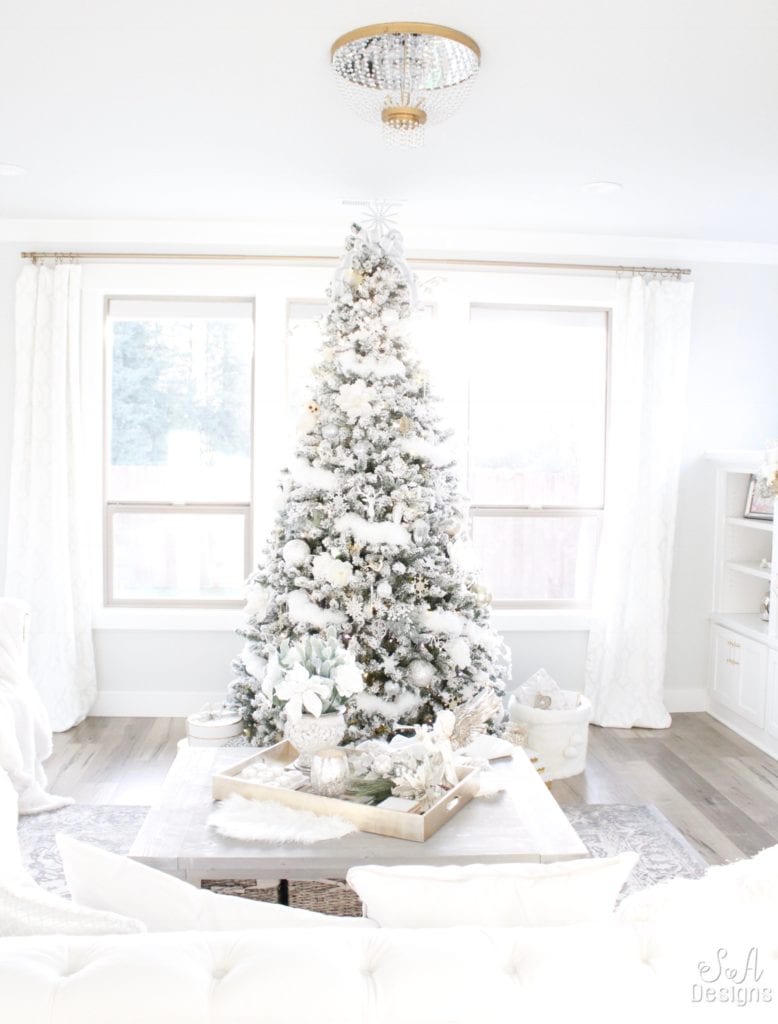 If you are a regular reader, you know how much I love a bright white home.  This home, we finished building and moving into last month, was no exception.  Relocating from Texas to the Pacific Northwest has been exciting but I've also prepared myself for the cloudy and rainy days by designing a bright white kitchen and this bright white living room, which I recently revealed. So, for this year's Christmas theme in this area of the home, I really wanted it to feel like a Winter Wonderland.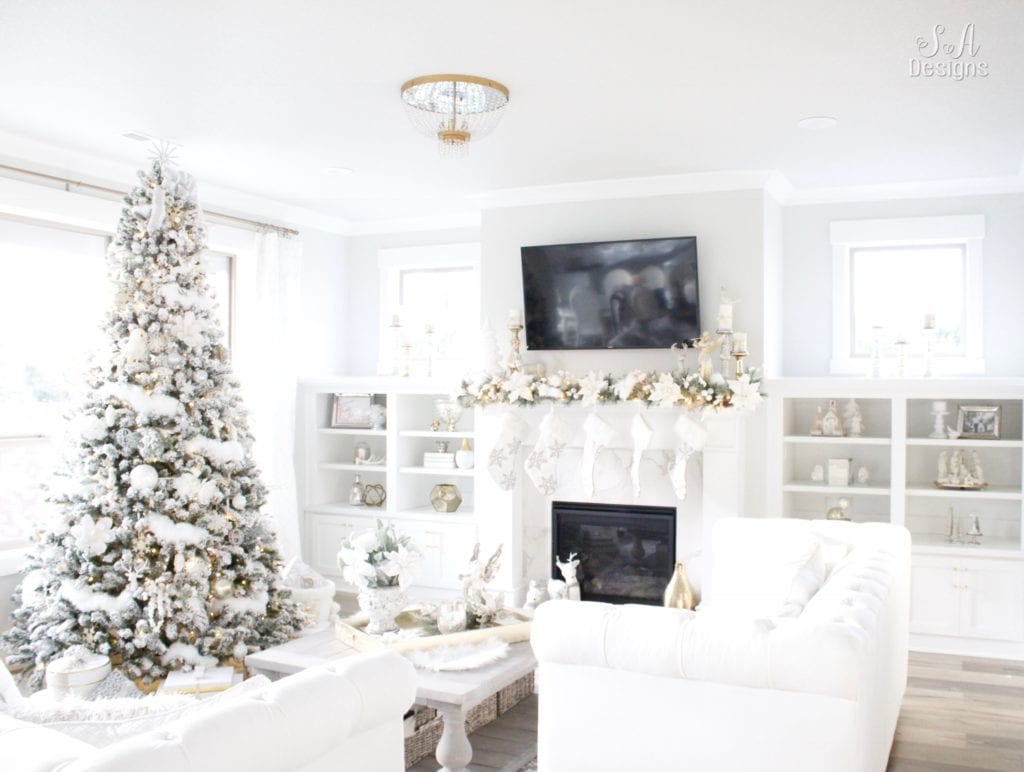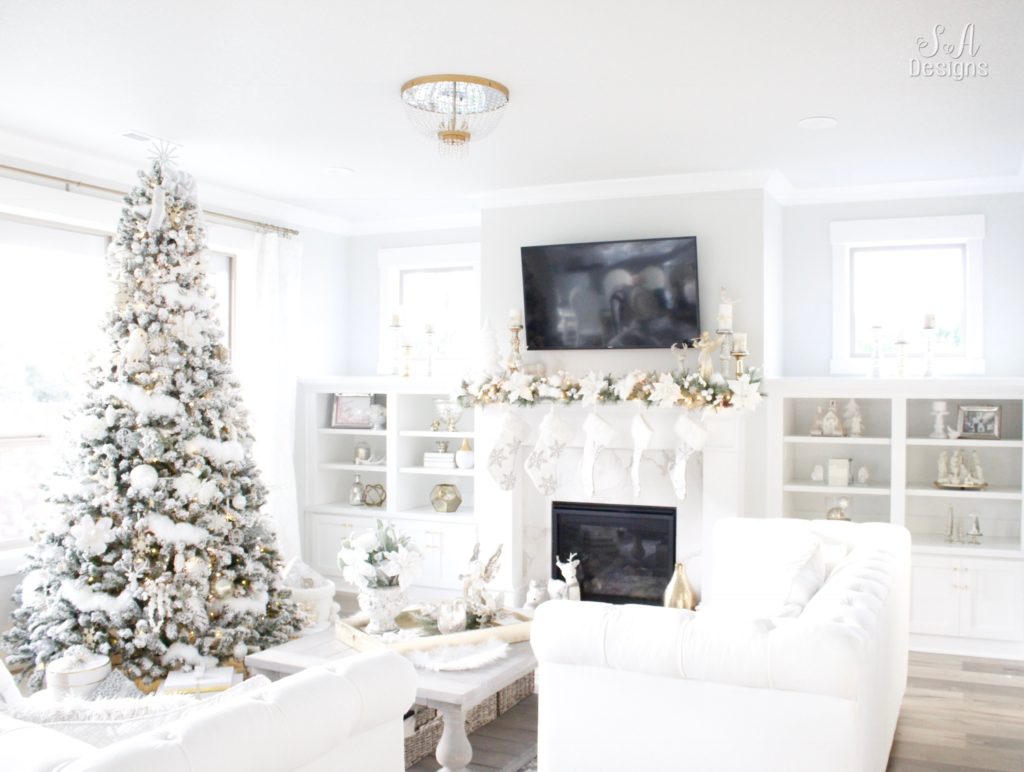 When I think of a Winter Wonderland, I think of fresh mounds of snow and sparkling snowflakes falling like glitter. I imagine myself wearing a white faux fur coat and ear muffs and riding in a one-horse opened sleigh with a soft throw and hot cocoa.  Ok, I know…I'm getting carried away ha!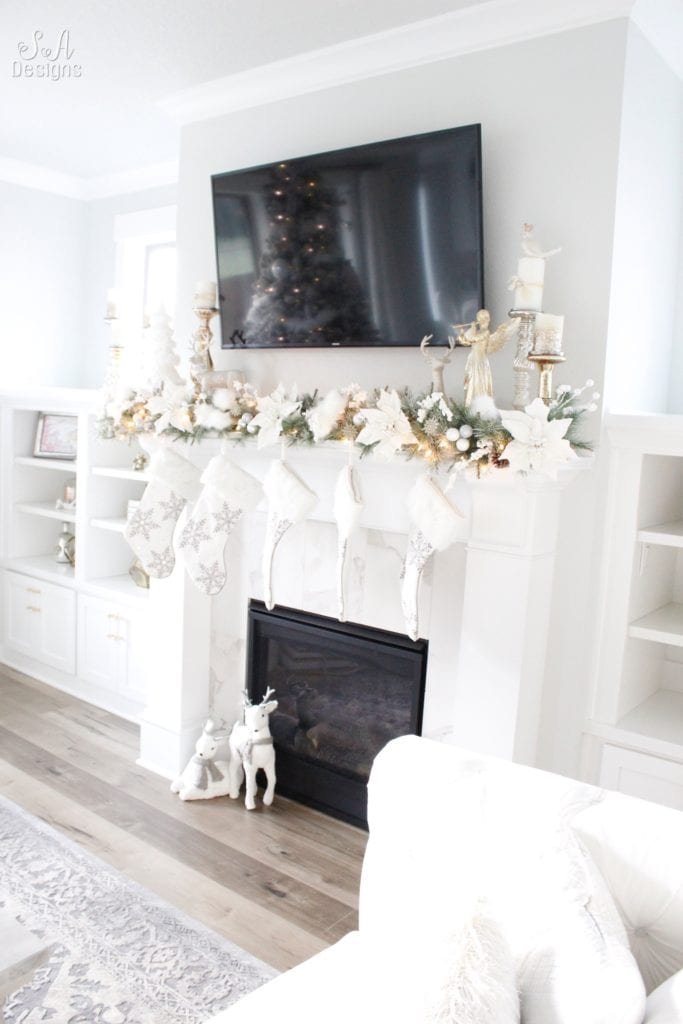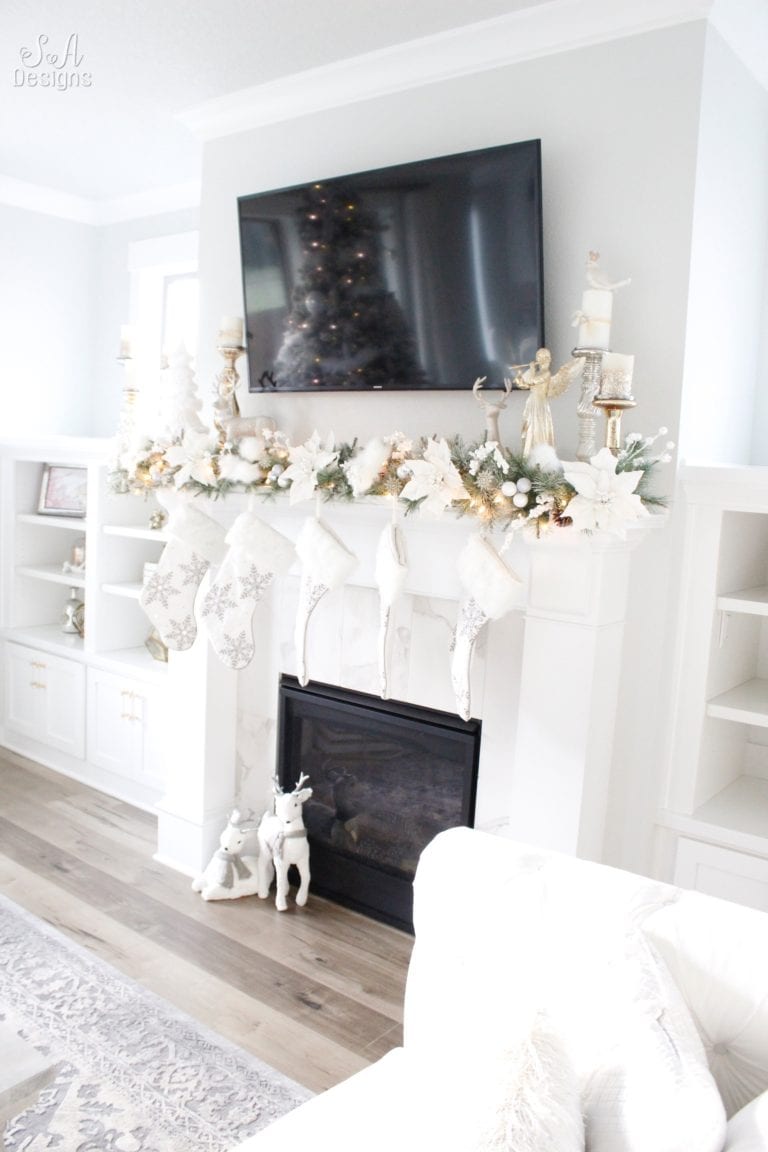 To make my own Winter Wonderland here at home, I wanted it to feel bright and magical, with a touch of elegance.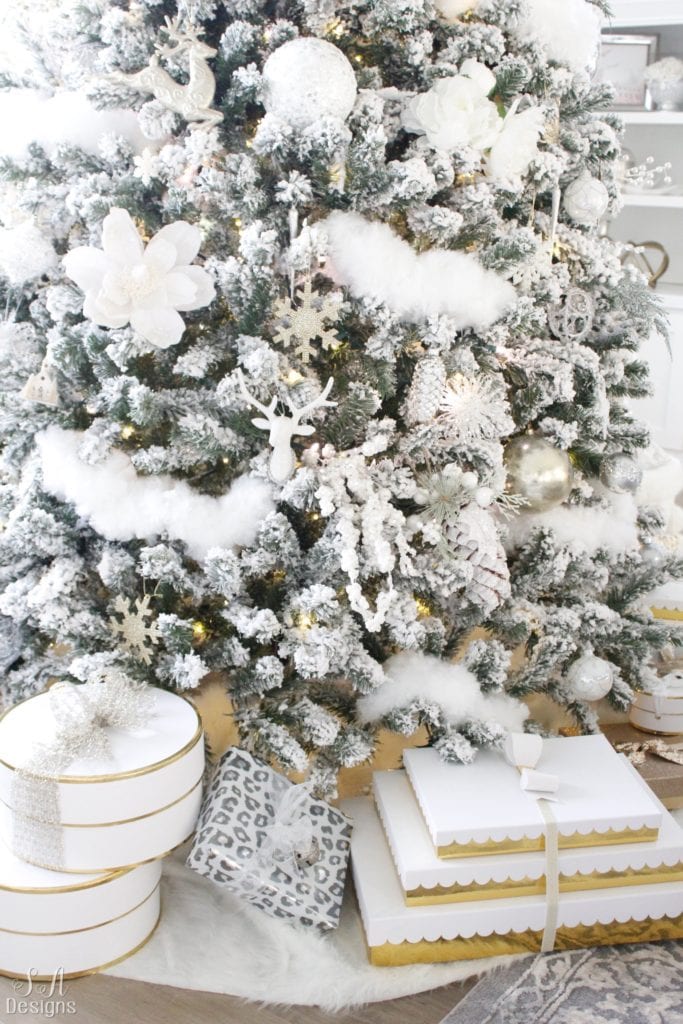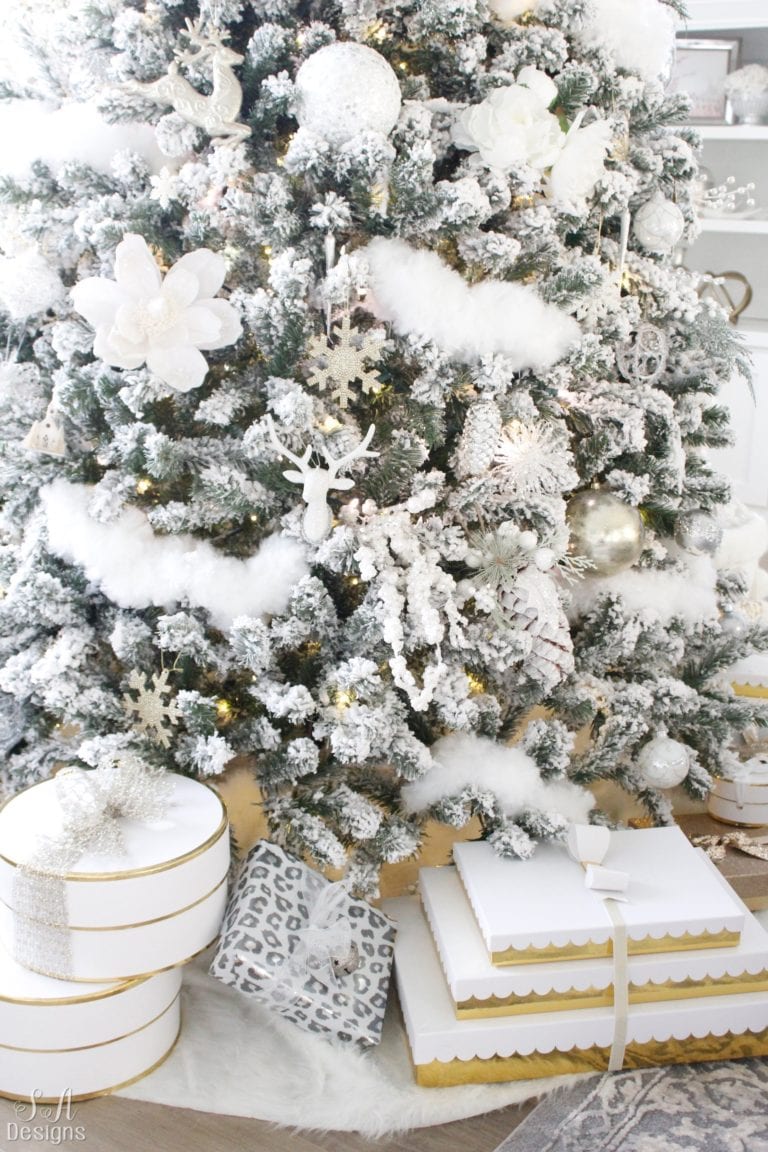 For the tree, I received this 9-foot flocked pre-lit tree from King of Christmas last year and it's gorgeous!  It's the BEST tree we've ever had!  The quality is absolutely superb and it is so full and dense.  (Stay tuned for next week as I'll reveal the new 12-foot flocked tree they sent me for this new home.)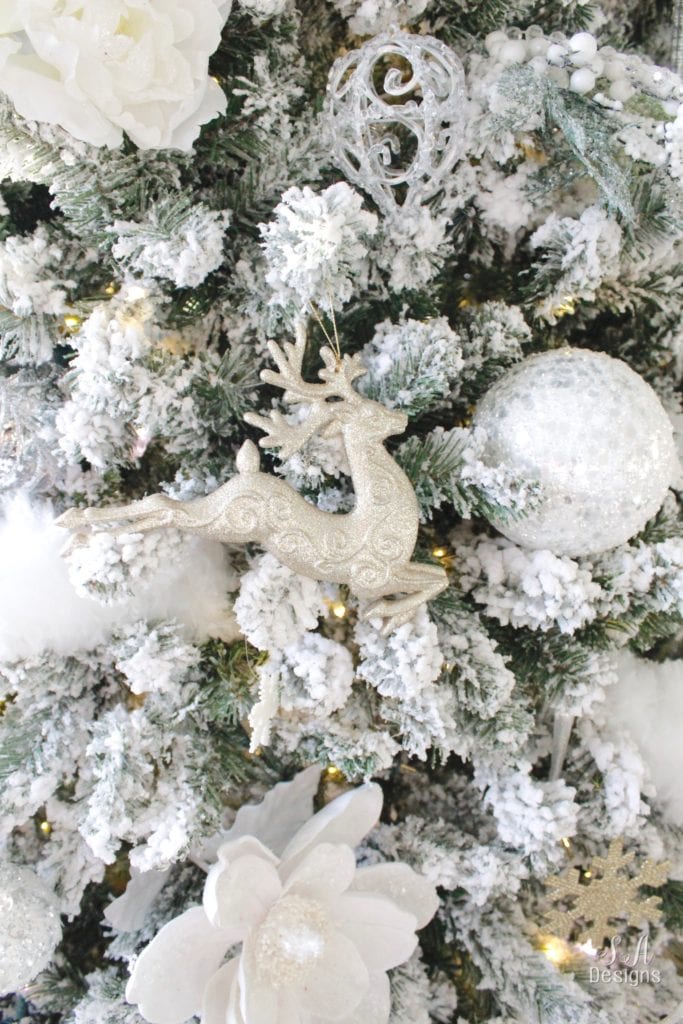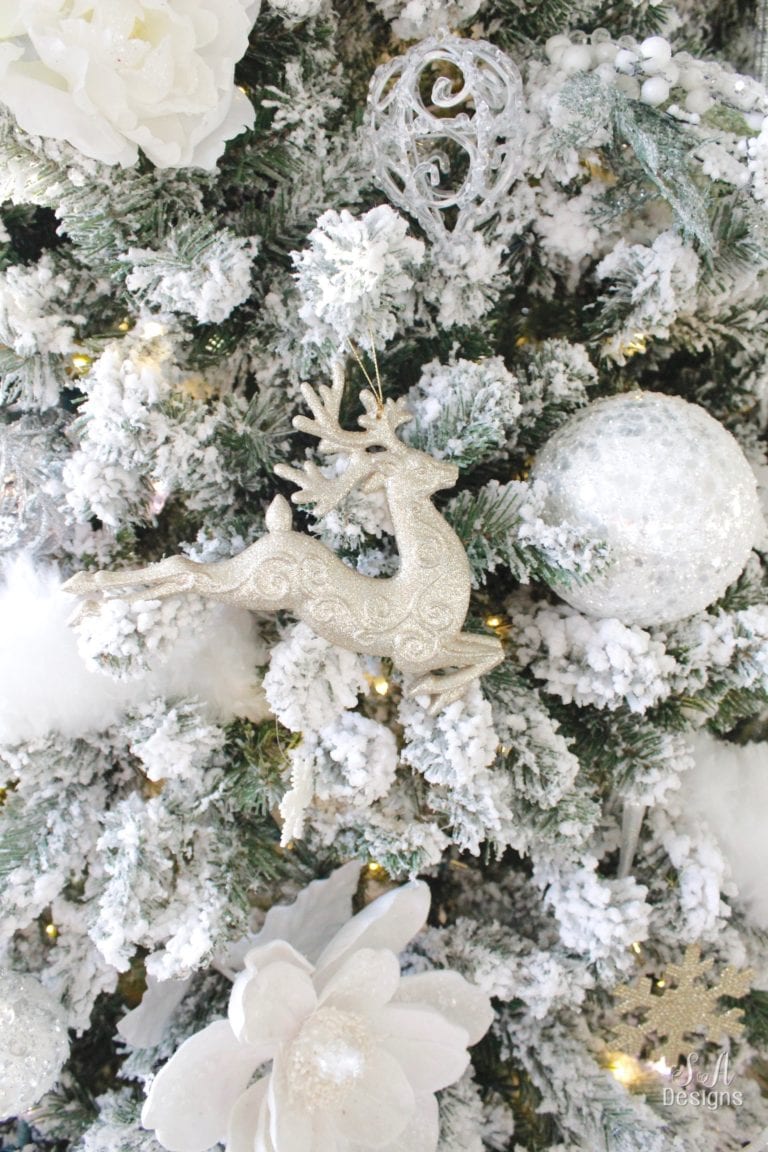 I used mostly white and silver but a few touches of gold so that this felt more like a Winter Wonderland.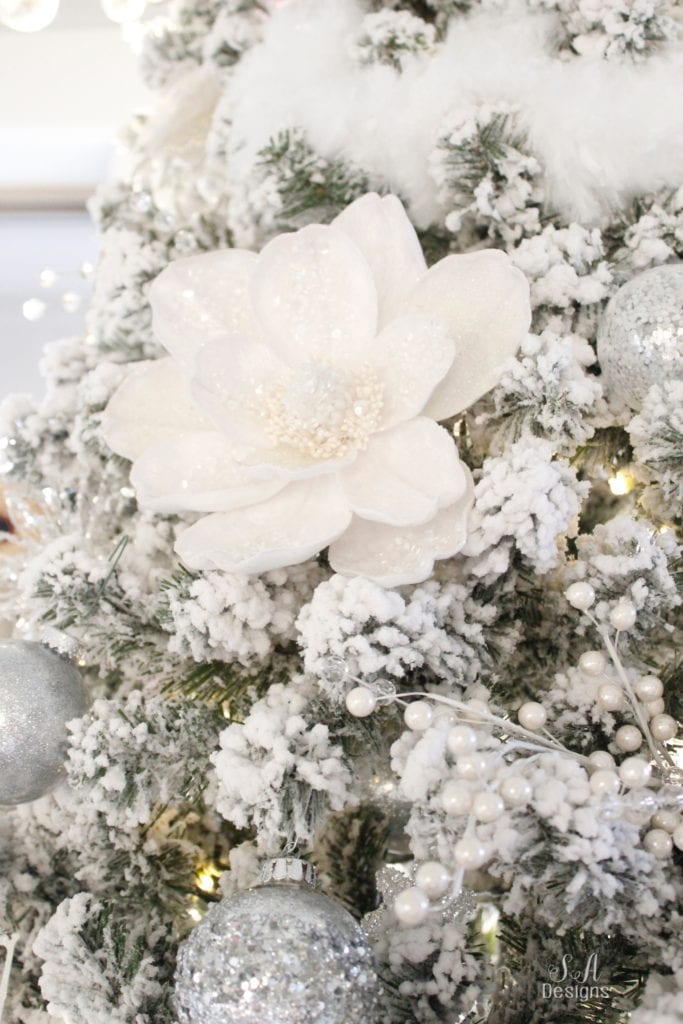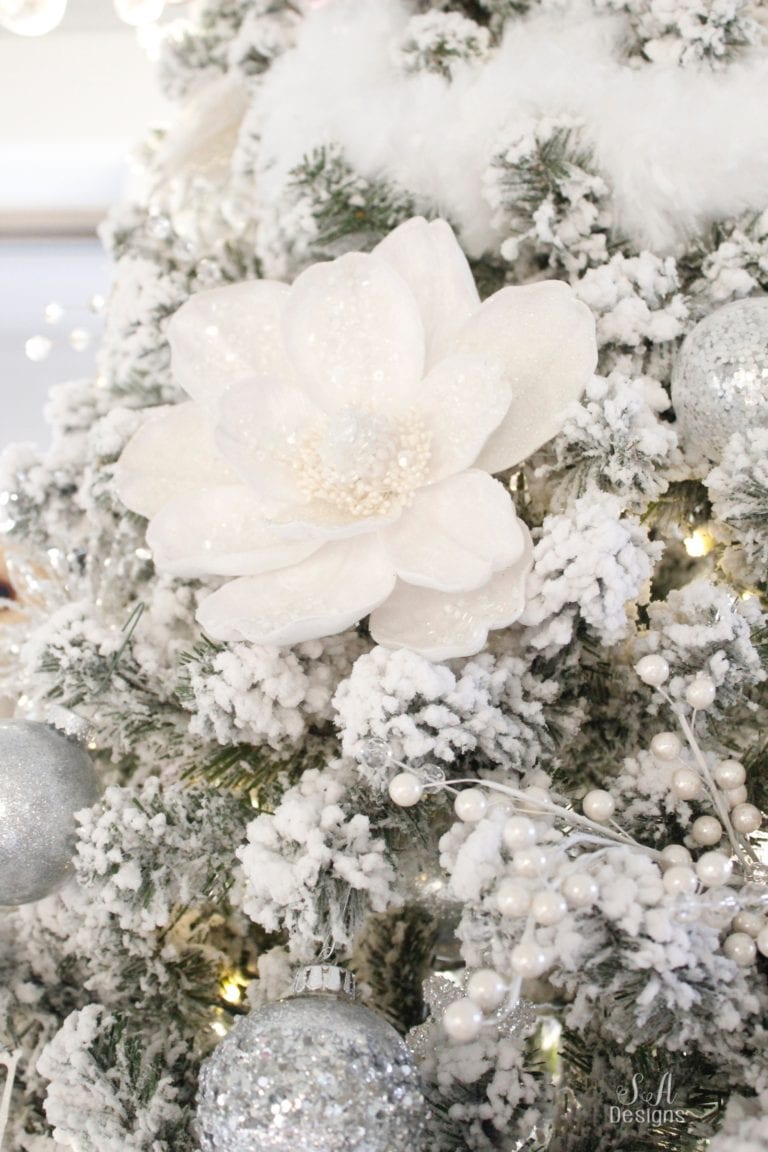 I used these frosted magnolia stems that I used in last year's tree. Aren't they so pretty?!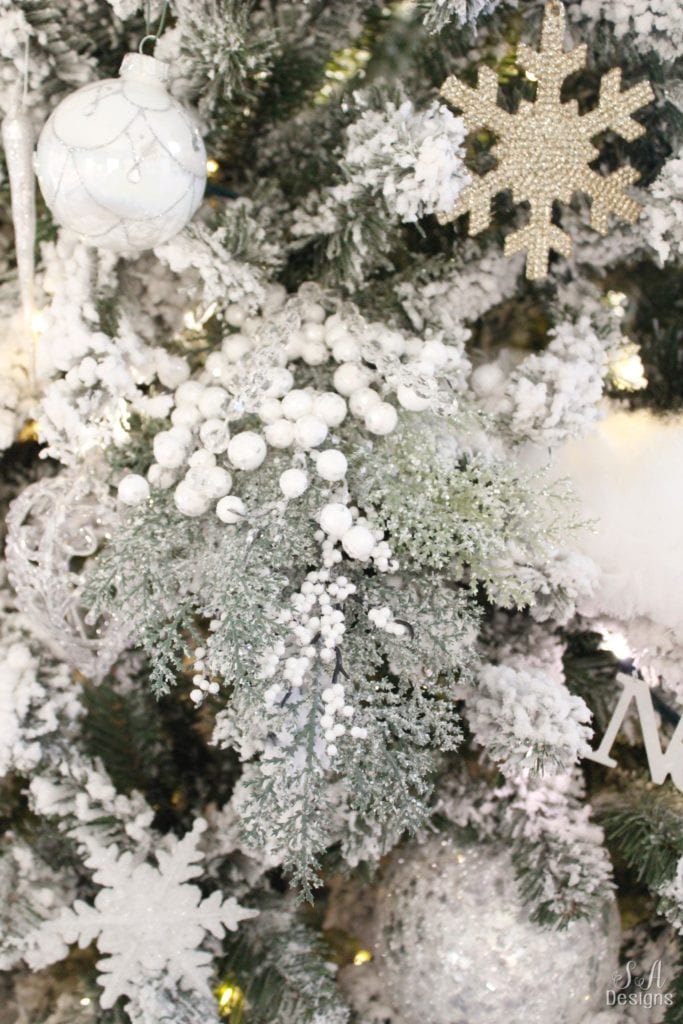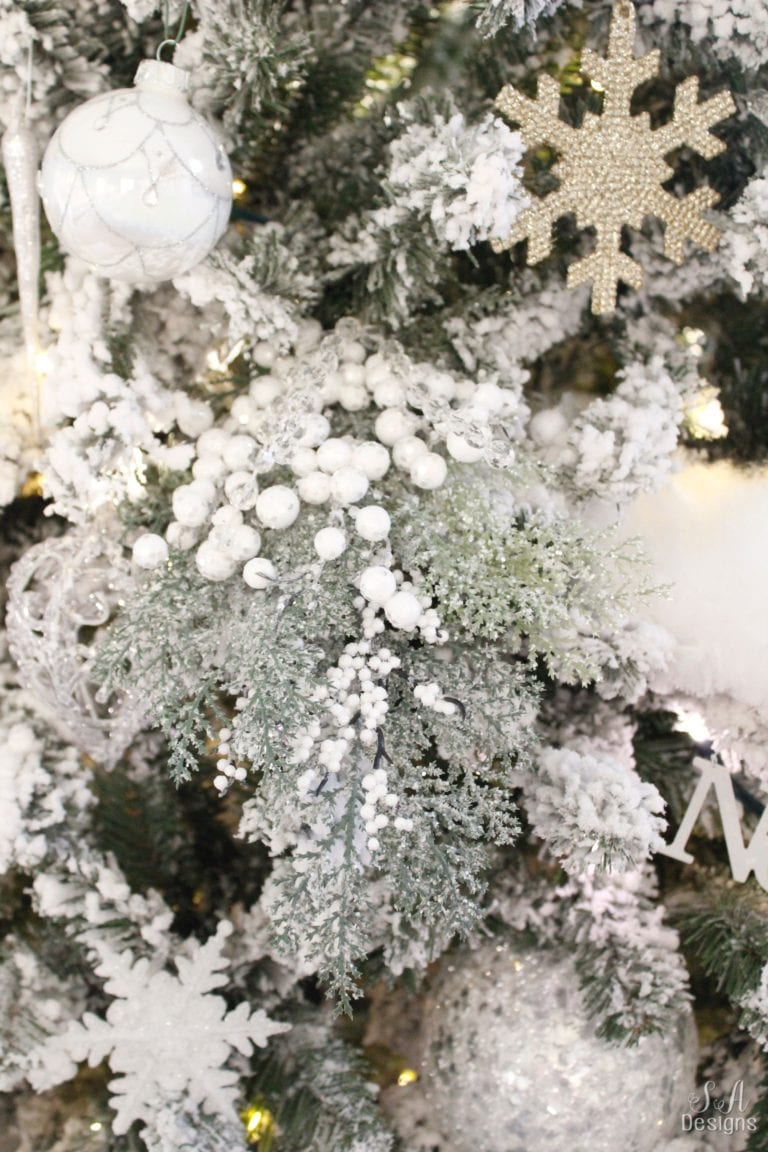 Frosted winterberry stems were used as well.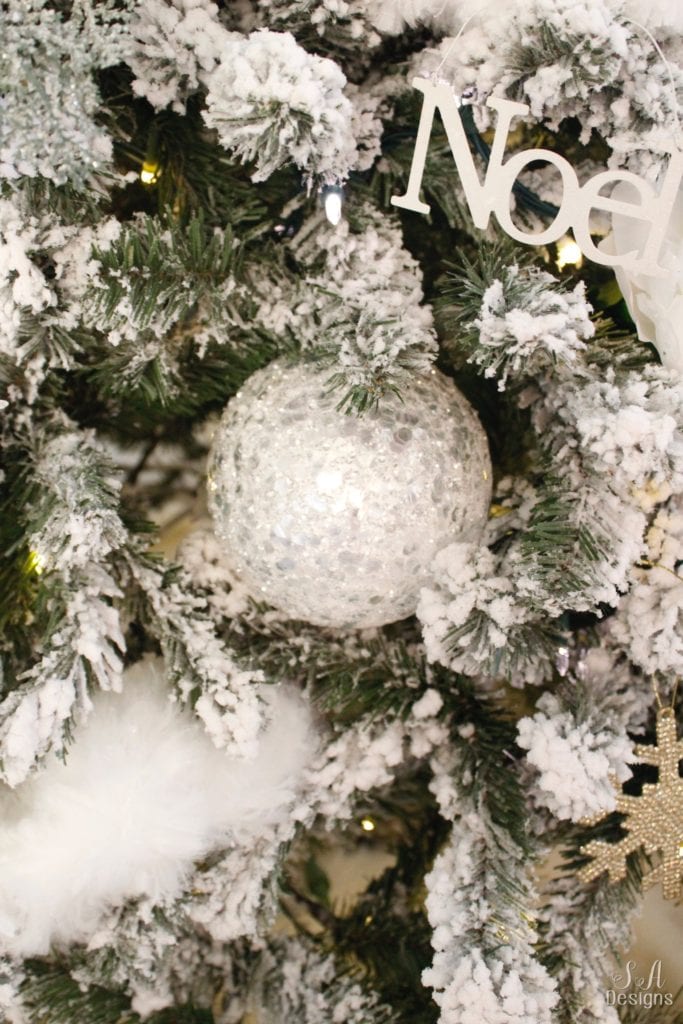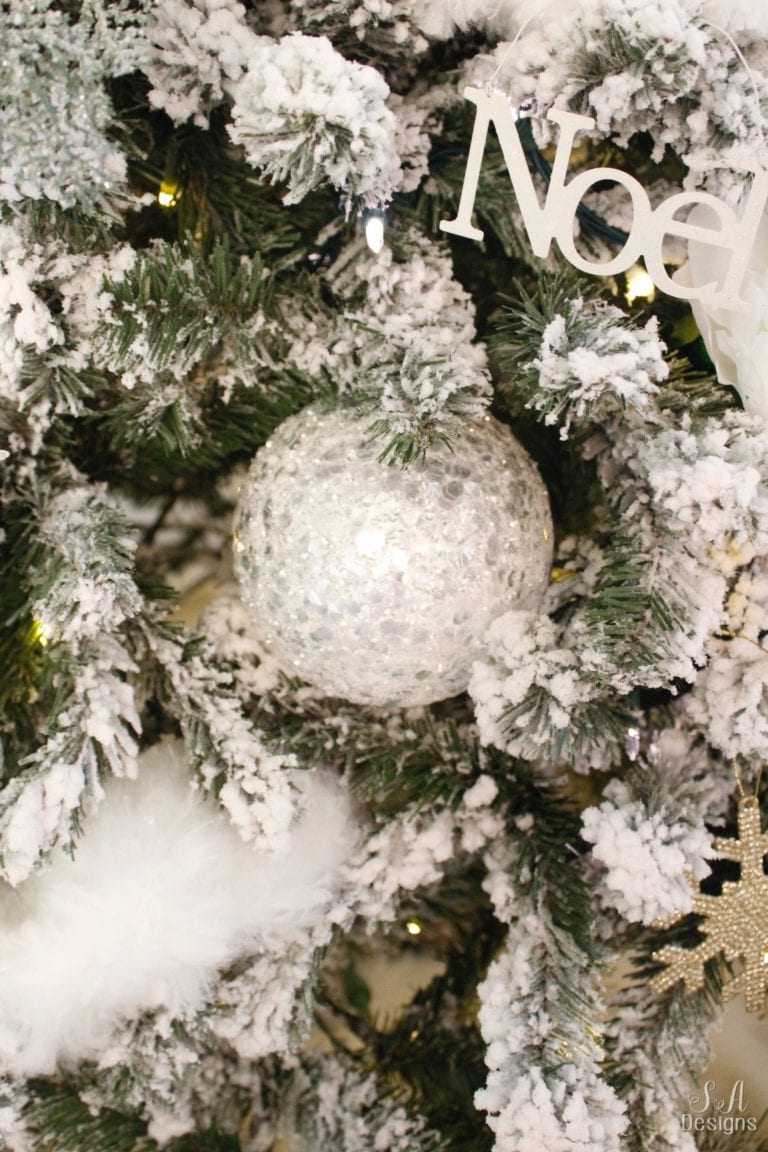 I'm a sucker for lots of sparkly ornaments.  These looked like fresh snowballs!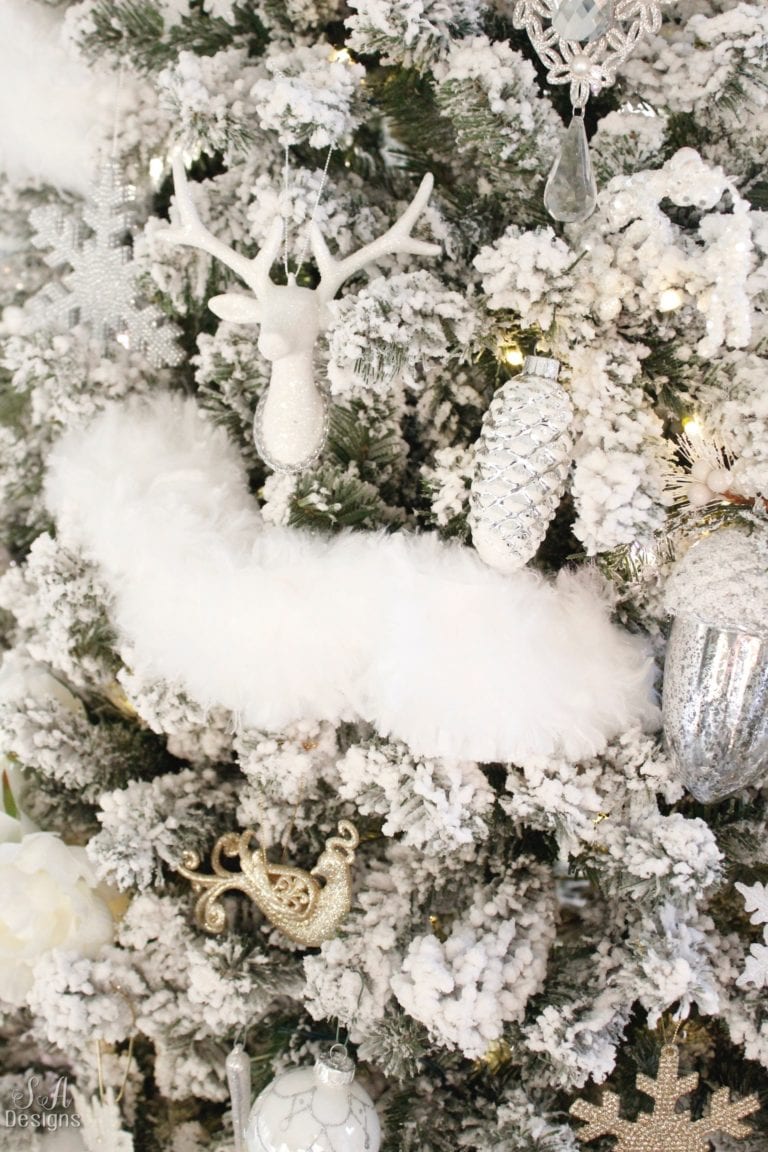 I added shimmering pinecones and glittered deer ornaments and anything winter-y that sparkled.
My secret for the perfect Winter Wonderland Flocked Christmas Tree…
For the fluffy white "fresh fallen snow" that is softly tucked in the branches of the tree I use  THESE.  Hot glue sets of 2 and 3 together and then place them on the tree as if they've fallen like so.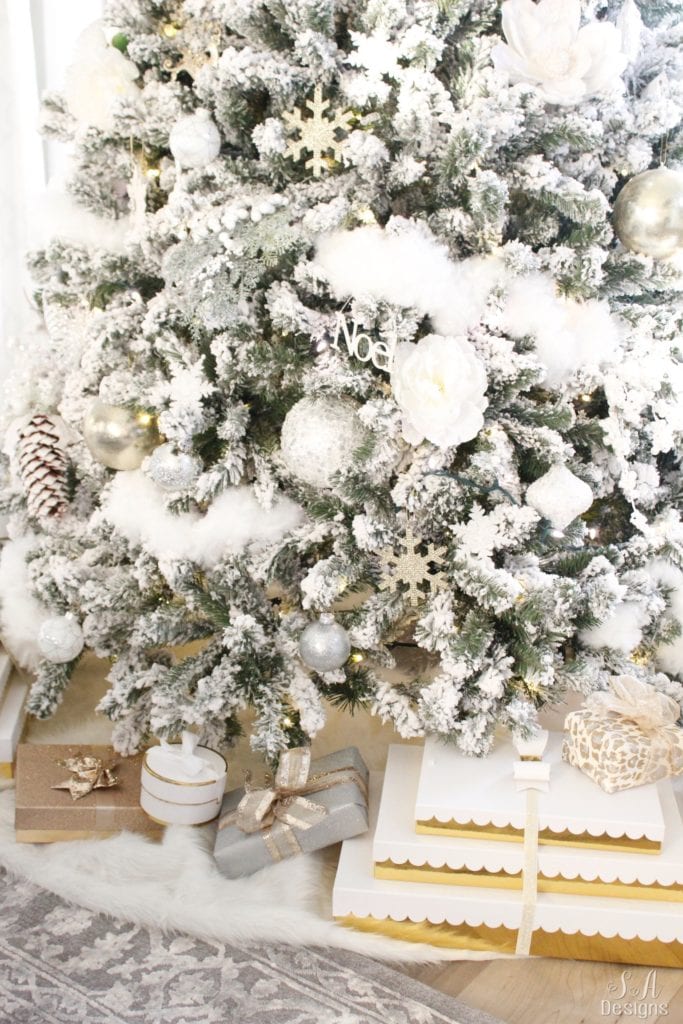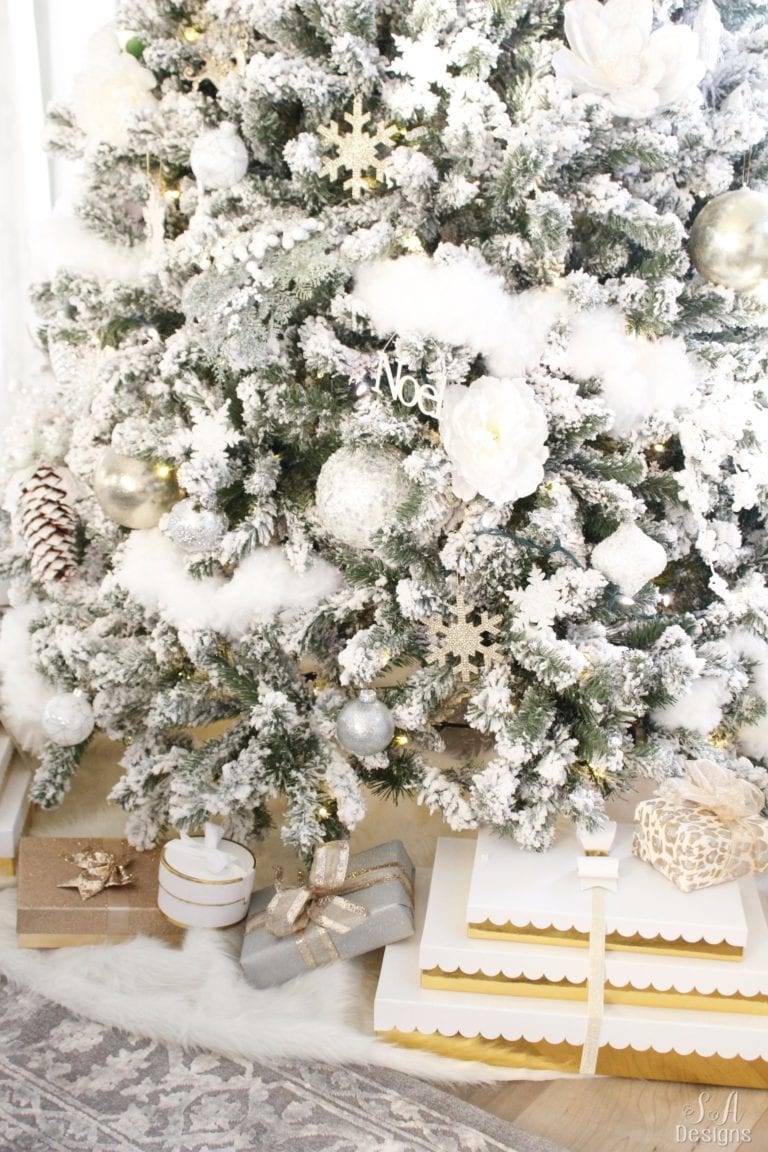 I only have a few presents wrapped so far but when I finish ordering them all from Amazon, I'll wrap them then…ha!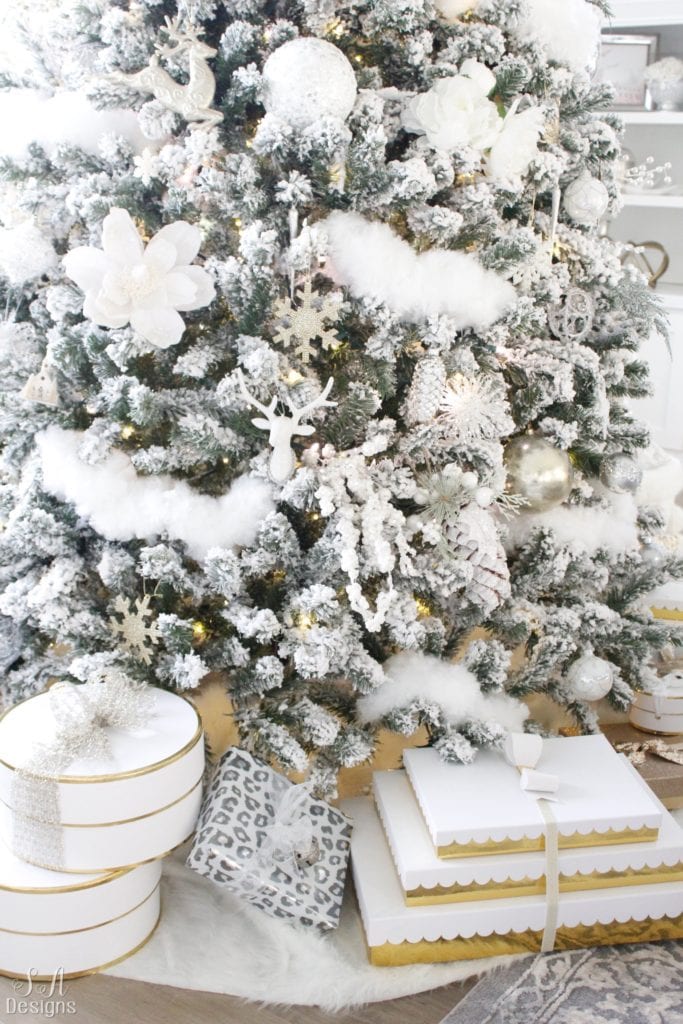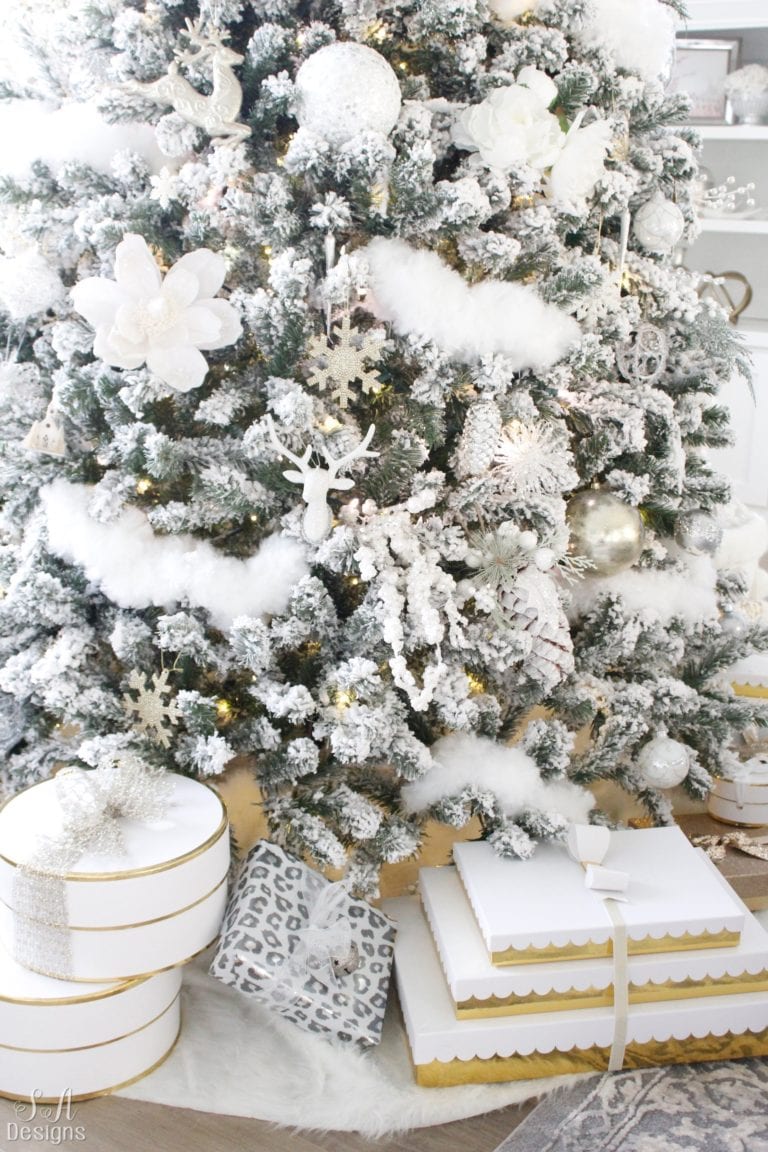 Seriously though…..most of our Christmas comes from Amazon Prime.  It beats the lines and the traffic!  Although, my Holiday Gift Guide contains the most fabulous items and they're all online too.
The mantel….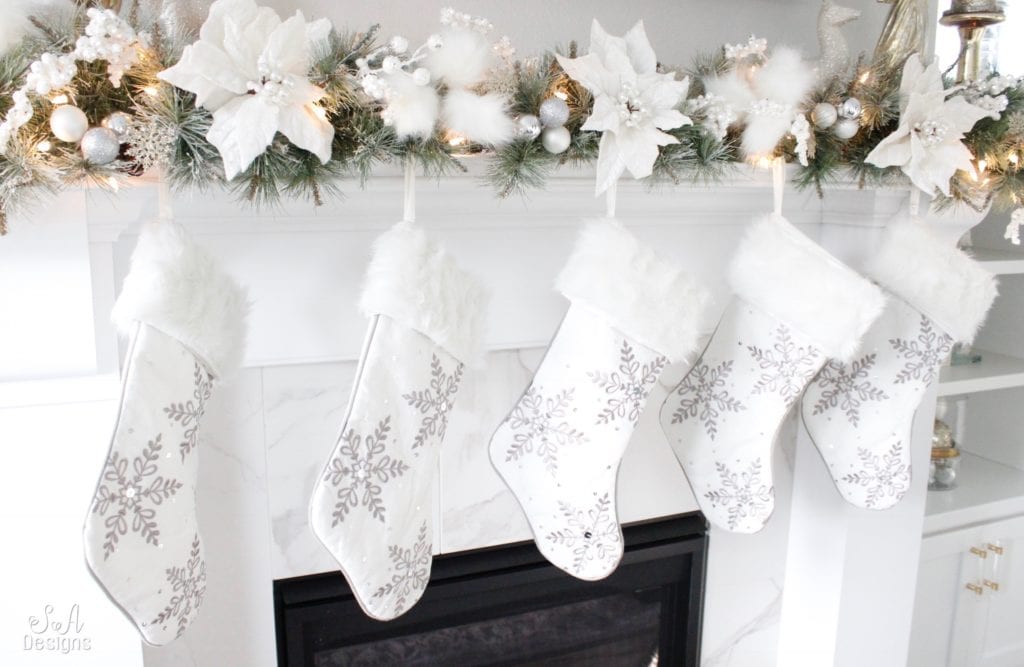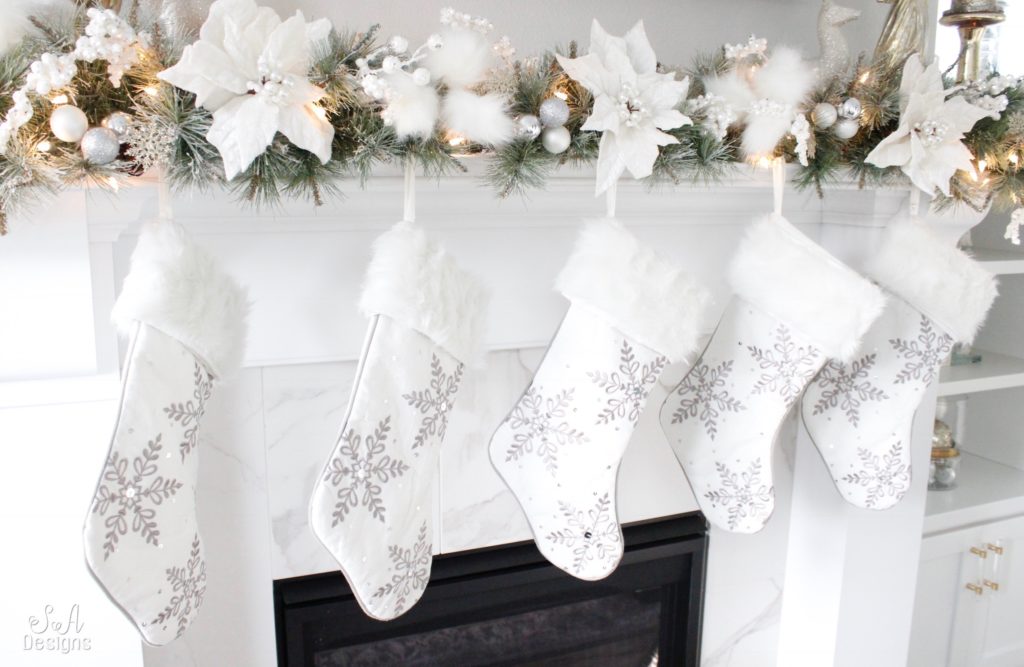 I have a frosted garland that I use every year.  I added velvet, sparkly white poinsettia stems, ornaments, sparkly berry stems, and fluffy fur stems (from Michaels) to give it that snowy Winter Wonderland feel.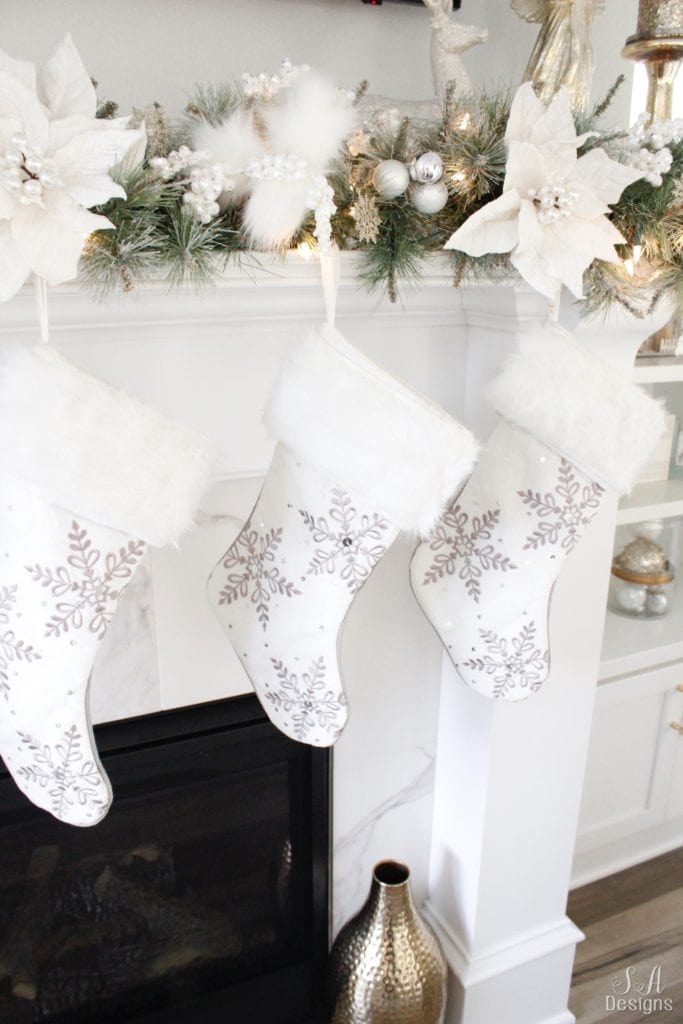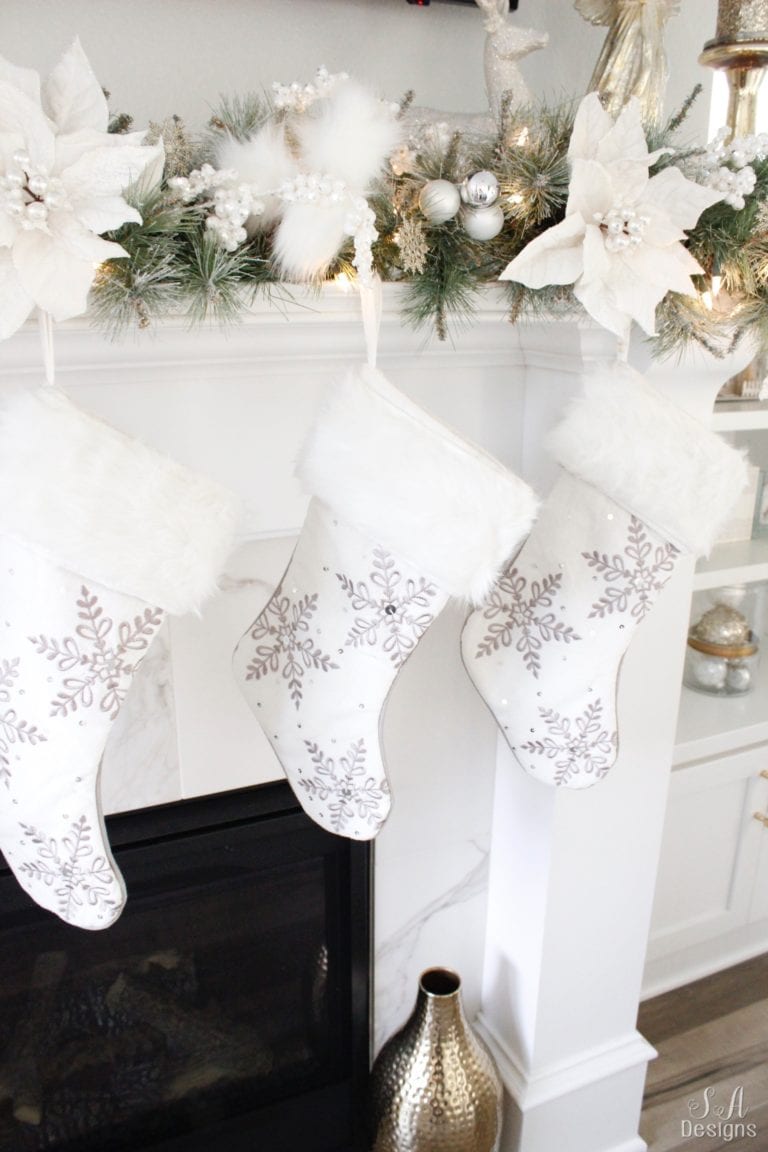 We've had these stockings for years but I added fur trim to the top of them last year.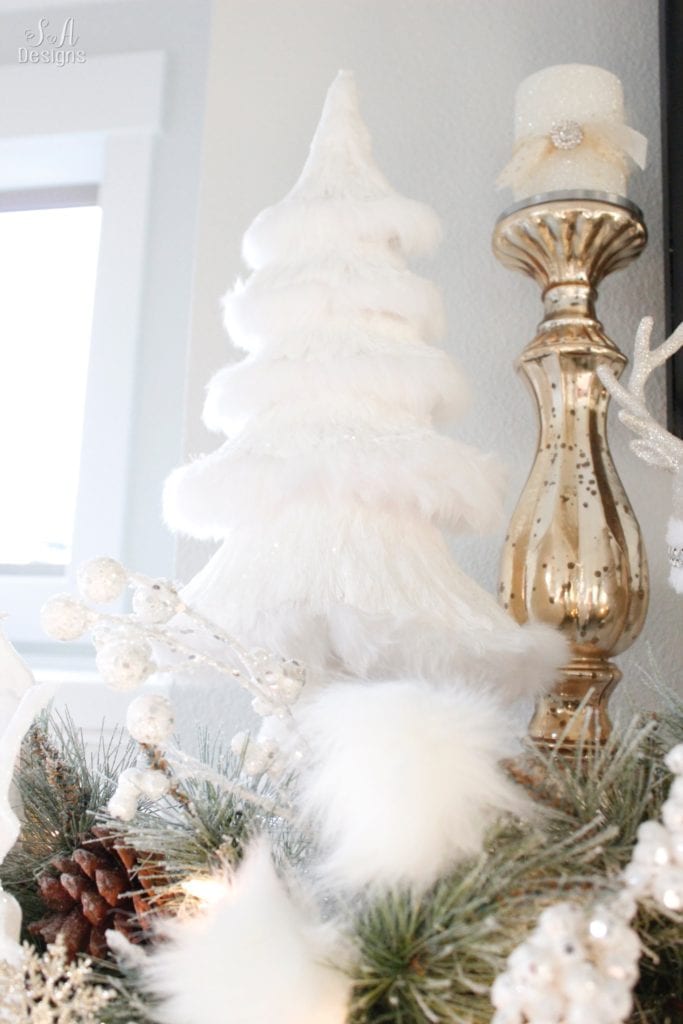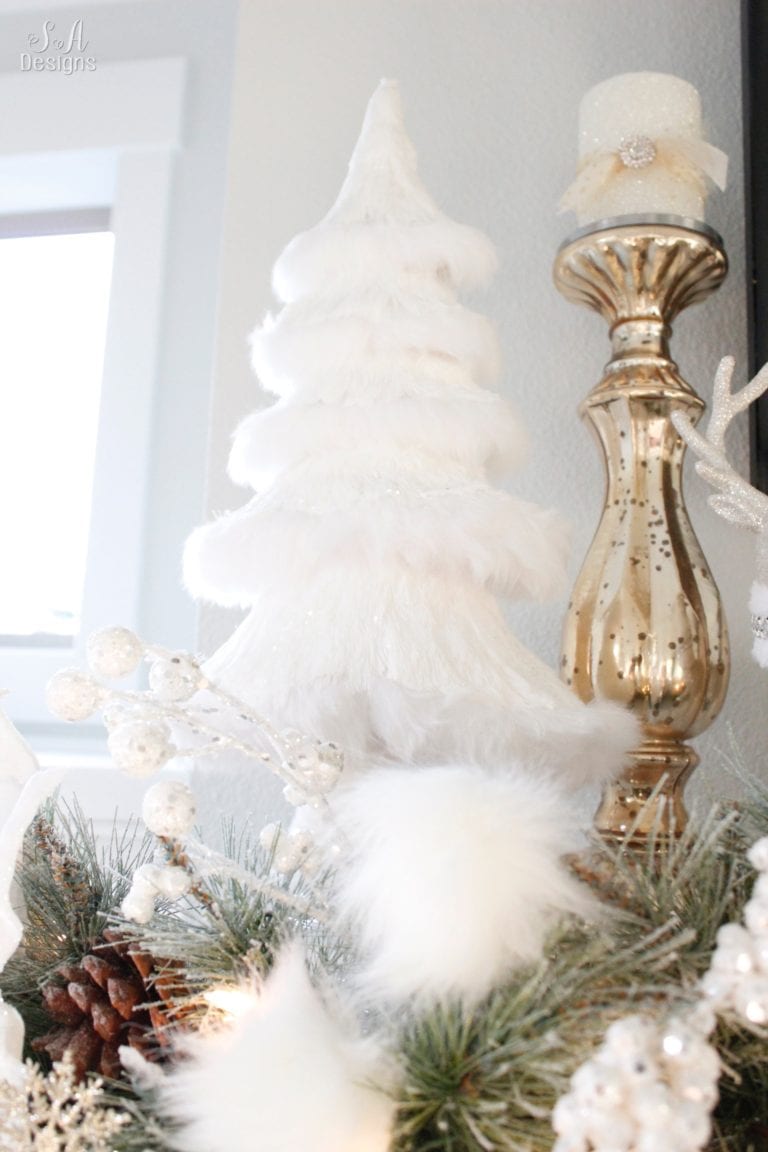 Did you see these cute furry, sparkly white trees at Michaels this year?  I love them!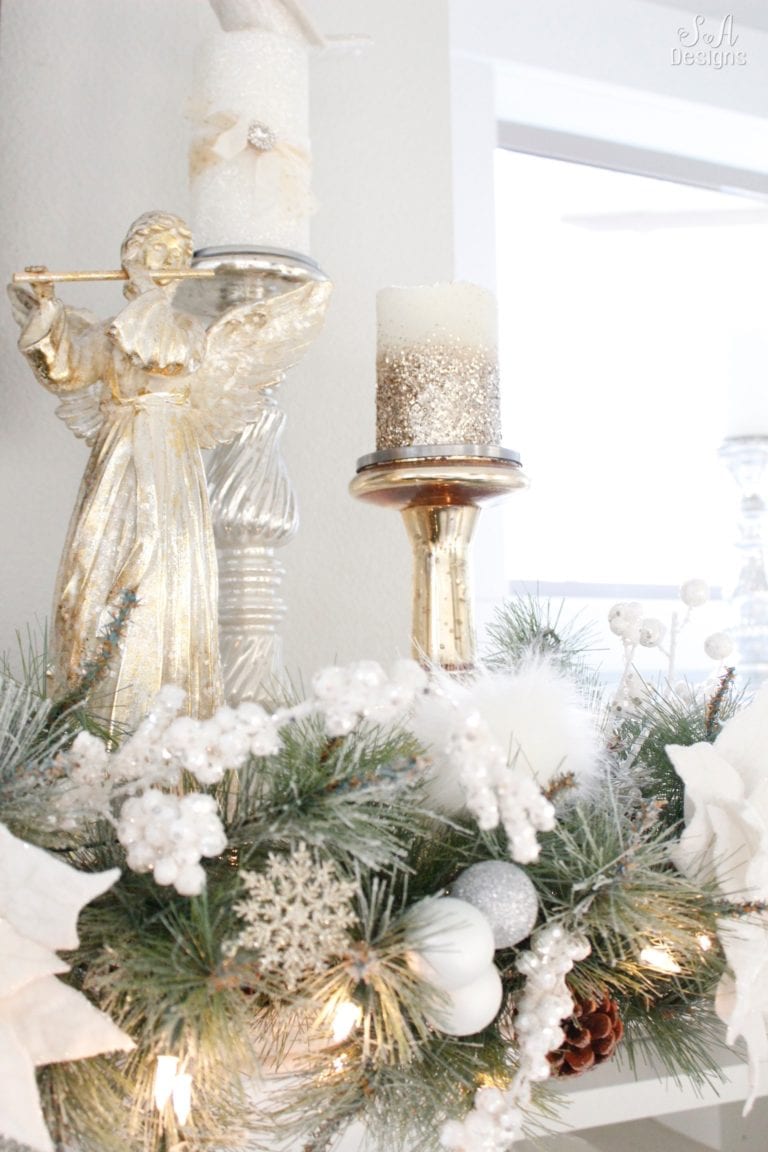 My mom gave me this gorgeous gold angel some years ago.  She makes an appearance on our mantel every year.  (The angel, not my mom..hahaha!).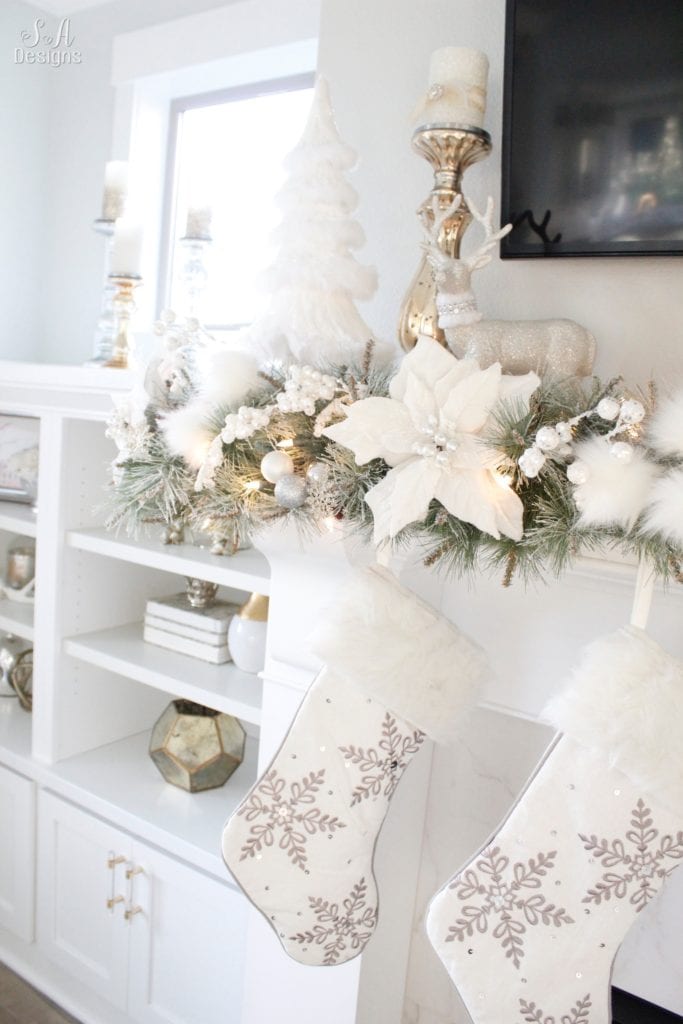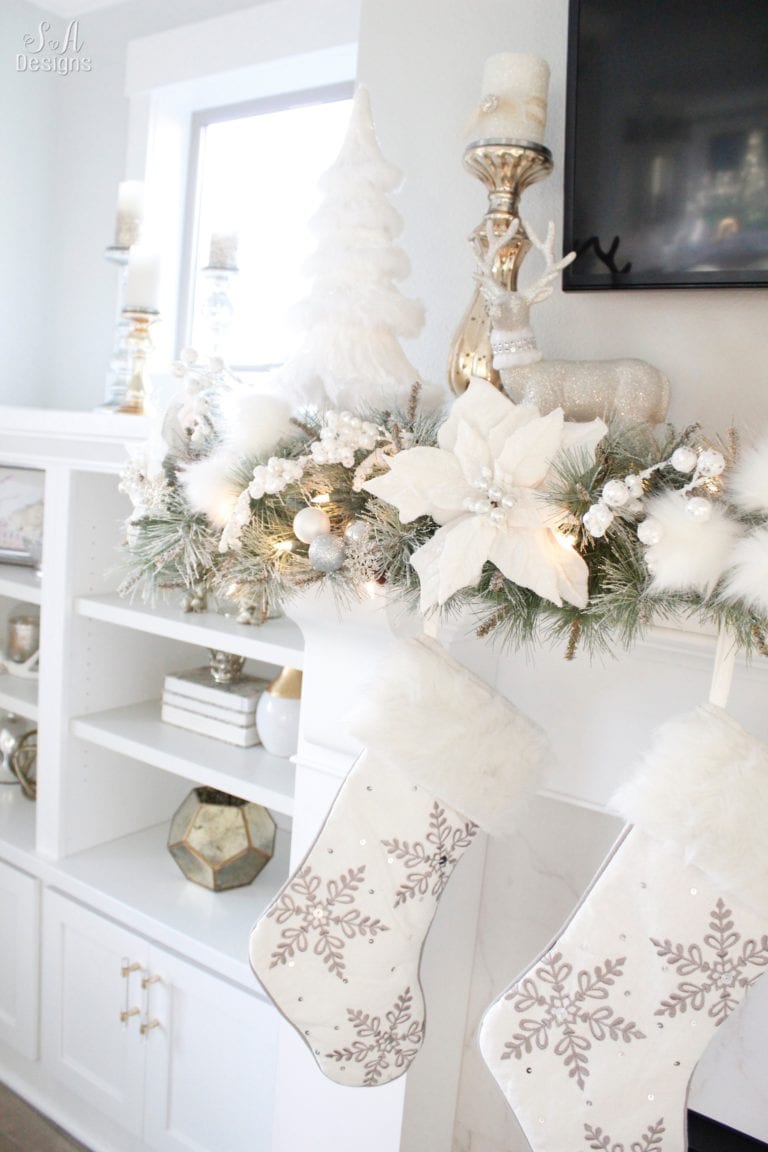 Sparkly deer, mercury glass candlesticks with glittery candles, and shiny winter accents were used around my mantel and built-ins.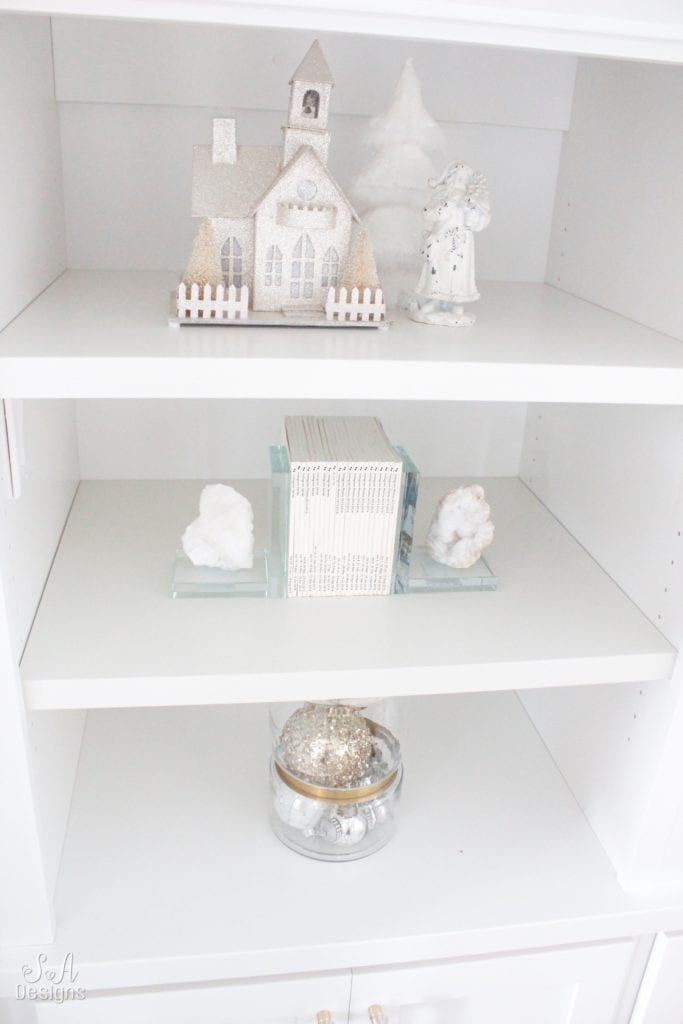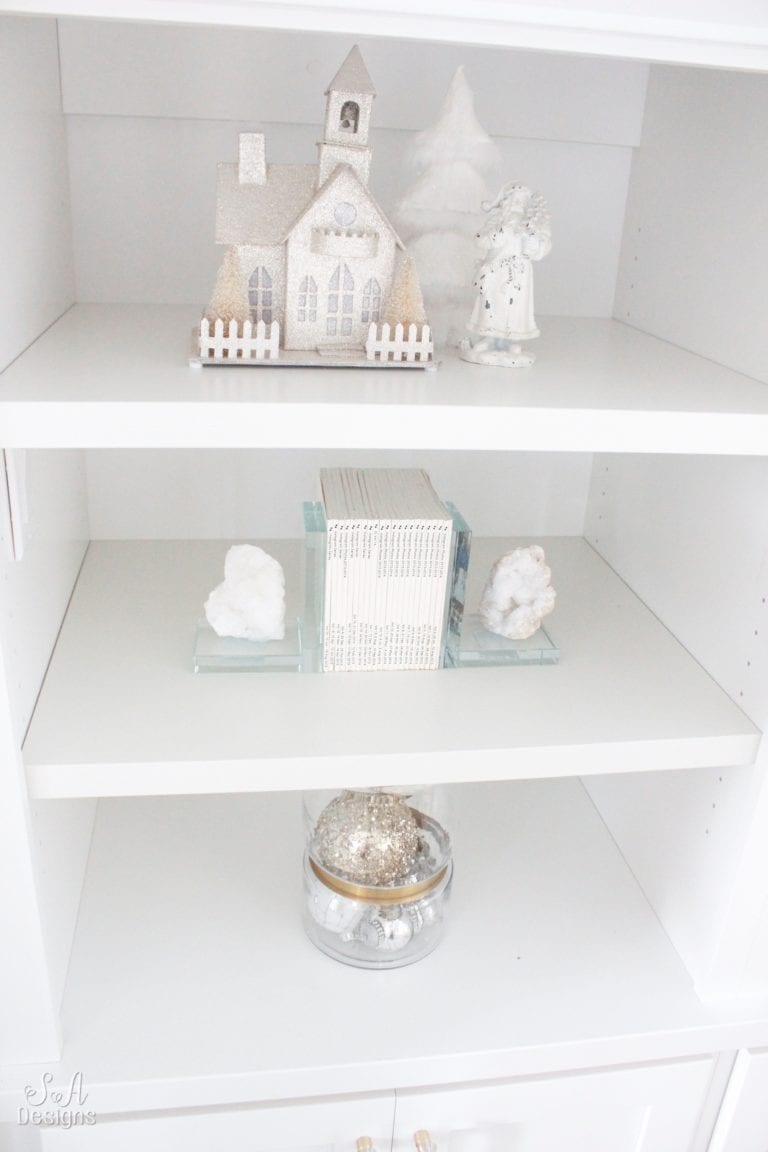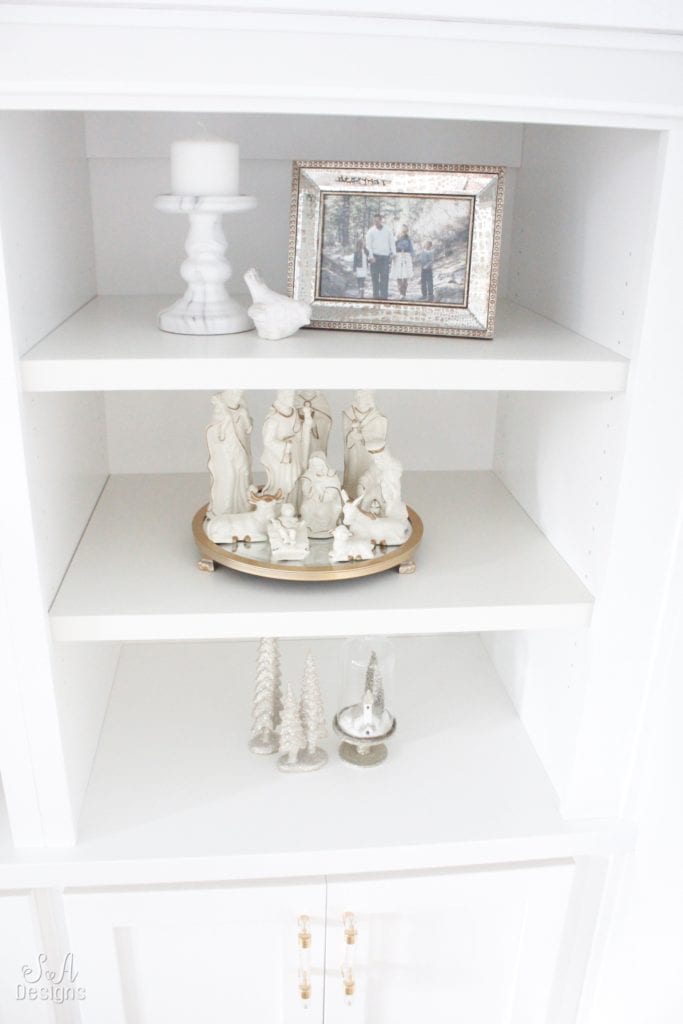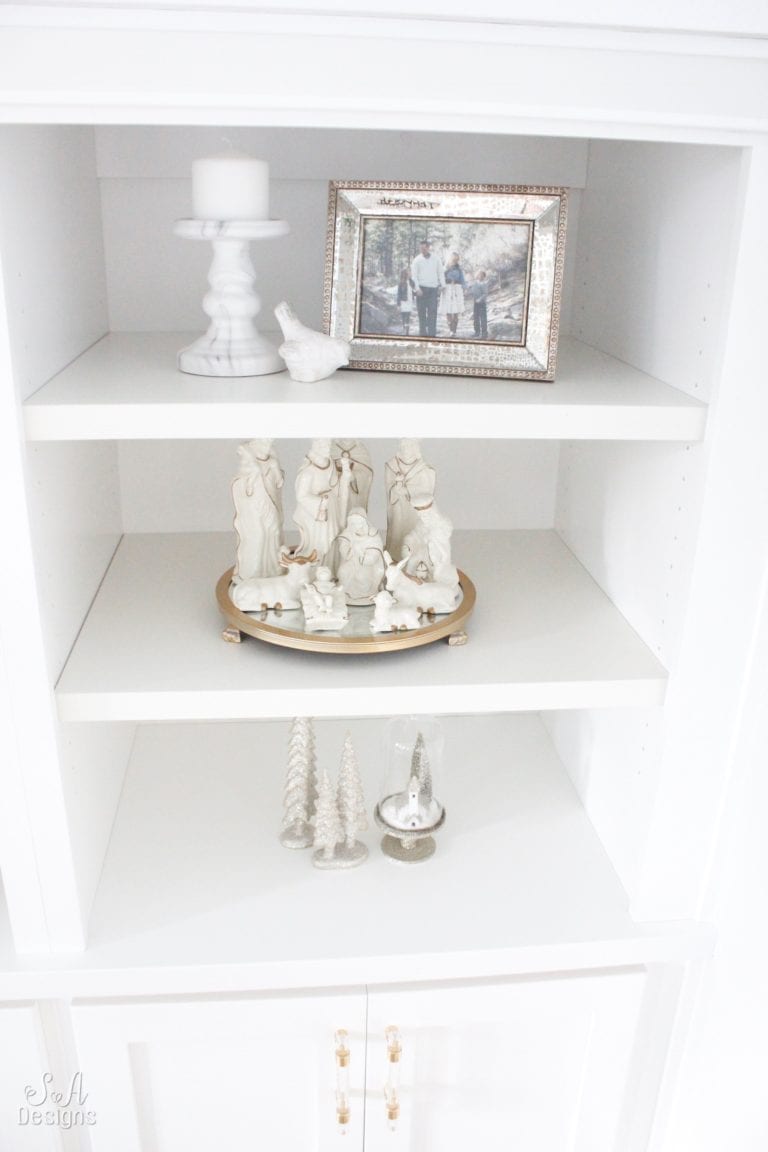 That darling nativity scene was the best $5 I've ever spent at a garage sale.  I just adore it!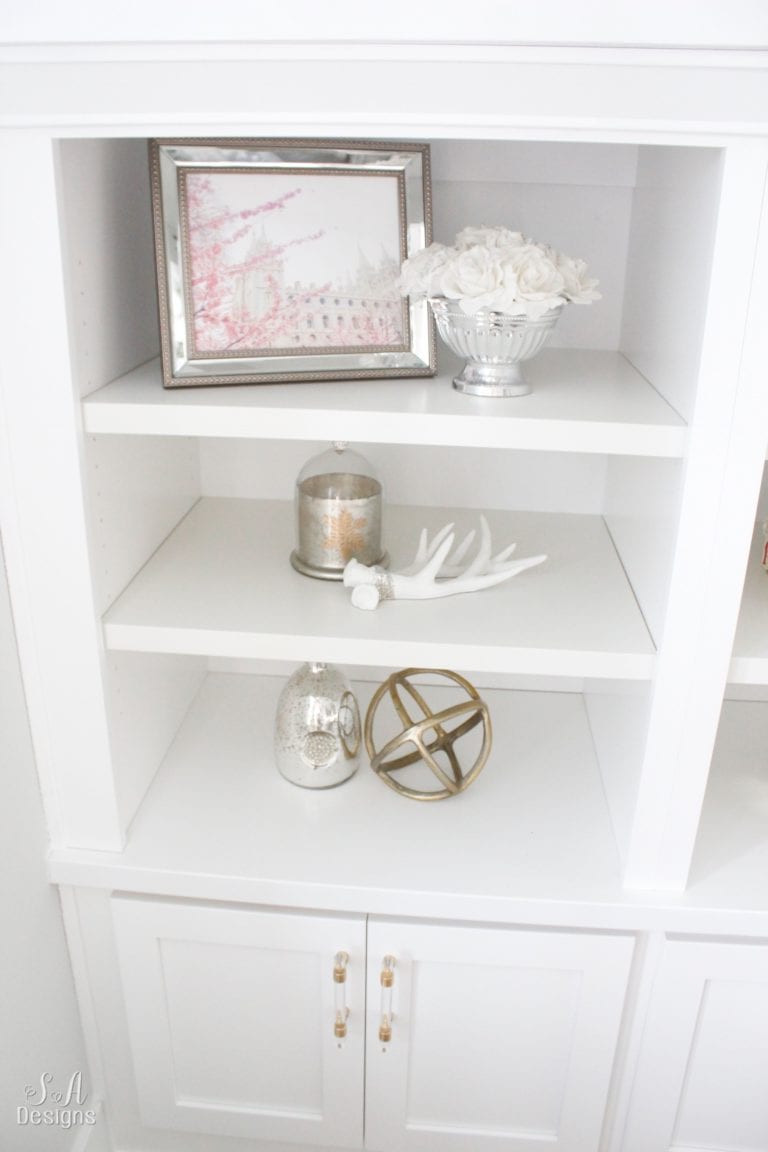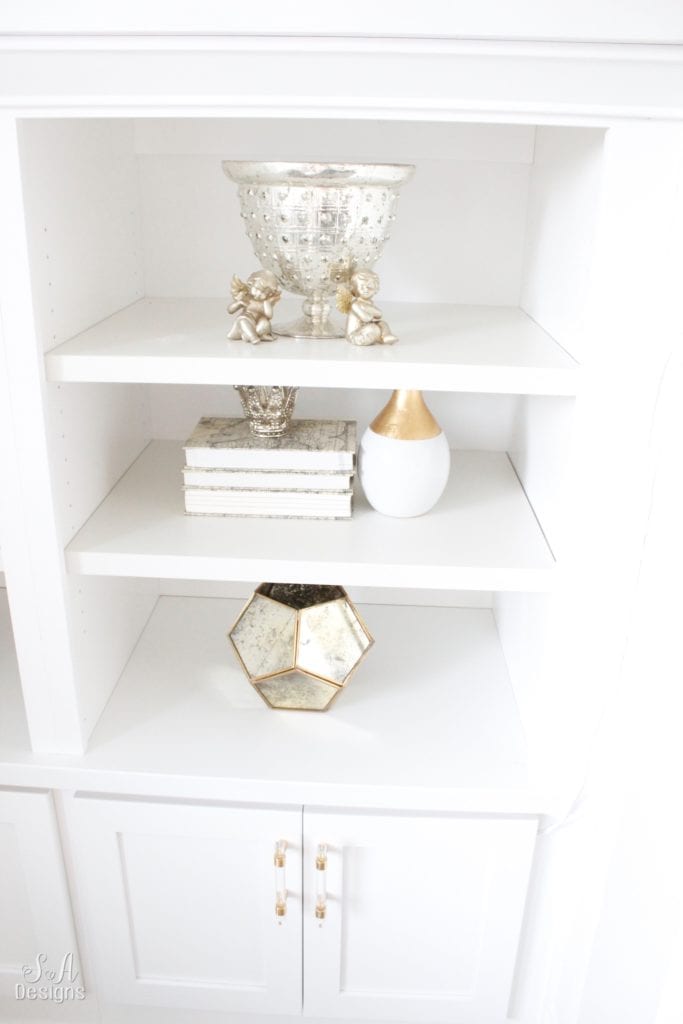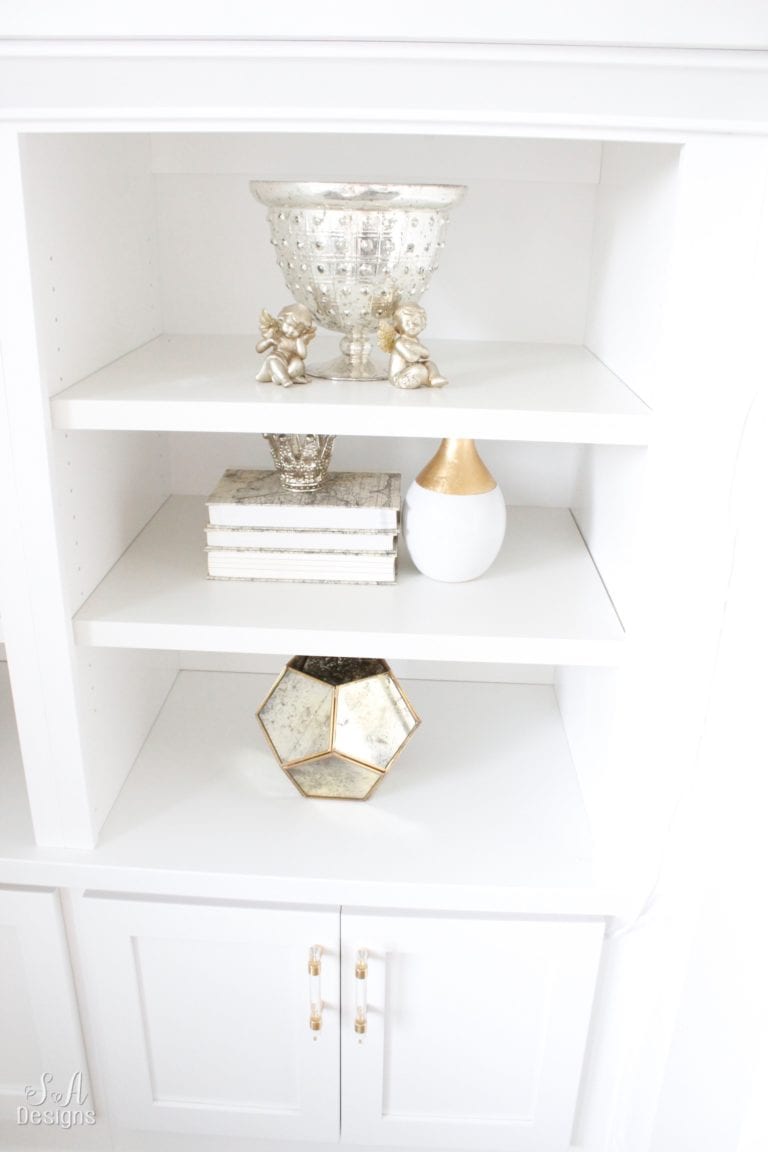 The coffee table…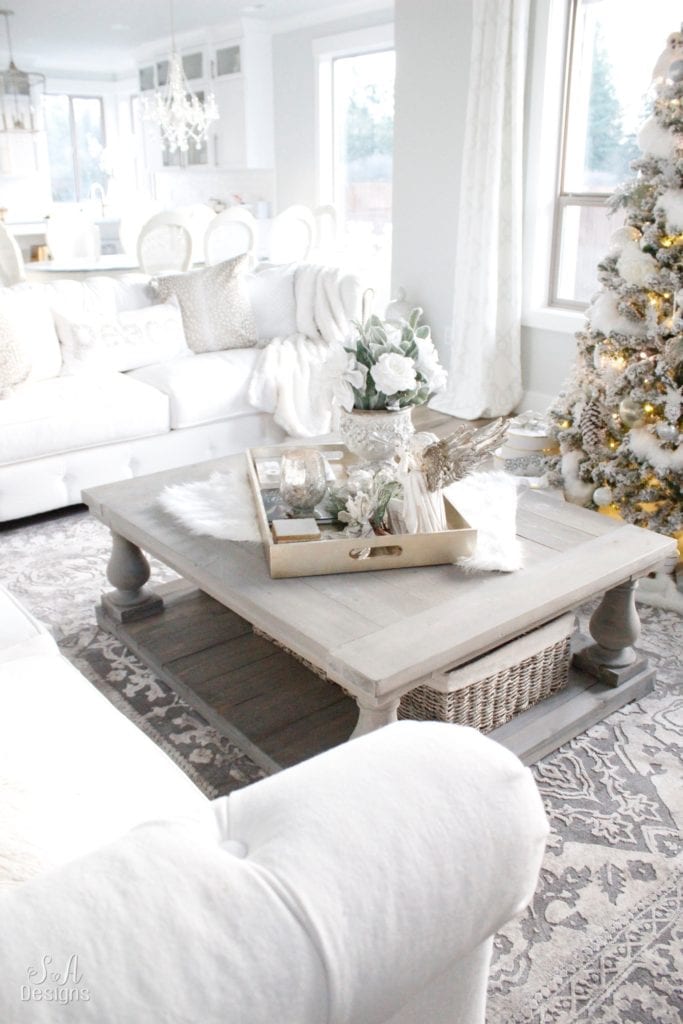 I love throwing a faux fur on my table in the winter and a large tray on top.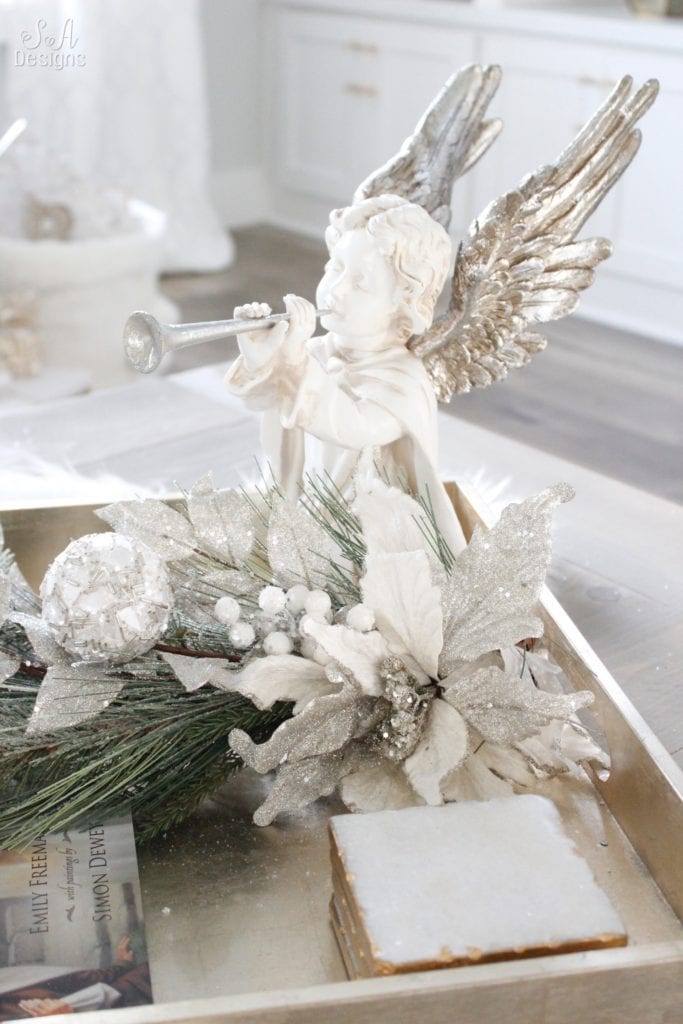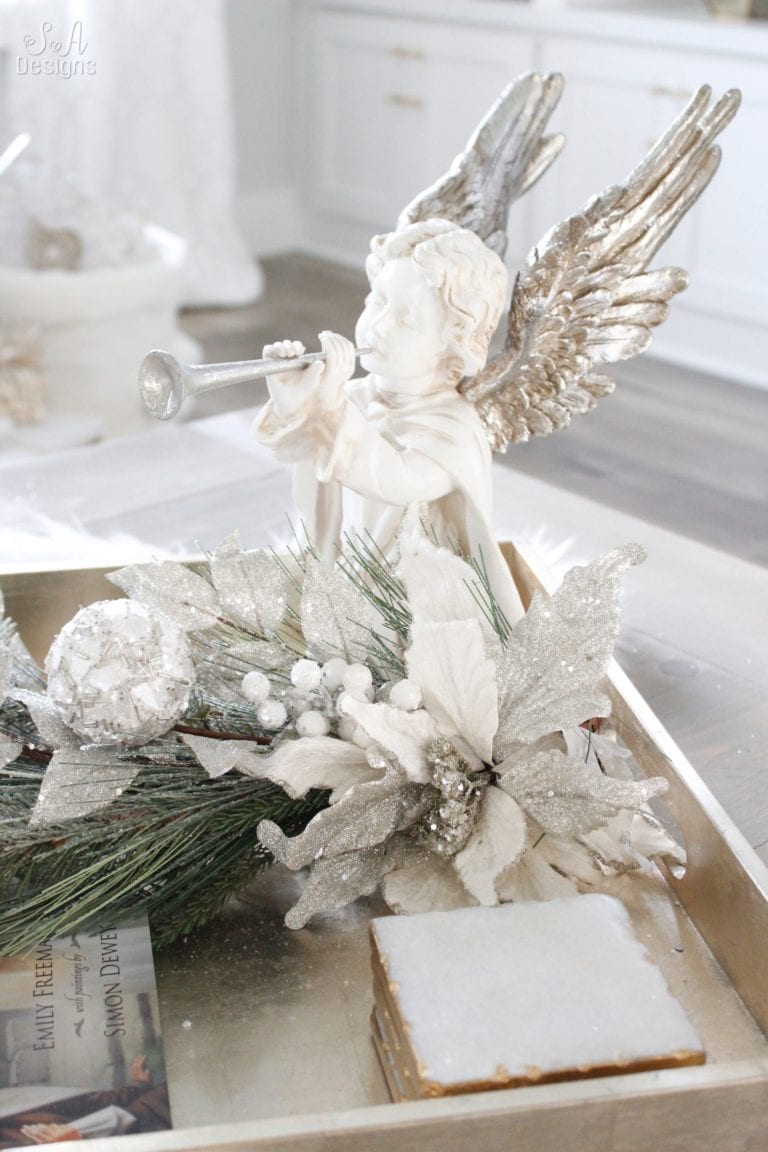 This sweet angel I found at a specialty store last year is back on my coffee table tray, embellished with a beautiful winter stem.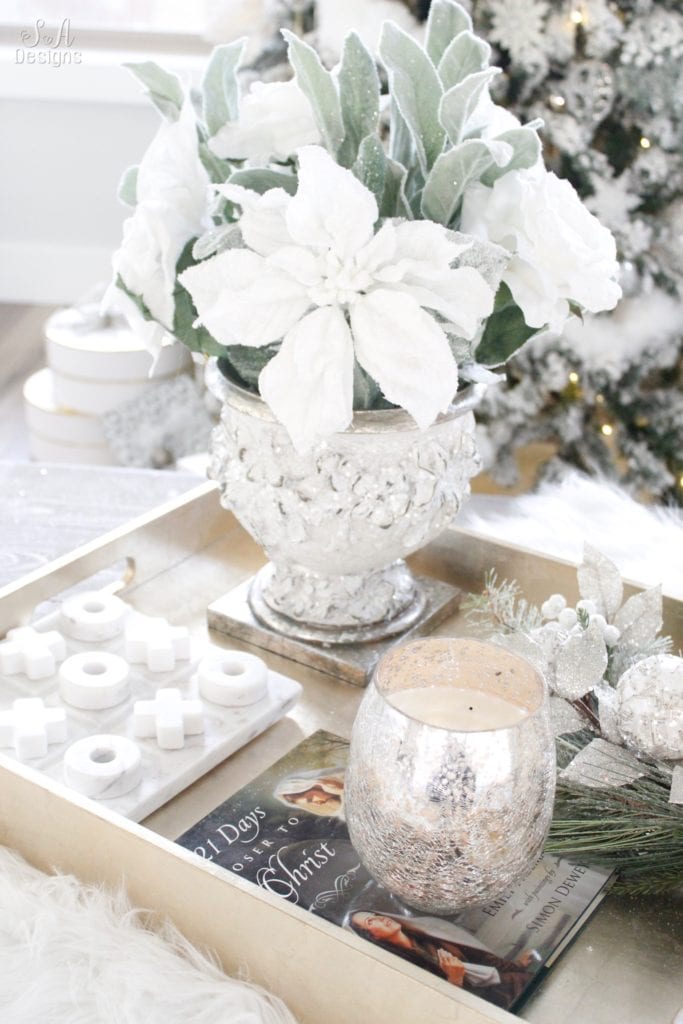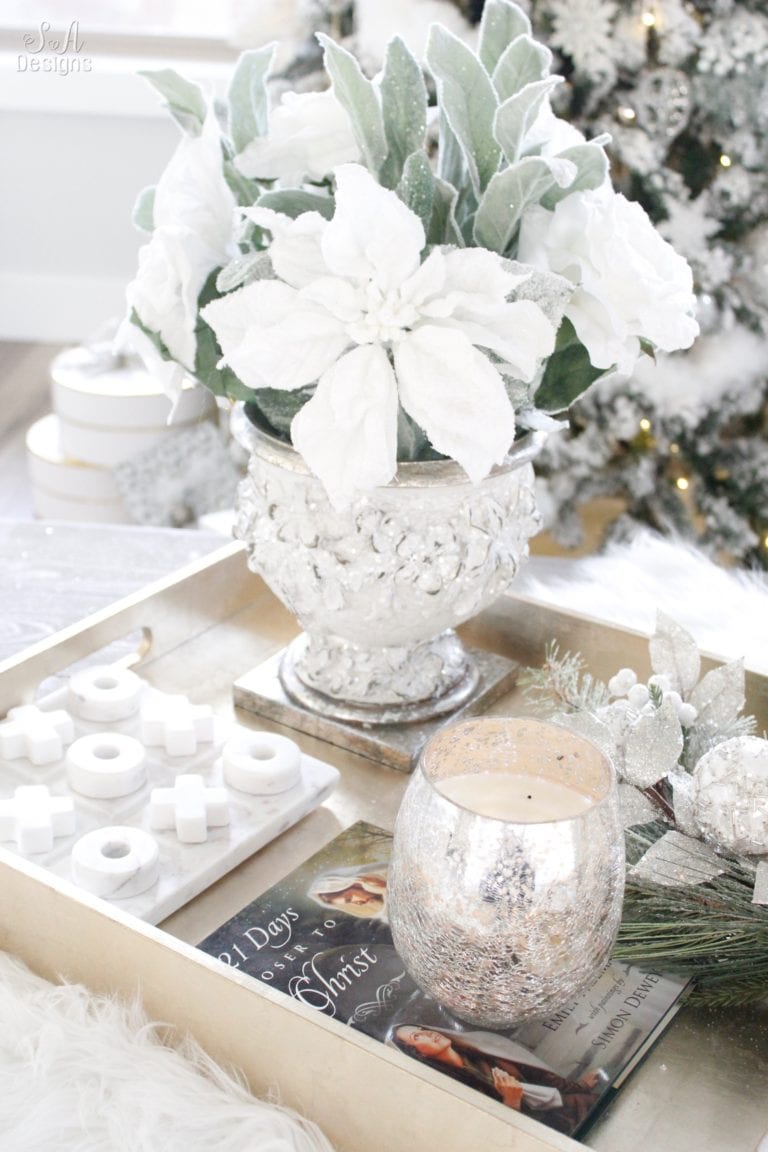 This frosted floral arrangement is the perfect snowy touch of elegance that this table needed.  I replaced my everyday candle to this gorgeous shimmery balsam candle and switched my other coffee table books to this one that I adore.
Winter Pillows…
Well look who wanted in on the photo shoot!  Hello Giorgio!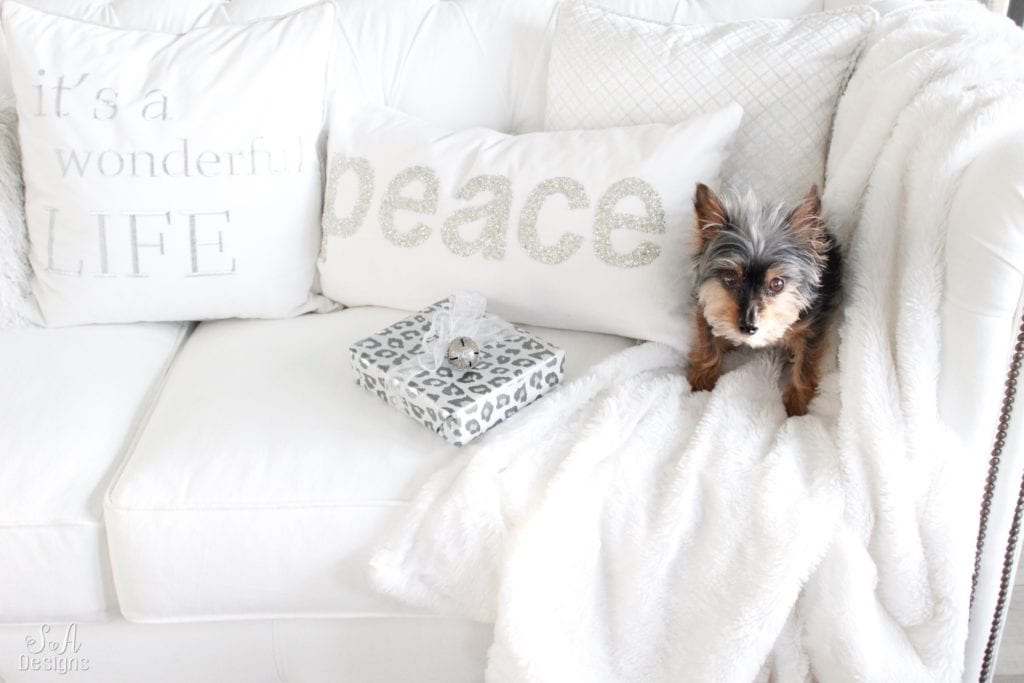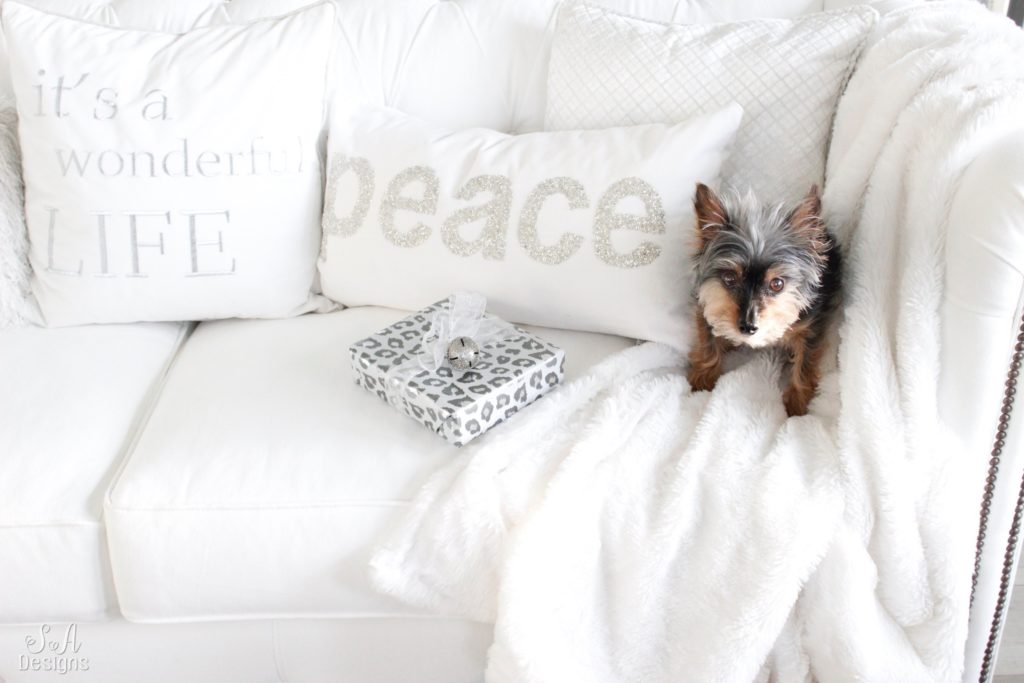 This pup is NOT allowed on my white furniture but I made an exception since he was crying for my husband and it was driving me nuts, ha!  Those two are like two peas in a pod.  So funny.
I had these beautiful Christmas pillows here but then the mailman came and brought me something fun!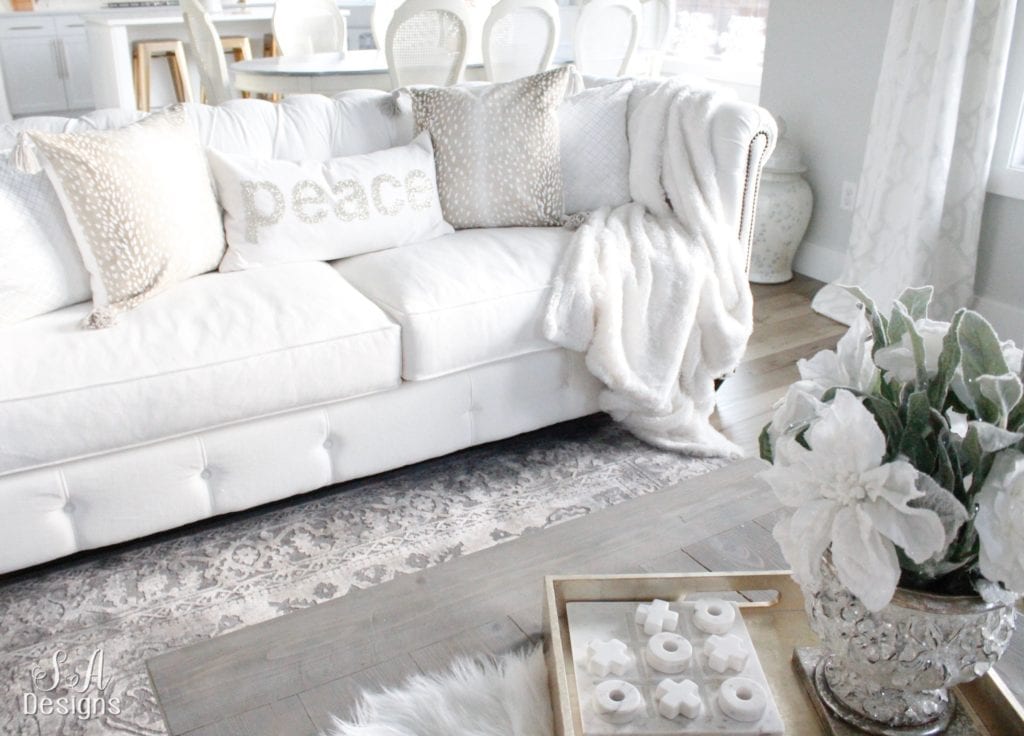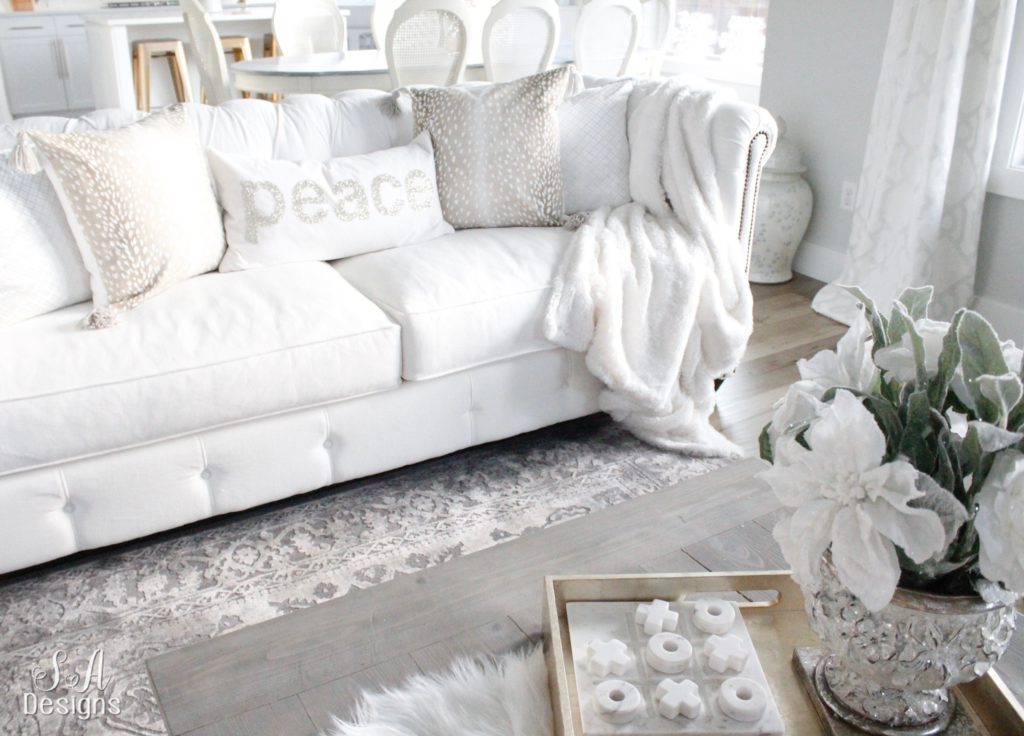 Just as I started to shoot this room, these gorgeous new antelope pillow covers arrived from my friends at Laurel & Blush and the timing was perfect.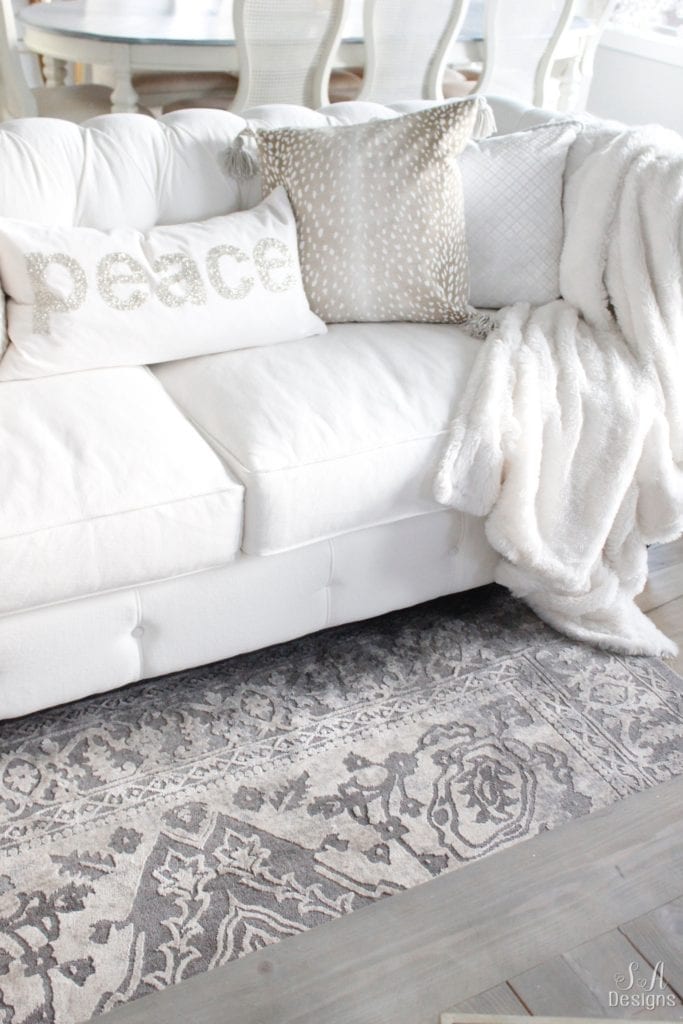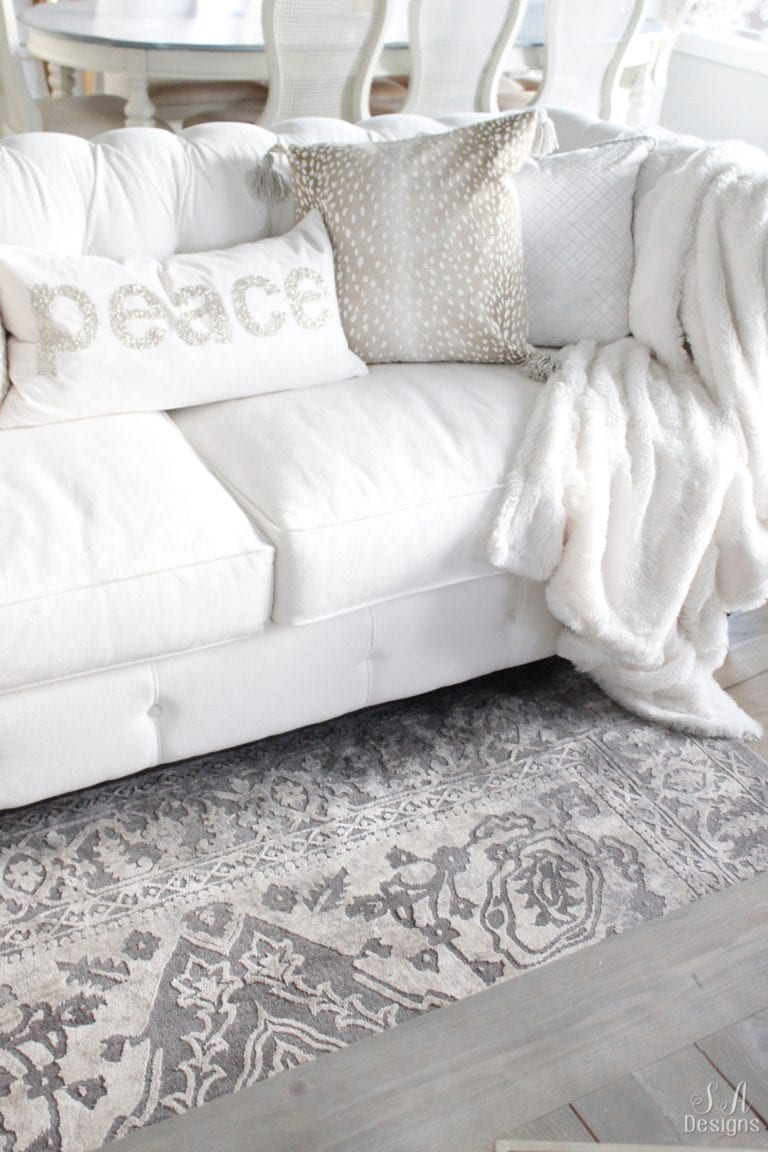 This touch of antelope looks perfect in my Winter Wonderland living room next to that velvet beaded "peace" pillow.  Isn't that fabric just gorgeous?!  I love having that print, mixed with velvet and sparkly beaded pillows for that perfect Winter Wonderland look.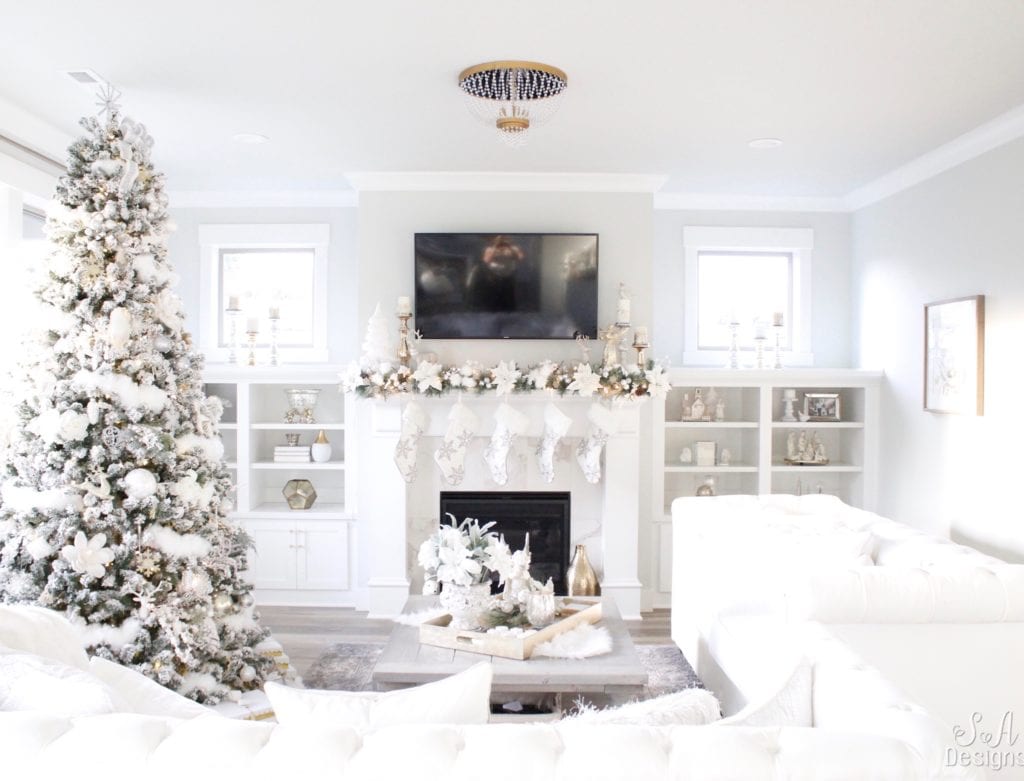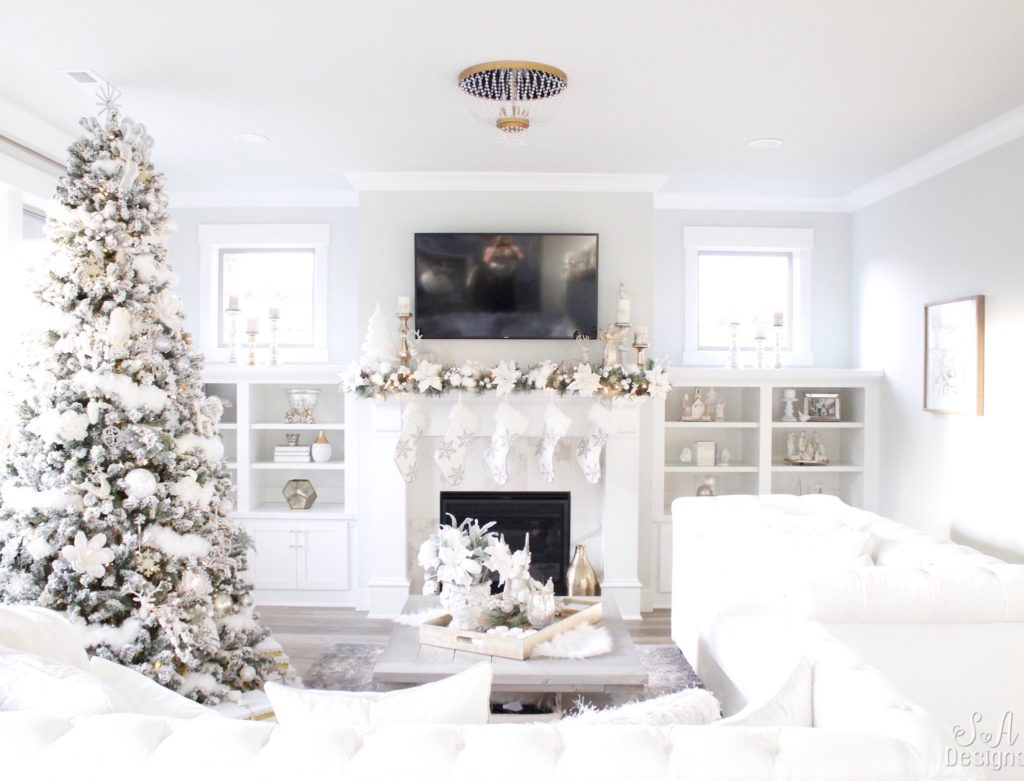 I'm loving all the pretty light I'm getting from my large windows.  It fills this room with a beautiful glow.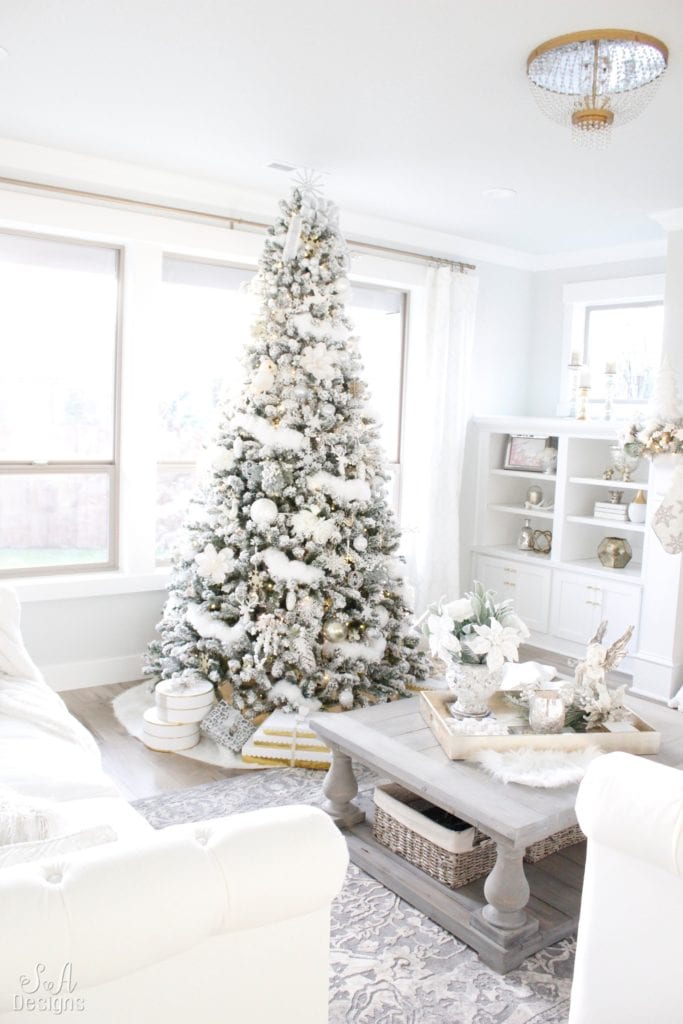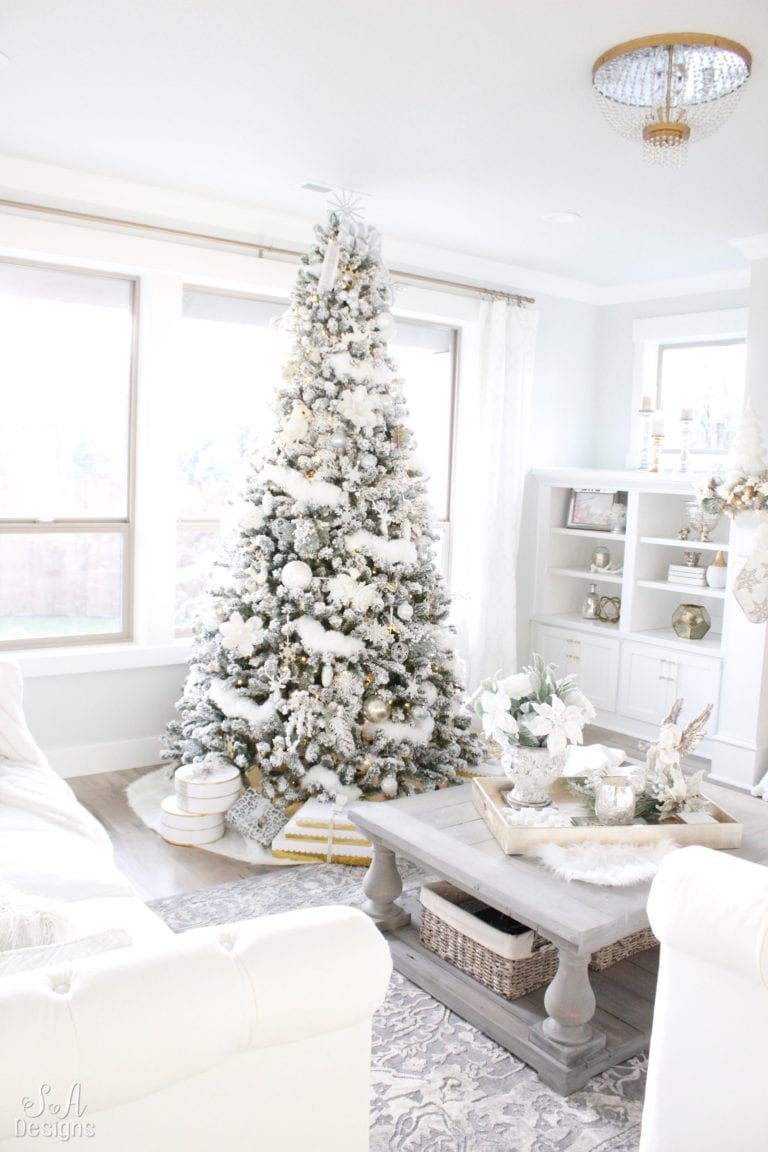 Thus, giving me my very own Winter Wonderland here in my bright white living room.  Don't you just love the magic that you can create with seasonal decor this time of year?!
I'm attaching some shopping links below for your convenience of the items in this post, or something similar.  Click on arrows to scroll right and left.






*****
Thank you so much for visiting my elegant Christmas entry tour today! Please make sure to visit my friend Doreen at Doreen Corrigan next and see what she is sharing on our tour today!  And please make sure to visit all of my talented friends sharing today!  See their links below.
Moth Design |  Modern Glam  |  TheLushList

SummerAdams  |  Doreen Corrigan  |  CC & Mike  |  Curls & Cashmere
I would love it if you subscribed at the top of the page in order to receive my weekly emails of all my latest blog posts and hear about digital printables & freebies, as well as sales or new items in My Online Shoppe.  You can also follow me on Instagram, Pinterest, and Facebook to see what I'm up to in creating a home and lifestyle of inspiration!
xoxo,

SaveSaveSaveSaveSaveSaveSaveSaveSaveSaveSaveSave
SaveSave
SaveSave
SaveSaveSaveSaveSaveSave
SaveSave
SaveSave