We had a cooler summer this year in the Pacific Northwest and just when we got a couple weeks of hot weather and got to explore some really fun waterfalls, it was time for school to start. I didn't think I was ready for fall. But then I started getting out all of my fall decor and putting things together, lit a yummy fall candle and then that all changed. I'm ready now …ha! The timing couldn't be better because my friends at Nick & Alicia are hosting a tour today of beautiful fall tablescapes and I'm sharing my elegant fall table in gold, ivory and soft aqua.
This post contains affiliate links for your shopping convenience. Click here to read my full disclosure policy and here for my privacy & cookies policy. All opinions are my own.
*All items (or similar) can be found in the "Shop The Post" section in the end of the post!*
Hot Skwash Velvet Pumpkins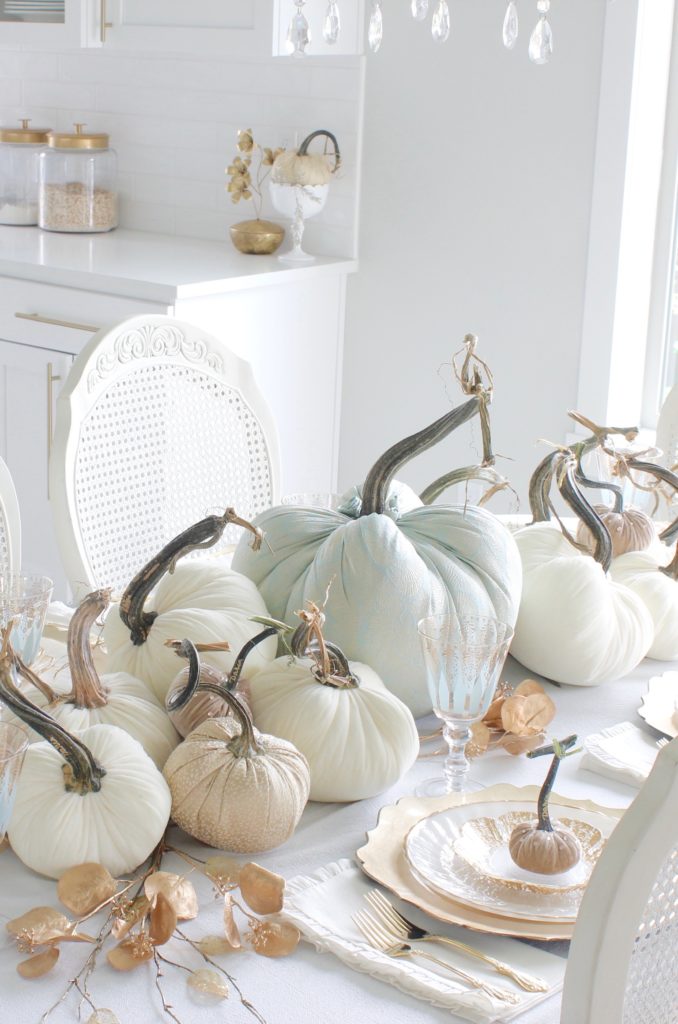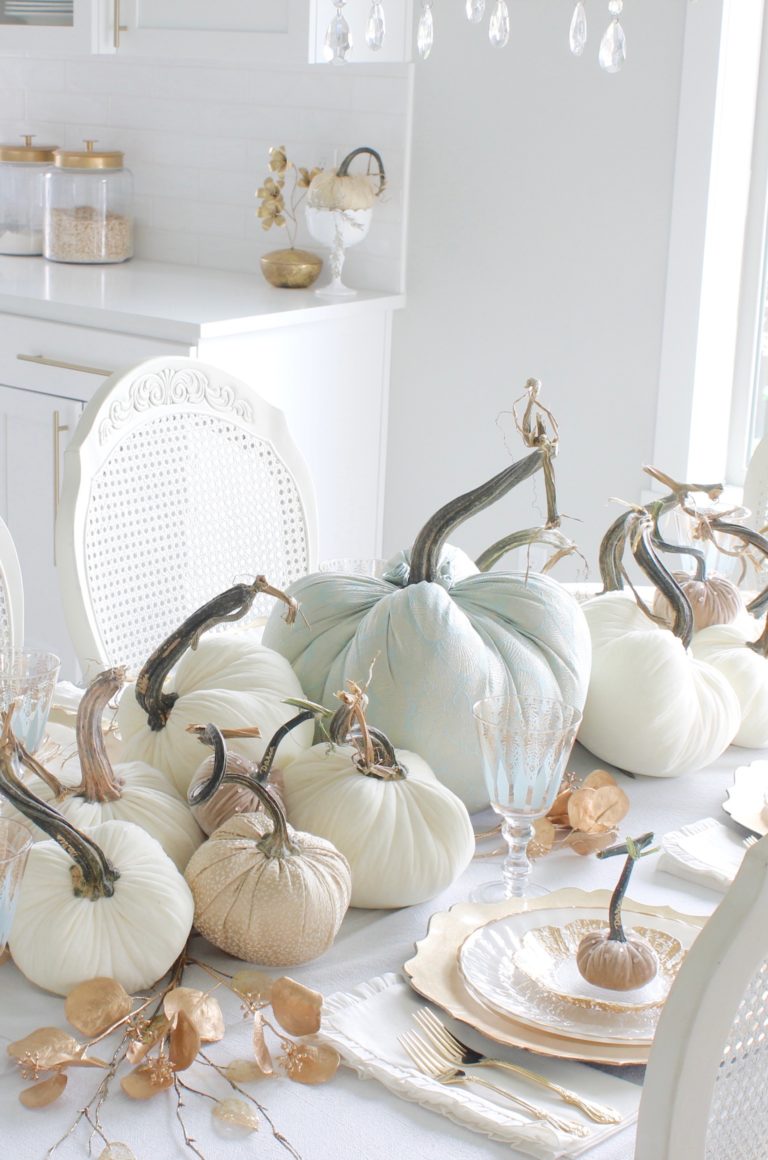 Just as I did last year in my blush pink pumpkin fall table and also my black leopard and pink pumpkin Halloween table, I teamed up with my friend Daria, founder and designer behind Hot Skwash, and created some beautiful pumpkins for this year's fall table.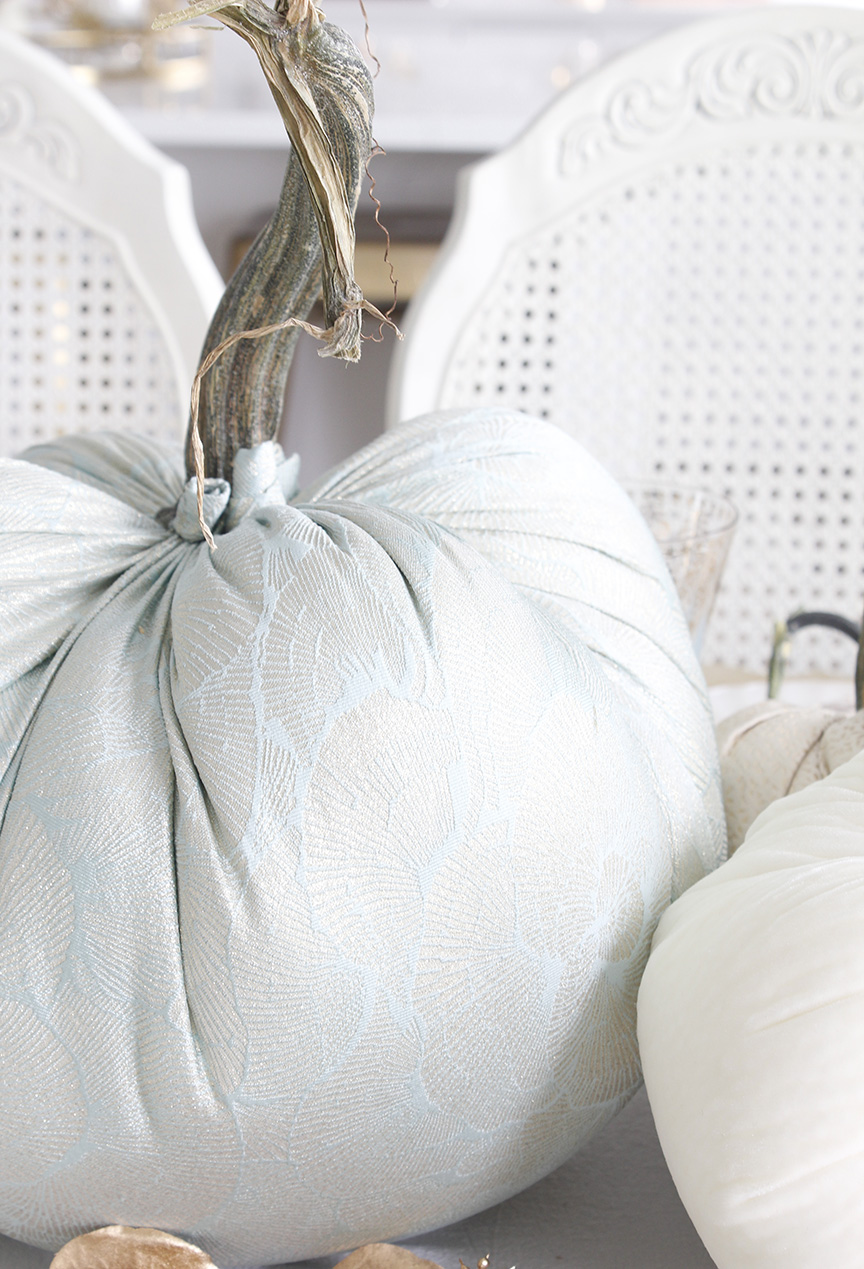 This (jumbo size) pumpkin above was made in a specialty fabric, custom for this fall table and was really the inspiration. I wanted it to be ivory and gold with this large beauty as the star of the show. You can find it in an 8″ size as a limited edition. It's a very soft aqua with the most gorgeous gold floral design. When Daria showed it to me, I fell head-over-heels in love with it!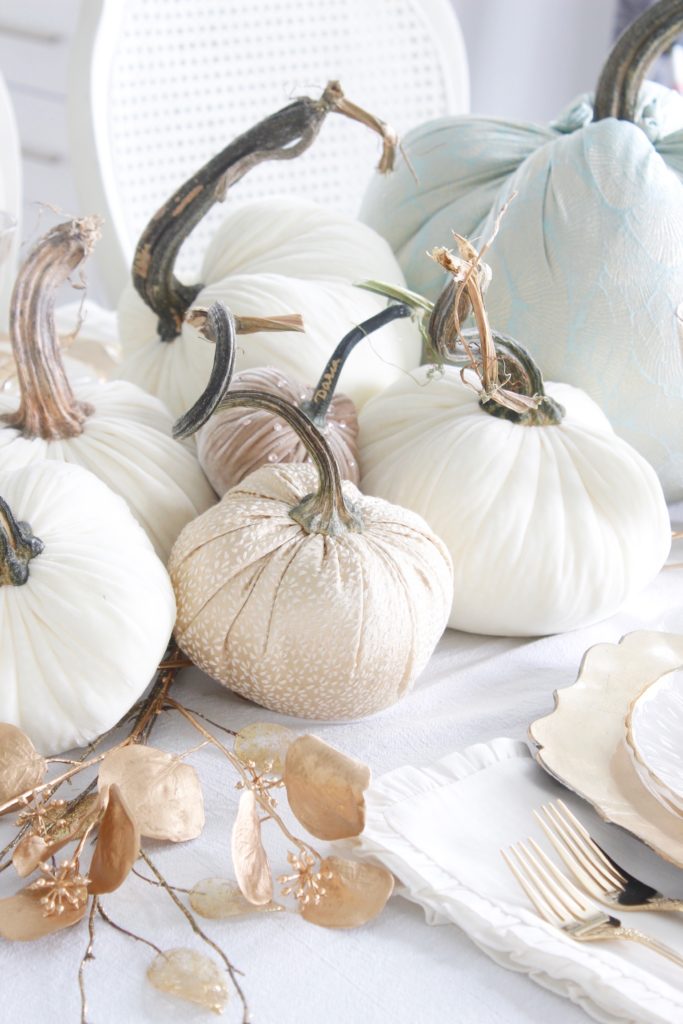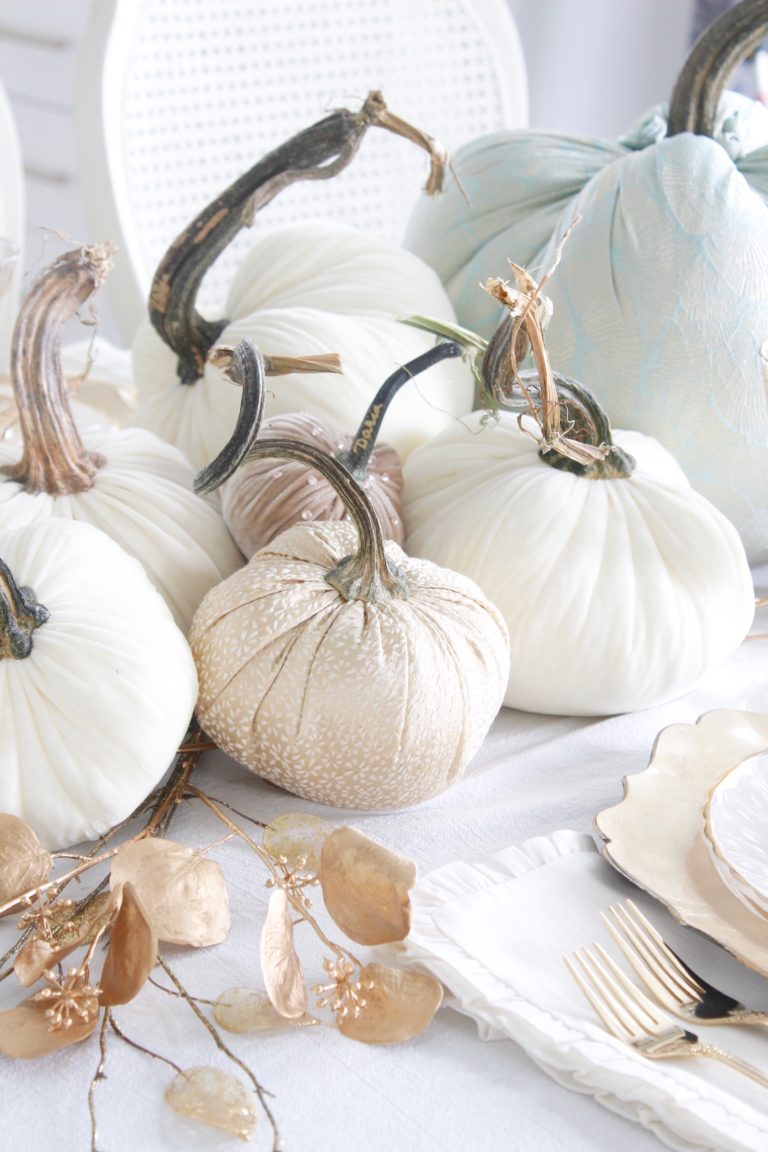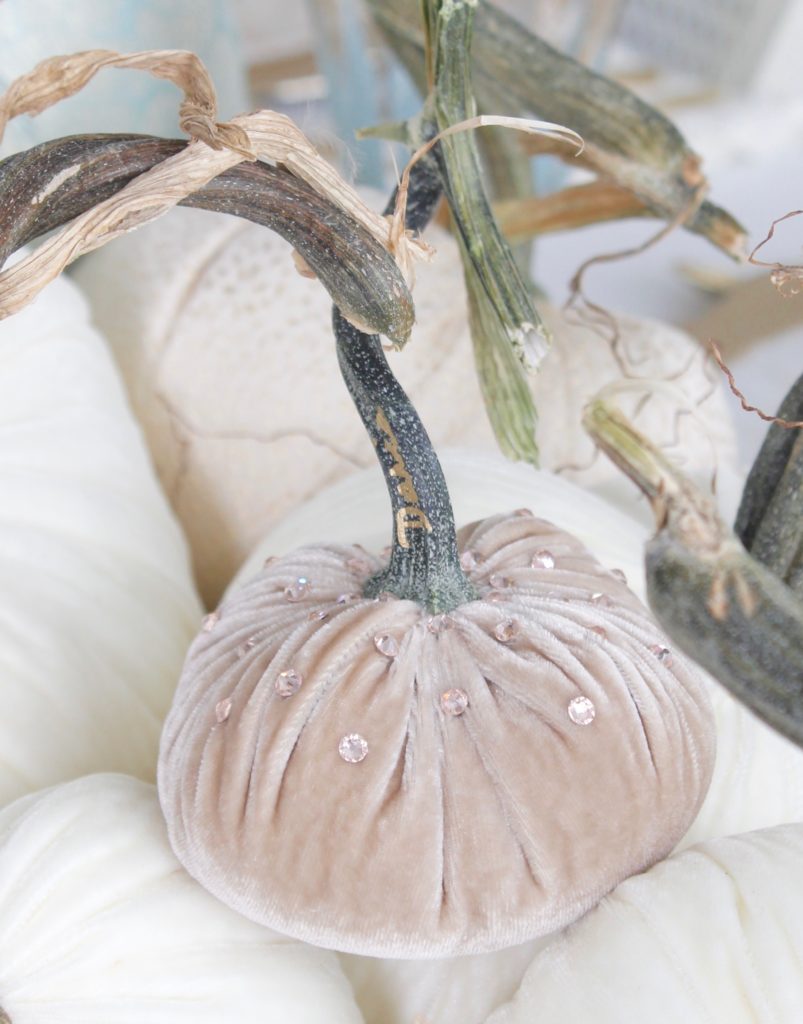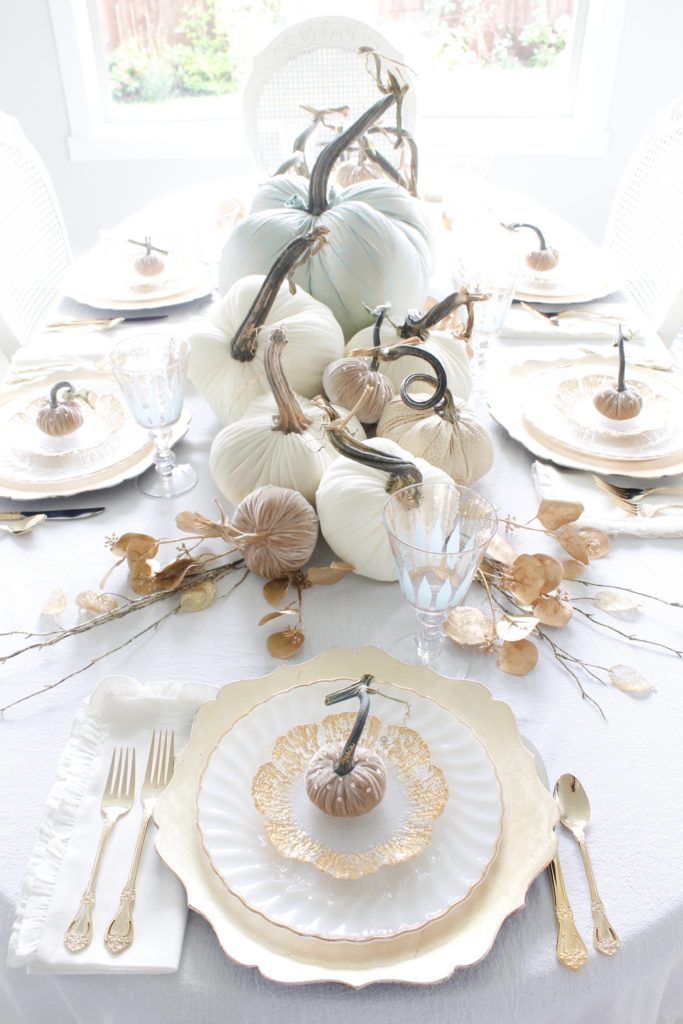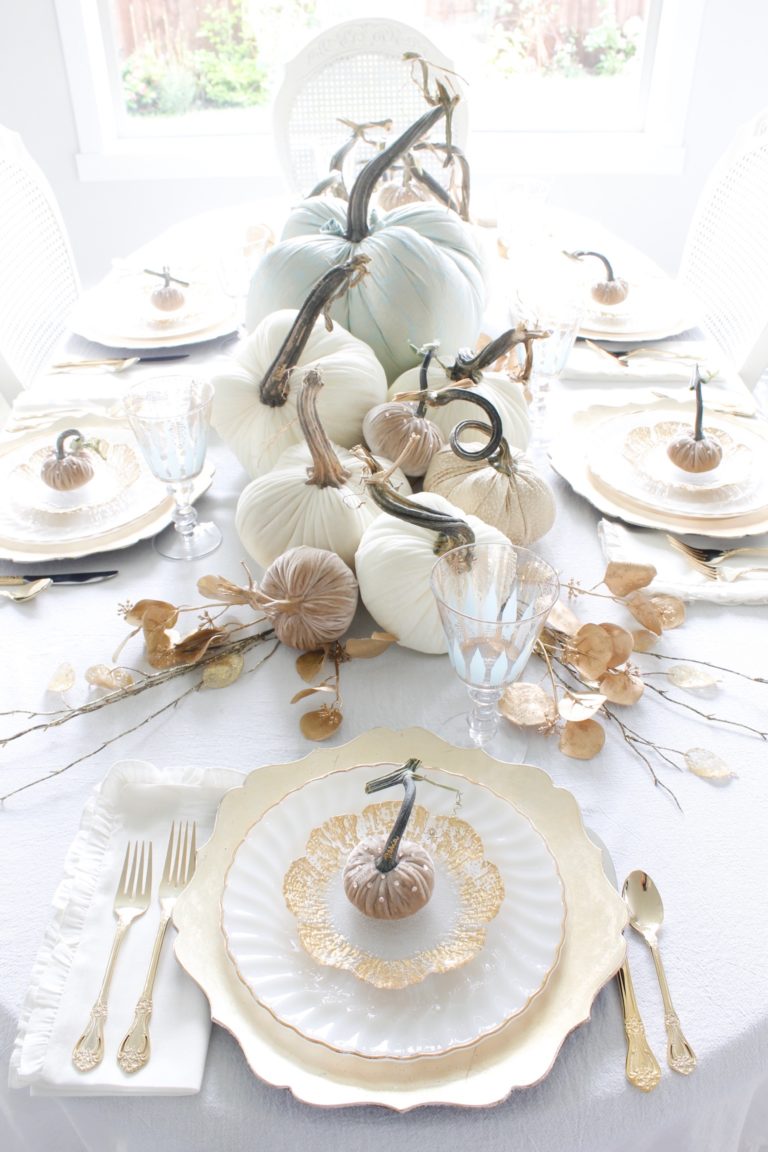 We also used a custom fabric to add a couple of 6″ and 8″ champagne-colored pumpkins to the runner of ivory pumpkins. To finish, we added a couple of 4″ bone pumpkins (I placed on the ends) and then 2 more 3″ bone pumpkins with Swarovski crystals. To get this look, you can find this limited edition grouping of pumpkin in a trio HERE. Please contact Daria regarding any custom requests or questions.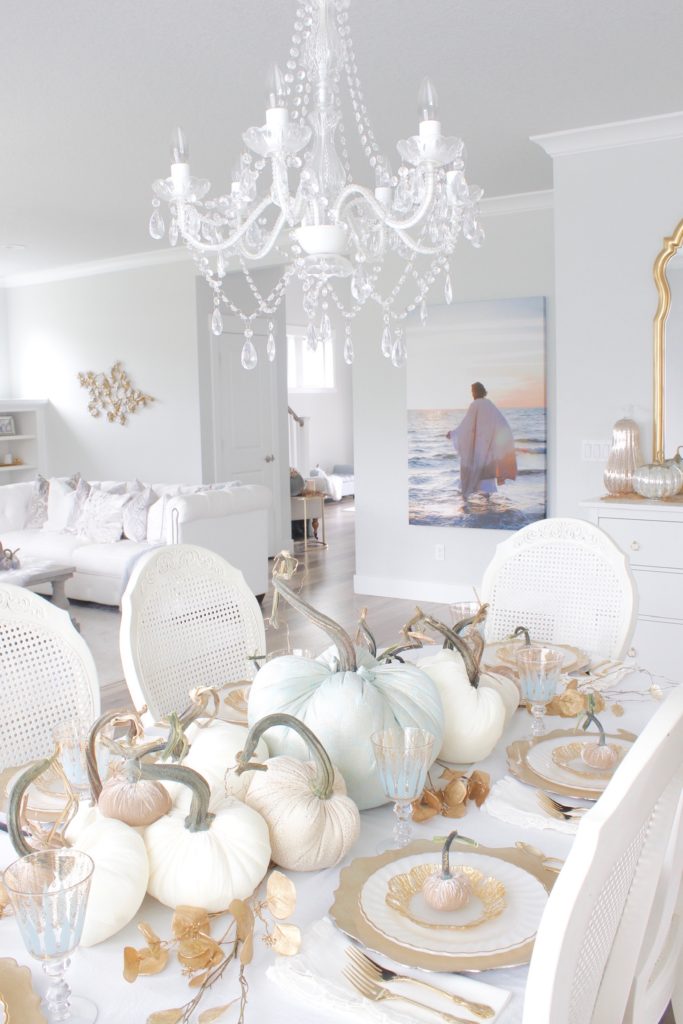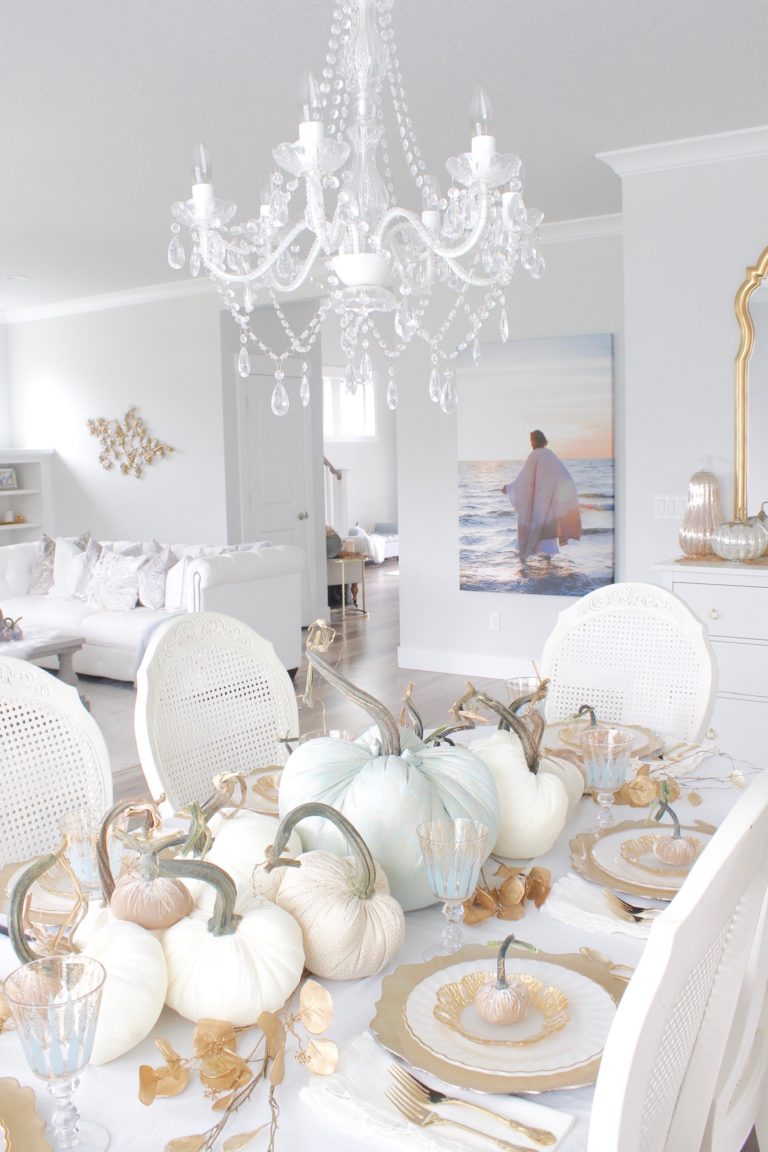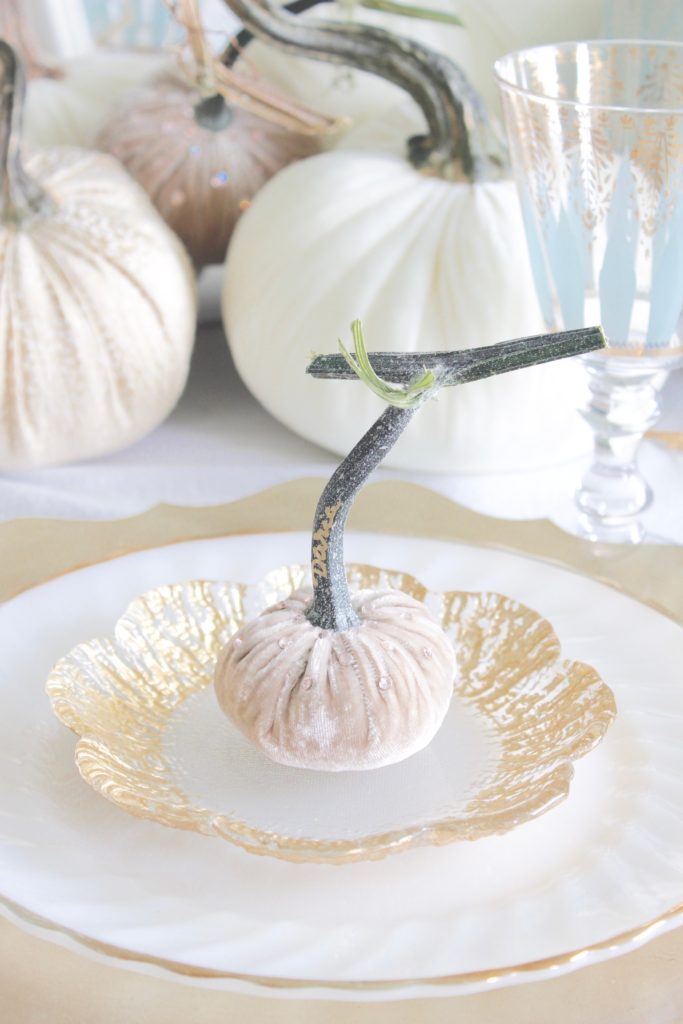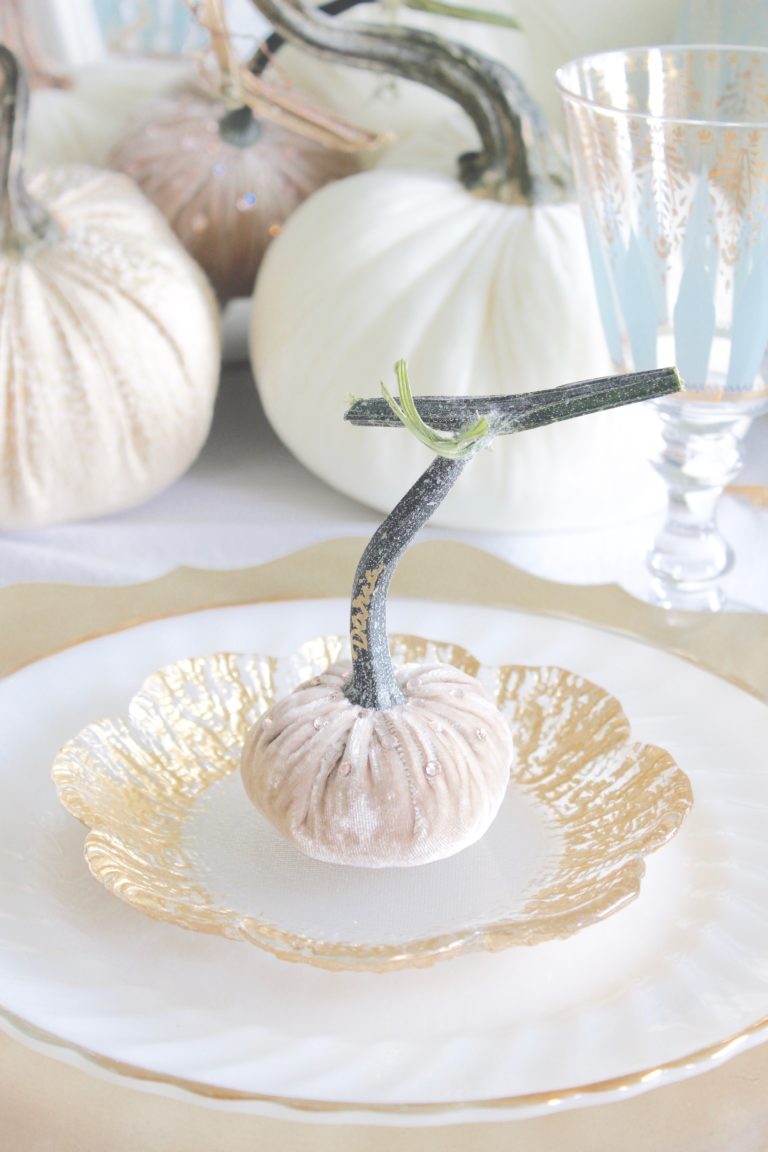 I topped off each little plate with a mini 2″ pumpkin with Swarovski crystals. Wouldn't that be a fun plate setting to sit down to? I know all my girlfriends and all the girls in my family especially would appreciate the extra little sparkle on each plate!
Patina Vie Goblets

If you remember my fall table last year, I had the prettiest blush and gold goblets from Patina Vie that went beautifully with the blush pink velvet pumpkins. So this year, they sent me their gorgeous Aquarius Goblets to complement my beautiful soft aqua pumpkin and….WOW! Are they the perfect pair or what?!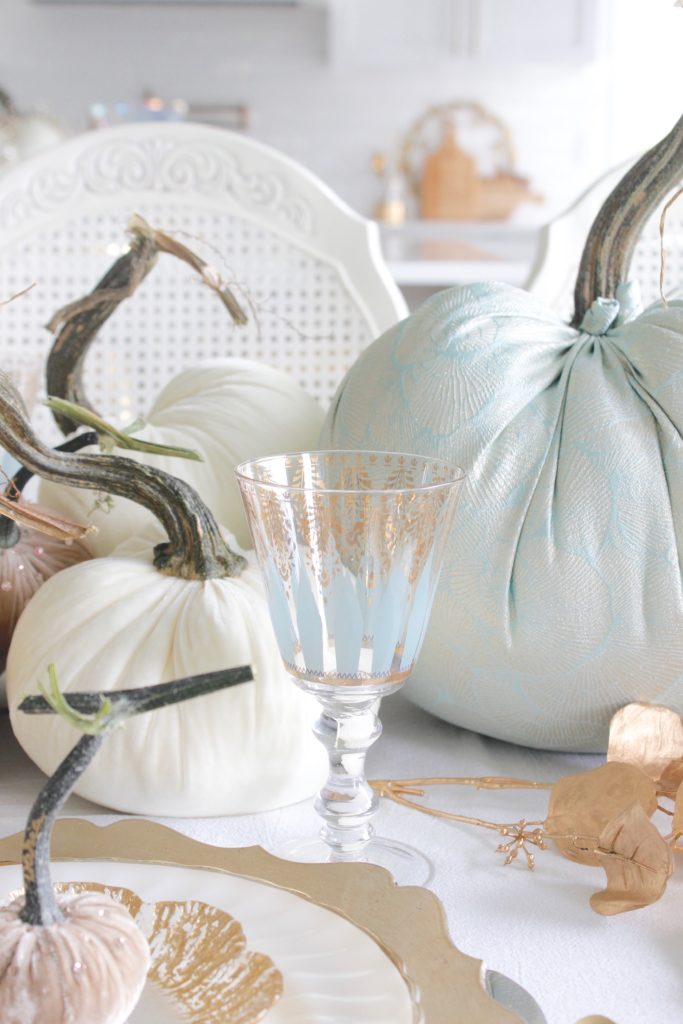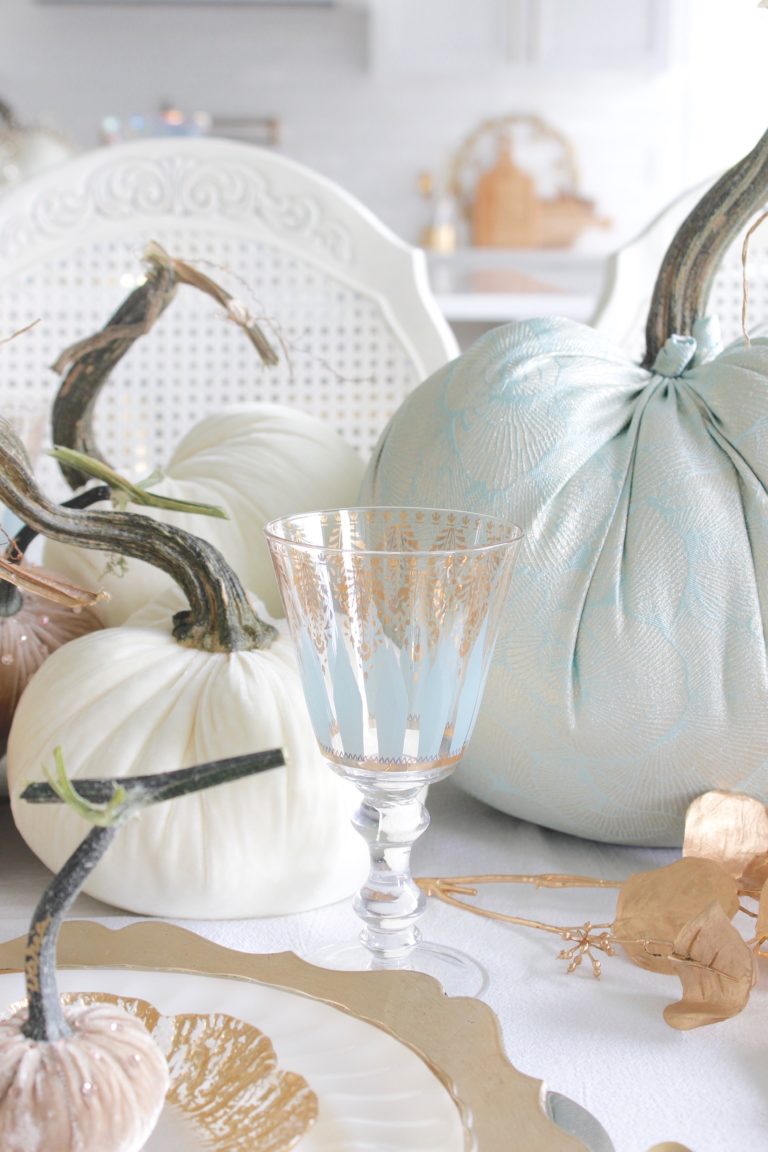 They always have the prettiest glassware so I love browsing their collection when creating a new tablescape! I just love this color. I've never been one to do traditional fall colors, even though I LOVE THEM, but I really enjoy picking different color palettes and playing around with them.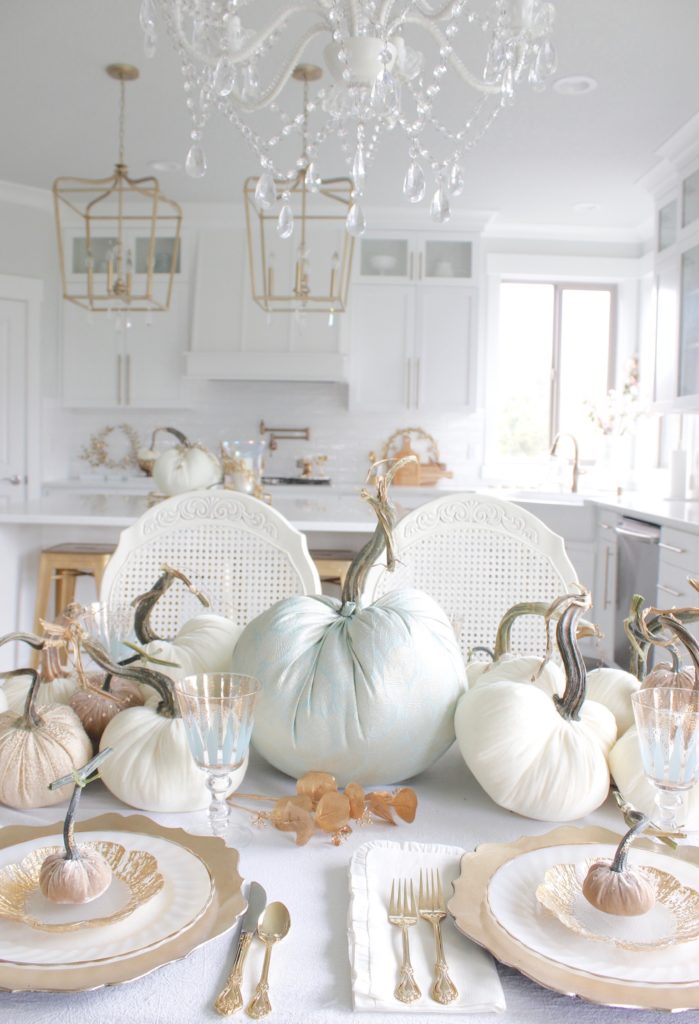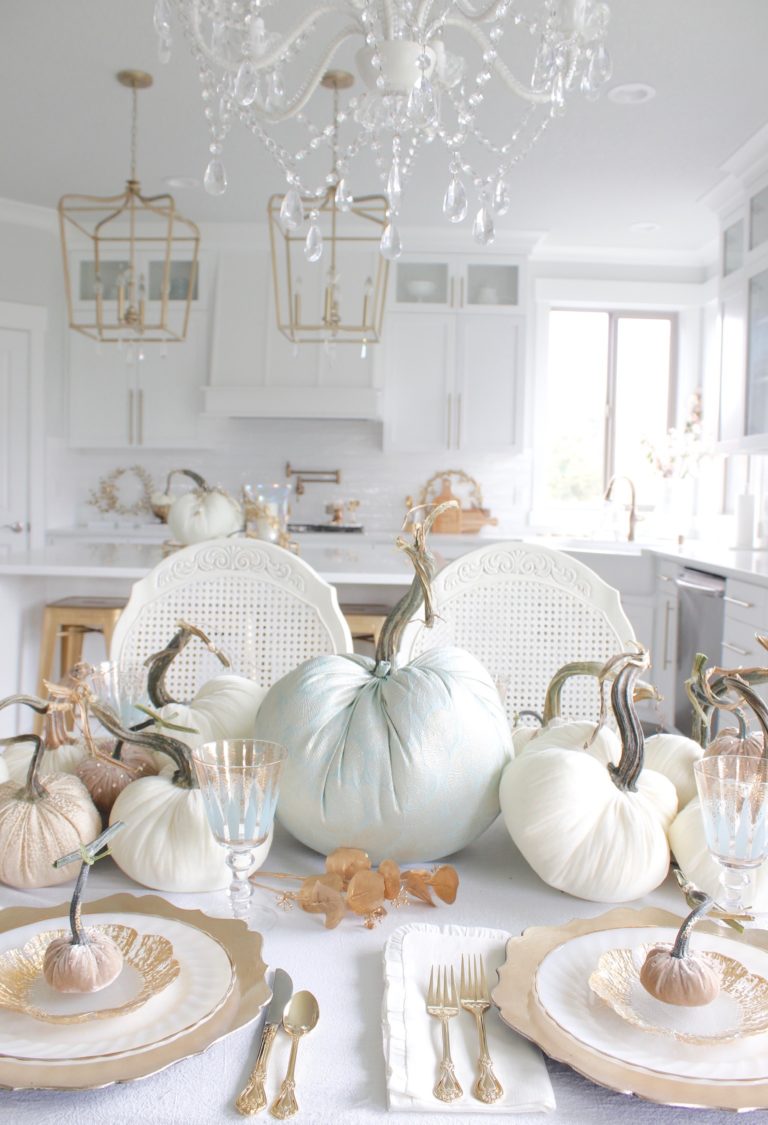 I never thought I'd do this soft aqua for fall and I'm so glad I did. It's so soothing and so elegant in my dining area.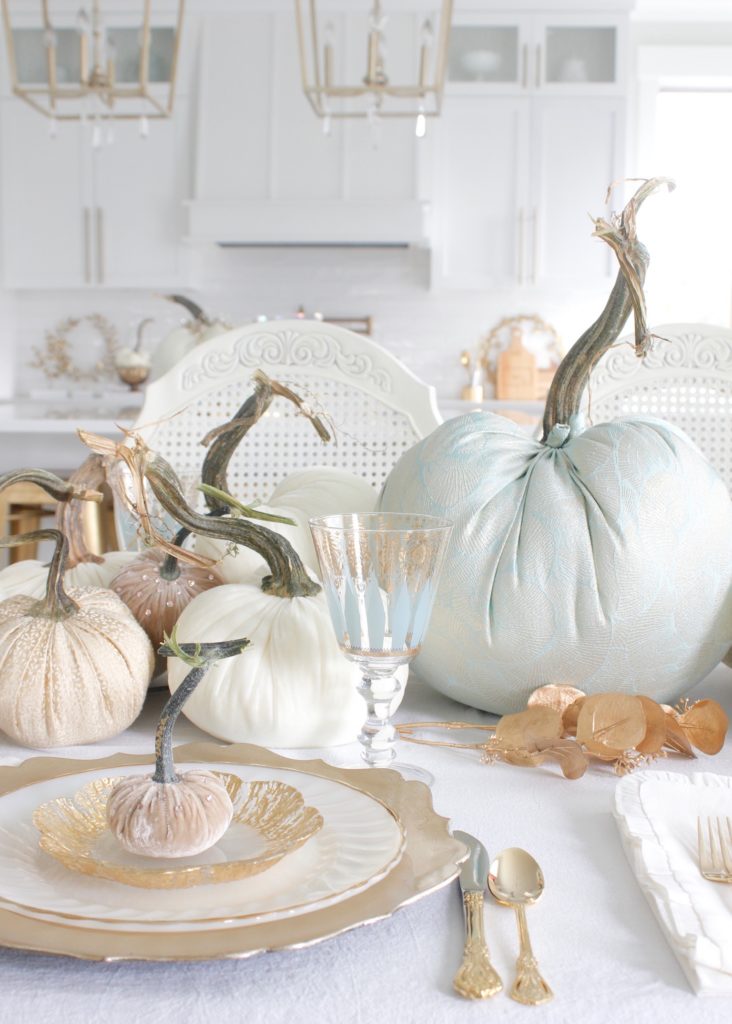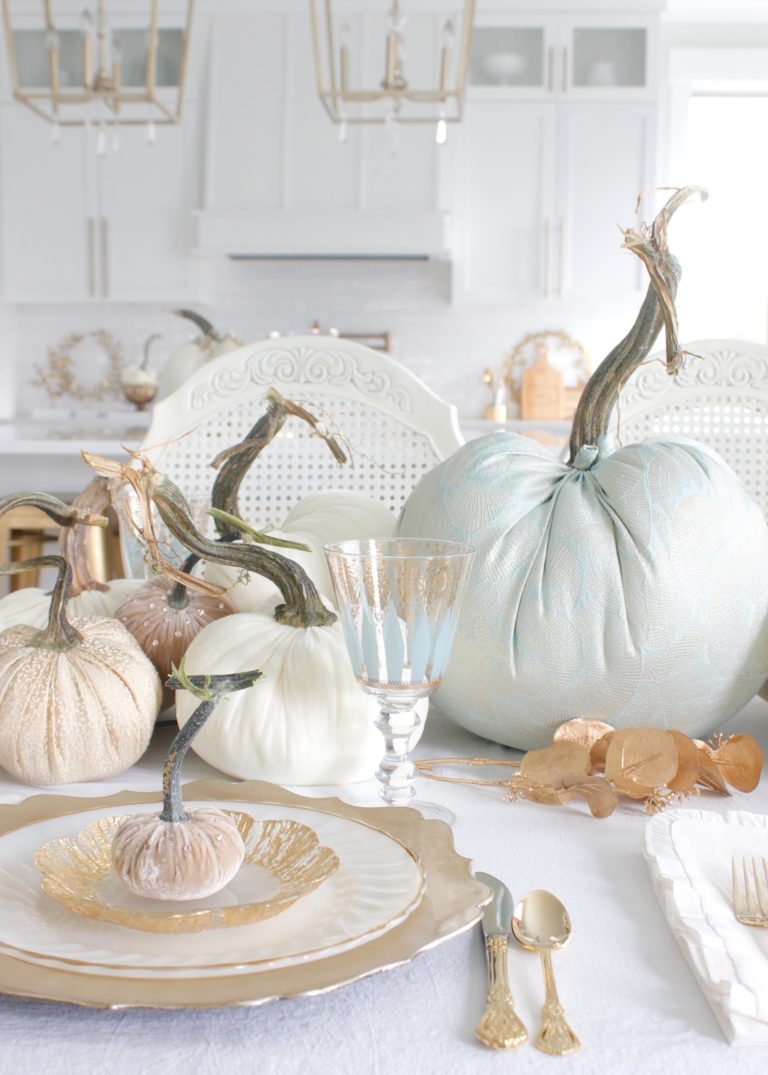 Because I love mixing old and new…I have vintage gold-rimmed milk glass plates and vintage flatware, both which I have found from several sellers and am linking below in my "Shop The Post" section.

Gold Faux Stems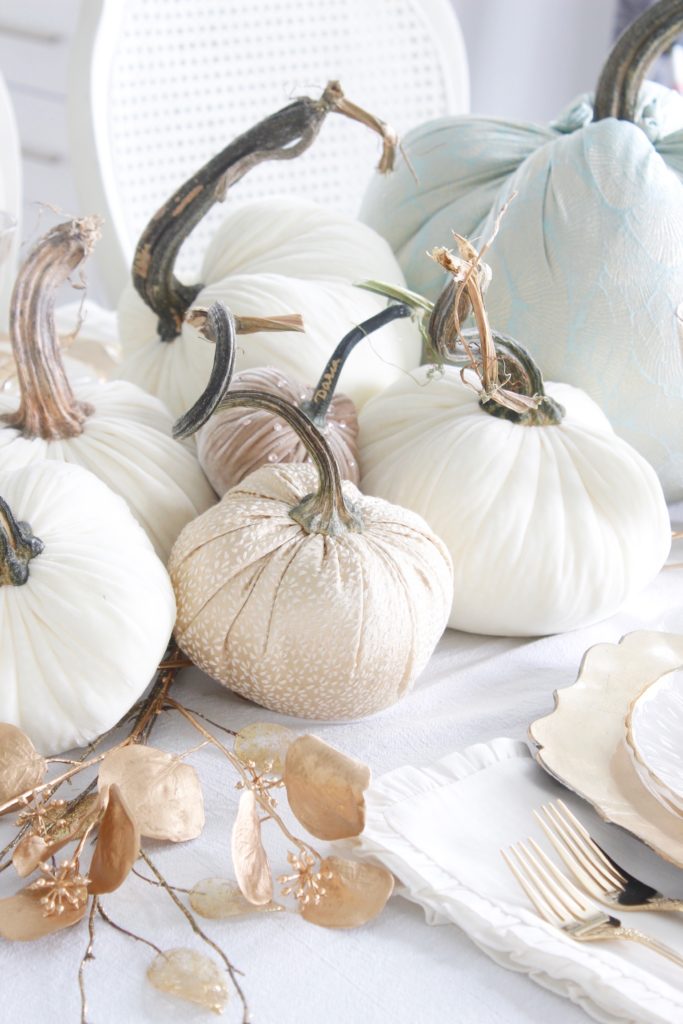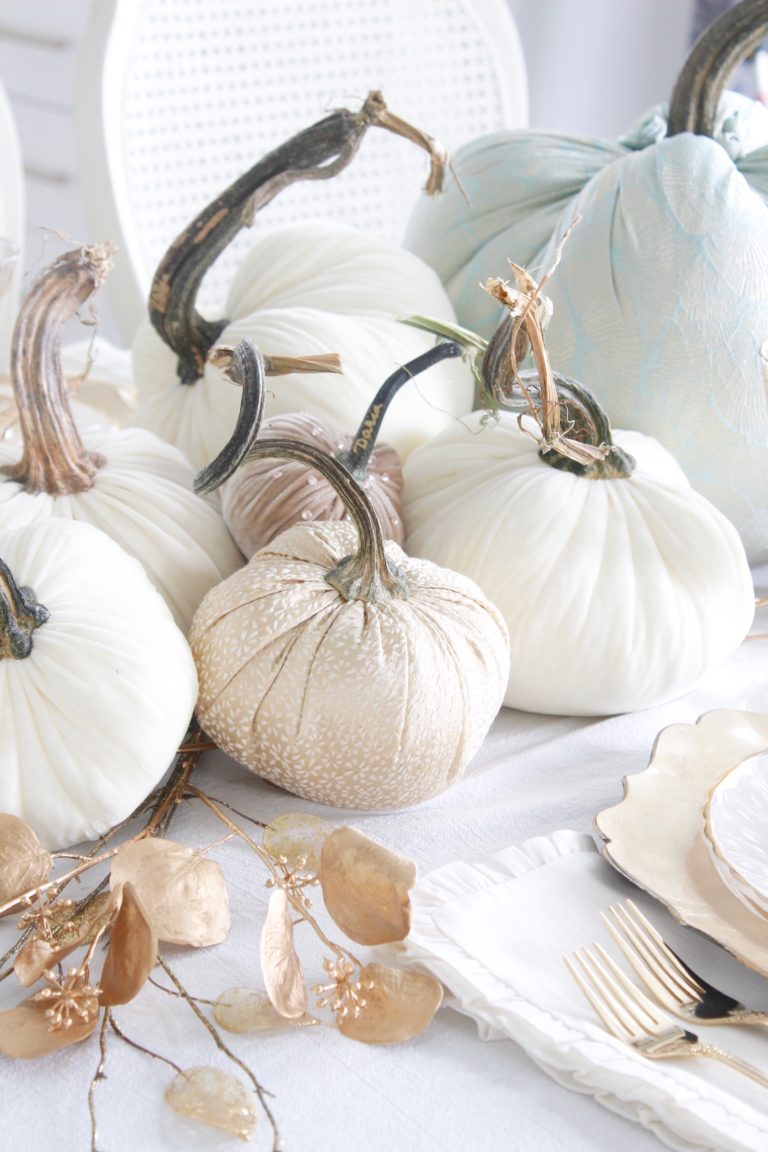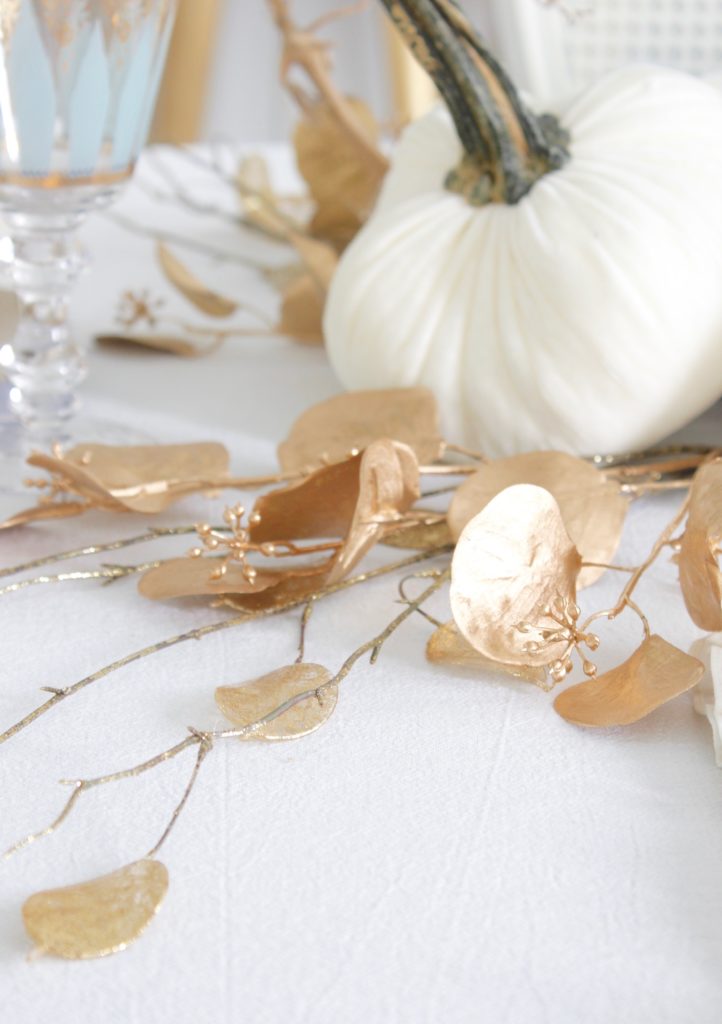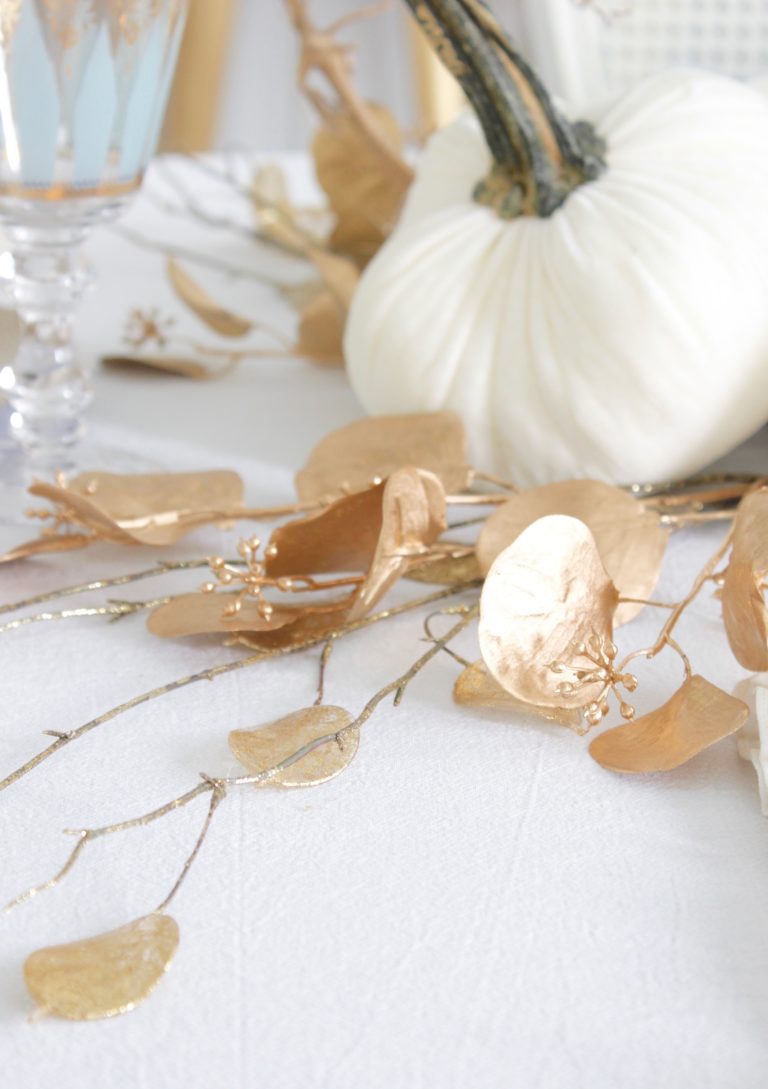 You saw these stems on my.mantel in my Living Room Tour and you'll see these stems in my entry as well (coming to the blog on Thursday so I'll update this link when that goes live). A couple of weeks ago I walked into a store and found several different gold stems I loved (I'd looked everywhere) and there they were. So, I actually bought them online first and then picked them up in the store and then bought 4 times as many. I'm glad I did and trust me, you'll love them as much as I do and find a use for them everywhere this holiday season just as I am. I used the golden faux eucalyptus spray and golden glittered faux money plant spray here. But get the glittered beaded branch too because it's even prettier in person (you'll see those in my entry).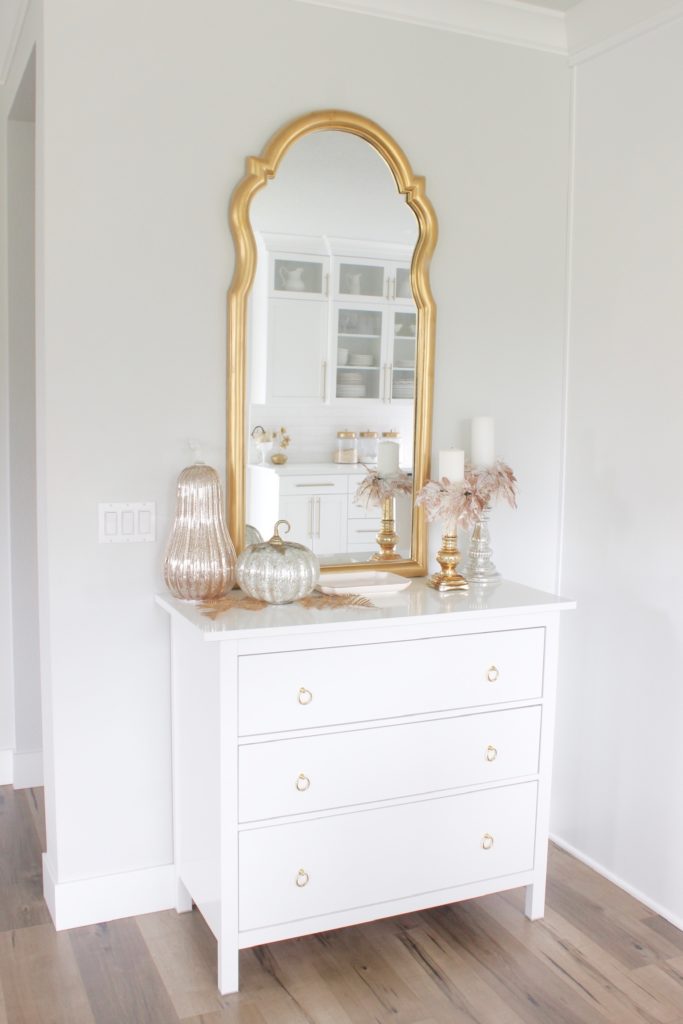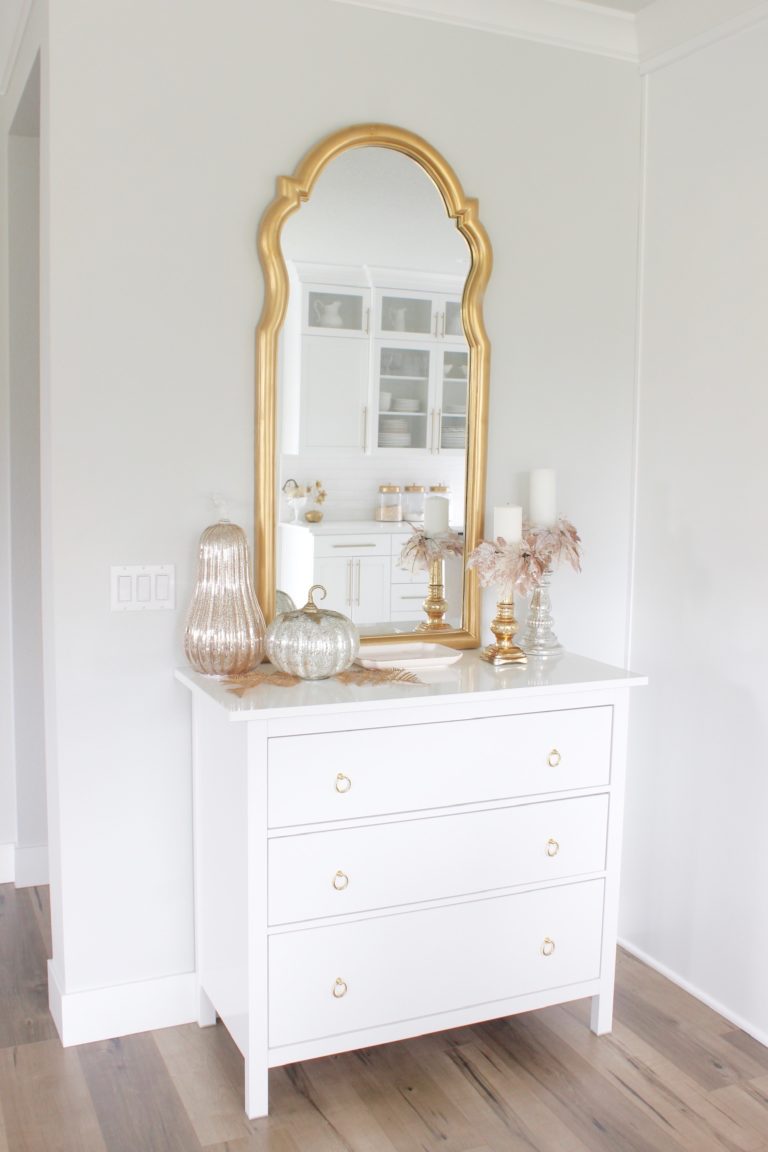 By the way….Still looking for the perfect buffet table to fit this space!
(See more about these candle wreaths here.)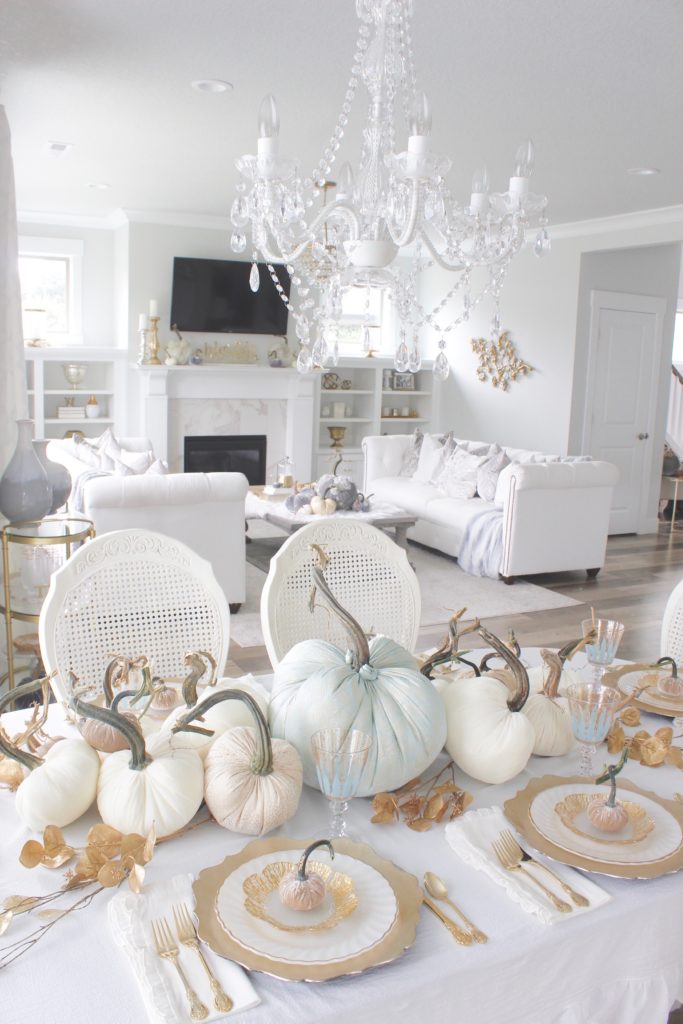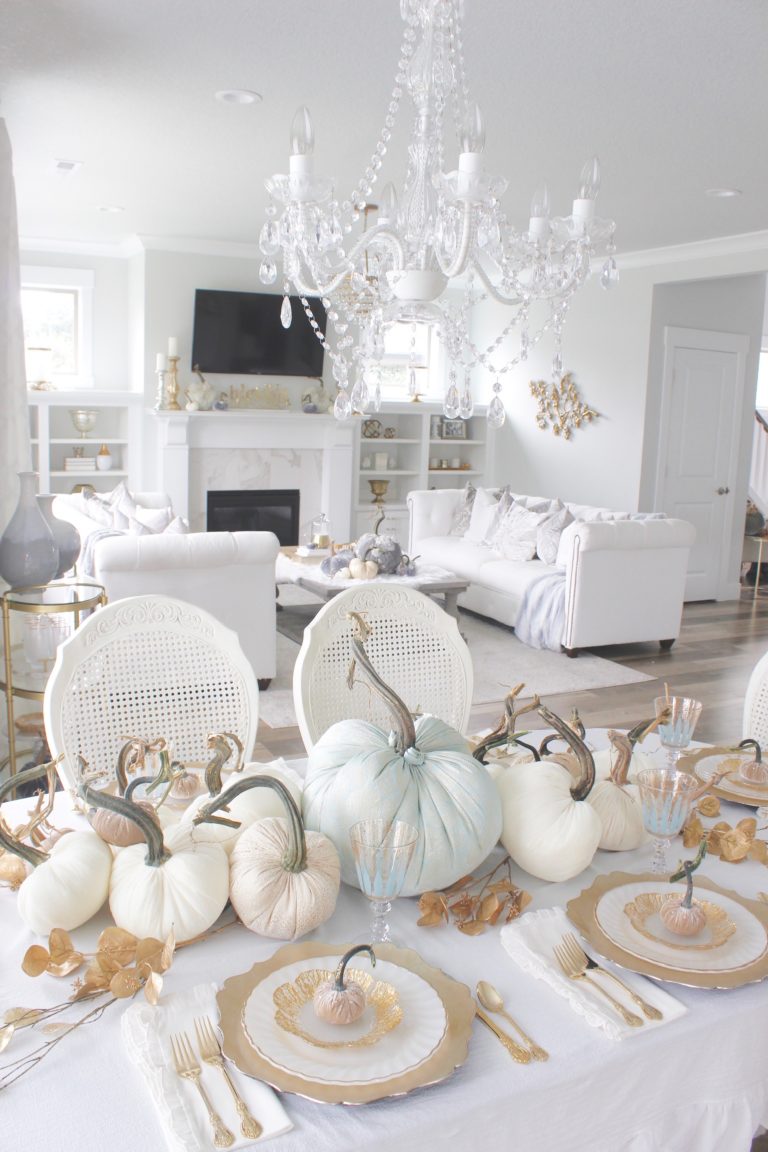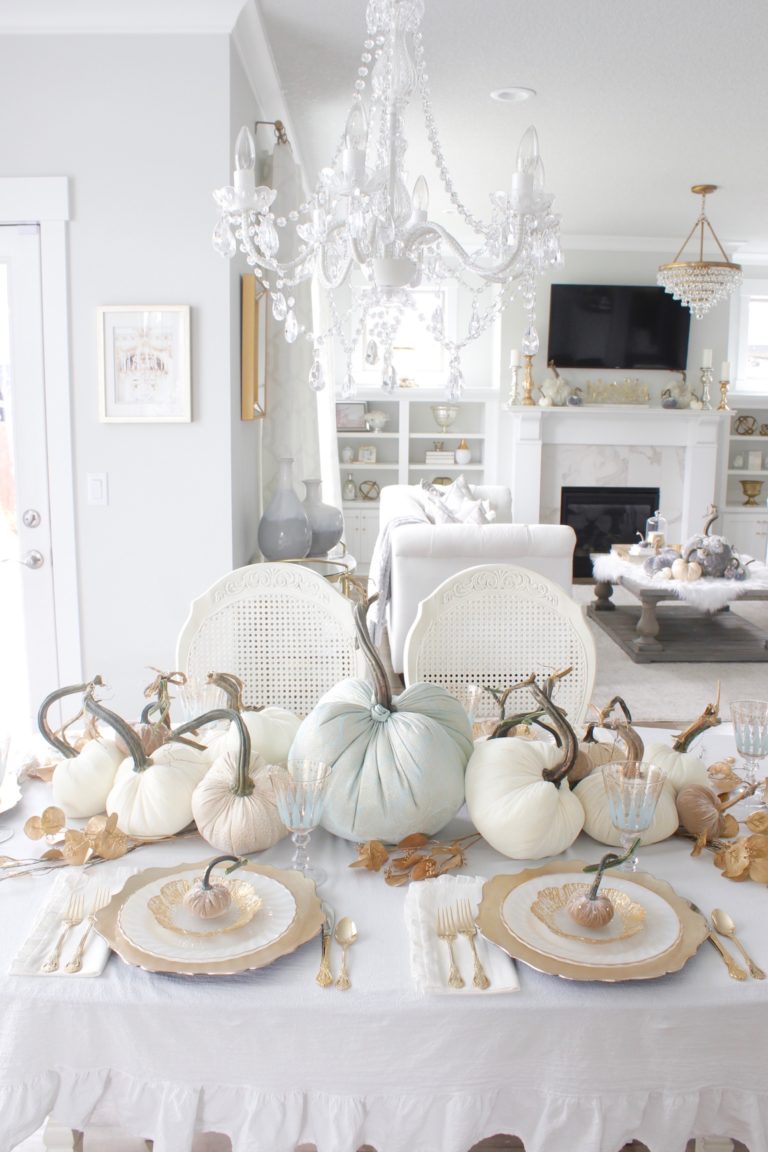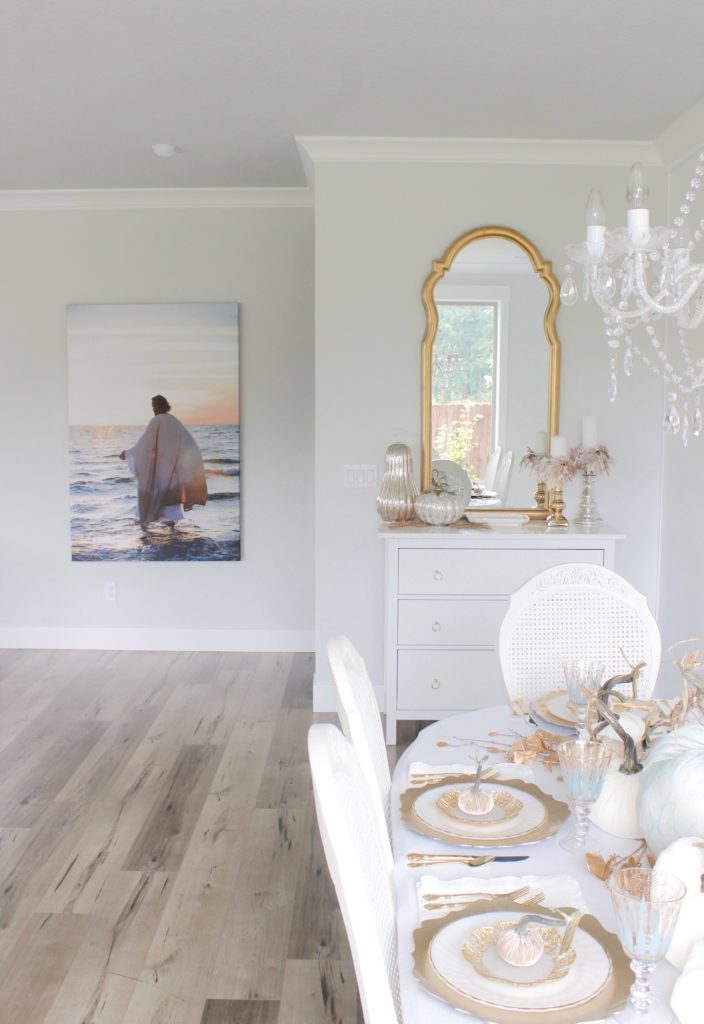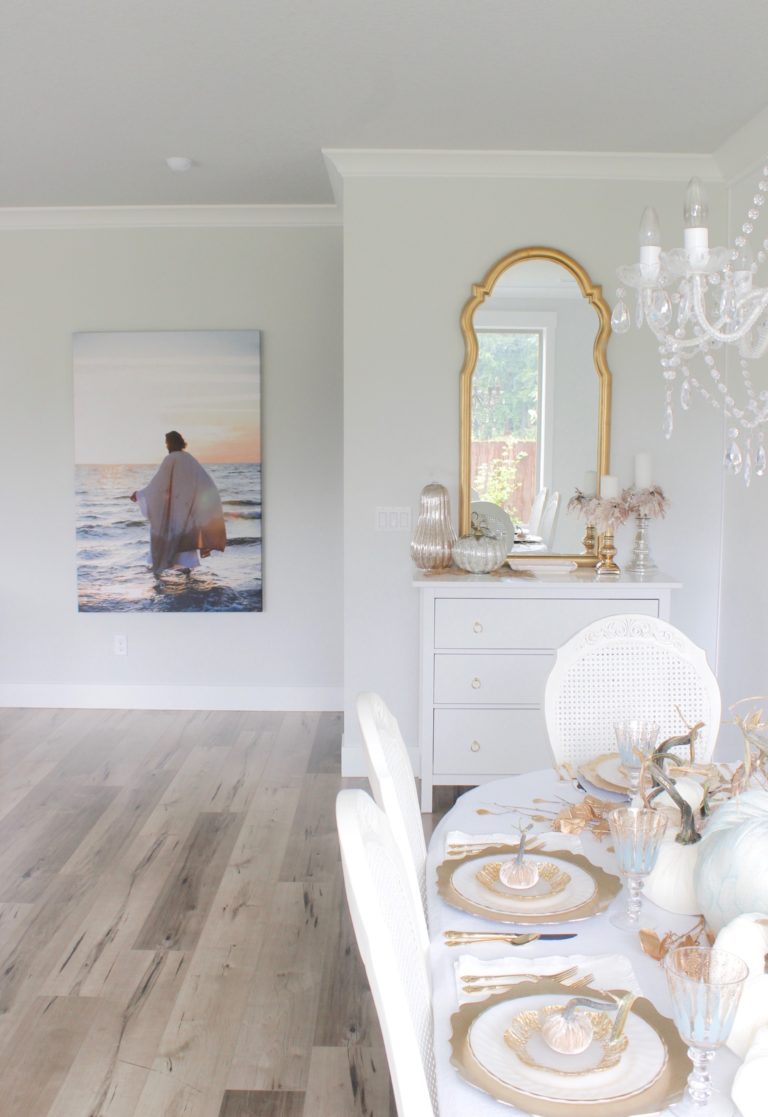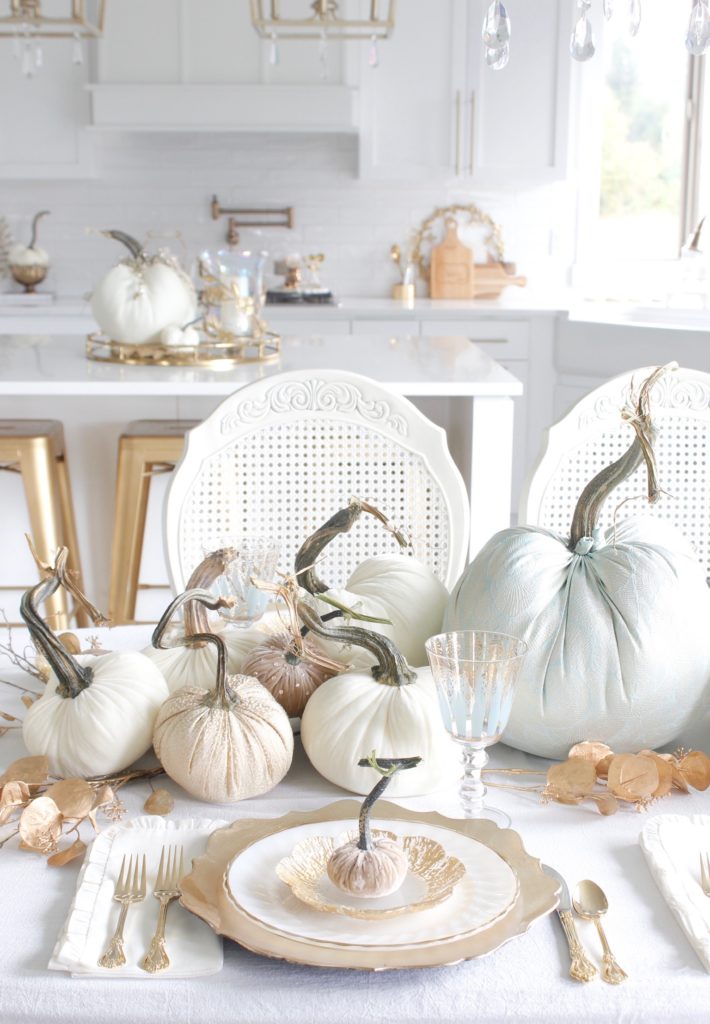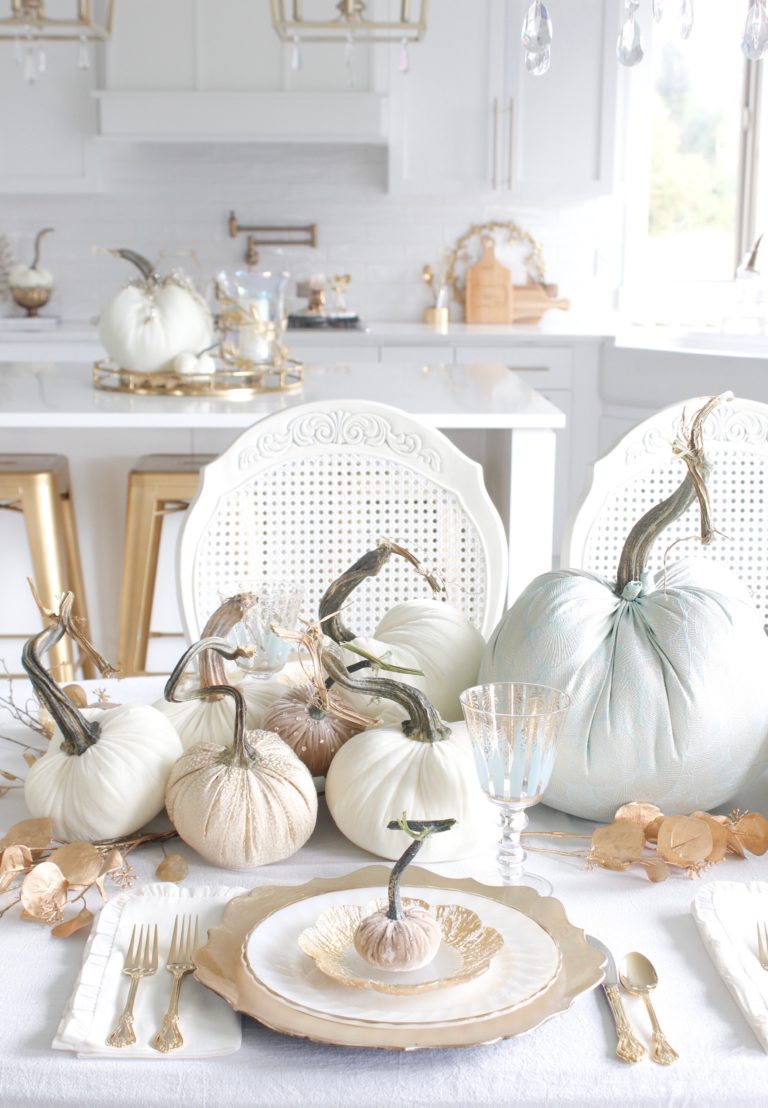 Also, in my next tour, I'll be sharing more into my. kitchen!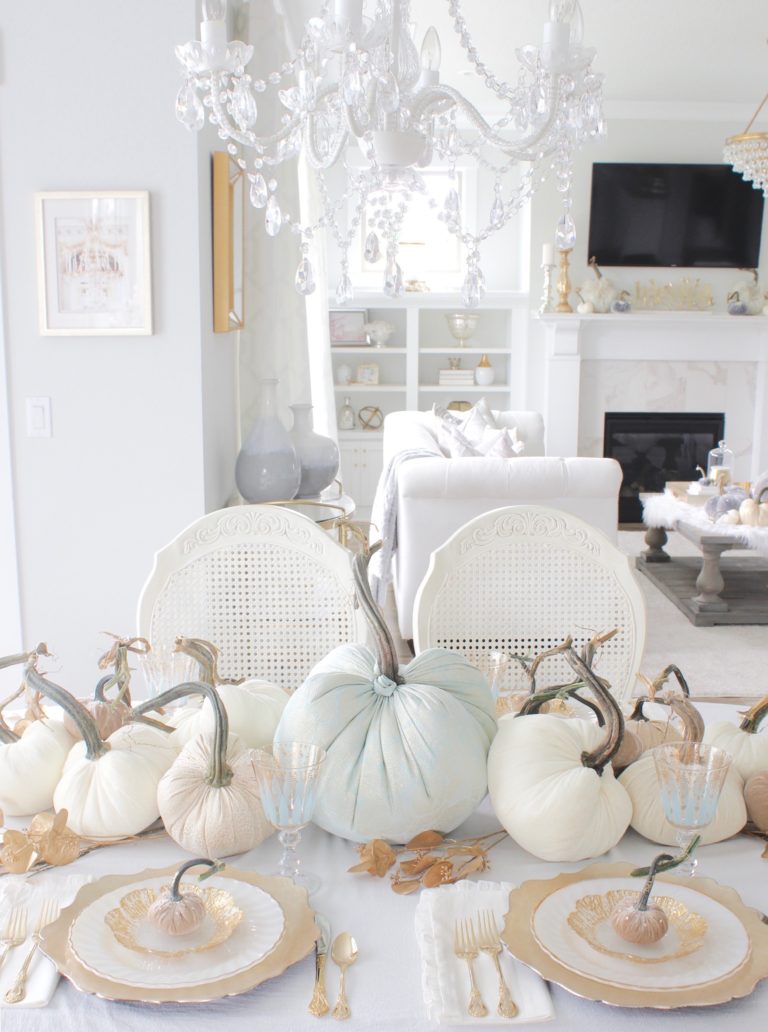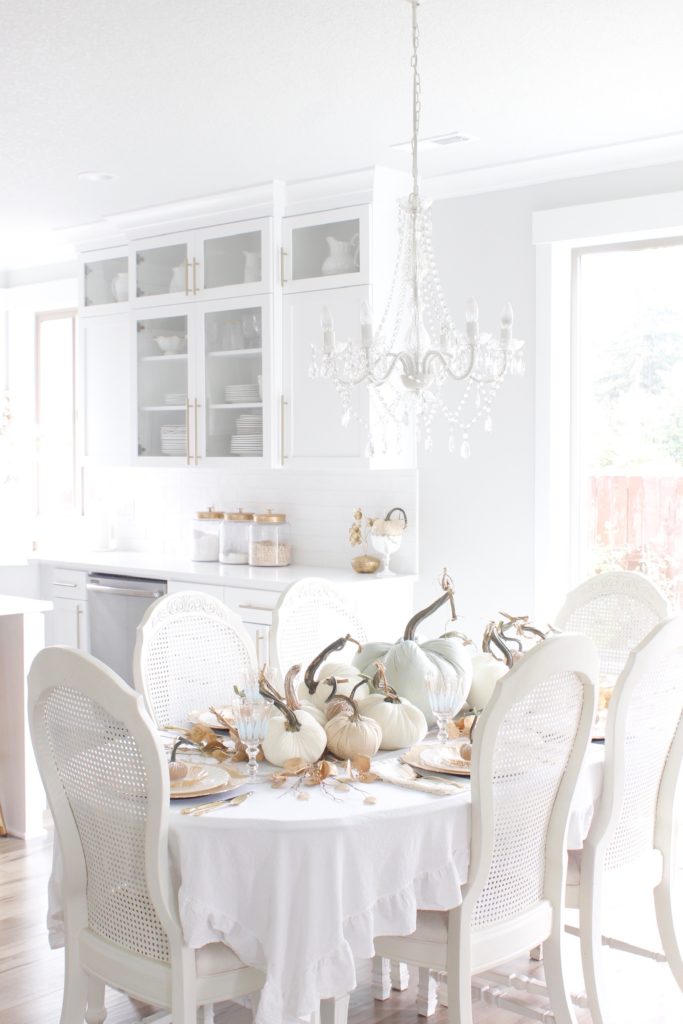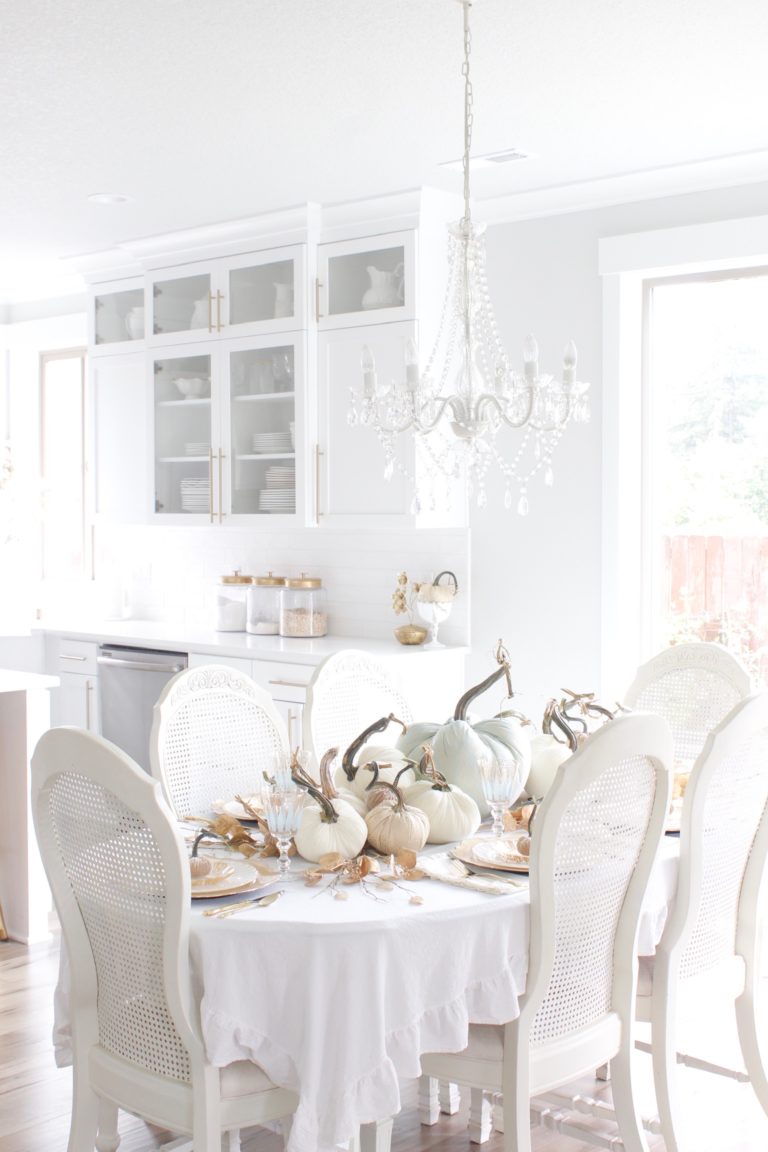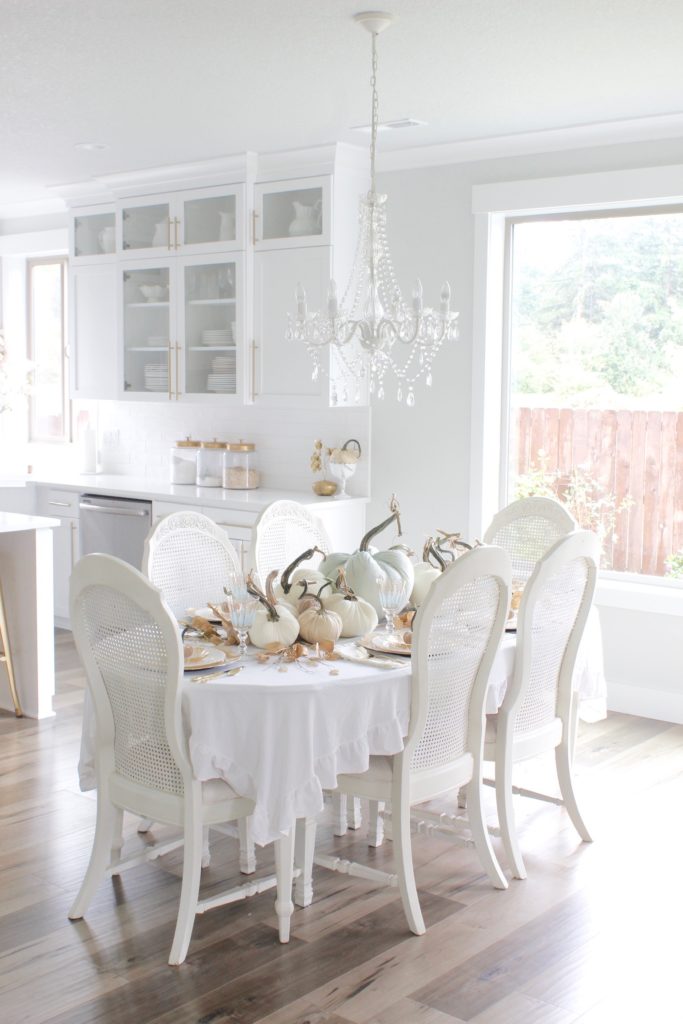 Click on arrows to scroll right and left. Click on pic to shop item.




Please take a moment and visit my talented friends who are also joining me in sharing their fall tables today! There is so much beautiful inspiration below!


Nick + Alicia | Sincerely, Marie Designs | Craftberry Bush | Clean and Scentsible

Home Made Lovely | The DIY Mommy | The Wood Grain Cottage | The Turquoise Home

Rooms FOR Rent Blog | Kim Power Style | The Wicker House | Caitlin Marie Design

Lolly Jane | The Learner Observer | Satori Design For Living | Summer Adams

Taryn Whiteaker Designs | This Is Simplicite
I'm so glad you could stop by today! I would love it if you could subscribe at the top of the page in order to receive my weekly emails of all my latest blog posts and see everything I'm working on! You can also follow me on Instagram, Pinterest, and Facebook to see what I'm up to in creating a home and lifestyle of inspiration!
xoxo,

---
Want to shop my Instagram posts? Click on any square below!